Looking for a last minute summer road trip? There are plenty of things to do in Arizona.
From impressive vistas to challenging hikes, hidden waterfalls, and funky art scenes, this state has a little bit of everything. Summer is winding down but there are still plenty of ways you can wrap it up with a bang. What better way to close out the month than exploring the best things to do in Arizona?
For the outdoor adventurer, this state hosts a slew of bucket list destinations and we're here to make sure you get to see a little bit of all of them. Buckle up for a bumpy ride across the desert. We're going exploring.
Here Are Our Picks for the Best Things to Do in Arizona
1. Treat Yourself to a Little Luxury at the Miraval Resort and Spa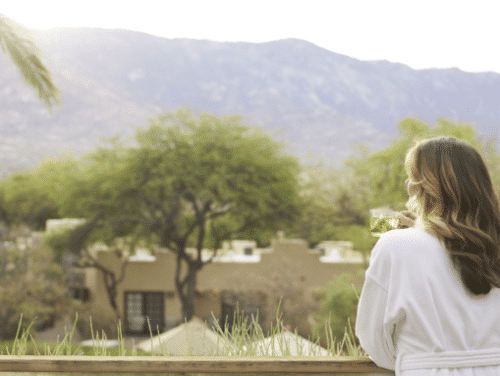 Credit: Miraval Resort and Spa
Start your vacation off right with some good old R&R. It's time to treat yourself. We can't think of a better place to get started on your Arizona journey than the Miraval Resort and Spa. This Tucson escape looks like one giant mansion in the desert. It's home to the gorgeous Saguaro Cacti and is a favorite destination among even the most well traveled.
At night, an expanse of stars creeps across the dry desert. And on the sunniest days, you will find a whole world to explore. The Miraval is located right at the foothills of the Catalina Mountains in the northern part of the city. Here, a renewing vacation experience awaits you. The resort's emphasis is threefold: Indulge, Renew, and Improve.
All of their accommodations, guest services, and character support these foundational tenets. From delectable dining options, seasonally fresh ingredients, and opportunities for activity and leisure, you will never feel more at home. At this retreat, the focus is on creating an experience that you will not only cherish but one that leaves you feeling truly restored and renewed. This is not your typical vacation hotel.
Just take a look at the accommodations and you'll see what we mean. Aptly titled the 'The Retreat,' Miraval presents a series of options for your stay. Choose from a secluded, private room, suites, and even full villas. You will receive access to the resort's plentiful amenities and get some credit to use on their spoil-yourself-services. Gourmet meals and unlimited snacks await you. In addition, you can order some of the resort's services right to your room. Now, that's the life.
Simple designs fit in beautifully with the surrounding landscape. Plenty of natural light fills the space and open-air patios allow you to enjoy it all. From The Retreat, many rooms allow you to pull open retractable glass doors and let the fresh breeze blow through your room. Bathrooms with a spacious soaking tub offer the perfect place to unwind after a long day of hiking.
The simple, modern designs of these accommodations fit right in with the desert landscape, and you'll find plenty of windows, and patios to take in the beautiful mountain views. Many of the accommodations options within The Retreat include retractable glass doors so you can let the breeze right into the living room Some of the spaces within the Retreat at Miraval feature full kitchens and laundry. Furthermore, many include spacious bathrooms with a soaking tub. Overall, the Retreat offers an ultimate vacation experience.
Here's our favorite thing about the Miraval. While guests come from all over the world to stay in the suites, we come for the award-winning spa. Rejuvenating services include massages, facials, hair care, pedicures, manicures, and more. Start your day off in the morning spa service or opt for treatment in a private tent with views of the Sonoran landscape.
2. Go Hiking in the Coronado National Forest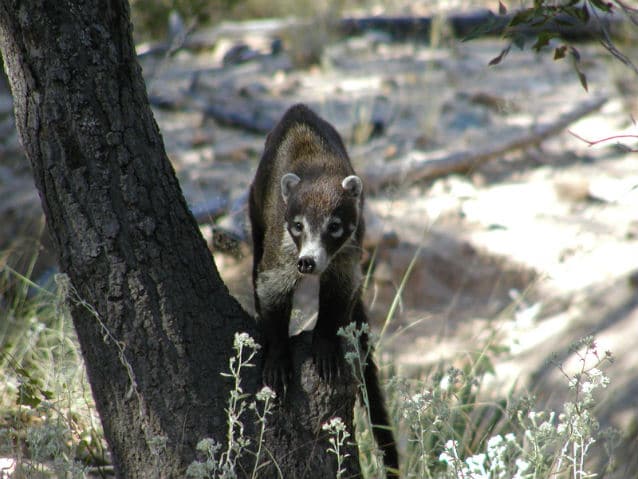 One of the things you need to do in Arizona is to visit the Coronado National Forest. Home to some of the best hiking spots in the country, this park spans over 1.78 million acres of land throughout southeastern Arizona and southwestern New Mexico. While the name might be deceiving, it doesn't actually look like a forest.
Quite to the contrary, this arid climate gives way to a whole new kind of wilderness. Vast spaces open up into beautifully carved canyons, mountains tower over the valleys, casting shadows of their silhouettes, and desert creatures roam around cacti and hide in the brush. If you're willing to go a little further off the grid, you will be pleasantly surprised at what you find. Black bear, mountain lions, and other species roam the grounds.
Being so vast, it's easy to get lost. You're probably wondering where to go. If you want our suggestion, head on over to Sabino Canyon's Recreation Area. It's conveniently located to Tucson. Just make sure you get an early start on the day; the parking lot can fill up fast. When you first arrive, make your way over to the visitor's center and explore some neat displays.
You'll learn a lot about the local vegetation, wildlife, history, and topography of the region. You can also buy tickets for the tram over the Canyon.
The tram offers multiple stops, making for easy transportation to the local hiking trails. After hiking, you won't have to hoof it to your car either. Just hop back on to get to your destination. In addition, the narrated tram ride provides fascinating facts about the flora and fauna you will see on your hike. Keep your eyes open for the Phoneline Trail up ahead. It's one of our favorites.
In fact, if you only have time for one hike, take the Phoneline Trail. This 4.5-mile round trip hike gives way to some absolutely spectacular views. That's what makes visiting it one of the best things to do in Arizona. When you get to the trail's summit, you'll enjoy views of Sabino Canyon below and stunning mountain ranges in the distance, piercing the azure sky. Near the end of the trailhead, you can follow the path to take the tram or walk the rest of the way to another visitor's center.
3. Cool Down at Slide Rock
Credit: Flickr / Edwin Davila
If you don't already have seeing Slide Rock on your list of things to do in Arizona, you're doing the whole list thing wrong. This natural waterslide is a popular summer destination among locals and travelers alike, offering a fun way to cool down from the scorching summer's heat. Elongated champagne chutes give way to red rock beaches and gorgeous glassy green pools.
This is the perfect place to soak up some sunshine, enjoy nature, and take a break from the mundane. Carved by mother nature, this natural wonder offers spectacular views of the Oak Creek Canyon. Pack a picnic and perch on the rocks. Grab a floaty and slide on down. The bottom creek will carry you on a wild ride before plunging into the crystal depths of nearby pools. It's only seven miles from Sedona, so it's the perfect place to take a day trip. There's just one problem. You're never going to want to leave.
4. Spend a Romantic Weekend in Carefree, Arizona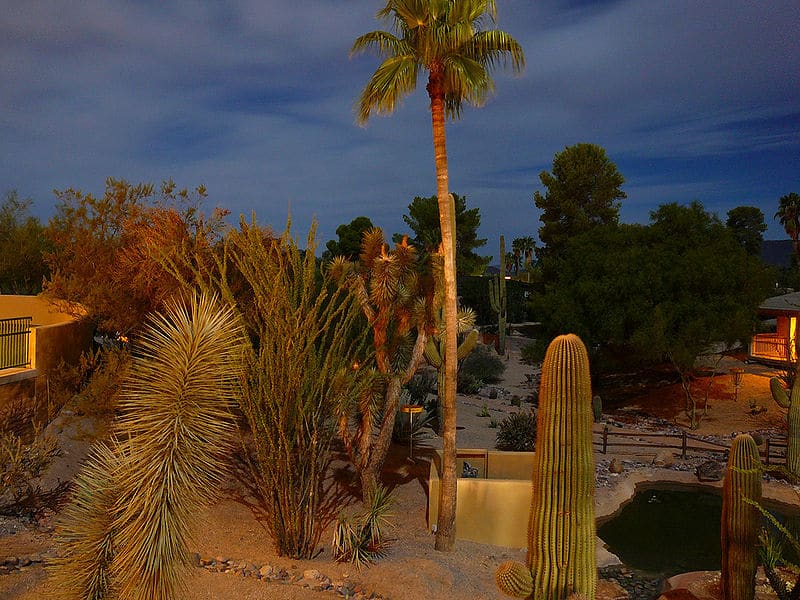 Skip the typical and try out something a little more adventurous. Here, everything you need to know is in the name. Romantic staycations aren't like they used to be. With more travelers exploring, a lot of places that were once hidden gems have quickly become tourist traps. We're happy to say that Carefree is not one of them. That's what makes spending a weekend in this little town one of the best things to do in Arizona.
Here, you'll get to enjoy a little bit of the best of both worlds. Red rocks and cacti dot the scene. Charming cafes and shops line narrow streets. This is a great place to visit for an escape from the hustle and bustle of the city. And you won't even have to break the bank. Before you leave, make sure to get in on the local activities. Mountain climbing, horseback riding, and a couple's massage at the nearby Waldorf Astoria Spa are just a few of your options.
5. Hike Devil's Bridge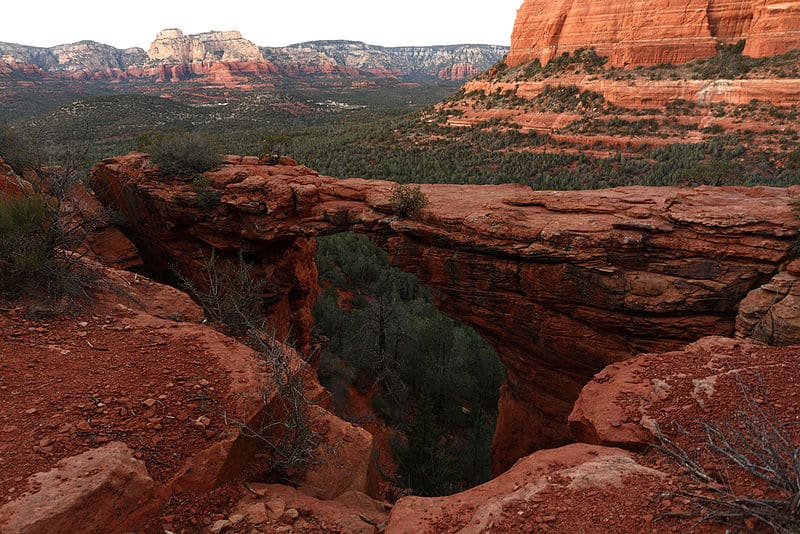 Come and see the largest sandstone bridge in Sedona. Add visiting Devil's Bridge to your list of things to do in Arizona. But don't be deceived. Regardless of what you read online and what you've heard, it is a moderate to difficult hike. The sandy trailhead is deceiving (curse you, Devil's Bridge). You'll walk about 0.9 miles until you reach the official path, a steep carved stone trail forming steep stairs along the way.
Whether you're a casual hiker or looking for a challenge, this is a great place to go. Start at the parking lot and follow the trail marker pointing to Devil's Bridge. The path slowly inclines uphill, gently increasing in steepness as you progress. There's some beautiful scenery along the way but it will take a while to reach the trail itself.
When you have walked for a mile, the path will fork. Head down the path on the left and you'll end up at the base of the bridge. Here, you'll stand directly under the fifty-foot arch, reaching towards the heavens. Just try not to strain your neck as you croon to take a look.
The topside trail that provides the biggest treat. Follow the path up a steep rock staircase to find a wide open area that offers amazing views. Keep on going and you'll reach a whole new level that leads directly to Devil's Bridge. This is not for the faint of heart. If you have the nerve, you can walk across the top. The bridge itself is just a few feet wide and has no borders. Use caution and common sense as you walk out – and please, don't bring animals. It's a long way down. If you have the time though, this hike is hands down one of the best things to do in Sedona.
6. Take a Boat Out on Bartlett Lake
Come and take a boat out on the beautiful Bartlett Lake. Just less than an hour from Phoenix, this feels like one of the most beautiful off the grid escapes. Come here for a vacation, staycation, or if you just want to take a dip. There's plenty of space. Summer offers the perfect opportunity for you to cool down and the water won't be too cold. It's a popular place among locals and travelers alike.
Whether you're traveling solo, with that special someone, or bringing the whole family, this is a great place to throw a party. Over at the Bartlett Lake Marina, you can rent large pontoons and houseboats and spend a few days cruising out on the water. Choose from jet skis, water skiing, canoeing, kayaking, and even stand up paddleboarding (SUP). The choices are all at your fingertips. If you'd like, there are also opportunities for camping and picnics too. This is one of the best recreational lakes to visit in Arizona.
7. Go See the Grand Canyon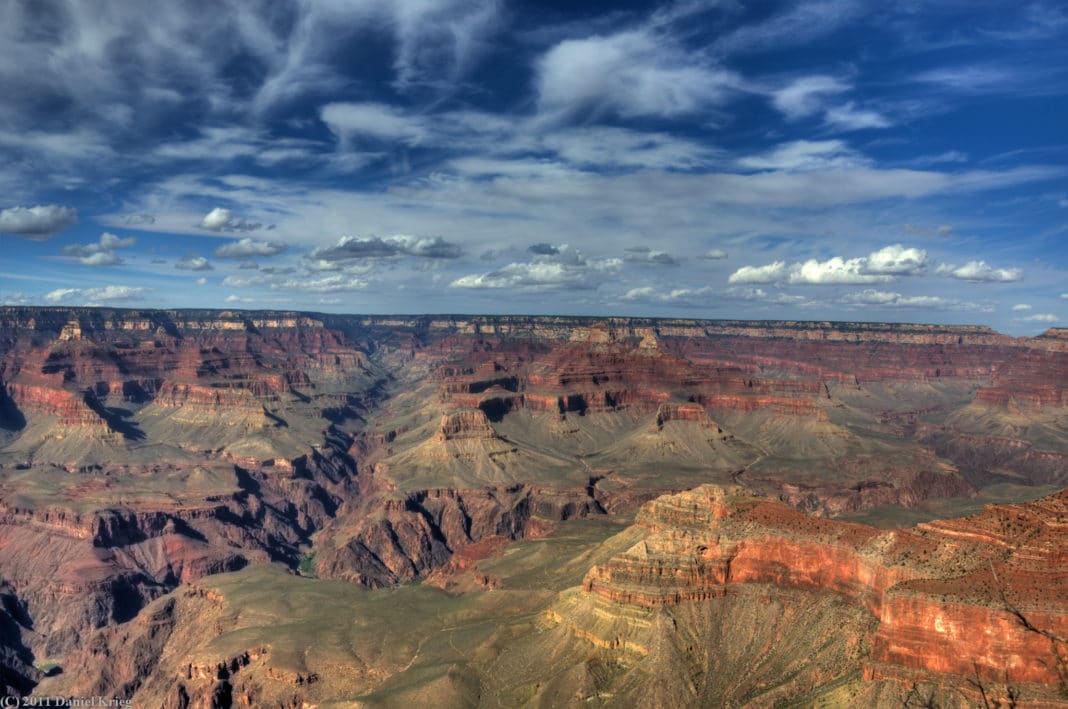 Okay, so we put this list together in no particular order. But obviously going to see the Grand Canyon has to be on your list of things to do in Arizona. Travelers come from around the world to see this geographical wonder. If you're looking to take more than just a quick glance, stay in the Grand Canyon Village. This historic town on the Southern rim was built for so much more than housing the ebbs and flows of tourists.
In fact, the village was built all the way back in 1901 when the Santa Fe Railroad built their route through the land and established a depot there. Needless to say, Grand Canyon Village is one of the most history-driven and eco-friendly lodges within the entire park. The company that manages the property is authorized by the National Park Service (NPS) to provide visitor services. They can arrange guided trips and park-sponsored adventures if you'd like. We don't know about you, but we are saying yes, please.
8. Drive Through Monument Valley
Drive out into the vast expanse of Monument Valley. Endless highways roll out through towering mesas as you blast the music without another soul in sight. As the land rises off in the distance, the clouds shift and give way to craggy cliffs. Here in these canyons are where ancient peoples once made their homes. The road rolls on to a magical place where monoliths pierce the sky. If you're lucky enough to visit do it; seeing this landscape is one of the best things to do in Arizona. Wander the lands of the Navajo for a view and history lesson unlike anything else.
9. Havasu Falls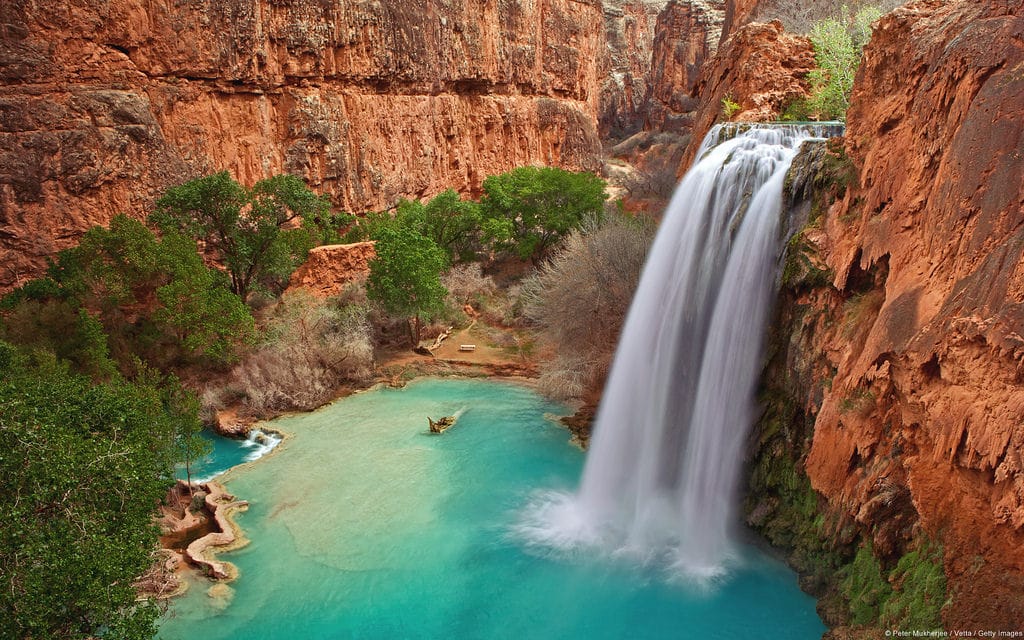 For years, Havasu Falls has been the dream destination of many hikers. Besides its breathtaking beauty, its exclusivity also lends itself to the allure. Since it's technically on the land of the Havasupai Tribe, you have to reserve your campground here in advance.
More often than not, this dreamy location is booked up all the way up to a year out. And it's easy to see why. Rich sandstone cliffs provide a stark contrast to vivid turquoise waters, flowing into a natural pool from a cascading waterfall. But here's the catch. It's a ten-mile hike each way to reach the falls. But with views like this, who really cares? The best way to reach the Falls is by way of Highway 66. You'll find them six miles east of Peach Springs onto Indian Route 18.
Book Your Trip and Check the Best Things to Do in Arizona off Your Bucket List
We hope you enjoyed reading our article on the best things to do in Arizona. As you can see, this state offers a diverse amount of activities and sights to see for the adventurous traveler. Which one of the places on our list would you like to see the most? Let us know in the comment section below.
Common Questions
Are you looking for more information on Arizona? Check out these articles:
Questions and Comments
Do you have any questions or comments for us? If so, we would love to hear them. Feel free to leave a message for us below. We will be sure to get back with you soon.
Related Article: 10 Best Things to Do in New Mexico for the Curious Traveler