Pink sand shores and crystal shores beckon you. There's still some time to soak up the sun on some beautiful Bermuda beaches.
Miles of coastline stretch as far as the eye can see in Bermuda. Shimmering pink sands pick up hints of the summer sun, warming everything it touches with its golden rays. The ocean provides a dramatic contrast with the land, as vivid blue waves crash into the shore. Bermuda beaches are unlike anything you've ever seen. And while the summer's almost over, here's the good news. You can visit this dreamy paradise nearly anytime year-round for some good weather, great vibes, and even better memories.
How do you possibly choose from 34 different Bermuda beaches? Over 75 miles over dramatic coastline offer different experiences, views, and unique in their own ways. We've spent a good amount of time exploring them for you so you can head out to the best ones. Some of them have long expanses of sand to sit and relax while others offer opportunities for rock climbing, cliff diving, and water sports. Others yet are surrounded by beautiful coral reefs. What type of beach are you looking to go to?
And have you seen Bermuda's pink sand? Tiny red organisms grow on the ocean floor and turn the tides crimson. Along with bits of corals and shells that get washed up, they mix with the organisms and create a vivid pink hue. You'll see this if you go to visit Horseshoe Bay Beach and Warwick Long Bay. They are some of the best pink sandy Bermuda beaches.
Over time, the mix of organisms and shells keep moving through the tide and get exposed to the sun. After being in the sun for a prolonged time, the colors began to shift and the sands lose their pink hue. The process begins and ends, ebbs and flows. If you want to see the real pink sand, look near the water. Just keep in mind that you can't collect it and take it home with you. It's not allowed. If you want a sample of sand, visit the local gift shops and you'll find some sold by the bottle.
We've compiled a list of the best Bermuda beaches you need to see in your lifetime. We'll kick off our list with some of the big names to check off your bucket list. Then, for those adventurers who like to go a little off the grid, we have a special treat just for you. That's right. We've scoped out some stretches of sand where you can take that special someone, a bottle of cheap wine, and have the whole beach to yourself. Here's our guide to getting away from it all.
Here Are Our Picks for the Bermuda Beaches You Need to Visit
You'll soon find that there are Bermuda beaches for just about every purpose. The bigger names offer a spot for families to stretch out under the sun, enjoy water sports, and the luxury of a resort stay coupled with the island life. Smaller beaches give way to secluded escapes, secret hideaways, and some of the best memories. Whether you're looking for a little luxury or more of the manana lifestyle, you'll find everything you need and more here.
1. Horseshoe Bay Beach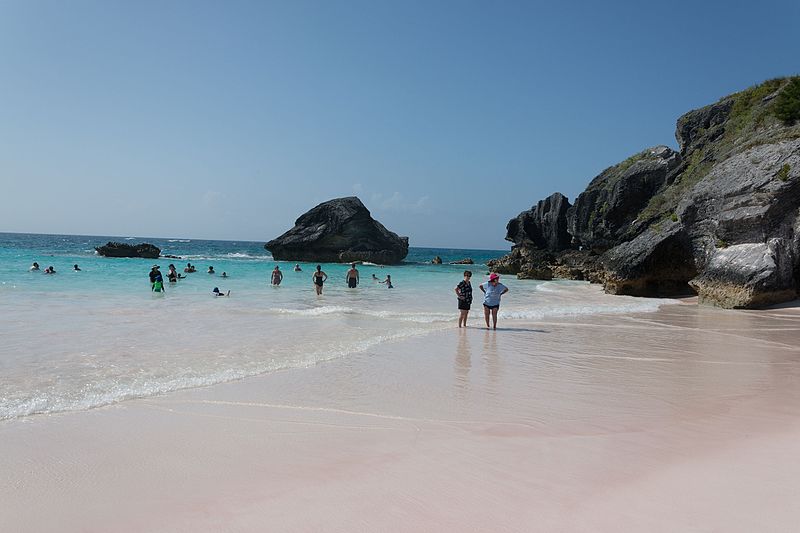 When most people picture Bermuda beaches they might think of resorts on the sand and crowds with beach blankets strewn everywhere. While Horseshoe Bay Beach is by no means a secret, it's definitely one of the island's most stunning beaches. Named for its horseshoe shape, you'll find lovely pink sands and stunning views of the ocean. Whether you plan on soaking up the sun or taking a dip, there's plenty of room and time for both. Also nearby, you'll find the Horseshoe Bay Beach cafe where you can pick up some great food. Satisfy your cravings and indulge yourself in an ice cream.
2. West Whale Bay Beach
One of the smaller Bermuda beaches, West Whale Bay offers a more secluded setting. Smooth pink sands, turquoise waters, and some very special guests await you. You'll find this lovely stretch of sand located at the western end of Southampton Parish. Craggy cliffs frame the scene, providing secluded coves for travelers seeking a little privacy and R&R.
You'll be excited to know how the beach got its name. If you visit in the spring, chances are, you will see some whales passing through the area along their travels. The shallow waters also make it a good place to take the kids in the summer and splash around in the gentle surf. If you're up for a little adventure, there are plenty of coves and coral reefs to explore offshore. This region is prized for its fishing. So rent a rod and come on out.
You can also go whale watching (of course). This is probably one of the best kept secrets when it comes to Bermuda travel. In the late winter and early spring, parades of humpback whales swim in the waters on their way to their feeding grounds in the north. West Whale Bay Beach offers one of the best places to watch these creatures – right from the comfort of the sand.
Come in the early morning or late evening with a pair of binoculars in hand. For the best seat in the house, pick a spot on the grassy cliffs overlooking the sea. Here, you'll get a fantastic view of the Humpbacks leaping out of the sea, an activity known as "breaching." There's nothing more captivating than watching these magnificent fifty-foot-long 40-ton creatures enjoy the wonders of Mother Nature.
Last but certainly not least, you can go visit the remains of Whale Bay Fort & Battery. You'll find this historic landmark overlooking the beach. Constructed in the mid 1700s, the fortress was once a British bulwark of defense with twelve powerful cannons to defend the island from potential invaders. While the cannons are gone, you can still explore the fortress and battery. The original stone walls, barracks, and underground storage rooms are still intact. Offering amazing views of the Atlantic Ocean, it's also the perfect spot to plop down for a picnic.
3. Warwick Long Bay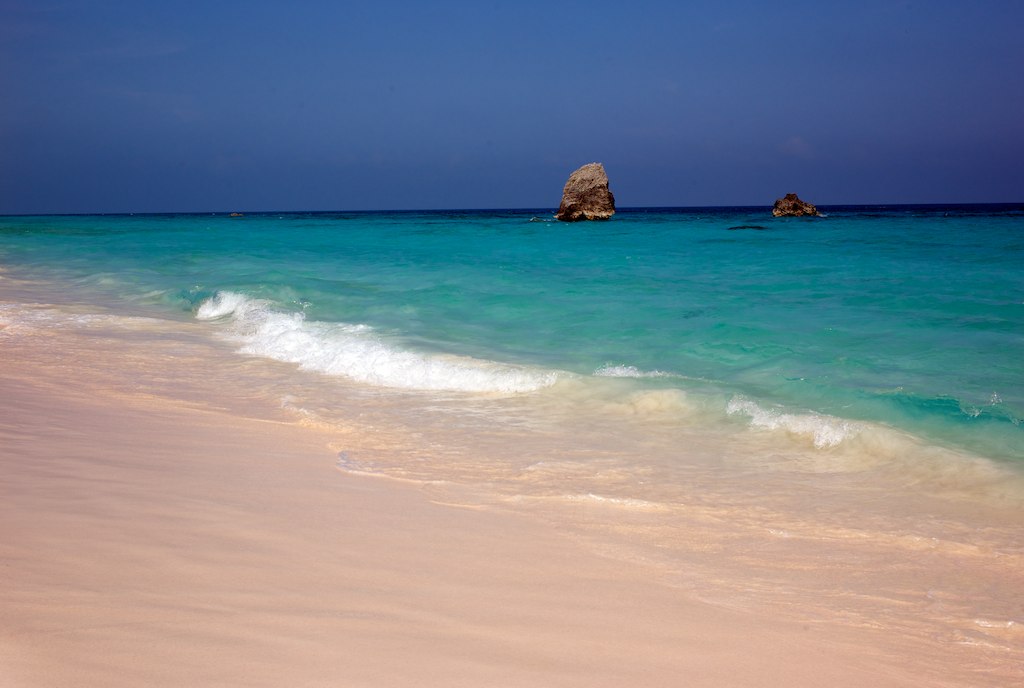 Welcome to one of the longest and most scenic Bermuda beaches. The lovely sands of Warwick Long Bay stretch for a half mile, with jagged rocks framing the beach like a quirky handmade picture frame. Just offshore, the coral island juts out from the clear blue waters. Needless to say, snorkeling is great here in the bay. Nearby trails connect to Jobson's Cove and Chaplin Bay. To get to Warwick Long Bay, you can enter from South Shore Park, which is just off of South Road.
4. Jobson's Cove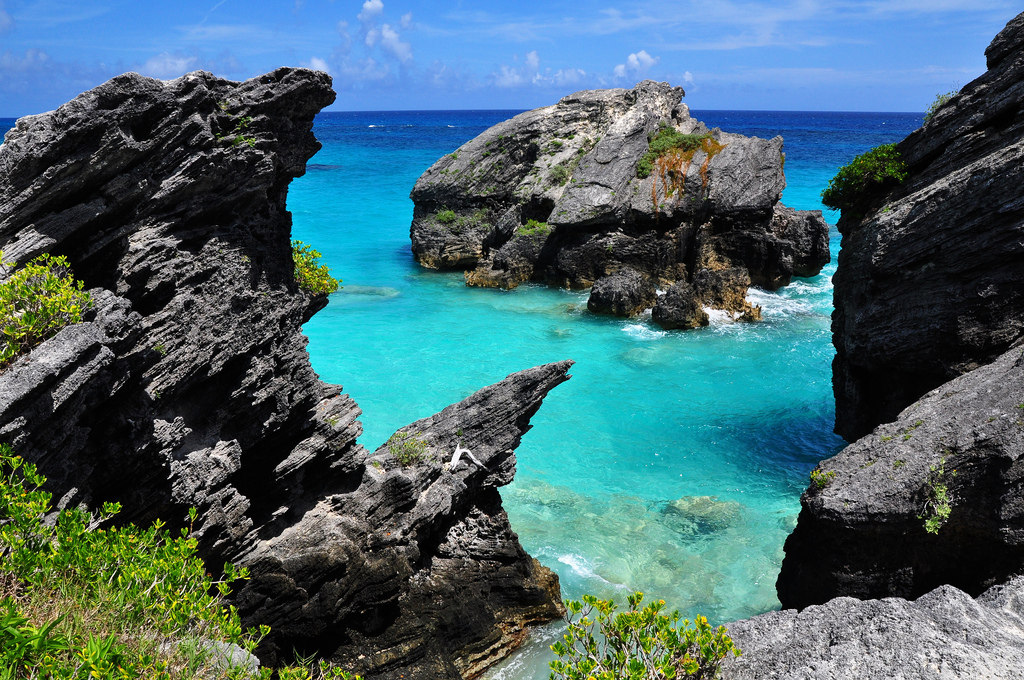 Jagged rocks stick out from a secluded inlet. Jobson's Cove is one of the most idyllic Bermuda beaches. Pink sand is encapsulated by the rugged landscape, creating a private cove where you can sit and watch the tide flow in. Day or night if you want to go for a dip, you'll never find warmer water and gentler waves. This is a great spot to take the kids snorkeling and swimming.
5. Tobacco Bay Beach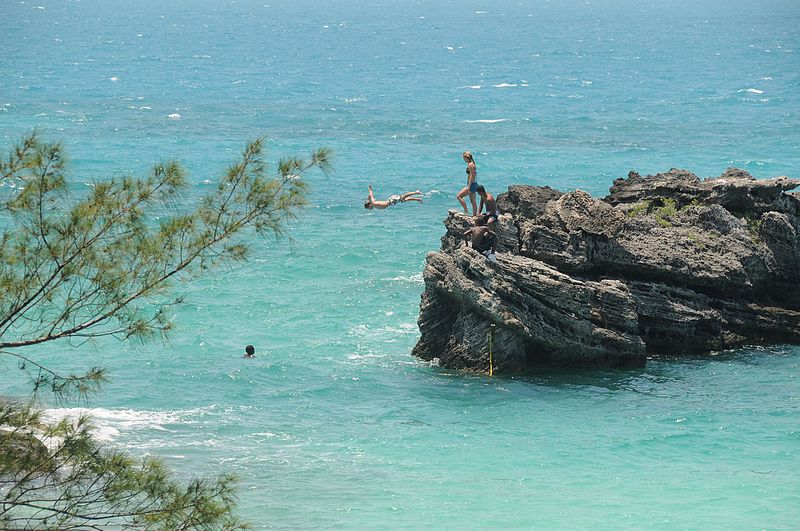 So this beach has a story to it. Tobacco Bay Beach got its name when survivors from the shipwreck of the Sea Venture discovered tobacco growing here. Today, you can find peculiar limestone formations just offshore. Needless to say, it's a haven for marine life like sergeant majors and parrotfish. As the most popular beach in Saint George's Parish, it offers equipment rentals, a great snack bar, and during summer nights, bonfires, grills, and music nights. Of all the Bermuda beaches, this is one of our favorites.
6. Black Bay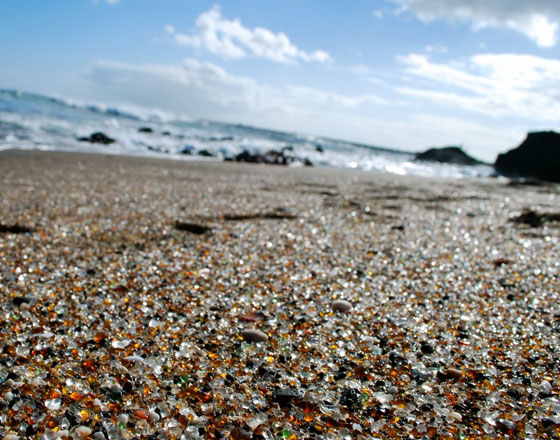 You'll find one of our favorite Bermuda beaches located on the West End, just down the coast from the Royal Naval Dockyard. Black Bay is actually a series of three tiny beaches connected by coves. Make sure you check the forecast before you go, as they come and go with the tide. One of our favorite things to do is pack a picnic and enjoy the peaceful views from up above the strand. Here, the waters are warm, calm, and shallow. Keep your eyes open for some beautiful pieces of sea glass along the beaches.
7. South Shore Park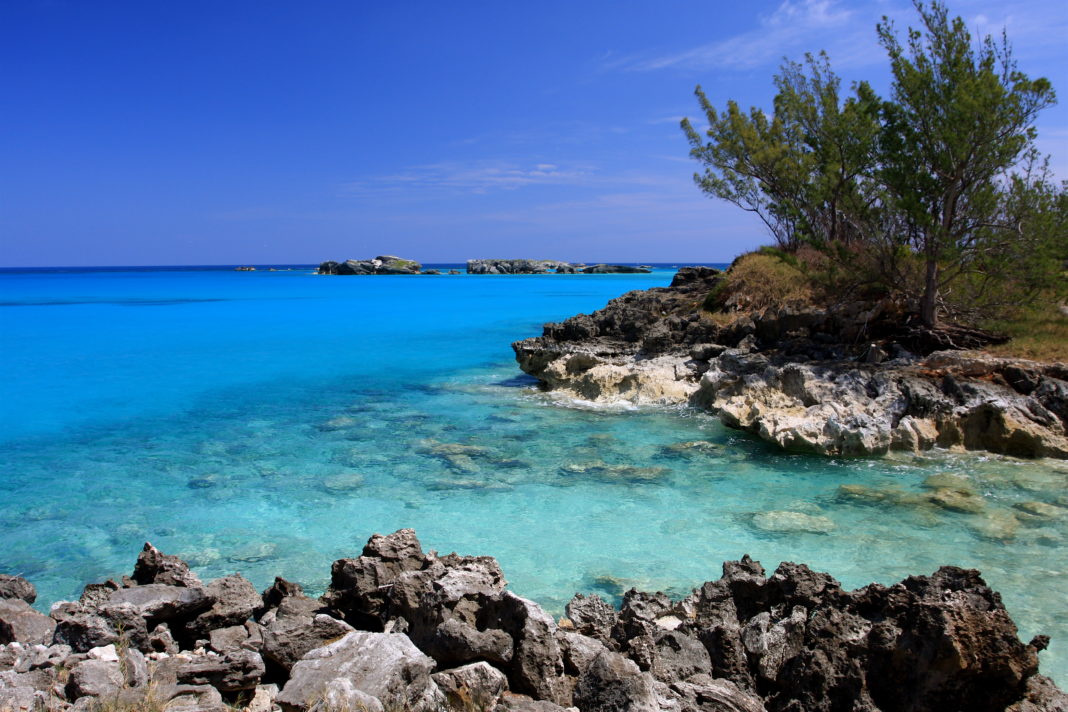 Of all the Bermuda beaches you need to see in your lifetime, you need to add this one to the top of your list. South Shore Park is a secluded paradise. It's perfect for honeymooners seeking to relax on the sands alone or simply just lovebirds who want a little bit of adventure.
One of our favorite things about South Shore Park is the cliff top trail in the coastal nature reserve. This scenic path stretches some 1.25 miles from the eastern Warwick Long Bay all the way to Horseshoe Bay in the west. Tucked between two massive cliffs, you will find Jobson's Cove, one of the island's most photographed spots. Make sure you bring a good travel camera with you.
Birdwatchers will enjoy sights of Bermuda Longtail cruising through the breeze. South Shore and its surrounding areas offer great spots for a picnic. Stop along the trail, soak up the sights, and catch some rays too.
8. Clarence Cove
Rock climbing and cliff diving, anyone? Clarence Cove is one of the best Bermuda beaches for adventure seekers. A small stretch of sand on the north shore, it offers scenic beaches for utmost relaxation, framed by dramatic sea cliffs rising from the strand. While most of the popular beaches in the country are on the south shore, this one's a special exception.
If you're feeling brave, you can try out rock climbing above the shore. The cliffs offer the perfect place to scale up with natural grips for handholds. Down below, snorkelers make their way around the coves, scouting out sea caves filled with lobsters and lazy, swimming turtles. When you're done climbing and looking for sea life, wind down on the sand or nearby at one of the many picnic tables. If this isn't a good place to sit down for a spread, we don't know what is. As part of Admiralty House Park, Clarence Cove is just a quick bus or scooter ride away from the City of Hamilton.
9. Elbow Beach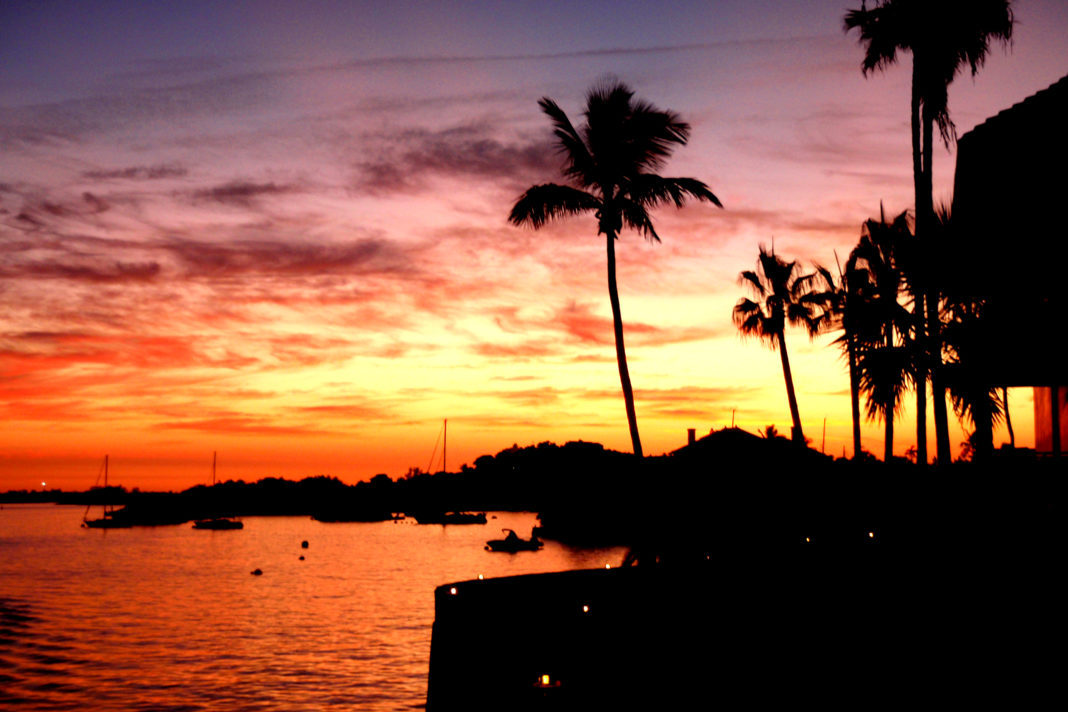 Have you heard of Elbow Beach? When you Google 'best Bermuda beaches,' you'll always come up with a photo of this one. This mile-long arc of curving sand is the perfect place to take a dip and soak up the sun. Just a ten-minute drive from Hamilton, this little piece of paradise offers a great spot to swim.
Along the beachfront, you will find three stunning resorts, including the Elbow Beach Bermuda Resort & Spa. Here, guests can rent out equipment like snorkeling gear, beach umbrellas, lounge chairs, and more. In addition, there are quite a few cute beach bars and restaurants where you can grab lunch and some drinks.
Visit This Atlantic Island and Check the Best Bermuda Beaches off Your Bucket List
We hope you enjoyed reading our article on the best Bermuda beaches. Whether you're the type of traveler who loves a little luxury or one seeking solitude, these stretches of sand offer everything you need. So relax, throw down your beach blanket, and soak up the sun.
Common Questions
Are you looking for more tips and inside knowledge on Bermuda? Look no further. We've got you covered.
Questions and Comments
Do you have any questions or comments for us? If so, we would love to hear them. Feel free to leave a message for us below. We will be sure to get back with you soon.
Related Article: The 10 Best Bermuda Hotels For 2018: Tropical Luxury Resorts