Discover Bermuda's finest accommodations with Pompano Beach Club.
Bermuda remains a top getaway destination for every type of traveler. With the island's gorgeous beaches and tropical climate, Bermuda offers a stunning environment for relaxing and having fun. Since the country has become such a popular vacation site, many hotels have cropped up all over the island. Accordingly, finding the right accommodation for your needs has become a challenge. When you stay with the Pompano Beach Club, you'll be able to experience Bermuda at its best. The hotel's spacious rooms and amenities ensure visitors will have an unforgettable time during their stay.
Let's Talk Accommodations
Suites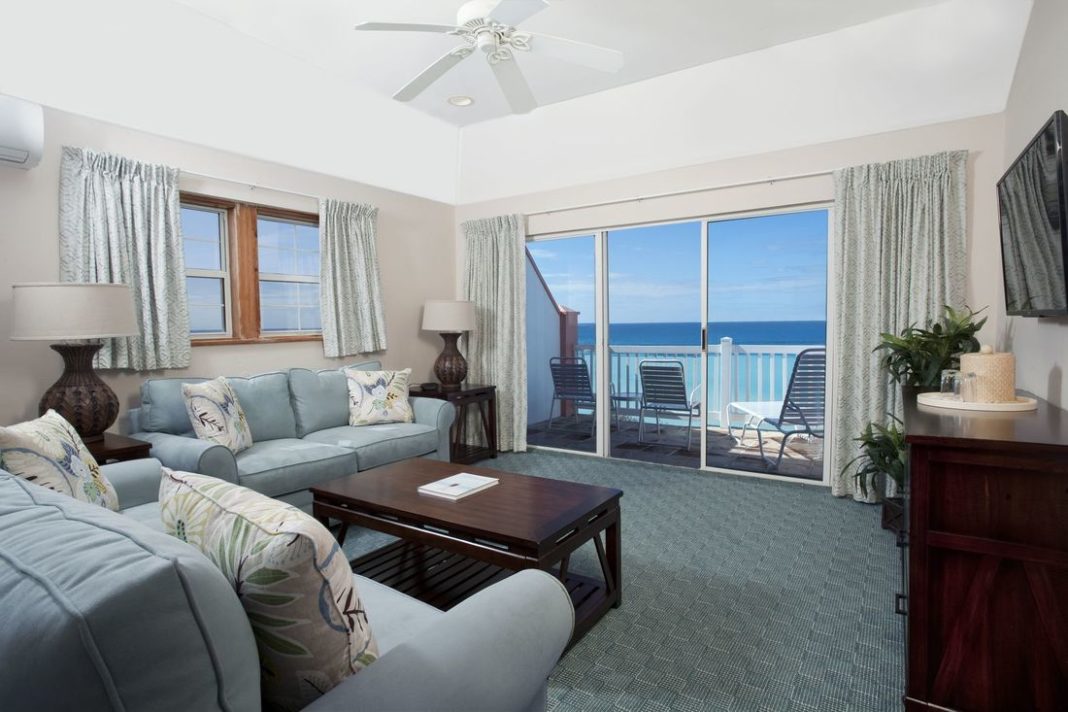 Credit: Pompano ​Bermuda
Every suite inside the Pompano Beach Club offers plenty of space for families and groups of friends. With a king-sized bed and separate living and sitting areas, you'll have lots of room to spread out. These spaces can sleep up to five people, with sofa and rollaway beds an option for additional guests. Private balconies and patios allow for stunning views of the ocean below. A tiled bathroom also provides an area to refresh after long days at the beach.
In the Lower Snapper Suites, guests will be staying on the first floor of the hotel building. These spaces have the same amenities as the plain suites, with the difference being a slightly obstructed sea view. The Snapper Suites can also fit large groups, like families with many children. Additionally, the private balcony and patio remain another perk of the space.
Superior and Deluxe Rooms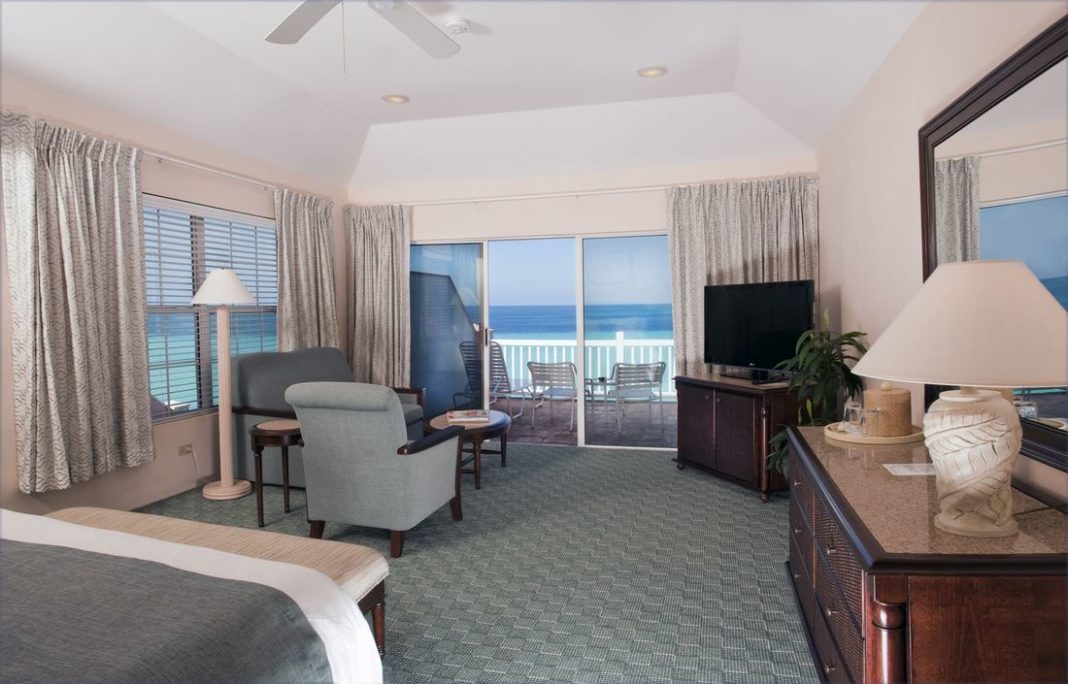 Credit: Pompano Bermuda
The Superior Rooms found in Pompano Beach Club provide guests with a slightly smaller area than the suites. While these rooms may only fit up to three people, they remain equipped with all the same amenities. These areas offer panoramic views of the sea and private balconies. During your morning or afternoon meals, you can eat while watching the ocean waves. Or, watch the sunset with a drink after a long day of exploring.
With the Deluxe Rooms, you'll have an oceanfront perspective and a large private patio. Since these areas have the closest location to the shore, guests can get an unparalleled view of the sea. These spaces include a flat screen TV, sitting area, lounge chair, and coffee table with seating. The ceramic-tiled bathrooms inside the deluxe rooms provide even more room. Luxuriously designed, the bathrooms also have double sinks, a tub, and a shower.
Townhouses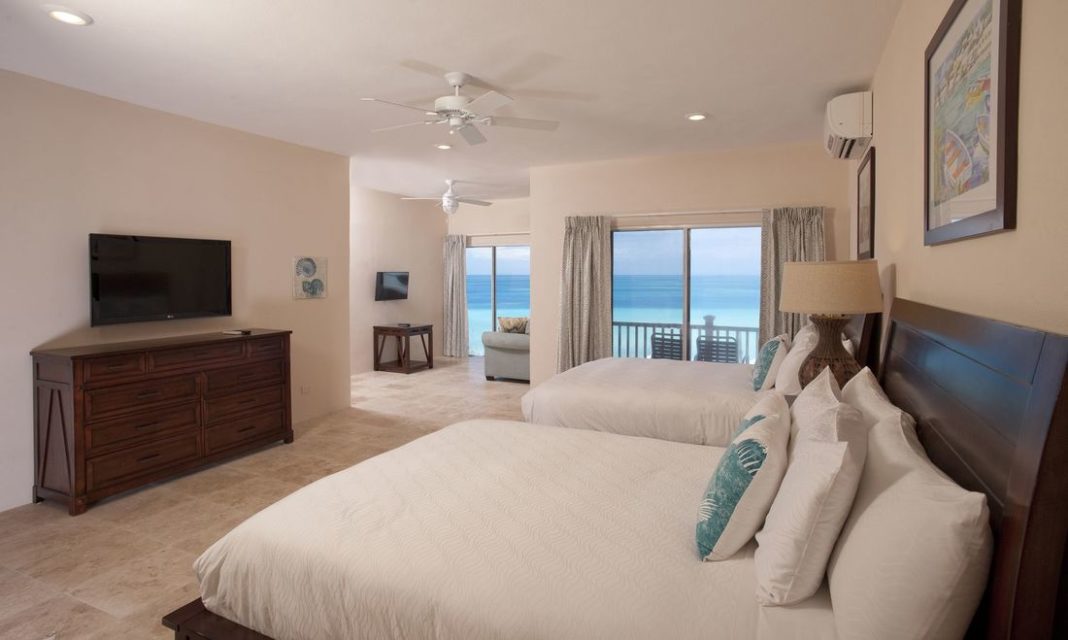 Credit: Pompano Bermuda
Visitors who need lots of space or have a large family may want to consider a Townhouse. These units include up to three bedrooms and bathrooms, as well as full kitchens and massive living areas. If you enjoy cooking your own meals, you'll have all the equipment necessary to create delicious dishes. With two floors, the townhouses have incredible amounts of room for all guests to hang out.
The Townhouses maintain different designs depending on the guests' tastes and desires. Spaces like the Rockfish have marble tile floors in each room, while Sailfish contains a bright and airy atmosphere. With balconies in almost every room, each guest will have their own area to enjoy the sea. The Bonita townhouse offers the most amount of space, with almost 3,000 square feet. This makes it ideal for families who want privacy while still having enough room to enjoy vacation time together.
Let's Talk Dining
Cedar Room Restaurant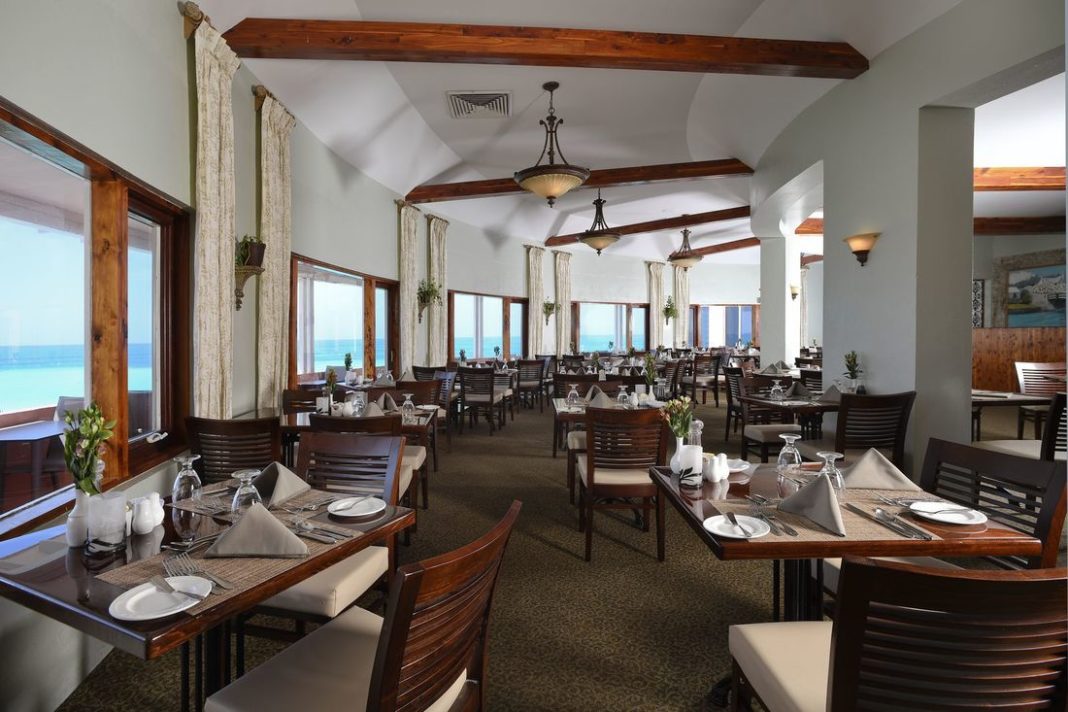 Credit: Pompano Bermuda
Named for the space's cedar beams decorating its walls, the Cedar Room offers guests with an elegant dining experience. Gourmet dishes, created by Pompano Beach Club's talented chefs, give guests the chance to taste 5-star quality food. While eating your meals, you'll be treated to a view of the ocean through the restaurant's many windows. Along the walls, pastel paintings of the Bermuda landscape add to the room's airy and sophisticated design. During the spring, summer, and fall, you'll also be able to enjoy alfresco dining in the Cedar Room.
Ocean Grill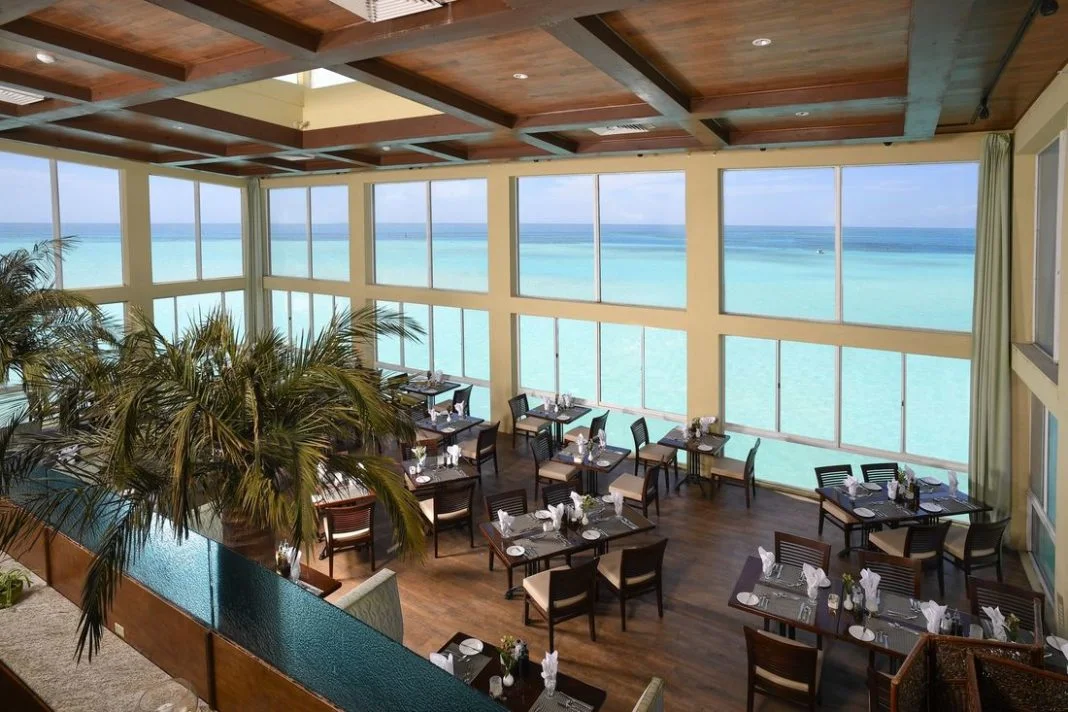 Credit: Pompano Bermuda
This bistro-style dining option offers guests with an ideal space for eating dinner. The a la carte menu includes food options like soup, salad, and appetizers for sharing. An additional dessert menu lets visitors satisfy for the sweet tooth with a delicious treat. With floor-to-ceiling windows on the Grill's three walls, you'll have spectacular views of the water. The Ocean Grill might even be the best dining location in Bermuda for watching the sunset while enjoying a meal.
Coral Reef Café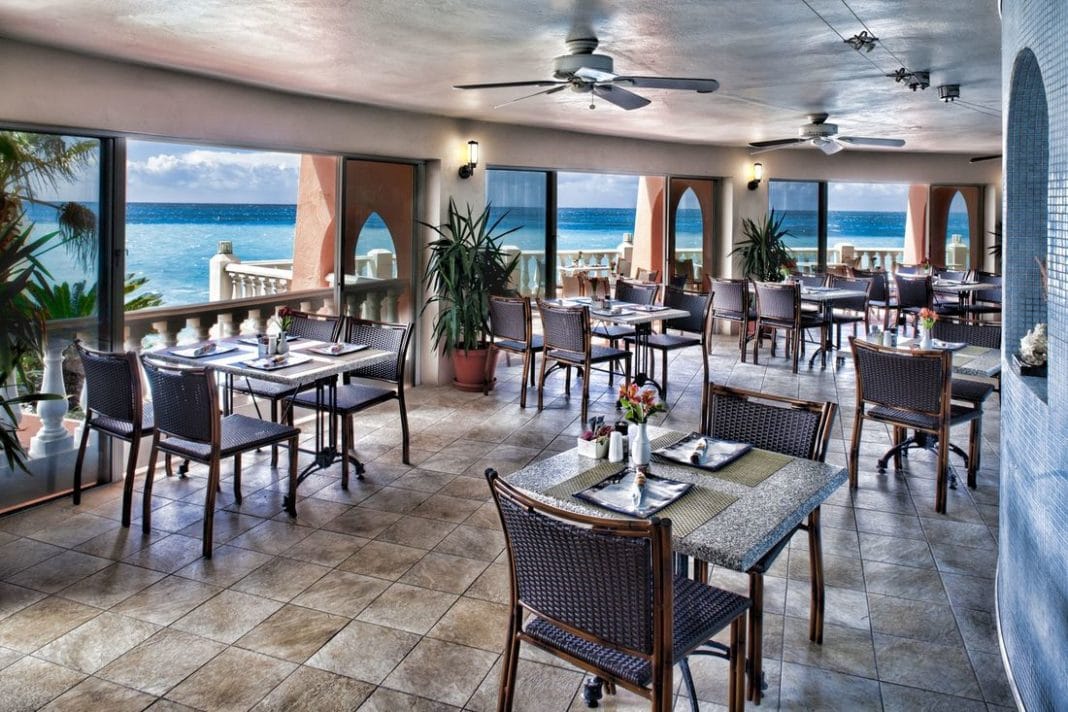 Credit: Pompano Bermuda
Take a break from outdoors activities by stopping for a snack at the Coral Reef Café. While at this dining location, guests can enjoy a light afternoon meal, such as fresh fruit or seafood. A specially crafted children's menu will ensure that kids can find something tasty to eat after swimming in the pool. The space's feature wall contains a gorgeous mosaic, reminiscent of the coral reefs found in the surrounding area. Guests have the choice to sit inside the café, or to dine on the outdoor terrace.
Sunrise Coffee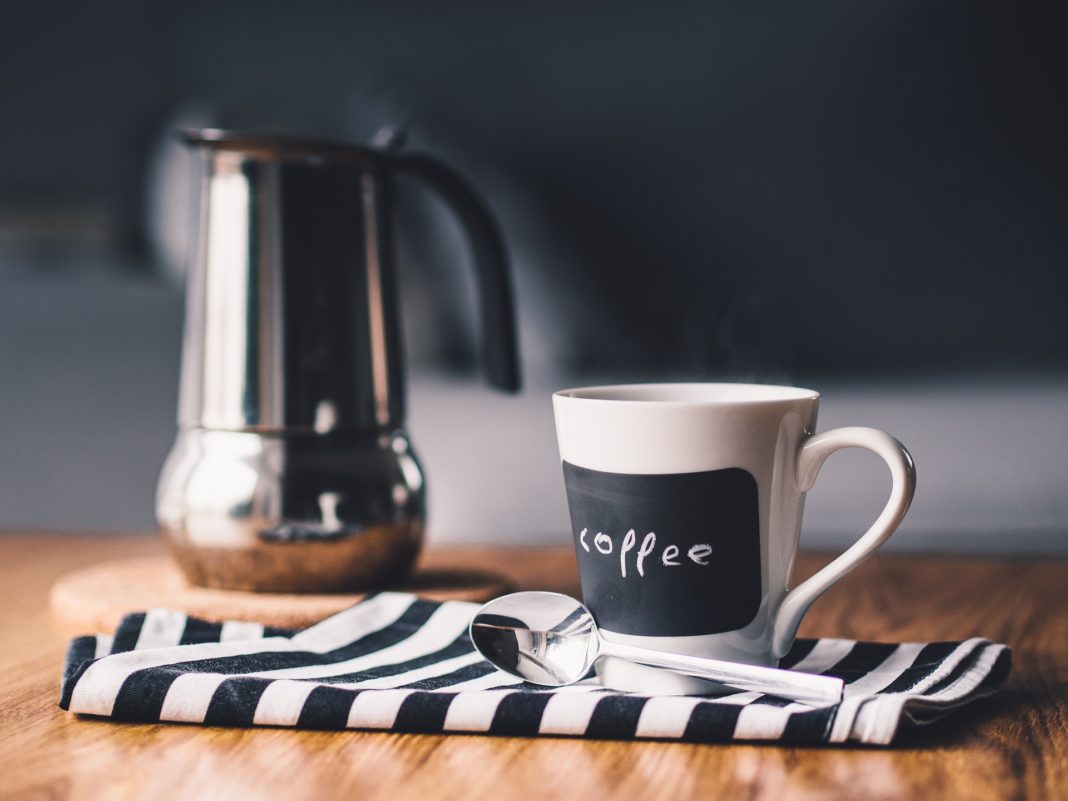 Any guests needing a caffeine fix should visit Sunrise Coffee before starting their day. The dining site's complimentary breakfast, starting from 6:30 am, also includes tons of food choices. Pastries, fresh fruit, cereal, juices, and more can all be enjoyed by hungry early risers. You might also catch up on local news by reading a free copy of the Royal Gazette, Bermuda's daily paper.
Beach and Pool Bar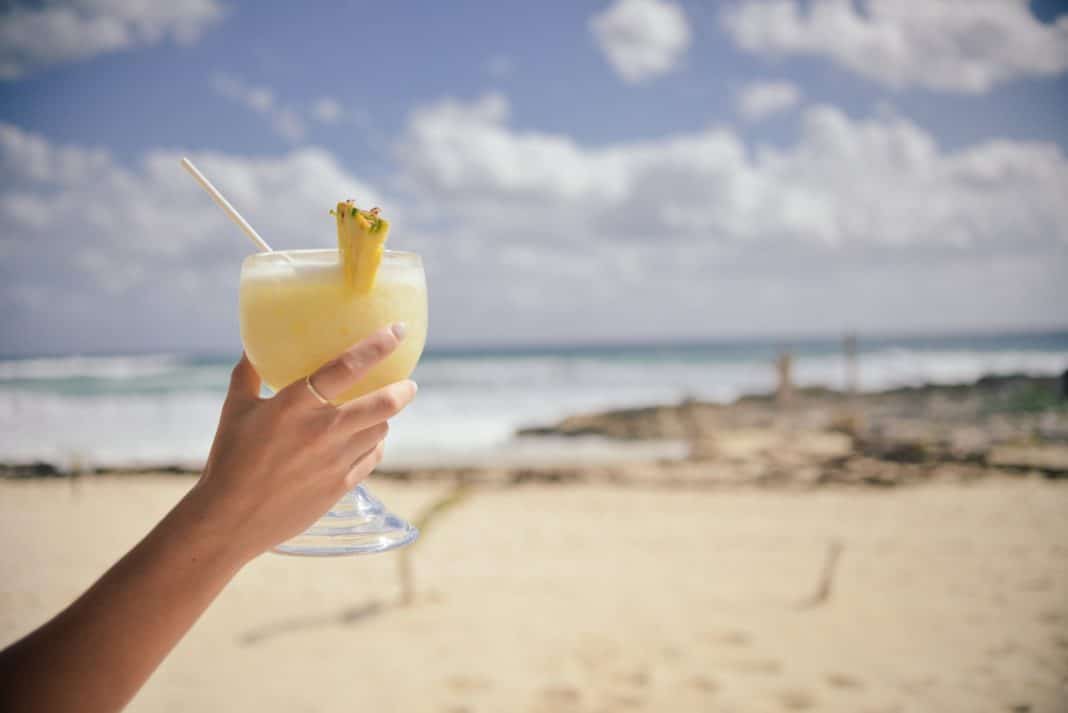 Hoping to unwind with a delicious and refreshing cocktail? Pompano Beach Club includes two bars on-site to guests wanting to enjoy a few drinks. The Beach Bar, which has a tiki-style structure and thatched roof, remains open for most of the day. While there, you can try a variety of beers, tropical cocktails, wine, or even just soda.
With the Pool Bar, you can grab a quick drink after walking just a few feet from the resort's pool. This gives you the chance to get a fruity cocktail and bring it back to your seat by the pool. Menu options like the "Nutty Islander" and "Rum Swizzle" remain enticing to guests searching for a delicious drink.
Let's Talk Amenities and Activities
Sunset Lounge Performances

Credit: Pompano Bermuda
Every night at the Sunset Lounge, guests will have the chance to watch a variety of different performances. Famous disc jockeys come to the Lounge to play everything from top hits to classics from every decade. Dancing and drum duos perform Bermuda-inspired choreography, while a talented pianist will come and test your knowledge with musical trivia.
Spa and Fitness Centers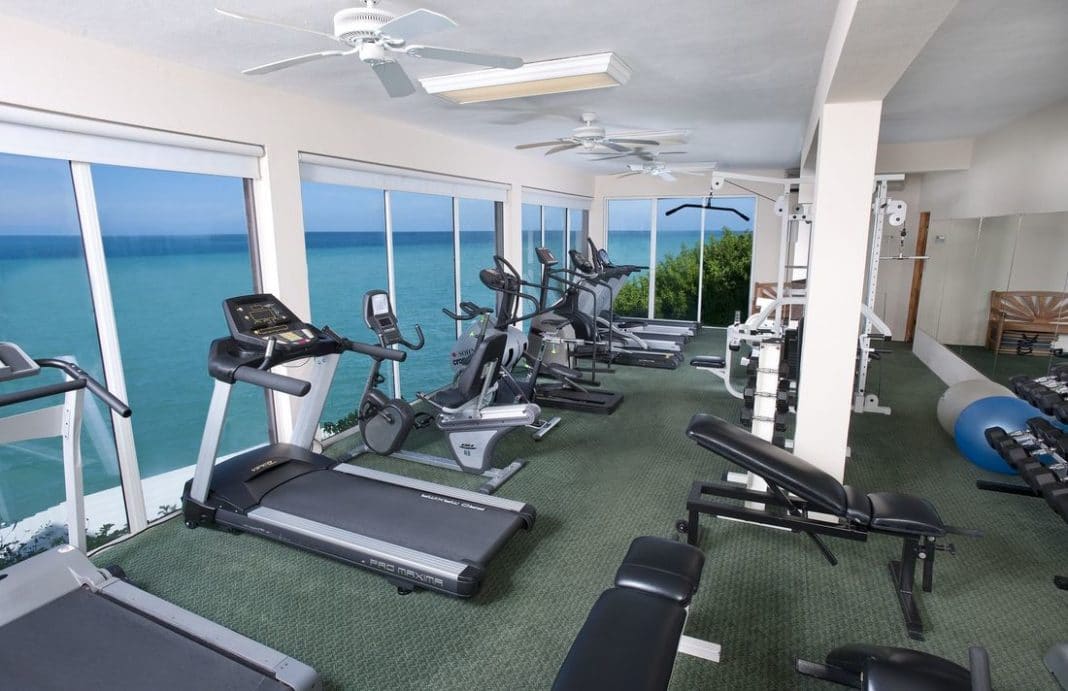 Credit: Pompano Bermuda
Though many people like to simply lay out on the beach all day, others prefer to be more active. While at Pompano Beach Club, you'll have access to various fitness opportunities. At the hotel's Fitness Center, you can use a variety of equipment to help you sweat. You could also play a game of tennis on one of the resort's courts. After playing hard all day, take a few hours and rejuvenate inside the Three Graces Day Spa. Treatments offered to guests include massages, facials, pedicures, waxing, and more. Deepwater bathtubs with powerful jets give you the chance to relax alongside your partner or on your own.
Water Activities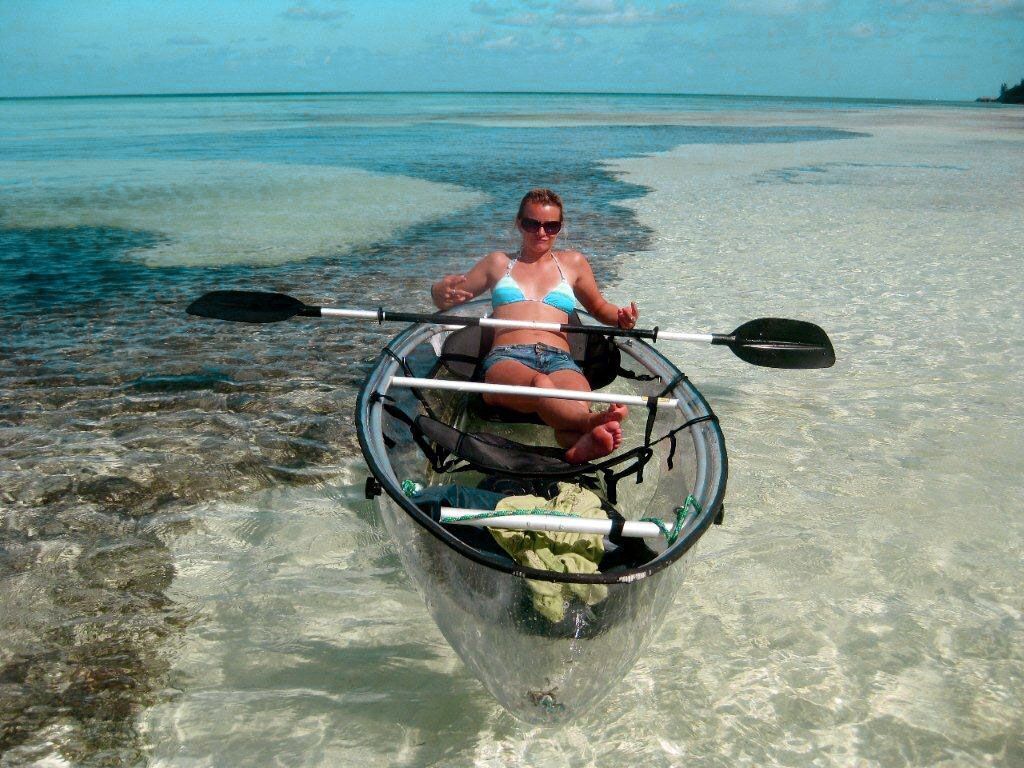 Credit: Pompano Bermuda
When you come to visit Bermuda, one of your main goals should be to visit the island's stunning beaches. At Pompano Beach Club, guests have access to the resort's private beach, so you can sunbathe in seclusion. Take a dip in the clear water or grab some goggles and search for fish in the shallow areas. The resort also maintains multiple pools and Jacuzzis, allowing every guest the chance to swim some laps in peace.
The Water Sports Center of Pompano Beach Club also offers additional ways for guests to enjoy the ocean. Grab a few kayaks and explore the open seas, or test your balance while using one of the hotel's paddleboards. You could also take a sailing expedition, with the resort offering free transportation to the nearby docks. If you enjoy fishing, make sure to check out a fishing cruise with one of Pompano's trusted captains.
What Travelers Are Saying About Pompano Beach Club
Guests who spent a getaway at Pompano Beach Club raved about the hotel's welcoming atmosphere. From the minute travelers arrived, they were treated to excellent service from the hotel staff and concierge. When they got to their rooms, guests found the spaces to be large and decorated beautifully. Many loved that most of the rooms had views of the sea below.
Another perk enjoyed by guests of Pompano Beach Club were the multiple dining options. Visitors could have five-star meals at any of the hotel's on-site eating locations. Reviewers who chose the all-inclusive staying plan found that the food offered rivaled the dishes served by other accommodations.  
Experience comfort and elegance when staying at the Pompano Beach Club.
Those who travel to the island of Bermuda find it to be a perfect location for escaping everyday stresses. With sunny coasts and clear waters, Bermuda gives tourists the chance to experience a paradise away from home. When trying to book a vacation to Bermuda, you should consider exactly what you want from your accommodation. At Pompano Beach Club, you'll have spacious rooms, excellent meals, and fun activities for everyone to enjoy. Consider staying with Pompano Beach Club the next time you decide to visit Bermuda. You won't regret it.
Related Article: 10 Best Bermuda Hotels for 2018