East Coast North Americans can experience Bermuda travel within a two-hour flight.
Bermuda offers more than just great shorts. Their history extends centuries being a British territory, and has taken major transformation culturally and overall since it's beginning. Beside the pink sand beaches sit historical buildings and luxurious accomodations for the modern traveler. Bermuda travel connected with America's Cup in recent times, and they will continue to heighten a diverse travel demographic with a variety of choices for budgets of all kinds. Travelers can find an array of amenities with the top notch resorts and clubs.
Families can enjoy the beaches and landmarks of Bermuda, and there are plenty of activities for people of all ages to participate in. Travelers can experience the tropical greenery and pastel caribbean colors during their stay. Artists and creatives become captivated by the surrounding views. Even during the colder seasons where swimming may seem a bit frigid, visitors come down to the beach to watch the phenomenal sunrises and sunsets.
Before heading over to the delightful destination, we have prepared a Bermuda travel Guide to highlight some faves! You will need to navigate your way around this charming, old school area. Travelers interested in visiting Bermuda will need to develop an understanding of how to get around from place to place. Transportation is truly limited on a closer-knit island. However, accommodations are far from limited with Bermuda travel. With the growing choices of how to stay as a guest in Bermuda, people have the opportunity to customize their trip to their wants and needs. Read below for our tips!
How to Get Around in Bermuda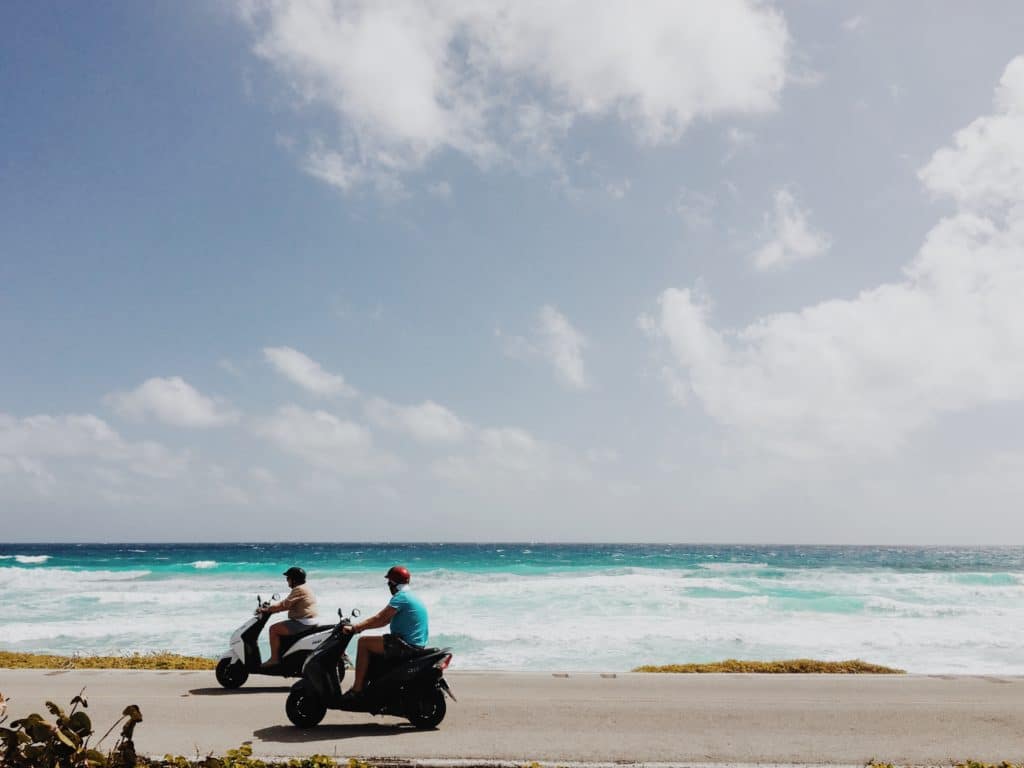 Scooters
The most common form of transport can get people from one side of the island to the other in less than an hour. Scooters (or "bikes" per the locals) are the personal way travelers can get around. With Bermuda remaining a British territory, some visitors will feel at home with left-side driving. A helmet and a lock are usually included with a rental. Not into petrol? There are electric scooters available! Just make sure to clarify if you want a motorized scooter instead of the pedal version if you want to go the distance.
Taxis
If you have an unsettling feeling about riding a scooter, there are taxis usually available when you arrive! Smaller groups and early sleepers may find favor with taxi rates. Taxis rate higher for large groups and off-regular hours, but do not worry! They are metered at government set rates so there are no major surprises. Go ahead and ask drivers something about their culture or a specific landmark that sparks your interest! They often double as great tour guides. They are the locals who get around, so they are bound to know a thing or two about the island.
Buses
For middle ground on price and comfort, Bermuda bus routes may be the friendliest option. Some travelers may not want to worry about rentals throughout the duration of their trip. Schedules and fares can all be located ahead of time on the Bermuda Tourism Site. Bermuda ensures their buses are reliable, affordable, and clean (emphasis on CLEAN)! They are even air-conditioned for those hotter days. These pink vehicles stretch across the whole island, 11 routes to be exact. Colored poles signify whether buses are heading in the direction of the capital or moving away from it. Buses are a great way to get around in Bermuda, but don't forget exact change!
Where to Stay in Bermuda
The Hamilton Princess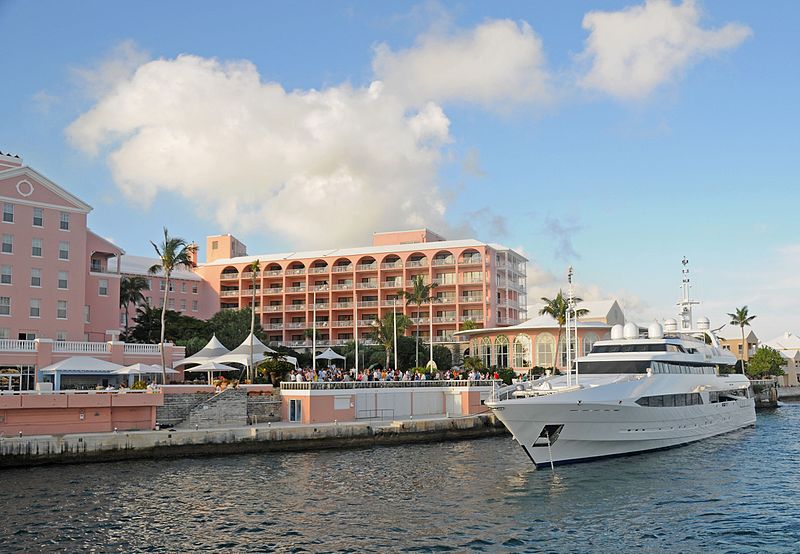 Credit: Hamilton Princess
Think big, pink, and vintage when it comes to the Hamilton Princess Hotel and Club. Alongside million dollar renovations, your stay will include the extensive marina, an infinity pool, and an indoor/ outdoor spa. There are three restaurants, and two that sit harbor-front. Hello delicious Caribbean soul food! While doing some shopping at the variety of shops next door, take advantage of the child care offered per hour. Aside from the toys, goggles, and other pool features, this place holds a ton of fun for children guests. Hamilton Princess even has a multi-million dollar contemporary art collection that all the family can enjoy together. If these sound like fitting features for your Bermuda travel experience, check out what more you can explore when you stay at the Hamilton Princess.
Rosewood Bermuda
Credit: Rosewood Bermuda
Here you'll find familiar, unique, and luxurious when you stay at Rosewood Bermuda. The interior design flows through all 92 rooms. Think Old World fancy that compliments Bermuda's nature as a whole. On the inside you'll find chandeliers, dark wooden feels, and intricate pieces of art. On the outside you'll find the private beach, two swimming pools, and Tucker's Point Golf Course. You are guaranteed topical jungle vibes when you step outside. Check out our extended review of the lush Rosewood Bermuda! The deep green colors of the landscape that sit by the pristine beaches are a sure fire way of kickstarting a relaxation mindset.
Airbnb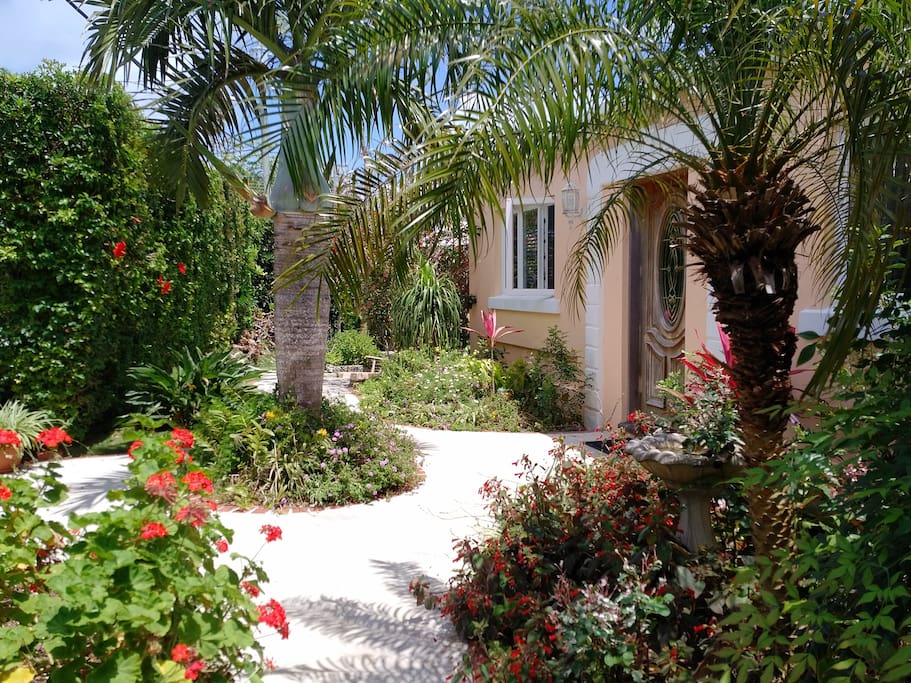 Credit: Airbnb
Calling all Airbnb lovers! Bermuda continues to open up more accommodation options that are budget-friendly. In fact, they signed a tourism agreement with the alternative stay company! Airbnb has a massive list of different options available. You can select a place if you plan on spending down time poolside, or you can select a small studio that provides a place to sleep in between adventuring Bermuda. Also: We. Love. Reviews. You can read about previous traveler's personal experience and how their stay went with specific Airbnbs! Natalia Guest Room & Pool Airbnb even has a two-seater, battery-powered car that you can rent.
What to See and Do in Bermuda
Ocean Activity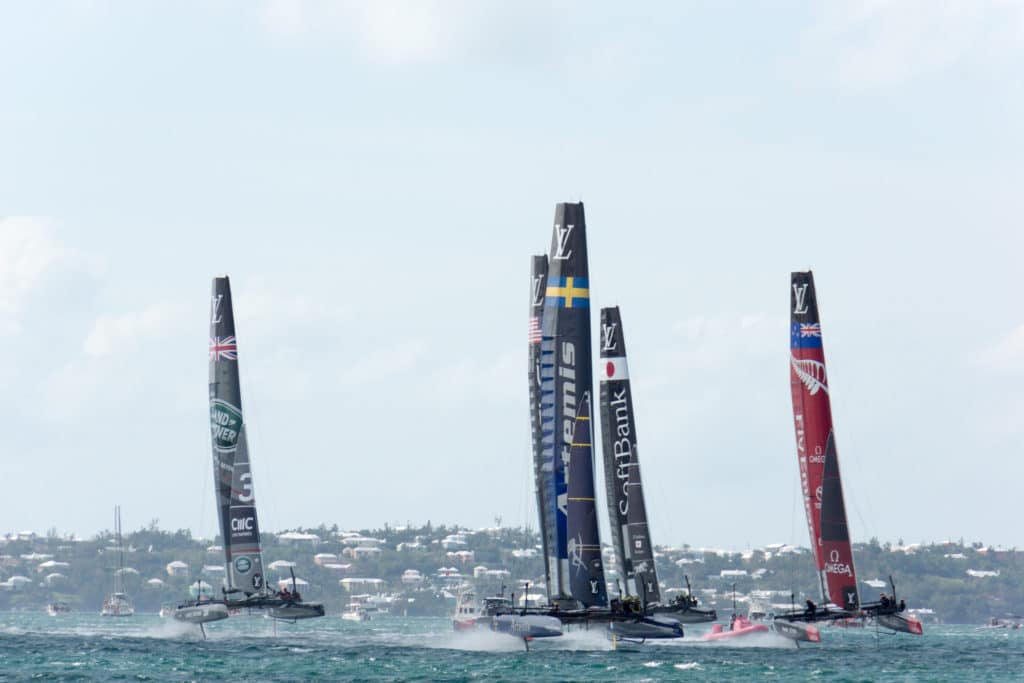 Water Sports
For those who seek a more adrenaline inducing adventure, water sports are everywhere in Bermuda! If you don't have a sailboat or yacht to cruise on, there are other water vessel excursions travelers can take advantage of. Parasailing, jet-skiing, and kayaking are some of the choices just to name a few.
Exploring Underwater
Sorry surfers, you won't encounter massive waves in Bermuda. What ocean lovers will find are masses of coral reef communities! Divers can explore the diverse colors and species of Bermuda, but they can also visit the multitude of shipwrecks. The biggest one is called the Cristobal Colon from 1936 and was once a majestic Spanish cruise ship. Nonetheless, the steady waters are great for travelers who want to just float and unwind.
Horseshoe Bay Beach
If you are a fan of millennial pink, you will love this beach. Horseshoe Bay Beach has lovely water temperature from late May to early September. Even if you don't plan on going for a swim, the beach is lovely to walk on and remains super popular throughout the year. At Horseshoe Bay, you can find lifeguards, a lovely dining cafe, and free access from sunrise to sunset.
Historical and Cultural Discovery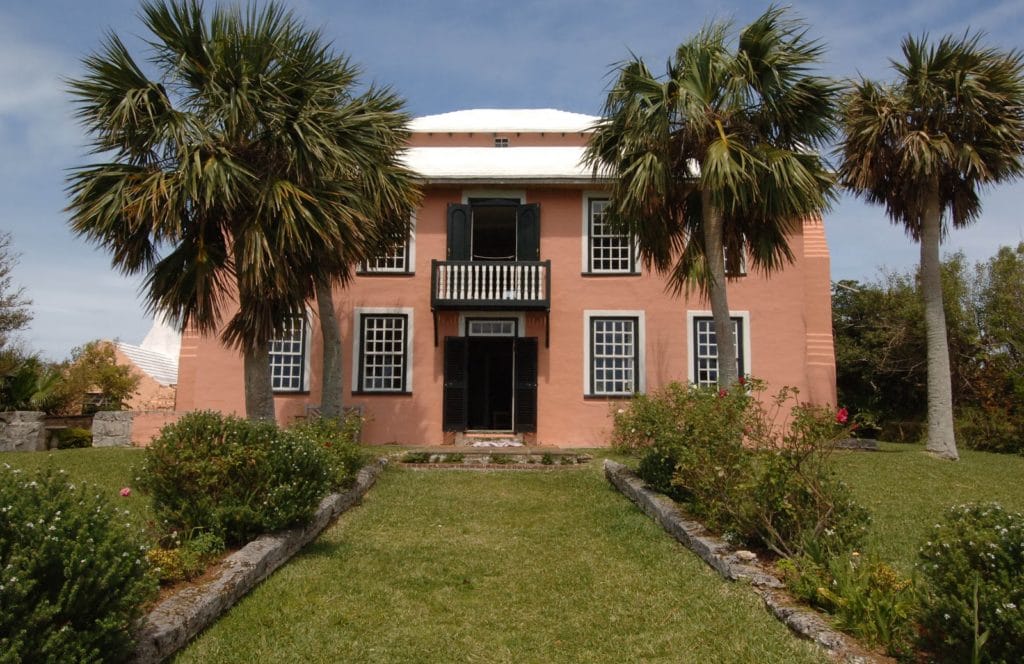 The Verdmont / Credit: Wikimedia Commons
Royal Naval Dockyard
The Royal Naval Dockyard holds a prime family spot! Ocean and maritime history runs through Bermuda's National Museum. You can find quaint little shops with artisan crafts and local goods. You'll be sure to encounter higher end galleries and bars here with the cruise ship ports nearby.
UNESCO World Heritage Site
History lovers will appreciate British colonial details and cobblestone streets at the UNESCO World Heritage site. You will also find St. Peter's Church here, which remains the oldest standing Anglican church in the Western world. Find deep and sobering history here that includes the details of colonization and the journey of the slave trade. This place can offer modern humans some perspective on a time that truly shaped our world today.
Verdmont
If you haven't been indulged enough by the historical views of Bermuda, come explore the Verdmont. It's 300 years old and contains amazing Bermudan cedar pieces. If that wasn't enough to impress you, it sits on 64 acres of open spaces. It's known as the Spittal Ponds nature reserve, but you may know it as your island inspo-home.
What to Eat in Bermuda
Art Mel's Spicy Dicy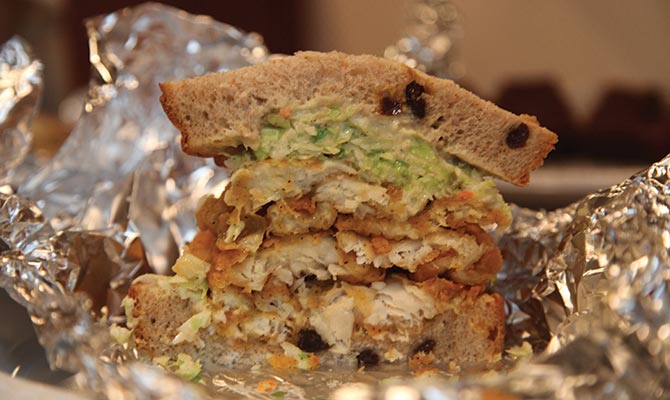 If you want a classic fish sandwich, then follow the direction of the locals. Take a delicious package of food home from Art Mel's Spicy Dicy! Along with their in house seasonings, they serve their goods with pepper sauce, coleslaw, and savory tartar sauce. It all binds together with delicious house baked raisin bread. The cost for one sandwich is under $12.00 USD, and that may seem a little hefty. Just remember that the sandwich is super hefty itself, and it may just be your dinner too.
Frog and Onion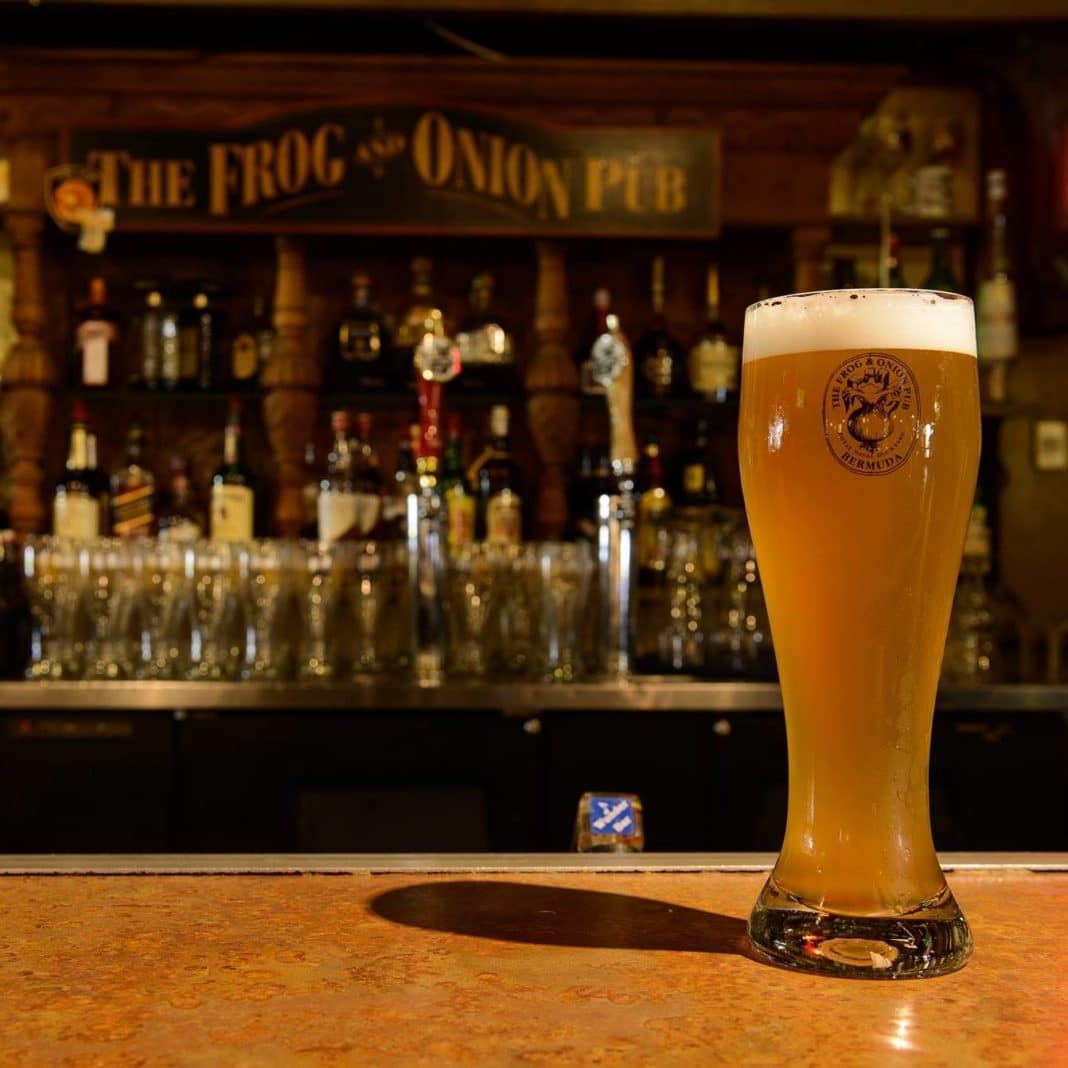 Credit: Frog and Onion / Facebook
While touring near the the cruise ships, you'll find an old Bermudian limestone fort re-purposed into a popular restaurant and pub. The Frog and Onion contains colonial tavern decor that can reflect back to the 1700's era; but guests can be certain that they will be served modern-day delicious food. They have yummy eats like buffalo-style wings and local fish with red onion rings on the side. Frog and Onion even serves locally made hot pepper jam for all your dip dreams (visit the Bermuda Jam Factory across the street where it's made)!
Devil's Isle Cafe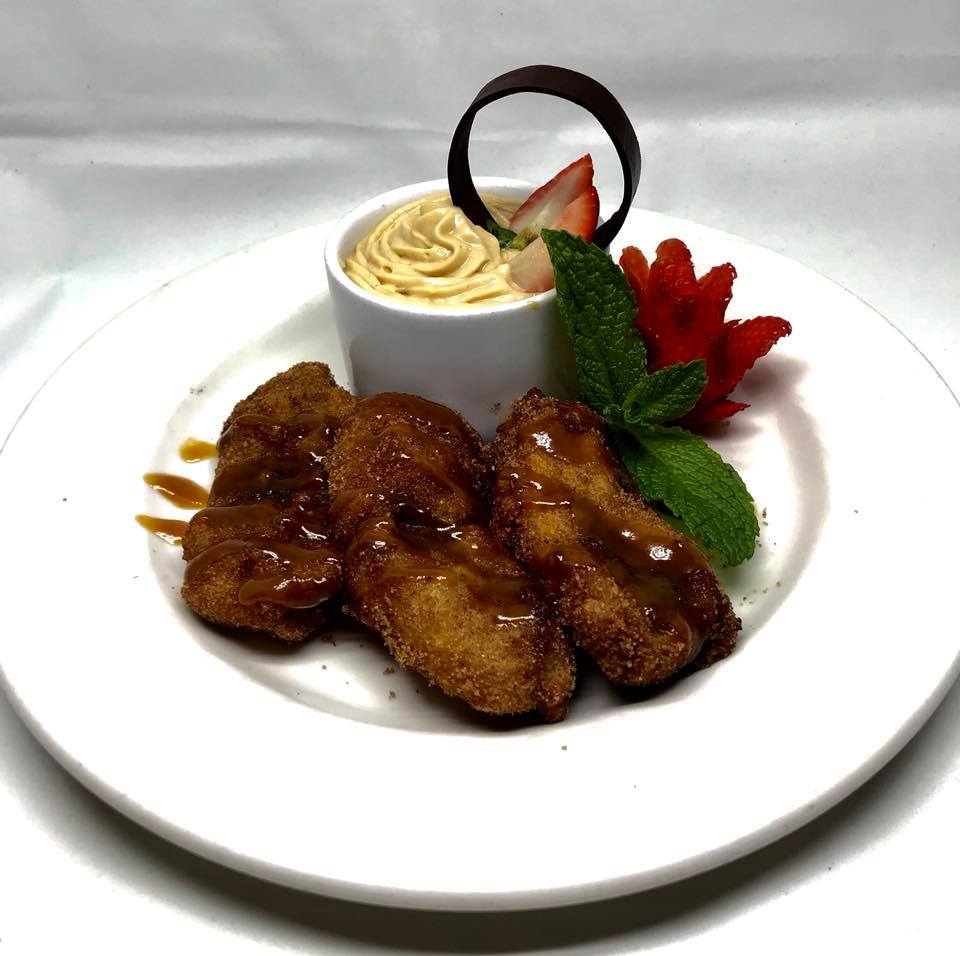 Credit: Devil's Isle Cafe / Facebook
Is it really a vacation if you don't find the local hipster cafe to fit your social media feed? Yes, even Bermuda has a great little place for some casual cafe bites. Devil's Isle has sandwiches, soups, salads, snacks, and Spanish tapas (all of which have vegetarian or vegan options). Their food comes farm-fresh and with locally sourced ingredients in mind. Sustainability and wholesome health for their customers are set as a priority. Grab a lunch, smoothie, coffee, and a reservation in advance for later. The earlier the better, because Devil's Isle fills quickly! This cafe is pretty popular among visitors and locals alike.
From the historical roots to the modern beach clubs, people of all interests can experience and enjoy something with Bermuda travel.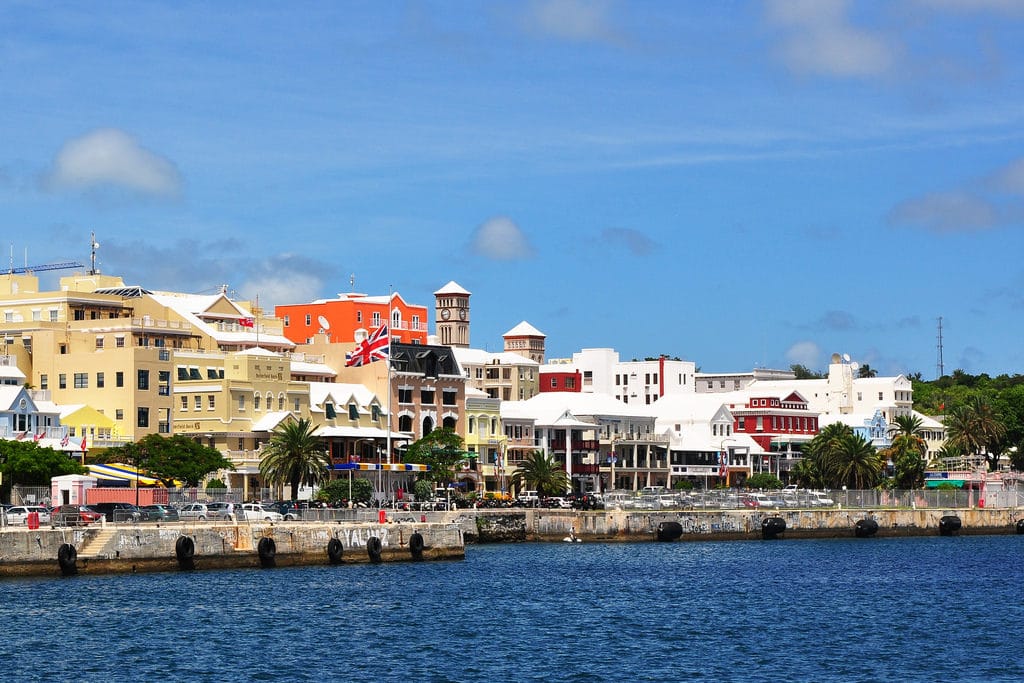 The continued developments of the art and culinary community in Bermuda are giving fresh eyes to new and seasoned travelers. With Bermuda travel becoming more inclusive, visitors of all kinds can find something during their stay! With the beautiful scenery and rich culture, this little island becomes an easy selection for a getaway. No matter when you choose to go, travelers can expect a comfortable climate and opportunities for exploration year-round. Don't sleep on this little country! Bermuda travel will continue to pack a punch in the world of wanderlust.
Related Article: 10 Best Bermuda Hotels for 2018