Ancient ruins and white-domed cathedrals create a captivating scene crafted by centuries. We're here to show you the best hotels in Lisbon right in the middle of it all.
Visiting Portugal? Whether you're seeking a quick vacation or an extended stay, this city offers some of the most beautiful places to stay. No matter your budget, you'll find that our list of the best hotels in Lisbon offers something to suit every style and taste.
Here Are the Best Hotels In Lisbon
1. AlmaLusa Baixa & Chiado Hotel
Booking.com
Once a 16th-century hub for small sailing ships, this space had a facelift and became the gorgeous 28-room boutique stay it is today. We love that AlmaLusa has managed to retain all of its sense of place and history. Original stone walls and floors, azulejos (ceramic tiles), and old wooden stairs pop up at every turn.
The rooms offer a lovely blend of the new and old, highlighting the hotel's past as a wine merchant and barbershop. Today, you'll find modern amenities scattered throughout. Coffee machines, Castelbel amenities, and top-quality linens are at your disposal. Come to stay in luxury at one of the best hotels in Lisbon.
2. Casa do Principe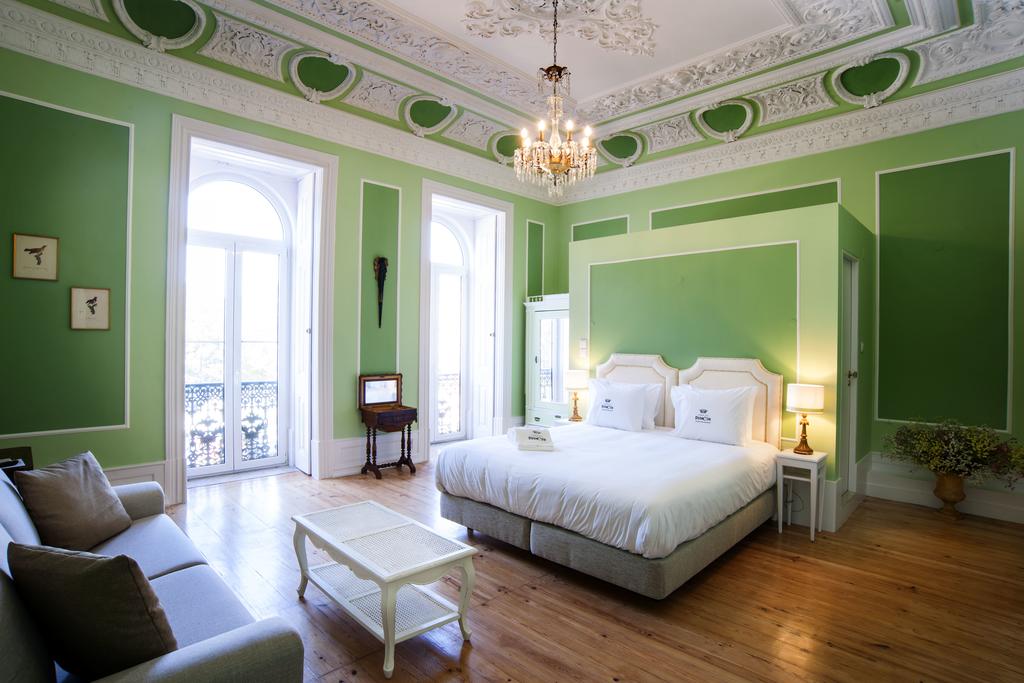 Booking.com
This charming bed and breakfast is nestled right in the heart of Lisbon. Located in a prime spot directly across from Principe Real's central square, this boutique stay deserves some praise not only for its location but also for its good prices. It's perfect for couples seeking a romantic getaway, as every square inch of the space oozes charm and an eye for detail.
You'll find Casa do Principe located on the first floor of a charming 19th-century building. Spacious, sunny rooms make this B&B feel like home. The comfort and quality of the hotel coupled with its walking distance from fashionable shops and city sights make it feel like Lisbon's best-kept secret.
3. Martinhal Lisbon Chiado Family Suites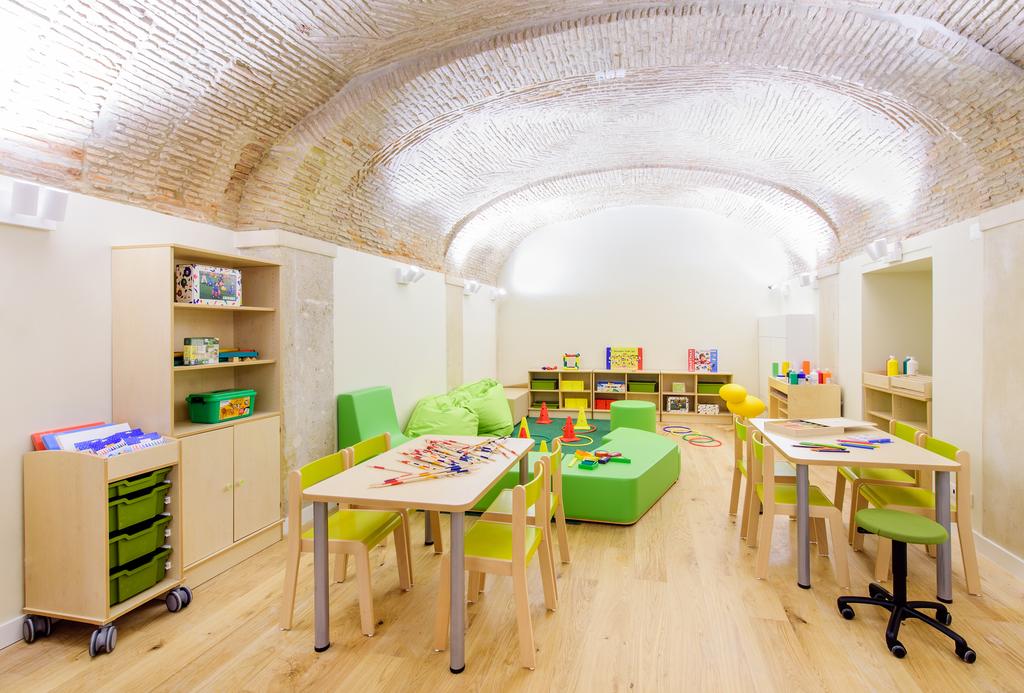 Credit: Booking.com
Bringing the kids doesn't mean your stay has to sacrifice style. Have you seen the chic family suites offered at the Martinhal Lisbon Chiado? We don't know just how they do it. This urban stay manages to pull off both a family-oriented ambiance and strong design elements with ease. Throughout the hotel, elegant local art meets high-class child-friendly facilities. Take a look at the rooms. Murphy bunk beds disappear into spacious tropical-style apartments with full kitchen spaces. Located in the famous Quinta do Lago area, you'll have access to world-class golf courses, Michelin-star restaurants, lake activities, horseback riding, and so much more.
4. Memmo Alfama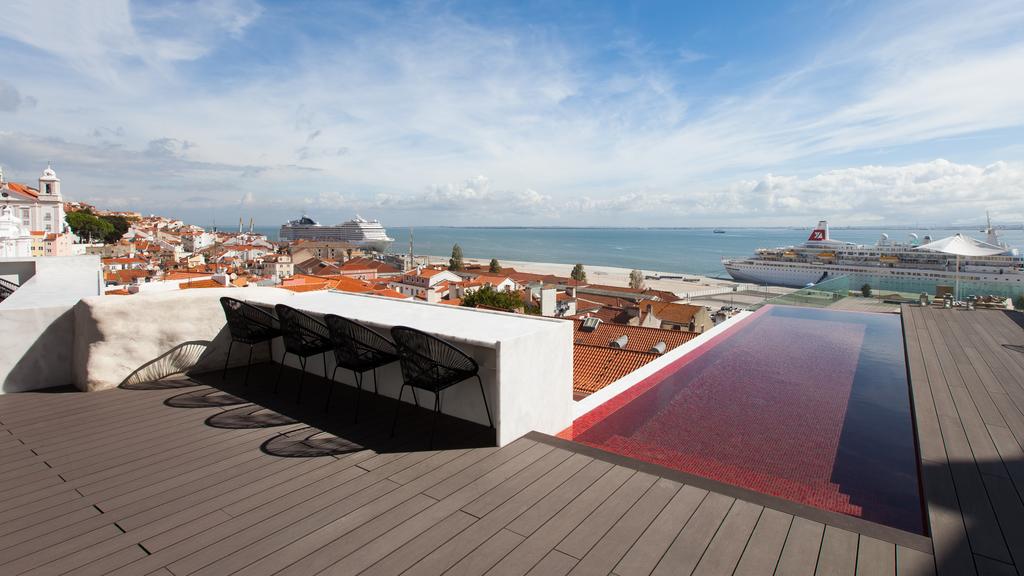 Credit: Booking.com
This bright and breezy stay is made up of three gorgeous 19th-century structures. You'll find it tucked away off the corner of a maze of charming cobblestone streets twisting between old churches and tiny restaurants. Inside, smooth lines lead the way through a soothing natural wood palette.
Minimalist tones of beige and gray appeal to urbanites seeking chic accommodations. All forty-two rooms lead to the hotel's main attraction: a lovely outdoor bar and terrace offering picturesque views across rusted rooftops. When you're ready to soak up some sun, find a seat poolside on the decked terrace and take in the lovely views of the River Tagus.
5. Memmo Principe Real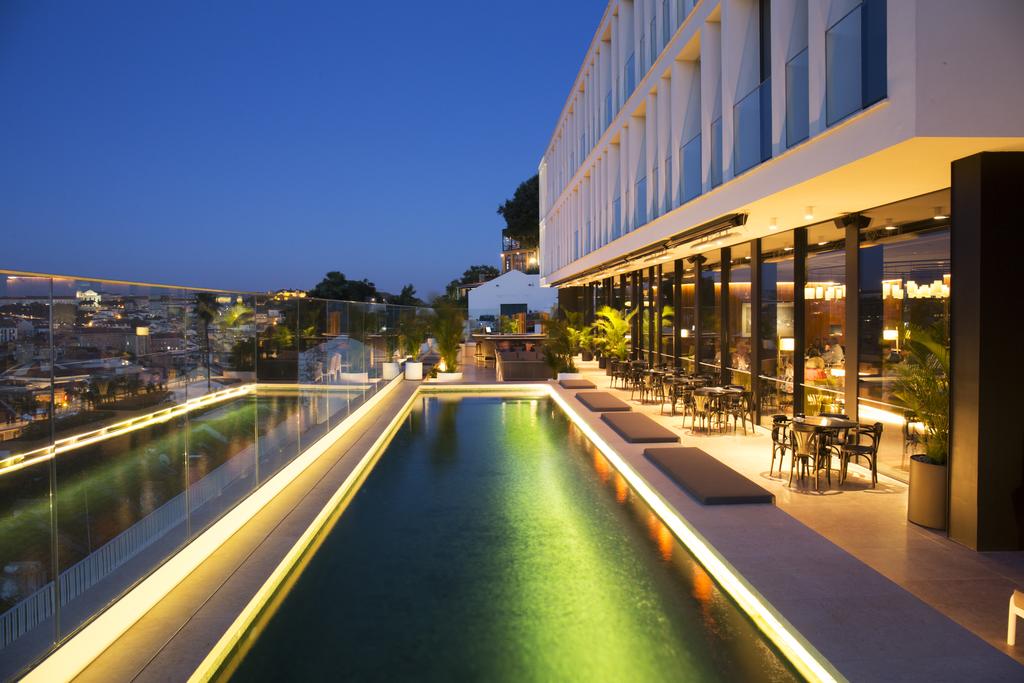 Credit: Booking.com
This easily one of the best hotels in Lisbon. Tucked away in a discreet location, the Memmo Principe Real is home to one of the loveliest sightseeing spots in all the city. You'll find this 41-room stay atop a hill, overlooking what has soon become the trendiest neighborhood around. While it's residential in feel, it's also home to some of the best alternative shopping areas.
Take one step through its doors and you'll soon find how the hotel emulates the charming heritage of its ancient past. The same limestone once used in royal palaces and famous squares can be found throughout the building. Here too, an enchanting mix of classic and contemporary styles await you. The result is a cosmopolitan ambiance of tranquility and impeccable service that leave a lasting impression. This experience is both timeless and authentically loyal.
6. Epic SANA Lisboa Hotel
Credit: Booking.com
Are you ready for an epic stay in Lisbon? This five-star stay offers stunning views, spacious rooms, and walking distance from Marques de Pombal. You'll find it in the middle of Old Town's charm, offering a little bit of luxury amongst a whole lot of culture.
Here, the rooms are as comfy as your sweetest dreams, brunch is served up for the whole family, and a world-class wellness center is available to refresh your body and mind. Did we mention there's a gorgeous indoor pool? The Epic SANA Lisboa really speaks our language.
7. Pestana CR7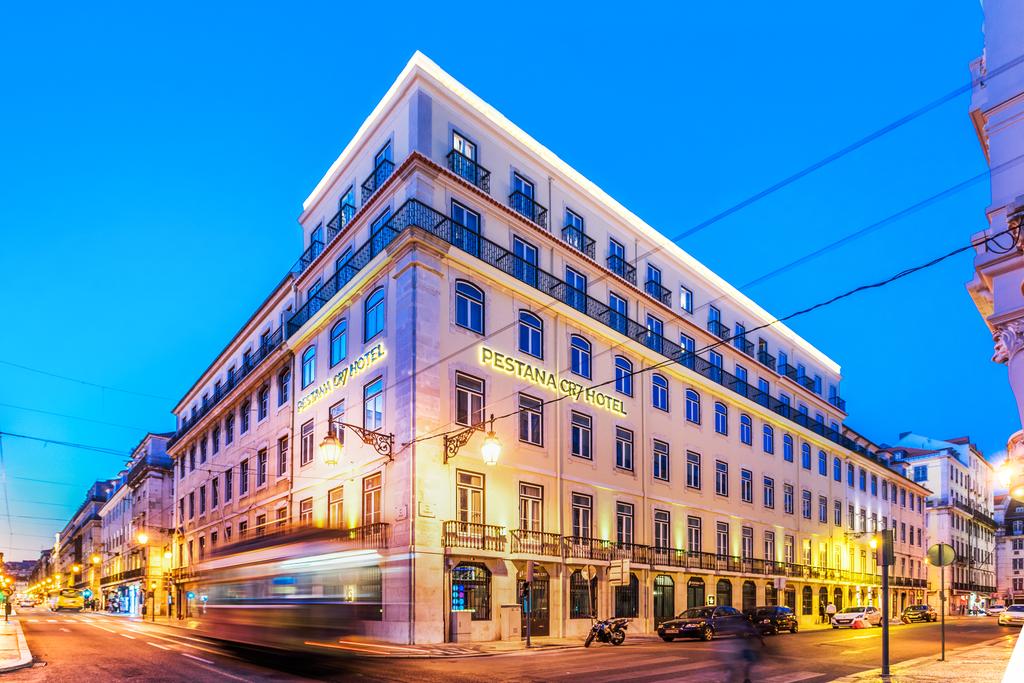 Credit: Booking.com
One of the best hotels in Lisbon offers an interesting combination. Check out this partnership between Cristiano Ronaldo lifestyle and the Pestana Hotel Group. There's no surprise you'll find a muted football theme throughout the Pestana CR7. Throughout the property, you'll find scattered World Cup posters and stairwells lined with fan photos.
While this hotel won't appeal to everyone, it's certainly caught the eye of soccer fans and millennials. The rooms offer various USB ports, Apple TVs, and more. All in all, it's a fun, modern stay for those looking for something a little different. You don't have to be a Real Madrid (or Juventus) fan to enjoy it; it's one of the best hotels in Lisbon.
8. Pestana Palace Lisboa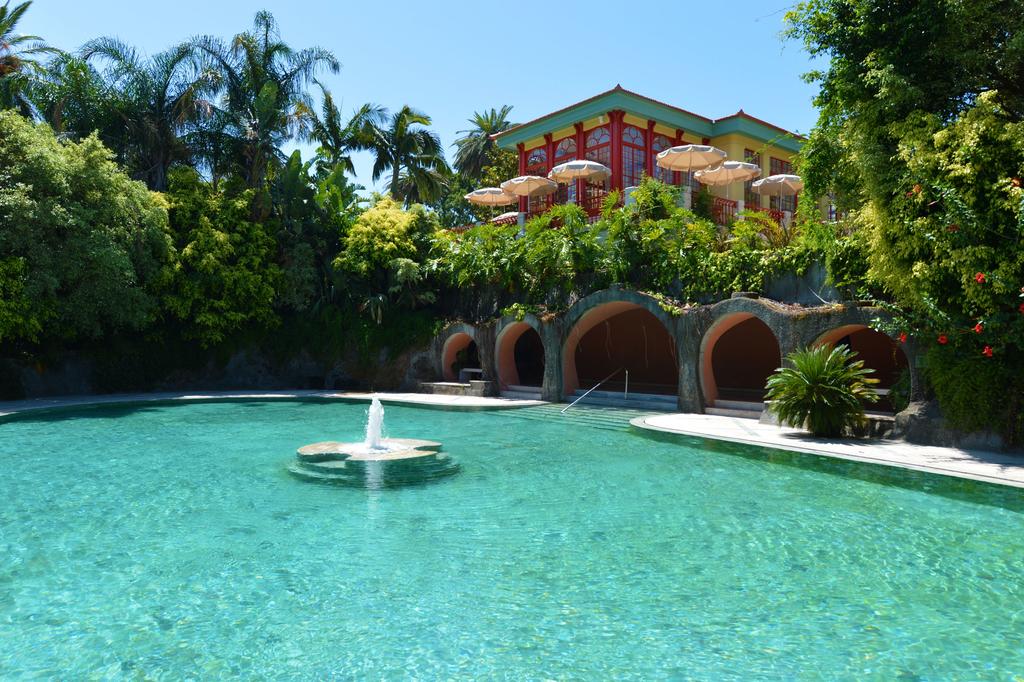 Credit: Booking.com
Luxurious and elegant, the Pestana Palace Lisboa offers guests a unique stay with wonderful views of the Tagus River. You know you've found a special place when it is an esteemed member of the 'Leading Hotels of the World' group and is listed as a 'Portuguese National Landmark.'
The hotel grounds are surrounded by a lush private park teeming with tropical plants and shady trees. Pestana's wonderful location and facilities, excellent quality, and standards are only a few reasons why it has received so many awards from various independent associations. Did we mention that the hotel has also won several international competitions for their fine dining? You'll fall in love with the ambiance at the Pestana Palace Lisboa.
9. Santiago de Alfama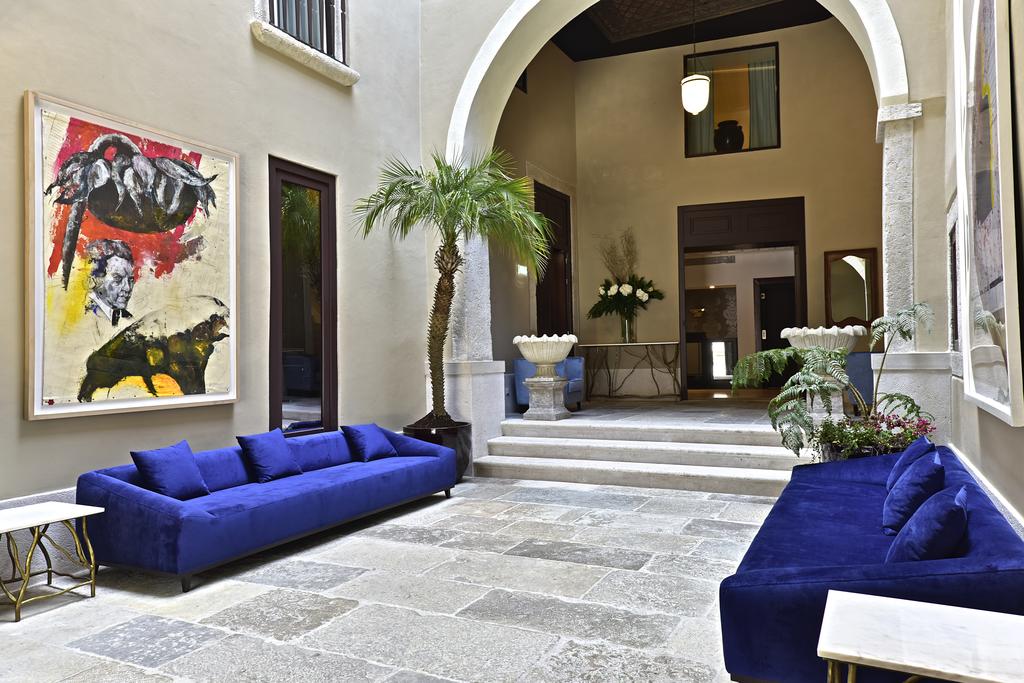 Credit: Booking.com
This beautiful boutique hotel is a beacon in the lovely city of light. Here, you'll find beautiful views of old Alfama gliding towards the sea. The bustle of its on-site restaurant Audrey's keeps guests happy and fed, while the gift shop and the beauty bar are sure to delight.
Fifteen rooms offer a unique cultural stay in a 15th-century former palace. Today, the discerning hotelier Heleen Uitenbroek has marked a keen sense of stay. Santiago cross-inspired tile lends a rustic touch while domestically produced linens bring all the comforts of home from a world away. Everywhere you turn, the ambiance is undeniably Portuguese.
10. Valverde Hotel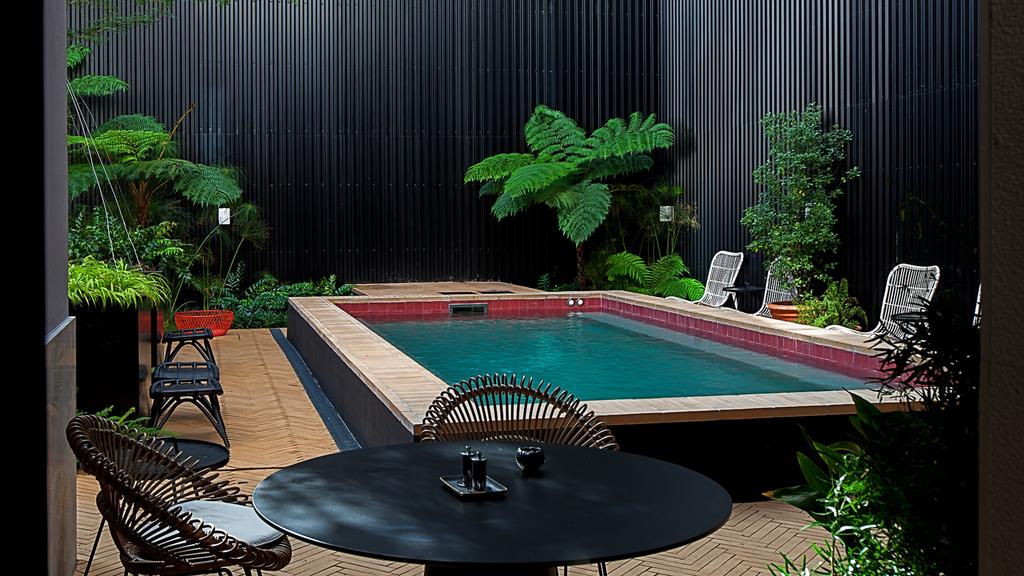 Credit: Booking.com
This converted early-twentieth century townhouse offers a unique stay amongst the leafy Avenida da Liberdade. This artistically-inclined space offers a unique modern flair. Darkened halls give way to light, washed rooms tastefully decorated with sophisticated European artwork and furniture.
When you're reading for some rest and relaxation, the small pool and cozy reading lounge offer just the perfect place. It's all within a close proximity of downtown, making it one of the best hotels in Lisbon. Hungry for a bite, check out the "Sitio Valverde Restaurant and Bar. Sit under a high ceiling space facing the lovely courtyard.
Here, you'll enjoy a menu of the classics, to which a daily suggestion is made by the chef at the table. You'll find something uniquely-tailored to your taste. The menu is characterized by the exquisite tastes of Chef Carla Sousa, focused on mainly Portuguese cuisine. It has the capacity of 30 seats and serves breakfast, lunch, tea of five, and dinner. In addition to the restaurant, the hotel offers a lovely bar service with its signature cocktails and an all-day classic menu.
Book Your Stay at One of the Best Luxury Hotels in Lisbon
We hope you enjoyed reading our piece about the best luxury hotels in Lisbon. As you can see, this city has such a rich cultural history and there is so much beauty to be explored. All of the hotels we chose offer a truly unique stay with boutique touches and are true to the character of the city.
If you have a little extra time, explore more of Portugal and the neighboring Azores (they're one of the best places to travel in July). Some of the most beautiful places in all of Europe can be found right here. What places and things to do are on your bucket list?
Questions and Comments
Do you have any questions or comments for us? If so, we would love to hear them. Feel free to leave us a message below. We will be sure to get back with you soon.
Related Article: Amalfi Coast Hotels Guide: Top 5 Places To Stay