Swaying palms, crystalline waters, and luxurious amenities await you at the best Tahiti resorts.
Smooth sand shimmers under the warmth of sunny skies. The water's clear and warm almost all year around. If you're anything like us, you've daydreamed about a vacation to French Polynesia. After all, these islands are the stuff postcards and laptop screensavers are made of. Instead of just staring at your computer this year, why not treat yourself? Our picks for the best Tahiti resorts have just what you need. Whether you're seeking to catch up on that much-needed R&R, have some adventure, or get a little of everything in between these resorts have just the thing.
For those seeking some serious R&R, you'll be sure to appreciate this stress-free escape. Leave your inbox behind you, sign out of social media, and feel free to press snooze as many times as you please. The less time you spend thinking about work, the more time you can spend swimming among colorful reefs and exploring secret coves. Count us in.
Each year, millions of travelers visit Tahiti. Cruise passengers come to explore port towns, take a dip, and swim with stingrays. What are you waiting for? Dive right in. All you need is a little bit of pocket change and a heart of adventure. A stay at the best Tahiti resorts will bring treasured memories to last a lifetime. It's time to find your perfect stay. What are you waiting for?
A Little Bit about Tahiti
Tahiti is easily one of our favorite tropical vacation destinations. From pure white sand beaches to vibrant turquoise waters, perfect weather, and a rich island life, there isn't much more a traveler could ask for. In this article, we will be exploring the best Tahiti resorts. Booking a trip here is one of the best ways to make your travel dreams come true. 2019 is your year of adventure.
When it comes to the best Tahiti resorts, you have plenty of options you can choose from. The wide range of on-site resorts adds a large degree of luxury to your getaway. Anyone who travels here will want to visit the iconic Matira Beach in nearby Bora Bora. The scenery is nothing short of breathtaking. Clear waves lap against white sand. As one of the island's largest public access beaches, travelers flock here from around the world every year.
One of the best ways to explore this land of tropical beauty is through an excursion. There is a range of tours and adventure groups you can book in advance of your arrival. Get up close and personal with nature and marine life in a safe, respectful way. Those who love underwater explorations will fall in love with all that Tahiti has to offer. Throughout the island, you will find plenty of coral reefs to snorkel and swim around. While you're out there, don't be surprised if you happen upon a few nurse sharks. Don't worry, they are harmless.
You can also feed stingrays, swim with dolphins, and simply explore. The attractions are a large part of what makes island life here so very fun. When it comes to a vacation, Tahiti is the place to be. So go ahead. Bring the whole family, grab your passport and your friends, or pack up with your lover and get ready for the trip of a lifetime.
Here Are Our Picks for the Best Tahiti Resorts
1. Intercontinental Bora Bora Le Moana Resort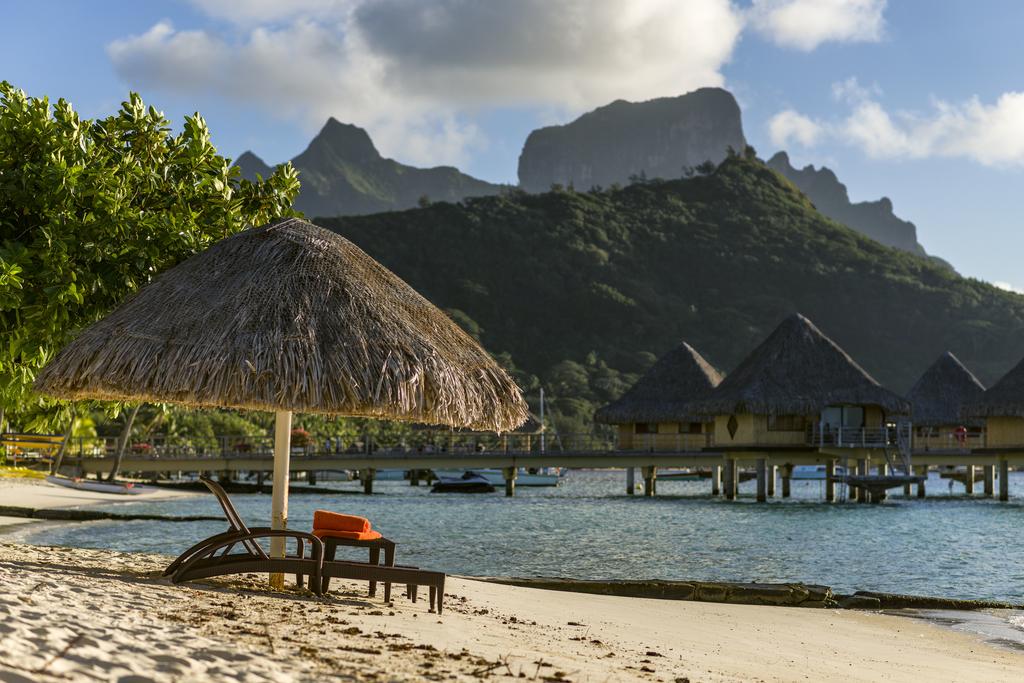 Credit: Intercontinental Bora Bora Le Moana Resort
White sand and turquoise water lead you to the beautiful resort. Located on the south side of the island, you will find the Intercontinental Bora Bora Le Moana Resort at the famous Matira point. Formed by two white sand beaches, this spot is only five miles from the main village of Vaitape, overlooking a stunning lagoon. Did we mention you will also have breathtaking views of both Mount Otemanu and Mount Pahia?
This alone is reason enough to stay. Sixty-four rooms and overwater bungalows offer a comforting and lovely space to call home for a week. A sweeping terrace, living room, and beautiful bathroom space are all decorated with fragrant vanilla plants. In the overwater bungalows, you will find glass coffee tables, great views of the natural aquarium, which is illuminated at night. This is one of the best Tahiti resorts you could possibly find.
2. Vahine Island Resort, Tahaa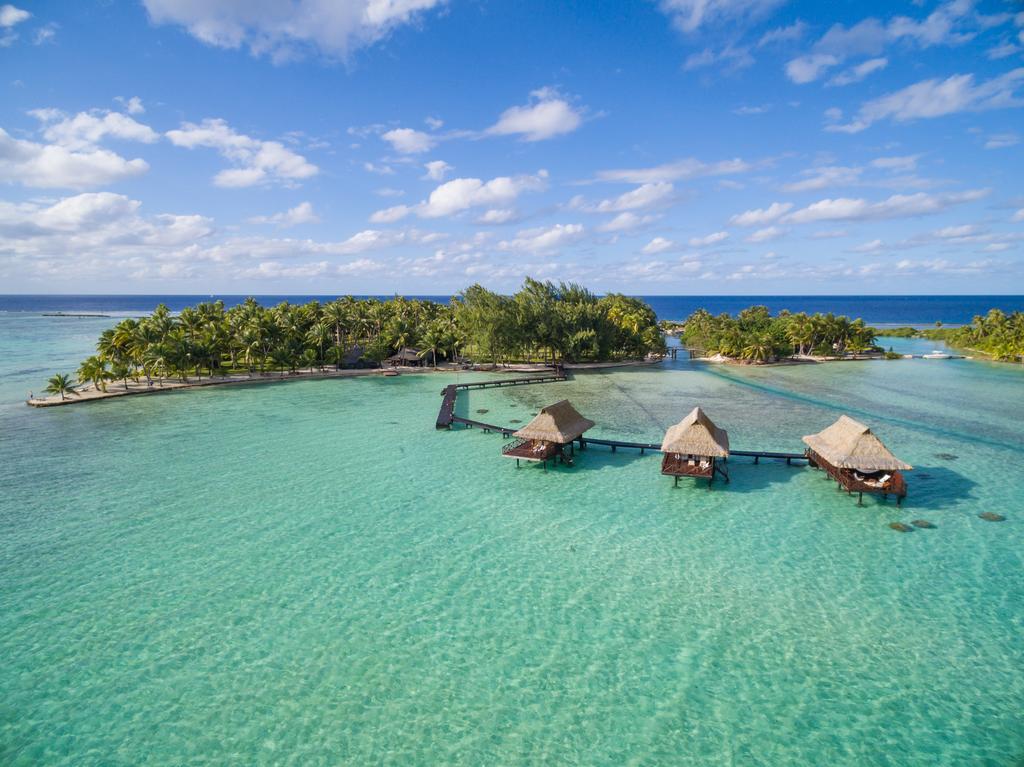 Credit: Vahine Island Resort
Can you think of anything better than staying on a private island? We'll wait. Located right off ot Tahaa, the Vahine Island Resort offers an exclusive nine bungalows. Six are right on the sand and three are overlooking the water, offering the utmost in seclusion. What we love most about them is their authenticity and character that holds true to the island. They are nothing if not distinctively Polynesian. An abundance of natural wood furnishings and cheerfully colorful cotton linens decorate the interior with both soothing tones and splashes of color.
It's run by the husband and wife team Laure and Terence, along with their attentive and delightful staff. Whether you are looking to relax or have some adventure, this is the place to be. Lounge in your suite, on the beach, or take part in the many activities there are to do on and around the islands. There are nature tours, places to snorkel, and coconut demonstrations (we'll let you figure out what these are on your own).
After you have worked up an appetite, head over to the dining scene on-site. Here, incredible plates are presented in accordance with the local fashion. Terence cooks it all up, sourcing nothing but the freshest fruit, vegetables, and local offshore catches. With this said, he is most famous for his delicious house-made vanilla yogurt. You'll swear you've never tasted anything quite like this simple yet delicious recipe. The warm, attentive staff, beautiful scenery, and overall charm of the Vahine Island Resort will keep you coming back year after year.
3. Ninamu Tikehau Resort, Tikehau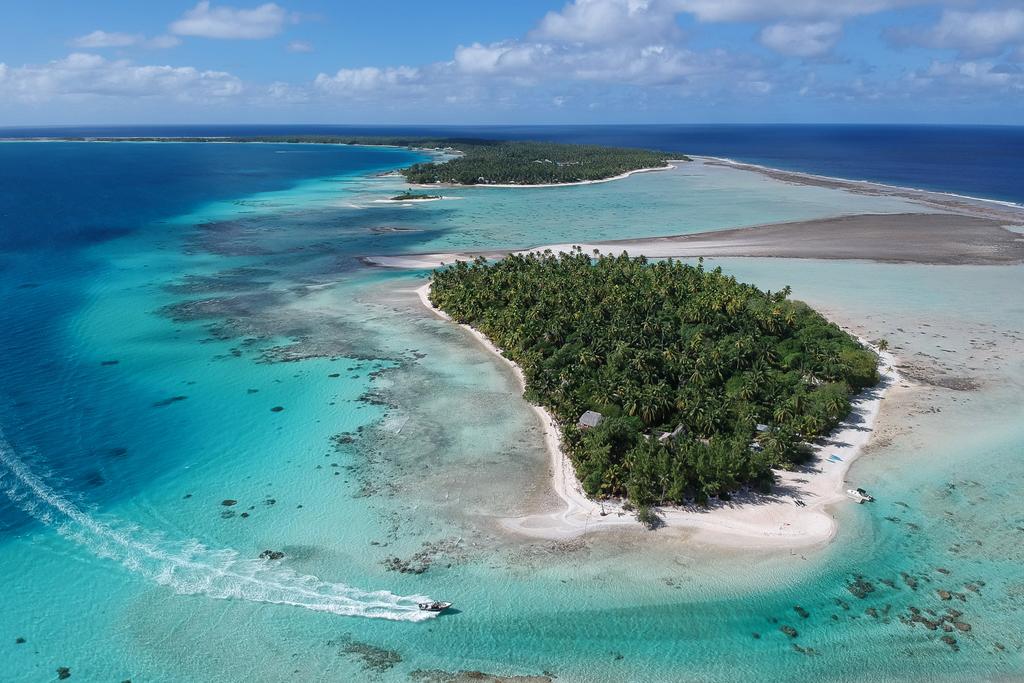 Credit: Ninamu Tikehau Resort
Looking for the best Tahiti resorts? You have found it here. Seclusion and luxury come together in the best of ways at the Ninamu Tikehau Resort in Tikehau. This beautiful resort offers seven unique types of bungalows. Each of them is handcrafted from the island's natural materials, ranging from thatched coconut palm roofs to coral walls. One of the things we appreciate the most about it is how eco-friendly it is. We bet you wouldn't have guessed it runs entirely on solar energy. This just goes to show that a luxurious lifestyle does not have to be a frivolous one. There are plenty of ways to live sustainably and in harmony with nature.
A prime example of untainted natural beauty, the Ninamu Tikehau Resort is set among lush green foliage on the edge of a turquoise lagoon. The sand's hues offer a rich almost pink hue, running along the water filled with black-tipped reef sharks. Adventure seekers will be happy to know there are plenty of opportunities for swimming with dolphins, surfing, snorkeling, kiteboarding, fishing, and more. As soon as you arrive, you are welcomed as a friend and treated like family.
Come sit in the lounge where Chris (the resort owner) will whip you up some killer cocktails and share stories. In the meantime, his wife Greta works to prepare delicious meals from the fresh catch of the day. All in all, this is one of the best Tahiti resorts. For those seeking luxury, romance, and adventure, you will be hard-pressed to find a better fit.
4. Le Sauvage Private Island, Rangiroa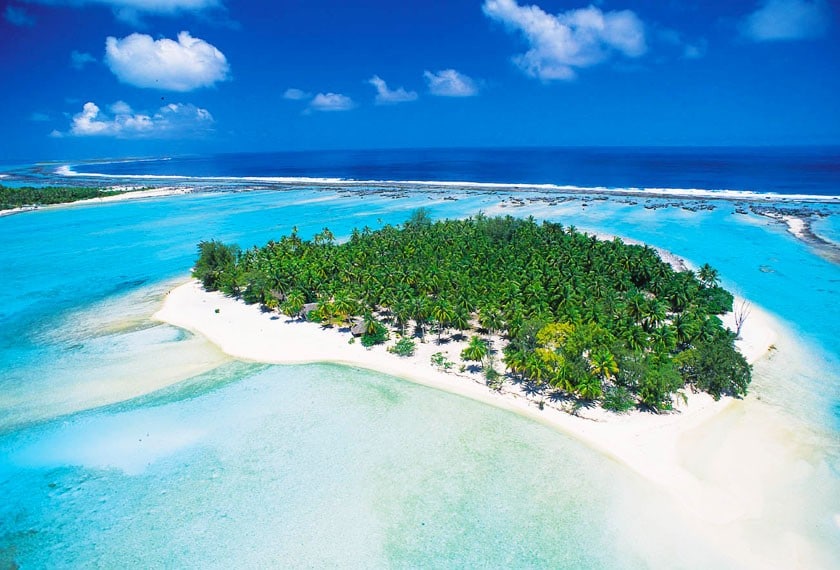 Credit: Le Sauvage Private Island
Forget about those nagging unread emails, put your phone away, and unplug. The only time you'll need it here is for snapping pictures. The lovely Le Sauvage Private Island offers just the refuge you need to escape the daily grind. Head south of Rangiroa atoll to a gem nestled in the most picturesque location. Five bungalows crafted from aito wood and woven bamboo rise naturally into their surroundings.
The understated luxury is a large part of what makes this resort so special. There is no electricity, phones, and wifi. Here is the best part. You will have no reason to miss them. Instead, you will spend long days under the warm sun, swimming in the South Pacific. Take a canoe and paddle out to explore the reefs or spend a lazy afternoon enjoying a picnic under the balmy breeze. After the sun tucks behind the horizon, the island sky is lit only by lanterns and the light of the moon. Complete darkness and a pure sky provide a view unlike any other. The heavens open up to a display of stars so beautiful you will have to see it to believe it. Le Sauvage Private Island is one of the perfect places to bring your special someone.
Treat Yourself and Book Your Stay at One of These Beautiful Tahiti Resorts
Come and escape the hustle and bustle of life at one of the romantic and beautiful beachfront Tahiti resorts. This French Polynesian island is teeming with beauty and adventure. As you can see, this island offers so many opportunities for those seeking a trip of both relaxation and adventure. These resorts are right in the middle of it all, offering not only a unique place to experience the local wonders but also a home away from home.
While many people think that a vacation here is too expensive and they can't afford it, that doesn't have to be true. Planning ahead or booking a trip for the shoulder season and off seasons are good ways to save money. Treat yourself to breakfast on an oceanfront patio, a morning message, and afternoon water sports excursions.
We hope you enjoyed reading our article on the best Tahiti resorts. As you can see, this vibrant destination offers so many opportunities for those seeking a trip of both relaxation and adventure. Some of the best beaches in the world are right here. Our choices for the top accommodations offer the best of both worlds – rest and time for exploration. Whatever type of vacation you are seeking, you will find it here. From adults-only resorts all about romance to family fun options, we've helped you narrow down your choices to only the highest caliber places of accommodation.
These Tahiti resorts are right in the middle of it all, offering not only a unique place to experience the local wonders but also a home away from home. Book yourself a vacation to remember and make memories to last a lifetime. Which one of the resorts on our list did you like the most? Let us know in the comment section below. We'd love to hear about your top picks and adventures!
Related Article: The Top 10 Things To Do In Bora Bora: Your Tropical Vacation