We all know that love's in the air in Paris. But what about Balinese beaches & wine country retreats? Here's the best vacation spots for couples across the globe.
There's a certain romance about getting away from it all. Whether you're leaving the city or countryside behind you, there are plenty of places to make the magic happen. We're talking long walks on the beach, two clinking glasses of Chardonnay, and a little adventure too. The best vacation spots for couples range from sitting under a thatched hut suite in Bora Bora to taking the ferry across the harbor in New York on the Hudson River.
It's not hard to feel that romantic spark when you're walking down a gorgeous white sand beach, hand in hand, and the only sounds you hear is the rhythm of the rolling tide.  A romantic hotel awaits you with all the comforts of home.
Even large cities have an element of romance to them. Share a drink in a chic bar overlooking New York City's Central Park. Play tourist for a day and catch the best view of the Empire State Building from the 30th floor of the Rockefeller Center. It all comes down to one question. What kind of vacation do you want?
Here Are Our Picks for the Best Vacation Spots for Couples
From beachside escapes to forest ones, large cities, and countryside wine tasting, our choices run the complete spectrum of vacation styles.
1. New York City
We're going to pick an urban escape for our first choice. That's right – New York City. If you've seen any major film or have been lucky enough to visit this city, there's no denying the magic in the air. Even among the hustle and bustle of people getting their morning coffee, people reading on a park bench, or catching the tube in the metro, we're in love with the fast-pace. Manhattan offers some of the most chic options for shopping and dining. This city is filled with a unique history, vibrant energy, and diversity of culture and habits that shouldn't be overlooked.
There are so many options of things you can do. That's what makes it one of the best vacation spots for couples. If you're looking for recommendations, we have a couple of tricks up our sleeve. First, start off with coffee in Williamsburg, Brooklyn. Devocion is one of the coolest coffee shops you'll find in the area. Mood music, dark interiors, and a massive greenery wall all add to its unique charm.
After you get your cup of joe, head on over to Egg Shop on Elizabeth Street for brunch. Make sure you get there bright and early though. The wait can be upwards of an hour. This sunny little cafe is very popular among the locals. You can't go wrong with literally anything on their menu.
After you've eaten your fill, it's time to explore. Take the metro to Central Park and walk off your food coma under the warm rays of the morning sun. When you get to the middle of the park, there is a large rock where people sit, talk, and bask in the glory of the city skyline. You know a world of possibilities await. Take the ferry to Ellis Island, rent bikes and cruise by the water, explore DUMBO, walk around the lobby of the Plaza Hotel, or book some reservations for the best bars and restaurants at night (psst…snag a rooftop one). There's some pretty amazing day trips you can take from the city too.
2.  Whidbey Island, Washington
Are you looking to escape the city for a bit? Head over to one of the less touristy areas in Washington just a short ferry away from Seattle. Whidbey Island offers a whimsical world-away feel, despite being just 20 minutes from the city. Here, towering cedars and shimmering coves offer a scenic picture for you to post up with your special someone. It's definitely one of the best vacation spots for couples.
Book a cozy room for two at the Inn at Langley. This pint-sized town on the island is nothing short of perfect. Each suite offers a private jacuzzi with spectacular views of the Saratoga Passage Waterway, lined with tall, shady evergreen trees. When you're ready to explore a little bit, you'll find the town is something straight from an old movie scene. The historic center, Lowry-James Rare Prints & Books, sells vintage maps and Audubon lithographs. The 1937 Clyde Theatre movie house screens classics and contemporary films.
3. Napa Valley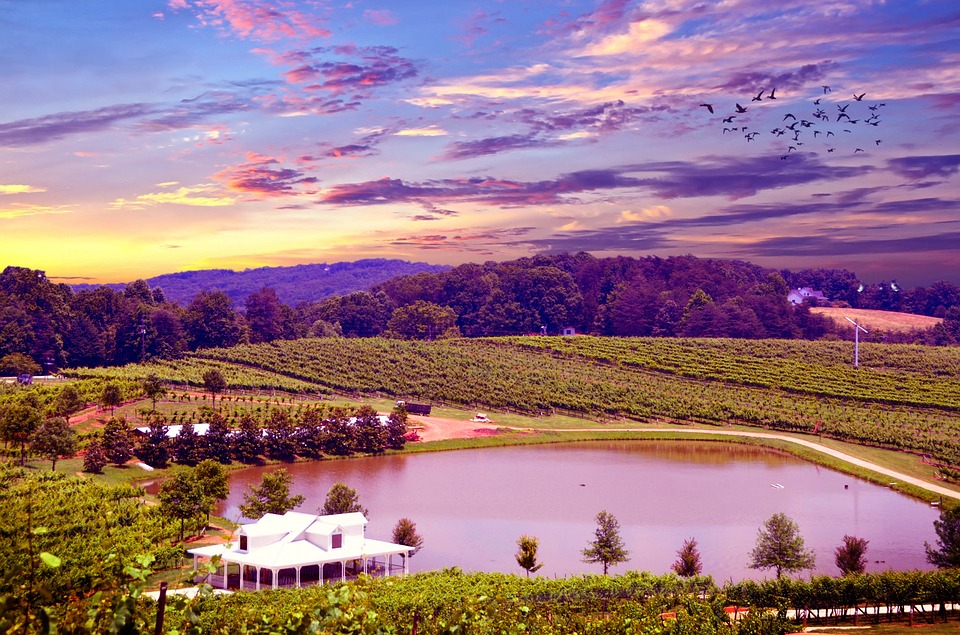 Ah, wine country. California natives know Napa Valley as one of the best places for a retreat. Driving the winding hills near full vineyards, stone wall restaurants, and chic countryside hotels, you can't help but feel like you're in the heart of Tuscany. Romance fills the air like aromatic grapes emitting a sweet flavor. There's always something new to be found in the valley. After all, Napa is one of the best vacation spots for couples.
If you're looking for a chic date spot, you won't find a better one than celebrity chef Michael Chiarello's Bottega Napa Valley. This remains a popular date spot in the town of Yountville. The menu is Italian (of course), serving up specialties like duck confit and wild mustard greens. Order a glass of wine there or head a little further north to the vintage producer, Cade Winery. After a few glasses of red, you'll be more than ready to slip into the jacuzzi at the light-filled luxury resort Auberge du Soleil.
4. Miami, Florida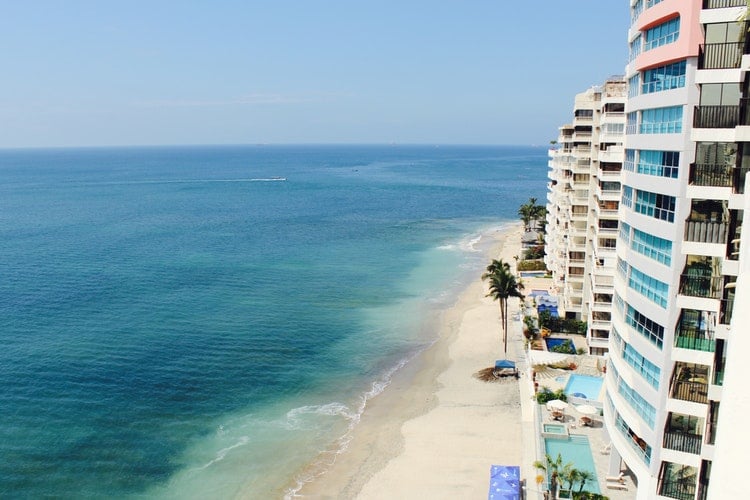 Spend a week in the Magic City. There is so much to explore; that's what makes it one of the most romantic getaways in the USA. This quirky urban find is home to some of the most beautiful beaches in the country, a thriving art scene, and modern Art Deco architecture. There's something infectious in the air. Miami is one of the most multicultural cities in the world. The result is a scene of wonderfully mixed flavors and a style suited to taste just about everyone.
Start your day off on the sands of the best beaches in Miami. If you're a tourist, you have to hit up South Beach. Make sure to go in the early morning before the crowds start pouring in and the heat flares up. Chances are, you could get the white sand all to yourselves. We love that the water is warm all year around and the waves are gentle enough to swim out in anytime you'd like. Beaches like Lummus and Key Biscayne seriously look like something off a postcard. It's all so picture perfect.
After getting your fair share of sun and sand, there are so many things you can do. Hit up the Museum of Ice Cream on Collins Avenue, stroll the Bayside Marketplace, or rent out some stand up paddleboards and a kayak.
5. Paris, France
Would this list even be complete if we didn't include the city of love itself? Paris is the iconic vacation spot for couples. Don't worry though. You don't have to be too cliche. Sure, you have to check the Eiffel Tower, Louvre, and Notre Dame de Paris. But we're going to start our day off a different way. Head over to the local market and pick up some breakfast essentials. Carry a backpack and pack your own picnic. You'll be surprised how often you'll see locals carrying around a baguette on the streets.
Markets like Monoprix have it all. Pick up a baguette, cheese, salami, and two coffees, and you're on your way. Head over to the Notre Dame and you'll find a charming little park just around the corner. This is the perfect spot to post up and enjoy a meal for two. Want to know the best part? It will only cost you about ten Euros.
After you finish breakfast, walk a little ways to Shakespeare and Company. This is the cutest bookstore we've ever laid eyes on. The most famous independent bookstore in the world, it first opened its doors in 1919. Today, you can buy classic or modern literature and head upstairs to read or grab coffee at their shop next door. Take a window seat in the classics room, where you can read old literature overlooking the city. Priceless.
During the day, you need to walk the Champs Elysees. Nothing is more romantic than a stroll along the riverfront in Paris with the person you love most in the world. Take in the sights of local artists putting the final touches on their watercolor paintings for street musicians playing the violin with a hat for change.
6. Cinque Terre, Italy
Skip the touristy scenes of Rome and Florence. The Italian Riviera is where you should be. Cinque Terre is a string of centuries-old seaside villages on the rugged Italian Riviera coastline. In each of the 5 towns, colorful houses and vineyards cling to steep terraces, harbors are filled with fishing boats and trattorias turn out seafood specialties along with the Liguria region's famous sauce, pesto. The Sentiero Azzurro cliffside hiking trail links the villages and offers sweeping sea vistas.
Spend your days swimming in the sea, exploring coves, and soaking up the sun. It really doesn't get any better than this. Since the five coastal towns are so close together, you can easily hike from each. Every one offers something different to travelers. This is one of our favorite places we've traveled to date.
7. Bora Bora, French Polynesia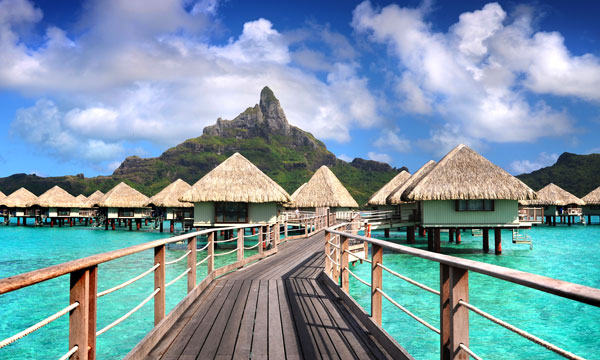 Credit: Tahiti.com
There's nothing quite as idyllic as an escape in the South Pacific. The visuals of Bora Bora are unreal. You'll never see water in such a vibrant blue, hills so green, and skies so clear. It's easily one of the best vacation spots for couples around the world. Here, barrier reefs meet bright lagoons, volcanic peaks tower above the lush forest, and powder soft beaches offer the perfect place to soak up the sun.
For a memorable stay, consider the Four Seasons Bora Bora Resort, with 121 thatched-roof bungalows set up on piers above the shallow water. This is a great place to spend a special occasion like an anniversary or honeymoon. Many offer individual plunge pools as well as stunning views of the lagoon and Mount Otemanu. The resort is entirely about bliss. Spend the afternoon sailing to secret snorkeling and dive spots, take a tour of a pearl farm, or lounge on the deck of a catamaran. There's just one problem. You're never going to want to leave.
8. Istanbul, Turkey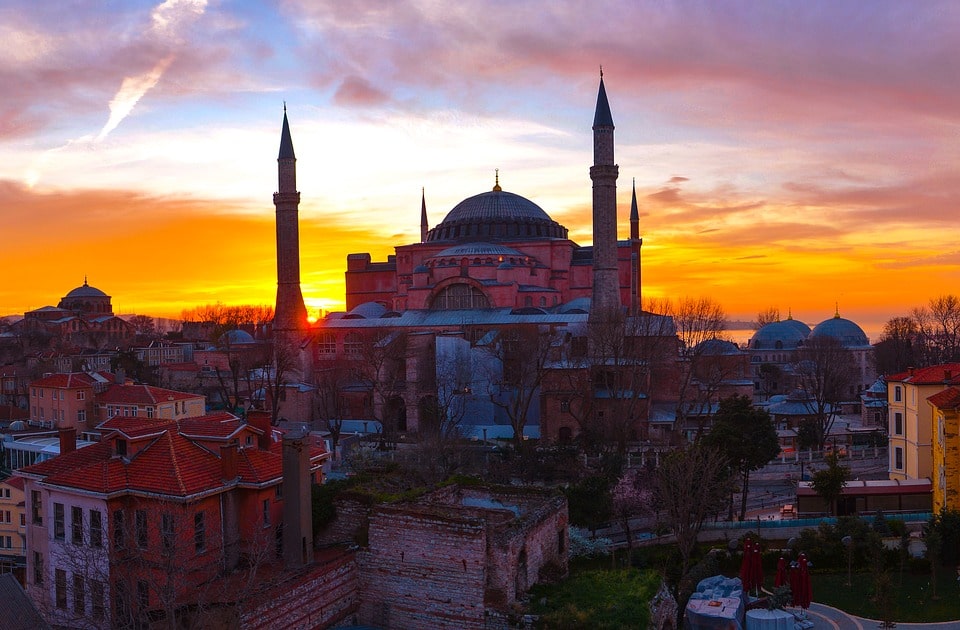 Take an urban retreat most people wouldn't expect – Istanbul, Turkey. This is one of the best vacation spots for couples around the world. Open-air restaurants, crowded bazaars, and a rich cultural heritage all lend to a fantastic travel experience. Spend the morning wandering quaint neighborhoods on the European side of the strait. Indulge in the culinary scene.
For lunch, we highly recommend Mangerie, a chic rooftop spot in the Bebek District. Try the sea-bass sandwiches with olive tapenade, roasted red peppers, arugula, and an eggplant spread. Yumm. When you're ready to explore, the waterside district Arnavutköy area has the most amazing fortress with panoramic views of the strait. When it gets dark, make your way over to Anjelique, a sultry waterfront club set against the backdrop of the Baroque Ortaköy Mosque.
Should you have a little extra time on your journey, venture over to Cappadocia, about ten to twelve hours away by train. This whimsical fairytale of a region offers a geological oddity of landscapes and otherworldly scenery. A semi-arid region in central Turkey, it is known for its distinctive "fairy chimneys," tall, cone-shaped rock formations clustered in Monks Valley, Göreme and elsewhere.
Other notables sites include Bronze Age homes carved into valley walls by troglodytes (cave dwellers) and later used as refuges by early Christians. The 100m-deep Ihlara Canyon houses numerous rock-face churches. History buffs will never be able to get enough.
Book a room at the Cappadocia Cave Suites for some of the most epic morning views. Enjoy your breakfast on a plateau overlooking the region where hot air balloons rise in the morning along with the warm glow of the sun. This region is one of the most romantic places in the world.
Book Your Dream Stay in One of the Best Vacation Spots for Couples Around the World
We hope you enjoyed reading our feature on the best vacation spots for couples. As you can see, your dream location just might be something a little more off the grid. Even if you do end up going to a famous location like Paris, there are so many unique sites and activities to do to make the trip very much your own. Which one of the spots on our list would you like to visit the most? Let us know in the comment section below.
Questions and Comments
Do you have any questions or comments for us? If so, we would love to hear them. Feel free to leave a message for us below. We will be sure to get back with you soon.
Related Article: Couples Resorts: Take Your Pick From The World's Best Romantic Getaways