Amazing Galveston Restaurants
Galveston has so many local places to eat that are truly one of a kind. It is no secret that they specialize in seafood here. We will walk through some of the best local eateries in Galveston Texas, as well as a variety of cafes here that are truly something special. If you are a seafood lover, this is the place to be. But even if seafood isn't your thing, there is something on these incredible menus of Galveston restaurants for you too.
Must Try Local Eats
1. Shrimp & Stuff Restaurant
Shrimp & Stuff is an American Seafood restaurant. They serve plenty of amazing options, but the top three raved about items here are their hush puppies, crab balls, and catfish. This Galveston restaurant has great local cuisines to try in a laid back environment. They even have an outdoor seating option! This restaurant is well known as "the place where the locals love to eat." You will find it interesting to know that this title was given shortly after it's opening in 1976. If you know anything about eating good food on your travels, you know it is a score whenever you find the place locals love to eat. Be prepared to go to Shrimp & Stuff more than once before you end your Galveston trip!
2. Fisherman's Wharf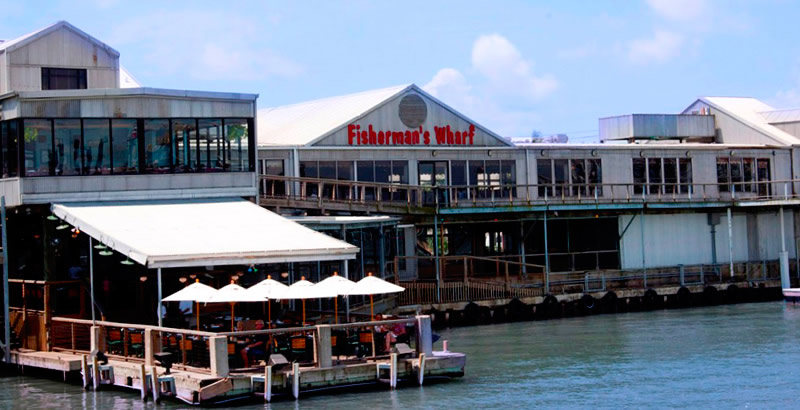 Fisherman's Wharf
Originally a fish and shrimp factory, Fisherman's Wharf is known as one of Galveston's finest seafood joints to eat at. They have fresh fish and seafood dishes every day. If seafood isn't your things, there are steak and pasta dishes as well. Not only is this some of the best seafood, but you can eat it with a waterfront view. Check this place out for a good lunch or dinner. Make sure to plan your trip during their happy hour from Sunday-Friday from 11am-7pm. You can check out their happy hour menu for this Galveston restaurant here. One of the great parts of Fisherman's Wharf is the Texas Seaport Museum which houses the Tall Ship Elissa. This is a great after meal museum to stroll through and learn about how this ship was rescued and restored.
3. Gaido's
Gaido's updates their menu daily depending on what they catch, and they clearly value freshness. The staff here is professional and helpful, anticipating your needs. Be prepared to enter into an atmosphere that is perfectly hospitable and impeccably clean. Since they opened their doors in 1911, Gaido's has been offering great service and amazing food. Many would say they have mastered the art of fine dining. There is a long wine list to choose a drink from to accompany your meal as well. You can peruse a gift store as you enter in the front and even pick up some killer seasonings here. Make sure to set up a reservation beforehand and show up prepared to have an incredible experience unlike any other you will find at Galveston restaurants.
4. Mosquito Café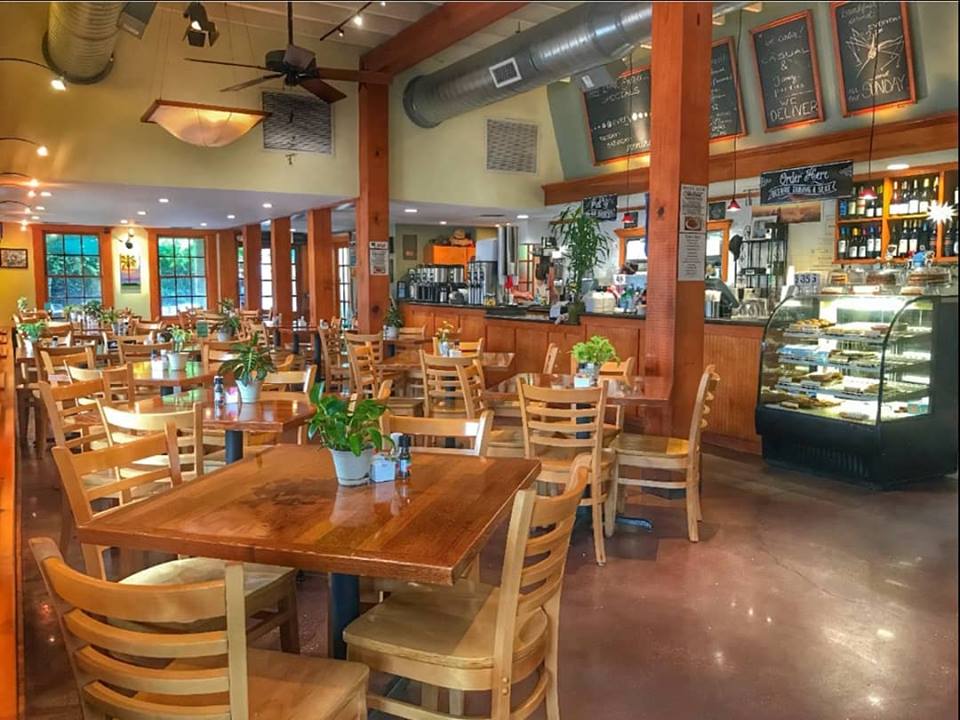 This next up restaurant on our list is a great place to have a nice late morning or midday hang out. You will experience a quiet and soothing atmosphere here. It is an adorable and charming scene to behold, as you can tell in the photo above. There are tons of great healthy options offered here, making it a good place to stop in for a meal if you have been eating a lot of heavy meals. They have options for tons of food restricts. Gluten free, dairy free diets are accommodated, just to name a few. You can checkout their full menu here!
This is a cozy place to stop in for a warm breakfast and the earlier you come the less time you will have to wait. Though this is not a fast food place, but the service is speedy. If you want to stop in after a long day of driving or for a nice brunch, there is a patio area that is perfect to catch the breeze! But don't neglect the dinners here. Now that you know all about the restaurant, let's talk food. Try the shrimp, grits, and eggs or the Mosquito Breakfast. For an appetizer, try the Asian Shrimp Skewer. As for lunch or dinner, try the Spinach Pasta or the Curried Ahi Tuna. The Mosquito Grill is a great place for those who are looking for alternative health options, or options that are not all seafood in a Galveston restaurant.
5. Miller's Seawall Grill
There are so many perks to eating at Miller's. This is a great place to go if you are hungry and looking for BIG portions. It encompasses the heart of southern cooking, and the service is as homey and comforting as the food. Those who come here have waiters and waitresses who are memorable even after their visit. Though this place can get packed, the staff tries to accommodate customers as quickly as possible and delight them by seating them sooner. Miller's is a local favorite spot, making this a must try Galveston restaurant. Checkout these 10 free things to do in Houston, TX, which is not too far from Galveston, TX.
6. Little Daddy's Gumbo Bar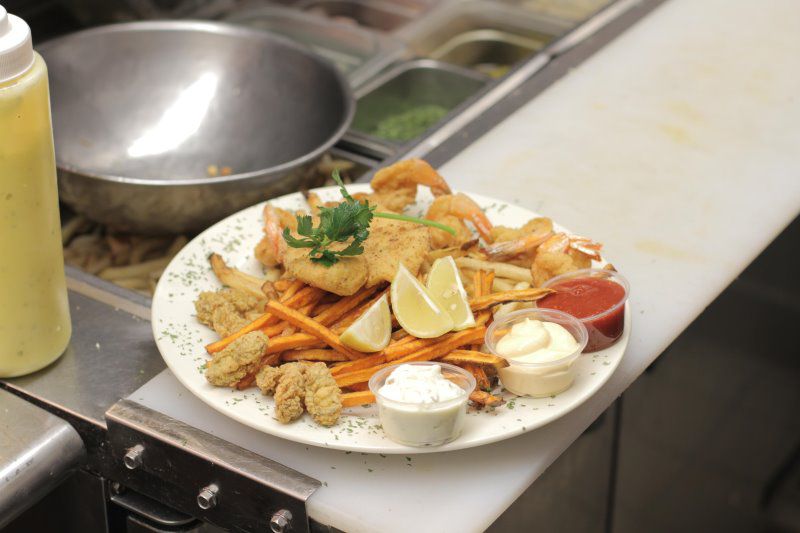 Little Daddy's Gumbo Bar
Little Daddy's Gumbo Bar specializes in seafood, specifically steam kettle cooking. They also have more than 60 beer options. It has a very fun and welcoming environment. There is a great mix of American food such as burgers, and seafood such as gumbo. The service here is known for being excellent and hospitable. You will leave knowing the name of your waiter or waitress, which means it is always a good time! Don't come here if you are trying to eat healthy. This is an absolute cheat meal type of Galveston restaurant.
7. Landry's Seafood House
Landry's is so close to Seawall Boulevard, which is a prime location for visitors. It is right in the midst of exciting attractions. The service is fast and helpful, and this is yet another place where the wait staff will leave their mark on you. Not only does this place have some of the best prices, but they have some of the best seafood. Be sure to try the jumbo shrimp, fish n chips, and the cedar plank salmon. If you are loving Galveston restaurants and want to checkout some more places to visit (and eat at) in Texas during the hot summer months, read this article!
8. The Black Pearl Oyster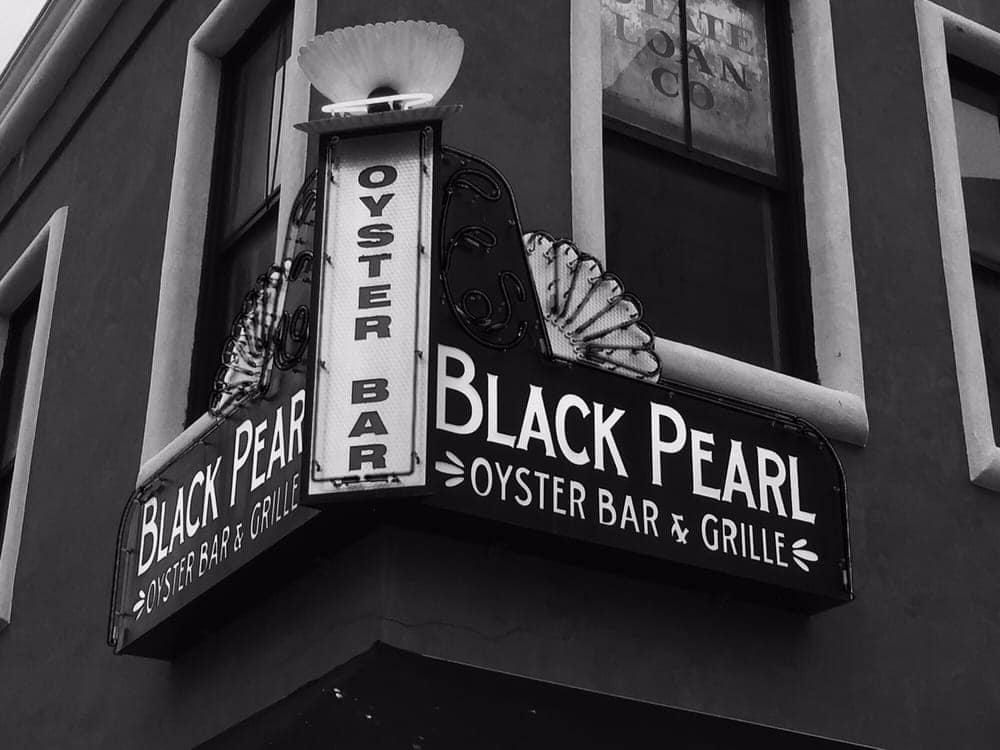 The Black Pearl Oyster/Credit: Julie I.
This place is known for its oysters, naturally. It has been said they have the best oysters out there. The Black Pearl is a trendy and stylish place to eat at located in the downtown area of Galveston. This restaurant is a hidden gem, or pearl if you will. There are plenty of Cajun dishes to try out here. The bar is fully stocked and loaded with great drinks. You will enjoy the service here, as it is friendly and welcoming! It would be hard to find a bad review of the staff here. This place has authentic seafood and is an absolute must try. Some great things on their menu are the crab cakes, red beans and rice, and the shrimp po-boys. This is an absolute must try eatery of all the Galveston restaurants.
9. Nick's Kitchen and Beach Bar
Seafood, beer, and burgers. That's what Nicks is all about. Here you can enjoy live music and a wonderful seaside view with your meal. Check them out for their happy hour Monday-Friday from 3-7pm. This restaurant is more than 60 years of and began as a quaint coffee shop. They pride themselves on making so much of their food in-house. Sauces, dressings, and bread are made fresh every day. Sure to get the freshest and best quality foods, this is a great thing when it comes to serving seafood. Some awesome appetizers to try here: Lump Crab Cake, Seafood Stuffed Jalapenos, Fried Crawfish Tails, and Fried Oysters. Seafood Specialty Dishes at this Galveston restaurant: Tequila Lime Tilapia, and Mango Mahi Mahi.
Cafe's
One of the things Galveston specializes in when it comes to Galveston restaurants is the beloved café. They have so many creative, artsy, and fun cafes to enjoy here. If you're anything like me, you factor cafe's into the best places to eat and drink on a trip. It would be a sin to leave out since the ones in Galveston are one of a kind!
10. MOD Coffee & Tea House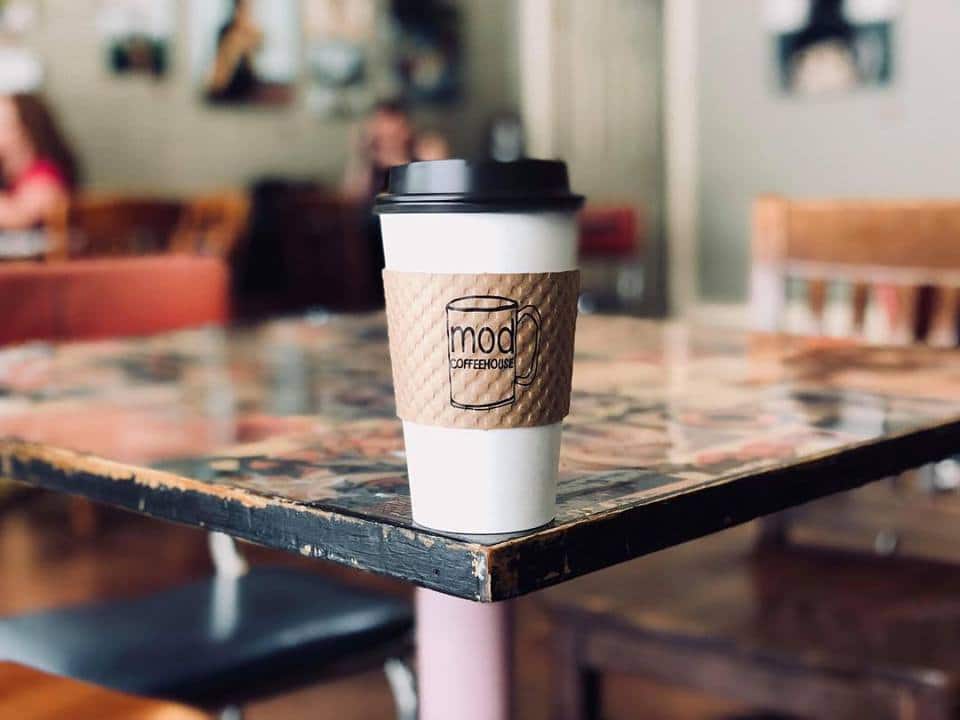 MOD Coffeehouse
MOD Coffee House & Café is right in the heart of downtown Galveston Beach which is such a perfect spot. You can stop in here and get a great cup of coffee and a small snack. If you are needing to stop and take a break as you enjoy all Galveston has to offer, this is your place. The staff is always up for a nice talk. There have great vegan options here for those with this food restriction. This is an amazing café in the world of Galveston restaurants.
11. Happy Coffee Shop
Everything about this coffee shop is personalized and sweet. From the quaint and cozy shop atmosphere, to the owner, to the menu. On this menu, you will find everything from fresh fruit smoothies to freshly brewed coffee. The motto here is "fresh coffee with a smile", and this is what Happy Coffee Shop provides it's visitors. Many guests make comments on one very special thing: the owner is very sweet and very present. The owner is always at the shop and she is always ready to spark up a conversation with you with an amazingly sunny disposition. She truly makes this a happy coffee shop!
A big perk here is the authentic Cambodian foods. Since the owner is from Cambodia, she knows a thing or two about how to make the very best. Not only does this place have so many hidden gems, but many have called it the home of the best coffee in Galveston. Happy Coffee Shop is a great place to go for a memorable experience during your trip to Galveston, and it helps that they open up at 7:30 am. It's crazy how many café type joints open up at 10 am or 11 am, but here you will be able to get that early kick start to your day.
12. Gypsy Joynt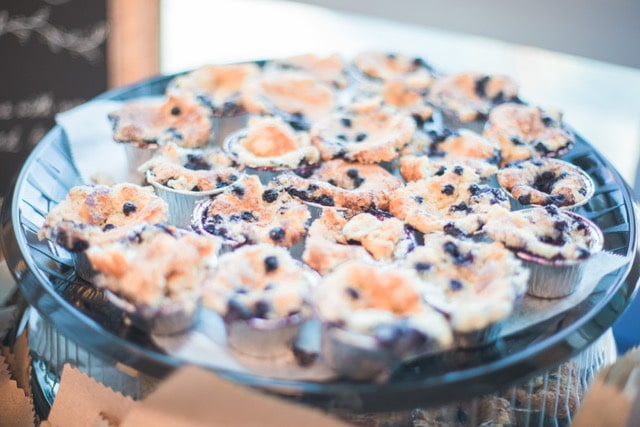 Gypsy Joynt
Gypsy Joynt is a great little family-owned joint. They are a full-blown hippie, in case you can't imagine by the name. It is a hole in the wall type place, but do no be fooled. This is one of the best places to eat in Galveston. We aren't just saying that, they won the best restaurant of the year in 2017! Many would say it is worth coming to Galveston just to try the food here. They have tons of bakery options which is part of the reason they are considered a great café.
13. Sea Bean Coffee Café
Sea Bean has been called "the most unpretentious coffee shop on the island". This is a huge plus if you are looking for a different type of coffee shop to enjoy! They serve up a simple menu and then execute their item creations with excellence. If you get hungry for real food, there is a restaurant with a view just a walk up the stairs called Jimmy's on the Pier. Not only can you pick up a cup of coffee, but you can also rent a fishing pole and buy some bait to go fishing on a small pier right out the back door!
This is not your typical touristy place, so make sure to check it out and see what the locals enjoy! Not only can you enjoy a coffee bar and plenty of small snacks, but there is also ice cream available. Another thing they sell here is t-shirts and other area-related merch.
So just an overview: when going to Sea Bean Coffee Café, you will have a well-rounded experience. You can pick up a delicious coffee or snack. There are gifts and souvenirs available for purchase. If you get hungry for genuine food, you can enjoy an incredible meal with a view upstairs. And they have everything you need to enjoy a few hours fishing! To top it all off, you can even pick up ice cream for your walk out to the pier! If you are looking for some great beaches to checkout in Texas, read this article!
14. Board Game Island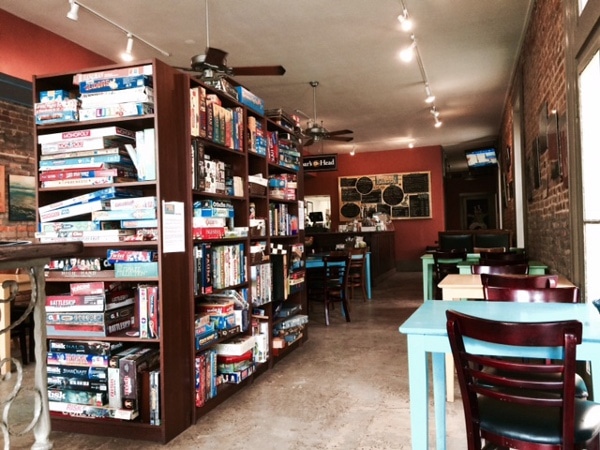 Board Game Island
Board Game Island has it all. You can come here to relax, disconnect from technology, or enjoy a nice drink. They have everything from an espresso bar to local craft beers on the menu. But you can't miss the best part of all: over 500 board games live here. You heard that right, 500! This is a great place to come and have a nice family afternoon or evening.
If you are a game fanatic or just want to experience a café where electronics are not the biggest thing, look no further. There are plenty of food items available as well if you are hungry. They have things like baked good and pizzas. Board Game Island prides themselves on being the only coffee shop that is open late at night in Galveston. You really need to try this place if you are in the area, even if you're just stopping in for a quick drink and round of checker.
Try One-of-a-Kind Galveston Eateries!
The Galveston restaurants on this list are once in a lifetime tries. Plenty of good folks own these eateries and have poured heart, soul, passion, and deep Galveston roots into their creations. The welcome you will receive when eating at these restaurants is a big Texas greeting full of warmth and hospitality. Make sure to check out our related article below in order to find more must eat restaurants and food festivals in Galveston! There is no doubt that one of the biggest perks of a trip to Galveston is the food. Make sure you take full advantage of Galveston Restaurants!
Related Article: Best Things to Do in Galveston