Iceland Scenery is Unlike Anything Else. These 14 Spots in Iceland Will Prove to You How Astonishing the Country is
There are few places like Iceland where every square foot of the country screams breathtaking beauty. Iceland is a hub for natural attractions. Outdoor explorers will get lost in this land full of hot springs, glaciers, pristine lakes, black sand beaches, waterfalls, and rolling hills. Increasing in popularity, a trip to Iceland is on many travelers' bucket list, and rightfully so. Trust us, the country lives up to the hype. Nothing compares to Iceland scenery.
Below are the top 14 natural attractions to visit within this stunning country. Your trip to Iceland will require a rental car so that you can road trip from coast to coast and see all there is to see. From north to south and east to west, these 14 famous spots in Iceland are worthy of your admiration. Plus, the northern lights only enhance the already captivating beauty. As you will quickly figure out from viewing these photos, a camera is a necessary item to pack on a trip to Iceland. Every landscape, every corner, and every destination within this country is photogenic. Also, Iceland happens to be one of the best countries to live in. Whether you are planning your next vacation to Iceland or planning to pack up all your belongings and move here, these Iceland images will get you excited for your adventure.
1. Jökulsárlón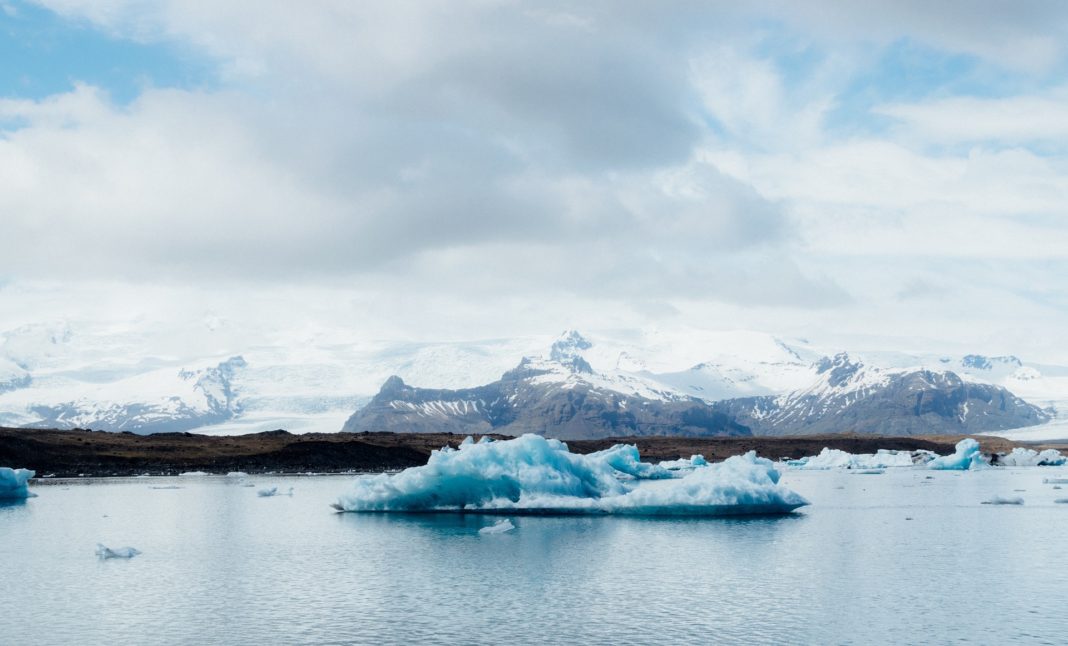 Jökulsárlón is located in southeast Iceland. A visit to this large lagoon is magical with all of the icebergs popping out of the water. Travelers can also take a boat ride through the lagoon and see the varying shapes, sizes, and colors of the icebergs up close. Jökulsárlón is a mesmerizing place to visit for the incredible Iceland scenery found here. Grab hot cocoa from the café to warm up as you witness the stunning, stretching landscape at Jökulsárlón.
2. Viti Crater, Askja
This large, sunken crater is situated in the central highlands of Iceland. Tucked away in its remote location, Viti Crater holds beautifully blue water. There is a footpath around the rim, which can be walked in about 1 hour. Travelers can survey one of Iceland's best natural attractions at Askja. The blue water changes hues depending on the time of day and your location around the lake, which makes for an even more fascinating time at Askja.
3. Vatnajökull National Park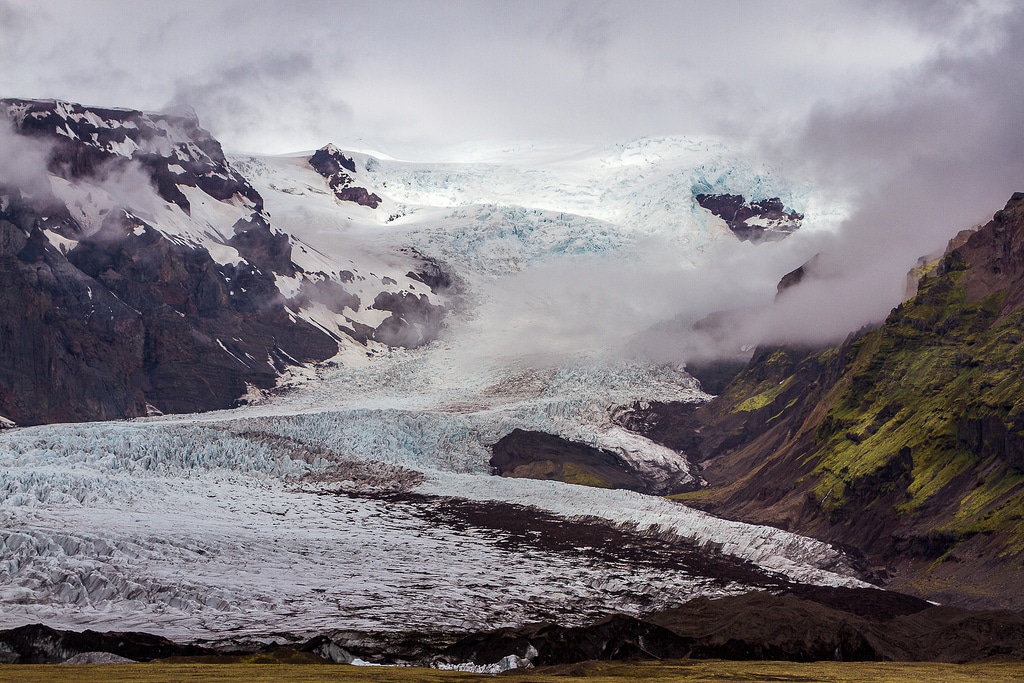 Vatnajökull National Park is one of three national parks located in Iceland. Covering 13% of the country, Vatnajökull National Park is one of the largest national parks in all of Europe. From rivers and waterfalls to staggering rock formations and volcanoes, this park has many sights to explore. A drive through this wondrous Iceland scenery will have you proclaiming all of the "oohs" and "ahs." One fun fact is that Vatnajökull itself is also the largest glacier outside of the polar regions.
4. Westfjords
Few travelers reach the Westfjords of Iceland and it is a shame because they miss out. Iceland's Westfjords has untouched scenic beauty, peace and quiet, and lofty mountains. Around every corner, travelers will discover something new to explore. Because the area is sparsely populated and because tourists rarely venture to this western corner of Iceland, the Westfjords is a perfect place for travelers to enjoy tranquil time adventuring areas that are free of crowds.
5. Reynisfjara Beach, Vík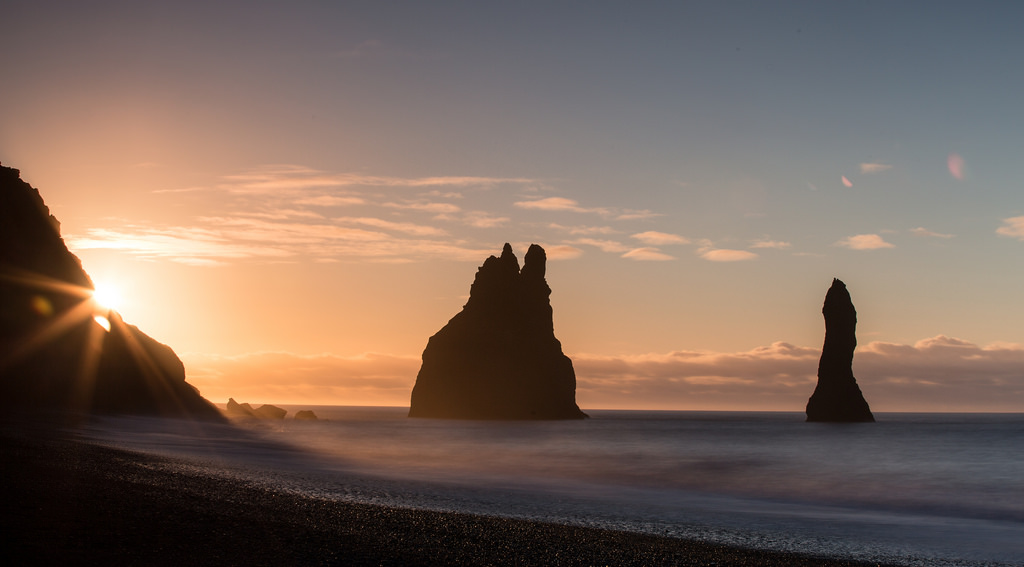 We have raved about Reynisfjara Beach (also known as Vik Beach) before because of its stand-out black sand and distinctive landscape. Here, basalt columns stick straight out of the water. The rough ocean sends water spraying in all directions when it hits the surface of these rocks.
Because the sea is extremely dangerous, travelers are forbidden from swimming in the water at Reynisfjara Beach. Despite not being able to swim in the water, a stop by this beach is still necessary. The black sand is a wonder to take in, making Reynisfjara Beach a must-visit when on a quest to admire the natural scenery of Iceland.
6. Geysir
In Geysir, you will find fellow travelers with eyes glued to their camera lenses. They will be waiting in anticipation for water to erupt. About every 10 minutes, if that, boiling water will jump up to 200 feet in the air. You can't exactly time these natural eruptions (they are natural, of course). However, you can be certain to see an impressive, active geyser here. Geysir is located in southwest Iceland and a definite place to visit when in the area.
7. Blue Lagoon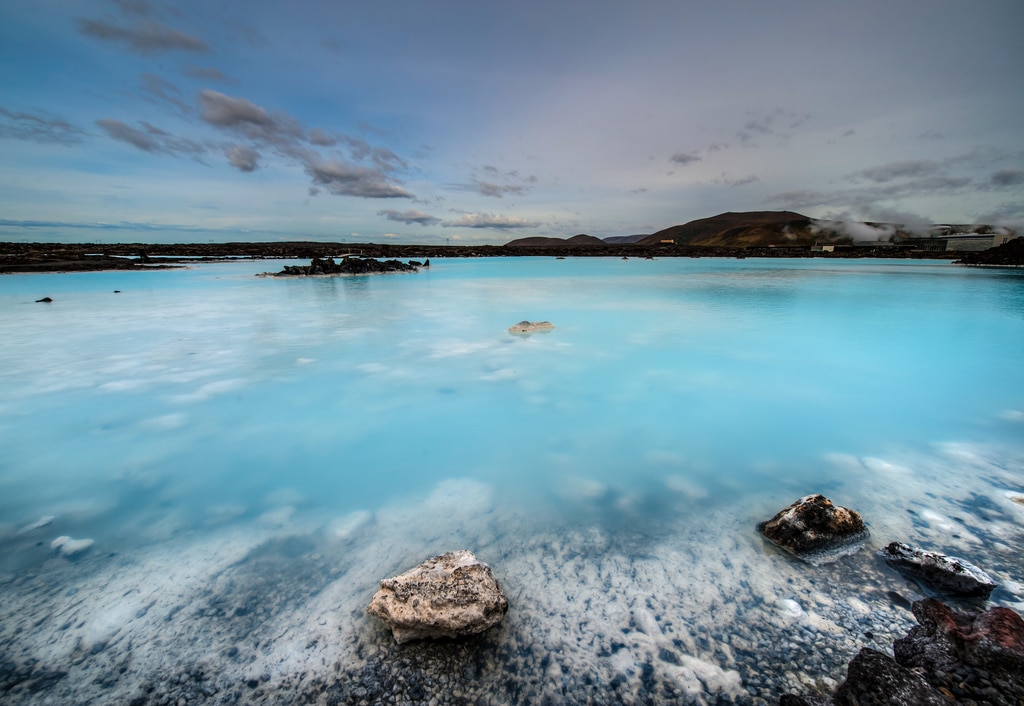 Blue Lagoon will be a tourist trap, but when in Iceland you have to visit this place. The lagoon may also be man-made, but don't let that deter you from stopping by this geothermal spa. Thick mist rises above the cloudy, aquamarine water. When contrasted against the black landscape, the lagoon creates a magnificent display of beauty. All year round Blue Lagoon sits at a steamy 40 degrees Celsius (104 degrees Fahrenheit). In the height of winter, you can rest within the hot water as ice and snow surround you. There is no experience like visiting Blue Lagoon on your trip to Iceland. Both the photo opportunities and the captivating Iceland scenery at Blue Lagoon are reasons enough to go.
8. Gullfoss Waterfalls
Waterfalls galore are found in Iceland. Waterfalls cascading down mountains contribute to much of the mesmerizing Iceland scenery. That is why Gullfoss is a well-known tourist attraction in the country. It is even a part of the famous Golden Circle, which is the most common driving route for travelers visiting Iceland. Golden Circle consists of major Iceland attractions including Geysir, Thingvellir National Park, and of course, Gullfoss. A visit to the Gullfoss waterfalls will be completely worth it. We recommend wearing a waterproof jacket because mist will likely spray you from the falls. You may even spot an arching rainbow in the sky on your trip to Gullfoss.
9. Kirkjufell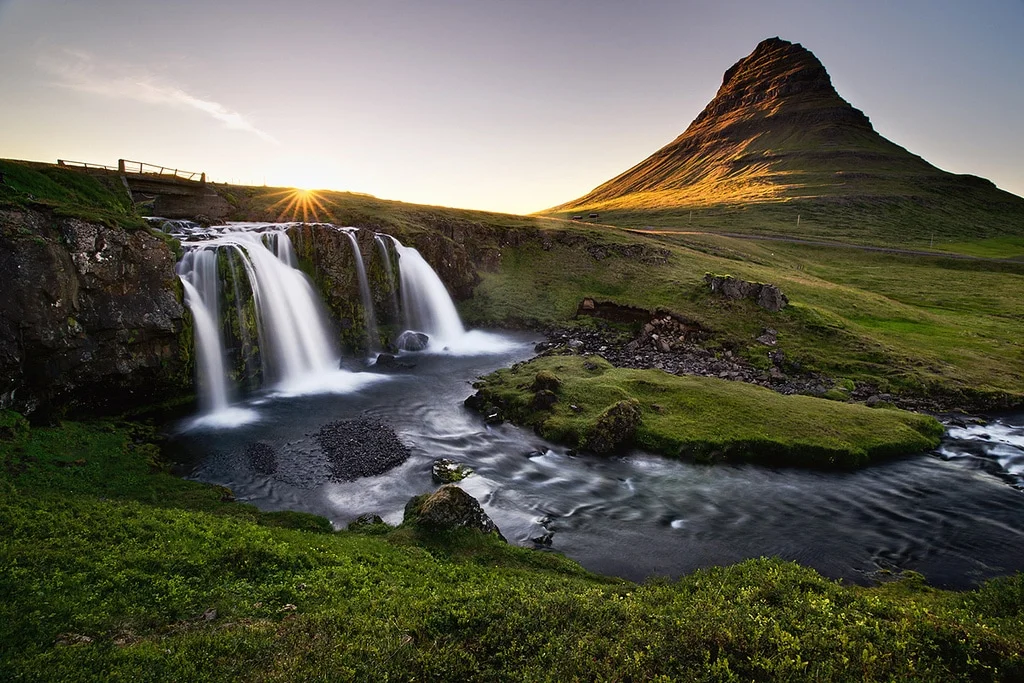 Kirkjufell made our list of the most beautiful and famous mountains in the world. For that reason alone, it must be on your list of places to visit in Iceland. Location on the northern coast, travelers can view the uniqueness of Kirkjufell mountain. Here, the lush greenery surrounding the mountain and the splashing waterfalls nearby make Kirkjufell a wondrous spot to see in Iceland. This mountain is, in fact, one of the most photographed areas in the country. Therefore, you must have your cameras charged up (as if they weren't already). Since Kirkjufell is rather isolated, travelers will delight in the calmness of their journey to the mountain.
10. Jökulsárgljúfur National Park
Jökulsárgljúfur National Park is another one of three national parks within Iceland that is home to more and more beauty. The park is known for its staggered rocks and impressive volcanic mountains. At this national park there are also exceptional, roaring waterfalls. Dettifoss is one of those exceptional, roaring waterfalls that travelers have to check out within Jökulsárgljúfur National Park. Upon the water crashing against the rocks below, mist rises into the sky. Dettifoss stirs up splendid Iceland scenery like no other place in the country. There is plenty to do in addition to witnessing the waterfall at Dettifoss. Yet a trip to Jökulsárgljúfur National Park is not complete without a view of this waterfall.
11. Landmannalaugar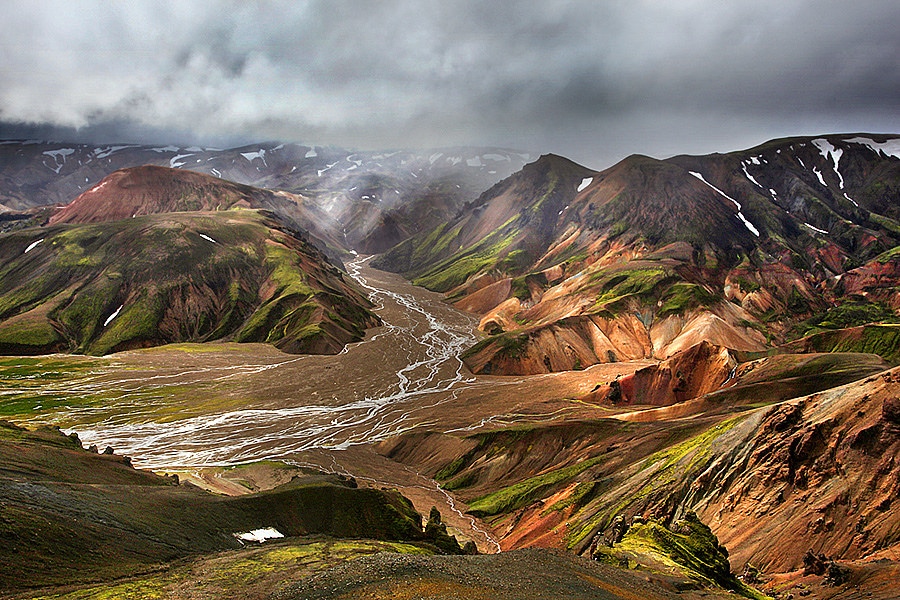 Landmannalaugar offers what we like to call otherworldly beauty. The marble colors of the mountains cannot be described. They can only be seen in person. Landmannalaugar is by far one of the best trekking destinations for all of you super adventurous travelers. However, even if you aren't into trekking or hiking, we still highly recommend journeying to see Landmannalaugar. The Iceland scenery you will witness at Landmannalaugar is again, otherworldly.
Traveling Tip: Landmannalaugar is only accessible in the summertime. Therefore, don't plan a trip in the winter if you wish to see the extravagance of Landmannalaugar.
12. Reykjavik
Reykjavik is the capital of Iceland and also the largest city within Iceland. Bright blue, pastel yellow, and vibrant red roofs are sprinkled throughout the city. Snowy mountain ranges stretch wide in the distance. Reykjavik is located in southwestern Iceland and is a major tourist destination. There is much culture and history to discover within the downtown area of Reykjavik. There are also many activities, gardens, and restaurants to explore at Reykjavik. So, in addition to all of the natural wonders that Iceland has to offer, we advise spending some time checking out this fun, artsy city.
13. Skaftafell National Park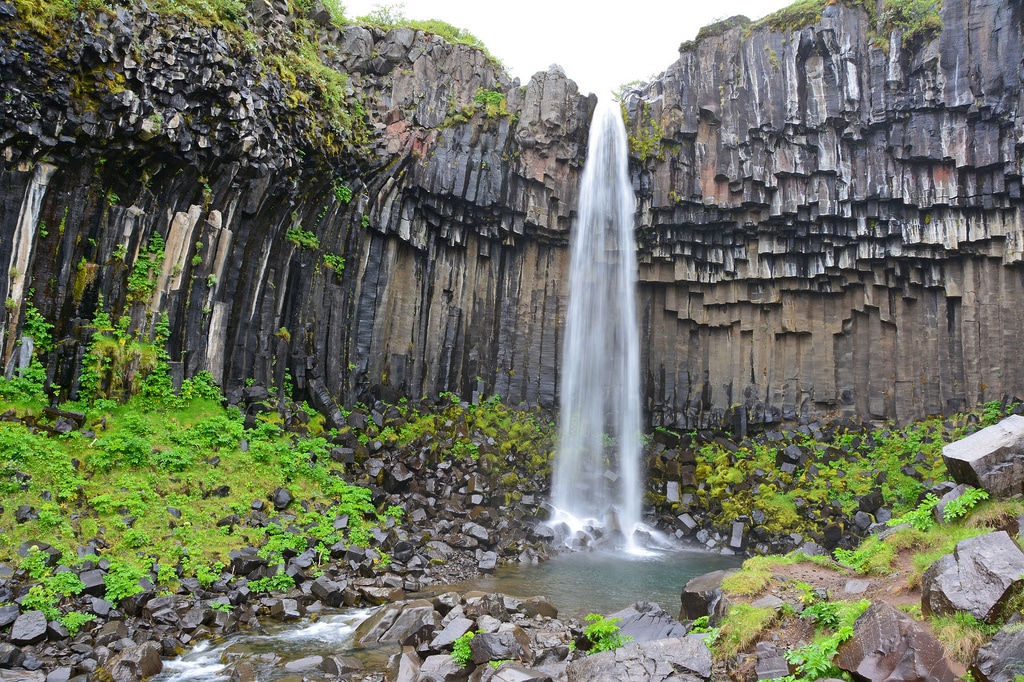 The final national park within Iceland is Skaftafell National Park. Well, sort of. Skaftafell is technically a part of the larger Vatnajokull National Park (as of 2008), yet Skaftafell still has its own visitor center. Regardless of its label, this area is home to glaciers, waterfalls, green meadows, and more. Hikers will find Skaftafell National Park to have the splendid views and walking trails they are searching for.
14. Asbyrgi Canyon
Asbyrgi Canyon is a horseshoe-shaped canyon that sits in the north of Iceland. With surrounding cliffs that reach up to 100 meters high, we highly recommend taking your time to enjoy the impressive grandeur of this canyon. Because of Asbyrgi Canyon's stand-out beauty, we highly recommend traveling to visit this spot on your trip to Iceland.
Iceland scenery is vast and awe-striking. Which of these 14 locations got you most excited about planning a trip to the country (or moving to the country)? Since sharing is caring, let us know in the comments section below!
Related: Don't Miss Out on These Top Things to Do in Iceland
15. Lake Myvatn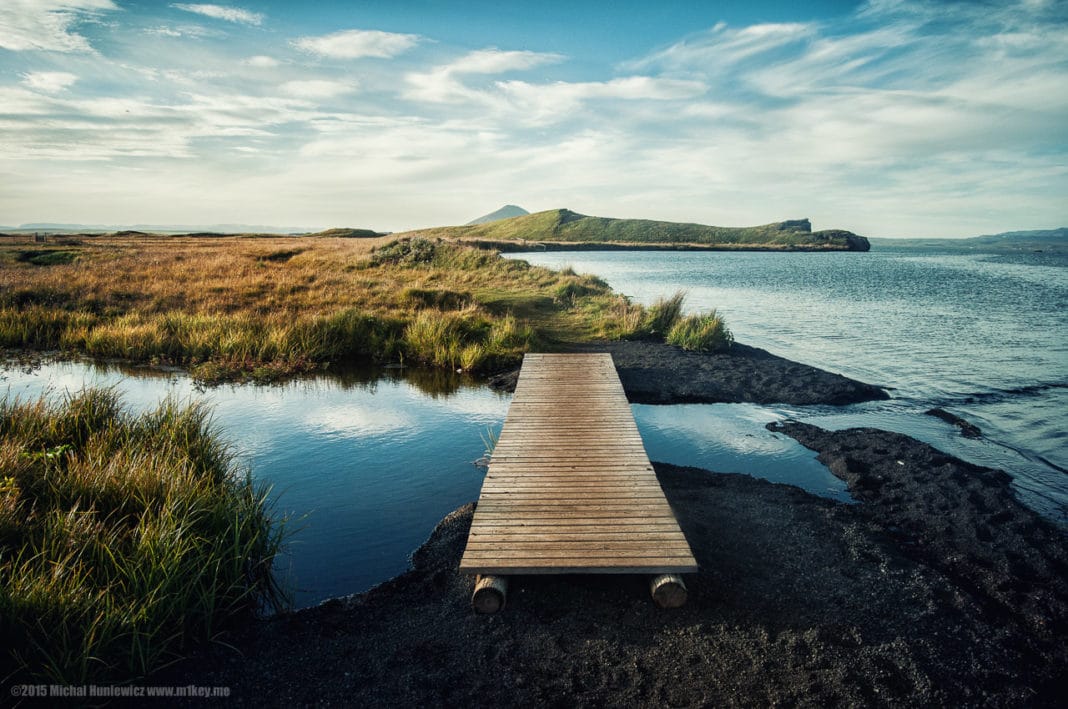 Have you seen anything than this volcanic lake in northern Iceland? This beautiful landscape is unparalleled. Just east of here, you'll find gorgeous hot springs from a man-made lagoon. These mineral-rich waters are known for their health-giving properties. 
16. Jokulsarlon Glacier Lagoon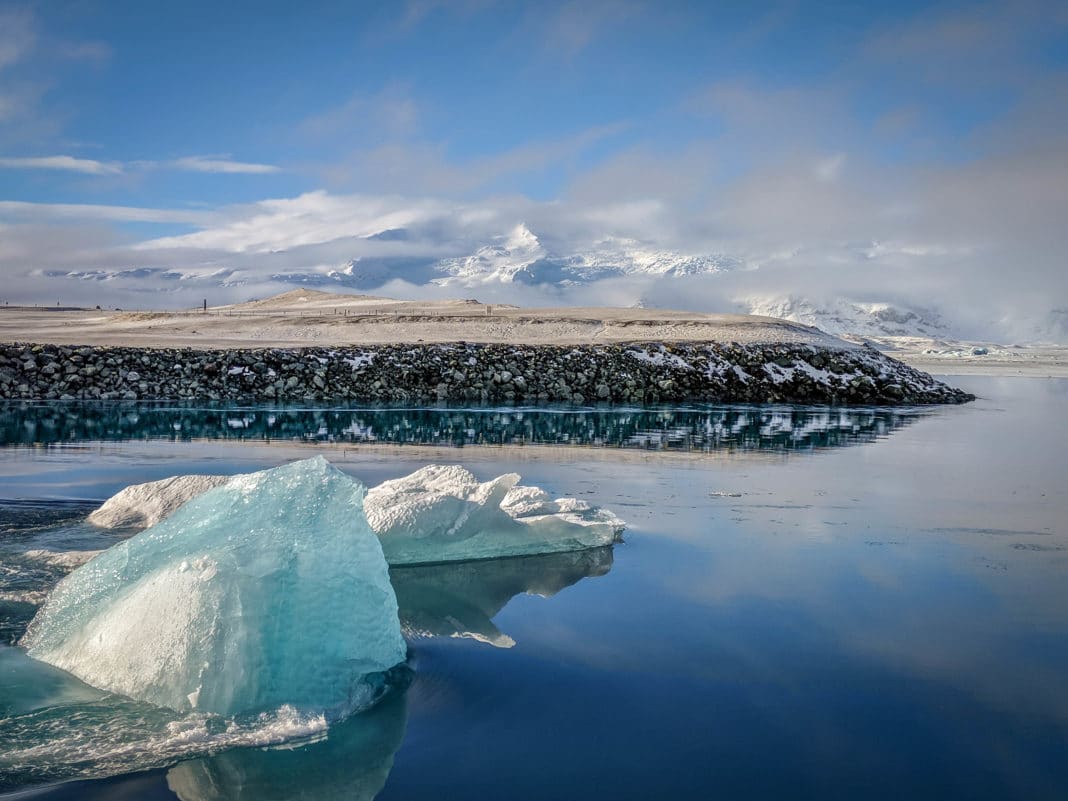 Jökulsárlón is a glacial lagoon bordering  bordering Vatnajökull National Park in the southeast of Iceland. It is home to still blue waters dotted with icebergs from the surrounding Breiðamerkurjökull Glacier. The Glacier Lagoon flows through a short waterway into the Atlantic Ocean, leaving chunks of ice on a black sand beach. In winter, the fish-filled lagoon hosts hundreds of seals.
17. Snaefellsnes Peninsula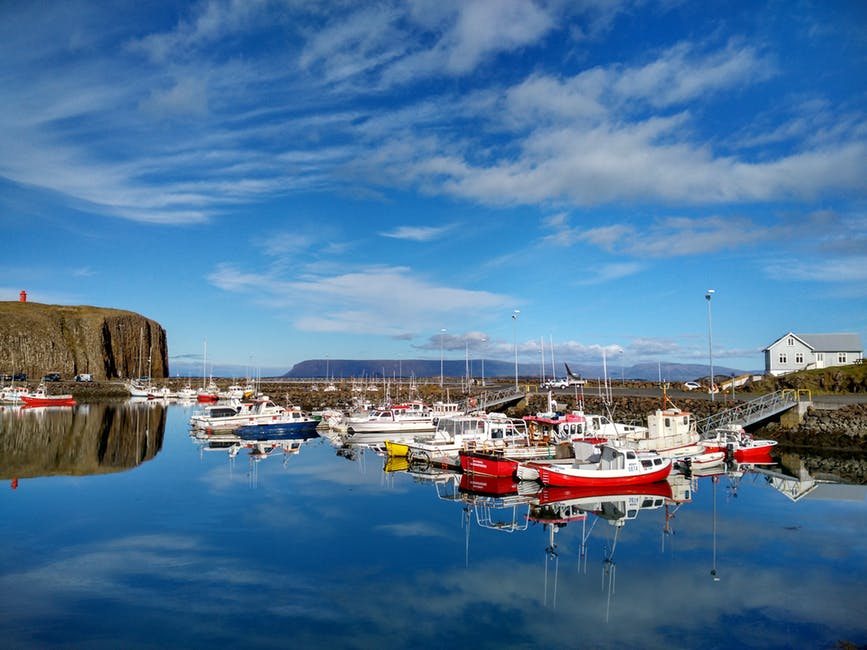 The Snæfellsnes Peninsula is an Icelandic region known for its dramatic landscapes. Head to the western tip of the park, which is dominated by Snæfellsjökull Volcano and topped by a glacier. Nearby, a trail leads through lava fields to black-pebble Djúpalónssandur Beach. In Stykkishólmur fishing village, the 19th-century wood-frame Norwegian House is a regional museum with a craft shop. The Jokulsarlon glacial lagoon is definitely worth seeing.
18. Snaefellsjokull National Park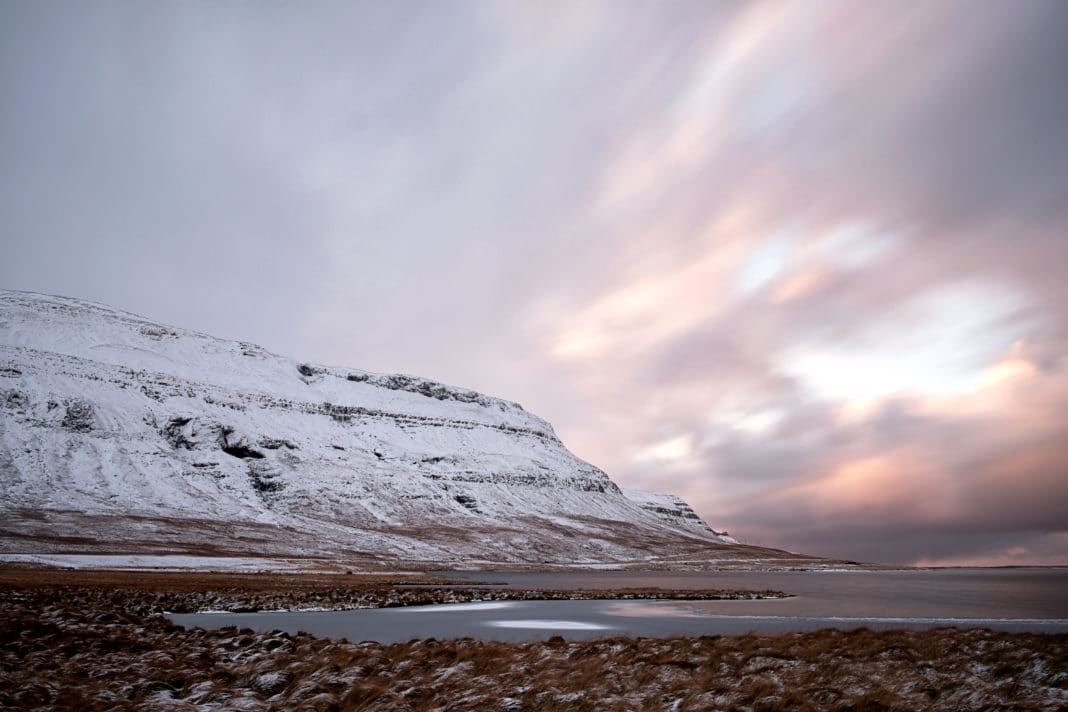 This 700,000-year-old glacier-capped stratovolcano in western Iceland. The name of the mountain is actually Snæfell, but it is normally called "Snæfellsjökull" to distinguish it from two other mountains with this name.
19. Ring Road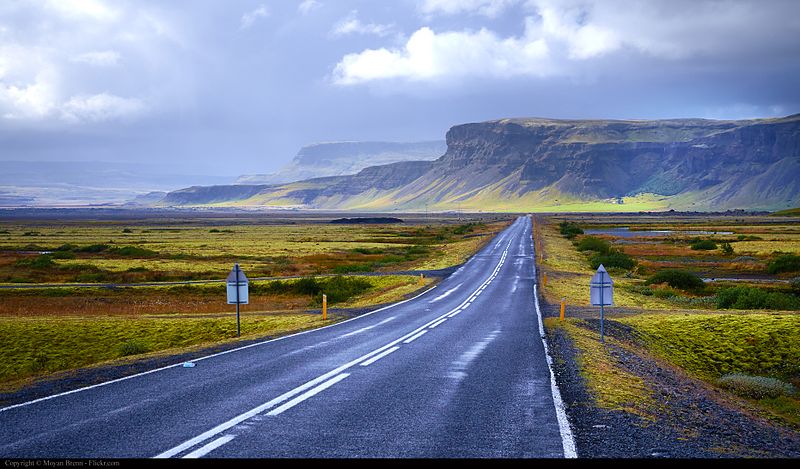 Drive past active volcanoes, blue icebergs, roaring waterfalls, and if you time it just right, the northern lights. If you're searching for an unforgettable travel experience and looking to take amazing photos, Iceland's ring road will not disappoint. After all, Game of Thrones was filmed not too far from here. 
20. Dettifoss Waterfall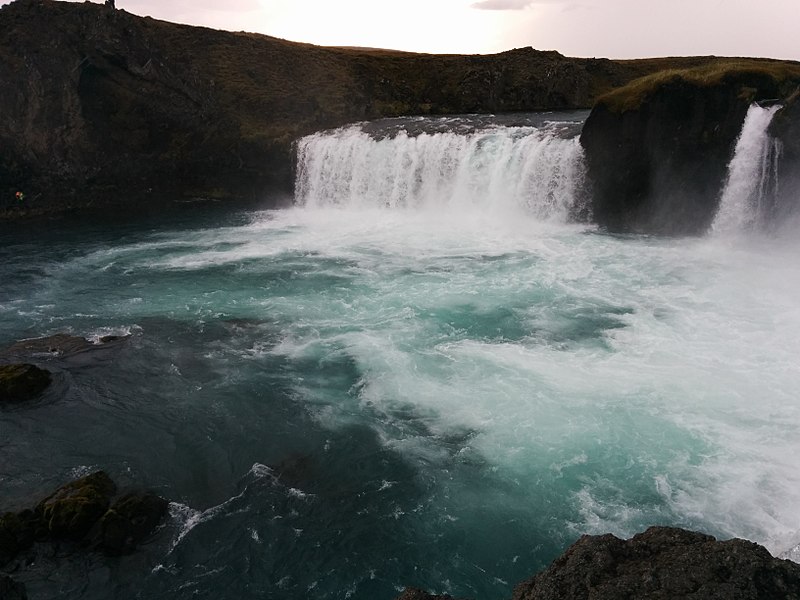 Dettifoss is a waterfall in Vatnajökull National Park in Northeast Iceland, and is reputed to be the most powerful waterfall in Europe. The water comes from the nearby Vatnajökull glacier, whose sediment-rich runoff colors the water a greyish white.
21. Skogafoss Waterfall
Skógafoss is a waterfall situated on the Skógá River in the south of Iceland at the cliffs of the former coastline.