Upgrade your camping experience with the GoBackTrail Compression Stuff Sack.
If you're a traveler who spends lots of time outdoors, you need equipment that's functional and easy to carry. When you go backpacking in the woods, the equipment you bring can really weigh you down and slow your pace. Many bags designed to help you carry traveling gear either don't fit everything you need or feel large and bulky. Travelers searching for a backpack that can hold every necessary item without sacrificing comfort should look no further. The GoBackTrail Compression Stuff Sack provides the room you require, letting you squeeze in all your outdoors equipment. This sack's compressing capabilities also means you won't be hefting around a massive bag on your shoulders. To find out more about this awesome travel bag, read our article below.
GoBackTrail Compression Stuff Sack Features & Benefits
1. Compression Features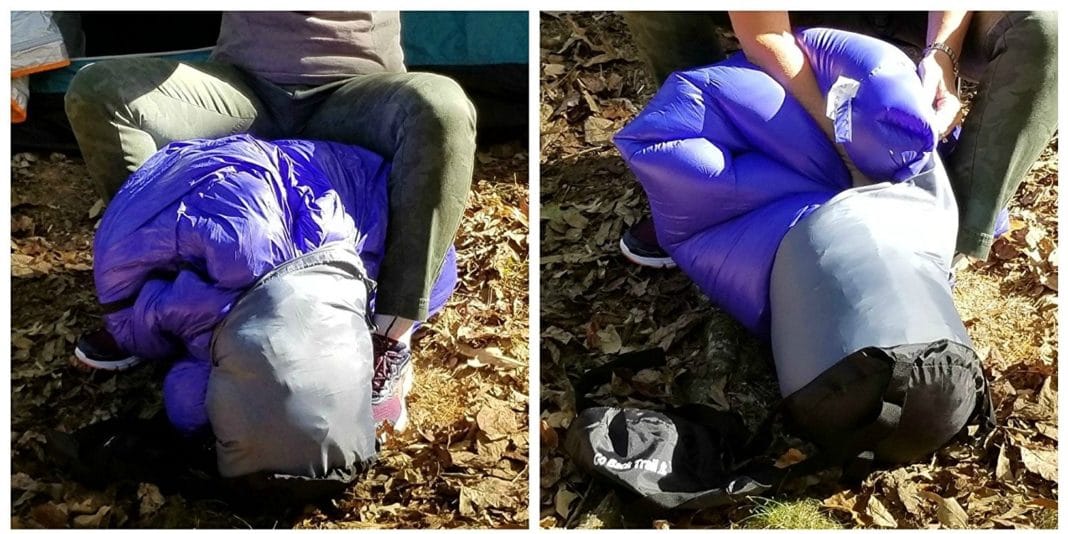 Sometimes, packing your bag can be the most annoying part of an outdoors trip. Usually, you want to bring a huge list of items, but your backpack just isn't big enough to fit everything. You might have to plan out your camping gear essentials in order to pack properly. Or, after you've finished an expedition, repacking everything in your case proves to be a huge hassle. Travelers will often find that their items don't fit in the bag as easily as they did before. This leads to frustrations and delays in getting to where you need to go.
With the GoBackTrail Compression Stuff Sack, packing your bags no longer has to be an issue. This product contains compression features that allow items to be stuffed perfectly inside the bag. Bulky belongings, such as winter coats and sleeping bags, will flatten and stack easily on top of one another. You won't have to worry about wasted space or not being able to fit important things within your backpack. The SmartSqueezeII compression system enables travelers to carry all their travel gear in one convenient carrying sack.
2. Ideal Size for Travel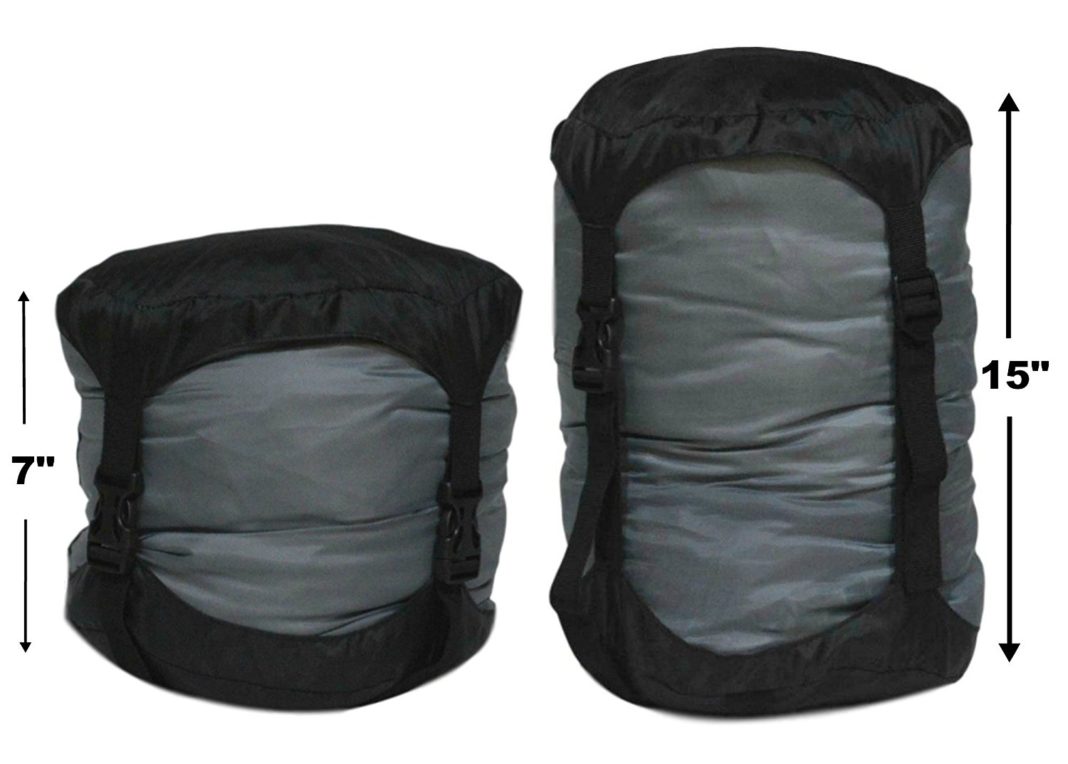 Finding the perfect size backpack to bring along your travels often feels difficult. You want a bag that can hold all your necessary items, but you don't want something hefty to carry. Larger bags provide the room you need, while hurting your back due to their bulkiness. Smaller-sized travel sacks remain ideal for short trips, though they won't hold everything you want. Usually, buying a compact bag results in leaving certain items at home because they just won't fit.
Thankfully, the GoBackTrail Compression Stuff Sack offers travelers the space they need in a relatively small bag. The sack measures at around 9 inches in diameter and 15 inches in length. Inside, you can fit up to 16 liters of items if you choose. This means you may bring everything you need for an outdoors adventure and still have room leftover in the bag. Since the sack isn't extremely big, you won't need to worry about heaving around a massive bag on your journey.
3. Strong Strap System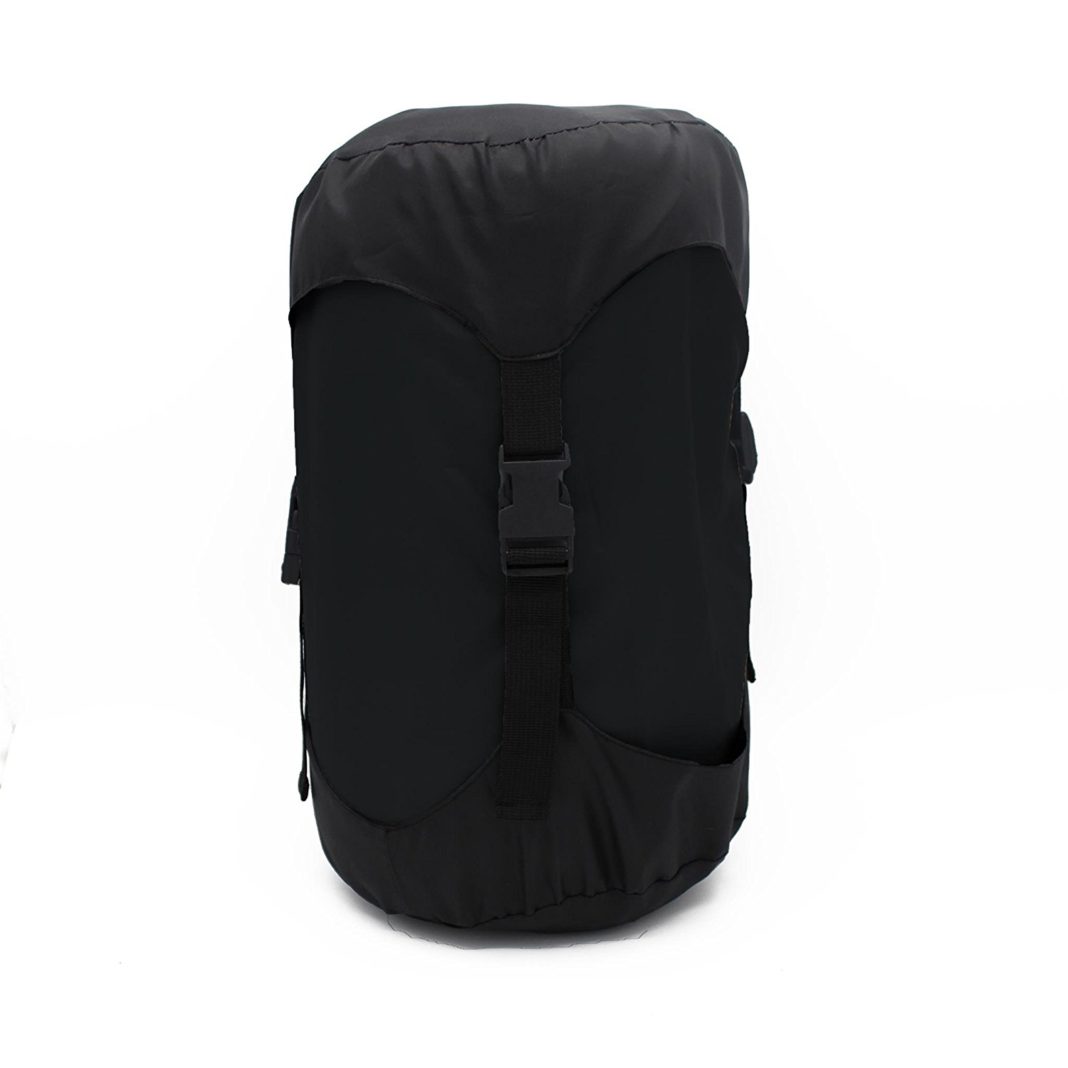 The straps on a travel sack might be one of the most important aspects of the bag. Backpacks and travel bags that utilize thin straps hurt your shoulders and often rip when holding heavy items. Thicker straps can hold up your belongings while keeping your bag steady but dig into your arms and back. It can be difficult to find a bag with just the right straps that provide support and feel comfortable.
When you wear the GoBack Compression Stuff Sack, you won't feel like the straps are digging into your skin. The straps on this travel bag have the perfect thickness to hold the bag and remain comfortable on your body. Moreover, the strap system keeps your bag centered as you travel from place to place. Buckles clip together, ensuring your belongings stay safe and sound inside the bag.
4. Durable Design
When you're traveling outdoors, you definitely need gear that can withstand all kinds of weather patterns and activity levels. Often, travel bags promise to stay intact through every kind of adventure in the woods or along a mountainside. However, many times, these bags fail to live up to those promises, ripping or tearing with the slightest tug. Travel sacks and backpacks should be made of durable materials that won't fall apart after a few hours of usage.
The GoBackTrail Compression Stuff Sack remains ideal for travelers who require durable bags. This compression sack utilizes materials, like thick polyester, that keep the bag from tearing or ripping. You won't have to tape over any holes after snagging your bag on a branch. Even if you drop the bag on a rough surface, the product will stay in shape while protecting your belongings. The straps and buckles, used to keep your bag steady, also consist of highly durable materials. Travelers can hike and bike while carrying the bags and never have to worry about the straps breaking.
5. Color Options
Many travel bags come in neutral shades like black or gray, making them utilitarian, but somewhat boring. While some travelers prefer simple-looking travel accessories, others prefer products with more exciting appearances. It can be fun to buy travel bags and other gear that have cool patterns or colors. You'll stand out from other travelers when you have a travel sack that doesn't look plain or generic.
With the GoBackTrail Compression Stuff Sack, travelers can choose from multiple different shades. Choices like Blue and Gray-Black provide an interesting pop of color as you travel from place to place. You'll easily stand out in comparison to other travelers while you go camping or hiking through the woods. Those who prefer more classic shades can pick the black option, as it will match with every outfit and activity.
What Travelers Are Saying About the GoBackTrail Compression Stuff Sack
Travelers who purchased the GoBackTrail Compression Stuff Sack found the product to be perfect for carrying all their camping gear. Since the sack has compression technology, bulky items like sleeping bags and clothes could easily fit alongside other gear. Users traveling by motorcycle appreciated that they could bring everything they needed without having to carry extra bags. Other reviewers raved about the GoBackTrail Compression Stuff Sack's comfortable and sturdy carrying straps. After wearing the straps for hours, travelers didn't feel sore or experience back and shoulder pain. The straps helped the bag stay in place as people hiked up mountainsides or rode bikes on the road. Many reviewers also appreciated how easy it was to fit their items in the bag. The compression features made it simple to pack belongings, without users needing to break a sweat.
Some reviewers found that the GoBackTrail Compression Stuff Sack could have had a more durable design. One person had their bag rip while they were climbing up a mountain. This meant that they couldn't use the bag when they most needed it. A few others believed that the bag was made of flimsy material, as it didn't withstand frequent usage. However, most reviewers considered the GoBackTrail Compression Stuff Sack an ideal product for traveling outdoors.
Alternative Compression Sacks and Outdoors Gear
1. Kelty Galactic Sleeping Pad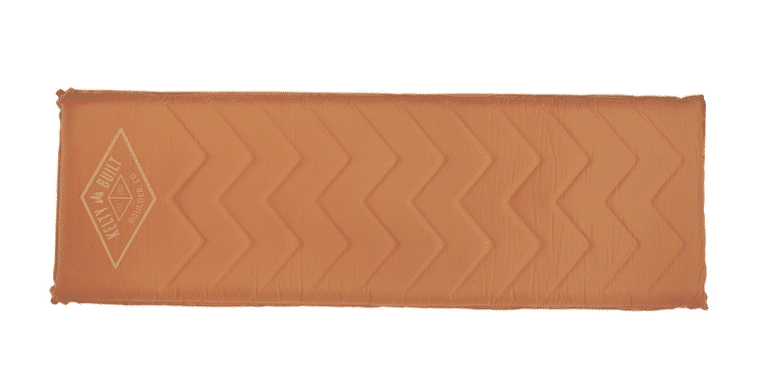 Travelers who camp for long periods at a time need extra comfort when they sleep. Lots of sleeping bags provide very little padding, causing back pain and discomfort during rests. That's why the Kelty Galactic Sleeping Pad remains an ideal travel accessory for campers. This sleeping pad gives users that extra cushion they need to feel truly at ease while they sleep. The self-inflating, rectangular sleeping pad will fit easily inside a normal-sized sleeping bag. Since the product is self-inflating, you also won't have to bring extra equipment to help blow air into it. Like the GoBack Trail Compression Stuff Sack, the Kelty Sleeping Pad comes with a carry sack for simple transport. You can simply deflate the sleeping pad, stuff it inside the carry sack, and go. This means you won't need to bring extra bags simply to help carry your sleeping pad.
2. Abco Tech Sleeping Bag Envelope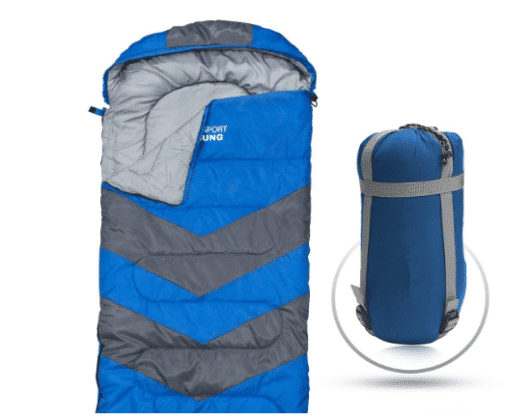 While the Abco Tech Sleeping Bag Envelope isn't completely comparable to the GoBackTrail Compression Sack, it remains a great alternative. This sleeping bag envelope comes with a carry-on compression bag for holding your sleeping bag and other items. When you purchase this product, you'll be getting a sleeping bag as well as a travel sack. Sleeping bags included with this item have been designed to withstand adventures in extreme conditions. For example, the sleeping bag will keep you warm even when it's 20 degrees outside. Made with waterproof and weather-resistant materials, the bag will remain intact and keep you dry, no matter the climate. The Abco Tech Sleeping Bag Envelope also maintains a barrel-shaped design, making it more comfortable to carry. A compression sack with straps provides the carrying bag you need to stow away your items and sleeping gear.
3. AegisMax Compression Sack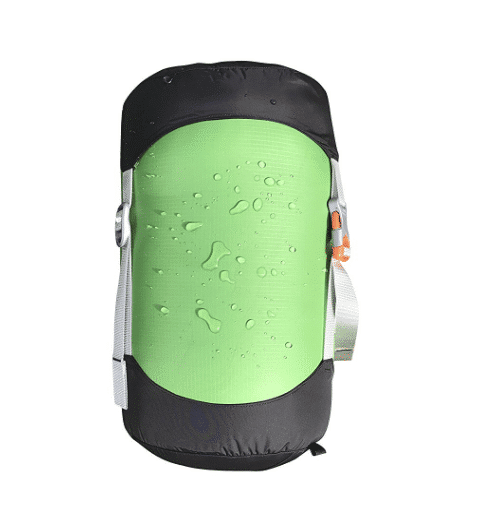 If you're searching for a similar product to the GoBackTrail Compression Stuff Sack, consider this alternative. The AegisMax Compression Sack has many of the same features as the GoBackTrail bag, including compression technology. This ensures items such as bulky sleeping bags and heavy coats can all fit inside one compact sack. An ultralight, waterproof exterior makes the bag ideal for bringing on trips through the woods and other environments. Rainy days won't lead to soaking wet belongings if you use this compression sack. Just like the GoBackTrail Compression Stuff Sack, the AegisMax product includes sturdy straps to keep your bag secure. The buckles ensure your bag will not bounce around on your back as you wander up mountains or ride bikes. This compression sack also comes in multiple different sizes, so you can find one with the perfect amount of space.
Never travel through the outdoors without your GoBackTrail Compression Stuff Sack.
No matter where you travel, finding the ideal backpack to fit all your gear can be a challenge. Lots of backpacks provide space for travel equipment but leave your back aching after hours of wear. Other travel bags don't offer sufficient room when it comes to packing every necessary item. Thankfully, the GoBackTrail Compression Stuff Sack combines space-saving technology with a comfy, compact design. When you carry this travel bag around, you won't feel weighed down. Sleeping bags, clothes, shoes, and other travel equipment can all fit neatly inside this product. Before you embark on your next camping expedition, make sure to check out the GoBackTrail Compression Stuff Sack. Once you use it, you'll never want to purchase another travel bag again.
Related Article: Best Sleeping Bags For This Year's Adventures