Women live out of their bags. And we've found the perfect one to hold your stuff – The Under Armour On the Run Tote.
Our bags basically hold everything we need in them. Makeup check. Wallet check. Phone and charger check. Everything but the kitchen sink? Check. With the Under Armour On the Run Tote, we've finally found a bag we're excited about. It holds up everywhere you go. Better yet, it's water resistant, there's plenty of room for storage, and it offers multiple carrying options. It really doesn't get any better than this.
About the Company
Under Armour was started with a simple plan to make the best-quality T-shirt. This shirt would not only provide compression and wick perspiration off your skin rather but it would also work with your body to regulate temperature and enhance performance.
 Under Armour is the originator of performance apparel. In 1996,  former University of Maryland football player Kevin Plank, set out to make gear engineered to keep athletes cool, dry and light throughout the course of a game, practice or workout. 
 The technology behind Under Armour's diverse product assortment for men, women and youth is complex, but the program for reaping the benefits is simple: wear HeatGear when it's hot, ColdGear when it's cold, and AllSeasonGear® between the extremes. Under Armour's mission is to make all athletes better through passion, design and the relentless pursuit of innovation. Today, they have moved on from designing just apparel and expanded into the accessory line as well.
Introducing the Perfect Travel Bag for Women – The Under Armour On the Run Tote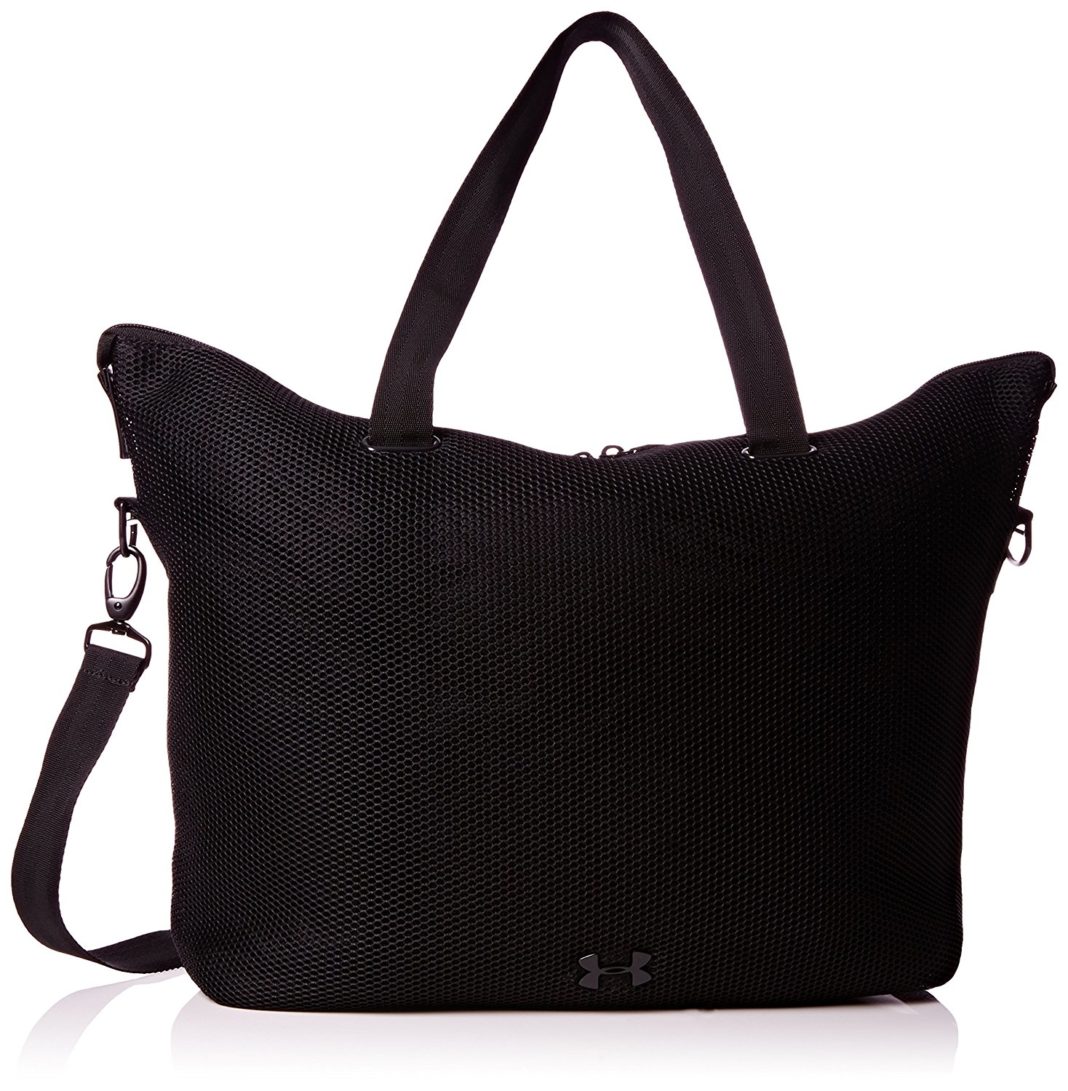 Under Armour really did a great job designing this tote. What other bag do you own that offers plenty of room for your stuff, is easy to carry, and has a super cute mesh finish? With the Under Armour On the Run Tote, life is good. And traveling has never been easier. 
Women's Under Armour On the Run Tote Features & Benefits
Alright, let's dive right into the good stuff. We know you're anxious to get an up-close look at what this tote can do.
Design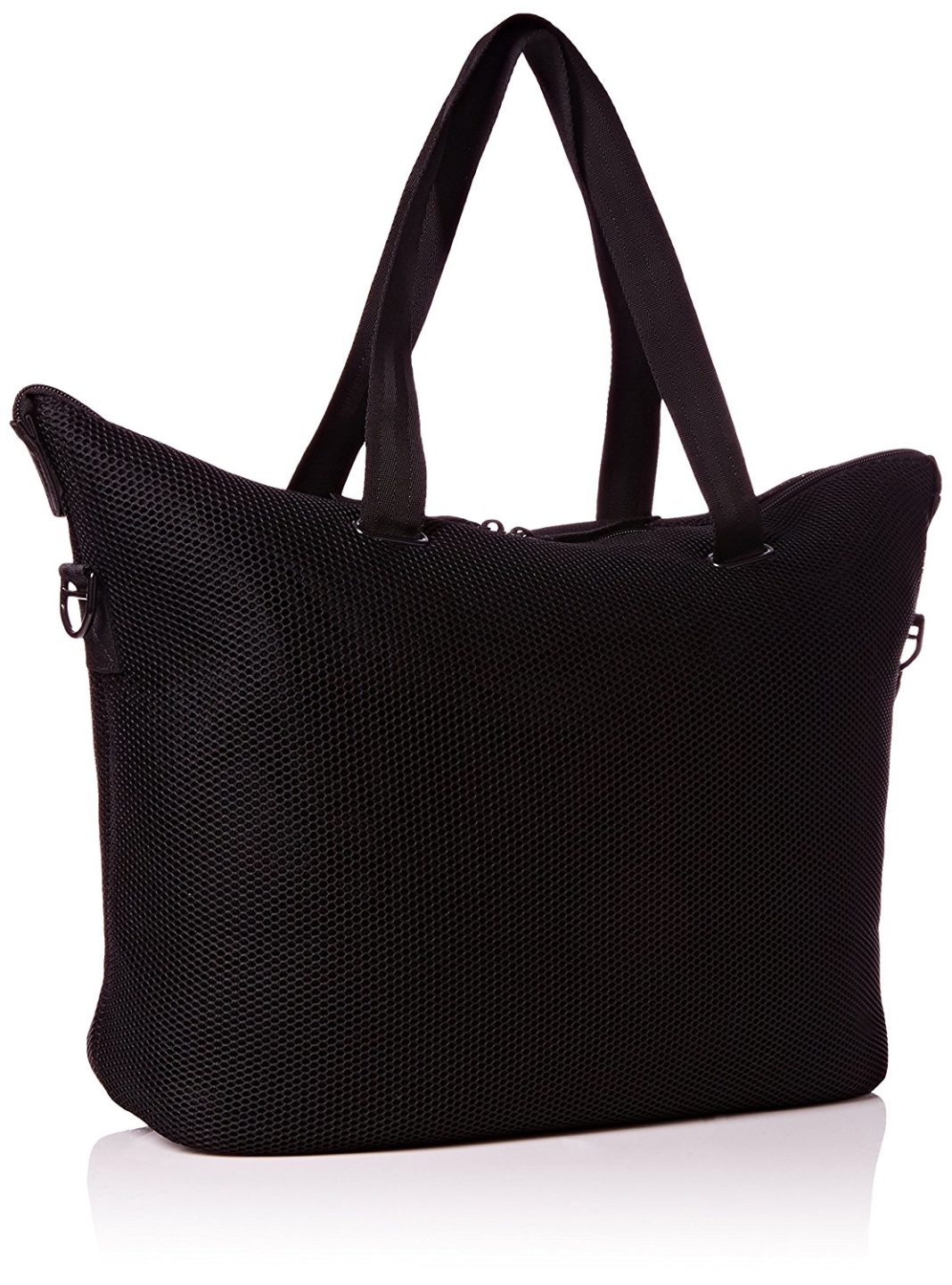 This little tote was made to last. Thanks to UA's special storm technology, the Under Armour On the Run Tote repels water to protect your gear from the elements. The main compartment zips shut on top with reflective pulls for easy storing. If you're looking for more storage room or organization, check the side. The side stash pocket is lined with soft Velboa to protect valuables. Removable shoulder strap and comfortable handles provide multiple carrying options. The TPE coated bottom increases durability.
Material

Sporting a 100% polyester material, this bag offers a durable construction for its size. You can pack a lot into it without having to worry about it bursting at the seams. Polyester bags typically hold up for years. That's why other big names like Everlane, Herschel, and FjallRaven use it for their products. A foldable body makes this tote easy to store when it's not in use. Putting the durable quality aside, this tote will match literally anything. A sleek black design makes it super versatile. In addition, adjustable straps offer max comfort.
Durability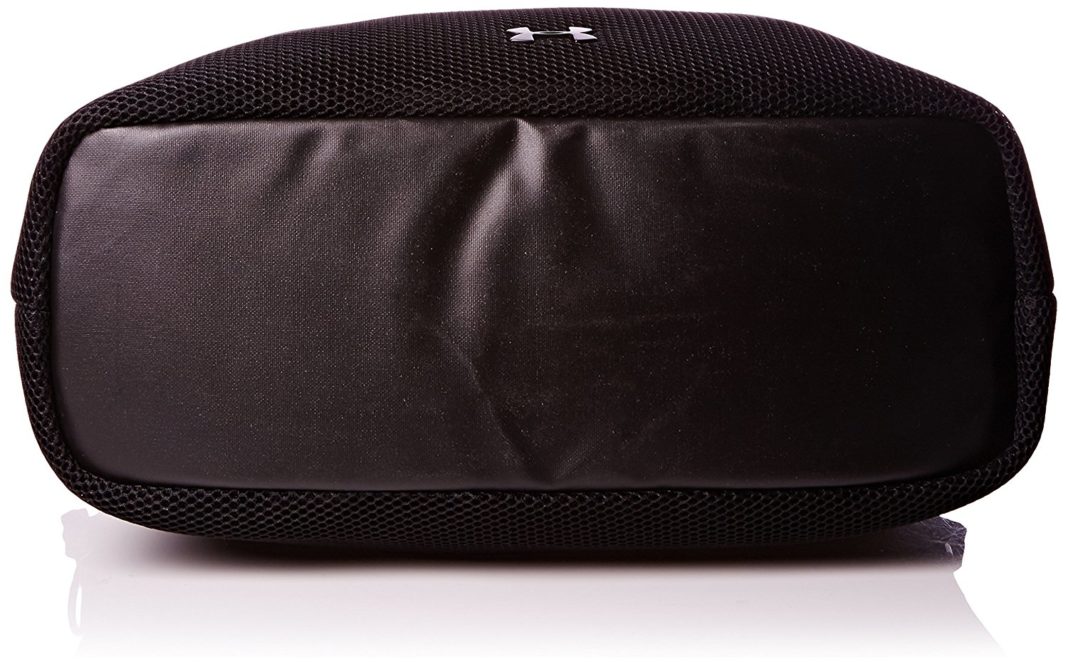 We've tested out this bag and it holds up so well. Never again will we try to cram all of our gear into a standard purse. The Under Armour On the Run Tote has been one of our main go-tos for vacation and it holds up very well.  There's no tears, stains, or snags. The material is top-quality and the seams are stitched tight. For only $47 you won't believe what type of a bargain you are getting. Under Armour makes high-quality products and that's a fact. Where else will you find this type of quality and bargain?
Spaciousness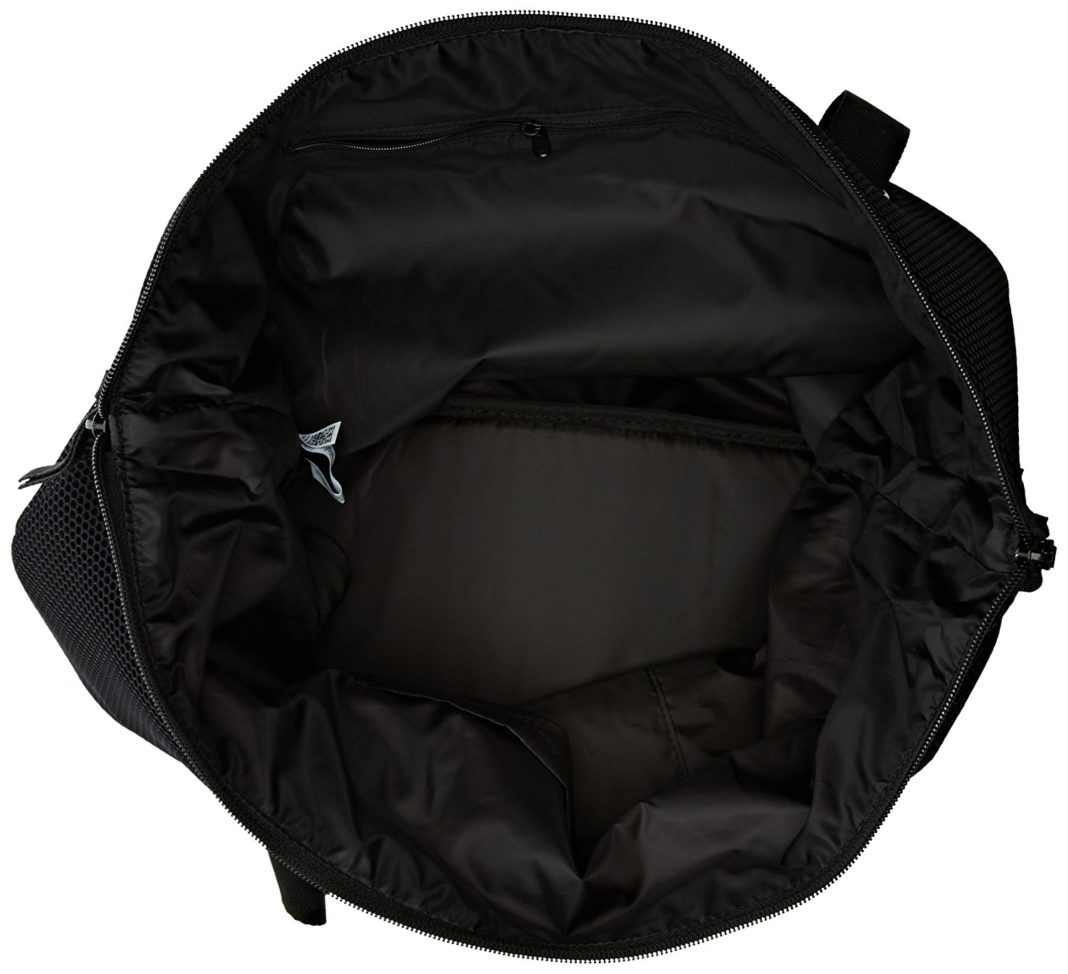 The Under Armour On the Run Tote offers so much space for your belongings. That's just one of the many reasons why it's a great personal item to take on long-haul flights. Slide your laptop, snacks, a book, and personal items in and take it with you. With dimensions of 15 inches by 6 inches by 15 inches, you have ample space. Plus, there's plenty of space leftover in case you want to stow away some souvenirs – chocolate, anyone? You'll love how easily it slides into the overhead compartment or under the plane seat.
Tech Specs:
100% Polyester

Imported

UA Storm technology repels water to protect your gear from the elements

check

Main compartment zips shut on top with reflective pulls

check

Side stash pocket lined with soft Velboa to protect valuables

check

Large interior media pocket

check

Removable shoulder strap & comfortable handles provide multiple carrying options
What Travelers Are Saying About the Women's Under Armour On the Run Tote
Travelers can't seem to get enough of the Under Armour On the Run Tote. And we understand. We couldn't love this bag more than we already do. It's so versatile. Take it to the office, the gym, on the plane, or roaming the streets of a new city. It goes anywhere and matches with everything. Want to know the best part? It has room for all of your stuff and still doesn't look bulky.
The material is excellent. One traveler noted she took the bag on a long trip and has been using it every day for 5 weeks. It's still in perfect condition. Soon after buying this bag, we used it as our under-seat "personal item" on several cross-country flights and even as an overnight bag on a train trip.
In each case, the bag was packed full and very heavy. At first, we worried that the stitching or material might give way, but the bag performed very well. Zippers held up, the netting on the outside didn't snag or rip, and the bag looked cool. The only thing that would make it better is an external zip pocket for a phone, but that would probably be too difficult to do with the netting. (Inside there is one zip and one no-zip side pocket.) Overall we are very pleased with this bag, especially for the low price, and would recommend it to a friend.
We also love how lightweight it is. In it, you can carry: A medium makeup bag, medium toiletry kit, medium odds and ends bag, large wallet, snacks, small purse, headphones, cell, misc small items, iPad mini and a set of clothes. With all this, you can still fit it under airplane seats. Honestly, it's the perfect travel bag.
Other Weekender Bags You May Like
1. Vera Bradley Iconic Weekender Bag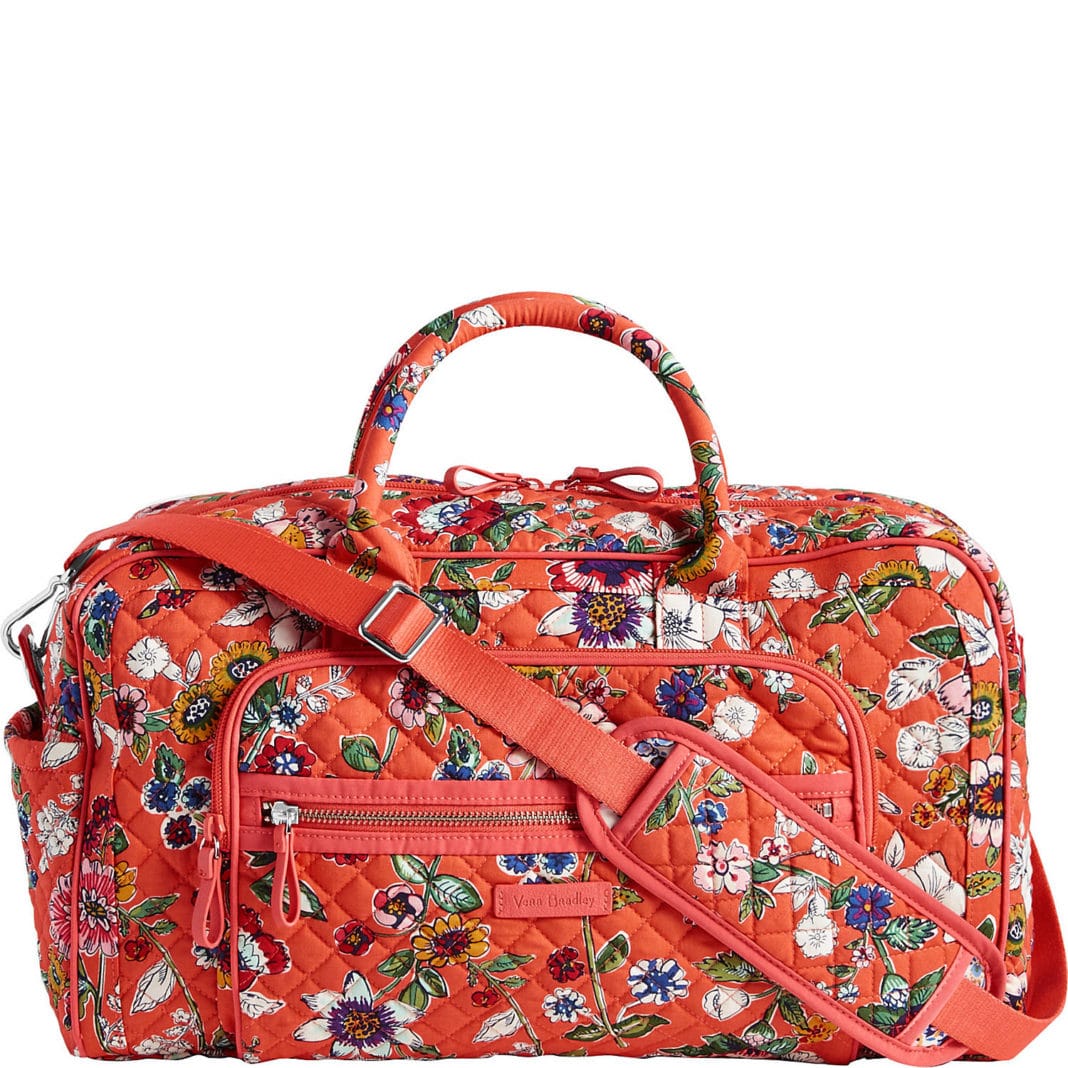 This spacious, carry-on compliant duffel has everything you need for your next adventure. The Vera Bradley Iconic Weekender Travel Bag is the fashionable solution for storing your travel essentials, packing efficiently, and avoiding checked bag fees – measuring 12.5 inches high, 18.5 inches wide, and 7.5 inches in diameter.
Let's take a look at the inside of the bag. The interior of the Vera Bradley Iconic Weekender Travel Bag features five mesh pockets. So you can skip the extra carry on and take advantage of these pockets to organize your cosmetics, hair products, jewelry, and other toiletries. The interior compartment fits about four to six outfits – perfect for the quick getaway. The exterior features one slip pocket, a charger pocket, and two zip pockets that are convenient for stowing your travel essentials – wallet, phone, boarding passes, reading material, and snacks.
We love that your personal items will be easily accessible. Keep your most important items at your fingertips with pockets positioned for quick access while staying soundly fastened for your flight. The Vera Bradley Iconic Weekender Travel Bag keeps you hands-free so there is plenty of room for adventure. With a 6.5-inch strap drop and a 52.5-inch adjustable, removable strap, you can grab the dual straps on the go, throw over your shoulder for hands-free attention, or utilize the trolley sleeve to attach it to your luggage handle.
Herschel Supply Co. Novel Duffel Bag 1-Piece, Raven Crosshatch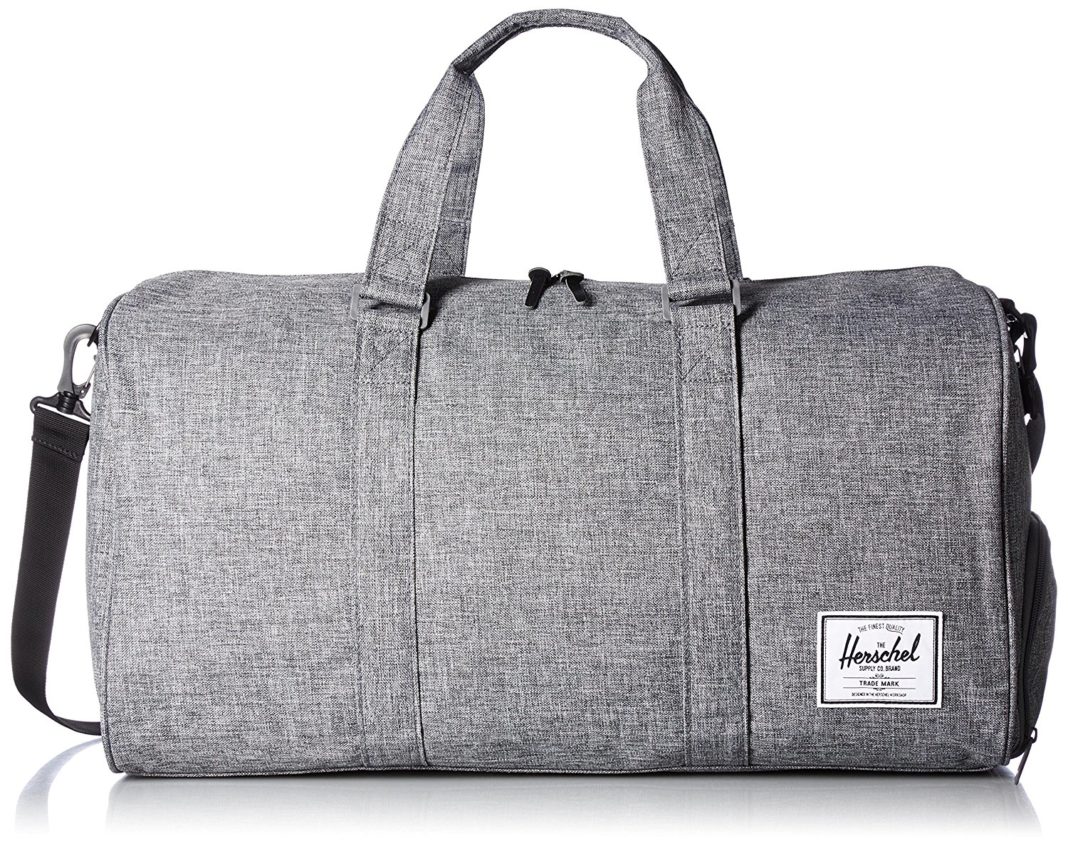 Herschel Supply Co. is based in Vancouver, Canada and manufactures the finest quality backpacks, bags, travel goods, and accessories. The goal is to create timeless product with a fine regard for detail.
The novel duffel is one of Herschel supply's most popular duffel silhouettes. This lovely bag features Herschel supply's signature compartment for easy and organized travel while keeping to Herschel supply's classic styling. This bag is great to take to the gym or for a short weekend away. Furthermore, the Herschel Novel duffel is an ideal weekender that features plenty of storage, including a convenient shoe pocket. 
Invest In A Durable Travel Bag for Your Next Vacation – aka the Under Armour On the Run Tote
We hope you enjoyed reading our feature on the women's Under Armour On the Run Tote. As you can see, this travel bag was made to last. Durable, water-resistant material, ample storage, and comfortable wear come together to make the perfect tote.
Questions and Comments
Do you have any questions or comments for us? If so, we would love to hear them. Feel free to leave a message for us below. We will be sure to get back with you soon.
Related Article: Best Weekender Bags For Travel In 2018