Lightweight and durable? Yes, please. The CLELO Women's Leather Tote Bag is just what you need.
Sometimes it can be hard to choose the right travel accessories. Lucky for you, we took the guesswork out of it with and found the CLELO Women's Leather Tote Bag. When it comes to finding the best tote bags, we admit it isn't easy. There are thousands of options out there on the market. How do you narrow it down?
Well, after doing some research, we decided to test out the CLELO Women's Leather Tote Bag. During our search, we kept several key things in mind. The best tote bags are durable, made of good material, offer plenty of space, and have extra compartments for storage. Style goes a long way too. We're happy to say that this little bag checked all of the boxes.
CLELO Women's Leather Tote Bag Features & Benefits
Add a little extra style to your look with the CLELO Women's Leather Tote Bag. Adjustable double handles and a shoulder strap offer a convenient way to carry it. The handles are slender and flat, ensuring it is comfortable to wear on your shoulder and they won't roll off. In order to reinforce the straps, CLELO uses metal rivets to reinforce the straps. All of the metal hardware in the bag is not only stylish but also designed for durability.
Taking a look at the material, only the highest quality cowhide leather is used. It is tough, but also soft enough not to be uncomfortable to wear or too stiff. Looking at the exterior, it has a premium quality wax polish that gives it a uniquely classy look. It is a perfect match for any outfit and can be used as a shoulder bag, handbag, or crossbody bag.
Spacious Interior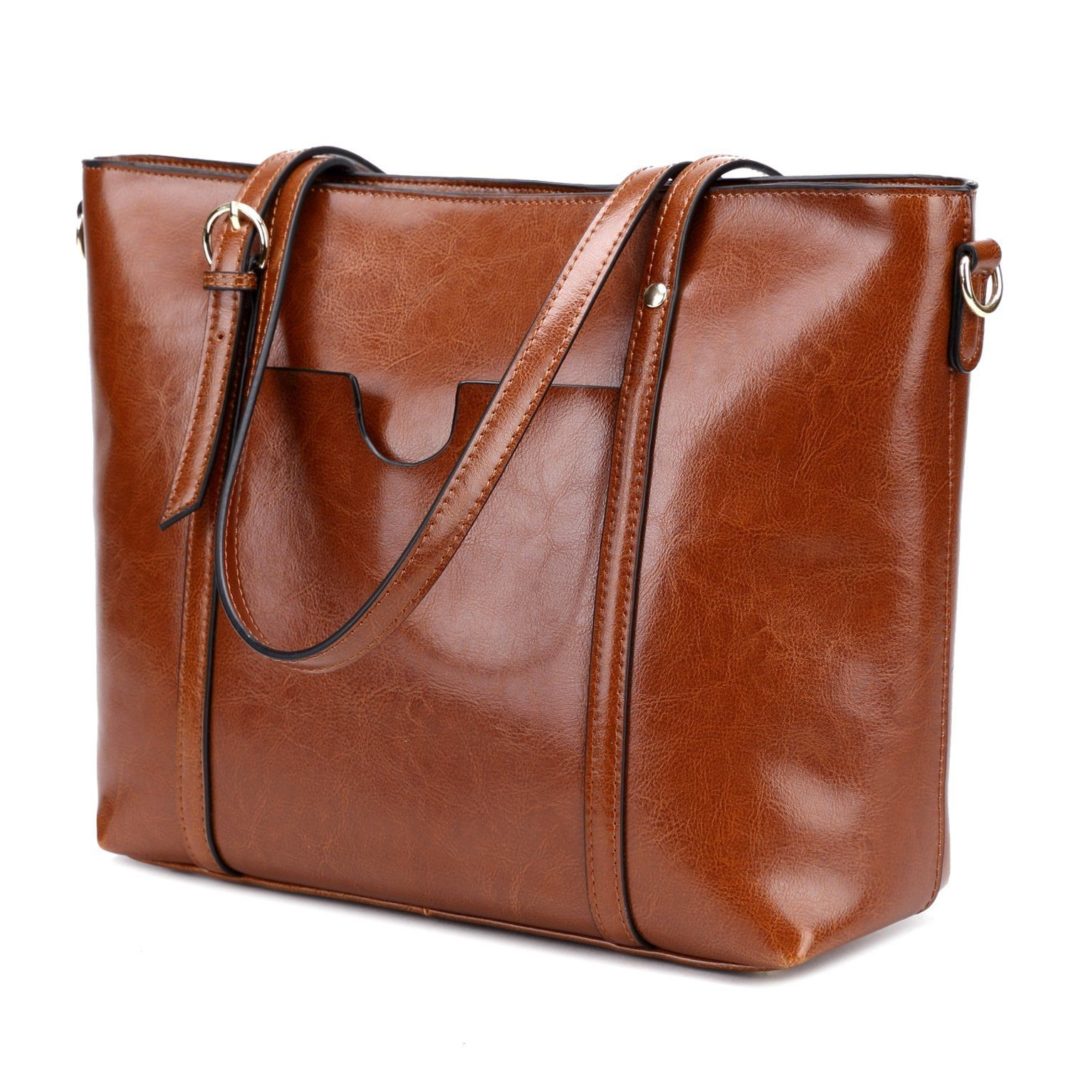 Credit: Amazon
Take a look at this stylish bag. It's ready to hold all of the carry-on items you need. Measuring 16.1 x 11 x 2.8 inches, it can easily fit your laptop, notebook, snacks, and favorite travel accessories. From the base to the opening, the bag is 10.6 inches tall, allowing plenty of space to sort all of your items. With a durable leather exterior, you might expect the bag to be a little heavy. However, it is actually light. The CLELO Women's Leather Tote Bag exceeds our expectation for both durability and spaciousness for its weight.
Classic Look
The CLELO Women's Leather Tote Bag gives off a timeless look. A simple, clean cut goes a long way. You can pair this bag with anything. It will easily match not only your outfit but also your luggage pieces. We love that it has a few color options too. You can choose from black, brown, navy blue, and wine. Sling it over your shoulder and you're ready to travel in style.
Strong Straps for Carrying
Some of us like to sling our bag over our shoulders while others prefer to carry it by hand. There are a time and place for either. When you're rushing to catch a flight with your coffee in hand, it is easier to have the bag on your shoulder. However, if you have more time and just need to pull out your boarding pass, it's easier to keep it on hand. With the CLELO Women's Leather Tote Bag, you have a good set of durable straps for carrying. Overall, we are glad that this style was created to be as versatile as we need.
Tech Specs:
100% genuine leather construction

Polyester interior

Spacious inside

check

Comfortable to wear

check

Strong straps for carrying

check

Dimensions: 16.1 x 11 x 2.8 inches

check

Product Weight: 1.63 pounds

check

Two interior organizational pockets
What Travelers Are Saying About the CLELO Women's Leather Tote Bag
It's clear to see that travelers love the CLELO Women's Leather Tote Bag. After all, with a product rating of 4.2 out of 5 stars and 220 reviews, the bag really speaks for itself. CLELO offers up a stylish leather tote that is not only durable but well-priced. We can be assured that this bag will last.
A favorite feature of the CLELO Women's Leather Tote Bag is its packability. There are few durable, stylish leather tote bags that can pack what you need so easily. When you add in the two interior storage pockets and take in the overall roominess, you know that CLELO has designer a winner. So, invest in the CLELO Women's Leather Tote Bag and you will know why travelers around the world love this accessory so much.
Alternative Tote Bags You May Like
Briggs & Riley Baseline Large Shopping Tote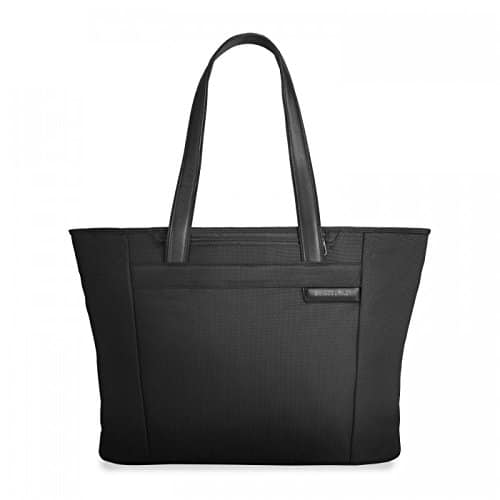 We're in love with this chic large shopping tote from Briggs & Riley. It has an amazing amount of space. This large shopping tote's exterior is crafted from ballistic nylon, providing the ultimate in durability. Comfortable and luxurious leather shoulder straps make this one easy carry-on. The strong ballistic nylon outer fabric resists wear, water, dirt, and abrasion.
In addition, a dual purpose slip-through back pocket allows the bag to slide over any luggage handle for easy transport. The front pocket has a magnetic closure which provides quick access to items. A speed-thru pocket offers quick storage of items at security checks.
Lastly, the roomy main compartment allows the tote to be easily packed and organized. A zipper pocket and 2 elastic pockets organize smaller items like ties and scarves. You'll also find a snap-in, removable waterproof pocket, perfect for toiletries, makeup, as well as a waterproof water bottle pocket.
Tech Specs:
Handy pocket for quick storage

Dual purpose slip through back pocket

Front pocket with magnetic closure

check

Leather/webbing straps for comfortable carrying

check

1680D ballistic nylon outer fabric resists wear, water, dirt and abrasion

check

Stylish and minimal
Kensington Jacqueline LM650 15-Inch Laptop Tote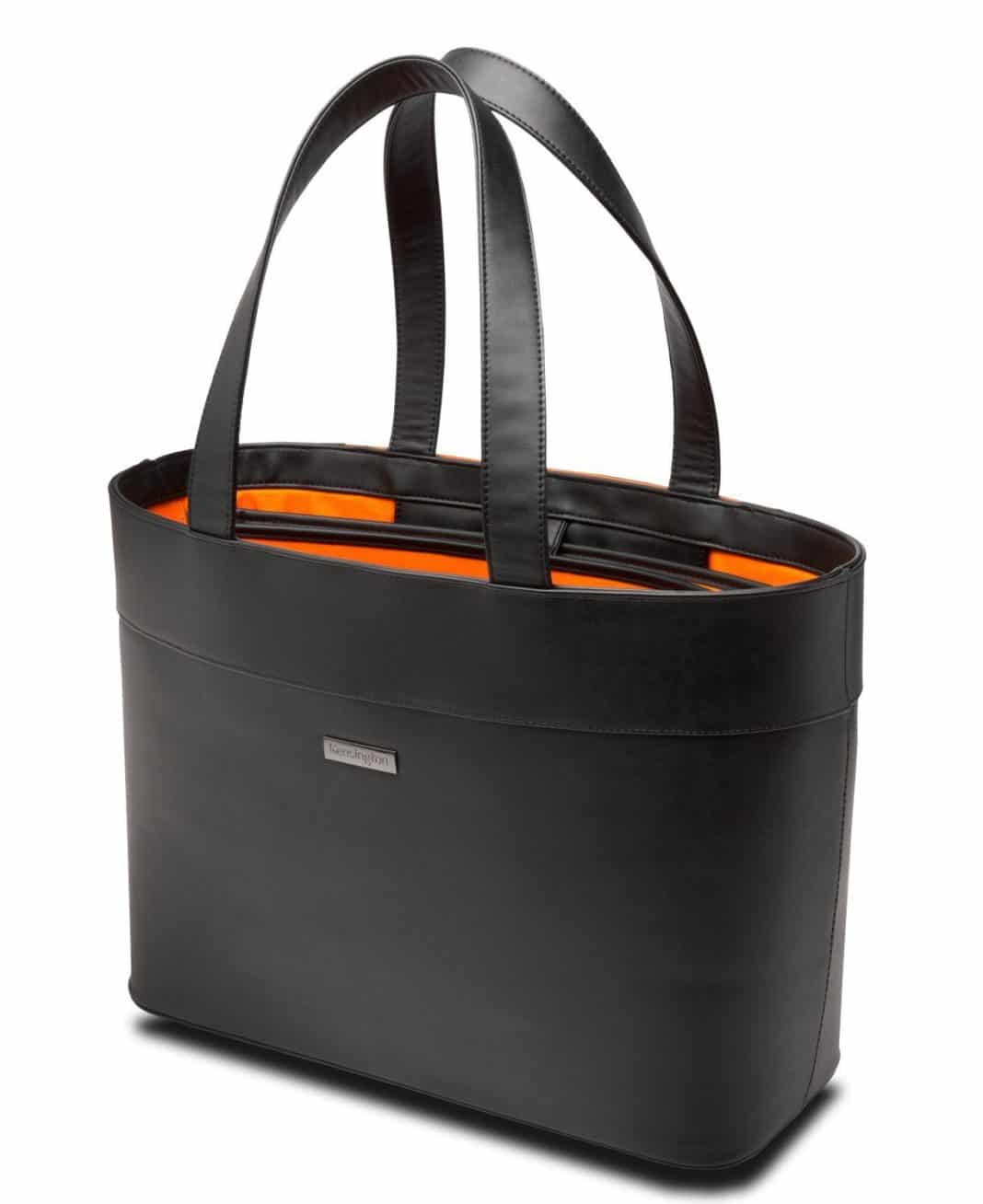 We bet this chic style looks like a real leather bag? Well, it's not. If you're seeking an eco-friendly style, the Jacqueline Laptop & Tablet Tote from Kensington is an ideal pick for the woman on the go. As a full-size carry bag, it is made of dermal faux leather and comfortably holds up to a 15.6-inch laptop in a padded compartment. There are also multiple other pockets to store your personal items including a security pocket for smartphones.
Thanks to a luggage pass-thru strap, you can securely fasten your tote to retracting handles on rolling luggage. The beautiful center clasp can be utilized to keep your carry items from accidentally falling out, and the dual straps are the perfect length to comfortably fit on your arm while you're in transit.
Looking in the middle interior of the bag, you will find a metal clasp. Fastening it helps to ensure you will arrive at your destination with all your items in the same place as when you left. But that's not all. Reinforced straps are designed to support the weight of a fully loaded tote and are the ideal length so you fit the bag on either your arm or shoulder.
Finally, a wheeled luggage pass makes traveling with multiple bags so much easier, with a special strap that can be placed over the extended retracting handle of your roller bag to ensure your messenger bag won't fall off.
Tech Specs:
Faux leather construction

Padded compartments

Can hold a 15.6" laptop and 12" tablet

check

Multiple pockets for organization

check

Reinforced handle straps

check

Metal center clasp

check

Wheeled luggage handle pass
Crest Design Water Repellent Nylon Shoulder Bag Handbag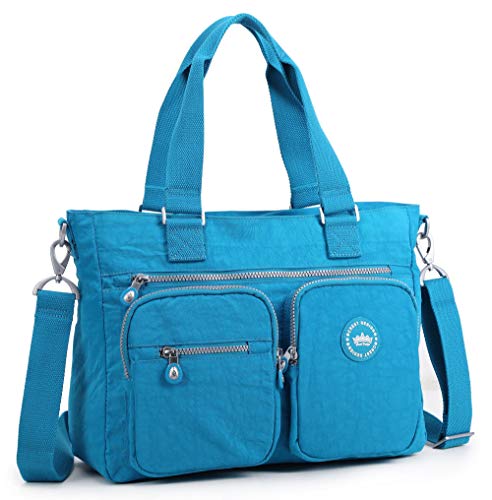 Offering a minimal design, this stylish nylon tote is the perfect bag to grab on the go. Constructed with a water-repellent fabric, you can rest easy knowing your items will be safe and dry. Thanks to its classic shape and exterior, this bag is perfect to use in all seasons. We appreciate its sturdy build.
While nylon is the main material in use, the detachable shoulder strap and handles are composed of a heavy duty cotton canvas. Push aside the handles and let's take a look at the interior. The lining is made of a polyester fabric and durable zippers ensure the bag won't have any trouble opening and closing when you need it to. There is one zippered main compartment and one padded compartment to protect your laptop or tablet.
Two interior slip pockets offer a safe space for items like your phone, headphones, wallet, charger, and keys. There are also four exterior front pockets and one back exterior pocket. They offer a great place to store small items and keep larger ones like documents organized and tidy.
Tech Specs:
Water resistant nylon fabric

Heavy duty material

Adjustable and detachable shoulder straps

check

Dimensions: 15″L x 11″H x 6.3″D

check

12 month worry free guarantee

check

Multiple pockets for organization
Invest in the CLELO Women's Leather Tote Bag for Your Next Trip
We hope you enjoyed reading our feature on the CLELO Women's Leather Tote Bag. As you can see, it is a great option to help you stay organized and stylish while you're on the go. Features like durable material, spacious compartments, and strong shoulder straps take the stress out of travel and help give you ease of mind while you're on the go. Use these bag for whatever season; they won't go out of style.
Related Article: The 6 Best Travel Tote Bags For Women We Just Can't Get Enough Of