We're going to explore the best restaurants in Palm Springs.
From modern American eats to classic Mexican dishes and mouth-watering sushi, this city has it all. A cosmopolitan oasis, Palm Springs offers a fun vacation destination for any traveler seeking to catch up on their R&R. Well manicured golf courses and rows of trees show a focus on art and design. This sophisticated city is just the right blend of culture and kitsch. In this article, I'll take you on a tour to explore the best restaurants in Palm Springs.
Here Are My Picks for the Best Restaurants in Palm Springs
Some of the best spots are those hole in the wall places so small, if you'd blink, you'd miss it. I've gone around and scoped out some of my favorite places in Palm Springs according to local know-how, taste testing (tough job, we know), and just asking around. I love the diversity of cuisine you'll find here. There is a surprising amount of award-winning, elegant restaurants, perfect for getting dressed up and enjoying a night on the town. When you're ready to dive in, you will have your pick of places to grab a bite. Are you ready? Let's go!
1. Le Vallauris
A haven for gourmet fare, this restaurant offers a fixed-price menu with French food. Whether you choose to dine inside or on the romantic patio, you will love your experience. Since it is located inside of a historical landmark, it features a design reminiscent of the grandeur of Louis XIV's reign. The culinary options are in line with the setting.
On the menu, you will find delightful options such as sauteed foie gras, roasted racks of lamb, crab cakes, and perfect souffle. The owner, Paul Bruggemans, is praised throughout the city for his expert knowledge of French recipes and his adherence to pure tradition. Le Vallauris is certainly one of the best restaurants in Palm Springs.
2. The Tropicale Restaurant & Coral Seas Lounge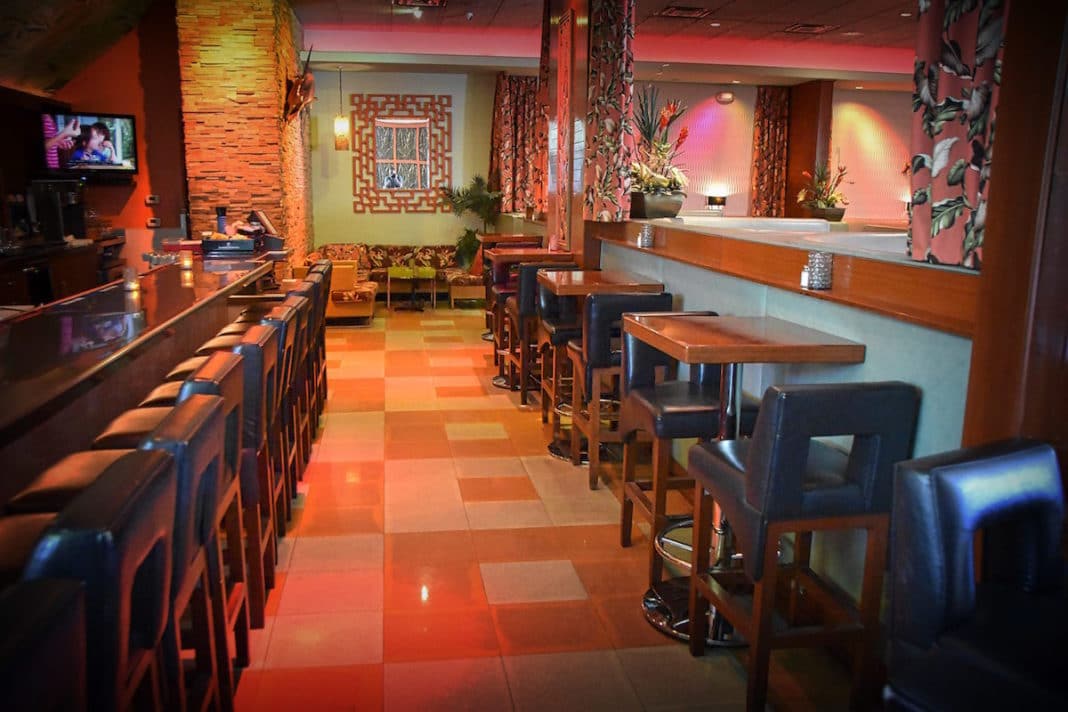 Credit: Tropicale Restaurant
Think neon lights, a retro interior, and an eclectic menu. Welcome to the Tropicale Restaurant & Coral Seas Lounge. Here, the fun ambiance provides just the right backdrop to enjoy your cuisine. Enjoy high-backed plush booths, a chandeliered dining room, and private seating.
Taking a look at the cuisine, you will find healthy, light options with a focus on specialties from the Pacific Rim. A few of my favorite menu options include the grilled vintage ranch gorgonzola-crusted filet mignon, barbecued pork chops, tasty tapas, salads, pizzas, and desserts. The bar offers mid-century black interiors, reminiscent of the old-school places in the city. Wrapping around the dining room, it will lead you to a lush, tropical 2,000-foot dining patio. Here, a variety of cocktails are mixed. This is the ideal place to gather with friends and sip martinis under a beautiful starlit desert sky. Tropicale is one of the best restaurants in Palm Springs.
3. Trio Restaurant
Solid American cuisine and cocktails come together in a lively modern space. Trio Restaurant is most known for its beautiful architecture housed in a landmark building. Ever since it opened in 2009, it has received numerous accolades as one of the city's top hot spots. In fact, Trio Restaurant is listed in TripAdvisor's Top 10 Percent of Restaurants Worldwide as well as Opentable's top 100 Hot Spots in America.
Locals love the diverse menu of traditional Midwest comfort food. Some of my favorite menu items include the Yankee pot roast, calamari with Thai dipping sauce, roasted baby beet salad, and braised lamb shank. This is one of the best restaurants in Palm Springs.
4. Workshop Kitchen + Bar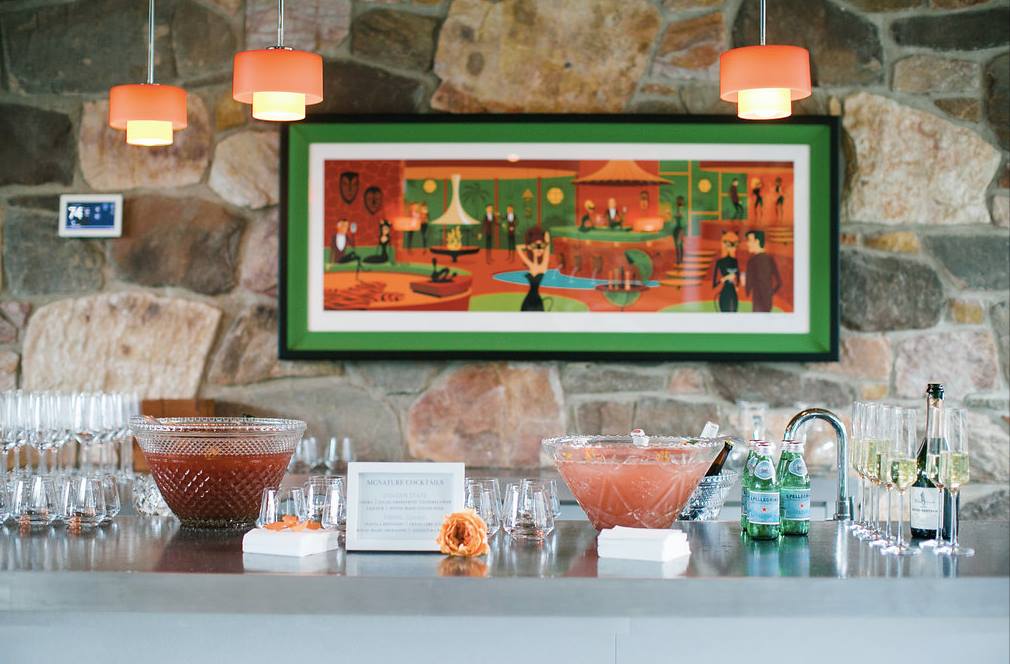 Credit: Workshop Kitchen + Bar
Stylish and innovative, this new American eatery offers up delicious fare and seasonal craft cocktails in a former movie house. This place is all about food, drinks, and community. You'll find Workshop Kitchen + Bar located in the Palm Springs Design District on North Palm Canyon Drive. Ever since it opened in 2011, it has been praised as one of the best restaurants in Palm Springs. Chef and Owner Michael Beckman along with his partner Joseph Mourani have crafted a menu from seasonally-driven ingredients harvested locally. If you are looking for a contemporary dining experience or a leisurely meal under the olive tree, this is the perfect dining destination in the desert.
5. Cheeky's
This cafe is popular with celebrities. Tucked among the San Jacinto Mountains, Cheeky's is known for seasonal, locally sourced, organic eats. Come for breakfast and lunch as the kitchen changes its menu on a weekly basis. Enjoy nothing but the freshest ingredients brought in from nearby markets. Besides its gourmet menu, the cafe also makes mouth-watering drinks like watermelon fresca and healthy antioxidant berry smoothies. If you're in the mood for something a little sweeter, check out some of the sweet pastries whipped up by the pastry chef Deb Menduno.
6. Copley's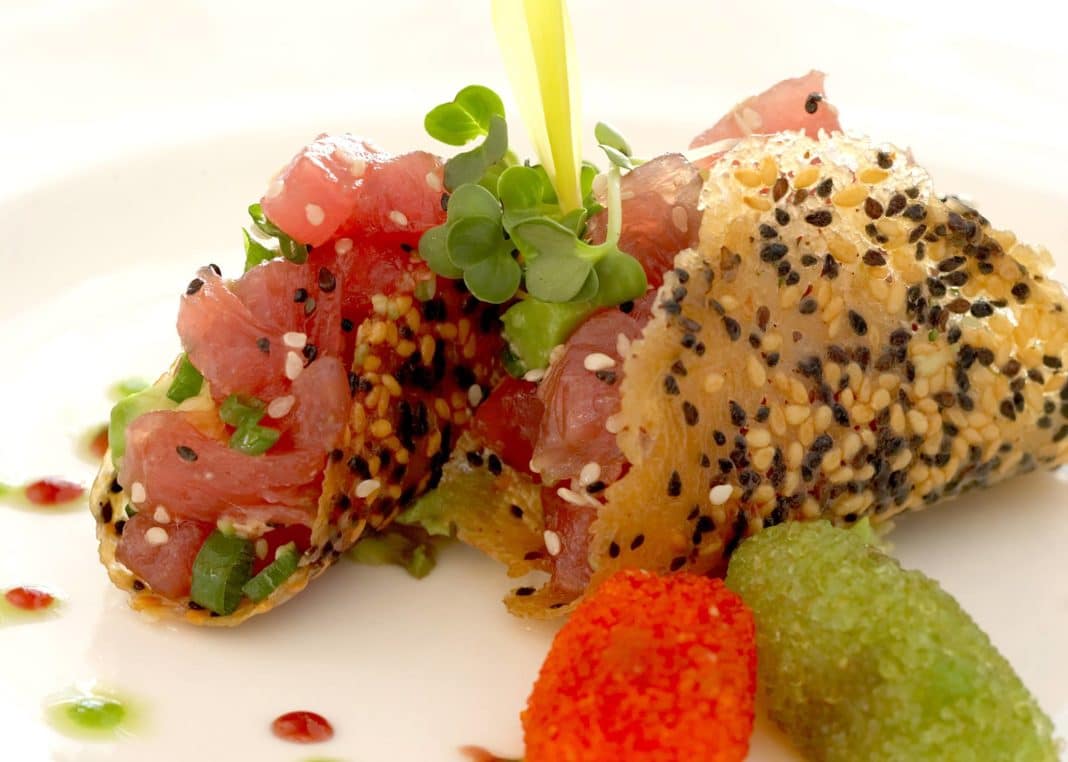 Credit: ​Copley's
Copley's opened in 2004 and soon became known as one of the best restaurants in Palm Springs. Did you know that it used to be the guesthouse of the movie star Cary Grant? In fact, it gained both local and international praise from Zagat and the New York Times. This informal setting offers lovely indoor and outdoor seating. The American menu offers up delicious plates like sesame-crusted tofu, wasabi potato and asparagus, and sauteed wild mushrooms. Not only is Copley's recognized for its food but also as a place where every guest is treated like family.
7. Sandfish Sushi & Whiskey
Step on in and check out Palm Springs' newest sushi and whiskey bar. Chef and restaurateur Engin Onural is considered to be one of the top 30 sushi chefs in the world. Born in Turkey, he trained in Los Angeles at the Sushi Chef Institute. He has created a menu of everything from nigiri and sashimi, classic maki rolls, and more. Scandinavian architect Chris Pardo designed the interior to mesh with traditional Japanese elements. Concrete walls, natural wood, and scale tiles behind the bar all lend to a unique aesthetic.
8. El Mirasol Cocina Mexicana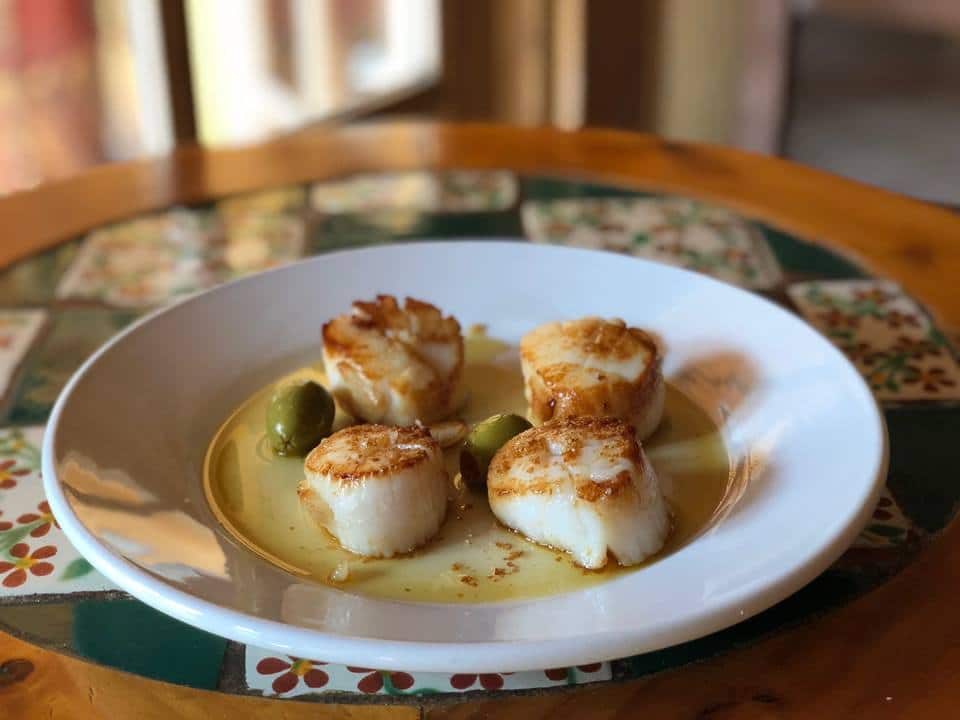 Credit: El Mirasol
Come and enjoy authentic Mexican cuisine at El Mirasol. Ever since they opened their doors in 1985, this restaurant has been known for serving plates of delicious, hot food. Both of the El Mirasol locations offer a focus on wholesome, fresh food with house specialties like chicharron, mole sauce, and freshly made tortillas.
Expand your taste palette with food options like scallops in pipian sauce, spinach enchiladas, and chile verde. Or if you are looking for something more traditional, indulge in-house favorites carnitas and carne asada. Whatever item on the menu you choose, we're sure you will love it. After all, El Mirasol Cocina Mexicana is one of the best restaurants in Palm Springs.
9. Smoke Tree BBQ
Are you in the mood for refined homestyle cooking? Smoked barbecue meats and a diverse selection of spirits and craft beer are all served up in a rustic atmosphere. All of their meats are smoked and rubbed with seasoning. If you are looking for a hearty, full meal, this is the place to be.
You can find Smoke Tree BBQ tucked away at the back of an old shopping center. Come to treat yourself to the finest cuts of ribs, chicken, beef, and sausage. Start out with some brisket for an appetizer. And if you can, save some room for the delicious banana pudding.
10. Bill's Pizza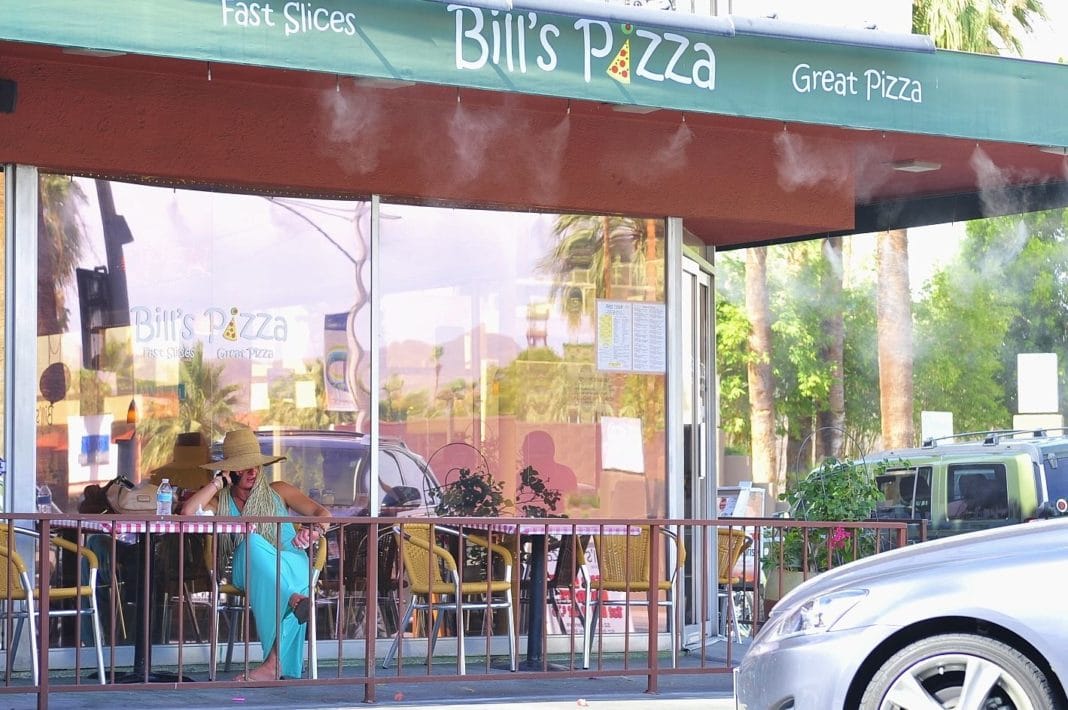 Credit: Bill's Pizza / Facebook
What's better than a slice of really good pizza? Come indulge all your cheesy foodie cravings here at Bill's Pizza. Whether you're just stopping in for a slice or sitting down with the family to enjoy a whole pie, you'll have to admit this is some of the world's finest food. Bill's quest to make the best pizza led him to travel around the U.S. studying various pizza styles and techniques. In 2003, he was given the James Beard Award for Best Chef in the Southwest.
Choose from 20 different menu variations on a classic pie. From pesto to buffalo chicken and good old pepperoni, there is sure to be something to suit your taste. If you ask me though, the Elton John pie is the stuff you won't be able to get enough of. Garlic olive oil, fresh artichoke hearts, and four cheeses (not including feta) come together to form a magical treat. Just a heads up though. Make sure you hit up the ATM before visiting here. This joint is cash only.
11. The Tonga Hut Restaurant and Tiki Bar
A retro restaurant and tiki bar, Tonga is in a league of its own. If you're looking to try something fun and different for dinner, where better to start than with some Polynesian and Cantonese cuisine? Meat skewers are served upon carved wood dishes. And while the ambiance is all about fun, the menu isn't just fluff. Genuine Pacific cuisine can be found here, including special treats like purple yam mash.
All around, the restaurant's booths showcase photos and memorabilia from the city's good old days. A big part of this nods to a rich tiki past and the Desert Polynesian legacy the Tonga Hut Restaurant carries on. While you're there, make sure to check out the secret room. Yes, it is just as exciting as it sounds. The Tonga Room can be accessed via a special telephone booth and is reminiscent of speakeasy type vibes at a Prohibition-era bar.
Plan Your Trip to Visit the Best Restaurants in Palm Springs
I hope you enjoyed reading my picks of the best restaurants in Palm Springs to grab a bite and brew. As you can see, this gem offers a variety of places to choose from. From casual food to fancy dining and international cuisine, there's surely something here for all tastes. There are so many things to do in Palm Springs for the curious traveler. Psst… While you're there, why not take a little road trip and see the state?
Are you ready to visit the best restaurants in Palm Springs? From exploring the top things to do, to scoping out the foodie scene, or catching up on some much needed R&R, you'll find it all here. I always enjoy learning about new places and your favorite spots – even if they didn't make the list of my favorites. Which one of the restaurants on this list would you like to visit the most? Feel free to let me know some of your favorite stops and hidden gems you found along the way.
Related Article: The 10 Best Italian Restaurants in Los Angeles