A well priced, chic tote bag is an essential accessory for any woman, student, or traveler on the go.
Kensington has brought us a stylish and sleek tote bag made for just about any occasion. It's designed to go from school to work to dinner and drinks without batting an eye. Each feature that the Kensington Jacqueline LM650 Tote bag has been thoroughly thought through to provide the best option and usability while keeping this tote bag within anyone's budget. It has a surprisingly large carrying capacity while not slacking on pockets and organization. So, if you're ready to fall for the wonderful Kensington Jacqueline LM650 Tote, read on.
Kensington Jacqueline LM650 Tote Features & Benefits​
Gorgeous Black Faux Leather Construction
Whenever you go to invest in a new accessory, you want it to look good. An investment in your personal style will help you feel confident wherever you go. The Kensington Jacqueline LM650 Tote wants you to feel just that. So, they have created a durable faux leather fabric to construct this tote with. It is easily wipeable if you spill something on it, which can give many of us peace of mind. It has been made to resist cracking and wear for quite a while, so you can take pride that your Kensington Jacqueline LM650 Tote will last. Overall, we adore the sleek black look of this bag and appreciate the pop of color that the orange lining brings.
Padded Laptop and Tablet Sleeves
What is a solid tote bag these days if it doesn't provide you with a safe spot for your laptop or tablet? Well, the Kensington Jacqueline LM650 Tote has taken this one step further. It provides a padded sleeve for both your laptop and tablet. The laptop sleeve can fit up to a 15.6-inch laptop, while the tablet pocket can fit up to a ten-inch tablet. These sleeves provide a nice separation to the main compartment as well for optimal organization. Any laptop bag should have a safe and secure pocket, but quick access to these items is usually just as important. As the Kensington Jacqueline LM650 Tote doesn't weigh itself down with zippers, you're just one simple clip away from productivity with the laptop and tablet sleeves.
Metal Clasp to Keep Everything Secure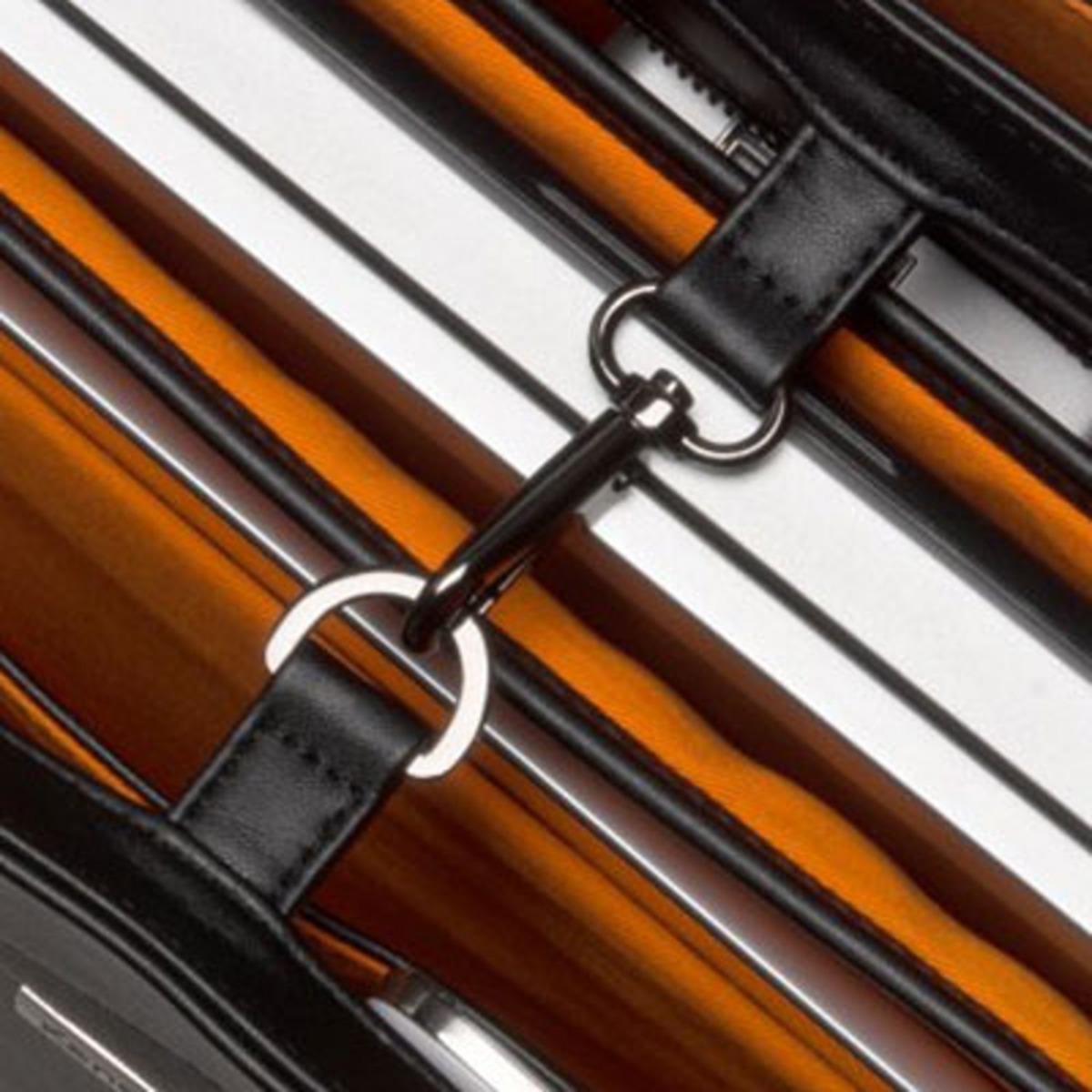 No bag is complete without a way to keep everything safe and sound. That being said, zippers are often the most finicky part of a tote bag. The Kensington Jacqueline LM650 Tote has changed up the security game here. Instead of a zipper to deal with, they use a simple metal clasp to keep everything right where you left it. This keeps your bag looking sleek and lets the bright orange lining speak style into the air. It's easy to pop open with one hand once you practice a little. So, if you are looking for a non-zippered bag for less hassle and more style, the Kensington Jacqueline LM650 Tote is a great option for you.
Reinforced Straps and Pass Thru Handle
The best travel tote bag is meant to be both carried and whisked around any airport. Thankfully, the Kensington Jacqueline LM650 Tote has a brilliant pass-thru handle which slides over any rolling suitcase handle. By securing this cute tote bag on top of your luggage, you can navigate any gate change with ease. In addition, you'll have that extra hand free to hold the much needed coffee for your early flight. But, if you're traveling with just this bag, you'll also enjoy the simplicity of the reinforced handles. Long enough to swing over your shoulder, but short enough to hold in the crook of your arm, we simply love these handles. They've been made to be quite comfortable, even if you have to walk quite a bit to school or work. So, don't fret about comfort and usability when it comes to the Kensington Jacqueline LM650 Tote.
Variety of Pockets for Optimal Organization
You're most likely investing in a new tote bag because your last one was falling apart, didn't do what you need it to, or maybe you're getting one for the first time. Well, the Kensington Jacqueline LM650 Tote has the perfect mix of open space and pockets for any organizer's needs. There are two main compartments, one on either side of the laptop and tablet sleeves. One is a bit larger and also contains the security pocket for essentials like your phone and wallet. The other side is a little smaller, but can still fit a water bottle, folders, or your chargers and mouse. Past that, it's all open space for you to fill in as needed. This being said, you don't need to worry about under or overfilling this bag. It has small metal legs on the bottom to keep it standing upright at all times. All in all, the Kensington Jacqueline LM650 Tote has truly been thought through incredibly well.
What Travelers Are Saying About the Kensington Jacqueline LM650 Tote
Averaging 4.3 out of 5 stars, the Kensington Jacqueline LM650 Tote is well loved by all of its users. The first thing all travelers comment on about this cute tote bag is the roominess. They all find they have ample space for all of their necessary electronics, notebooks, water bottles, and other essentials. In addition, the next most commonly praised attribute of the Kensington Jacqueline LM650 Tote is that it stands up straight. This allows less damage or wear and tear over time to happen to the sides of the bag. Also, it keeps everything from falling out, as this bag doesn't have a zipper. So, while some travelers dislike that the bag lacks a zipper, they did know that ahead of time when purchasing this cute tote bag.
The only other less than brilliant reviews of this bag usually refer to the color options. It only comes in the black faux leather exterior with a bright orange lining. On the upside, the lining allows you to see everything in the bag, especially the small items on the bottom. However, many less bold customers wish there was a more muted option. A few of our environmentalists also note that they appreciate the faux leather construction because it makes this bag vegan friendly. So, if that tempts you even more to purchase the Kensington Jacqueline LM650 Tote, then so be it.
Other Travel Totes Bags You May Like
YALUXE Women's Vintage Style Soft Leather Work Tote & Large Shoulder Bag
Coming in three cute colors, you already have more options with this alternative tote bag than the Kensington Jacqueline LM650 Tote. The YALUXE Women's Vintage Leather Work Tote is made from true leather with strong and durable straps, making this bag incredibly durable. For just a few dollars more, this high-quality leather is the next step up when it comes to tote bags. The gunmetal hardware and zipper top closure provide security and durability unmatched elsewhere. There is just a little less space, however. This tote holds up to a 13-inch thin laptop along with your wallet, books, and other things. With one front outside pocket and a zippered pocket inside, you can organize with ease with this tote. It is great for everyday use or for bringing along on any special trip. But, overall, this is a stellar true leather alternative to the Kensington for just a few dollars more.
Briggs & Riley Baseline Large Shopping Tote
This next alternative is the high-end cute tote bag with all the bells and whistles you could desire. The Briggs & Riley Baseline Tote is made of ballistic nylon to resist all wear and tear, as well as water, dirt, and tough abrasions. Pair this with the comfortable leather and webbing straps and you have a chic and comfortable tote bag. For quick access, you can store things in the front pocket which has a magnetic closure. More important essentials go into the main compartment, zipper pocket, or two elastic pockets There is a removable waterproof pocket that you can use for toiletries or makeup when traveling. In addition, you have a waterproof water bottle pocket and a handy key keeper.
Lastly, like the Kensington Jacqueline LM650 Tote, this tote bag has a slip-thru back pocket to attach this bag to a rolling suitcase for ease of transportation. Overall, this is an incredibly well thought out tote bag you can use for just about anything.
MICHAEL by Michael Kors Women's Jet Set Top Zip Tote
From world-renowned designer Michael Kors comes the phenomenal MICHAEL Women's Jet Set Top Zip Tote. With a style similar to the Kensington Jacqueline LM650 Tote, this is an alternative worth considering. It is constructed of Saffiano, a matte leather which sets you apart as chic but understated. This will be more durable than the Kensington option when you think in terms of the years to come.
In addition, this tote has a top-zip closure to truly ensure all your valuables are safe. Between the gold-tone hardware and two exterior side pockets, this bag gives off the perfect mix of high fashion and functional style. Inside you'll find a zip pocket, phone pocket, three slit pockets, and a spot for your key fob. Holding up to a thirteen-inch laptop is no problem for this tote, and it will stand up just about anywhere you set it. So, if you've been searching for a chic tote just a little more durable than the Kensington, here you go.
The Kensington Jacqueline LM650 Tote leaves nothing to be desired when you consider the other similarly priced travel tote bags on Amazon.
From the large carrying capacity to the pop of color, we love all the aspects of the Kensington Jacqueline LM650 Tote. It is a great mix of practicality without compromising style and allows us to not even worry about anything inside. The stiff bag keeps everything safe, even without a top zipper. If you're looking for a tote bag that is a little smaller, we understand. But, if you're ready to have a great, larger tote bag for under fifty dollars, dive in and get the Kensington Jacqueline LM650 Tote today.
Related Article: The 6 Best Travel Tote Bags for Women We Just Can't Get Enough Of