Your trip to the great outdoors just got a little easier with the Night Cat Camping Tent.
Are you looking for easy to assemble, reliable travel accessories? The Night Cat Camping Tent has a hydraulic system which offers an automatic setup. Fiberglass poles offer a sturdy structure and the 210D Oxford fabrics prevent mosquitoes and other bugs from getting inside. It's also weatherproof. When you purchase this great car camping tent, you will also get a rain fly with 190T PET fabrics that offer full UV protection. Eight tent pegs and four strong ropes offer a straightforward setup.
Thanks to its versatile construction, you can use the Night Cat Camping Tent for camping, going to the beach, traveling in the backcountry, and more. With a large interior, it can accommodate two to three people with ease and still leave enough room for you to store your items inside too. Make sure you make a checklist of everything you might need.
The Night Cat Camping Tent Features & Benefits
Night Cat Camping Tent is perfect for families. With a simple setup and easy carrying, it's perfect for car camping fun and long camping trips. If it rains, you can count on it to hold up under the weather. The sturdy framework has well-equipped it to stand up to high wind and adverse conditions. The 210D Oxford fabric floors and waterproof taped seams keep the interior nice and dry. Snag-free pole sleeves are easy to use. All in all, they reduce the setup time to just fifteen minutes. For a tent this size, that is amazing.
Dual Function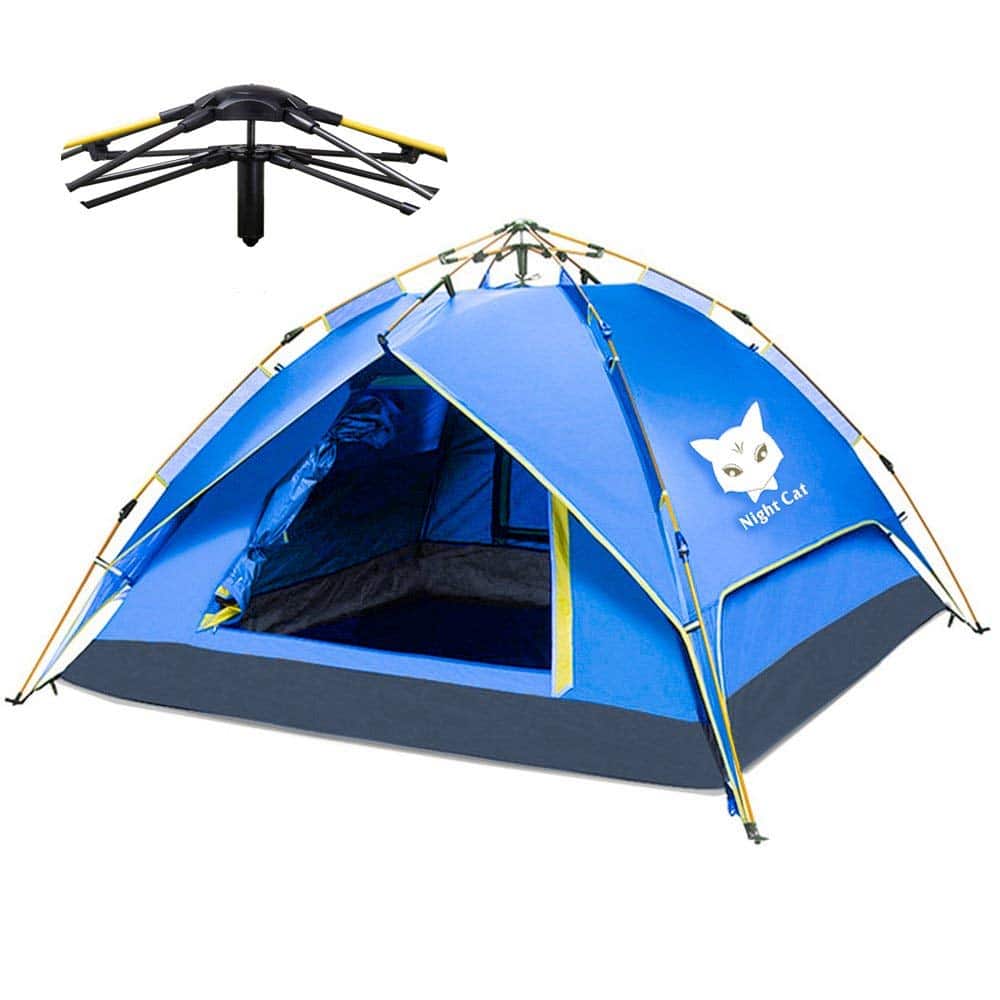 Did you know that the Night Cat Camping Tent offers dual function? Thanks to an innovative design, you can separate the rainfly from the inner tent space. If the weather is fair, you can take it off and use it as a pavilion while you're lounging on the beach or enjoying a hot cup of coffee in the am.
Another factor that sets the Night Cat Camping Tent apart from other styles is its hydraulic automatic pop up setting. This technology also makes it easy to disassemble the tent when it's time to pack up and go home. The tent's plastic foot sheets make it easy to fix the tent with its pegs.
Design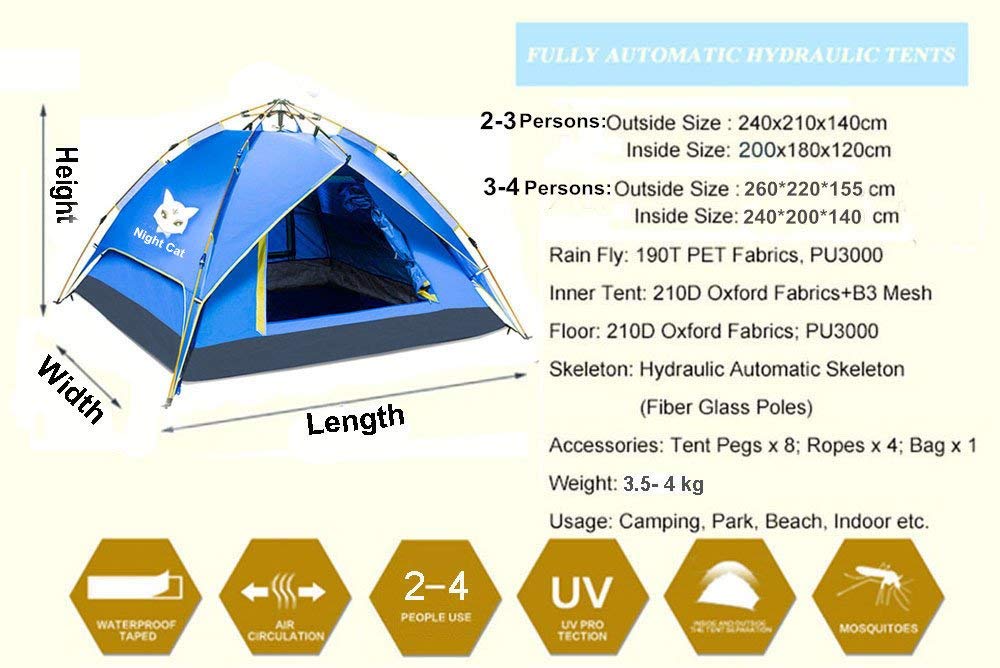 So what does the structure of the tent look like? Take a look around. The Night Cat Camping Tent has two doors opposite one another. Not only is this design aesthetically pleasing but it also strengthens the tent's structure, enabling it to stand even in strong winds. Each door offers dual side zippers that make it easy to exit and enter the tent. In addition, its windows feature a thick B3 mesh fabric. These elements keep travelers and their belongings safe from the elements and able to enjoy fresh air inside the tent.
Spacious Interior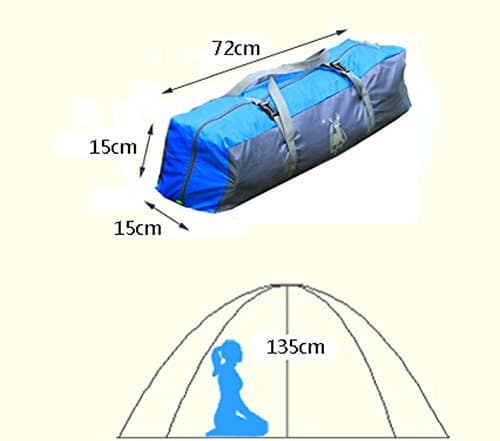 The Night Cat Camping Tent offers a spacious interior. If you truly want to stretch the capacity of this tent to fit two to three people, you should leave your gear outside or in your car. It's spacious enough to fit a full size air mattress inside. When it comes to breathability, the screened windows offer ventilation without letting bugs inside. It's a win-win situation.
Mesh Windows for Good Ventilation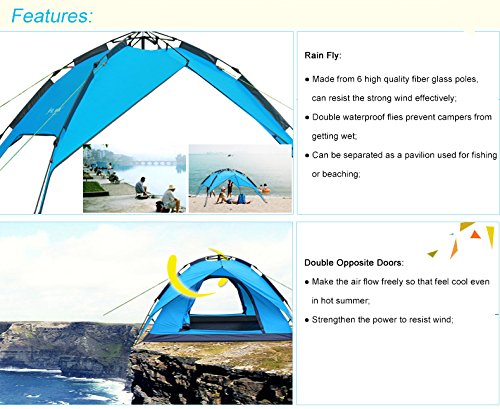 B3 mesh fabric mesh windows provide optimal airflow without letting insects in. If it rains, you can use the rain fly to cover the ceiling but you won't have to worry about closing up the windows.
What Travelers Are Saying About the Night Cat Camping Tent
Night Cat continues to impress us with their affordable outdoor equipment. There's always a fine line between cost and reliability with products, and when you're in the wilderness you don't want to be left out in the cold. Travelers have come to depend on Night Cat products for this reason.
When it comes to set up, the Night Cat Camping Tent is as easy as any tent. Do yourself a favor and mark with colored tape the tent poles so at a glance you'll know which ones are which next time you set up. It can be set up by one person if necessary, but two people is optimal for ease of use. Clean up and tear down is a little bit trickier because of the ridge pole holding the porch section. Use a towel or shirt to brush away the debris that inevitably tracks in.
Travelers loved the large double use of the rainfly. It served to keep some items away from the elements and to trap the dirt from entering the tent. Overall, we would highly recommend this tent for those seeking a relaxed and enjoyable experience.
In short, here's what we like: It sets up quickly, tears down just as fast, and you can still get everything back in the carrying bag it came with without giving yourself a backache from overexerting. With the rainfly off, you get good ventilation for those hot summer nights. It's roomy. For $79.99, you can't go wrong.
Tech Specs:
Outer Size: 240 x 210 x 140 cm

Inner Size: 210 x 180 x 120 cm

Canopy: 210D Oxford fabric

check

Windows: B3 mesh (bug-proof)

check

Floor: 210D Oxford fabric

check

Weight: 9.9 lbs

check

Sleeping Capacity: 2-3 people

check

Setup + Structure: Hydraulic Automatic Skeleton w/ Fiberglass Poles

check

Waterproof

check

Rainfly (removable)

check

2 doors

check

Colors: Army Green, and Lake Blue
Here's a Recommendation
We would highly recommend a tarp to go under the tent . There are two huge mesh panels on the top of the tent, which are great for ventilation, but bad for sideways rain that can sneak under the rainfly. We recommend putting the tarp longways over these vents and it kept out the sideways rain but there was still plenty of ventilation.
An Alternative Car Camping Tent You May Love
Do you want to shop around a little longer? We've got you covered. Here is another one of our favorite camping tents we think you might like.
Kodiak Canvas Flex-Bow Deluxe 8-Person Tent
If you are looking for a durable, large tent, consider the Kodiak Canvas Flex-Bow Deluxe 8-Person style. Not only does this tent hold up well under fierce winds but it also has a heavy-duty tear free-vinyl fabric that keeps water out. While it is heavy, the tent is still easy to set up. After you stake it out, it only takes a couple of minutes for it to be fully constructed and functional. The amount of space you get inside is incredible. A 6'6" ceiling offers plenty of room to walk around and stretch out. If you know anything about camping, you know that comfort is key. This tent offers just that.
Let's take a look at the windows. Four windows and two air tents not only provide great views but optimal air flow too. When you're sharing a space with your entire family or friends, you're going to want it. The no-see-um mesh windows keep bugs out too.
As we previously mentioned, this tent is easy to set up. But you still might want to consider some tent camping tips. One of the best pieces of advice we got is to practice setting up before your trip. This is especially important when it comes to using new gear. First, make sure the tent is well staked out. Next, work with the tensioned poles and sliding metal bars. Lastly, prepare yourself for a bit of a workout.
All in all, it's best suited for the outdoors person with a solid amount of camping experience. You will want to know exactly why you want this tent, what the benefits are specific to your trip, and overall use. Last but certainly not least, the benefits should outweigh the cost of purchase. After all, you're going to be using it for years to come.
Tech Specs:
Hydra-Shield water resistant fabric

100% cotton duck canvas

Breathable fabric

check

8-person tent

check

High 6'6" ceiling

check

Four large windows and two vents

check

No-see-um mesh screens for windows and vents

check

Two large D-shaped doors

check

Large awning covering entryway
Invest in the Night Cat Camping Tent for Your Next Outdoor Adventure
We hope you enjoyed reading about the Night Cat Camping Tent. Before your next trip to the great outdoors, make sure you have a great tent to shield you from the elements. If you're looking for a durable one that can fit a few people, you've found it in this model from Night Cat. While it's true that not all tents offer sufficient protection from the elements, you can rest easy knowing you're covered here.
With Night Cat tents, you'll have a great, spacious place to sleep and plenty of ventilation too. The portable Night Cat Camping Tent remains an ideal option for campers who want to travel with the whole gang and enjoy their comfort too. It's an easy item to store in your car for all your adventures. Make sure you consider this product when planning your next trip to the great outdoors.
Related Article: The Best Car Camping Tent You Need For Your Next Adventure