Keep your belongings organized and packed with the Steve Madden Wheeled Underseat Bag.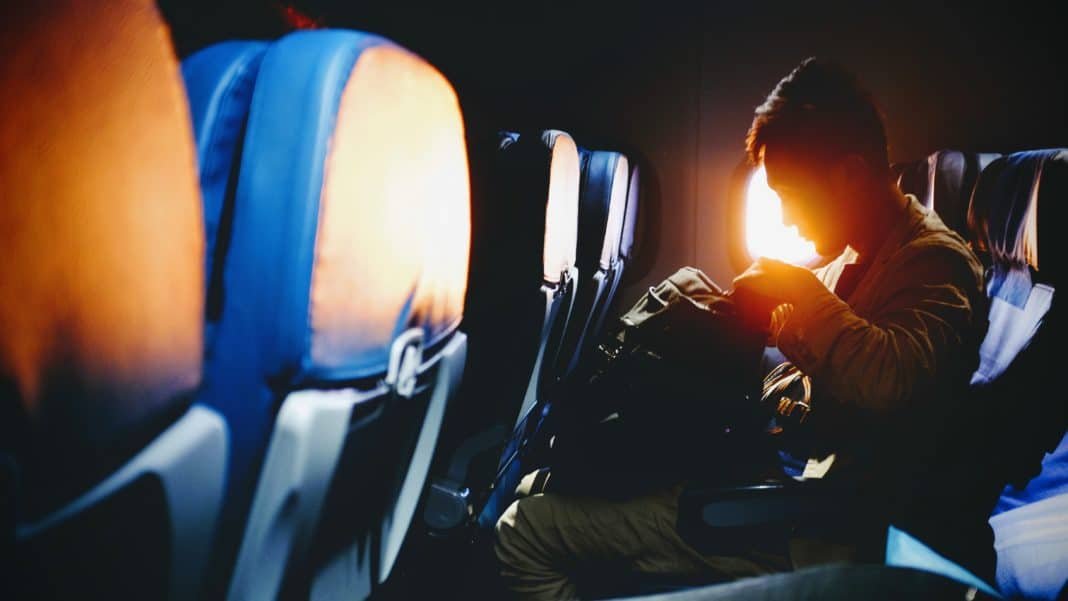 When it comes to traveling light, there are a lot of factors to consider. How many shirts should you bring? Do you need all of your makeup, or just the essentials? And how do you determine which shoes make the cut?! But another important thing to consider when traveling light is your luggage. You don't want a bag that's too big. But you also don't want a bag that's so small, you'll hardly be able to fit even the essentials inside. So if you're looking for a travel bag that can serve as a carry-on or a weekend bag, the Steve Madden Wheeled Underseat Bag is worth checking out.
Designed by the global luggage brand, Steve Madden, this stylish, versatile bag can be used for all travel occasions. Whether you're embarking on a day trip or will be gone overnight, the Steve Madden Wheeled Underseat Bag has all the room you need. The bag is designed for practical packing. It contains many zippered storage compartments. And the best part of all is that the bag can fit easily under the seat in front of you.
Read on to learn more about the Steve Madden Wheeled Underseat Bag. Who knows? Maybe this will be the next travel bag you'll take on long weekend getaways!
A Little Bit About Steve Madden
Steve Madden, Ltd. – more casually known as just Steve Madden – was founded by designer and businessman, also named Steve Madden. The Long Island City based company designs and sells shoes, clothing, and other fashion accessories for men and woman of all ages.
According to the company website, Madden started the company in 1990 with just $1,100 dollars. The business began with Madden selling shoes out of the trunk of his car. Today, Steve Madden is one of the best known design companies in the world.
People love Steve Madden products because they are stylish, well made, and long lasting. You will find all this to be true with the Steve Madden Wheeled Underseat Bag.
There is so much to love about this bag. From its immense amount of storage to its lightweight, durable exterior, the Steve Madden Wheeled Underseat Bag is one to love. So if you're still on the market for a new travel bag, don't stop reading now. Get to know some of the fun features and great benefits that come with the Steve Madden Wheeled Underseat Bag.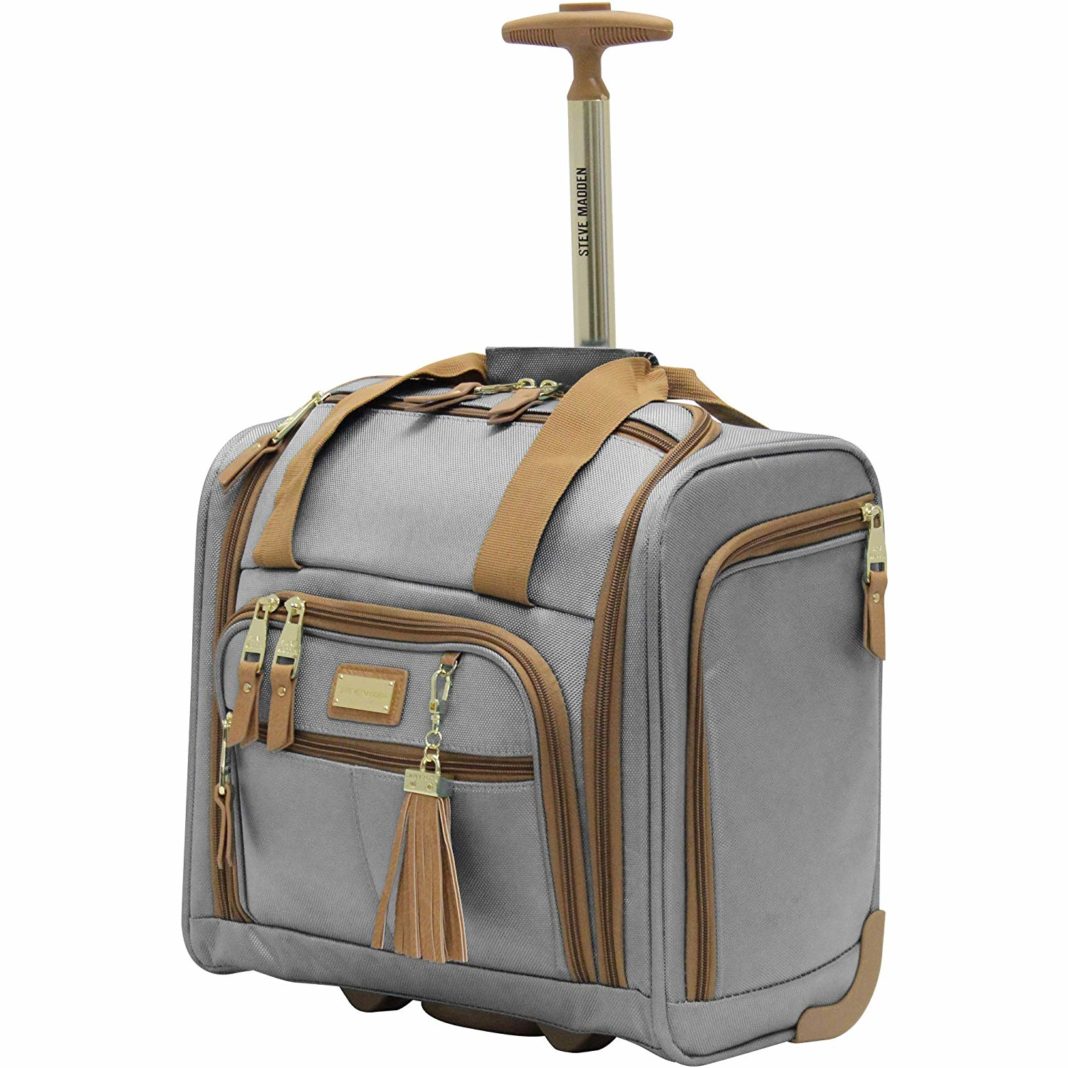 Credit: Amazon
1. Style & Design
As with most Steve Madden products, this travel bag was made with style at the forefront of the designers' minds. Everything from the tassels, to the shiny leather, to the golden handle makes this travel bag feel more like an accessory. And who doesn't love feeling fashionable when they travel? What's more is the Steve Madden Wheeled Underseat Bag also comes in many different colors. So there really is a bag out there for travelers of all tastes.
In addition to style, the bag was designed with practicality in mind. It has ample storage and various pockets all throughout. These features are great for staying tidy and organized on your trip. Some reviewers found the back pocket on the bag to be too tight to fit much inside. However, this is actually an excellent pocket to put passports and travel documents in. The best part about this bag is that it was designed to be able to fit in the seat in front of you. Whether you're on a plane or a train, the Steve Madden Wheeled Underseat Bag optimizes the amount of leg room you can have.
In terms of both style and practical design, the Steve Madden Wheeled Underseat Bag satisfies both areas really well.
2. Storage
As we mentioned above, the Steve Madden Wheeled Underseat Bag has plenty of storage space. The travel bag features a number of zippered storage compartments. This makes it even easier for a traveler to separate different travel essentials. It also makes it easier to organize all of your belongings while on the road. There are three exterior pockets on the front of the bag. Additionally, there are two more exterior pockets on either side of the bag, and another on the back of the bag. However, it's important to note that the exterior pockets are not as well protected as the interior pockets. Therefore be careful with what you store in the exterior pockets.
The bag opens up in a U-zip. We love this feature because it allows the bag to open fully. This makes it much easier to see everything that's inside when packing or unpacking. Additionally, you will find many zip lined clear plastic pockets on the inside. This helps travelers see what is stored inside each pocket. We have found this feature to be especially useful if you have to go inside your bag at the airport or train station. Rather than digging through each pocket, you can easily identify what you're looking for. And that way you don't have to rummage through your things for too long in a public space!
The main compartment of the Steve Madden Wheeled Underseat Bag is quite spacious. Overall, this bag has ample storage for all of your travel essentials. Whether you're using this for work items or clothing, the Steve Madden Wheeled Underseat Bag will be able to store everything with ease.
3. Weight & Size
There's nothing worse than carrying a heavy travel bag around. And this problem can be made even worse if the bag is heavy to begin with. Luckily, the Steve Madden Wheeled Underseat Bag is lightweight from the start. And even after you pack in all of your belongings, this bag maintains its lightweight feature. The bag itself weighs in at roughly 6 lbs. This really is not that heavy if you factor in all of the storage compartments and other perks this bag has.
After doing some research, we found that most travel bags that fit under the seat weight more than 6 lbs. Therefore in comparison to other products, the Steve Madden Wheeled Underseat Bag is pretty light! And that means you can pack more items without having to worry about weight restrictions imposed by different airlines.
Finally, the Steve Madden Luggage Wheeled Under Seat Bag measures at 15 x 9 x 14 inches. Keep in mind that this is close to the maximum that will fit under the seat on an airline. However, it will fit. Therefore your leg and wiggle room is still being optimized. And at this size, you can choose to either check the bag with the airline or bring it on as a personal item. But because it has so much storage space, this bag could easily pack everything you need for a quick overnight or weekend trip. Therefore if you're flying somewhere for just a few days, this bag can save you money on having to check any luggage.
4. Durability
Steve Madden tends to design its products to be long lasting. It's the company's goal to sell you something that you will have for a long time. And that is exactly the case with the Steve Madden Wheeled Underseat Bag. For starters, this product is covered by a 5-year warranty. Therefore even if something is to unexpectedly happen to your bag in the first few months of travel, you can get it fixed right away.
You will find that the fabrics of this bag are also extremely durable. This will become evident as your cram all of your travel essentials into the bag with complete ease. And the exterior and interior materials are also pretty stretchy. Therefore they will morph accordingly to the belongings being packed inside.
You wouldn't expect a bag that is so cute and fashionable to also be durable. But the Steve Madden Wheeled Underseat Bag is able to accomplish both! That's just another reason why we think this could be a great travel bag for you.
5. Other Features & Perks
There are plenty other miscellaneous features and perks we love about the Steve Madden Wheeled Underseat Bag. For starters, the bag has inline skate wheels. Though these are popular wheels to see on a bag of this style, keep in mind that there's a reason why. These wheels are durable and will keep the bag from tipping over or getting caught on anything on the ground as you zigzag your way through an airport or train station.
The golden, telescopic handle is quite fashionable. It's also really comfortable to carry and hold. The strong, comfortable grip will not hurt your hand, no matter how long your carry this bag for.
Overall, you will find this bag meets all of your travel needs. It's small but spacious, stylish but practical, and will last you for many trips to come.
What Travelers Are Saying About The Steve Madden Wheeled Underseat Bag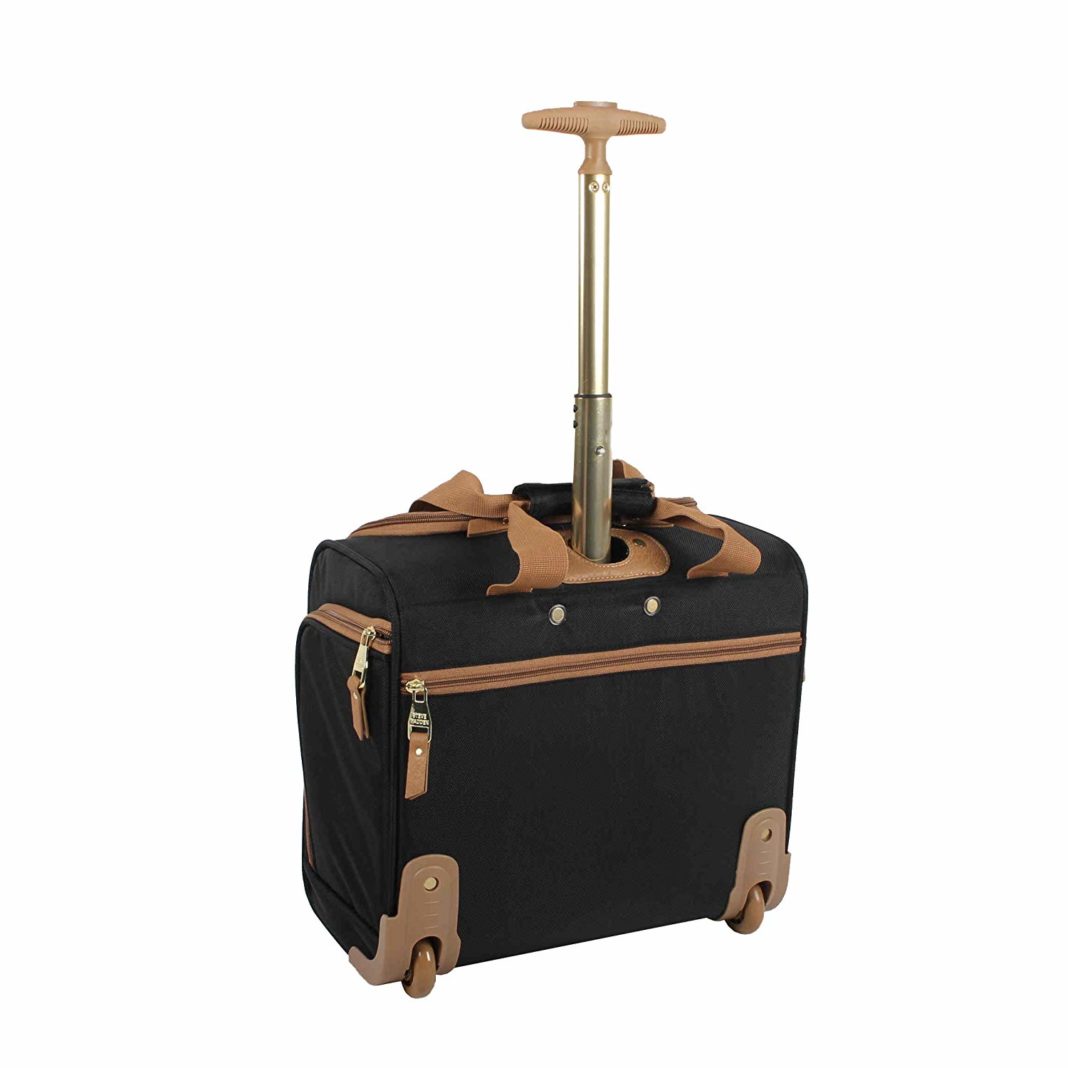 Credit: Amazon
Overall, travelers have way more pros to say about this bag than cons. People who have invested in this bag are all saying that it is the perfect size for long weekend getaways. And they're also admitting that even though it's small, it is surprisingly spacious on the inside! Travelers are loving all of the storage pockets and compartments this bag has. One con that travelers have found is that the pocket on the back of the bag is too small to fit anything. However, us writers and adventurers over here at Trekbible disagree. As we stated earlier, we think this tight back pocket is great for storing travel documents in.
Other pros that travelers have found is that this bag is fashionable. They love that they can feel practical and cute while traveling around with it. However, some reviewers have found that the exterior material is easy to stain. Therefore it wouldn't be a bad idea to spray this bag with water protective spray. But again, this bag has a 5-year warranty. So if you find that is does stain easily or if there are any other problems with the bag, you can get it fixed right away.
One last con to be aware of is travelers have not found that this bag is very flexible. In other words, it may not stretch as easily as other travel bags of yours. However, overall travelers are loving this light weight, spacious Steve Madden product.
Alternative Underseat Travel Bags You May Like More
Just because we love the Steve Madden Wheeled Underseat Bag, that doesn't mean it's the right product for you! So if you're stressing about finding a new, compact travel bag but don't love this product, don't stress. There are so many other travel bags out there that you might love! Here are just a few to get you started.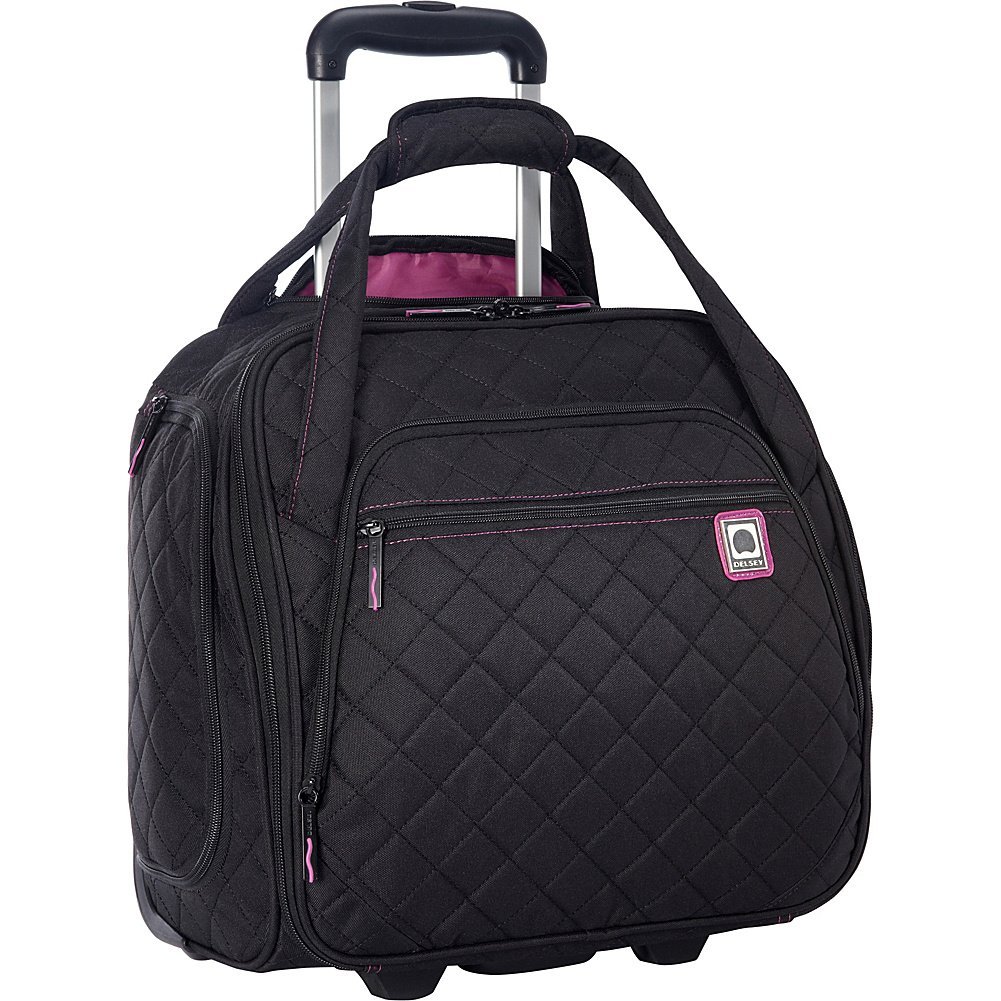 Credit: Amazon
The Delsey Quilted Rolling Underseat Tote is another stylish, compact travel bag that we love! This bag is designed out of durable polyester fabric that will expand to fit the travel essentials inside. It is a fashionable design with a diamond quilted pattern on the exterior. On both the inside and outside there are many pockets and organizational spaces.
Overall this is a roomy tote that is great for storing electronics, toiletries, personal items, etc. Overall this makes a better overnight than weekend bag. However just like with the Steve Madden Wheeled Underseat Bag, this bag cap fit easily under the seat in front of you. It's easy to travel with and is fashionable to have on your arm.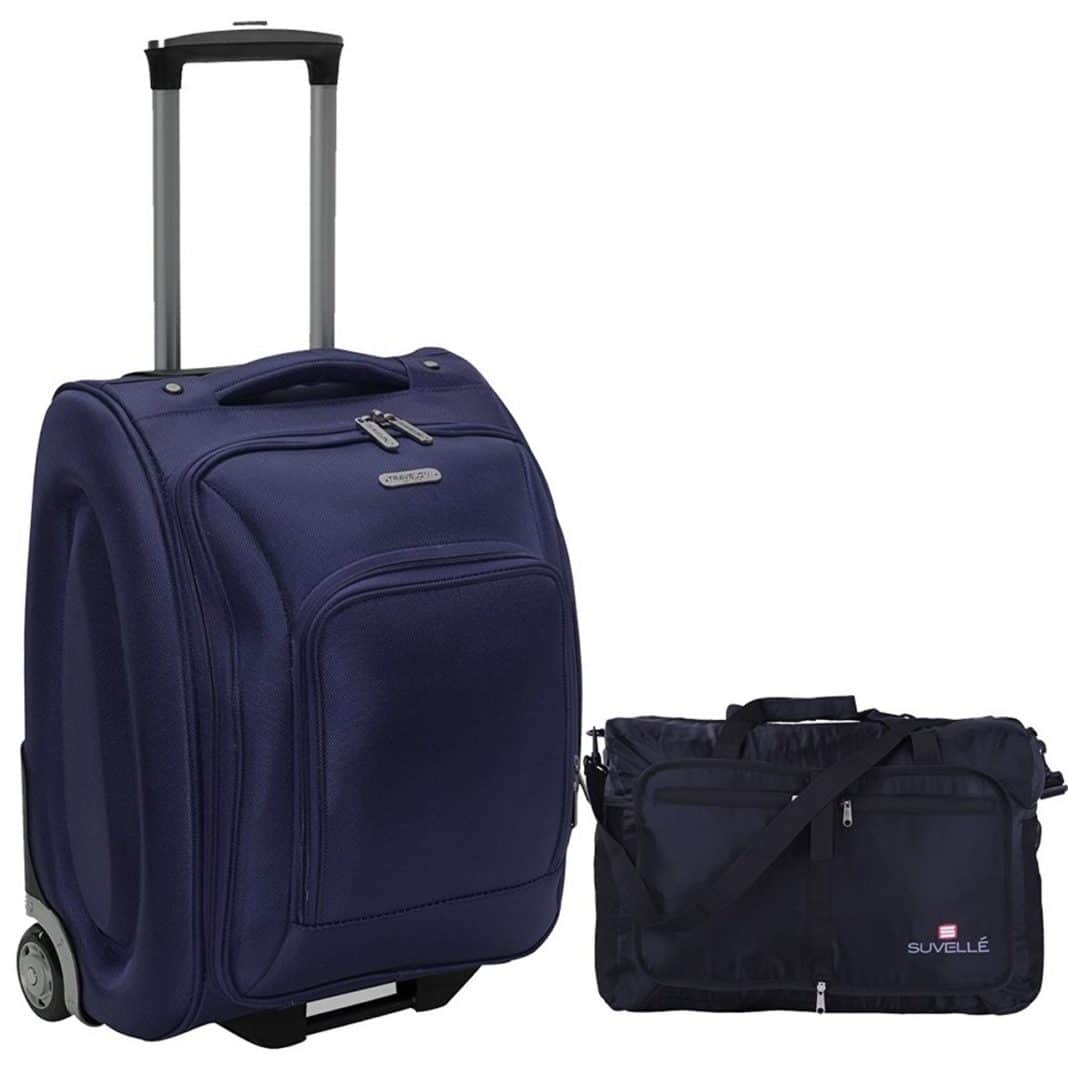 Credit: Amazon
The Travelon 18-inch Wheeled Underseat Bag is also a great travel bag option. This travel product is easy to wheel and compact enough to store under the seat in front of you. As with the options before, this makes it ideal as a carry-on or a weekend bag. Other great features includes its retractable double pole handle and smooth rolling wheels. Together, these features make this bag very easy to maneuver in even the most crowded areas, like airports and train stations.
The roomy interior of this bag is fully lined and has tie-down straps that secures garments in place. Additionally, the bag has a padded pocket in its lip. This will help to securely told down a laptop, iPad, or other valuables. Finally, something we love about this bag is a small exterior compartment that is great for storing iPhones, travel documents, and other easy to lose – but very important! – travel essentials.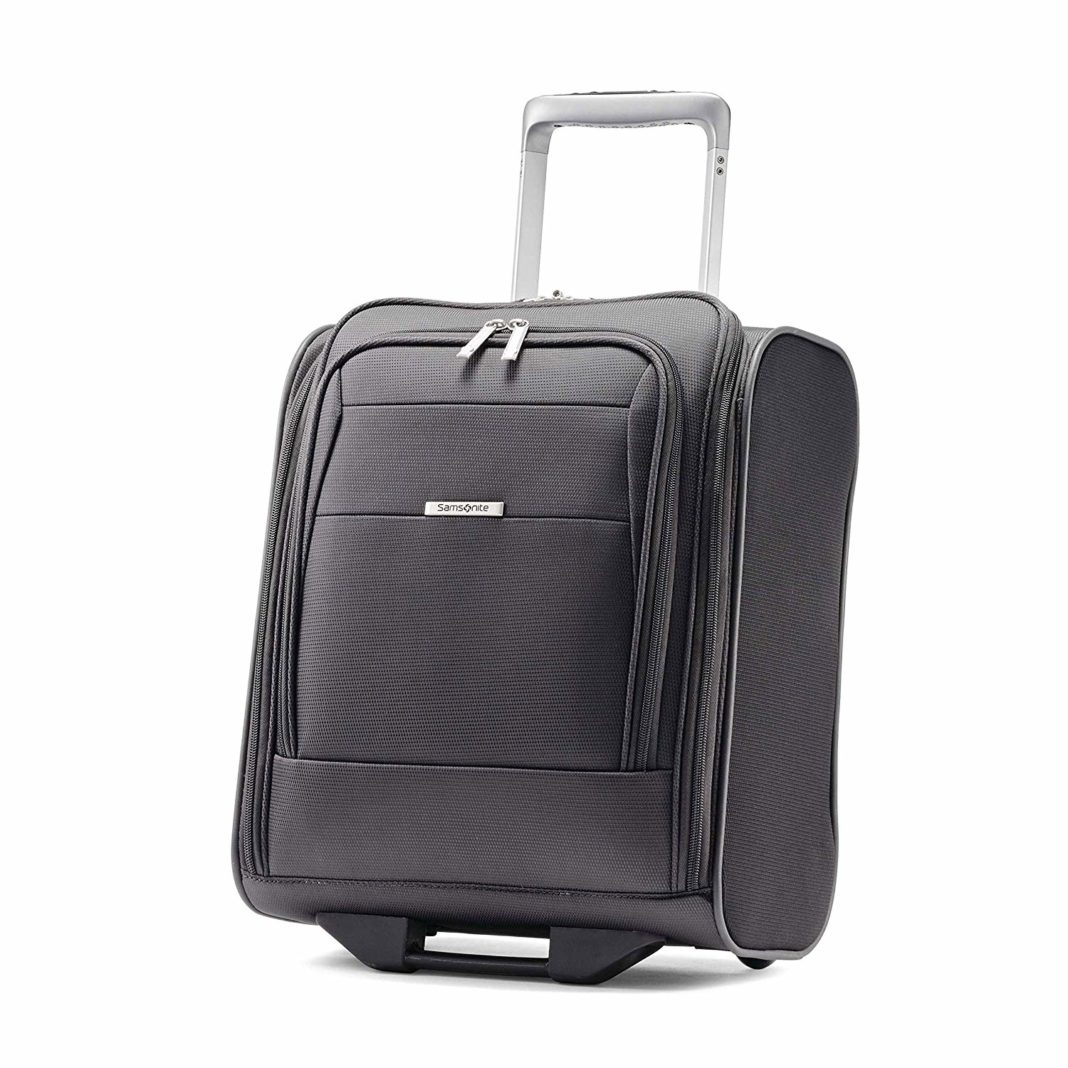 Credit: Amazon
The first important thing to note about this travel bag is that it's much more expensive than other options. But that's probably only because it's an incredibly top-notch travel bag. Another reason the Samsonite Eco-Nut Wheeled Underseat Carry-on bag is so expensive is because it's very eco-friendly! The other incredible perk about this bag is that it was designed to be very light. Much lighter than the Steve Madden Wheeled Underseat Bag.
But just because it's light doesn't mean it has limited storage. This bag was designed for expansion. Therefore even though on first appearance it can seem like the bag wouldn't fit much, in reality it's the perfect sized weekend bag. And like we said, this is an eco-friendly purchase. Therefore you can feel good knowing the fabric was made with 100% post-consumer recycled plastic bottles. This bag is stylish for both you and the planet. What's not to love?
Consider investing in the Steve Madden Wheeled Underseat Bag for your next adventure.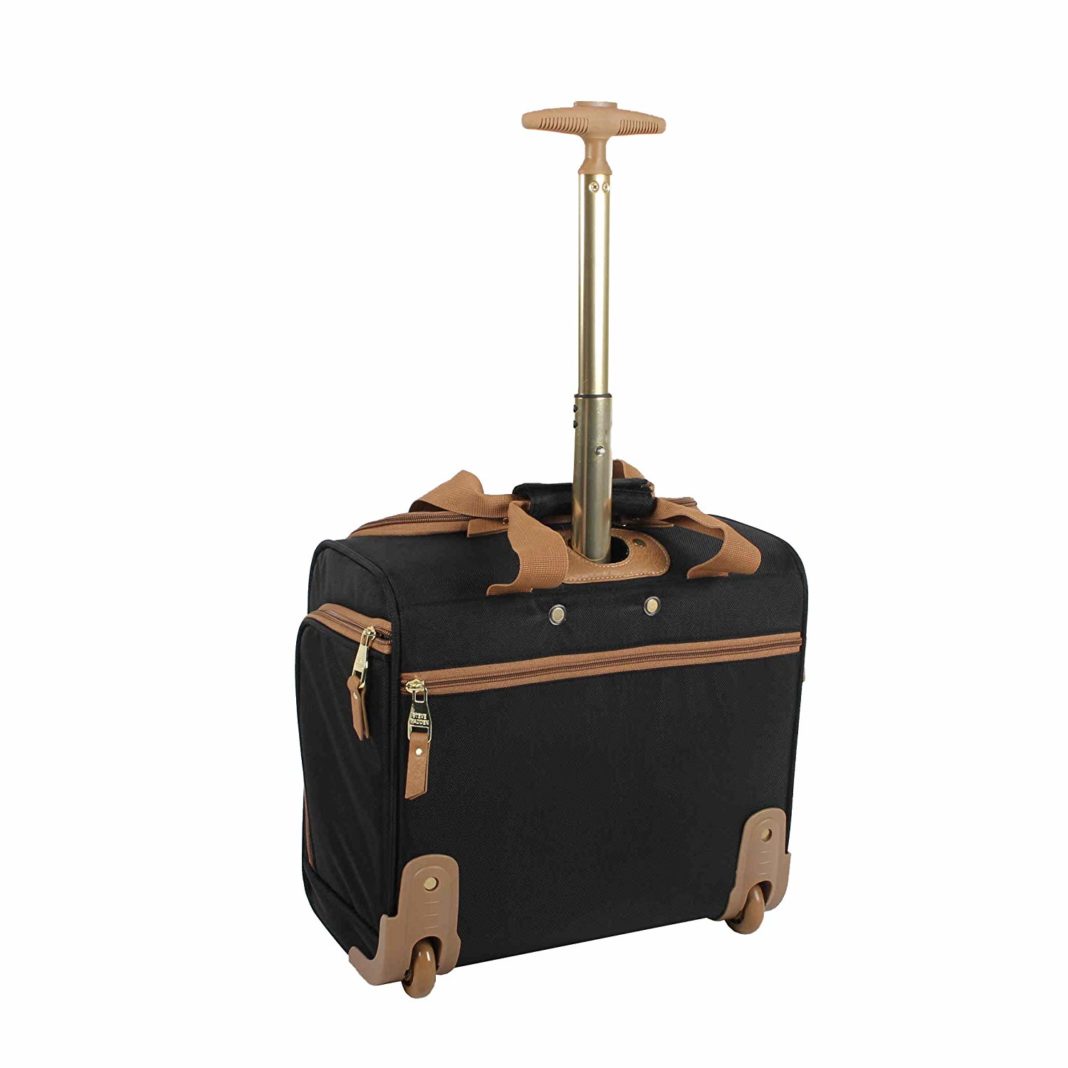 Credit: Amazon
From its cute exterior to its practically designed interior, there is so much to love about this bag. And hopefully after reading our Steve Madden Wheeled Underseat Bag review, you have a better idea of whether or not this travel product is for you!
Do you have a travel bag that you absolutely love? Leave us a comment and let us know about it! We're also curious to hear about great travel gear.
Related Article: The Best Underseat Luggage For Every Journey