Seeking the perfect outdoor travel accessory? Enter the Therm-a-Rest Compressible Travel Pillow Review.
This is the stuff camping comfort is made of. A tried and true travel essential, the compressible style from Therm-a-rest is perfect for anyone who wants to be comfortable on the go. Imagine all the comfort of bedding from home bundled up into an easily portable pillow. Not only is it a best camping pillow but it's also perfect for flights, road trips, and more.
Since it is compressible, it won't take up a lot of room in your backpack, duffel bag, or suitcase. You can even slide it into a tote bag if you want. The brushed polyester exterior makes it super cozy to cuddle, promising you'll get some good sleep even in areas where getting real rest can be a challenge. You'll sleep easier knowing this pillow is eco-friendly, made in an upcycled process of using Thermarest mattresses. This pillow is available in four convenient sizes.
Comfort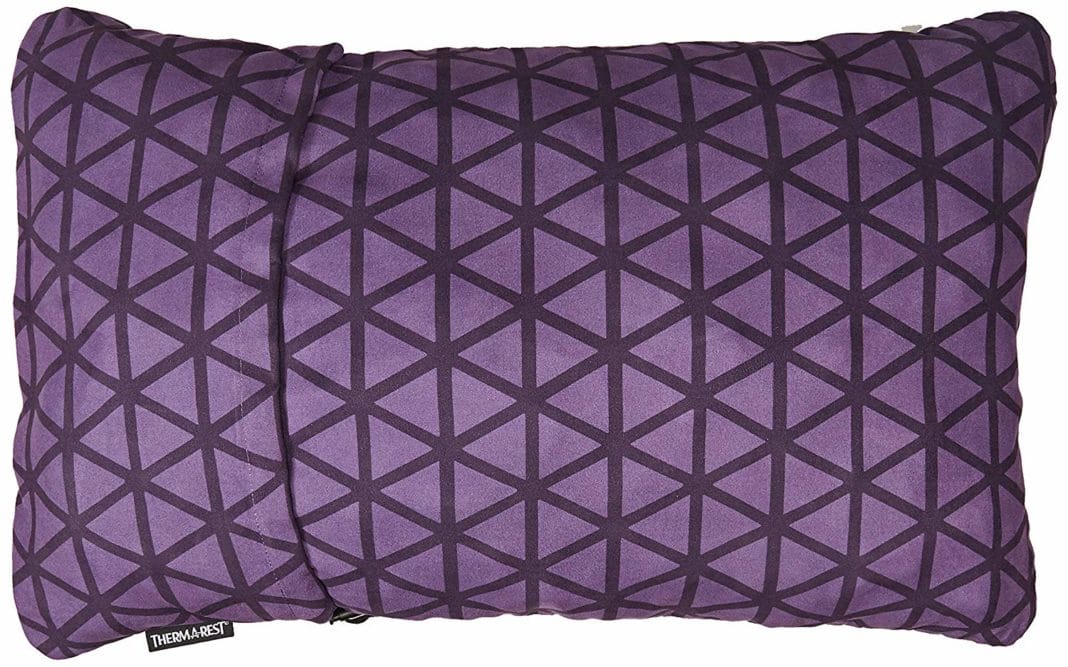 Credit: Amazon
Sometimes, it's the simple things that go the longest way. We love that the Therm-a-Rest Compressible Travel Pillow offers a little extra luxury and we love how easy it is to use. There is no inflating required. Simply pull the Therm-a-Rest Compressible Travel Pillow out of the stuff sack and use it. While it's not a backpacking style by any means, it's perfect for spending a night (or two or three) in a tent under the stars.
Starting at a little over $17, you're getting a really good deal for your money. The Therm-a-Rest Compressible Travel Pillow features a fill of synthetic fiber in a soft polyester shell. The pillowcase is a cute flannel print that goes with anything. When you need to wash it after a long trip, simply pull the pillow case off like you would with your pillows at home and throw it in the wash. Sure, it is a little on the heavy side but it is absolutely perfect for car camping.
Weight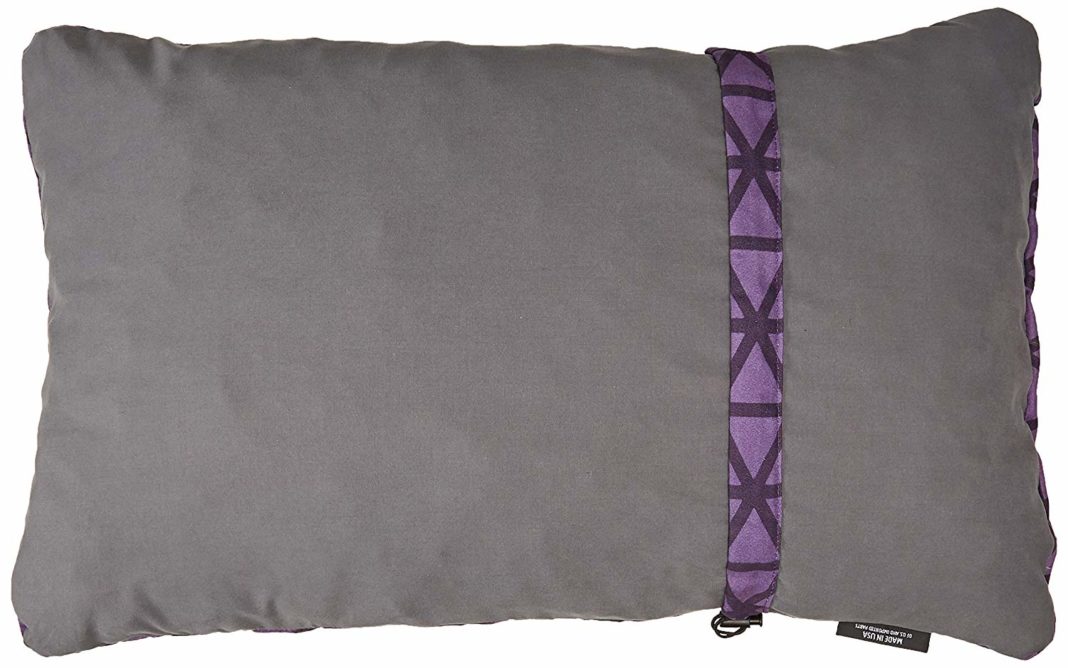 Credit: Amazon
A little bit of luxury goes a long way in the great outdoors. As we mentioned earlier, there is no inflating necessary with the Therm-a-Rest Compressible Travel Pillow. It is surprisingly lightweight when compared to some of our other favorite camping pillows, especially considering that it is not an inflatable style. Whether you want to sleep out under the stars, take a road trip across the state, or sleep comfortably on a long-haul flight, this pillow will work for you.
Ease of Use
This pillow couldn't possibly be easier to use. Since there is no inflating involved, the TTherm-a-Rest Compressible Travel Pillow is ready to sleep with the moment you pull it out of the stuff sack. Since the stuff sack is large, packing it away is a breeze too. We love that it fills the hood of most sleeping bags so it won't slide around while you sleep. Finally, the pillow case can be removed for quick cleaning.
Packable Size
For a pillow with such a large surface area, the Therm-a-Rest Compressible Travel Pillow is surprisingly packable. When it is compressed into the stuff sack, it weighs only 7 ounces. This is lighter than a lot of other competitor styles out there on the market.
Tech Specs:
Ultra lightweight

Compressible

Foam filling

Portable design

Comes in four different sizes

Eco-friendly construction

Brushed polyester exterior
What Travelers Are Saying about the Therm-a-Rest Compressible Travel Pillow
With a market flooded with styles and brands of camping pillows, it can be hard to narrow it down and choose just the right fit. Luckily, we took the guesswork out of it for you and tested out some pillows on the road (tough work, we know). After nights camping, we agree with travelers that this is just the little piece of luxury you need to add to your tent sleeping gear.
If you don't want to hassle with inflatables, the Therm-a-Rest Compressible Travel Pillow is a good option. Sure, there are hybrid pillows out there but this style offers quality you can count on. You don't have to worry about any air leaks. While we can understand the need to pack light and small, this pillow isn't too large or heavy. After all, comfort is key.
Isn't that what pillows are primarily for? The Therm-a-Rest Compressible Travel Pillow meets your need for comfort and packs down nicely too. Don't fear air leakage since the pillow is made from similar materials like synthetic fiber fill. Travelers really appreciate the back and neck support that it provides.
This pillow is smaller and doesn't hang over the sleeping pad but big enough to provide adequate head room and is comfortable. We couldn't believe how expensive many of sone pillows were, at the price this one is being sold we consider it a bargain. With 4.1 out of 5 stars, it's clear that the Therm-a-Rest Compressible Travel Pillow speaks for itself.
Users love the stability that this pillow has compared to regular camping styles. While it's easy to want to go with the lightest gear possible, buying this pillow is a no-brainer. There's a reason why they call it luxury and not simply just large. It seems to stay in place way better than the average inflatable camping pillow styles. And that really does make all of the difference.
Alternative Camping Pillow Styles You May Like
Nemo Fillo Luxury Inflatable Travel Pillow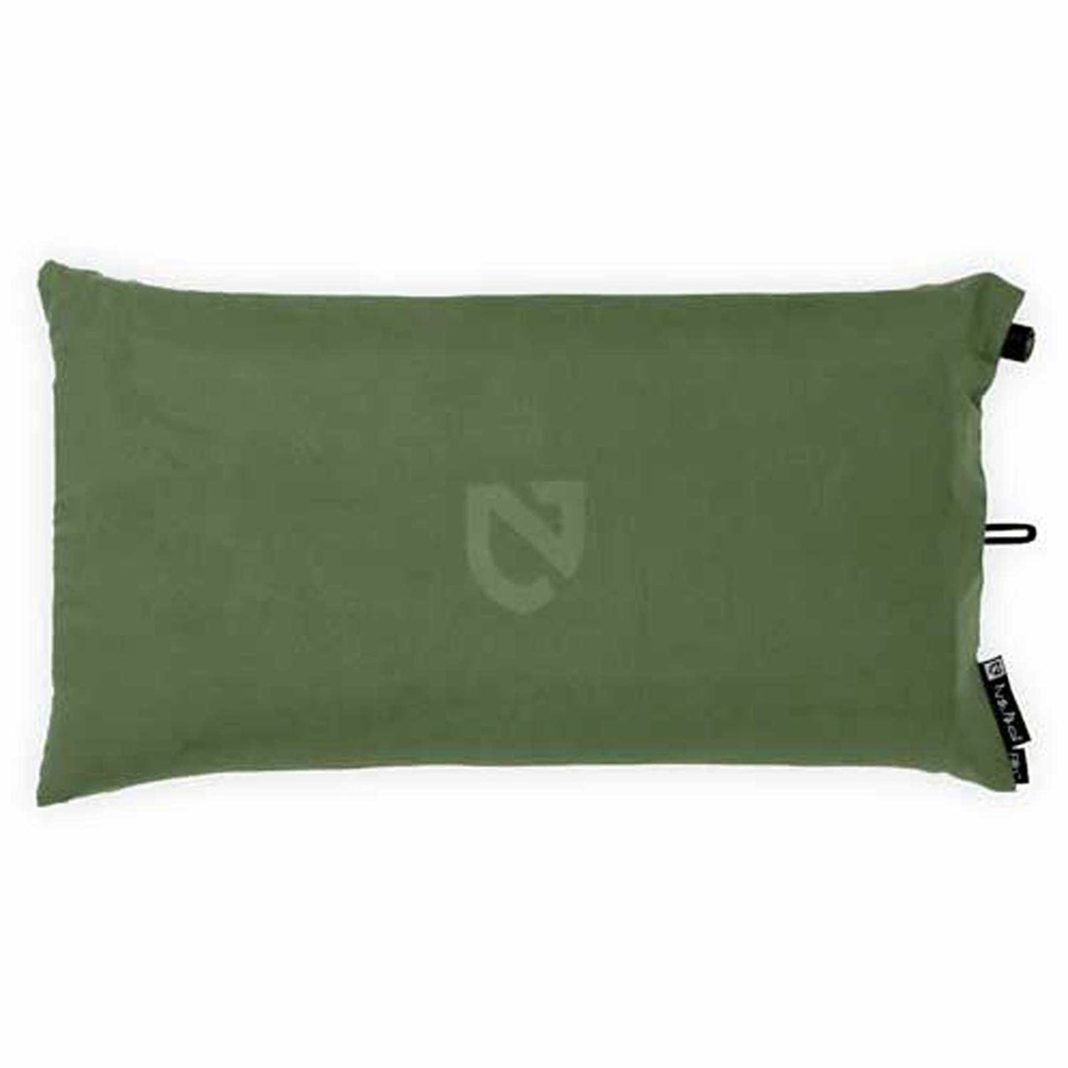 Maybe you're wondering…How can a pillow be award-winning? You won't understand until you try out the Nemo Fillo. This luxury item for backpacking and camping is often overlooked. The folks at Nemo have redesigned something simple and classic and turned it into something essential. Through the use of an air cell, soft, yielding foam, and a soft microsuede cover, your sweet dreams can be brought into reality.
Picture your favorite pillow at home but better. The largest pillow of the Filo collection, it is also equipped with shock cord lacing on the underside to hold items you need. All in all, it's about the size of a large grapefruit and weighs in at under one pound. While it is amazing for camping, don't limit it. You can bring this pillow on all of your adventures, including those long-haul flights. It provides great lumbar support. Despite the higher-end price tag, we think it's certainly worth the buy. Nemo is a great brand.
Tech Specs:
Adjustable

Award-winning

Inflatable

Microsuede exterior

Shock cord lacing to hold item on backside

Weight: 13.6 ounces

Machine washable

Multipurpose

Lumbar support

Soft and washable
Sea to Summit Aeros Pillow Premium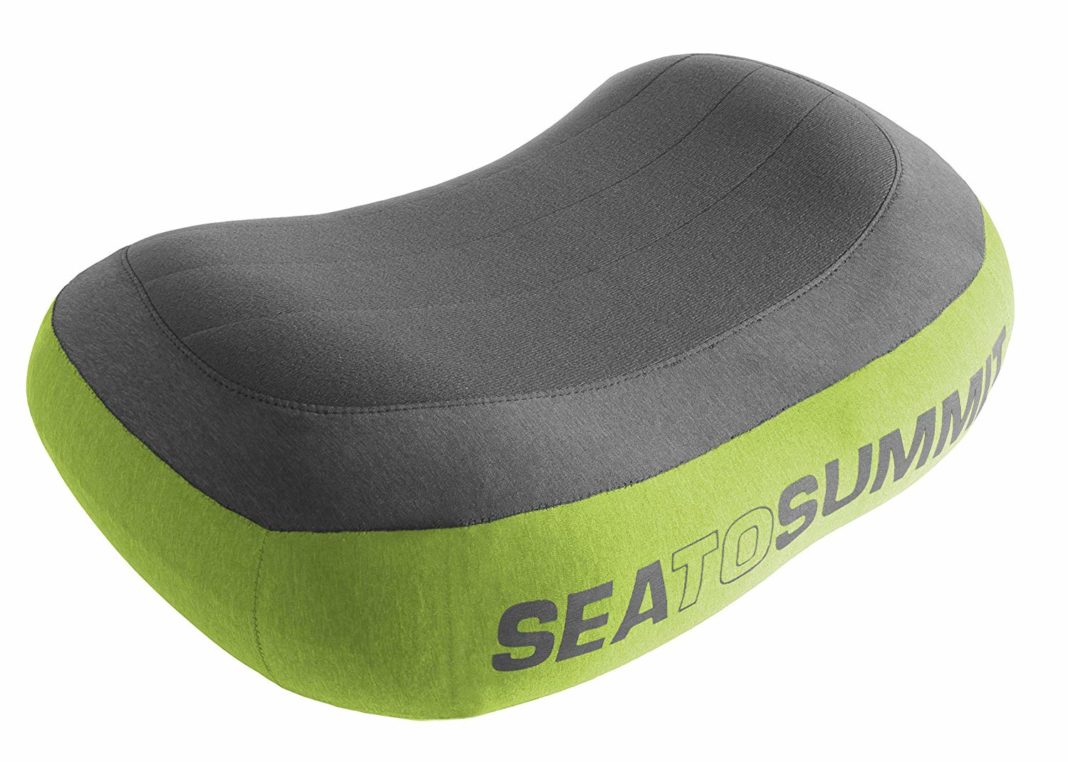 Leave those flat pillows from home behind and get the support you need. The Aeros pillow from Sea to Summit could very well be the best camping pillow yet. It's not every day that such luxury and performance comes in such a compact package, you know? The feel of the pillow is so soft. From the brushed 50D polyester to the internal contours, and low profile multi-function valve, this was made to fit your comfort level. After all, a good night's sleep isn't possible without having the right pillow.
If you're one of those people who move around in your sleep, I have good news for you. The Aeros comes in two sizes. Whatever you need, it is a great addition to your comfort camping gear. Since it is easy to inflate and deflate, you won't have to worry about it taking up space. Take it anywhere and everywhere.
Tech Specs:
Soft and durable brushed 50D polyester

Easily inflatable and deflatable

Comes in two different sizes

Internal contour features

Low-profile multi-function valve

Moisture wicking

TPU bladder

Comfortable to sleep on your back, side, or upright with

Scalloped bottom edge to accommodate your shoulders
Invest in the Best Camping Pillow for Your Needs – aka the Therm-a-Rest Compressible Travel Pillow
When it comes to finding the best camping pillow, it all depends on your needs. Do you need lumbar support or a special kind of support? Are you looking for something portable and cheap or are you willing to spend a little more on luxury? Choosing the right pillow is just as important as the right sleeping bag.
It's easy to get tempted to skimp out on quality in the name of price. Don't do it. We're sure you know from experience. Having all of the right gear makes a difference when you are traveling. If you are able to get a good night's sleep and wake up feeling refreshed, it makes your camping trip that much more enjoyable. The best camping pillows on this list not only provide healthy back and neck support but are affordable, portable, and easy to use.
Do you have any favorite travel accessories that you like to use when you go camping? Perhaps your favorite pillow isn't on the list for the best camping pillow. If so, feel free to let us know in the comment section below. We always enjoy hearing about new ways to stay comfortable on the road and in the great outdoors. Happy travels!
Related Article: The Best Camping Pillow: Our Top 5 (Plus How To Choose)