Having the right gear makes all of the difference. That's why I'm here to help you find the best camping pillow. So you're planning a camping trip, huh? We've all been there before. I have a confession. Just a few years ago, I was a camping rookie. That's right. I took my first ever trip to the great outdoors and set up a tent in December 2016. My friend Tiffanne had invited me and a group of others to celebrate her birthday in Joshua Tree National Park. Sure, she sent a list of things to bring. Did I listen? Nope. Needless to say, I ended up freezing cold and used an old, flat pillow from my house to sleep. I'm here to give you some tips and help you find the best camping pillow. After all, you'll need the essentials for a good night's sleep. Let's get started on your camping trip (I'll throw in a few tips along the way).
| Image | Product | Rating | Prices |
| --- | --- | --- | --- |
| | | 4.5 out of 5 | |
| | | 4 out of 5 | |
| | | 4.5 out of 5 | |
| | | 4.0 out of 5 | |
| | | 4.9 out of 5 | |
QUICK NAVIGATION
Normal Pillows vs. Camping Pillows: What's the Difference?
You might be wondering what makes the best camping pillow different from a regular one. Or maybe you are just wondering where to start looking for one. Don't sweat it. That's what I'm here for. Having the right pillow makes all the difference. Skip the tossing and turning or waking up with a stiff neck. I've sought out (and tested) the market's top camping pillows and narrowed down my list to the top picks. Read on to find the perfect fit for you.
Common Features of a Quality Camping Pillow
Inflatable

Adjustable

Lumbar support

Durable

Luxurious feel

Back and neck support

Lightweight

Portable

Easy to pack
Things to Consider Before You Begin Your Search
Have you ever been kept up at night because your neck is stiff and you couldn't sleep? Imagine waking up like that and spending the whole day uncomfortable. Yikes. Avoid the neck and back pain and invest in quality that will get you a good night's rest. You want to feel good in the morning and be ready to start your day.
What Keeps You Awake At Night?
Well, your body temperature is the most likely factor to keep you awake. When you're too hot or cold, you can't fall asleep and recharge. And believe us, after a long day of camping and hiking – that's all you're gonna want to do. Pay attention to how companies advertise their camping pillows. Do they help you keep cool or warm?
Good Things to Consider
These are all good things to consider among sleeping bag components. Down and polyester are the two most common materials in sleeping bags. These fillers affect temperature ratings and the quality of sleeping bags.
You Can Travel With a Lighter Load
Let's say you have to hike to your campsite. If you're traveling during the summer, you're going to want a quality camping pillow with good supportive properties. That doesn't mean it has to be heavy or take up a lot of space, though. It's a pain to carry a lot of weight on your back. Focus on two factors: comfort and portability.
Find Features That Match Your Sleeping Preferences
There are other factors that go into making the best camping pillow. Are you looking for the best camping pillow for lumbar support? Are you seeking something lightweight and portable? Do you mind if the pillow is inflatable or do you want a more standard one? There is a lot of variety on the market when it comes to the best camping pillow.
The Best Camping Pillow: Top Picks
Nemo Fillo Luxury Inflatable Travel Pillow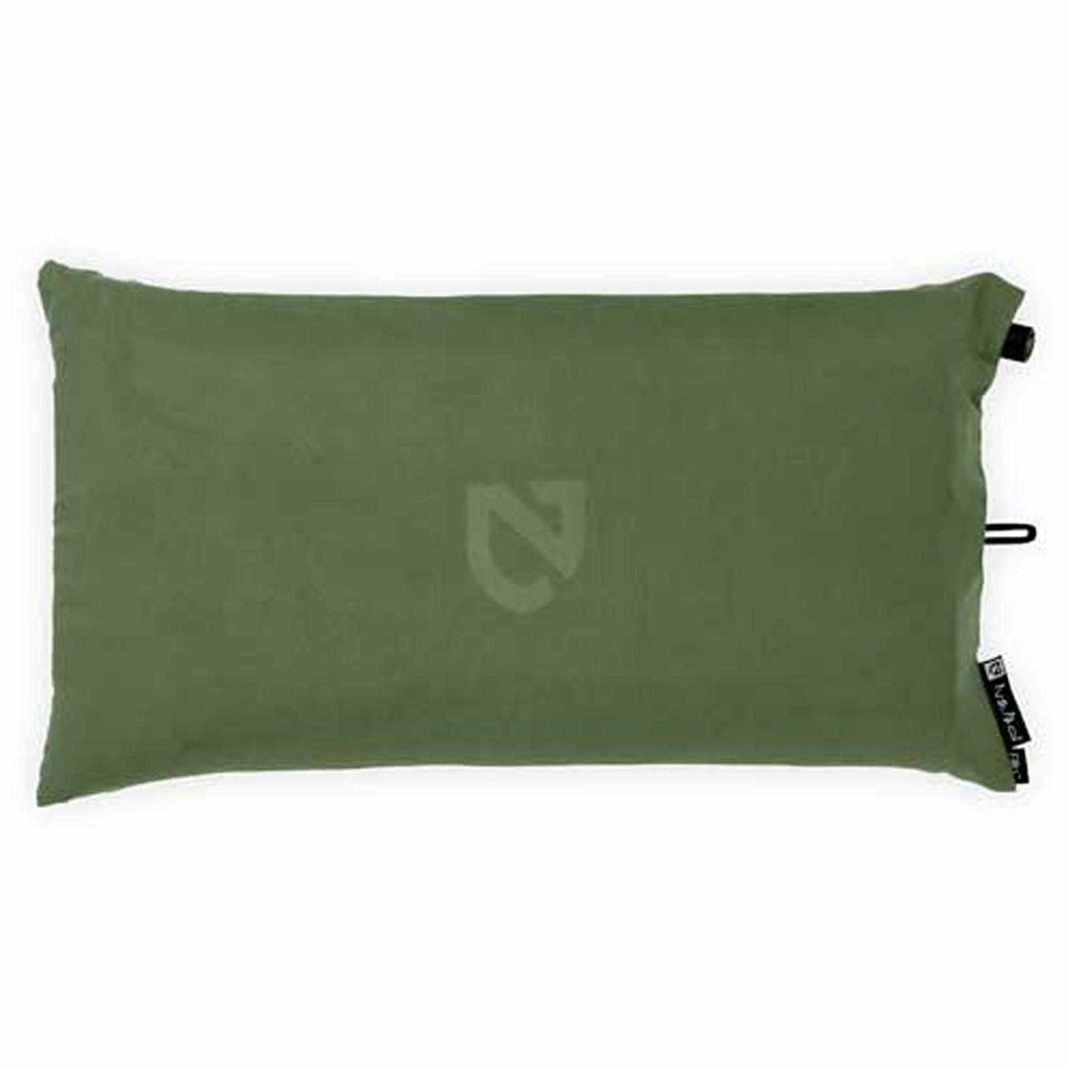 How can a pillow be award-winning? You won't understand until you try out the Nemo Fillo. This luxury item for backpacking and camping is often overlooked. The folks at Nemo have redesigned something simple and classic and turned it into something essential. Through the use of an air cell, soft, yielding foam, and a soft microsuede cover, your sweet dreams can be brought into reality.
Picture your favorite pillow at home but better. The largest pillow of the Filo collection, it is also equipped with shock cord lacing on the underside to hold items you need. All in all, it's about the size of a large grapefruit and weighs in at under one pound. While it is amazing for camping, don't limit it. You can bring this pillow on all of your adventures, including those long-haul flights. It provides great lumbar support. Despite the higher-end price tag, we think it's certainly worth the buy. Nemo is a great brand.
Tech Specs:
Adjustable

Award-winning

Inflatable

Microsuede exterior

Shock cord lacing to hold item on backside

Weight: 13.6 ounces

Machine washable

Multipurpose

Lumbar support

Soft and washable
Pros
plus

Adjustable support

plus

Machine washable case

plus

Shock cord lacing for storage

plus

Lumbar support
Cons
Therm-a-Rest Compressible Travel Pillow
Here is a tried and true travel essential. The compressible style from Therm-a-rest is perfect for anyone who wants to be comfortable on the go. Imagine all the comfort of bedding from home bundled up into an easily portable pillow. Not only is it a best camping pillow but it's also perfect for flights, road trips, and more.
Since it is compressible, it won't take up a lot of room in your backpack, duffel bag, or suitcase. You can even slide it into a tote bag if you want. The brushed polyester exterior makes it super cozy to cuddle, promising you'll get some good sleep even in areas where getting real rest can be a challenge. You'll sleep easier knowing this pillow is eco-friendly, made in an upcycled process of using Thermarest mattresses. This pillow is available in four convenient sizes.
Tech Specs:
Ultra lightweight

Compressible

Foam filling

check

Portable design

check

Comes in four different sizes

check

Eco-friendly construction

Brushed polyester exterior
Pros
plus

Lightweight

plus

Portable

plus

4 different sizes

plus

Eco-friendly
Cons
Sea to Summit Aeros Pillow Premium
Change the way you sleep in the backcountry. The Aeros pillow from Sea to Summit could very well be the best camping pillow yet. It's not every day that such luxury and performance comes in such a compact package, you know? The feel of the pillow is so soft. From the brushed 50D polyester to the internal contours, and low profile multi-function valve, this was made to fit your comfort level. After all, a good night's sleep isn't possible without having the right pillow.
If you're one of those people who move around in your sleep, I have good news for you. The Aeros comes in two sizes. Whatever you need, it is a great addition to your comfort camping gear. Since it is easy to inflate and deflate, you won't have to worry about it taking up space. Take it anywhere and everywhere.
Tech Specs:
Soft and durable brushed 50D polyester

Easily inflatable and deflatable

Comes in two different sizes

check

Internal contour features

check

Low-profile multi-function valve

check

Moisture wicking

check

TPU bladder

check

Comfortable to sleep on your back, side, or upright with

Scalloped bottom edge to accommodate your shoulders
Pros
plus

Easy to inflate and deflate

plus

Moisture wicking

plus

Comfortable for all types of sleepers

plus

Scalloped bottom edge
Cons
Teton Sports Camp Pillow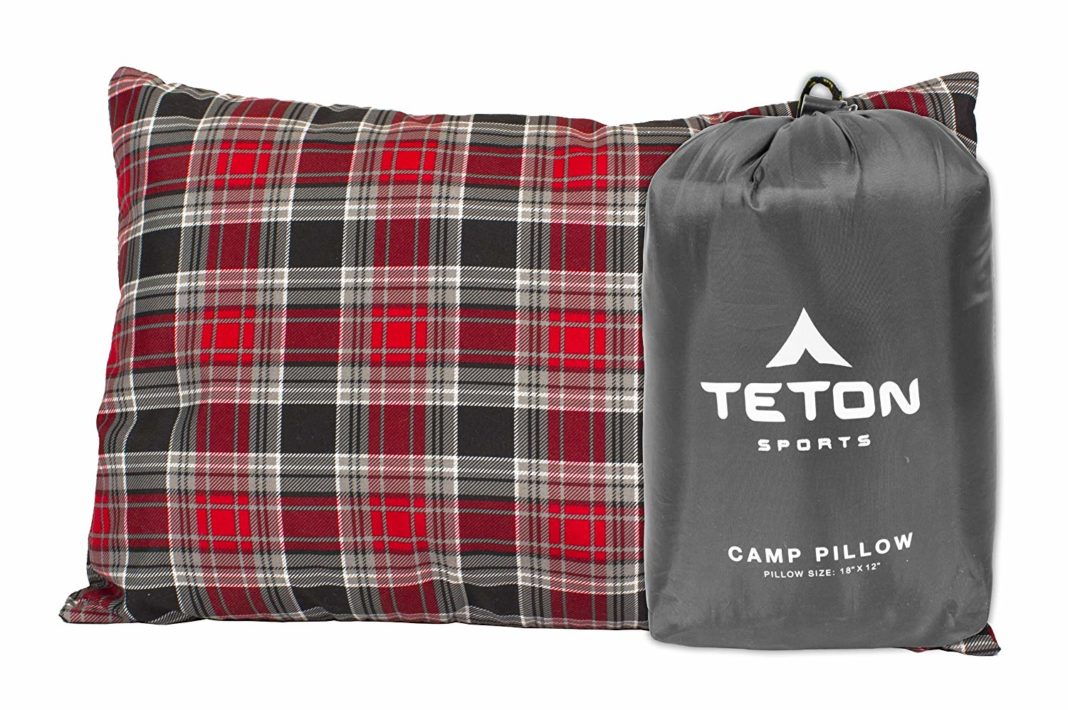 The Teton Sports could very well be the best camping pillow. Why? It's made with the same super soft fiber found in their sleeping bags. This means that the pillow won't lose its softness even when it's compressed into a small bundle for packing. In addition, the exterior is made from a brushed poly hi-count surface. What does this mean? Your pillow won't stick to you when you get sweaty and clammy from your sleeping bag at night.
The Sports Camp Pillow from Teton comes inside the matching lining of the Sports Celsius sleeping bags. Think of it as a trendy matching set for the great outdoors. The exterior is a machine washable 100% flannel material with a double-brushed finish to make it super soft. Last but certainly not least, it comes inside of stuff sack and there are four color options. The sturdy oxford stuff sack bag makes packing a breeze. With a barrel lock, you can easily hang it on the outside of your pack.
Tech Specs:
Soft and fluffy flannel pillow

Case is machine washable

Comes in four colors

check

Easily packable (comes with drawstring stuff sack)

Exterior made from brushed poly hi-count surface

Stuffing is made from the same fiber as the one inside Teton sleeping bags

No inflating necessary
Pros
plus

Machine washable case

plus

Large color selection

plus

Easy to pack

plus

No inflating necessary
Cons
Klymit Luxe Pillow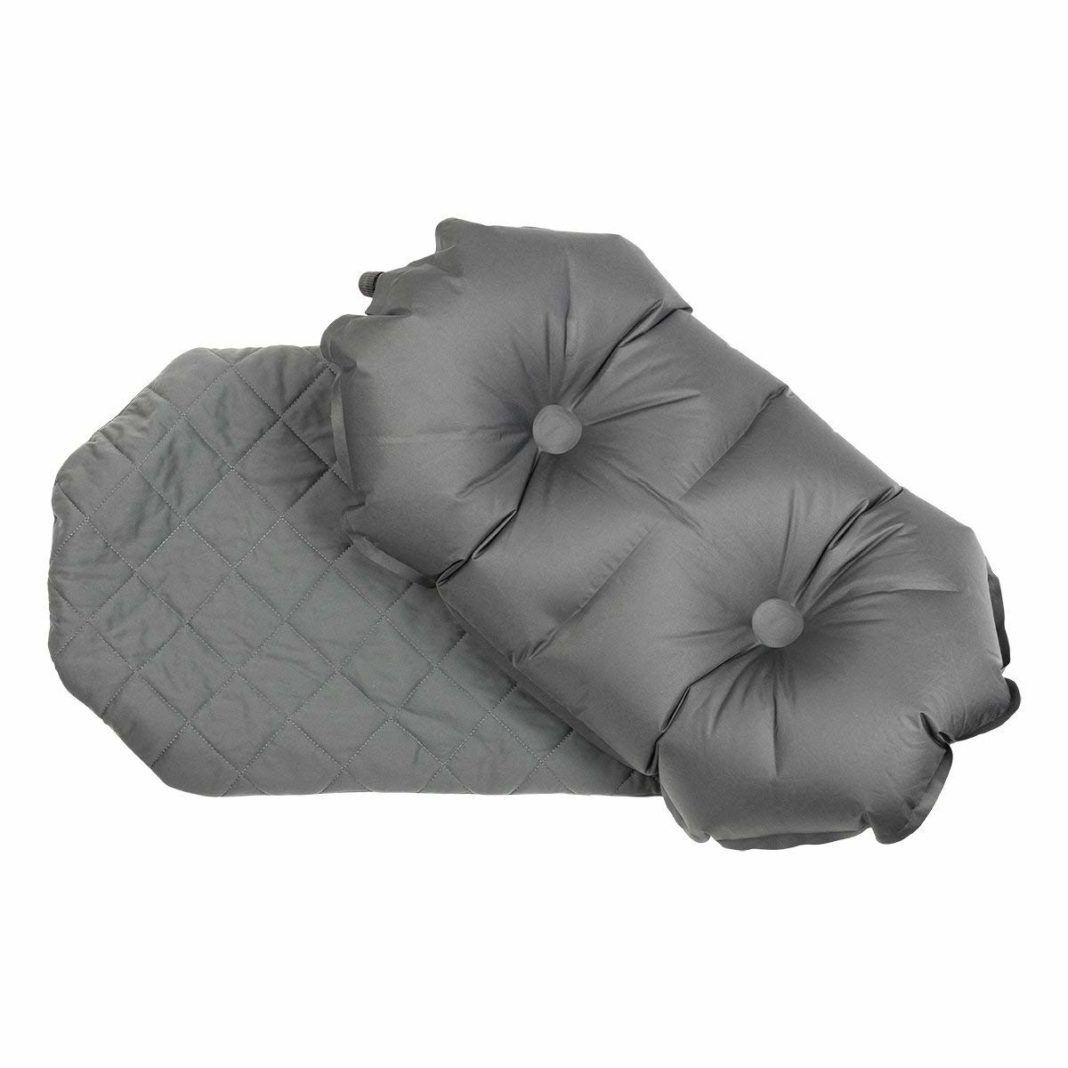 This inflatable full sized pillow delivers maximum comfort. Thanks to a hybrid-fill interior, you'll enjoy lofty support and all night comfort. Although it is compact, the Luxe Pillow does a great job of delivering stable sleep, cradling your head for comfort. When you need to pack it, the ultra light body won't take up much space and only weighs 6.2 ounces. It's even designed to fit a mummy-style sleeping bag hood for max comfort. When packed it measures about 3 inches by 7 inches (aka the size of a big burrito).
Besides comfort, the Luxe Pillow also delivers in terms of durability. You won't have to worry about it getting ripped and the stuffing coming out. The lightweight 75D polyester top and bottom are tear, puncture, and abrasion resistant. Last but certainly not least, it comes with a 3 inch by 7 inch storage bag.
Tech Specs:
Lifetime limited warranty

Weighs 6.4 ounces

Inflatable (3-5 breaths)

check

75D polyester top and bottom (rip, tear, and puncture resistant)

check

Synthetic pillow case

check

Measures 3 inches by 7 inches when it is all packed up

check

Hybrid fill interior
Pros
plus

Lifetime warranty

plus

Easy to inflate

plus

Very lightweight
Cons
Common Questions
Check out these other travel products and tips for camping:
Invest in the Best Camping Pillow for Your Needs
When it comes to finding the best camping pillow, it all depends on your needs. Do you need lumbar support or a special kind of support? Are you looking for something portable and cheap or are you willing to spend a little more on luxury? Choosing the right pillow is just as important as the right sleeping bag.
Don't skimp out on quality in the name of price. Having all of the right gear makes a difference when you are traveling. When you get a good night's sleep and wake up feeling refreshed, it makes your camping trip that much more enjoyable. The best camping pillows on my list not only provide healthy back and neck support but are affordable, portable, and easy to use.
Do you have any favorite travel accessories that you like to use when you go camping? Perhaps your favorite pillow isn't on my list for the best camping pillow. If so, feel free to let me know in the comment section below. I always enjoy hearing about new ways to stay comfortable on the road and in the great outdoors. Happy travels!
Related Article: The 6 Best Tent Heaters For Your Next Fall Camping Trip
Danielle Dougall
Danielle Dougall is a photographer, avid writer, and traveler. Hailing from the rainy city of Seattle, WA she now lives in southern California where she enjoys longboarding, hiking, coffee shop hopping, and dreaming up destinations for her next international trip.