The Fotopro Tripod is built for adventure photography. If you're looking to take better iPhone and DSLR photos, this is the travel accessory for you.
We love this lightweight travel tripod. With this portable travel accessory, you'll get better quality photos and videos than ever before. It's fast enough to capture just about any movement and with the range of angles available, you'll capture the world around you in an entirely new way. Whether you're new to the world of photography, want to snap some good photos with your phone, or brush up on those DSLR skills the Standard Fotopro Tripod is the device for you.
About the Company
If you've dabbled in photography, chances are you've already heard of Fotopro. This award-winning international brand designs and manufactures a wide range of products for both amateur and professional photographers. Their product line includes a myriad of tripods, monopods, heads, and other accessories. Over the years, Fotopro has been recognized as an industry leader in Asia and Europe.
They recently launched their brand in both North America and South America, with a large field in the U.S. specifically. The folks at Fotopro pride themselves on designing high quality gear and providing an excellent level of customer service. They continually invest in the best possible technology, constantly working to innovate while still providing affordable photography gear.
Standard Fotopro Tripod Features & Benefits
Have you been on the lookout for some travel photography accessories? The Standard Fotopro Tripod offers just what you are looking for. It's portable, lightweight, and all around handy. Taking great photos and videos on your smartphone or DSLR has never been easier. You'll never have to crop out your awkward selfie arm from a photo again. Even better, you can set up your camera to capture everything from great action shots to portraits and time lapses. The options are endless. Now, let's take a closer look at the features and benefits.
Compatibility
Credit: Amazon
Thanks to a quarter inch quick release plate, the Standard Fotopro Tripod is compatible with just about any device. You can instal just about any smartphone, GoPro, or small DSLR camera with relative ease. Examples of compatible devices include your digital camera, DV, camcorder, DSLR, Nikon D5300, EOS 1300D, GoPro, iPhone, etc.
Having a simple tripod on hand makes all the difference in photo quality. Thankfully, this style is easy to use and helps bring about clearer images. You won't need to worry about having a shaky camera hand or getting that action shot. Time lapse videos come out flawlessly. Nothing beats having the Standard Fotopro Tripod on hand.
Adjustable Height
Credit: Amazon
With eight-section legs, it's easy to get the height you want; you have the ultimate versatility. So whether you're trying to get that portrait shot or set up for a time lapse, you can alter the height as needed. This comes in particularly handy when you want to take photos from a distance or capture a landscape as well.
Portable and Durable Design
Credit: Amazon
Take the Standard Fotopro Tripod anywhere you want to. You will be amazed at just how lightweight and portable it really is. This little tripod packs a punch. Weighing in at only 0.85 pounds, the folded height compresses down to only eleven inches. So, it's small enough to easily tuck into your carry on suitcase, travel tote, or even a large purse if need be. In addition, it comes with a portable tripod bag so you can carry it while you're outside traveling, climbing, camping, and more. The Bluetooth shutter remote is compatible with iOS 5.0 and higher and all types of android systems.
The tripod legs are designed with a sticking point type instead of flip lock legs. This is meant for the purpose of a quick open. When you're shooting beautiful moments, timing is key. You only get one shot (*insert Eminem quote*), so don't miss it. To give you complete control of the shot, you are also equipped with a Bluetooth trigger. Just choose your position and pose.
You're In Control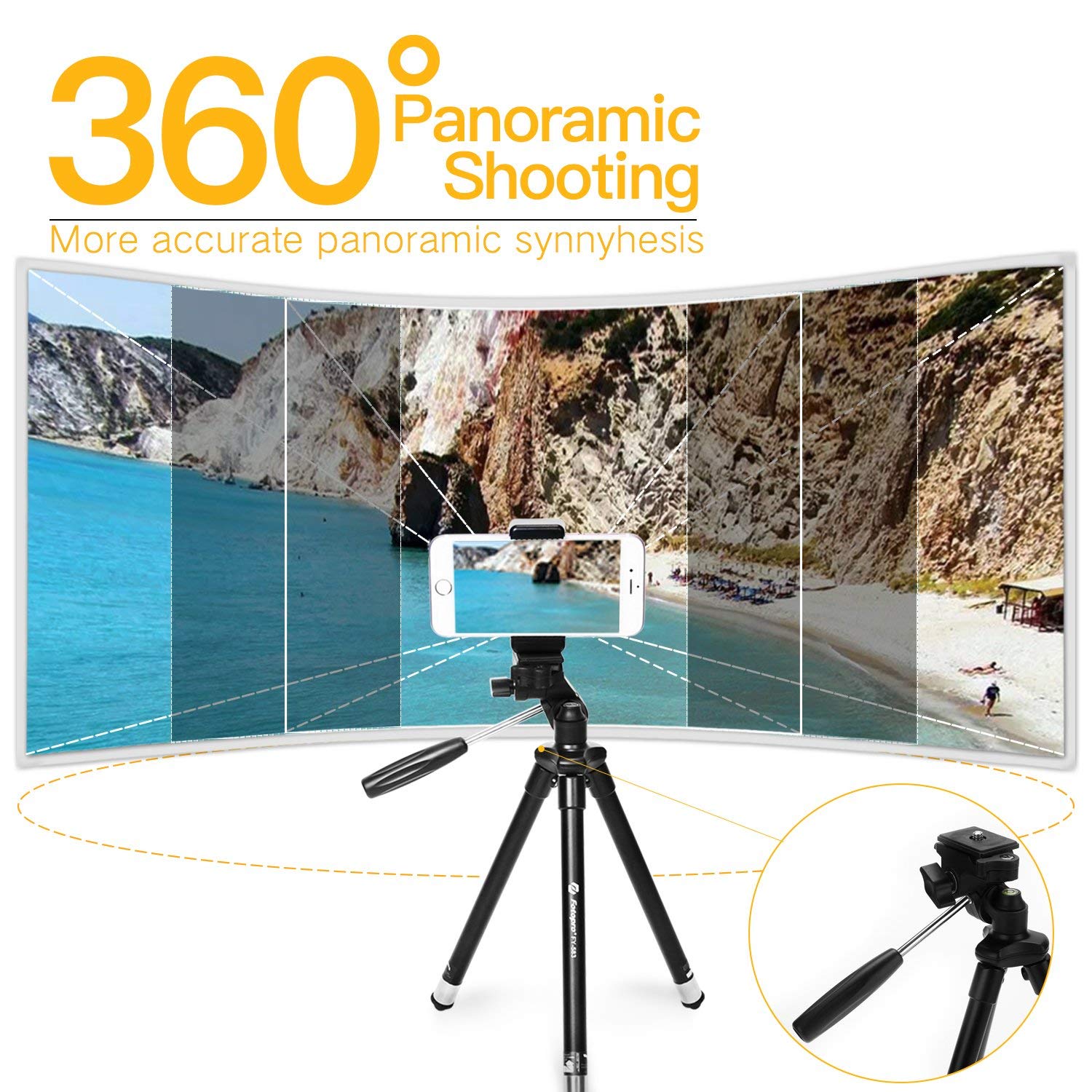 Credit: Amazon
With a 3-way head, you can enjoy both vertical and horizontal shooting. It's all up to your preference. As we previously mentioned, the Standard Fotopro Tripod is compatible with all devices of iOS 5.0 and higher as well as android systems. With a standard ¼" release plate, you can easily connect your digital devices to the stand. The load capacity is 1kg.
Tech Specs:
Weighs in at 0.85 Element

3-way head for both vertical and horizontal shooting

Adjustable height due to 8-section legs

check

Compresses down to 11"

check

Large compatibility due to ¼" release plate; compatible with smartphones and DSLR cameras up to 1kg in weight

check

Bluetooth remote control system; compatible with iOs 5.0 devices and higher

check

The package includes the following: 1 tripod, Bluetooth remote control, phone clip, tripod bag
What Travelers Are Saying About the Standard Fotopro Tripod
It's clear to see that travelers love this highly versatile and functional tripod mount. Countless people say it is one of the best that they have tried. What stands out the most about the Standard Fotopro Tripod is that the design is continuous. It's clear that the legs are sturdy although the phone holder is flexible. Enjoy a sturdy mount and get all the shots you want.
Other iPhone Tripods You May Like
Xenvo SquidGrip Tripod
Have you ever seen a more versatile tripod? Thanks to its solid construction and universal attachment, the Xenvo SquidGrip Tripod offers perfect compatibility. You can count on support whenever you need it thanks to the universal clamp's double attachment. Besides, smartphone cameras have taken leaps and bounds in the last several years.
A simple tripod as an add on item is something everyone can benefit from. This style is easy to use and will result in overall crisper, cleaner images. You don't have to worry about shaky images from trying to take a selfie or video again. What we really love about using a tripod though is that your time lapse videos will come out flawlessly. This is where nothing really beats having a tripod on hand.
The ball head on the Xenvo SquidGrip Tripod allows for 360-degree positioning of your phone. Tell us that's not a game changer. Capture photos or videos from any angle you want. The metal ball construction head even allows you to get some 90-degree bird's eye shots so you can angle your phone in a way that's perpendicular to the floor. This is especially great for product and food photography. Let your photos go anywhere that your imagination takes you.
Tech Specs:
Flexible neo-rubber legs for superior positioning

Portable and durable design

Universal compatibility

check

Infinitely adjustable

check

Lifetime warranty

check

1.5 pounds
Fotopro UFO2 Tripod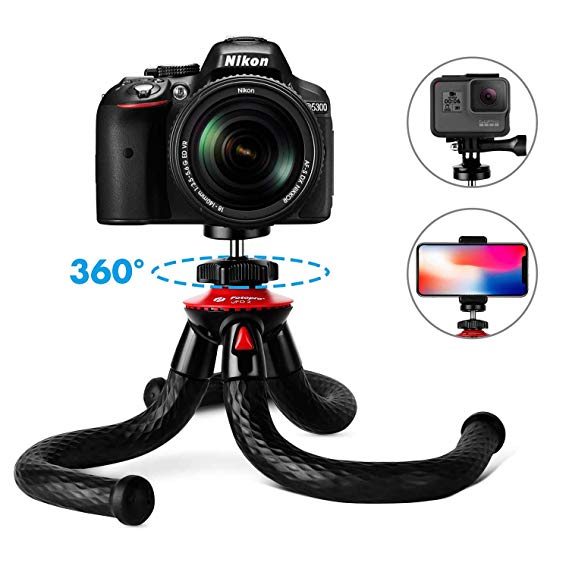 Made with high-density rubber coated legs, the Fotopro UFO2 Tripod can grip just about any surface. In order to attach it, you can bend any of the three legs. Wrap it on a branch, perch it on a rock, or fence post. Wherever you put it, your camera will be held securely. Even slick surfaces aren't a problem for it. Did we mention that the tripod is waterproof? You won't need to worry about it rusting if it gets wet.
Thanks to its ¼" screw, you can attach the tripod to your smartphone, GoPro, or small to medium sized DSLR camera. This tripod holds the Samsung Galaxy S9, iPhone X, iPhone 8, Google Pixel 2, Samsung Galaxy Note 8, and the LG V30. Furthermore, it comes fully equipped with Bluetooth technology. This means you can connect your phone to the tripod and trigger it to take photos with the remote. It works up to 25 feet away.
Tech Specs:
Durable construction

Waterproof coating

360-degree swivel head

check

Lightweight and portable

check

High compatibility
Invest in the Best iPhone Tripods for Your Trip – Standard Fotopro Tripod
Thanks to the Standard Fotopro Tripod, taking better pictures has never been more simple. Now, you can get the effortless looking vacation photos and vlog videos you want. Skip out on the selfies or asking people to take your pic. Style your photos the way you want to. The best iPhone tripods make it easy.
Since this tripod is universal, there is so much you can do with it. You can even pair it with a small DSLR if you'd like. The result is clearer, sharper images and great time lapse videos. We highly recommend the Standard Fotopro Tripod for anyone who is looking to step up their iPhone photography game.
Related Article: The 7 Best IPhone Tripods To Buy In 2018