You might be surprised by how much of a difference something small can make with travel comfort.
Traveling brings with it a fair share of stressors. It is often not easy to pack up and run from one place to the next, often over a long distance. These woes create a stressful travel experience in many ways. Air travel, in particular, is a challenging endeavor. Not only are you faced with the exhausting battle of getting to your flight on time, but also the actual act of enduring the time in the air can be equally difficult. The air is generally not fresh and the seating space is less than ideal. While these are the usual woes of flying, some people fare even worse. It is not uncommon to encounter swollen legs and ankles after spending hours in the air. Compression socks are an ideal solution to this common air travel issue.
The causation of swollen extremities while flying is the lack of circulation. It is good to know that you likely will not develop blood clots, but you can still experience the discomforts of irregular blood flow. If you have a long flight ahead of you, this might be inevitable. However, you don't have to sit bad and endure the pain. If you invest in a good pair of compression socks, you can easily increase blood circulation and reduce the overall swelling you might normally experience. Compression socks are helpful for a variety of different activities, from sports to occupations that have you standing on your feet for a long period of time. The natural pressure these accessories put on your legs keep everything in their place during strenuous situations. We have our top compression sock brands that are perfect to wear for your next flight.
Check out these five best compression socks to use when flying.
1. Actinput Compression Socks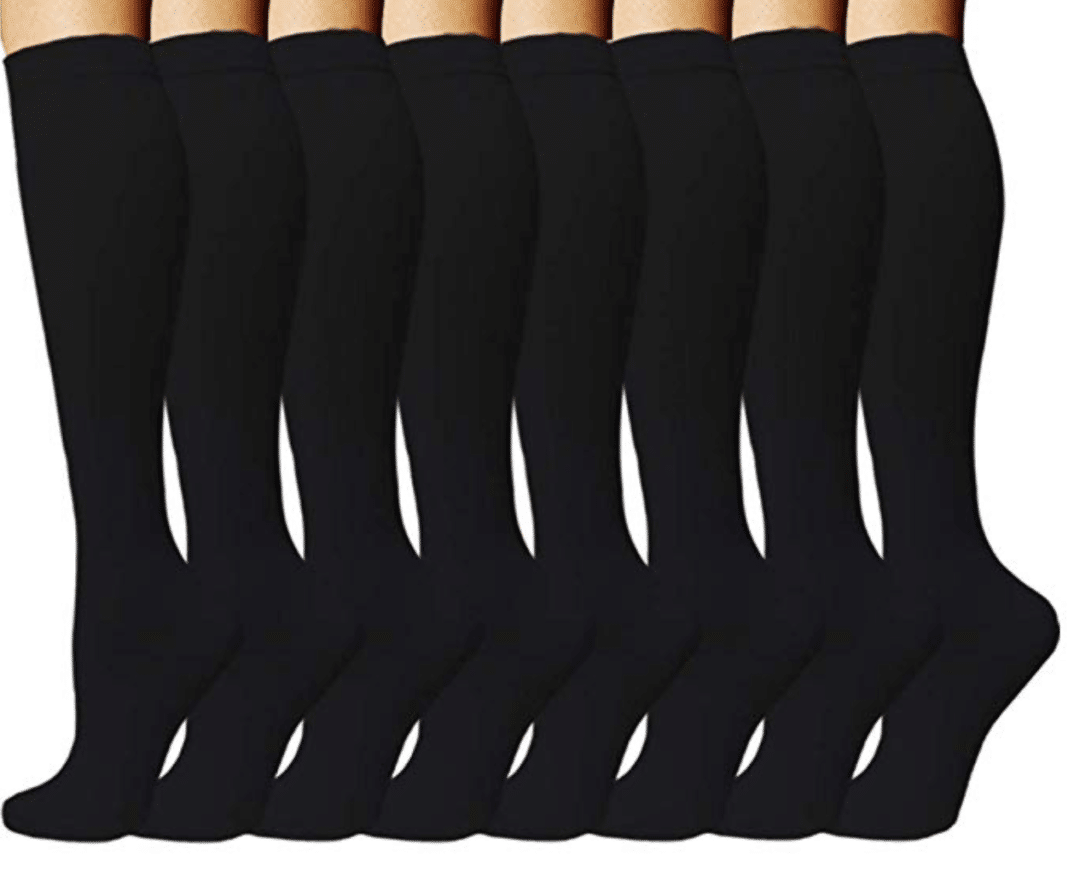 Credit: Amazon
These Actinput compression socks are the most subtle accessory you can find. The sheek black look works well with any outfit combination. If you are looking for something more upbeat, the company also sells some other colors.
2. Colorful Graduated Compression Socks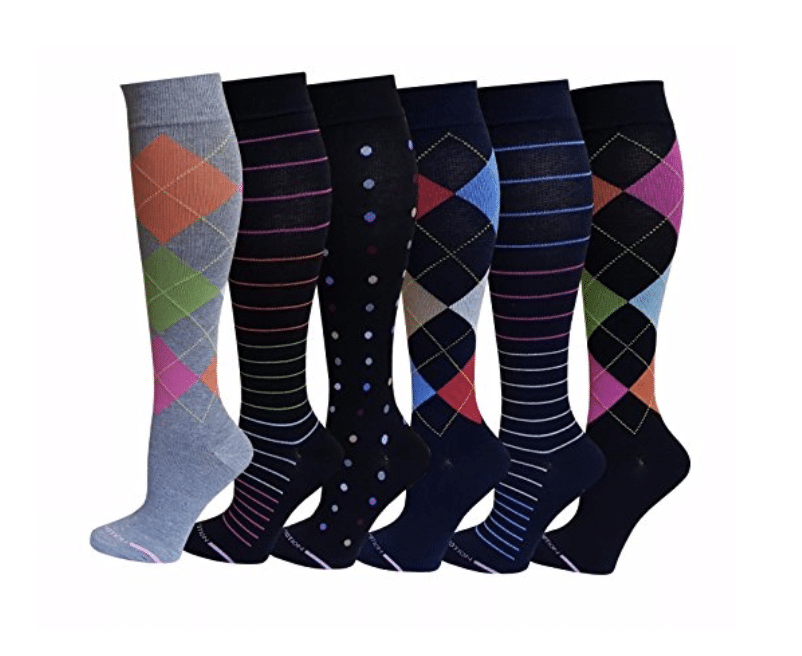 These colorful graduated compression socks are simply adorable. You can purchase these in a package of six, with a variety of patterns. Nobody will ever guess that you are wearing compression socks, because these socks work like an extra accessory to your travel get-up. The stripes and argyle multi-colored patterns are tempting to wear on any occasion. These socks reach just below your knees, so you also don't have to worry about too much bulk.
3. Charmking Compression Socks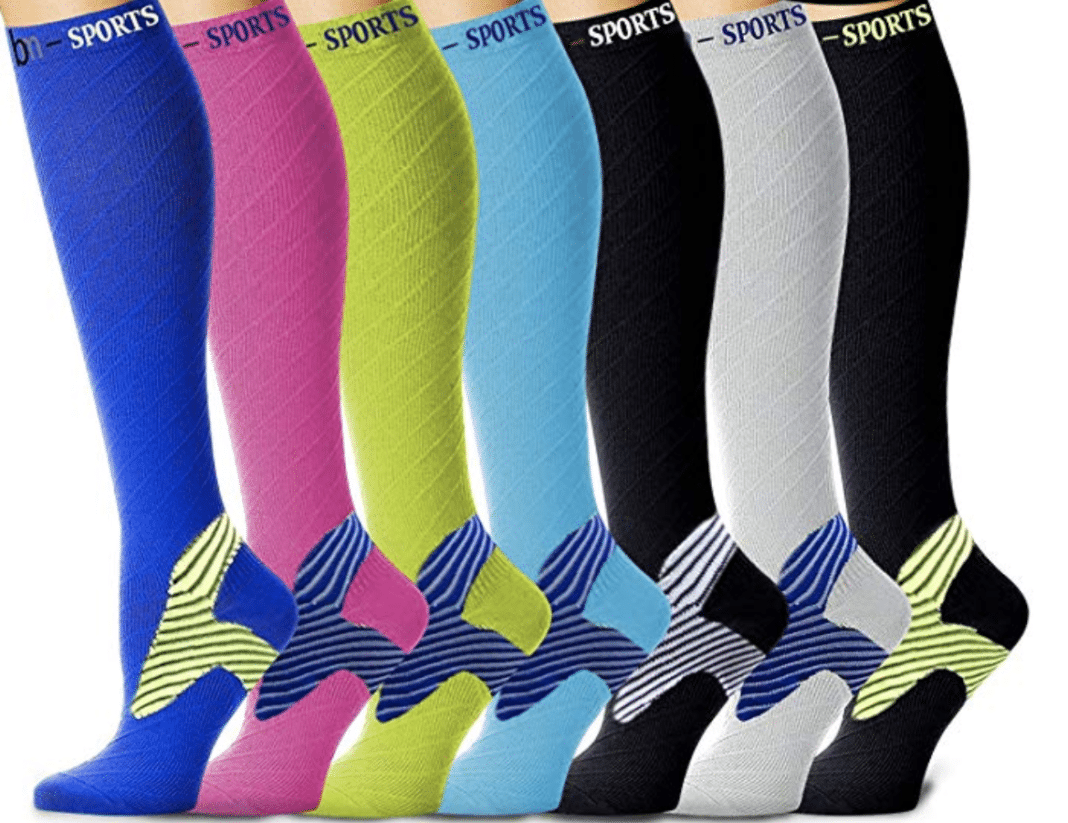 These Charmking compression socks give your travel attire that sporty look you want. Check out the variety of neon combinations, as well as the black and grey compression socks. The sport oriented design of these socks easily wicks away moisture and offers a breathable fabric. With the pack of seven, you can wear these socks for an entire week while traveling.
4. Physix Gear Compression Socks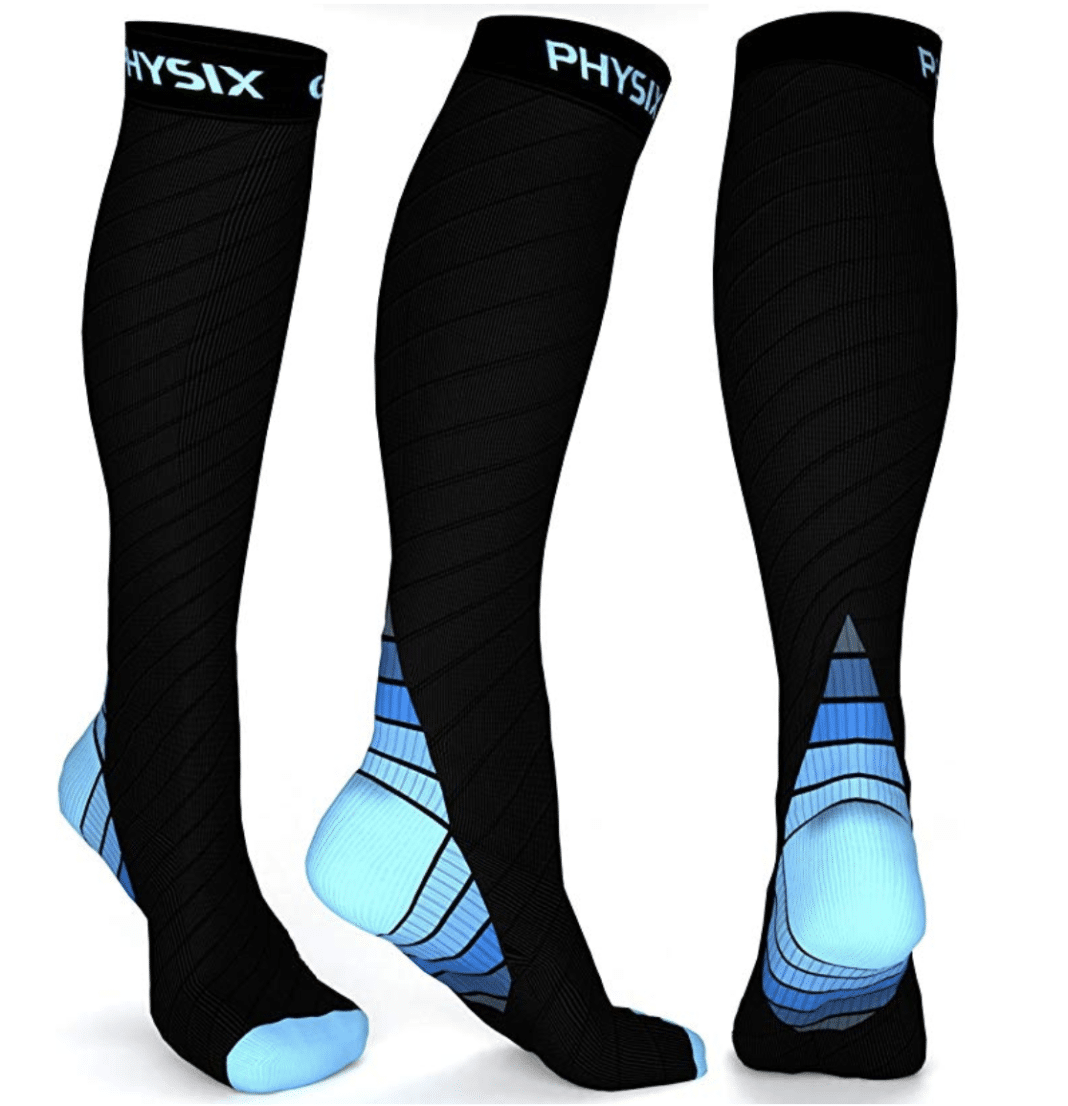 These compression socks are quite possibly the coolest style of socks on the market. The Physix Gear compression socks blend the subtly of black socks with a splash of neon color. You can choose from an array of colors, including yellow, pink, blue, green, and white. There are also pairs of these particular socks that are all yellow and white. These socks are sold by the pair, so you can mix and match what you want accordingly.
5. SB SOX Compression Socks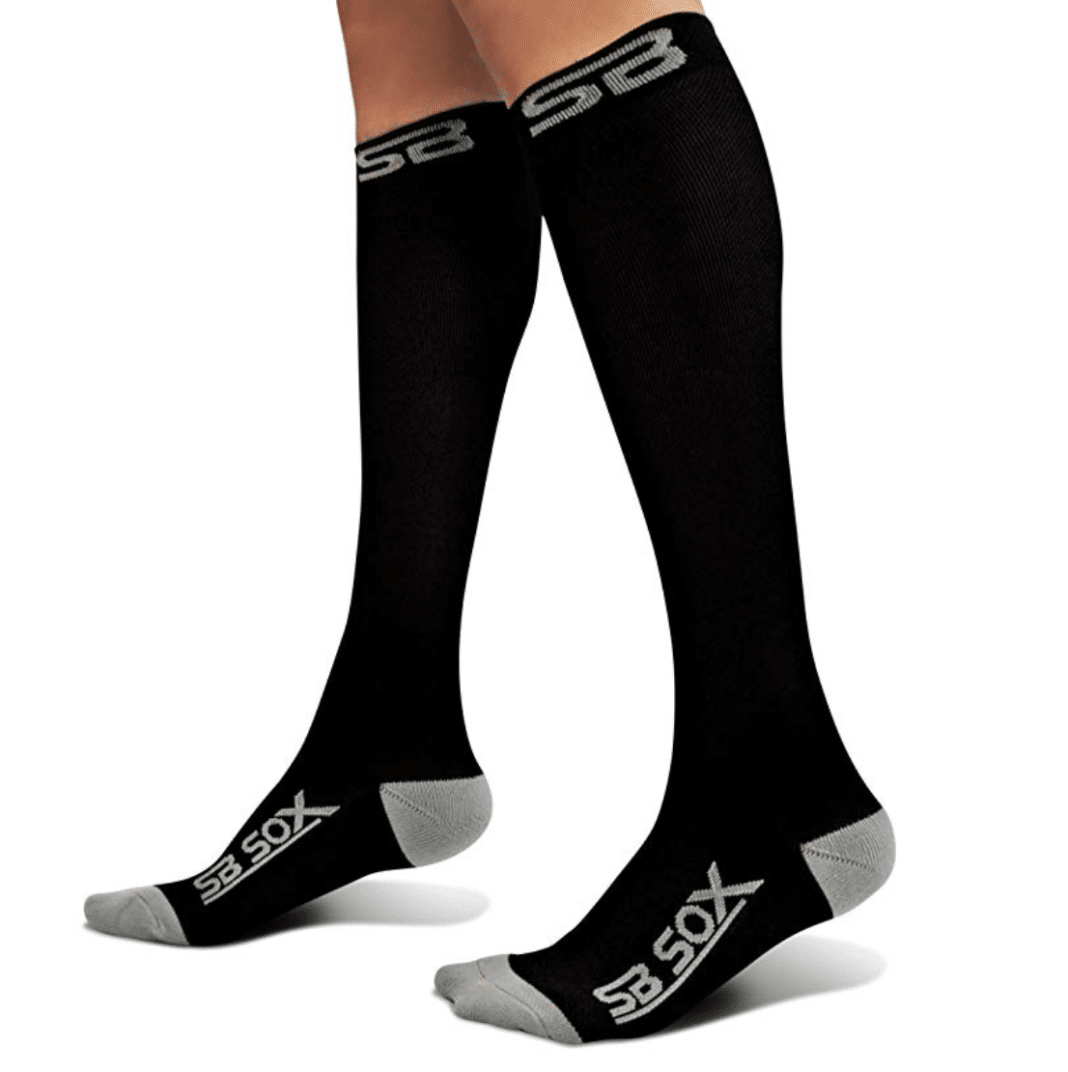 The SB SOX compression socks have what you need to get the perfect fit every time. These socks have a variance of sizes from small through x-large. This way, you do not have to worry about being uncomfortable with socks that are too large or too small. These compression socks also offer a variety of style choices. Choose a subtle black or white, or go for the striped compression socks. Either way, you know you are going to get the perfect fit.
End your travel discomfort when you use compression socks on your next flight.
The perk of these specific compression sock brands is that they are affordable and accommodating. You can spice up your wardrobe with some neon, patterned socks, or just blend in with a black pair. Any of these particular brands are a great place to start if you are interested in having a more comfortable flight experience. The medicinal purpose of these stockings help to push the blood flow back up your leg so you don't have to endure excessive swelling. If you think this sounds too good to be true, go ahead and try out a pair of compression socks on your next flight. You just might be surprised with how much of a difference you feel.
Related Article: 10 Best Compression Leggings For Travel