Experience true Grecian hospitality with a trip to the Grace Santorini Hotel.
Due to Santorini's popularity as a vacation destination, finding great accommodations grows more difficult every day. Since hotels on the Greek island tend to remain close in proximity, privacy when staying can be a challenge. With the Grace Santorini Hotel, you'll forget about the rest of the world when you reside in this hidden gem. Representing a luxury, boutique hotel experience, the Grace Santorini offers comfort and seclusion for every guest.
Let's Talk Accommodations
Suites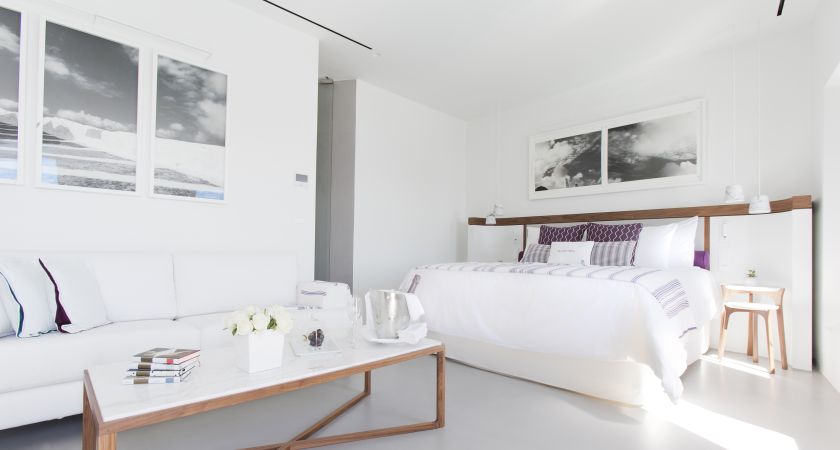 Credit: ​Grace Hotels
The Grace Santorini Hotel offers a number of different suites. Depending on your specific wants, the Hotel will be sure to provide you with the room you desire.
1. The Grace Suite
Credit: Grace Hotels
The Grace Suite represents luxury at its finest. For a couple or a pair of visitors, this suite gives residents a chance to unwind in privacy and comfort. A king-sized bed and en-suite bathroom with a steam bath let stayers feel as if they can spend forever relaxing indoors. The suite's private terrace and pool allow residents to enjoy the Santorini sun in seclusion. Additionally, a lava rock feature gives pretty views as light travels through the space.
2. The VIP Suite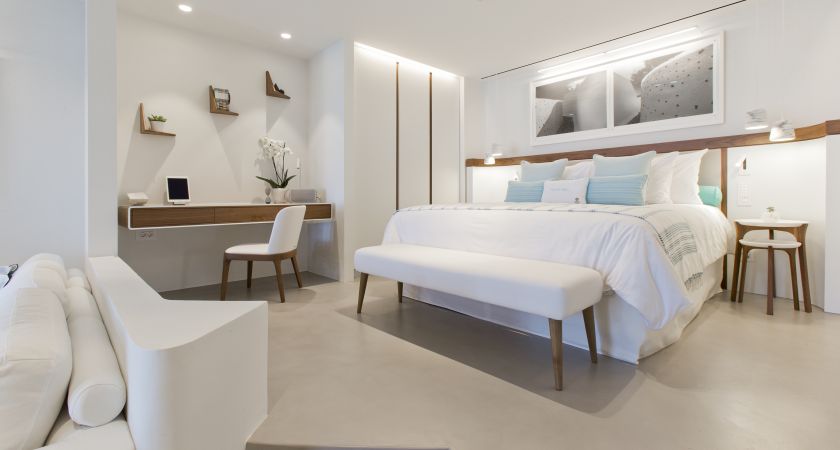 Credit: Grace Hotels
With a name like VIP, this suite assures guests will feel extra special while staying inside the room. The largest terrace and heated plunge pool in the whole hotel can be found inside this unique living space. A large bedroom and wide-screen TV let residents experience true extravagance. If more than two guests will be occupying the space, a built-in sofa may be transformed into another bed.
3. Superior Suites
Credit: Grace Hotels
Nothing beats an unrestricted view of the sea when staying on a Mediterranean island. Inside this room, residents can spend hours staring out at the ocean or sun-bathing on the private terrace. Comfortable loungers provide the perfect place to rest your head and relax on the terrace. With a massive bedroom and cozy, king-sized bed, guests will find no trouble laying down for a restful sleep.
4. Honeymoon Suites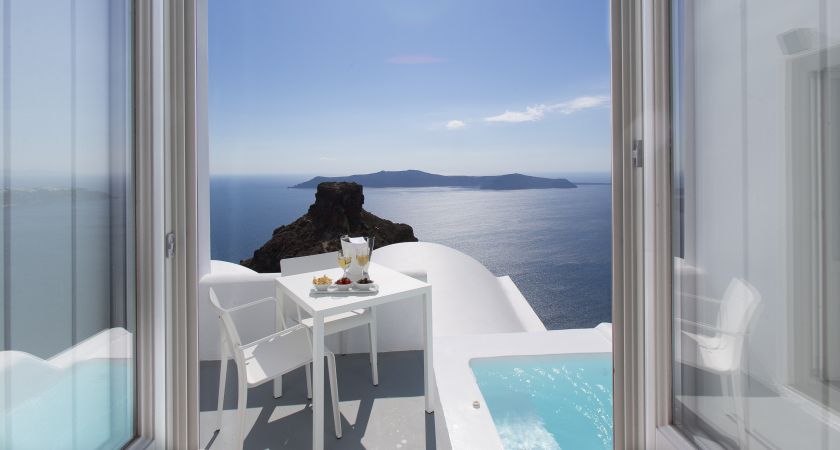 Credit: Grace Hotels
Searching for a dreamy spot to share with your partner? The Grace Santorini Honeymoon suites offer the perfect setting to unwind and enjoy the company of your significant other. Supple furnishings, such as "comfort chairs," provide guests with cozy places to sit and feel at ease. Pretty lighting and a bed adorning romantic decorations produce a beautiful atmosphere to celebrate one's love. An exterior terrace represents an ideal location for watching the Santorini sunset together.
5. Junior Suites
Credit: Grace Hotels
Those wanting to feel a bit more cozy inside their rooms will love the Junior Suites. These smaller spaces might be great for guests who don't want to be overwhelmed by enormous areas. However, these rooms don't skimp on amenities, as they still include king-sized beds and large seating areas. Visitors may choose from junior suites with or without access to a plunge pool.
Deluxe Rooms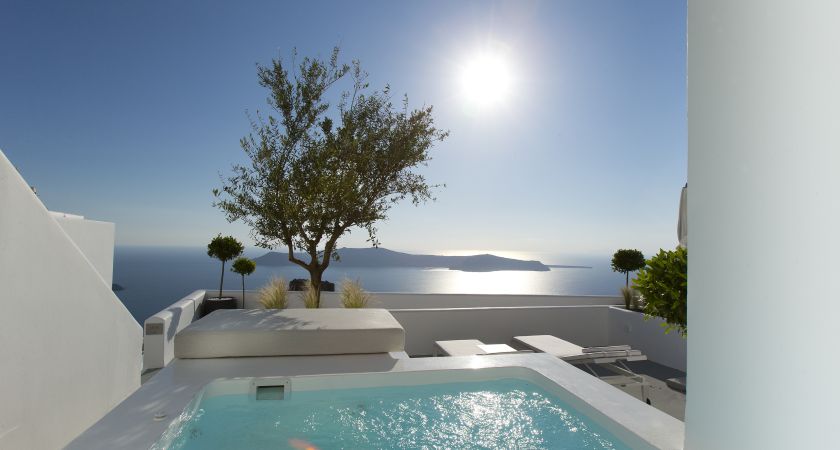 Credit: Grace Hotels
The Grace Santorini Deluxe Rooms include much of the same amenities as the other suites. Just because these spaces run smaller than the previously listed suites, that doesn't mean they aren't as luxurious. Large beds and en-suite bathrooms provide guests with the comfort and facilities they desire. The Deluxe Rooms also offer options to experience access to a private pool and terrace.
The Villa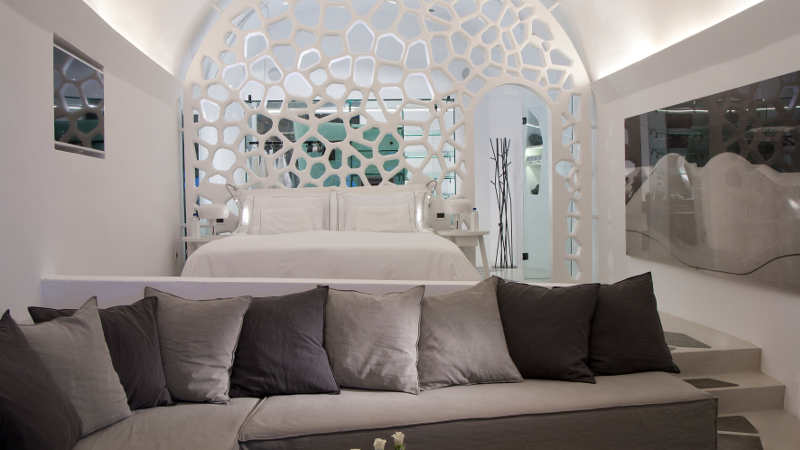 Credit: Grace Hotels
This luxury accommodation is ideal for couples searching for that additional level of privacy. With plenty of space to spread your wings, and a private spa, you'll never want to leave the comforts of this room. The Grace Santorini Villa includes two large rooms, each containing their own king-sized beds and bathrooms. Both of the rooms also provide exquisite views of the Mediterranean, so you can wake up to beautiful sunrises and shining blue seas.
Since the Villa contains its very own spa, the residents can enjoy a variety of rejuvenating services. Spend hours in the steam bath, or massage your body with the Jacuzzi's powerful jets. Visitors may also receive facials from highly talented specialists who know how to treat even the most delicate skin. The spa's secluded location means you'll feel comfortable when experiencing these various treatments.
Though the Grace Santorini Villa also contains a fully-stocked kitchen, the residents may also ask for dishes created by a private chef. Looking to spend a day or two snuggled up with a movie? The Villa includes a variety of technology, like a 3D TV and wireless sound system, to satisfy any binge-watching desires.
When those staying in the Villa decide to venture outdoors, gorgeous outside spaces provide breathtaking views of Santorini. Sun decks face the ocean and allow residents to bask in the glow of the sunset while seated in comfy chairs. A heated pool and fireplace also allow you to stay warm when the nights bring cooler temperatures.
Let's Talk Dining
Santoro Restaurant
Credit: Grace Hotels
Guests hoping to dine at an open-air restaurant will love the Santoro dining option. The Grace Santorini Hotel's special restaurant offers splendid views of the sea while guests enjoy their food. Awarded the ""Golden Toque" in 2017, the Santoro offers the best that Greece has to offer in haute cuisine. Emphasizing Mediterranean fusion, the dishes created by chef Spyros Agious represent the ultimate in taste and sophistication. Guests may choose from a delicious daily menu or ask for the chef to craft specialty treats. Spend a night gazing at the moon while drinking a fancy cocktail. The Santoro offers a gastronomic experience like no other in Santorini.
363 Champagne Lounge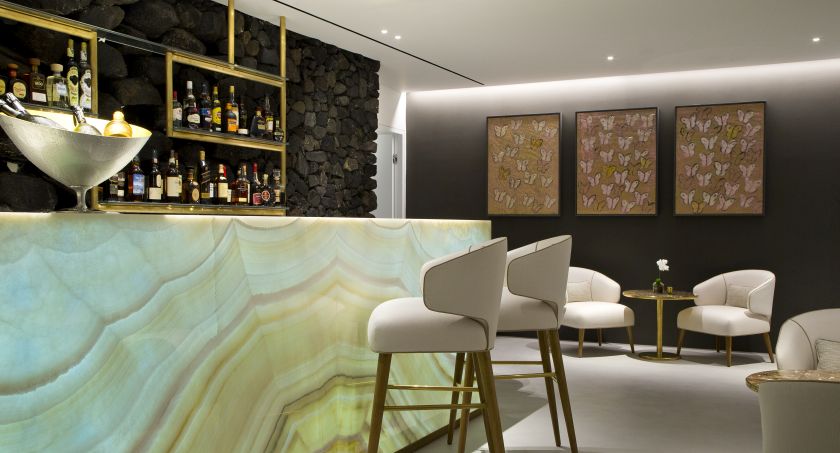 Credit: Grace Hotels
The 363 Champagne Lounge provides the ideal opportunity for guests hoping to try specialty alcoholic drinks. Named as the "Best Hotel Bar" in 2017 by the European Hospitality Awards, this bar offers a vast array of tasty and unique cocktails. Champagne-lovers will rejoice at the Lounge's variety of different types of the drink. Make sure to try the signature Grace Santorini cocktail, which was designed by world-famous mixologist, Salvatore Calabrese. Consisting of apple, pear, lemon, and vodka, the flavors present a refreshing taste for guests' palates. Besides cocktails, the Lounge also lets residents choose delicious canapes to accompany their drinks.
Let's Talk Amenities and Activities
Bespoke by Grace Experiences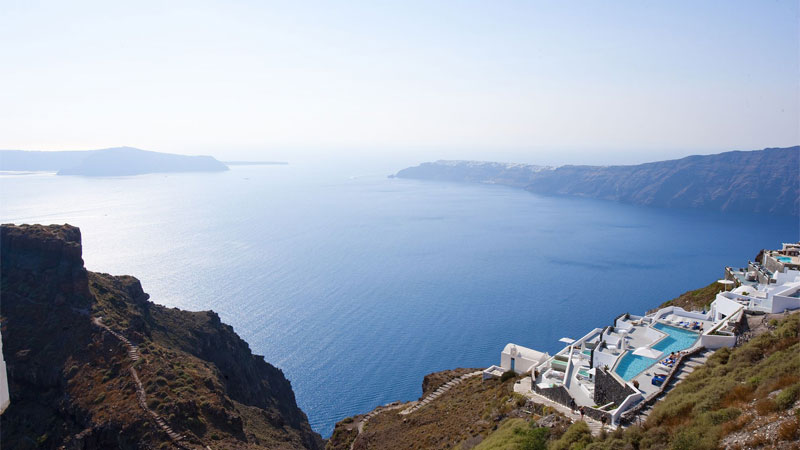 Credit: Grace Hotels
Even though the hotel provides everything a guest needs, the Grace Santorini wants visitors to explore the local area. In doing so, the hotel offers the chance for tourists to encounter the culture of Santorini with special travel packages. These "experiences" might involve food, family adventures, or romantic journeys.
The Wellness Experience foregrounds relaxation, with activities including yoga instruction and meditation. A private yacht tour allows guests to see Santorini from a different perspective. The boat ventures as far as Mykonos, so you can truly get a feel for the islands of Greece. Any wine aficionados should join the Wine Tour, which allows tourists to taste the unique flavors of the island's grapes. Due to the volcanic eruption thousands of years ago, the fruit retains distinct flavors from growing in the ashy soil.
One of the more unique experiences offered by the Grace Santorini is learning to photograph with a professional photographer. Guests can gain an understanding of how to capture photos of the outdoors environment. This experience might give you inspiration to venture further into photography as you learn basic skills.
Additionally, the Wonders of Santorini experience remains ideal for history buffs. Akrotiri, or the "Minoan Pompeii," shows tourists glimpses of a distant past through ancient frescoes and architecture. After touring the site, guests can enjoy a seafood lunch nearby at the Spilia tou Nikola tavern. From discovering archaeological sites to learning how to photograph the environment, you'll find an activity worth experiencing.
Personal Room Options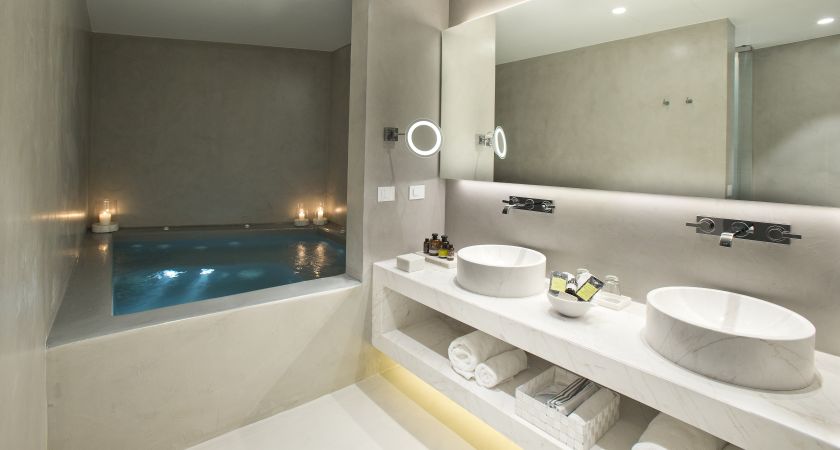 Credit: Grace Hotels
The Grace Santorini Hotel prioritizes the desires of its various guests. Following this mantra, visitors may plan their room options according their specific wants. Before arriving, guests can be assured that they will have everything they need. Pillow arrangements, bathroom products, and fragrances may all be coordinated via the guest's choosing. You could even ask for a bottle of champagne to celebrate special moments like a wedding anniversary.
Concept Store
Inside this unique shop, the hotel provides tons of hand-crafted items from the local area for guests to purchase. You'll find amazing gifts to commemorate your Santorini experience or to give to a family member back home. The items for purchase include clothing, accessories, and jewelry. Many beautiful figurines, created by the Museum of Cycladic Art in Athens, make perfect souvenirs. Charms influenced by Cycladic ancient rock allow buyers to take a piece of Grecian history with them.
The clothing styles found in the store embody contemporary and traditional elements. With its brand named Zeus+Dione, the garb takes inspiration from the Goddesses of love and youth. Guests can choose from artisanal clothing and swimwear that combine mythic beauty and modern flair. Jewelry options designed by Pentheroudakis exemplify elegance and simplicity. Those who shop inside the Grace Santorini Store will be sure to walk away with a unique and exquisite item.
Exercise Opportunities
Credit: Grace Hotels
Yoga and Pilates sessions provide guests with the chance to stretch their muscles at the Grace Santorini Hotel. Visitors can enjoy daily complementary lessons in the hotel's studio. You might also book private sessions with one of the instructors in case you desire some privacy. These private lessons can be booked outside the studio, such as outside on the terrace. In this manner, guests may workout with views of the sky or sea.
Additionally, a fully-equipped gym ensures guests won't have to forgo their usual workout routines while vacationing. With state-of-the-art equipment, the gym includes tons of machines to help you sweat. Elliptical trainers and recumbent bikes offer less intense cardio experiences for those who want low-impact exercise.
Concierge Services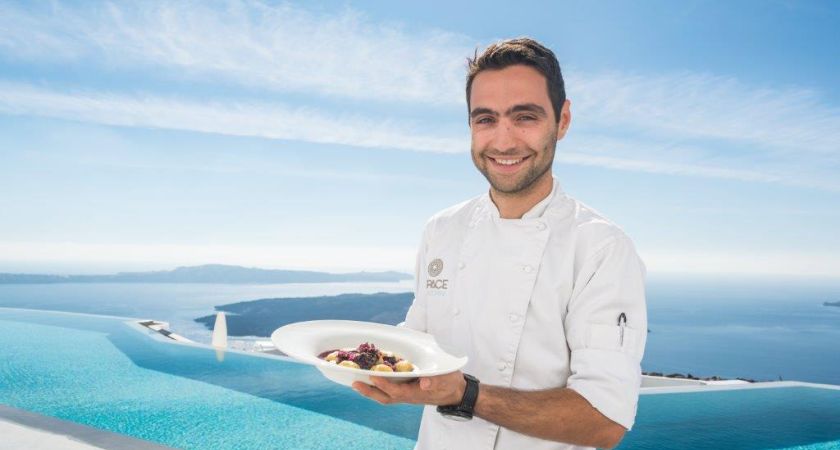 Credit: Grace Hotels
When guests decide to explore all that Santorini offers, they can ask the concierge to help plan an adventure. Airport and porter services afford guests the chance to take an overnight trip to another Grecian island. Helicopter charters and private cruises might also give visitors new perspectives of Santorini. Additionally, activities like horseback riding and water sports can be arranged whenever the guest desires. Even if you just need a recommendation to a great restaurant, the concierge will provide the information with ease.
What Travelers Are Saying About Grace Santorini
Visitors of the Grace Santorini raved about the hotel's luxurious service and amenities. The personalized rooms and accommodating staff made guests feel at ease during their stay. Guests were delighted by the surprise gifts they found in their rooms each night, such as chocolates and liquor. Delicious breakfasts by the pool and incredible dinners at the Santoro offered visitors unforgettable gastronomic experiences.
One of the highlights of the Grace Santorini were the beautiful views found in all the rooms. Many guests loved to watch the sunset while relaxing in a lounge chair every evening. Those who also liked to stay active found the gym to be a great way to burn off some energy. The size of the main swimming pool was an additional plus, as it afforded tons of room for swimming. One drawback seemed to be the large number of stairs necessary to climb to the hotel. However, guests relayed that this just meant they were forced to be more active during their vacation.
Cast your worries aside and bask in the luxury of one of Santorini's finest hotels.
The island of Santorini affords some of the most beautiful scenery in the world. What better way to experience the Mediterranean region than staying inside a lavish hotel. With award-winning dining options and luxury rooms, the Grace Santorini Hotel offers guests an unforgettable staying experience. If you're looking to discover the best of Greek hospitality, don't stay anywhere else.
Related Article: 8 of the Most Luxurious Hotels in Santorini