You don't have to break the bank to stay at these best US Virgin Islands all inclusive resorts.
Are you craving a winter holiday trip? We've got the best news you'll hear all season. You don't need a passport or a hunk of cash to head here. It's a gorgeous, great pick for the last minute vacation. And the news just keeps getting better. To take the work out of it for you, we've scoped out the best US Virgin Islands all inclusive resorts. All you have to do is kick up your feet, order a pina colada, and let the sound of the smooth ocean do the talking.
Deep in the heart of the Caribbean, you'll find these three islands. Sugary beaches, a scenic national park, and vibrant turquoise waters await you. Pick a port, any port. Travelers can take their choice between the largest island of St. Croix, the busiest port of St. Thomas, and St. John, a beautiful sliver – aka 9 miles by 5 miles spot (75% of which is protected land).
For those seeking some serious R&R, you'll be sure to appreciate this stress-free escape. Leave your inbox behind you, sign out of social media, and feel free to press snooze as many times as you please. The less time you spend thinking about work, the more time you can spend swimming among colorful reefs and exploring secret coves. Count us in.
Here Are Our Picks for the Best US Virgin Islands All Inclusive Resorts
1. Divi Carina Bay Resort & Casino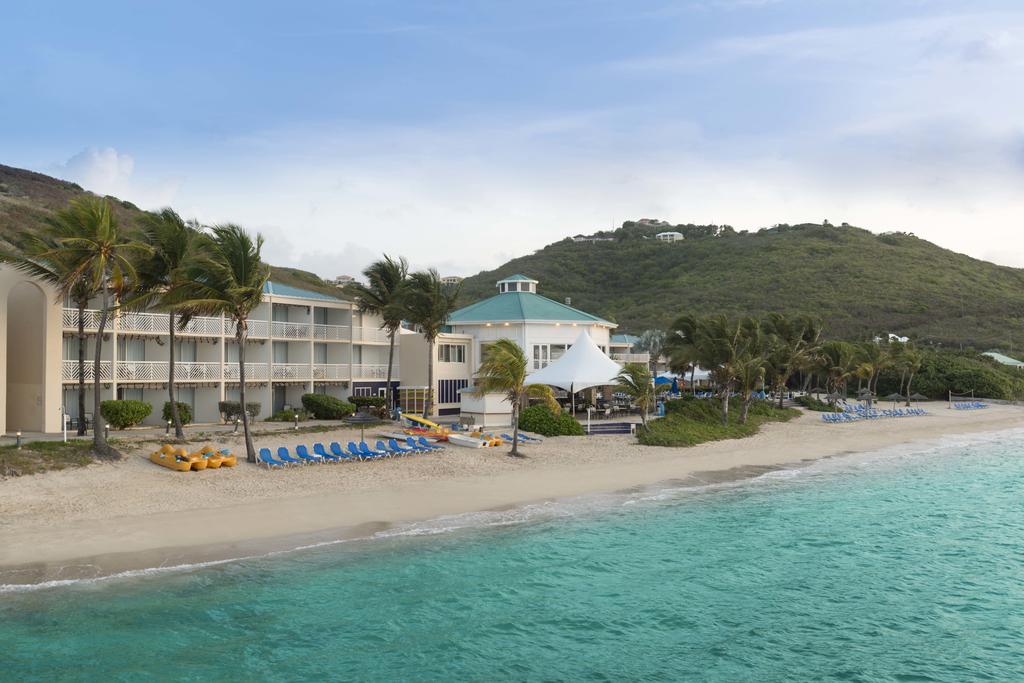 Credit: Divi Carina Bay Resort & Casino
It's a challenge to find authentic US Virgin Islands all inclusive resorts. While this might sound confusing, hear us out. These type of resorts are far and few between on the island. We recommend staying for at least three nights to try and make the most of your time on the island. After all, there are plenty of opportunities for horseback riding, snorkeling, diving, mini golf, tennis, jet skiing, enjoying the many pools, and more.
For your next vacation, why not treat yourself to beachfront rooms? Choose from one of four beautiful styles. All guest rooms feature the following amenities:
Air Conditioning

1 King Bed or 2 Queen Beds

Refrigerator

Coffeemaker

Microwave

Satellite Television

In-Room Safe

Hairdryer

Telephone with Voicemail
Since they are undergoing renovations, Divi Carina Bay Resort will reopen in the late fall of 2019. We are excited to see the changes they are making to the property. Be sure to check out their website for additional information.
2. Bolongo Bay Beach Resort on St. Thomas
Credit: Bolongo Bay Beach Resort on St. Thomas
Yes, a swim-up bar is a completely necessary part of your tropical getaway. Greetings from Bolongo Bay. After the islands were damaged by Hurricanes Irma and Maria a few years back, this hotel was shut down for a long time. They reopened on June 1, 2018, with the addition of a new restaurant (aka Iggies Oasis) located poolside. So come and enjoy good times, fantastic food, and the friendliest of people.
This isn't your run of the mill hotel. As one of the best US Virgin Islands all inclusive resorts, Bolongo Bay Beach feels like you're living among friends. There are no impersonal, cheap buffet style dining halls, you can drink your beer straight out of the bottle, and enjoy the lively parties of the island by night. This is a true Caribbean beach resort through and through. If you're looking to immerse yourself in the island life, come taste and see. You'll find this lovely and spacious resort sitting along a long golden sand beach where the palm trees bend and sway under the balmy breeze.
After you've gotten your fair share of snoozing under the sun, there are plenty of activities to take part in. This beach is the hub for all of your entertainment needs. Whether you're looking to enjoy them on land or sea by day or night, there is something for everyone. Experience some of the island's most popular activities right at Bolongo Bay. Activities and amenities include the following:
Complimentary and unlimited use of non-motorized water sports, including paddle boards, Hobie Cats, kayaks, windsurfers, aqua tricycles, swim mats, and snorkel gear

Two seaside restaurants

Famous weekly Snorkel Booze hunt weekly (you find it, you keep it)

Free Wi-Fi property wide and in rooms

Freshwater pool with swim-up bar

Live entertainment several nights a week

Sailing trips on our award-winning 53' catamaran Heavenly Days*

St. Thomas Diving Club, a PADI 5-star training facility* (Currently closed, Email @stthomasdivingclub.com for more information)

Boutique and tour desk

Cardio workout room
Last but certainly not least, the rooms are amazing. Take your pick from 25 beachfront rooms, 39 oceanfront rooms, or 10 value rooms. Each style guest room comes fully equipped with the amenities you need to experience real comfort at your home away from home. Amenities include cable TV, a refrigerator, telephone, coffee maker and complimentary coffee, hairdryer, iron and ironing board, and a safe in the room to store your valuables if you'd like.
3. Caneel Bay on St. John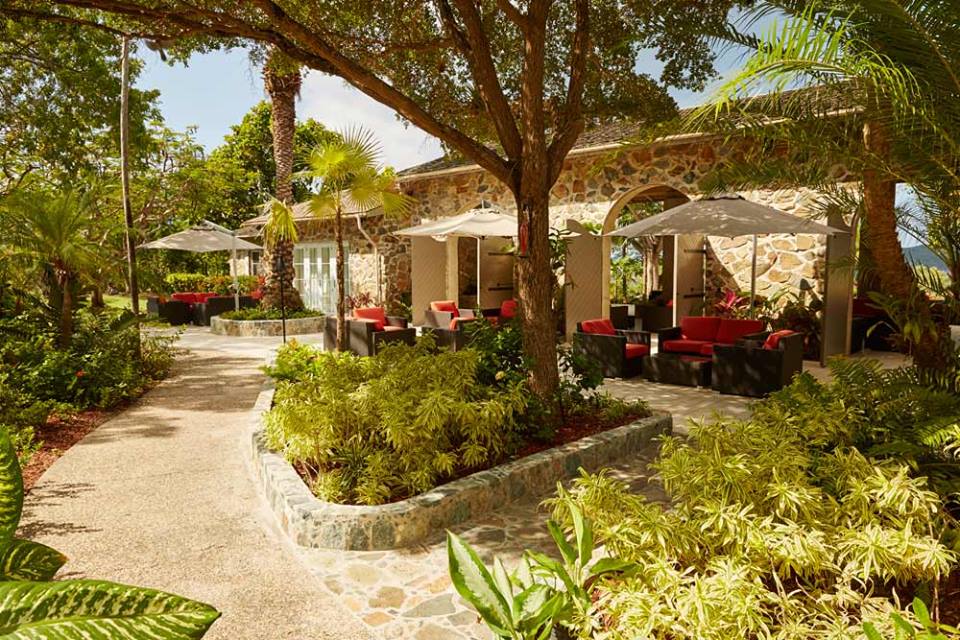 Credit: Caneel Bay on St. John / Facebook
Unplug and relax at Caneel Bay on St. John. Tucked among the lush Caribbean foliage on a quiet beach, it's easy to see why this is one of the best US Virgin Islands all inclusive resorts. Faithful to the founder's vision, all 166 rooms here offer the perfect place to escape the hecticness of life and get back to your zen.
We love that rooms are free from not only televisions but telephones too. Removing these distractions helps you to live in the moment and appreciate your surroundings so much more. To complement the island's beauty, the rooms reflect native design influences. Caribbean stone, natural wood, hand-crafted furniture pieces, and rich textiles all lend to a calming ambiance.
When it comes to dining, there is no shortage of good things. The Caneel Bay culinary team oversees all of the resort's dining operations for the Turtle Bay Estate House, Caneel Beach Bar & Grill, and Caneel Beach Terrace. Can't pull yourself away from the comfort of your room? No problem. They also offer both room service and private dining options, as well as banquets for special events.
The folks at Caneel Bay on St. John are always seeking out innovative ways to infuse Caribbean flavors with modern taste. The result is a menu chock full of healthy dining options and nutrient-rich food. Nothing but the freshest possible ingredients are used. Menu items include plenty of Mahi Mahi, Conch, and Caribbean Lobster. Needless to say, we're happy.
Book Your Stay at one of the Best US Virgin Islands All Inclusive Resorts
While many people think that a vacation to the US Virgin Islands is too expensive and they can't afford it, that doesn't have to be true. Planning ahead or booking a trip for the shoulder season and off seasons are good ways to save money. While the food on the island is expensive, booking a stay at one of the top US Virgin Islands all inclusive resorts will get you the most bang for your buck. After all, what's better than knowing that food, activities, and luxurious amenities are all included? Treat yourself to breakfast on an oceanfront patio, a morning massage, and afternoon water sport excursions.
Travelers often come to the Caribbean for the all inclusive experience. When you have activities and all the meals you could want at the property, it takes a lot of stress and guesswork out of the planning. However, some hotels can serve up less than great food or lack the kind of amenities you want. Luckily for you, we have visited plenty of places to sample the culinary scene, indulge in the amenities, and take part in the activities. Our picks have it all and then some.
We hope you enjoyed reading our article on the best US Virgin Islands all inclusive resorts. As you can see, this vibrant destination offers so many opportunities for those seeking a trip of both relaxation and adventure. Some of the best beaches in the world are right here.
Our choices for the top accommodations offer the best of both worlds – rest and time for exploration. Whatever type of vacation you are seeking, you will find it here. From adults-only resorts all about romance to family fun options, we've helped you narrow down your choices to only the highest caliber places of accommodation.
These resorts are right in the middle of it all, offering not only a unique place to experience the local wonders but also a home away from home. Book yourself a vacation to remember and make memories to last a lifetime. Which one of the resorts on our list did you like the most? Let us know in the comment section below.
Related Article:​ 7 Of The Best British Virgin Islands Resorts