Enjoy portable comfort anywhere with the Topelek air mattress.
Kick back, relax, and get a great night's sleep on your next camping trip. You've found the comfort bedding for various occasions. This double high structure gives you the feel of an actual bed. With the Topelek Air Mattress, you'll be comfortable anywhere you go. While our primary use for this bed is camping, it's also great to use when guests come over.
We're not all cut out to rough it on the cold, hard ground. Bringing along an air mattress and pump makes all the difference in the quality of sleep when you're camping. The trick is that you've got to invest in a good one. Those of us who've been camping more than once or twice know that some air mattresses aren't the best quality. And that means you'll wake up with a sore back on a deflated mattress in the middle of the night. Luckily, we've found the quality item you need in the Topelek Air Mattress.
TopElek Air Mattress Features and Benefits
Let's face it camping is only fun if you have the right gear. If you've ever gone on a trip and forgotten a good camping pillow, sprung a leak in a flimsy air mattress, or not packed right, you'll know what we mean. While we're all about spontaneous trips, it's helpful to have a few key things to keep on hand. We're big believers in keeping beach blankets and firewood in your trunk at all times. Similarly, having a high-quality air mattress in your storage goes a long way.
With all the different brands and style on the market, it can be hard to narrow it down. Luckily, we've had a few Goldilocks and the Three Bears moments for you and found just the style. The Topelek Air Mattress is more than just affordable. It's a comfortable, durable, high-quality product that campers will use for years to come. In this article, we will take a closer look at the features and benefits of this camping bed to see if it's the right fit for you.
Firm Style with Coil Beam Construction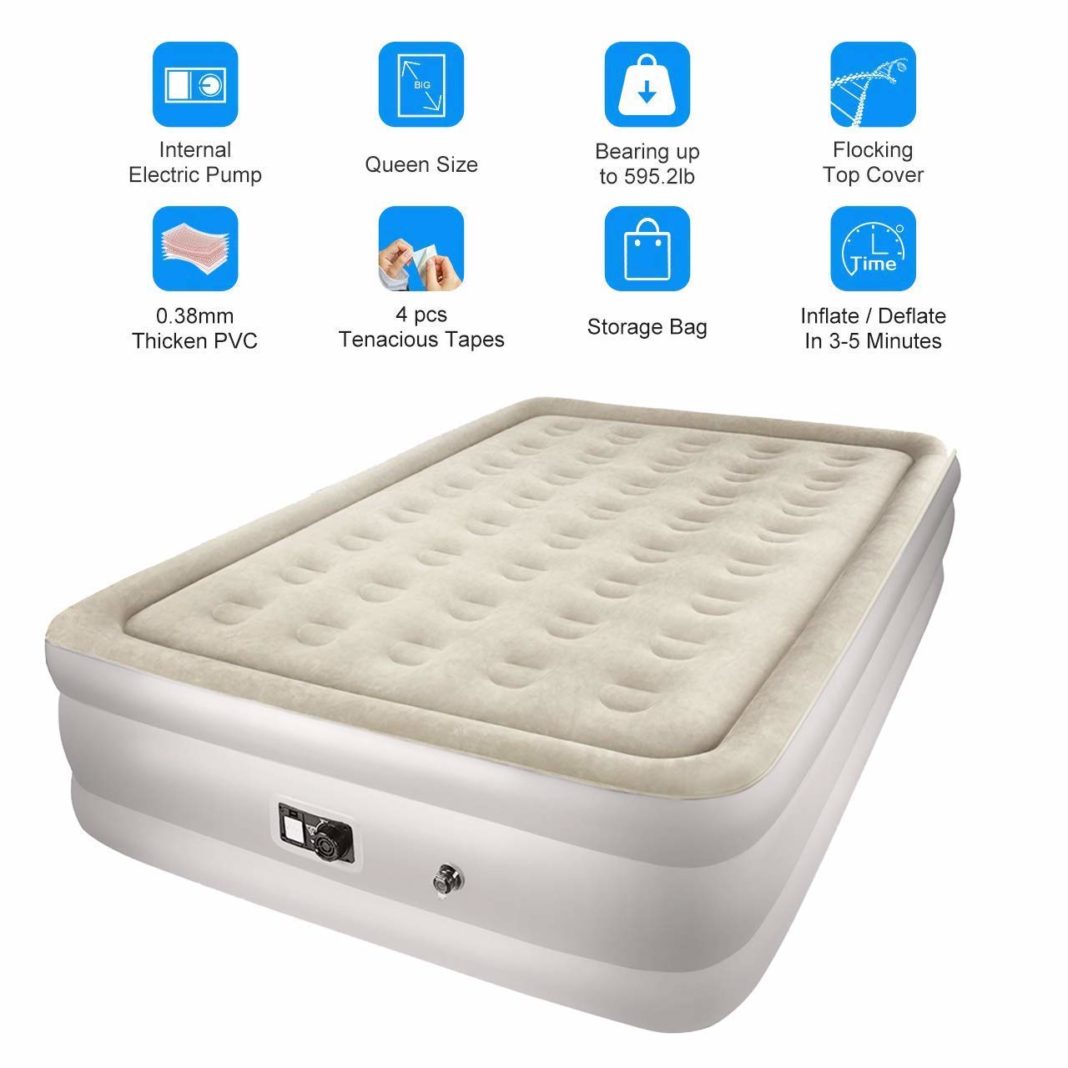 Credit: Amazon
Have you ever woken up completely sunken into the middle of your air mattress? A rough night's sleep camping means a sore back, achy neck, and a rough time hitting the trails the next day. You won't have to worry about any of that when you use the firm Topelek Air Mattress. With unique coil beam construction, indented sides, and a waterproof flocked top, you can sleep soundly and supported. In addition, these indented sides keep your sheets and sleeping bags from slipping off the sides and from making those annoying squeaky noises.
Double High Structure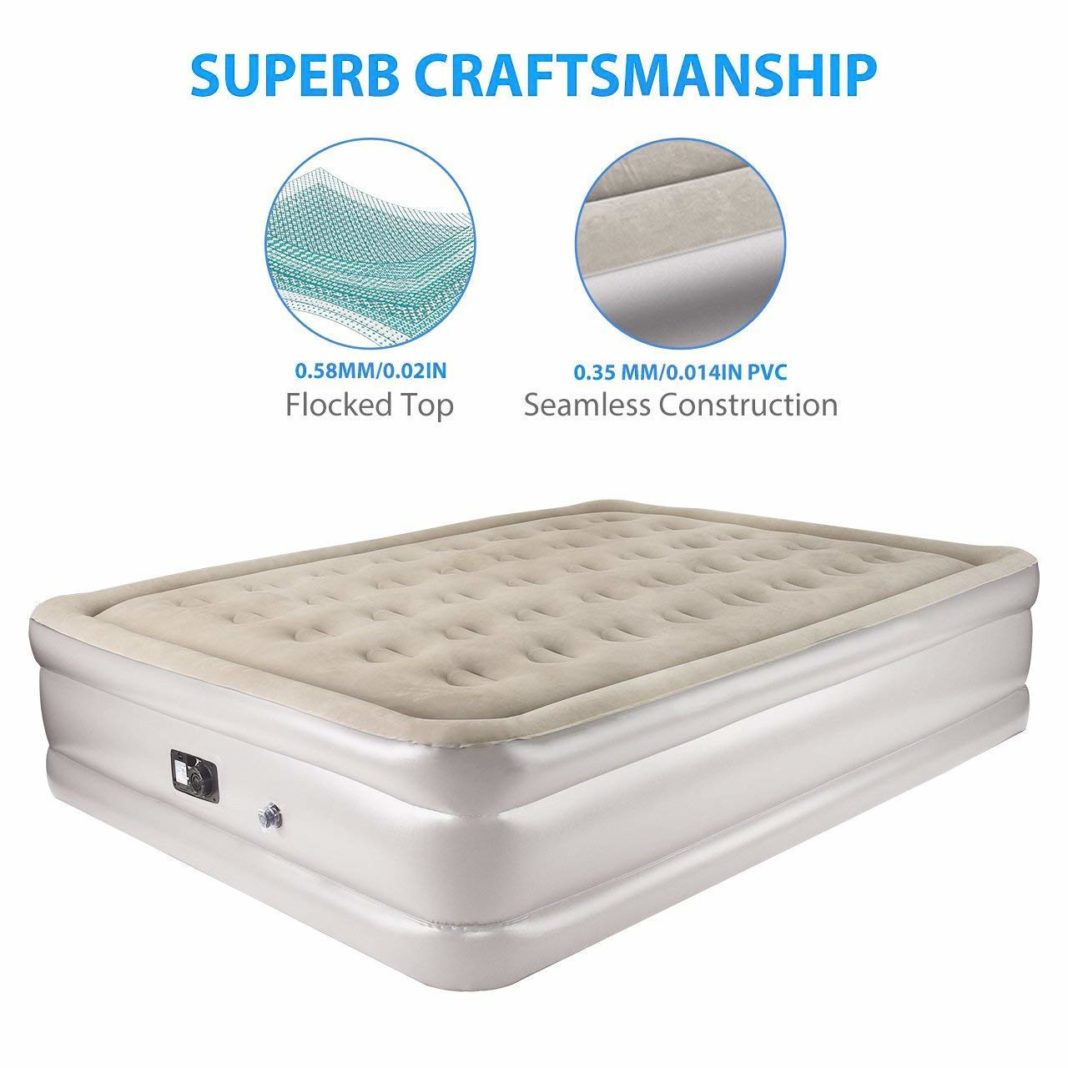 Credit: Amazon
When it is fully inflated, the Topelek Air Mattress has dimensions of 80" x 60" x 19". Since this is a pretty tall air mattress, something to be mindful of is the interior height of your tent. You don't want to be pressed up near the roof when you're sleeping. It's good practice to measure out the interior dimensions of your tent before you invest in a good camping air mattress. With this said, we love the extra height it offers. It makes it feel like you're sleeping on a real bed instead of out and about in the great outdoors. You still get to enjoy the views of the stars though. So who's really winning here?
Quality Material
This air mattress is constructed from high-quality PVC material. When the air mattress is fully inflated, the PVC measures 0.38mm, allowing you to rest in comfort. The Topelek Air Mattress is capable of supporting up to 600 pounds at its max capacity.
Easy to Use
Credit: Amazon
You can have a mattress in minutes. We're happy to say that the Topelek Air Mattress comes with everything you need for hassle-free setup. You won't even have to bring along your portable pump. It comes with a built-in electric pump and power cable, so you can hit the hay in five minutes or less. After spending a long day on the road and hiking, that's sweet music to our ears. The control dial also makes it easy to inflate or deflate the bed. So, you can adjust the firmness as needed. A serene, restful night is right here when you need it.
Here Are a Few Things to Note
So there are a few important things to note about your new camping purchase. First and foremost, know that it's natural for the material of the Topelek Air Mattress to stretch the first few times of use. You may also need to use just a bit of extra air to inflate it for the first couple of uses. After you finish inflating the bed, make sure that the pump is in the OFF position and the valve is completely sealed. If you try to use the pump for fifteen minutes or so and it stops working, allow it to cool down for 5 to 10 minutes before using it again.
Tech Specs:
Soft flocking top layer (waterproof)

Can support up to 600 pounds

Inflates and deflates in around 3 minutes

Easy to store (portable)

Dimensions: 80" x 60" x 19"

Coil beam construction

Indented sides to prevent mattress sheets from slipping off and squeaking

Built-in air pump with valve

High-quality PVC material
What Travelers Are Saying About the TOPELEK Air Mattress
The Topelek Air Mattress is more than just a comfortable, convenient sleep solution. It's actually therapeutic since you can inflate it to your own comfort level, the design is such that it will either cradle you or give you the firmest of support, and it accommodates a memory foam topper well if you have the need. Travelers say that this mattress is probably the greatest camping purchase they have ever made on Amazon. If you go camping regularly, it's definitely worth it to have one of the best camping air mattresses around.
Having one that self inflates and self deflates will make your life so much easier. Plug it in, turn the dial, wait a few minutes, and get ready for bed. Some said they even used it for an entire week vacation and it held up well. There was no leaking at all. It only takes 1 minute to blow it up. In addition, it is pretty high as well so it does look like an actual bed once you have the comforter on it. The overall quality of the Topelek Air Mattress is fantastic.
Alternative Camping Air Mattresses to Consider
Pavoni Car Sleeping Mattress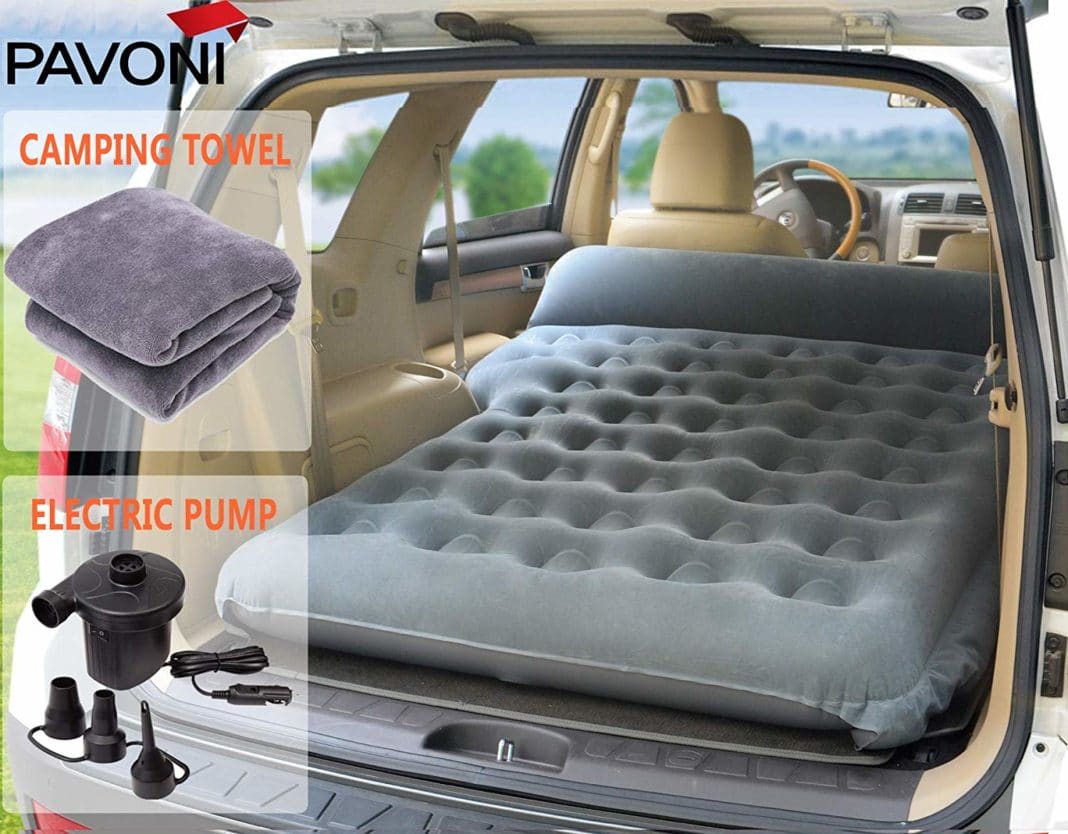 Credit: Amazon
Who wants to go car camping? This inflatable air mattress offers a quick and easy solution to sleeping when you're on the go. There won't be any more sleepless nights or waking up with a strained neck and back. This mattress pad is super portable. Fold it up, pack it in your car, and bring it out to the campsite. Its durable design makes it extra-resistant to wear, tear, extreme weather conditions, and will last for a long time to come.
Did we mention that it comes with a car mattress pump too? Similarly to the Topelek Air Mattresses, you can inflate it and deflate it in minutes. It also comes with a mattress towel, patches in case you need to repair it, and a bag for simple storage purposes. This travel gear also makes an ideal guest bed for visitors. Since it is cold resistant, even if you're camping outside during the winter, it will help keep you warm enough for a good night's sleep. When it is fully inflated, this mattress can support up to 440 pounds.
The large size offers a generous enough space for two adults. We appreciate that Pavoni offers a worry-free quality assurance policy. If for any reason you are not satisfied with your purchase, they will replace it or provide you with a full refund with no questions asked.
Tech Specs:
Premium quality design

Cold resistant

Fast and easy deflation

Waterproof

Tear-resistant material

Dimensions: 74" x 57" x 8.7"

Can fit two adults with generous space

Comes with a mattress, towel, electronic pump, repair patches (if needed) and storage bag

Worry-free quality assurance
Get a Good Night's Sleep with the Topelek Air Mattress
Just because you're camping doesn't mean you can't be comfortable. The best camping trips are the ones where you have the right gear to stay cozy. In the winter season, this is particularly important. In order to get a good night's sleep, you will need a high-quality air mattress. This is one of the best camping tips we've got. Not only does this provide the necessary layer of insulation from the cold, hard ground but it also will help save your back and neck from aches and pains. Travelers seeking a durable, well-designed product will appreciate the Topelek Air Mattress and Pavoni Car Sleeping Mattress. You won't have to worry about being comfortable on the road again.
Related Article: The Best Camping Air Mattress: Our Top 5 Picks