Camping food doesn't need to be boring. Spice up your meals with these awesome camping food ideas!
It can be difficult to pack meals for a camping trip. You don't want to pack too much food, but at the same time, you don't want to live off protein bars for the week. And as with any kind of travel, the food you eat can make or break your trip. That's why we compiled this list of awesome camping food ideas to consider for your next trip!
We have camping food tips for breakfast, lunch, and dinner. So don't stress about not knowing what to eat. After reading this list, you'll be a camping food connoisseur.
Breakfast Food Ideas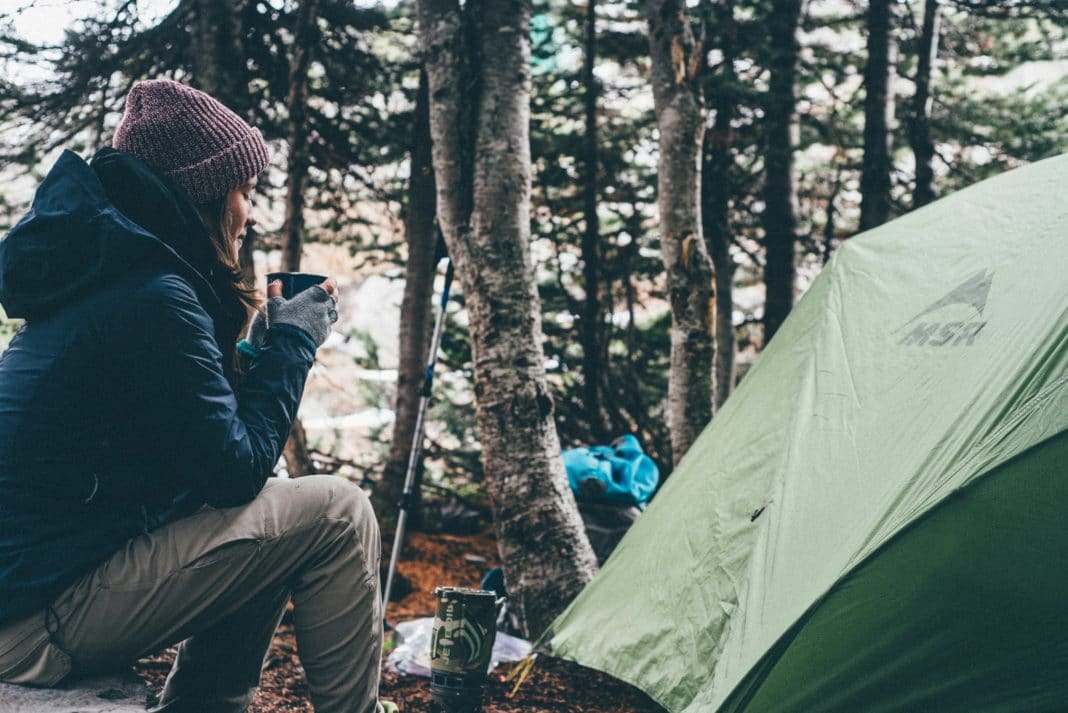 It is the most important meal of the day, after all! So you can't go skimping on it, even if you are camping. And if you make use of our camping food tips, you can avoid drinking cowboy coffee and dry oatmeal ever again.
1. Ready Made Breakfast Tacos
This is one of the easiest breakfasts you can prepare for a camping trip! And the best part is, you can cater them to all kinds of diets. Plus, since you made these tacos in advance, all you have to do is unwrap the foil and dig in.
All you need to do is layer scrambled eggs, bacon, sausage, cheese, etc. into a tortilla. Then, wrap up the taco in tin foil. Place all of your tacos in the oven at 250 degrees, and they're ready to serve! You can also add other ingredients like peppers, tomatoes, onions, and more. And if you're vegan or a vegetarian, you can opt for dairy-free cheese and tofu.
Tacos are one of the best camping food breakfast ideas because they're versatile and easy to make. We advise making them the night before or the morning of your trip. That will ensure they'll still be nice and fresh for your trip!
2. Omelettes
You are going to need a portable stove top and skillet for this camping food breakfast idea. But if you have those bits of camping gear, then omelettes are a really easy, delicious, and healthy breakfast to resort to. You also don't have to worry about making these in advance! All you have to do is pack up some eggs and any other ingredients and you're set.
To make breakfast easier at your campsite, we advise cutting up your ingredients in advance. That will help keep your kitchen area more organized. It will also avoid the hassle of having to bring along extra knives, a cutting board, etc. And this way, you can also avoid having to clean any extra utensils!
Again, omelettes are a great camping food breakfast idea because they are versatile and can be made in a bunch of different ways. If you are a vegan or don't eat eggs. you can use tofu and make a tofu scramble instead.
3. French Toast
French toast is a camping food classic. And if you have a stove top and skillet, french toast is really easy to make. First things first: you have to prepare the french toast dip. To make this, mix together 3 eggs for every 1 cup of meal. And if you can't eat dairy, you can also use dairy free milks. There are also plenty of vegan french toast recipes out there if you don't eat eggs.
Next, simply dip the sliced bread into the mixture. You will want to let it sit there for about 10 seconds. However, if you're using stale bread (which is GREAT to use for french toast) let it sit for 20 or 30 seconds. To sweeten up the recipe, you can also add vanilla extract, cinnamon, and some nutmeg. Finally, all you do is place the french toast in your skillet and let it crisp up!
In our opinion, the best bread to use for french toast is sourdough. Not only is it the thickest and doughiest, but it's also easy to buy by the loaf. And slicing your own bread for french toast tends to taste way better than buying pre-sliced bread. Additionally, sour dough is easier on the stomach for those with gluten sensitivities. However, if you cannot eat gluten, you can make this recipe with gluten free breads as well.
4. Banana Bread Pancakes
Yup, that's right. You can have your very own pancake breakfast at your campsite. And it's a lot easier to do than you might think! Plus, you can make the batter in advance at home and keep it in a cooler until it's ready to be used. That way you can eliminate the mess and stress of making the batter at the actual campsite.
For this recipe, you will need: 1 banana, an egg, 1 ¼ cup of milk, a cup of flour, a tablespoon brown sugar, one teaspoon baking powder, and ghee, butter, or coconut oil for the pan. You can also mix in some cinnamon, nuts, berries, and anything else you want to add! Then, mix the batter until it's nice and smooth. Pour the batter onto your skillet and you have yourself some delicious banana pancakes.
Pancake breakfast is one of the best camping food ideas on this list. It's also one of the most fun. You can make an event out of it by setting up a breakfast bar of berries, nuts, and other fun toppings. And really, what better way is there to start your day with some delicious pancakes?
5. Vegetable Frittata
This is another easy and delicious egg-based recipe you can make right on your campsite! It's also versatile and can be adapted to many different diets. You will probably want to use a cast iron skillet for this one. First you will want to cut up any meat and vegetables you want in your frittata. This is a step we suggest you do at home. You can make things even easier and cut up all of the frittata ingredients and put them into ziploc bags before you leave. That way, all you need to do is dump them in the skillet.
Once you've roasted up the ingredients a bit, it's time to pour in the eggs. You will want to whisk together 5 or 6 eggs to fill the entire pan. Pour this mixed eggs over the meat and veggies and top it off with a little bit of cheese. Next, cover the skillet with a lid or aluminum foil. You will want to cook your frittata on medium heat for about 10-20 minutes, depending on how runny you want your eggs.
Once the frittata has cooked through, remove from the heat. Then cut it into slices like a pie and dig in! You can get creative with the toppings here and throw on some guacamole or salsa. Or maybe more cheese. But if you're dairy free or a vegetarian, you can choose not to use meat and dairy-based cheeses in your recipe. There are some vegan frittata recipes out there, too. For that recipe, you will use tofu instead of eggs.
Lunch And Dinner Food Ideas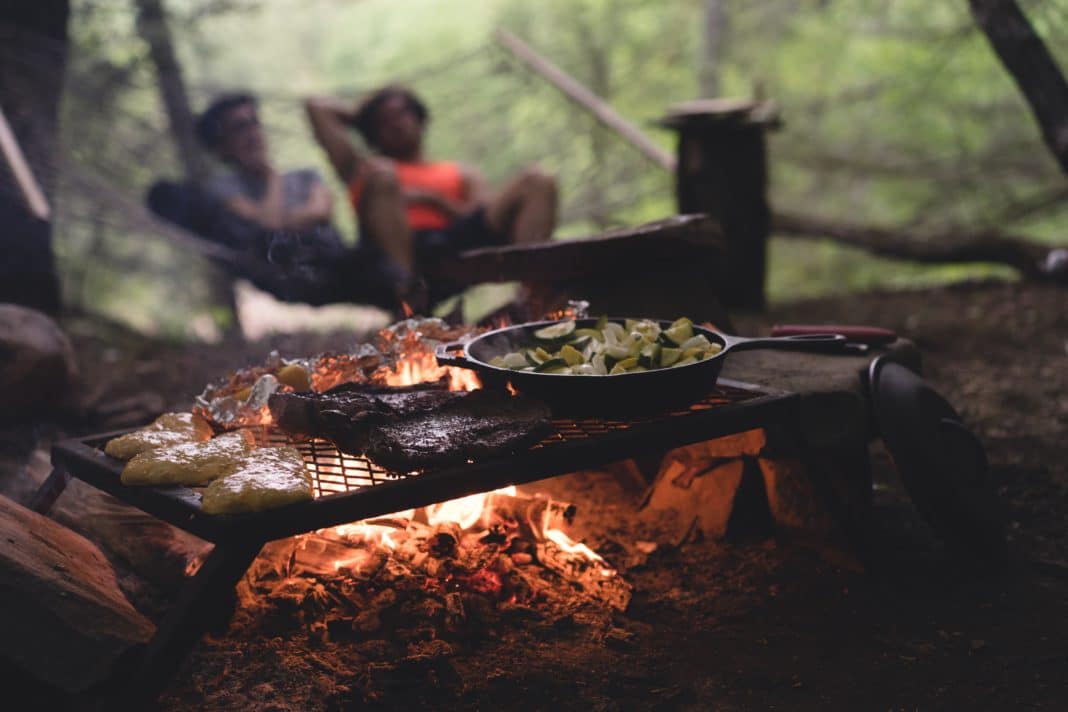 Lunch and dinner are easier meals to plan for on a camping trip. But still, it can be easy to resort to basic and boring ham and cheese sandwiches. Or, you could take a page from our camping food lunch ideas and make something more delicious that will keep you happy, full, and satisfied.
1. Apple and Bacon Grilled Cheese
If you have a portable stove and a skillet, this is one of the easiest camping food lunch/dinner ideas to make. And it's also one of the most delicious. First, grease the pan with butter, ghee, or coconut oil. Then, take the bread of your choosing and plop it on the pan. For an even greasier and more buttery sandwich, go ahead and throw some butter, ghee, or coconut oil on your bread, as well. Dairy and soy free butters will also work.
Once the bread is on the skillet, place sliced apples on top. You can use any apple here. But granny smith apples add a nice sweet and sour twist that we love. Let the apples sit on the bread for about 30 to 60 seconds to warm up. Then, add a few slices of bacon on top of the apples. Let it sit. Finally, top off the bacon and apples with a slice of your favorite cheese. Let is sit. Then add the next slice of bread on top.
At this point, flip the sandwiches to let the top slice of bread get nice and crispy! You can really let the sandwich sit for as long as you want. Dealer's choice. Just watch as the cheese melts and oozes and as the bread gets nice and crispy. Once the cheese and bread is melted to your liking, remove the sandwich from the skillet. And dig in. Seriously, this is a camping food idea you will come back to time and time again.
2. Grilled Fish Tacos
Who said you can't have tacos for breakfast, lunch, and dinner? This grilled fish taco recipe is an easy and satisfying camp food lunch/dinner idea. And the recipe can be altered to a variety of diets and food allergies. The first thing you will want to grill up is your fish. Tilapia typically works well, but you can really use any fish you'd like. Grill it up on your cast iron skillet with your choice of spices. Once the fish is ready, chop it up and put it off to the side.
Next, build up your tortilla! Put the tortilla on your skillet and let it get warm and crispy. Throw on top any other ingredient you want – onions, pepper, lettuce, tomatoes, you name it. You can also choose to add these ingredients on last if you prefer them cold. Once your tortilla is all crisped up, you can add the fish on top.
Not only is this camping food idea easy, it's also a fun activity for your group to do together. You can set up a taco bar with cheese, salsa, guacamole, etc. to throw on top of your tacos. Consider slicing up some lime to squeeze on top, as well. If you're vegan or a vegetarian, this is a really simple camping food recipe to accommodate to your dietary restrictions.
3. Meat and Vegetable Kebobs
You're going to love this camping food lunch/dinner recipe. And it's easy to prepare the ingredients at home in advance! All you need to do is cut up the meat and vegetables that you want to have on your kebob. Or just vegetables, if you're vegan or a vegetarian. We always suggest doing as much meal prep at home as you can to eliminate any mess and stress at the campsite.
Next, load up your skewers with all the meat and vegetables that you want. Once the grill is warmed up, place the skewers on top at medium-high heat. Turn the skewers often so each side is cooked equally. This entire process will take about 10 minutes.
This is one of our top go-to camping food ideas because it's really easy to make. And the meal keeps you full for hours. There's nothing worse than being hungry or feeling like you haven't gotten enough to eat. And that's especially true when you're camping. So make your life easier by preparing the ingredients for this delicious recipe in advance.
4. Campfire Nachos
You're friends will love you when you pull out this recipe at the campsite. And not only is this campfire nachos recipe easy to make, it's also mouthwatering and delicious. For this recipe, you will want to use a cast iron skillet. There are a lot of different ingredients you can use for this recipe. However, some staple ingredients we suggest packing are tortilla chips, tomato sauce, shredded cheese, beans (black or pinto,) onions, and cilantro. But you can also add peppers and other spices and vegetables of your liking!
To start, oil the bottom of the skillet. You can use oil, butter, ghee, or coconut oil. Next, evenly spread a layer of tortilla chips on the bottom of the pan. Then layer on top 1/4 can of beans, 1/4 cup of cheese, and a handful of onions, cilantro, and any other toppings you may want. Do this again for a second layer. For the final layer, top of the remaining tortilla chips, beans, cheese, and other toppings. Finally, cover the skillet for about 10 minutes to let the cheese and other ingredients melt.
You can either all choose to eat this dish as finger food, or scoop it out onto individual plates. Other great toppings for campfire nachos includes sour cream, avocado, and salsa. And this is a really easy recipe to make vegan. But if you're a true meat-eater, you can also add ground beef to the nachos!
5. Hotdogs or Brats
You can choose either hotdogs or brats for this final camping food lunch/dinner idea. It's really up to your preference. However, we have found that brats are heartier and keep us fuller longer. To start, preheat the cast iron skillet to medium heat and oil the pan. Again, you can use oil, ghee, butter, or coconut oil for this step. Then, simply place the hotdog or brat on the skillet and let them cook up.
But if you want to make this recipe more delicious, throw in some peppers and onions into the pan. The juices from the peppers and onions will mix with the brats or hotdogs for a really incredible flavor. You can then choose to scoop the brats or hotdogs onto a bun with the peppers and onions, or eat them as a side dish.
It will take about 15 to 20 minutes to cook the brats or hotdogs. Make sure to flip them occasionally. The only other ingredients you'll need are buns and any condiments you may like! You can make this dish vegan or vegetarian, as well. Simply replace the brats or hotdogs with meat-free options. And if you can't have gluten, make sure to use gluten free buns.
S'mores Ideas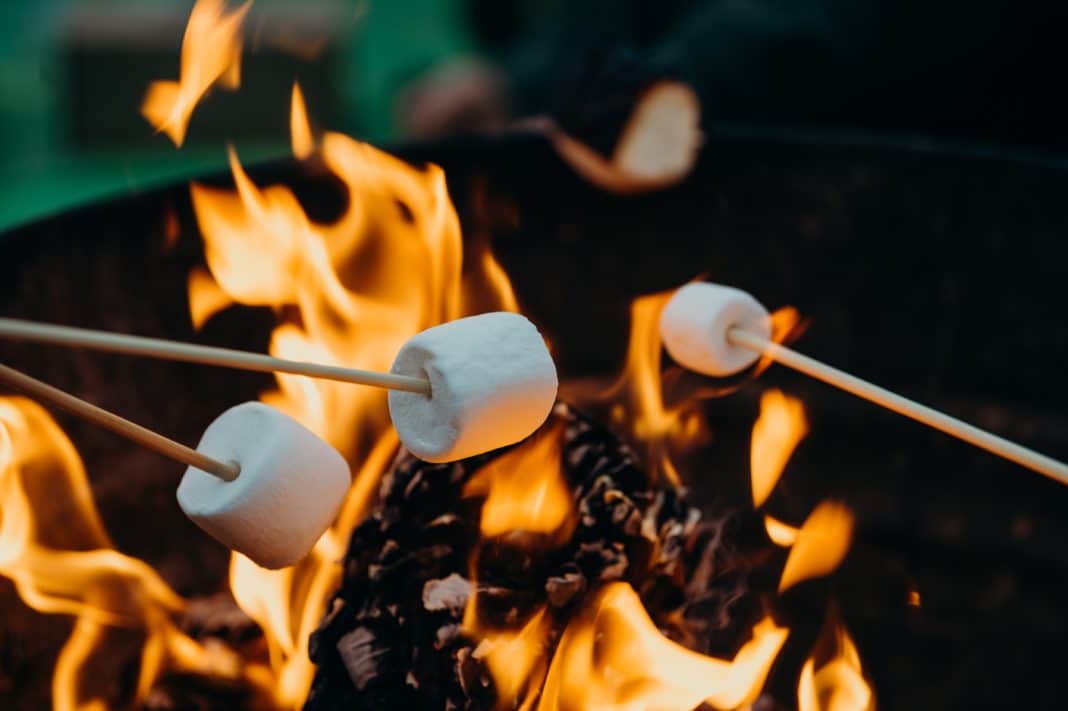 You can't go on a camping trip without having a few s'mores. And while the classic s'more recipe is delicious, there are a few others we invite you to try! Get creative on your next camping trip with some fun and flavorful takes on the traditional s'mores recipe you know and love.
1. Salty Caramel Bacon S'more
If you like maple bacon donuts, you're sure to love this s'mores recipe! Put a marshmallow and a piece of bacon on a skewer. Roast it in the fire. Then pop it on top of a graham cracker. Use a bit of chocolate with salted caramel inside. Smoosh it all together. Eat. Enjoy. Repeat.
2. Chocolate Peanut Butter S'more
This next camping food s'more idea is even easier make. Start out with the classic s'more preparation. But before placing your perfectly crispy brown marshmallow on the graham cracker, lather on a layer of peanut butter first. Or almond butter. Any nut butter, really! You can get even more creative and add some jam for a peanut butter and jelly s'more. This is your s'mores adventure. There are no rules.
3. Strawberry and Banana S'more
Before putting your marshmallow on the graham crackers, first place a thinly sliced banana on top. And a slice of strawberry. Then you can put the chocolate and marshmallow on top for a fruity treat. But if you want something even MORE delicious, put peanut butter on this one as well. Seriously. This take on the classic s'more recipe is so rich and delicious, you'll have a hard time just eating one.
4. Lemon Meringue S'more
We're willing to bet you've never heard of this s'mores recipe, before. You can go with or without the chocolate with this one. It's dealer's choice. But… why would you ever opt for not having chocolate? The key ingredient here is lemon curd. Layer it up on your graham cracker, place the marshmallow on top, and enjoy.
5. The Elvis S'more
This might be our best camping food idea on the entire list. You will need a graham cracker, marshmallow, a Reece's Peanut Butter Cup, bacon, and banana slices. Step one: put the Reece's on your graham cracker. Step two: place a banana slice on top. Step three: roast your marshmallow with a piece of bacon. Step four: put it all together. This may be the most delicious s'more you will ever eat.
6. Savory S'more
Eat enough of these s'mores and you'll have yourself an entire dinner! Instead of graham crackers, opt for wheat crackers. And instead of marshmallows, get yourself some mozzarella balls. You will also need spinach and tomato slices. Or you can use cherry tomatoes. Roast up your tomatoes and mozzarella until they're nice and gooey. Then top them on top of a wheat cracker. Throw on some spinach. And you have yourself a savory s'more.
7. Savory S'more With Prosciutto
Did you ever realize there were so many savory s'more recipes out there?! With this one, you will again need wheat crackers instead of graham crackers. And instead of mozzarella cheese balls, get yourself some goat cheese. Layer the goat cheese and proscuitto (after you've roasted it on a skewer, of course) on top of the wheat cracker. Make a bunch of these camping food delicacies and you have yourself the perfect hiking snack!
8. Strawberry Nutella S'more
All right, enough with the savory stuff. It's time to get back to dessert. This recipe is pretty self explanatory. And we know you're already excited to try it. Roast up your marshmallow and put it on a graham cracker with a layer of nutella and a slice of strawberry. Another variation of this recipe has banana and peanut butter on top. It's like a crepe in s'more form. And it's absolutely delicious.
9. Thin Mint S'more
We know what you're thinking. How have you never thought of this incredible camping food s'more recipe before?! And you make it just like you would a traditional s'more. But instead of a piece of chocolate, use a thin mint. Really, you can use any Girl Scout cookie for this recipe. Can you imagine a Samoa S'more? Or a Tagalong S'more? Our mouths are watering just thinking about all the possibilities.
10. Triple Chocolate Cinnamon Caramel S'more
Oh yeah. This is happening. Instead of a traditional graham cracker, you will need chocolate graham crackers. And instead of a basic marshmallow, get chocolate ones. You can use any chocolate of your liking for this recipe. You will also dulce de leche with cinnamon sugar sprinkled on top. Put it all together… And you have yourself a Triple Chocolate Cinnamon Caramel S'more.
You will never be bored making meals for your camping trips ever again.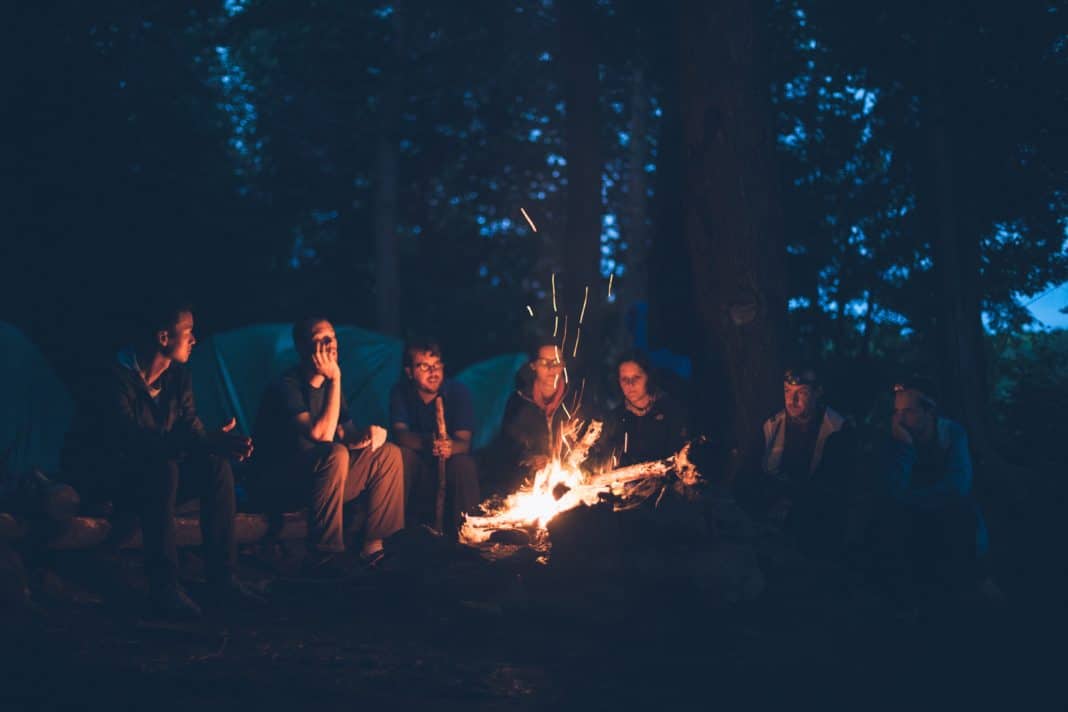 As you can see, there are so many ways to get creative with your camping food and meal ideas. And this is just the start! There are still so many other meal prep ideas for your camping adventures. Just because you're sleeping in a tent, that doesn't mean you can't start your day with a good breakfast and a cup of coffee. And no, you don't need to fill up on unhealthy protein bars and random pieces of fruit for lunch and dinner. If you do a little bit of preparation, you can easily enjoy all of your meals on your camping trip.
In order to make use of a lot of these camping food ideas, you might want to invest in some camping gadgets. Specifically, you will need some kitchen camping gear. If you are an avid camper, things like a portable stove and a skillet are worthy investments.
Do you have any other incredible recipes to spice up your camping food? Leave us a comment and let us know! We're always excited to try new foods on our camping trips.
Related Article: 6 Things You Need To Know Before Camping In Cold Weather