Once you've acquired all the camping essentials, it's time throw some cool camping gadgets into the mix.
There's nothing like spending a few nights in the great outdoors. And while it can be nice to be minimal and live off the land for a weekend, it's also fun to invest in cool camping gadgets for the trip. There's a lot of incredible camping gear out there to investigate. Some of it is there to make your camping trip easier; some of it simply makes your trip more fun.
Whatever your need for cool camping gear is, here's some of our top picks to add to your packing list.
1. Portable Stoves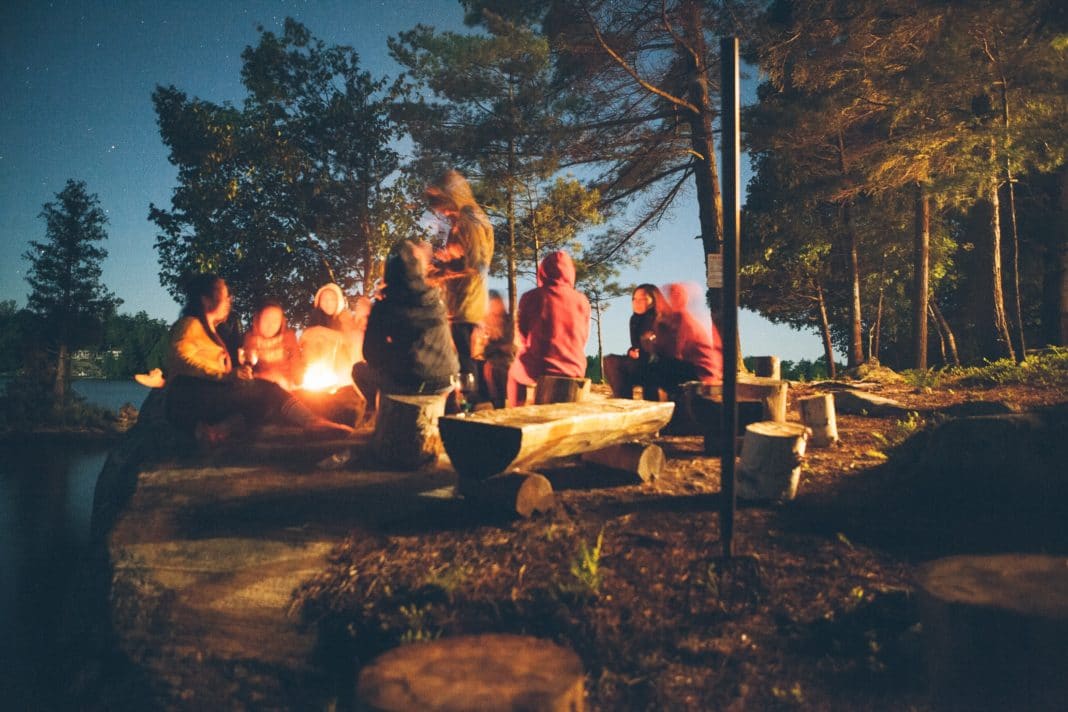 If you are serious about camping, you will want to invest in a portable stove. This is one of our top cool camping gadgets because it's also incredibly convenient to have. Even if you're just going camping for a few days, you're going to get real sick of eating protein bars, bananas, and nonperishable foods pretty quickly. But if you bring along a portable stove, the cooking world is your oyster.
There are a lot of portable stoves on the market right now. One great portable stove to consider is Solo Stove. As far as camping stoves go, this is one of the best. Not only is the Solo Stove a compact camping stove, but its high-temperature combustion also requires less wood. That means the stove also needs less heat, which leads to less smoke at the fire pit.
Is a portable camping stove necessary to have? No. But it's definitely one of the more practical and cool camping gadgets out there. And it's sure to taking 'smores to the next level.
2. Portable Espresso Maker
It doesn't matter if you're staying at staying at a five-star hotel or waking up in a tent somewhere. No one deserves to start their day with a bad cup of coffee. That's why the second item on our list of cool camping gadgets it a portable espresso maker.
This is an especially great tool for campers who enjoy having a few comfort items on their trip. One of the best portable espresso machines out there comes from Wacaco. The company has named their product the "smallest, lightest and most versatile handheld espresso machine" out there. The machine allows espresso to be brewed any time, anywhere. The best part is that the espresso maker doesn't require compressed air, N20 cartridges, or electricity. All you need is water and coffee beans and you're good to go.
Avoid drinking cowboy coffee or instant coffee ever again. This is one of the cool camping gadgets out there you will not regret purchasing.
3. Portable Bunk Beds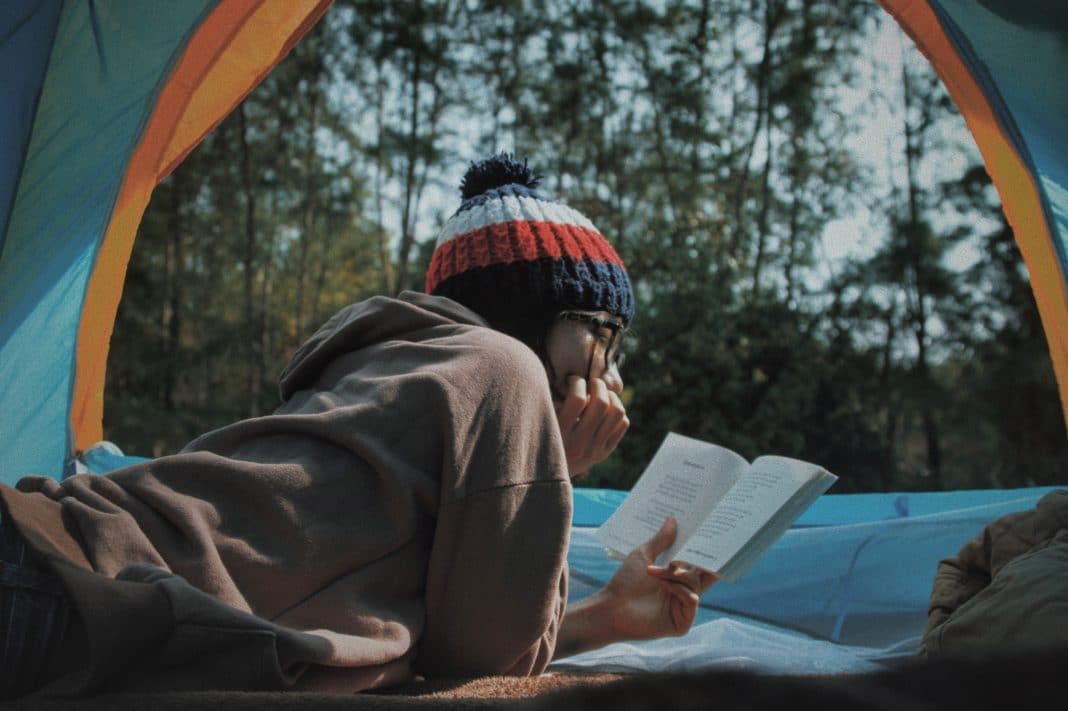 You didn't know that this was one of the most important cool camping gadgets you needed in your life. Until now. Portable bunk beds take sleeping in a tent to the next level. They maximize floor space, keep campers off the ground in case of rain, and most importantly, they're seriously comfortable to sleep on.
Our favorite portable bunk beds come from Disc-O-Bed. The bunk beds are easy to set up and come in a variety of sizes. And because of the wide range of sizes and designs, you're sure to find a Disc-O-Bed that will fit in any tent.
To top it all off, the portable bunk beds have pockets and organizers along the side. So you won't have to worry about having all of your cool camping gadgets and accessories laying around. The bunk beds add comfort and organization to your camping trip.
4. Sleeping Pad
We know what you're thinking. Should a sleeping pad really be on a list of cool camping gadgets? Perhaps not all sleeping pads should be. But The Klymit Sleeping Pad definitely makes our list. This item surpasses any sleeping pad you have used before. The pad provides nearly 2.5″ of bedding and weighs just about 1 lb. On top of that, it folds up and pack down to just 3″ x 8″.
Two qualities we look for when searching for cool camping gadgets are convenience and how easy they will be to pack. Because there's no point in buying expensive new camping gear if it will just be a hassle in the long run. But we can say confidently that the Klymit Sleeping Pad is not a purchase you will regret. It's a cool, comfortable, and convenient accessory to add to your camping gear collection.
5. Portable Mosquito Repeller
Did you ever think you would be able to come home from camping without a single bug bite? Well, that day has finally arrived. So we think you'll like this next item on our list of cool camping gadgets. This Thermacell MR150 Portable Mosquito Repeller is a compact, lightweight device designed to keep the mosquitos away.
The device creates a 15-foot scent-free protection zone that repels mosquitos from coming your way. Here's how it works: the repeller is powered by Thermacell fuel that warms up a disposable mat that's infused with Allethrin, a synthetic copy of the natural repellent found in the Chrysanthemum flower. This then creates your very own mosquito-free bubble for up to 12 hours.
Nothing is worse than being attacked by mosquitos on a camping trip. And sometimes no matter how much bug spray you put on, it feels like it's impossible to escape them. Luckily this new camping gadget will help keep you from being eaten alive by mosquitos ever again.
6. Water Bottle With A Filter
Honestly, this is one of those cool camping gadgets we could use every single day. A filtered water bottle is a great tool to have on any camping trip. We would even say it's a must-have camping item for anyone who enjoys being outside.
There are a lot of great filtered water bottles out there. One water bottle we really like is the LifeStraw Go Bottle. Manufactured by Vestergaard, this water bottle uses a 2-stage filtration process to remove bacteria, protozoa, chlorine, other bad tastes from the water. This helps to not only keep your water safe and pure, but it also enhances the taste.
Moreover, the water bottle is made from BPA-free Tritan. The filters are replaceable and the leak-proof lid is easily detachable to wash.
7. Portable Grill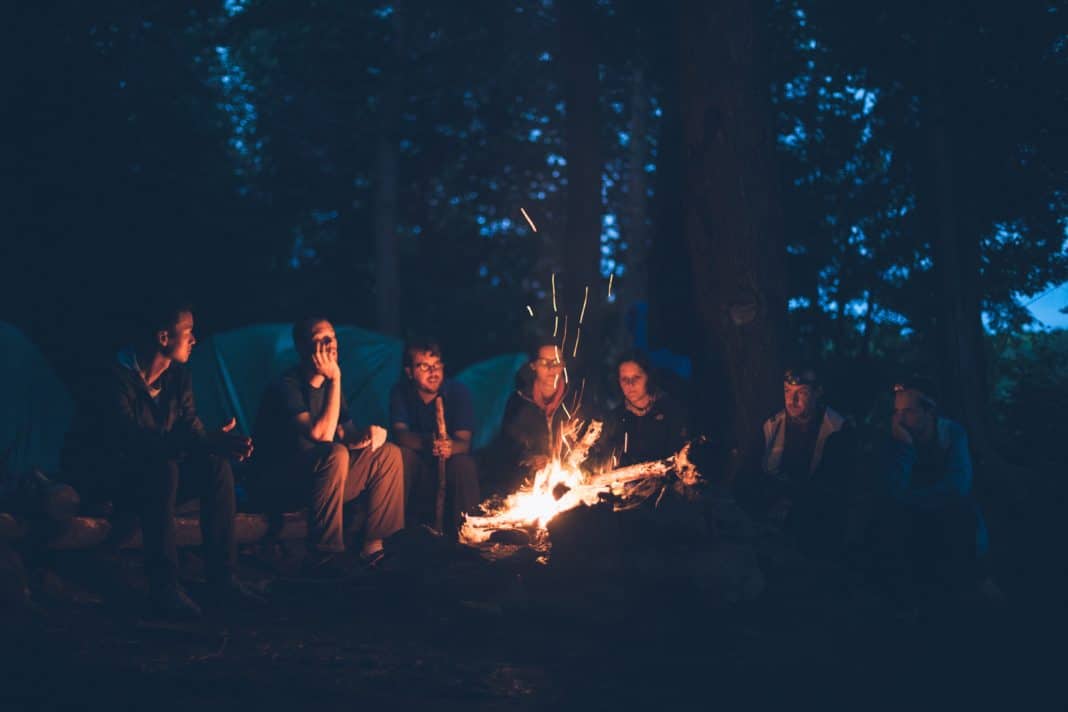 We already mentioned how great it is to have a portable stove… So now let's talk portable grills. As far as cool camping gadgets go, this is one of our favorites. Seriously, what's better than literally waking up and smelling bacon when you're camping?
There are a lot of great and functional portable grills out there. One of the best we've found is Bison's award-winning Rolling BBQ Grill. Bison's grill is lightweight and durable. Therefore it's a great camping gadget for backpackers to bring along. On top of that, the grill can roll up into a compact, portable cylinder that weighs just over 1 lb. So it's not only useful, it's also convenient and easy to carry along.
In addition, this item includes grill guards, a bundled carry sack, and a pair of size-adjustable stakes for convenient cooking over an open fire. If you're looking for cool camping gadgets to give your friends and family this Christmas, a portable grill should be at the top of your list. b
8. Foldable Camping Knife
Every camper needs a good camping knife. These cool camping gadgets have so much packed into them. They also can be used on multiple occasions during a camping trip. There are countless camping knives out there to choose from. But if you need a suggestion, the Bear Grylls Survival AO Folding Knife is a great choice.
We love this camping knife because it's easy to use and, more importantly, safe to use. The knife has a safety barrel that keeps the blade closed when it's in your pocket or bag. The tool also has a user-friendly plunge lock that makes it easy to close with one hand. You will find this to be a very useful feature when you're hiking and have your hands full.
If you want to get serious about camping, a good camping knife is one of the most important cool camping gadgets to invest in.
9. Versatile Camping Soap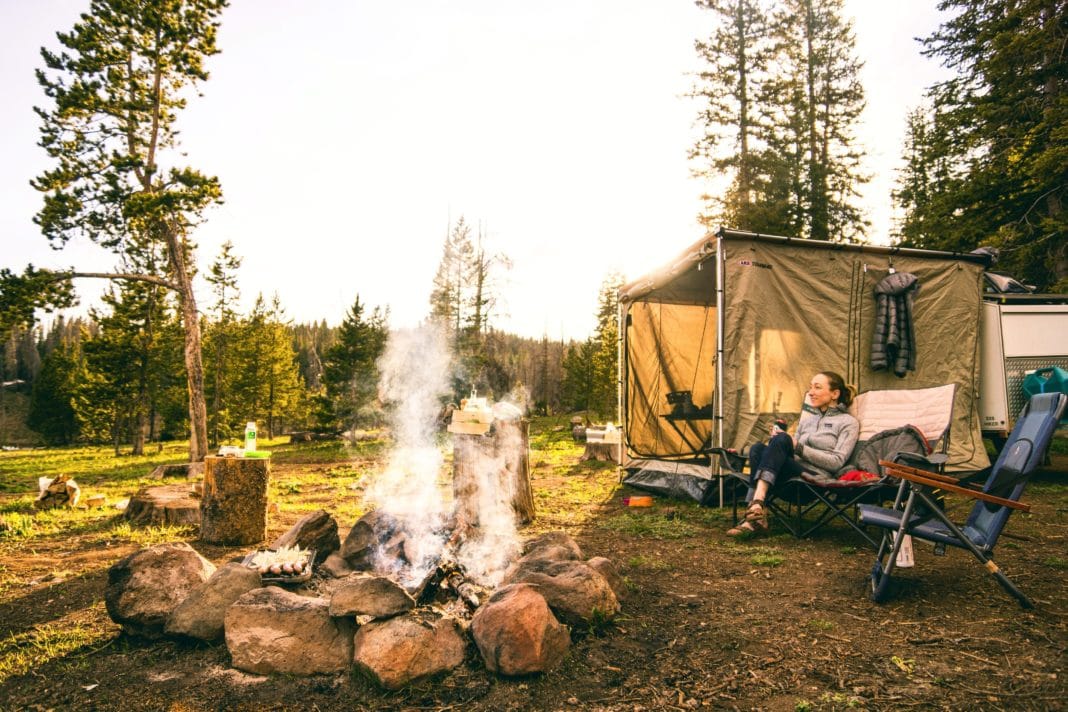 Yeah yeah, we know what you're thinking. There's no way that soap qualifies as cool camping gear. And that's true with most soaps. But not with Dr. Bronner's Soap. This soap can be used for so much more than personal hygiene. You can use this product to wash your body, hair, clothes, camping gear, car, dog, fruits, vegetables – literally anything.
What's more, Bronner's soap is concentrated and biodegradable. Therefore it's environmentally friendly and safe to bring on a camping trip. It is also made with organic and certified fair trade ingredients and packaged in a 100% post-consumer recycled bottle.
Most importantly, the soap doesn't irritate the skin and washes off easily. A tiny dollop of it is plenty for a shower or a load of laundry. As far as camping soap goes, Dr. Bronner's is one of the best. And even though it's expensive, we think it's worth it. A bottle of Dr. Bronner's is sure to last you multiple camping trips. This is one of the cool camping gadgets out there that is worth investing in!
10. A Great Tent
Let's be real. A tent is pretty much your home away from home during your camping trip. You want to make the most of your experience when camping out in a tent. Therefore it's important to invest in a tent that's comfortable and convenient. Also, it doesn't hurt if it has some cool features, as well.
There are so many incredibly cool tents out there. And they all cater to different camping needs. But if you need a big, family-sized tent, the 9 Person Instant Cabin Tent from CORE Equipment is a great choice.
This tent is easy to set up with pre-attached pools. It offers a spacious, tall, cabin-style shelter and can be set up in 60 seconds or less. Additionally, the tent comes with room dividers, zippers doors, and zippered windows. These help add both privacy and ventilation to your camping experience. Other perks include hanging storage bins, a water resistant rainfly, and more. If you're looking for a top-tier camping tent, this product from CORE Equipment is the way to go.
11. Pocket Blanket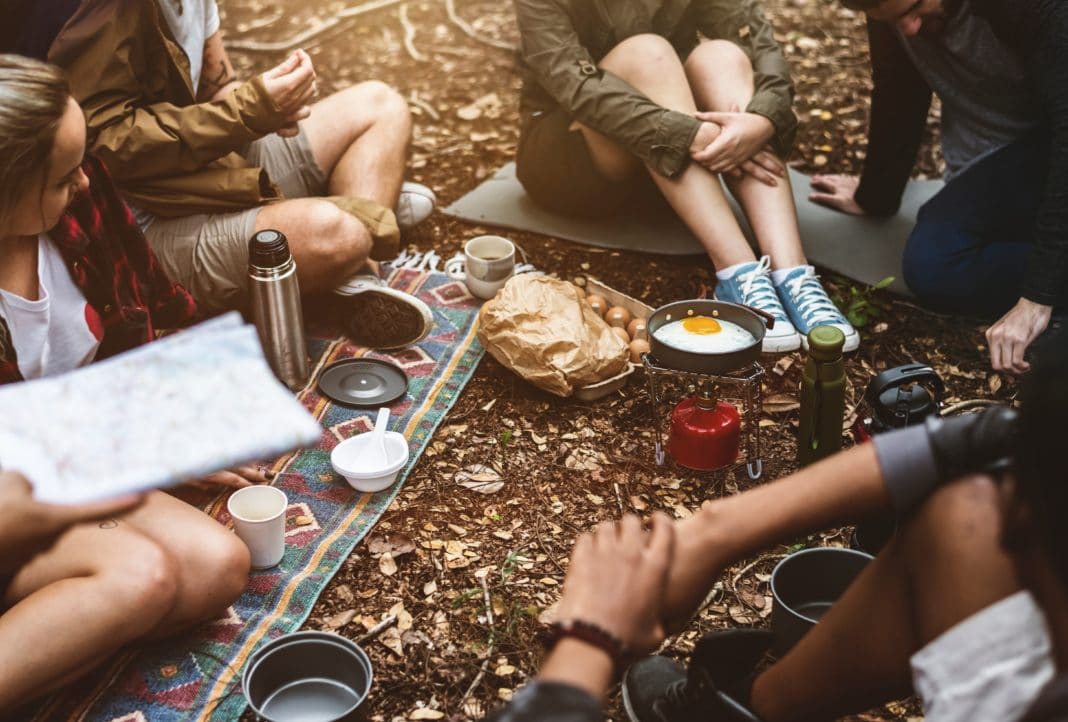 One of the most stressful parts of traveling, whether it's for a cruise, road trip, or camping trip, is packing. It starts with a simple list. Then you load up the car. Before you know if, you have jammed so much into the back seat that there's hardly any room for you to squeeze in. That's why when we look for cool camping gadgets to recommend, we like to keep them on the smaller side.
And that's why we're suggesting every camper buy a pocket blanket. It's exactly what it sounds like: a blanket that can fold up and fit right into your pocket. If this camping tool interests you, we suggest purchasing the Matador Pocket Blanket 2.0. This foldable blanket spreads out 63″ X 44″. It can fit about 2-4 adults and fold right back up into your pocket after use.
Other fun features of this item are built in corner stakes and sand pockets. These add-ons help ensure that the blanket won't fly away on windy, cool fall nights.
12. Leakproof and Waterproof Cooler
Sometimes all you want at the end of a long day of hiking is a nice, cold brew. Unfortunately, your plans can be ruined by a leaky cooler. So to avoid drinking warm beverages, consider making a leak and waterproof cooler the next camping gadget you buy.
If you want a recommendation, we suggest looking into TOURIT's 30 Cans Soft Pack Cooler Bag. This triple-layered insulated cooler can keep food and drinks cool for up to three days. Therefore it's a great cooler to purchase for weekend trips. Moreover, the interior of the cooler is lined with leakproof antimicrobial material. This helps to prevent mold.
The cooler may seem small, but it can fit a lot inside. In fact, it can squeeze in up to 30 cans – plus ice! That's enough for us to rank it on our list of cool camping gadgets.
13. Solar Camp Shower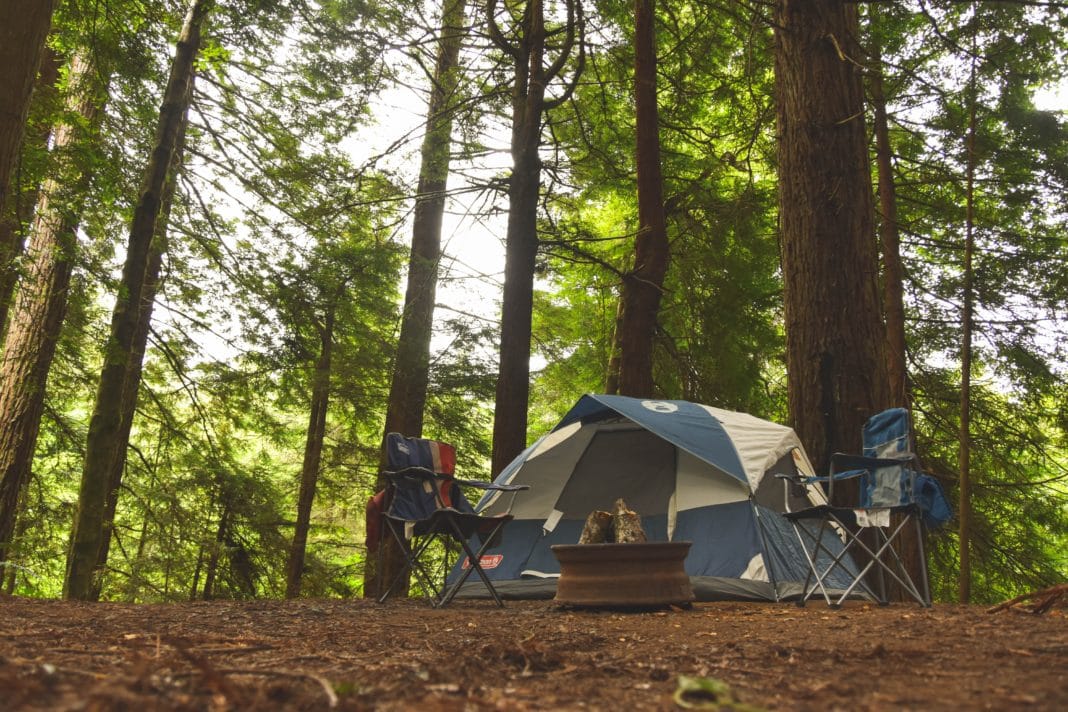 There's something nice about not having to worry about showering while you're camping. Then again, there's also something nice about washing off after a long hike. Unfortunately, a lot of camp grounds don't have showers. And if they do, they tend to be pretty gross.
So instead, consider bringing along a portable camp shower. Specifically, get yourself a solar camp shower. And one of the best ones of the market is the Coleman 5-Gallon Solar Shower. The product has a convenient on/off valve that is connected to the shower head that makes for an easy camp shower.
The thing we love most about this product is that it's solar powered. Therefore, the shower uses energy from the sun to heat up the water. And it can also last for multiple showers, so everyone in your camp group can benefit from it!
14. Compact, Inflatable Pillow
Again, when it comes to purchasing cool camping gadgets, you don't want to buy anything that will add too much weight to your load. So if you're looking for a light-weight, compact gadget to purchase, consider the Sea to Summit Inflatable Pillow.
This item can be inflated in just a few breaths. It comes in two different sizes and is comfortable to lay your head on. It's also a great tool for campers who want a little bit of luxury on their trip. Plus, with an inflatable pillow, you don't need to worry about bringing pillows from home. This will help you avoid having to do even more laundry when you get back.
This might not be a camping gadget you need. But it's definitely a camping gadget you want. Treat yourself and make your life easier – and your load lighter – with an inflatable camping pillow.
15. Camping Chair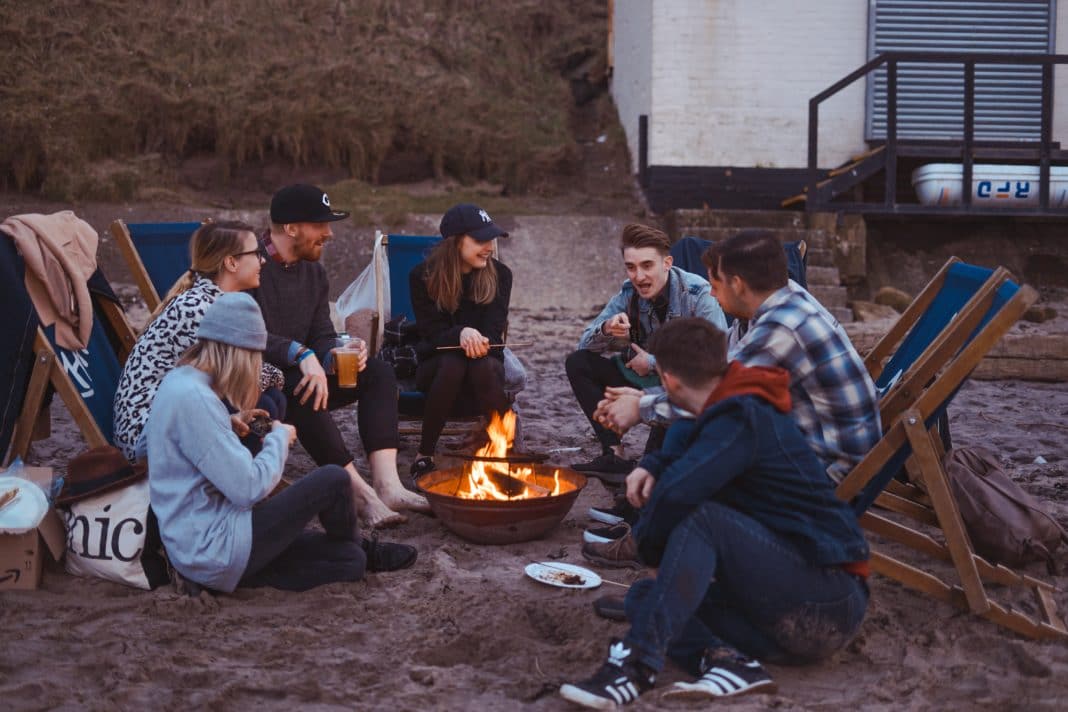 Sure, sitting on the ground is comfortable enough. But after a long day of fishing, hiking, and exploring other outdoor adventures, sometimes your bum wants a more comfortable surface to rest on. Therefore, consider treating yourself to a great camping chair. Preferably, get yourself one that is light-weight and easy to travel with.
When it comes to camping chairs, one of our top choices is the Trekology YIZI GO. The chair is extremely easy to transport. It's light-weight, and the height is adjustable. The product is designed from aerospace-grade 7075 aluminum alloy and 600D engineering-grade nylon fabric. Therefore the item is very breathable, sturdy, and functional for use.
With its adjustable heigh setting, campers can choose to sit between 13 and 15 inches off the ground. And because this chair is so durable, it is also long lasting. Therefore even though it may feel like a pricey purchase up front, this is one of those cool camping gadgets that will last you for years to come.
16. Triple Hammock
There is truly nothing more relaxing than laying in a hammock. In fact, that might be one of the best parts of camping. Laying on a hammock, reading a book, maybe nodding off a little bit… And if you love hammocks as much as we do, you want to share the comfort with as many fellow campers as possible.
The Trillium Hammock by Tentsile can help you do just that. This product is one of the strongest triple hammocks on the market! It is secured by heavy-duty ratchets and webbings for durability and strength. The item is also reinforced by more than 20 meters of seat belts.
Rest assured you will feel safe as you nap in style with your two closest camping friends. This is one of our favorite cool camping gadgets because so many people can benefit from it. It's also comfortable and insanely fun to hang out in.
17. Waterproof Socks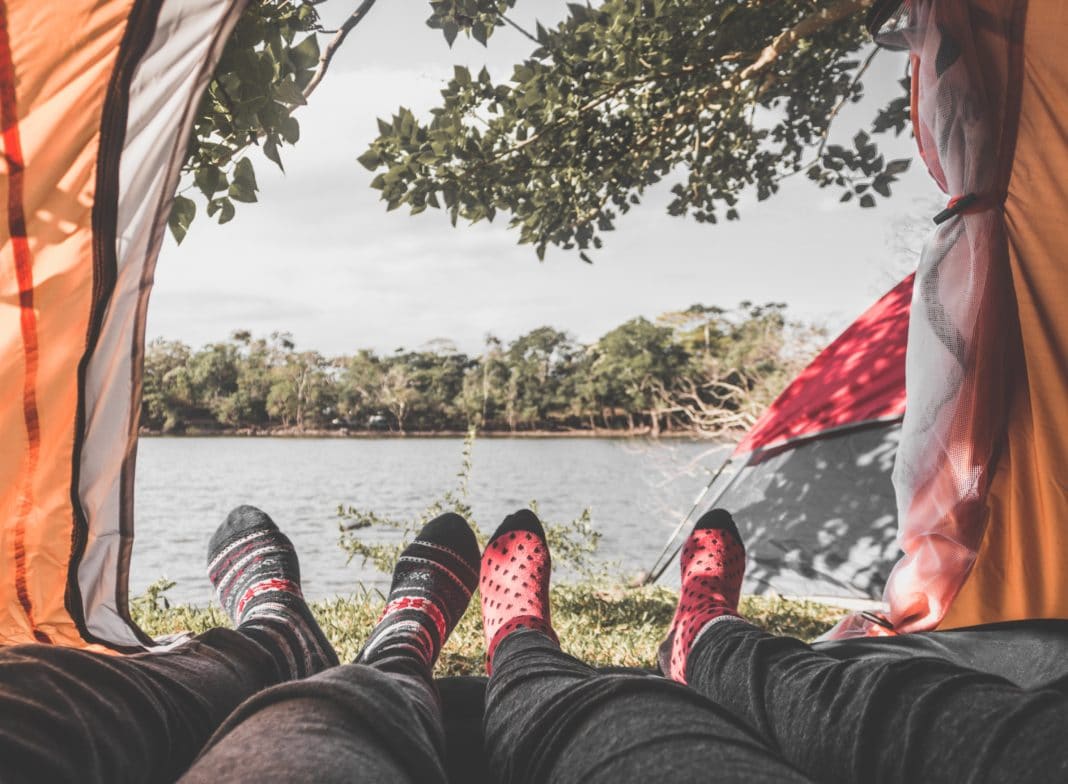 This may not be the most fun of the cool camping gadgets on this list, but it's definitely the most practical. And let's be real. There is nothing worse than having wet feet during a camping trip. And no matter how long you let your socks lay out to dry, they will still feel just slightly damp for the remainder of the trip.
That's why we suggest that every camper buys a good pair of waterproof socks. They can be a little warmer to wear during the summer, as the socks trap in heat and sweat more than a typical pair. But you'll be grateful for these when you go on a hike and accidentally splash into a stream.
A great pair of waterproof socks comes from Sealskinz. The product comes in all sizes and in many designs. Shop around for the pair that works best for you! And that way you'll never suffer from wet feet on a camping trip ever again.
18. The LifeStraw
We already mentioned the importance of drinking clean water while you're camping. But if you want to take this to the next level, consider getting yourself a LifeStraw. This is more than just another one of the cool camping gadgets out there. The LifeStraw is a great tool that will help you keep safe on your trip.
Here's how it works. The hollow fiber interior of the straw cleans out bacteria from water as you drink it. Literally – it filters your water on the spot! So you can drink from rivers, streams, ponds, puddles, really any body of water without having to worry about the bacteria inside. What's more, the LifeStraw is small, light-weight, and affordable.
If you're an avid hiker, camper, or an outdoor enthusiast of any kind, the LifeStraw is a worthy investment.
19. Storm Proof Match Kit
Sometimes no matter how much the forecast promises you sunny skies, bad weather can still impede on your trip. And rain is even worse when you don't prepare for it. But luckily, there are some cool camping gadgets out there that can help keep you warm and toasty even in wet weather.
The UCO Stormproof Match Kit can be used for just that. The product includes a durable, waterproof case that can float in water. It also has three strikers and 25 windproof and waterproof matches. These matches will light in the rainiest, windiest, even snowiest weather conditions.
A storm proof math kit is a pretty cool camping tool to have. But in all honesty, it's a smart purchase to make. You never know what kind of weather you'll run into on a camping trip. Play it on the safe side and get yourself this nifty camping device.
20. Camping Watch
We're capping off our list of cool camping gadgets with something all tech-heads will love. The Casio Pro Trek Smart WSD-F20 is a pretty incredible item. This water-resistant – which can survive in up to 50 meters of water – has a built in GPS, offline maps, is shockproof, vibration proof, etc etc. Seriously, it seems like this watch has it all.
Other cool features this product has is a built in altimeter, barometer, and so much more. Do you need this high-tech camping item? Absolutely not. But is it a fun toy to have if you can afford it? Absolutely.
If you're looking to treat yourself with a new toy for your next camping trip, the Casio Pro Trek Smart watch may be the item for you.
These cool camping gadgets are sure to add fun and convenience to any camping trip.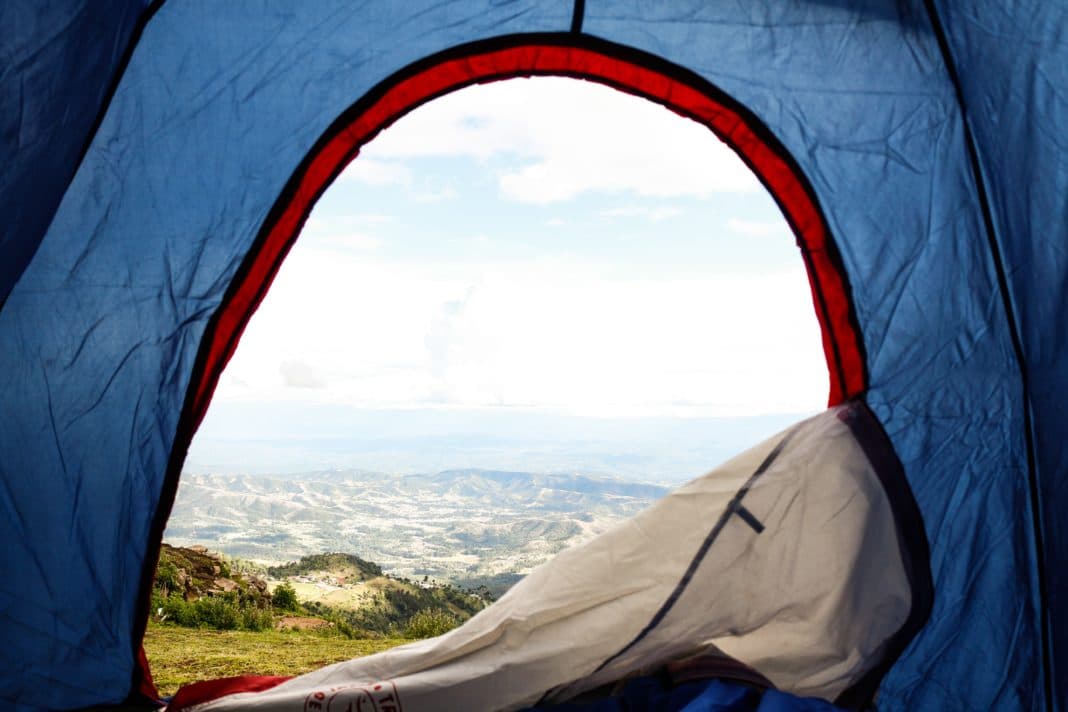 Once you've purchased all of the camping essentials, it can be fun to treat yourself to a cool gadget here and there. Sure, some of these items aren't necessary for a camping trip. But if you're getting serious about this activity, it can be nice to add a few luxury tools to your supply bag.
Are you an avid camper? Do you have any cool camping gadgets you love to bring along? Leave us a comment and let us know what we're missing!
Related Article: Guide To Camping In Banff National Park