The ThinkPad X280 Is for the Traveler.
If you are looking for a great traveling laptop, the Lenovo ThinkPad X280 is the perfect option for you. It is made for portability, which every traveler appreciates. It is also secured. Lenovo takes extra measures to make sure you have top of the line safety features. When you buy this product, you can be sure you are getting a durable and strong build that won't be easily broken or messed up. This is important for those who will be taking their device along with them to many places and are afraid of the wear and tear. This laptop is truly a gem and many travelers can attest to that. You cannot go wrong with this ThinkPad X280!
The Lenovo ThinkPad X280 Features & Benefits
1. Portability
When it comes to the traveler's needs for a laptop, portability is always at the top of the list. Here is what we mean by portability: It has to be light. When carrying bags while traveling, you want the things you need to be as light and easy to carry as possible. This laptop is exactly that: lightweight.
We also mean thin. When having to fit into small spaces, there is nothing worse than having something bulky with you. When I choose a book to bring on my flight or train ride, I'm usually choosing a thin favorite. Why shouldn't it be the same thing for laptops?
We also mean small. At just 12.5 inches, the ThinkPad X280 mini laptop is small enough to carry like you would a paper thin notebook. But even though it is small, many traveling users have commented on the size of the screen. They say the screen is much larger than they expected it to be. Though potential traveling buyers are usually looking for something that can be easily transported, they are also looking for something that can work hard and long in any conditions. And this brings us to our next point.
2. Productivity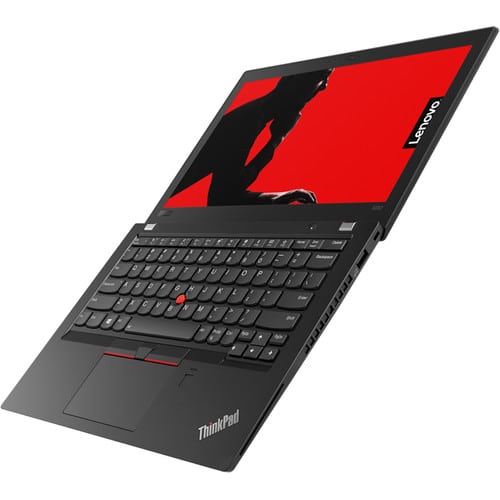 This model is more productive and ready to work hard than any of the ones that came before it. It has an 8th generation Intel core processor that is faster and stores more than it's predecessors. Regardless of what kind of work you do, this laptop will boot up fast and get you going. It does a good job at keeping up with you whether that's in typing, browsing, using software, and so much more. The boast that this ThinkPad is "Primed for Productivity" is exactly right!
Another way the ThinkPad X280 is productive is in the number of ports it has for you to use. It is jam-packed with various types of ports to fit many different needs. Ports such as USB and HDMI help you to work in any setting. The difference this laptop has from others is the Intel Thunderbolt 3. This Thunderbolt allows transfer at high data speeds. Connecting a USB port to this device will get you quadruple the amount of speed in data transport than any other can. With the level of speed and storage available to you, this laptop is fit to knockout any project or presentation you may be working on for work, school, and even for serious play.
4. Security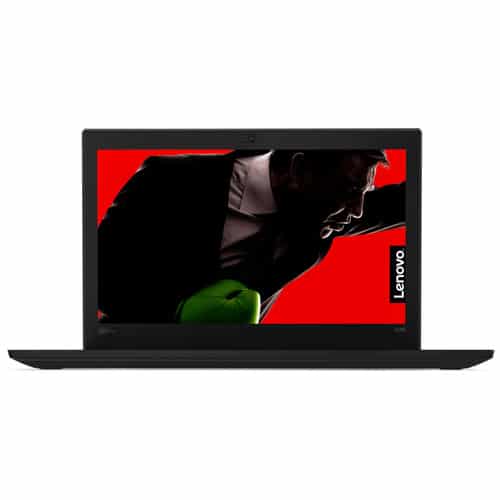 The security features on the ThinkPad X280 are top notch. Lenovo takes special precaution to make sure your data security is protected. There are a variety of security options. The first one to note is the ThinkShutter, which allows you to cover your laptop camera with a sticker so that you'll feel safe and protected. The next notable feature is the fingerprint reader, which is a common safety feature on smartphones. Without this feature, you won't have to deal with typing in a password because your fingerprint is the password. There is also the option to log in with your IR camera by using facial recognition.
Security is taken seriously by Lenovo Premier Support as well. With this support option, you will be able to get experts to help you with any issues you may come across over the course of your time with this laptop. This is another measure that will make you feel secure and taken care of. You will be able to feel unafraid of any issues that may arise with your laptop when you are working are playing because there is a whole team ready to help. You can learn more about this Support here.
5. Windows 10 Pro
This is a Windows 10 Pro system, so that means you will be getting all the features that come along with it. The start menu gives you all the information and notifications you could ask for. Cortana is out next great Windows 10 Pro feature. She can assist you with any questions you could possibly have, and she does this by simply hearing your voice. She evolves with you as she learns more about you, like a true personal assistant. You will also get Microsoft Edge which is a browser upgrade that will help you to do so much more than any browser ever has before.
Windows Store is another feature where you can get many different apps to meet all kinds of needs. With Windows Continuum, you will be able to choose your favorite screen size and style. And windows 10 pro is perfect for those doing business type work on their computers. There is even the option to get Xbox on the Windows 10! This laptop is compatible with gaming, which means it is a durable system. Windows is a well known and loved system that is constantly improving. You can expect excellence from them always, while being assured you are in good hands.
Here's
What Travelers Are Saying About the Lenovo ThinkPad X280
Travelers love this Lenovo ThinkPad X280. Many comment on how incredibly lightweight it, but yet it is so powerful. Travelers use it for all types of endeavors. Work, school, browsing/streaming, and so much more. This is a work ready laptop. We know this by how fast it boots up and runs as well as the length of time it stays charged. Reviewers call the combination of being thin and light, yet productive and fast a "winning combination".
Users have said they would even buy a second one, or give one as a gift, which means it has to be delighting them! Many travelers have also commented on the screen resolution. The colors are bright and vivid. The quality of the screen you are spending so much time staring into is up to par. Reviewers have called this laptop the best on-the-go laptop out there. If you travel frequently, this is good news!
Exceptional
Battery Life
Many traveling users comment further on the battery life capabilities. No matter what they do with the laptop, it last all day long. We are talking well-known device killing activities such as nonstop video streaming, web browsing, gaming, work systems and software, and other types of streaming. These uses are known for killing devices fast and yet this laptop will still continue to go all day. It is a much-needed and desirable feature to have a laptop that does not die fast, especially for the traveler! An outlet is not always available to you and there's nothing worse than having to scramble to find one.
I can think of many times when I have had to get to an outlet in order to save a device before it shuts off. These memories are embarrassing and laughable. Fumbling with chords, squeezing into tight spaces, and sitting on floors against walls. All this in order to get that extra juice. Having a laptop that keeps a charge for a long time (an average of 15 hours!) is a prime reason that the X280 is a great travel laptop option. Many users commented that they would gift this device as we talked about earlier, but there are users who actually did. Many have purchased this same device for their spouse and children because it worked so well for them.
Improved Make & Model
Many loyal Lenovo users say this Lenovo ThinkPad X280 is the best laptop to come out by the brand yet. This make has improved on the last few models, users say. It is made to be carried, which is a noble upgrade. Many are on the go nowadays. Whether it be traveling for work, working remotely and getting work done in coffee shops or wherever there is Wi-Fi. It is important to have good portability capabilities in a laptop. This one is lighter and thinner, yet also gets stuff done at a more powerful rate than those models that came before it.
Another huge thing about this thin and light computer is the fact that it has so many inputs and ports to plug things into. This is a huge necessity for users. Chances are, you will eventually need to plug in a chord or USB, and this laptop does not take away that ability as many thin ones do. Another great perk many users have vocalized is the amount of money they are paying for such good quality. If you have ever bought a laptop or done research on good laptops, you know it is not cheap. This is an affordable price for something that is so versatile in its abilities. A small perk mentioned by users is the full feature mouse. Even though this is a small laptop, you still don't have to pass up using this important feature which is a huge positive.
You can even plug in a keyboard or mouse using into the third party adapter. Because of all the ports that create a variety of plug-in options, you can add to it as you please! This laptop can handle things like engineering software and still perform at a high capacity. if your work tends to take a toll on most computers, this is great to hear. This laptop is ready for the hard jobs you may throw at it. Another thing many reviews talk about in length is the anti glare and touch screen capabilities. Having an incredible HD, high-performance screen along with the one you can use with the touch of a finger is truly a steal.
Best of All Worlds
Traveling Reviewers recommend this laptop to anyone who needs a good laptop to take with you but also one that performs well. They know how hard this pair can be to find all in one. You will typically get one or the other: portable or high performance. Not with this laptop! this is an all in one device that works for you in real time. Another small but important feature talked about among users is how quiet it is. It can be awkward to be in a silent space with others and have your laptop make loud obnoxious noises. There is pretty much no sound when it is cooling and it is said to not get very hot either.
Another great perk described by users is the size of the screen. For such a small device, the screen is larger than most expect. Though many users purchased this laptop solely for travel purposes, they have found it is a great device for any place and type of work. May have reported using it in the comfort of their home as well as on their travels because of the great quality. Reviewers looking for a good deal have been able to buy this laptop while it has gone on sale, or on black Friday. It is always a plus when great devices are put on sale every now and then! This gives hope that if you keep an eye on it, you may get a great deal.
Reviewers who have left the ThinkPad's in the past to try other types of laptops have reportedly been mostly disappointed. Many say they realized once they switched that the ability the ThinkPad's have is unmatched and knew quickly there was nothing out there like these. If you leave this laptop on accident, it will go into sleep mode and preserve your charge. This is a feature that is appreciated by many, as you can imagine. Mistakes happen and this laptop is there to serve you when they do.
Many users report that the features are endless, and it can sometimes take a while to explore all of them. things like the camera's cover slide and the folding touch screen are truly just the cherry on top for many. But not only are there extra features that are appealing, no, but this laptop has also the core things down pat as well. This allows users to enjoy the extras knowing they are using a reliable device.
Many traveling users have spoken of the durability this ThinkPad has. When purchasing this device, many said their only fear was that it would be too easy to break and too delicate. This is the exact opposite of the truth. The quality of material and the build is incredibly strong and durable. Many comments on how they feel this laptop will last them a long time, for the simple fact that it will stay intact regardless of their rugged travels and usage of it.
Alternative Mini Laptops That Might Work Better For You:
1. ASUS Transformer Book Chi 12.5-Inch
This laptop is another thin, light option to take along on your travels. Not only is it sturdy and clean, but it is also beautiful. The top completely detaches itself from the keyboard, making this a great option if you want to go full tablet. It is an incredible thing that you can purchase this laptop for around $500 based on the 2-in-1 capabilities and quality you're getting. There is a dual speaker on this ASUS that makes the sound clear and deep. It is only 3.2 pounds and 12.5 inches, making this another great option to pack in a travel bag. If you are looking for an affordable 2-in-1, this is the laptop for you. Having the keyboard completely remove is a win if you want a laptop and sleek tablet. You can purchase this laptop on Amazon here.
2. ASUS C302CA-DHM4 Chromebook Flip 12.5-inch
This laptop is similar to our featured Chromebook. This is no surprise since it is a version of the same ASUS Chromebook Flip. One thing about this laptop that makes it a good fit, and that makes our featured laptop a good fit as well, is the built-in security feature, which is anti-virus protection. You will not have to worry about the safety of your laptop or personal information.
Typing is another great feature on this laptop. It is a comfortable experience with this touchpad because there are only small amounts of key float, making your typing feel firm. The glass display featured is Corning Gorilla Glass which is a firm and durable screen. The bootup is fast and easy. This is a great alternative option to our laptop in the review and has some awesome features.
3. New Microsoft Surface Go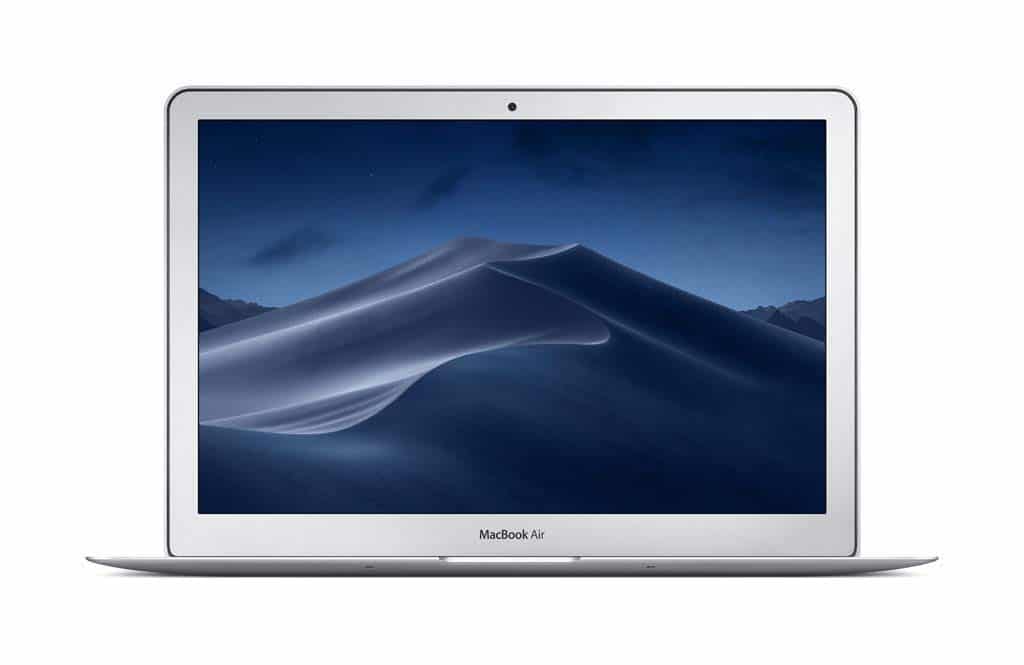 This laptop has an incredibly high and clear quality. Typing is incredibly simple with this laptop. You can type fast and easily, which is a big plus if you need to get work done as you travel. This MacBook Air also has a long battery life, just like our featured laptop. It averages 10 hours! The battery is also great for any type of face to face work such as Skype calls because the front-facing webcam is such high quality at 0.7 megapixels.
If you have a need to play music, podcasts, or listen to work-related things (such as webinars), this is a great laptop because the audio is known for being clear. All in all, the size and thin nature of this laptop is what makes it a great fit for travelers. It is only 0.7 inches thick and weighs a little over three pounds. If you need a small work or play computer, this is a great option. You can find a full review of this laptop on Trek Bible, here.
4. New Microsoft Surface Go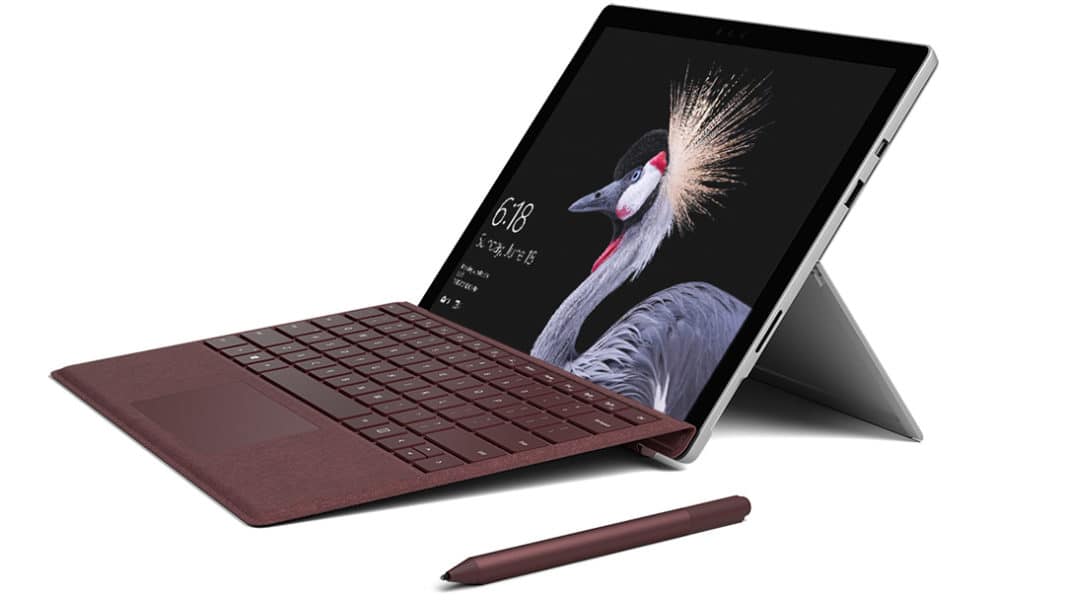 This laptop takes laptop/tablet mode to the next level. You can completely remove the type cover and close the kickstand. A fun thing to do with the removable signature type covers is taking your pick of color and style and switch you keyboard out as you desire. This Surface Go is compatible with Microsoft which means you can use Word, PowerPoint, Excel, OneNote, and Outlook. At just 1.3 pounds and 10", this Surface Go is the smallest and lightest yet. Here is the perfect mini laptop to go in any type of travel bag you use.
This is touchscreen, making it great for work or play at the swish of a finger. There is a surface pen available for you to write and draw with, just as you would with a sharpened pencil and eraser. There are also surface mobile mouse's in a variety of colors if you want to go full computer. If you are looking for sleek, light, and adjustable, this is a great mini laptop for you. You can purchase this Microsoft Surface Go on Amazon here.
ThinkPad X280 is the perfect portable workhorse.
It is clear that this laptop was created based on much trial, error and improvements along the way. This is the type of device that predicts the needs of its users. You will not find a better workhorse type system paired with incredible portability, than this one. Hopefully after hearing about what the travelers who have purchased this laptop think, you now have a better picture of what it would be like to own one of your own. Though there are many incredible systems out there, it is obvious this is top of the line. We hope you'll leave with a good sense of what this ThinkPad X280 laptop can do for you!
Related article: Best Mini Laptops Travelers Will Love And Need