Live like royalty on your trip by staying in one of the best hotels in Dubai. 
Dubai, a city and emirate in the United Arab Emirates, is known for its luxury shopping, modern architecture, and lively nightlife. Therefore it is no surprise that Dubai is also home to some rather extravagant hotels. 
There is so much to see and explore in Dubai. You will marvel over the man-made islands along the coast, the architecture masterpieces that surpass any other in the world, the bright lights, fast-paced lifestyle — it's equally intimidating as it is alluring. And to top it all off, this ultramodern city also has sprinkles of culture and history all around. The contrasts between the city's modern metropolitan vibe and traditional, historic quarters will astound you. 
Whether you're visiting for a week or just a few days, do yourself a favor and treat yourself during your stay. 
Here are the 8 best hotels in Dubai:
Understanding The City And Its Culture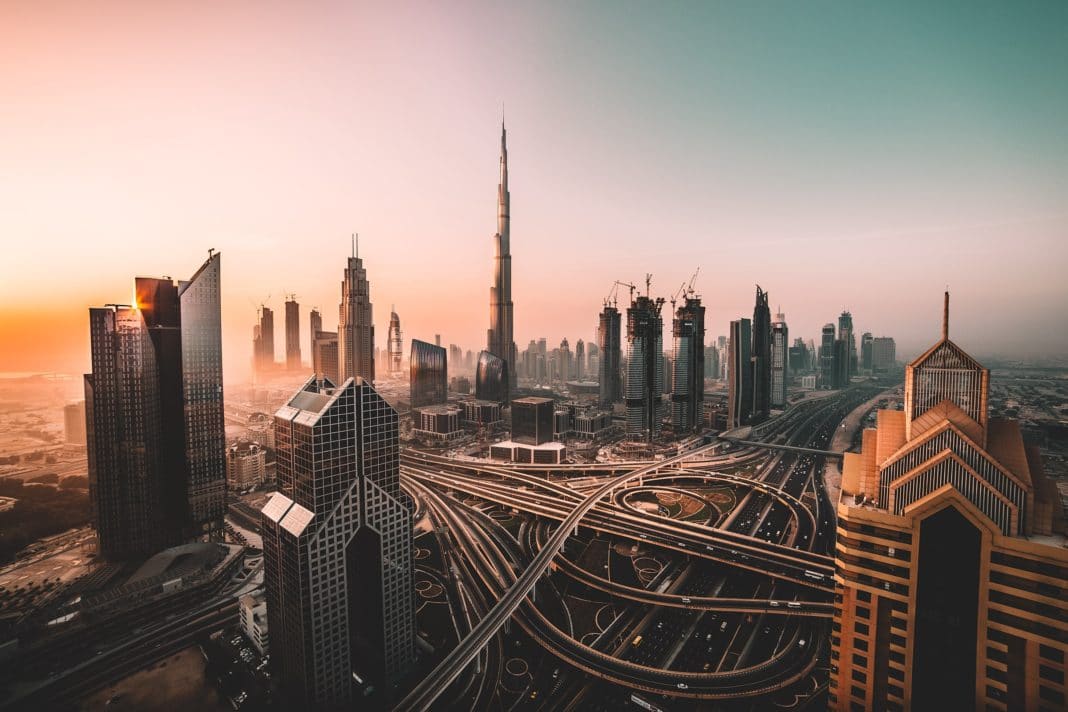 Before packing up and heading to Dubai, it is important to first get an understanding of Dubai culture. Though the city is extremely modern, Dubai stays true to the Islamic traditions that form UAE National's lifestyles. Therefore, it is very important for tourists to respect Dubai culture and behave appropriately while they are visiting. 
Dubai is famously known as the entertainment capital of the Middle East. So it often attracts partiers from all across the world. But Dubai forbids the nationals that practice Islam to "indulge in any of the entertaining services." So the party attractions are mainly for tourists and are not a popular aspect of residential lifestyle.
In general, it is advised for visitors and expats to not flaunt their Western culture habits while visiting Dubai. For this can be seen as offensive. And if you plan to visit Dubai during Ramadan, keep in mind that this is the most religious time of year in the city. So it may be a good idea to read up on the month-long event. 
This is just a tiny bit of insight on Dubai culture! If you are really serious about visiting Dubai, then do yourself (and Dubai residents) a favor and get to know their way of life. Then maybe you can consider staying in one of the best hotels in Dubai. 
Where To Stay: Choosing A Neighborhood
In a city with a population of 3.137 million, you can bet there are quite a few neighborhoods to choose from! But we understand how difficult it can be to choose a neighborhood to stay in when you have never visited a city before. So we're here to help you choose the Dubai neighborhood that is right for you. 
1. Downtown Dubai
This is where you will find the Dubai Mall, AKA the largest mall in the world, and the Burj Khalifa, AKA the world's tallest building since 2008. So if you like shopping, big crowds, lots of restaurants to choose from, and being close to famous works of architecture, the Downtown Dubai may be the neighborhood for you!
This area of the city is also home to the Dubai Fountain, which is the world's largest choreographed fountain system. You will also be in close proximity to Souk Al Bahar, a luxurious Arabian market. If your goal is to see as many of the top tourist sites that Dubai has to offer, then we highly recommend looking into staying in Downtown Dubai. 
2. Jumeirah Beach
Named after the Jumeirah district in Dubai, Jumeirah Beach follows the coastline west from Dubai Creek and culminates at the Burj Al Arab Hotel – just one of the best hotels in Dubai. But we'll get more into that later. 
Everything on Jumeirah Beach is fancy and expensive. So if you have the funds to drop big bucks during your vacation – and you want to be right along the water the entire time – then Jumeirah Beach is a neighborhood worth considering. 
3. Deira
On the other side of Dubai Creek you will find Deira. Historically, Deira is known as the commercial center of Dubai. It is a busy, bustling district that has just as many shopping districts as it does historical sites. 
There are a lot of "souks," or markets, in Deira. So if you want to do a lot of local shopping, then Deira is a good fit for you. 
4. Bur Dubai
AKA, the historic quarter of the city. So if you are more interested in Dubai's history than flashy, modernized vibe, Bur Dubai is absolutely the neighborhood for you. 
Bur Dubai is also home to some pretty great attractions. There you will find the Dubai Museum, The Grand Mosque, and Sheikh Saeed House. All of the neighborhoods in Dubai have something unique and beautiful to offer. But if you want to get in touch with the city's history and culture, then consider booking yours stay in Bur Dubai. 
Where To Stay: Choosing A Hotel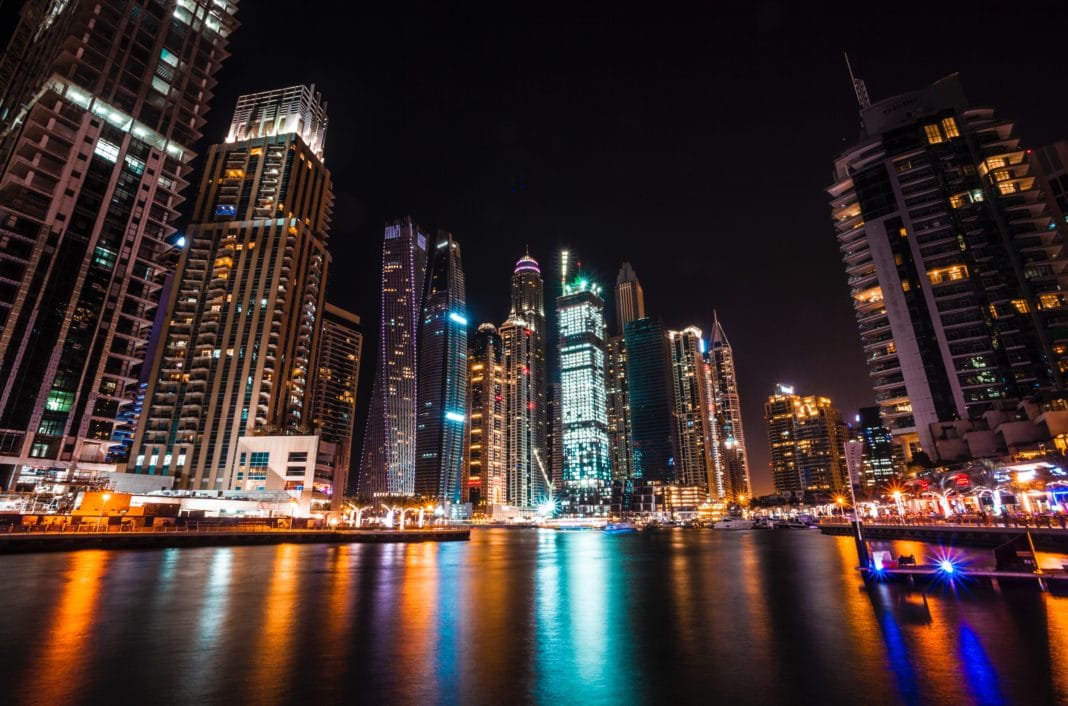 Now that you know about the culture and a few neighborhoods in Dubai, it's time to pick a hotel. And with how much we travel, we understand that choosing a hotel is a pretty difficult part of the planning process, as well. So make your job a bit easier and read through the highlights on these best hotels in Dubai. 
1. Atlantis, The Palm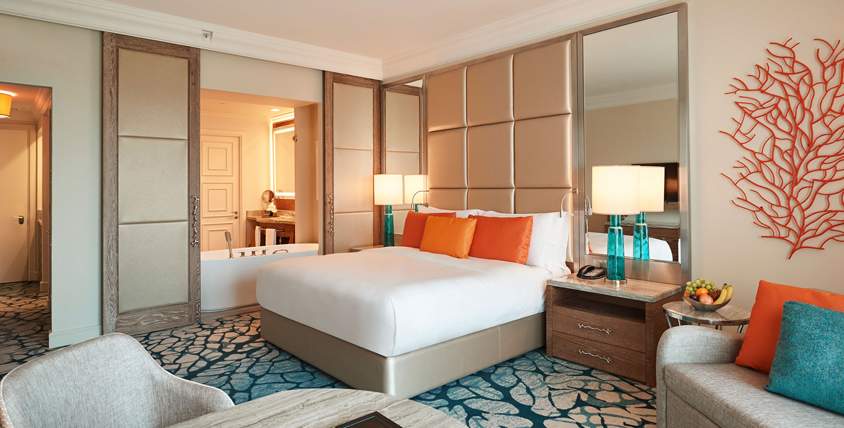 Credit: Atlantis, The Palm
Price Range: $$$ | Phone: [+ 971 4 426 2000] | Email: [info@atlantisthepalm.com]
If you want a truly luxurious, one of a kind hotel, then Atlantis, The Palm is one of the best hotels in Dubai to consider. Atlantis, The Palm sits on the artificial island of Palm Jumeriah in Dubai. The hotel has 1,500 insanely gorgeous rooms to choose from. And even their most basic room goes way beyond the average hotel room! 
But if you have some serious bucks to spend, then we recommend booking The Neptune or the Poseidon. These are the most extravagant suites at Atlantis, The Palm. And considering how much you're paying, you best believe you're getting your moneys worth! Starting at $5,400 a night, these stunning three-story rooms flaunt a dining room, living room, and bedroom with an ensuite bathroom. But the best part of the rooms are the view of floor-to-ceiling aquariums in each suite. 
Whether staying in lavish resorts is a habit for you or not, Atlantis, the Palm is the experience of a lifetime. So if you have the budget for it, we suggest booking a stay at Atlantis, The Palm – easily one of the finest and best hotels in Dubai. 
2. The Palace Downtown Dubai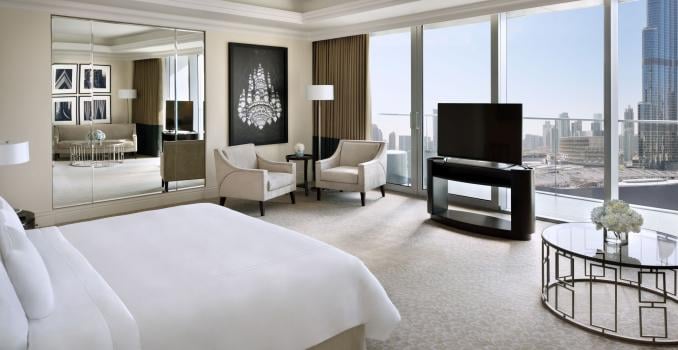 Credit: The Palace Downtown
Price Range: $$$ | Phone: [+ 9 714423 8888] | Email: [stay@addreshotels.com]
If you want to feel like royalty, then stay at The Palace Downtown. This is easily one of the best hotels in Dubai to stay if you're looking for comfort and elegance, but somewhat of a relaxed vibe to wind down in. We find that The Palace is opulent without feeling too flashy. 
The hotel features 242 guest hotel rooms and 81 lavish hotel suites. Each room features Middle Eastern themes that are rich in color, texture, and Arabian motifs. Guests can expects unique, intricate designs and exquisites furnishings that are hand-selected for each room. There are seven design styles to choose from, with every room boasting a private balcony that overlooks The Dubai Fountain, The Old Town or Burj Lake.
And while there are so many restaurants in Dubai you must check out, the on-site dining at The Palace is equally as delicious. The Palace has many different dining options to choose from. If you want an authentic Steakhouse, consider Asado, which pays tribute to the culture and history of Argentina with every bite. Or venture to Thiptara for a romantic ambiance and Thai cuisine. But if you want to experience authentic Arabic food, the Ewaan is a must-visit dining option. 
3. Shangri-La Hotel, Dubai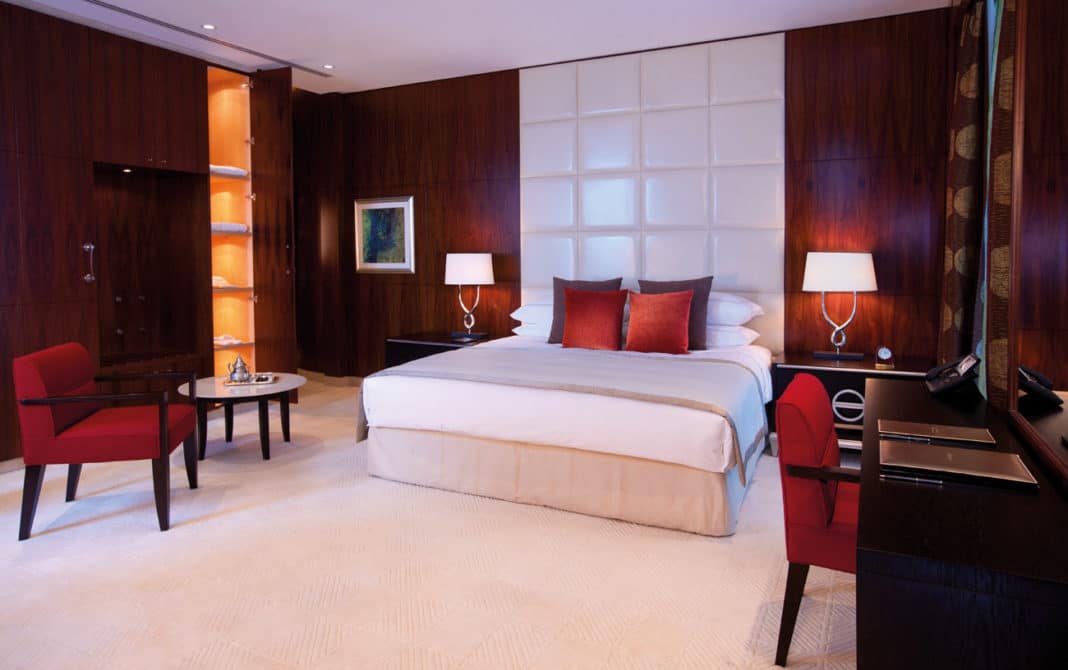 Credit: Shangri-La Hotel, Dubai
Price Range: $$$ | Phone: [+ 971 4 343 8888]
The Shangri-La Hotel is hands down one of the most beautiful and best hotels in Dubai. It features amazing panoramic in-room views of either Burj Khalifa or the gorgeously stunning Arabian Sea. The views alone are enough of a reason to book a stay at this lavish Dubai hotel. 
Shangri-La Hotel's decor reflects the modern lifestyle of the city. Each room and suite is adorned with gold and ruby tones, local artwork, deep soaking bath tubs, coffee and tea stations, and mini-bat. So if you have the funds for a suite, we highly suggest booking on. As each suite also features its own sitting and dining room. And the presidential suites offer their own kitchenettes and butler services!
As with all of the best hotels in Dubai, the Shangri-La has incredible on-site dining. There are eight restaurants and bars to choose from. For your morning coffee or an a la carte snack, visit Dunes Cafe. Hoi An is a great dinner spot with delicious Vietnamese dishes. And Shang Palace serves up some of the best Chinese food in the entire city. 
In addition to lavish rooms and delicious dining, Shangri-La features a huge spa with pools, tennis and squash courts.
4. Burj Al Arab
Credit: Jumeirah.com
Price Range: $$$ | Phone: [+ 971 4 3665000] | Email: reservations@jumeirah.com
The Burj Al Arab is more than one of the best hotels in Dubai. It is also a knockout piece of architecture. Its unusual but incredible design is meant to look like a giant billowing sail. And it reaches over 1,000 feet into the air! Come sunset, the hotel's exterior glows with a light show that moves artfully across the sail-like structures. 
And the interior of Burj Al Arab is just as gorgeous as its exterior. One of the most incredible features the hotel offers is its luxurious two-floor suites. For a truly opulent stay, consider booking The Royal Suite. This room features a 4-poster canopy bed on a rotating pedestal, as well as a staircase made out of marble and gold. 
Every single floor of the hotel has its own reception desk and team of butlers to assist you with any and all needs. The on-site restaurant, Mahara, serves the most delicious foie gras and grilled Atlantic lobster you will ever have in your life. In short, staying at the Burj Al Arab is like living out a fantasy. A lavish, extravagant fantasy that you can only find at one of the best hotels in Dubai. 
Credit: Bab Al Shams
Price Range: $$$ | Phone: [+ 971 4 809 6100] | Email: BAS.info@meydanhotels.com
Though Bab Al Shams is technically located in a desert retreat just outside of the city, we still consider it one of the best hotels in Dubai. The hotel is smaller than others with just 113 rooms. But don't let its size fool you. Bab Al Shams has all of the amenities any large resort can offer you. 
The hotel has eight on-site restaurants and bars, an incredible spa, and three swimming pools. Each one of the beautiful rooms looks out on the vast desert. Or you may have a view of the gorgeously landscaped hotel gardens. But the suites have their very own sun terraces to sit out on and take in the gorgeous Arabian sunset. 
The hotel's signature restaurant, Al Hadheerah, is an extravagant open-air dining experience that resembles a class Arabic market. Therefore you can expect to see belly dancers, henna artists, live music, and even falcon displays livening up your meals! And for a perfect ending to a perfect evening, head on up to the Al Sarab lounge. Once there you can enjoy a delicious cocktail, try out one of the many hookah pipes, or simply relax and soak up your Arabian night. 
Staying at Bab Al Shams is a hotel experience like no other. 
6. Ahmedia Heritage Guest House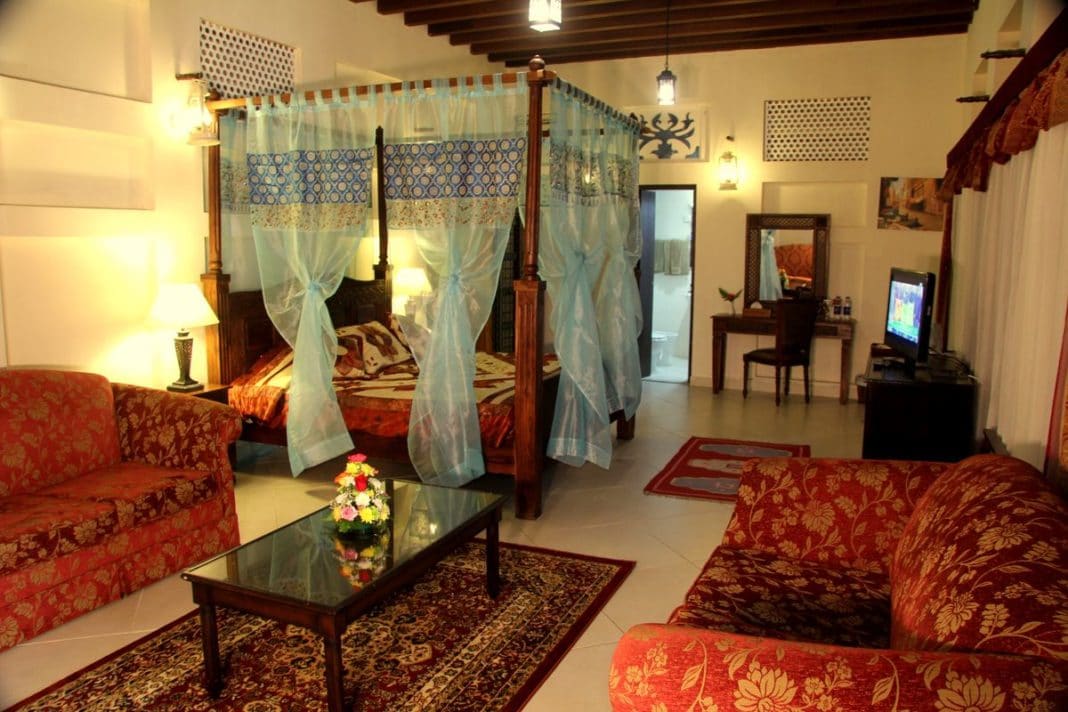 Credit: Heritage Dubai Hotels
Price Range: $$$ | Phone: [+971 4 351 9111] | Email: info@arabiancourtyard.com
The Ahmedia Heritage Guest House is one of the best hotels in Dubai for a reclusive stay. This small, romantic hotel has a lovely courtyard and an art gallery all to itself. The decor pays tribute to traditional Arabian style. You will feel like you are right near the "souks" in every room you wander through in the Ahmedia Heritage. 
Ahemedia Heritage is designated as a piece of historical architecture by the Dubai Municipality Heritage Department. So if you admire fine works of architecture, then this is absolutely one of the best hotels in Dubai for you to stay at. 
The guest house prides itself in being a unique place that allows guests to experience "the magnificence of Arabian hospitality in a truly authentic setting." Its three luxurious Emirati houses are restored to their "glorious pasts" and allows guests to discover the richness of ancient Emirati culture. And as an added perk, the guest houses are all very close to major Dubai attractions. You will be within walking distance to the traditional Spice Market, Gold Souk, Dubai Creek, and more. 
7. Raffles Dubai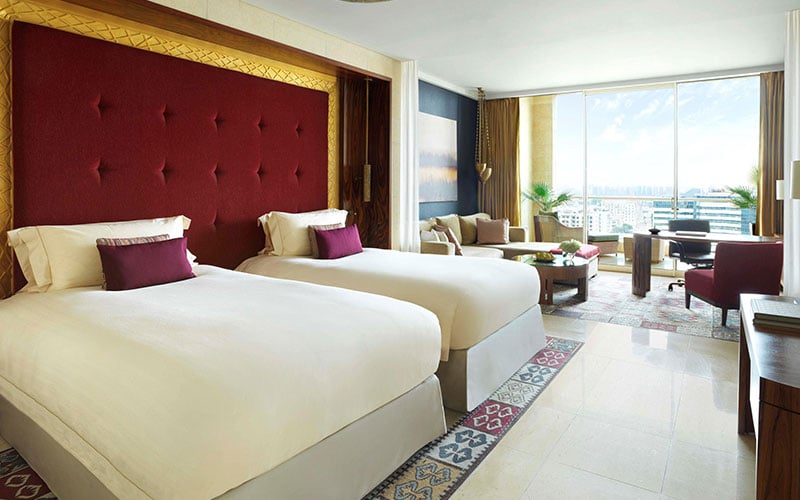 Credit: Raffles Hotel
Price Range: $$$ | Phone: [+1 971 4-324-8888] 
You will know you are at the right place the moment you walk up to the hotel's gorgeous pyramid shaped building. Raffles Dubai is an extremely popular hotel that is well know for its intricate and extravagant Egyptian theme. The hotel directly connects to WAFI Mall,  yet another luxury shopping district in Dubai. 
Considering its close proximity to the mall, it is safe to bet that Raffles Dubai offers its guests a luxurious stay. All of the rooms are spacious and plush. And if you book a suite, you will be provided with your own sitting area adorned with hand-crafted furniture. You will also be treated to a butler service, mini bar, a private balcony, and skyline views. 
Raffles Dubai of course has its own spa and lounges which offer relaxing breaks from an already relaxing stay. But the best part of the hotel? Its on-site dining options, of course. Can you tell we love food here at Trekbible? Especially when it comes to trying new food in new places. That is, after all, one of the best parts of traveling! 
There are seven bars and restaurants to try out at Raffles Dubai. And that includes a speciality cocktails bar and a poolside restaurant and bar. Go to Solo for a delicious Italian meal. Tomo is your spot for Japanese cuisine. If you need a good family dining spot, definitely go to Azur. And if you're in the mood for something a bit more romantic, then Raffles Garden has got you covered. 
8. Kempinski Hotel Mall of the Emirates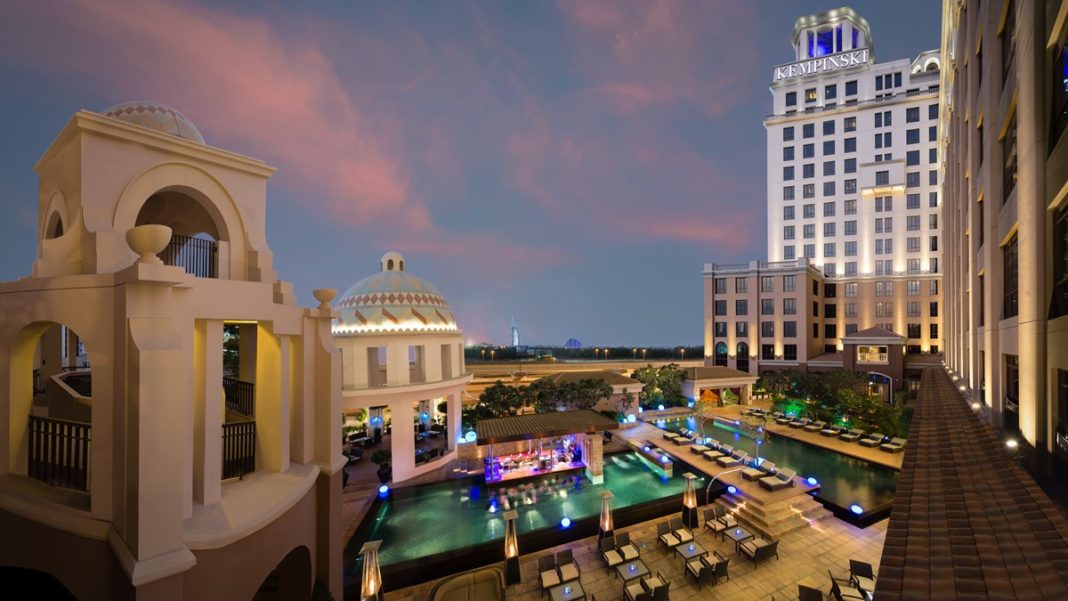 Credit: Kempinski Hotel
Price Range: $$$ | Phone: [+971 4 341 0000] | Email: reservations.malloftheemirates@kempinski.com
The Kempinski Hotel Mall of the Emirates is easily one of the grandest, best hotels in Dubai. This decadent hotel embodies a luxe vibe that will make you feel like royalty. It is easy to fall in love with the hotel's towering ceilings, Arabic aesthetic, Aspen Chalets, and more. 
Each room feels more luxurious than the last. All of the guest rooms are accessorized with their very own iPads, coffee and tea stations, marble bathtubs, and gorgeous views of the city. And if you are traveling to Dubai in the winter, then you are in luck. The Kempinski Hotel is probably one of the best hotels in Dubai to stay in during the winter months. And that's because this grand hotel turns into a cozy, winter retreat withs tone faux fireplaces and an indoor ski slope. 
If you have the budget for it, we highly recommend getting your own suite when you stay here. This will provide you with a kitchenette and your own butler services (that seems to be a popular trend at Dubai hotels, no?) And because the hotel connects to the Mall of Emirates, you are in direct contact with 500 incredible shops and boutiques. 
Dubai really is the best place to go to live like a queen (or king) for a week. So live your best life and make a reservation at The Kempinski, AKA one of the absolute best hotels in Dubai. 
If you have the budget for it, Dubai will be the most luxurious adventure of your lifetime.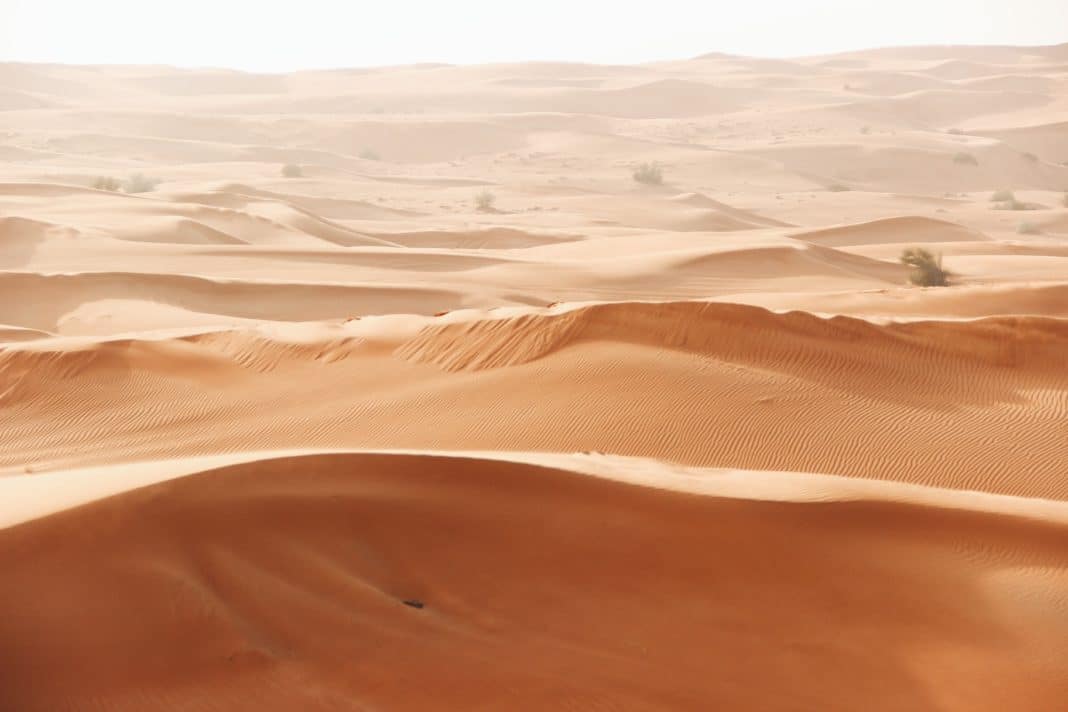 As you can see by now, Dubai is a getaway to take if you have the desire (and the funds) to go all out and treat yourself. And what better way to spoil yourself than by staying in one of the best hotels in Dubai? These eight hotels are all incredibly extravagant and unique in their own ways. They all have something different to offer. And no matter which hotel you choose, we are sure you will have an incredible time exploring the unique and gorgeous Dubai. 
Have you ever been to Dubai? What was it like? And where did you stay? Do you have any recommendations on things to do while you're there? Leave us a comment and let us know!
Related Article: 12 Best Things to Do In Dubai