Planning your next getaway? Check out these Barbados all inclusive resorts.
The holidays have passed and January can bring a lull. After the hustle and bustle of the Christmas season, it's hard to wind down and start up the work week again. If you're anything like us, you've probably been scoping out deals on the web to plan your next trip. Even if you visited family over the winter break, sometimes that leaves you needing another vacation. So if you're craving some sun and sand, we have just the cure for your post-break hangover. These Barbados all inclusive resorts are the best medicine.
Here Are Our Picks for the Best Barbados All Inclusive Resorts
Besides a room with a view, comfort is our number one priority when traveling. After a long-haul flight, there is nothing quite like sinking into a queen-sized mattress with cool linen sheets. Signature amenities make all the difference and if there are a spa and outdoor pool, you can count us in. With dozens of resorts on the island, it can be difficult to narrow down your pick. The places on our list of the best Barbados all inclusive resorts offer a wide variety of options for accommodation, dining, activities, and close proximity to some of the top attractions.
Whether you are seeking a relaxing stay or seeking out a bit of adventure, there is something on this list for you. Play a game of tennis or golf, cool down from the sun with a dip in the pool or ocean, snorkel with beautiful marine life, indulge in fine dining. The choices are entirely yours. It's time to explore the paradise of Barbados and give yourself some time that is stress-free.
1. Sea Breeze Beach House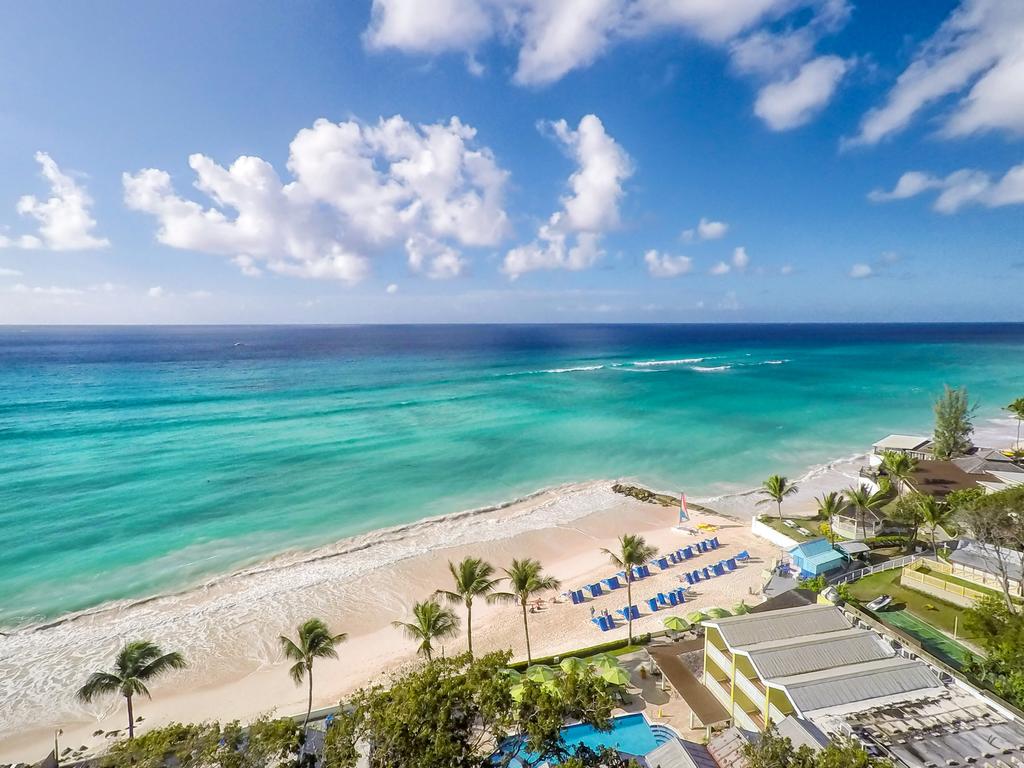 Credit: Sea Breeze Beach House
Are you looking for a place on the quiet side of the island? Check out the serene Sea Breeze Beach House. Even the name invokes mellow, relaxing vibes. Newly renovated, it feels fresh and new from the moment you step onto the grounds. This little gem is nestled on 2.5 acres of lush green land along the tropical gardens of the Caribbean with 1,000 feet of beachfront. Lounge with a cocktail in hand by one of the many sparkling pools, work on your tan on the pristine white sand beaches or cool down in the stunningly-clear ocean water.
It's time to embrace all that relaxation has to offer you. Choose from one of their beautiful rooms, kick up your feet, and enjoy your stay. What's included? Classic Collection Rooms offer prime views of the pool, garden, and ocean. Whether you are traveling with the family, friends, or that special someone, there are rooms just right for your needs. The hotel offers three swimming pools, prime oceanfront property, entertainment, multiple dining options, non-motorized watersports, adults only jacuzzis, a kids club, and free wifi. When it comes to accommodations, the rooms range from classic styles (that can accommodate up to four travelers) to sweeping three and four-bedroom suites that can accommodate up to ten travelers.
2. Island Inn Hotel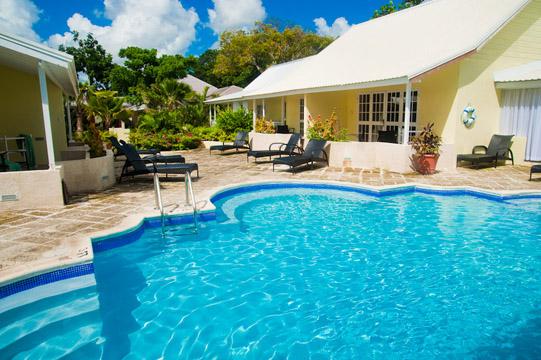 Credit: Island Inn Hotel
If you're seeking a budget-friendly stay, this is one of the least expensive properties on the entire island. And fret not. Just because it's affordable doesn't make it like a Motel 6. In fact, it's quite to the contrary. The Island Inn Hotel is a UNESCO World Heritage Site and only a six-minute drive from Bridgetown. This puts you next to some of the best bars, restaurants, and options for entertainment. Just walk outside your door and there are plenty of fun places to explore and things to do on the island. When you are traveling, booking a hotel in the right place is key. You don't want to have to walk and drive far to find activities. Save yourself some time and money by booking close to what you want to see. This is one of the best travel tricks we have learned over the years.
While you won't be directly on the sand, the beach is only a two-minute walk away. After all, this is one of the best Barbados all inclusive resorts. Make sure to book far in advance since the hotel itself is small. Another thing to consider is that the pool can get quite crowded and there is only one restaurant on-site. But for the cheap price you are paying, it is worthwhile. We recommend booking in the off or shoulder seasons to lower the chance of crowds.
3. Mango Bay All Inclusive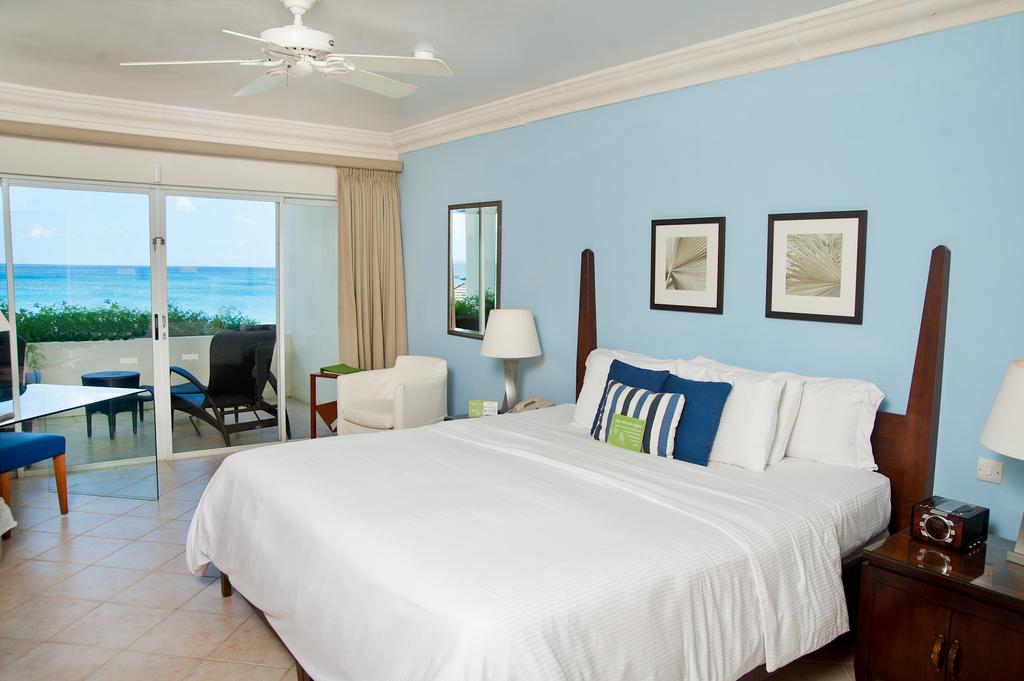 Credit: Mango Bay All Inclusive
Historic Holetown is one of our favorite spots on the island. So when we learned about the beautiful Mango Bay All Inclusive resort, we had to check it out for ourselves. This 76-room escape is perfect for those seeking understated luxury. Here, your package includes meals in an indoor/outdoor restaurant, drinks, nightly entertainment, and fun activities such as catamaran rides and water skiing. What more could you ask for? Mango Bay has something for the entire family to enjoy.
While the beach area can be crowded, the waves are gentle enough to accommodate all types of swimmers. So, this is a spot you can bring the kids without worrying about their safety in the water. At the end of a long day, wind down in the lovely, spacious guest rooms. This resort offers a simple sophistication and we are all about it.
4. Crystal Cove by Elegant Hotels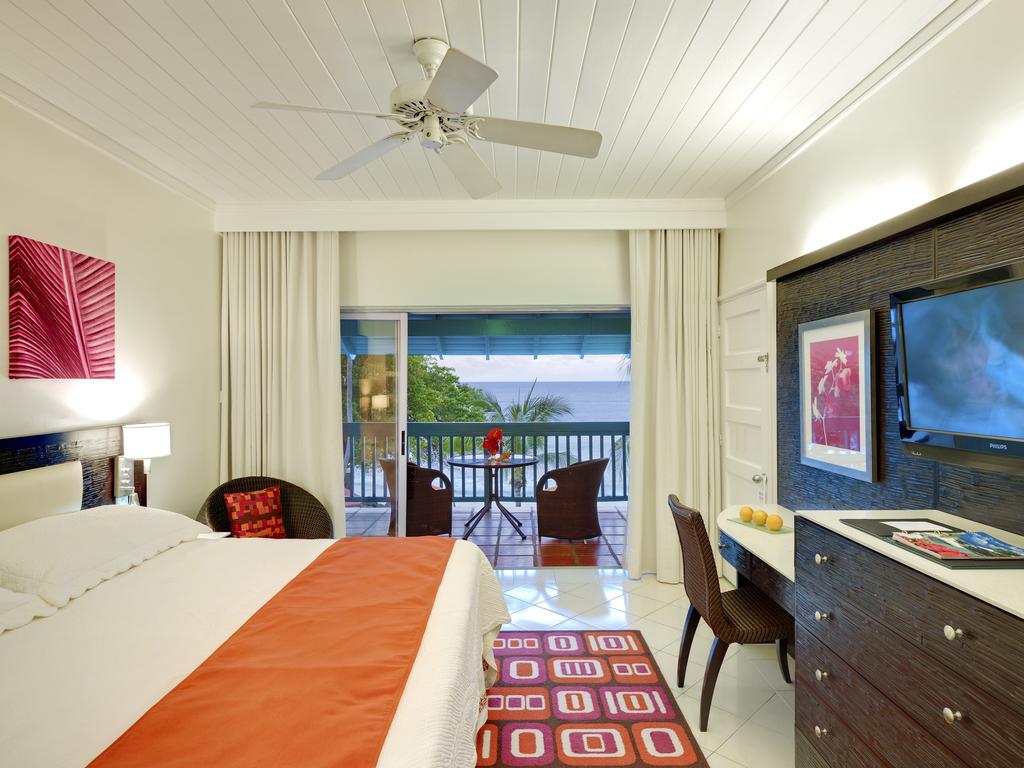 Credit: Crystal Cove by Elegant Hotels
Picture the charm of a quaint seaside Caribbean and striking ocean views. Back in lush local scenery on the perfect cliffside setting. Crystal Cove by Elegant Hotels is truly something special. A boutique resort, you will get everything you could dream of included in your stay. Wake up to a delicious full breakfast complete with mouth-watering fresh fruit and a hot cup of coffee. Lunch, dinner, snacks, and everything in between is included too.
For those seeking the ultimate tropical experience, you have found your happy place. Versatile dining and a la carte options are available throughout the week. International fare and local cuisine give hungry travelers all the options when it comes to choosing the right meal. After you have started the day off with a healthy breakfast, it's time for adventure. For those with a need for speed, check out all the available motorized watersports available to you. Take advantage of the fitness and wellness options on-site and play a tennis match. Book a tour and swim with turtles (just make sure to bring your GoPro). What would you like to do? You can pick and choose whatever you would like.
5. Waves Hotel and Spa by Elegant Hotels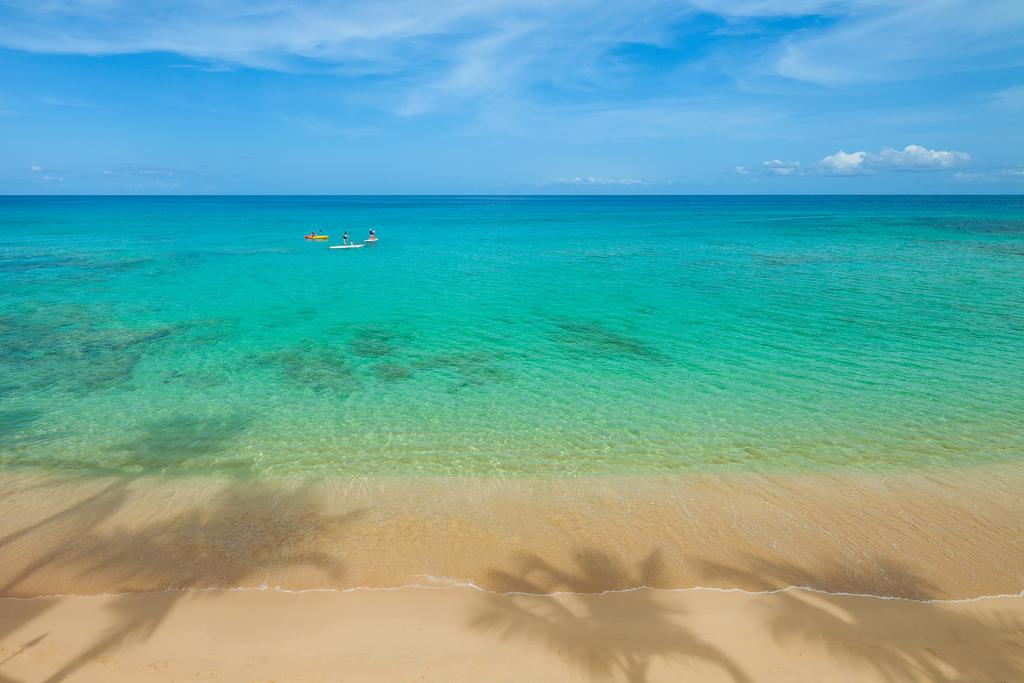 Credit: Waves Hotel and Spa by Elegant Hotels
Enjoy the ultimate all inclusive mind and body escape. Why should you stay at Waves Hotel and Spa? It's only one of the best Barbados all inclusive resorts. With a South Beach-inspired style, you get some of the fun quirky elements of Miami with the luxurious touches of a boutique stay among island life. Tranquil amenities and personalized service come together to create an experience unlike any other.
Competitive pricing, beautiful rooms, and plenty of on-site amenities make this stay more than worthwhile. On-site, you will find not one but three restaurants, cabanas out on the terrace, and a late-night lounge for free-flowing drinks and conversation. The spacious rooms are modern and bright, offering glass balconies and all the amenities you could hope for. There are flat-screen TVs, iPod docks, minibars stocked with delicious and refreshing goods, modern bathrooms boast showerless doors, and plenty of eco-friendly toiletries. Your stay and the beach feels peaceful and quiet. When you've gotten your rest, head outside and choose from one of the many activities offered to you. Swimming, kayaking, and an adults-only spa and pool are just a few of the many fun perks.
Book Your Stay at one of the Best Barbados All Inclusive Resorts
While many people think that a vacation to Barbados is too expensive and they can't afford it, that doesn't have to be true. Planning ahead or booking a trip for the shoulder season and off seasons are good ways to save money. While the food on the island is expensive, booking a stay at one of the best Barbados all inclusive resorts will get you the most bang for your buck. After all, what's better than knowing that food, activities, and luxurious amenities are all included? Treat yourself to breakfast on an oceanfront patio, a morning massage, and afternoon water sport excursions.
Travelers often come to the Caribbean for the all inclusive experience. When you have activities and all the meals you could want at the property, it takes a lot of stress and guesswork out of the planning. However, some hotels can serve up less than great food or lack the kind of amenities you want. Luckily for you, we have visited plenty of places to sample the culinary scene, indulge in the amenities, and take part in the activities. Our picks have it all and then some.
We hope you enjoyed reading our article on the best Barbados all inclusive resorts. As you can see, this vibrant destination offers so many opportunities for those seeking a trip of both relaxation and adventure. Some of the best beaches in the world are right here.
Our choices for the top accommodations offer the best of both worlds – rest and time for exploration. Whatever type of vacation you are seeking, you will find it here. From adults-only resorts all about romance to family fun options, we've helped you narrow down your choices to only the highest caliber places of accommodation.
These resorts are right in the middle of it all, offering not only a unique place to experience the local wonders but also a home away from home. Book yourself a vacation to remember and make memories to last a lifetime. Which one of the resorts on our list did you like the most? Let us know in the comment section below.
Related Article: Through Airbnb, Now You Can Rent a Whole Caribbean Island