Take a moment and appreciate the beauty that encapsulates Northern Italy. The Dolomites roll out giant mountain vistas, snow-capped Alps pierce through the clouds, and dramatic coastlines hide crystalline lakes.
Come and get inspired by the stunning regions of northern Italy. We're here to give you the 411 on some of our favorite hot spots, dream vacations, and hideaways. Somewhere in the vineyard-covered hills, there's a rustic cabin with your name on it.
1. Parco Nazionale Gran Paradiso, Aosta Valley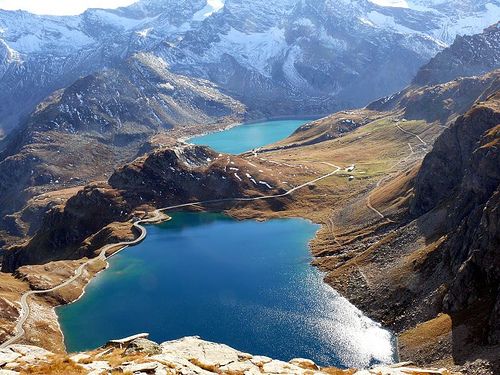 We bet you've never seen more stunning landscapes than the ones in Parco Nazionale Gran Paradiso. Offering more than 450 miles of scenic marked trails and mule tracks, this national park is a traveler's paradise year-round. Even in the winter, you can strap on some snowshoes and book a tour to hike up the peak.
Additional Information
You'll find this protected area in the Alps of northwest Italy. Home to the Alpine Ibex (aka adorable wild mountain goats) and chamois (equally adorable antelope), it has ski runs and a vast network of paths. This includes the trail from Pont Valsavarenche to Nivolet plateau, which passes a waterfall. The Paradisia Alpine Botanic Garden has native plants, lichen, and butterflies. In the north, Parc Animalier d'Introd provides shelter to marmots, deer, and birds of prey.
2. Bagni di Bormio, Lombardy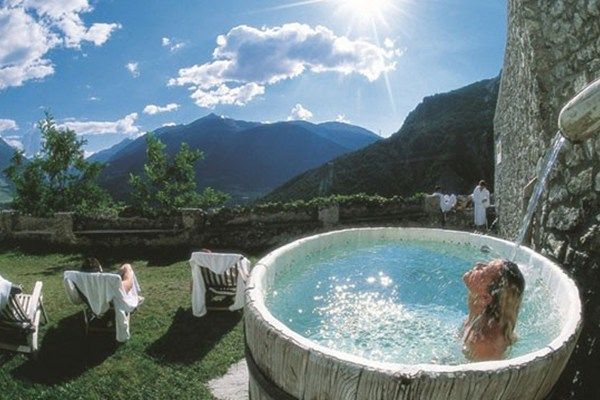 Live like a travel influencer in Bormio. This small commune in the Valtellina area of northwest Italy was built around the hot springs. Throughout history, travelers have sought these waters in search of wellness from the springs and refreshment from the cool mountain air.
Additional Information
Pro tip: Seek your own wellness in the Bagni Vecchi, old Roman baths located at the foot of dramatic snowy caves. Take in the Alpine scenery from a warm soaking tub or opt for a hot pool at the Bagni Nuova.
3. Livigno, Lombardy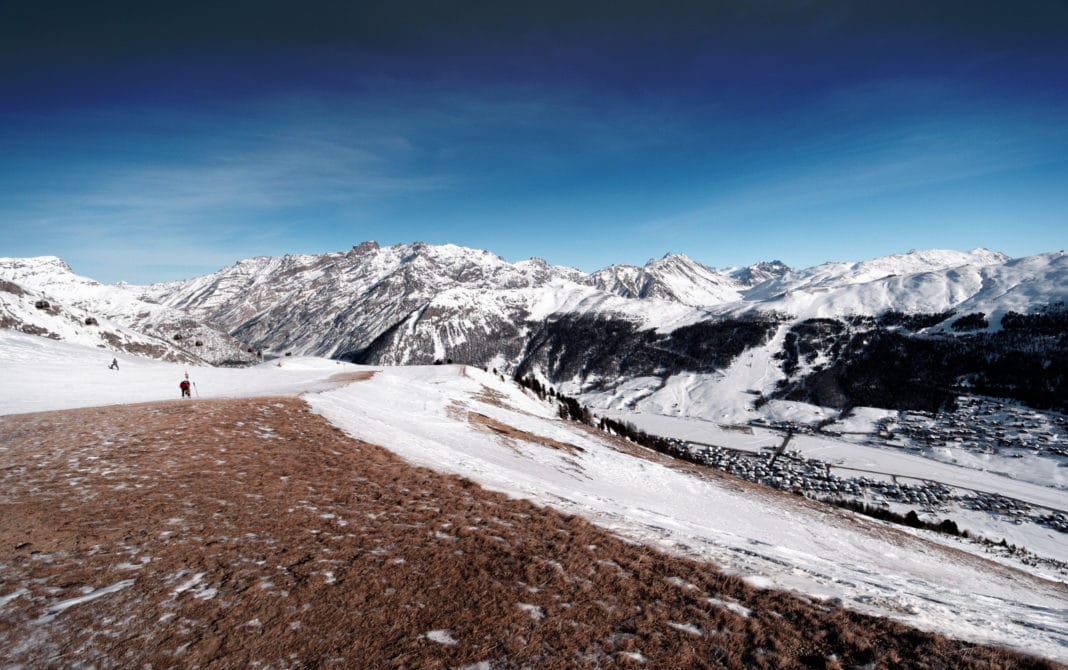 Livigno is a popular ski resort in the Italian Alps, right near the Swiss border. It's famous for its amazing snow parks, with slopes and trails. In town, the Mus! Livigno and Trepalle Museum displays farming tools and other items tracing the region's history.
Additional Information
The Latteria di Livigno is a working dairy farm with a museum and diorama of local fauna. Livigno is a base for Stelvio National Park, home to ermine, eagles, and ibex. If you happen to be visiting in February, make sure you don't miss out on the famous snow polo tournament.
4. Lake Como, Lombardy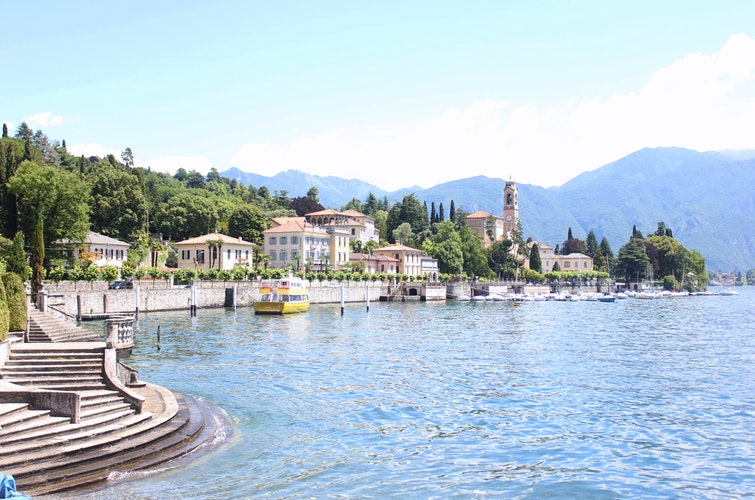 We're sure you've heard of the iconic Lake Como. You can find this outstanding natural beauty and crystalline bays just an hour from Milan. Located in the Lombardy region, it's best known for dramatic scenery and Renaissance architecture.
Additional Information
The Lake is shaped like an upside-down Y, with three slender branches extending to the resort town of Bellagio. At the bottom of the southwest branch lies the city of Como, home to Renaissance architecture and a funicular that travels up to the mountain town of Brunate.
5. Bologna, Emilia-Romagna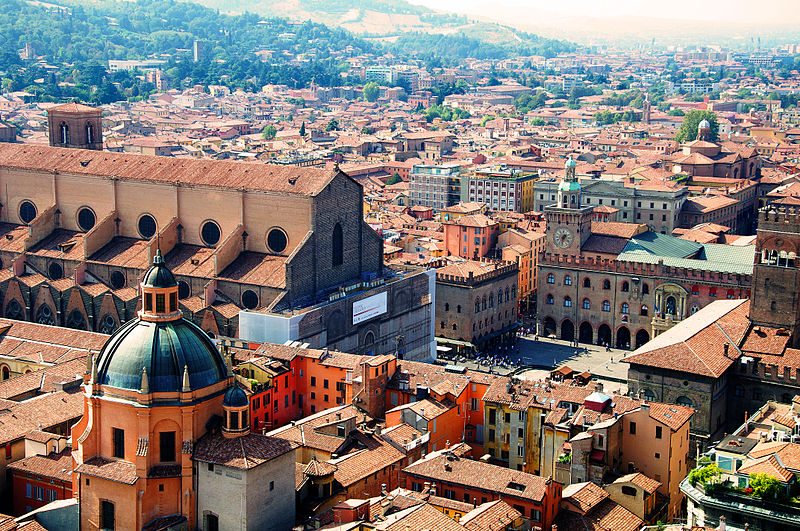 Come and explore all that Bologna has to offer. You'll find this lively, historic capital of the Emilia-Romagna region, in northern Italy. One big traveler's draw is  Piazza Maggiore, a lovely sprawling plaza lined with arched colonnades, cafes and medieval and Renaissance structures.
Additional Information
Among them, you'll find City Hall, the Fountain of Neptune and the Basilica di San Petronio. The city's most prominent sites are the Two Towers, leaning Asinelli and Garisenda.
6. Venice
Sixteenth-century splendor lives on in modern-day Venice. Walking around, you'll forget that this city is actually built on 100 small islands in a lagoon in the Adriatic Sea. Roads? Where we're going we don't need roads (comment below if you get the reference).
Additional Information
The Grand Canal runs throughout, lined with ornate Renaissance and Gothic palaces.  Be a little touristy. Ride the gondola. Eat your weight in gelato – it's easier to do than you'd think. Soak up some sun in the central square, Piazza San Marco. This lovely square contains St. Mark's Basilica, tiled with Byzantine mosaics, and the Campanile bell tower offering views of the city's red roofs.
7. The Dolomites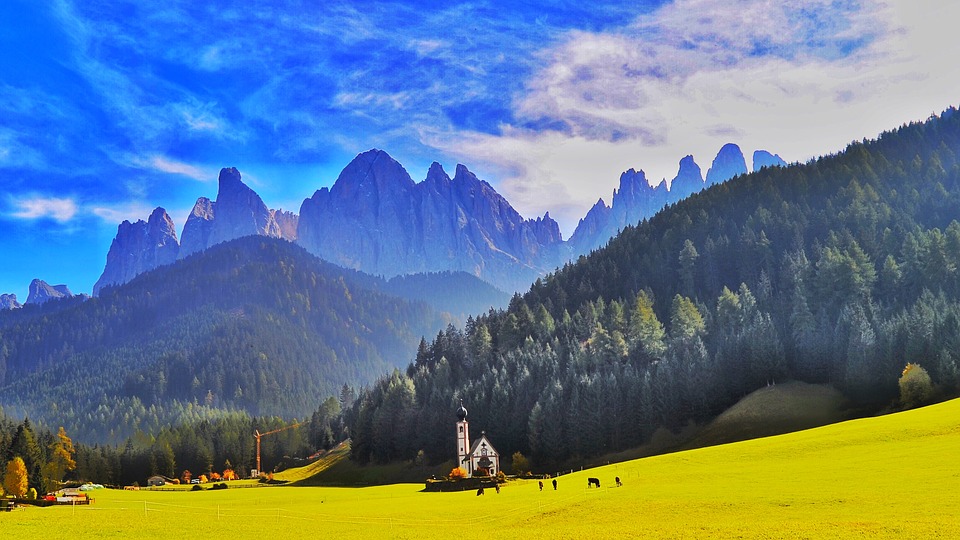 In northern Italy, you'll find some of the most beautiful mountains on earth. An adventurer's paradise, there are plenty of opportunities for hiking, backpacking, and snowshoeing. For those seeking some R&R, you can relax in a luxurious cabin and soak in all the breathtaking sights.
Additional Information
The Dolomites are a mountain range located in northeastern Italy. They form a part of the Southern Limestone Alps and extend from the River Adige in the west to the Piave Valley in the east.
8. Friuli-Venezia Giulia (aka Wine Country)
Sip a glass of chardonnay in this beautiful region of northern Italy. Friuli Venezia Giulia borders Austria, Slovenia, and the Adriatic Sea. It's home to the sharp-peaked Dolomite Mountains and vineyards producing white wines. Trieste, the capital, was once part of the 19th-century Austro-Hungarian Empire. Its famous sights include the old quarter, the waterfront Piazza dell'Unità d'Italia square and Castello di Miramare, a former royal residence.
9. Milan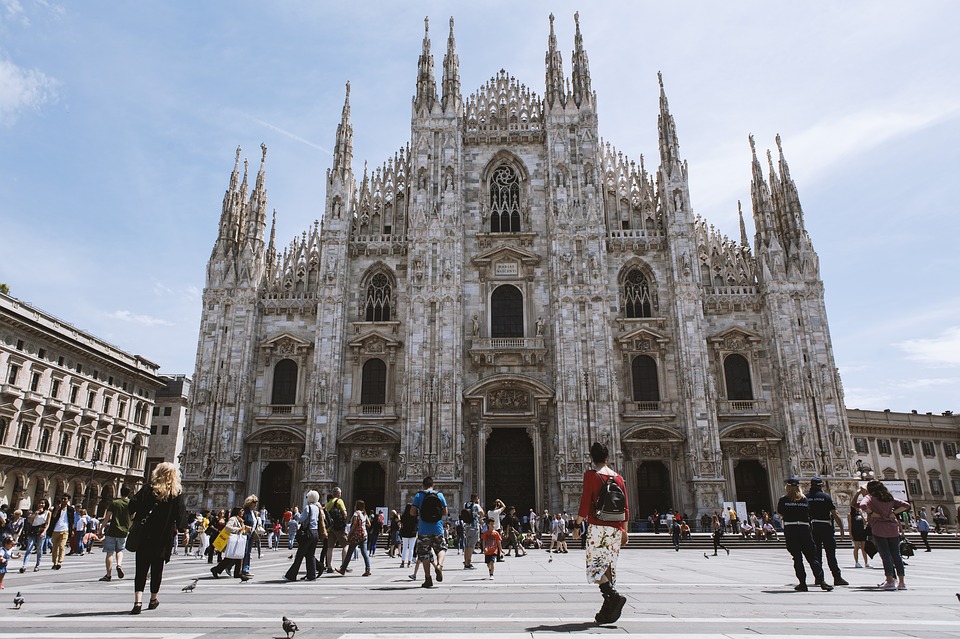 You can't visit northern Italy without seeing Milan. Located in Italy's Lombardy region, this city is the international capital of fashion. It's also home to the national stock exchange, a buzzing financial hub. Walk around and see the Gothic Duomo di Milano cathedral and the Santa Maria Delle Grazie convent, housing Leonardo da Vinci's mural "The Last Supper," testify to centuries of art and culture.
History
The historical journey of this city is astonishing. Look at the architecture of the city and you'd never know what heavy bombing it endured in World War II. Though it was nearly destroyed, modern Milan has moved on from its scarred past. Today, it's one of the wealthiest cities on the European continent.
Additional Information
Travelers come from near and far to marvel at its beauty and peruse high-end designer shops and skyscrapers. Beyond its fashion focus, the city is also home to
Leonardo da Vinci's The Last Supper, the La Scala Opera House, one of the world's largest Gothic cathedrals, and the Castello Sforzesco. Moreover, Milan is one of Italy's most popular destinations and you won't want to miss it!
10. Cinque Terre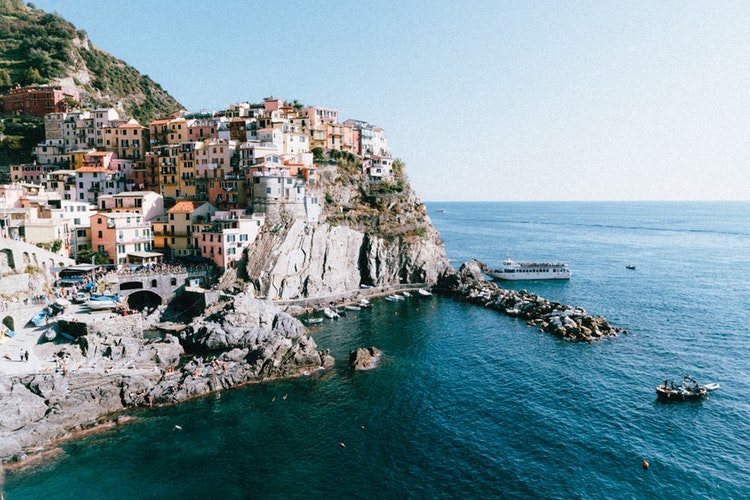 Cinque Terre is a string of centuries-old seaside villages on the rugged Italian Riviera coastline. In each of the 5 towns, colorful houses and vineyards cling to steep terraces, harbors are filled with fishing boats and trattorias turn out seafood specialties along with the Liguria region's famous sauce, pesto. The Sentiero Azzurro cliffside hiking trail links the villages and offers sweeping sea vistas.
Have you ever seen such pure pastel perfection? Welcome to Cinque Terre, Italy, one of the most beautiful places in Europe. Set among some of the most dramatic coastal scenery on the planet, these five fishing villages carved out of the cliffs provide a striking contrast to their natural surroundings.
Additional Information
Rainbow colored pastel walls dot the coastline next to rolling green hills and shimmering turquoise waters. The happiness within these quaint little towns are prepared to bolster even the saddest of spirits. Once an undiscovered Eden, Cinque Terre, Italy is now a bustling collection of seaside villages that somehow manages to stay true to their character and culture. But you can avoid the crowds if you travel in June.
Travelers climb steep cliff sides along dirt steps, while a 19th-century railway cuts through a series of coastal tunnels, providing jaw-dropping views at every little glimpse to its passengers inside. Here, all the charm remains. Cars were banished years ago.
History
Rooted in ages of old, Cinque Terre's five seaside villages date all the way back to the Medieval period. While much of this beautiful architecture still remains, the draw for visitors worldwide has been the steep, terraced cliffs, lovely layers of green gardens, gorgeous warm Mediterranean waters, and the secret sea caves just waiting to be explored.
11. Messner Mountain, Südtirol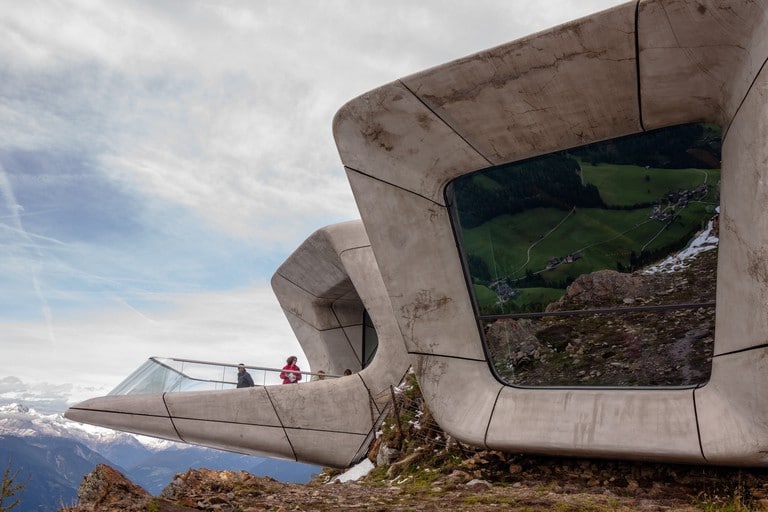 Get your way to the plateau of Kronplatz for one of the most magnificent views of Südtiro. Just make sure to bring a good camera. The breathtaking panoramic view spans from Ortler in the west to the Lienz Dolomites in the east. Look to the south and you'll see Marmolada. To the north, you'll see the Zillertal Alps. Equally inspiring is the Messner Mountain Museum designed by Zaha Hadid Architects.
Book Your Trip to Explore the Most Beautiful Regions of Northern Italy
We hope you enjoyed reading through our list of the most beautiful places in northern Italy. From the snow-capped mountains and crystalline lakes of the Dolomites to the stunning architecture of cities like Milan, there is no shortage of beauty in this country. If you have a few weeks to spend, do it. No one has ever regretted the time they've spent in this wonderland.
Do you have any questions or comments for us? If so, we'd love to hear them. Feel free to leave us a message in the comment section below. We will be sure to get back with you soon.
Related Article: 12 Best Places to Visit in Italy for the Ultimate Holiday