Never run out of power again with the PowerJak 13000 mAh Dual USB.
A top-rated dual USB charger, this device from PowerJak provides superior, durable quality. As a traveler, having reliable gear makes your life so much easier. Whether you're on a train, trekking to your Airbnb across town, or trying to catch a flight, you can rest easy knowing your phone will never run out of juice. With the PowerJak 13000 mAh Dual USB, you have freedom from a wall charger.
A Little About PowerJak
Enjoy power on the go – anytime and anywhere. A family run business based in Santa Monica, California, PowerJak offers high quality battery products to power up your mobile devices. Taking a look at their line's quality, it's easy to see why they have been rated the #1 5-five star brand on Amazon.
We love how much they value customer service and long lasting products. Every item they make is tested for quality according to grade A materials. In the event that something does go wrong with your purchase, they offer product replacement warranty. All charges are made to last for up to 500 cycles.
The PowerJak 13000 mAh Dual USB Features & Benefits
Design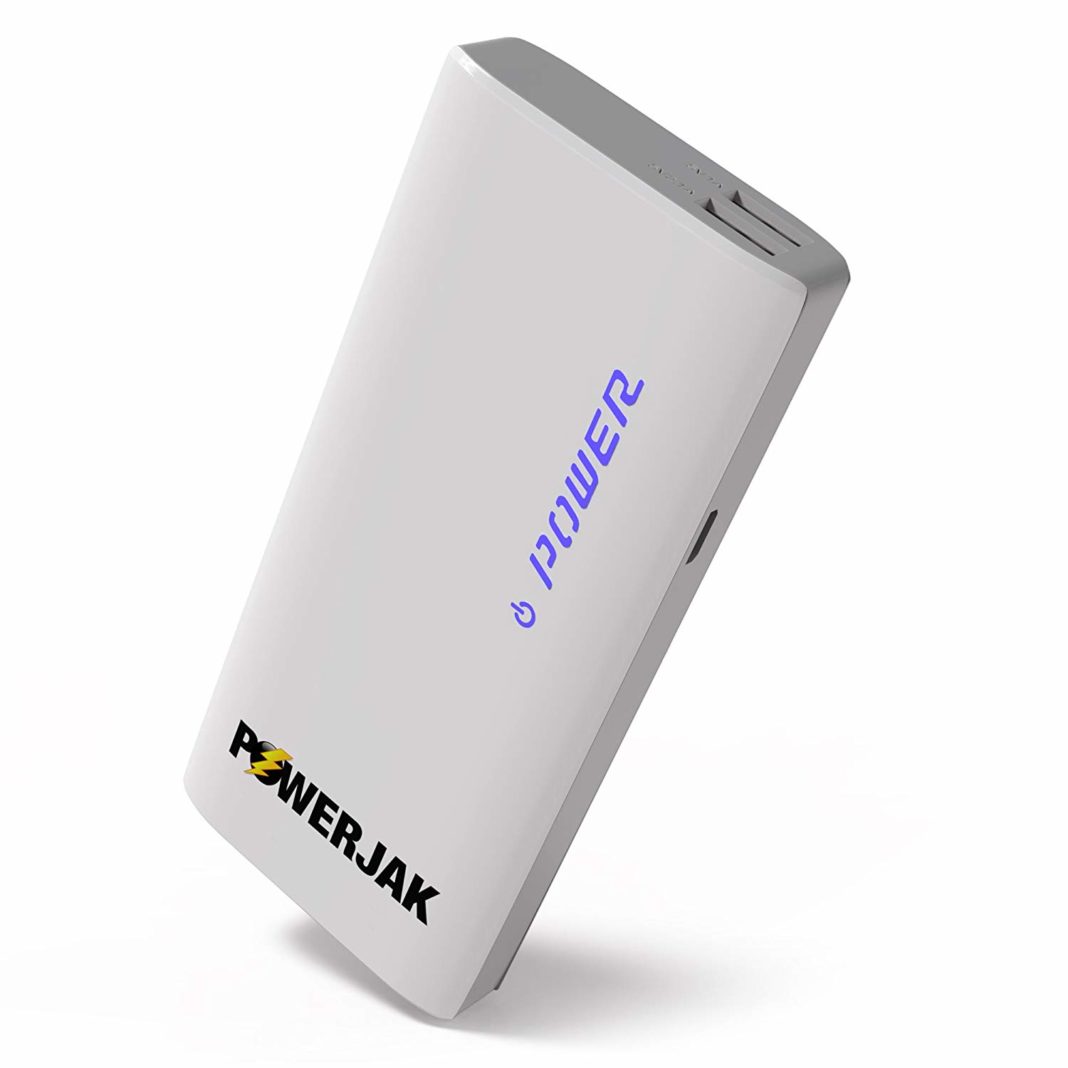 Credit: Amazon
Even with a quick glance, you can see that the PowerJak 13000 is a great quality charger. After all, it's a top mobile charging solution trusted by millions of travelers just like yourself. And with patented IC safety protection, you won't have to worry about your phone or the device overheating. So go ahead and extend your battery life when you're on the go. Here's a heads up. There are apps to help you save your phone's battery power too.
Thanks to the internal safeguard, you won't have to worry about replacing the RavPower for a long time. So go ahead and kick your feet up. You can rest easy on your travels knowing that your phone will never run out of juice when you need it most. Surge protection adjusts the input voltage accordingly and provides circuit protection. It's clear to see that this device was made to last.
Power Capacity and Charging Speed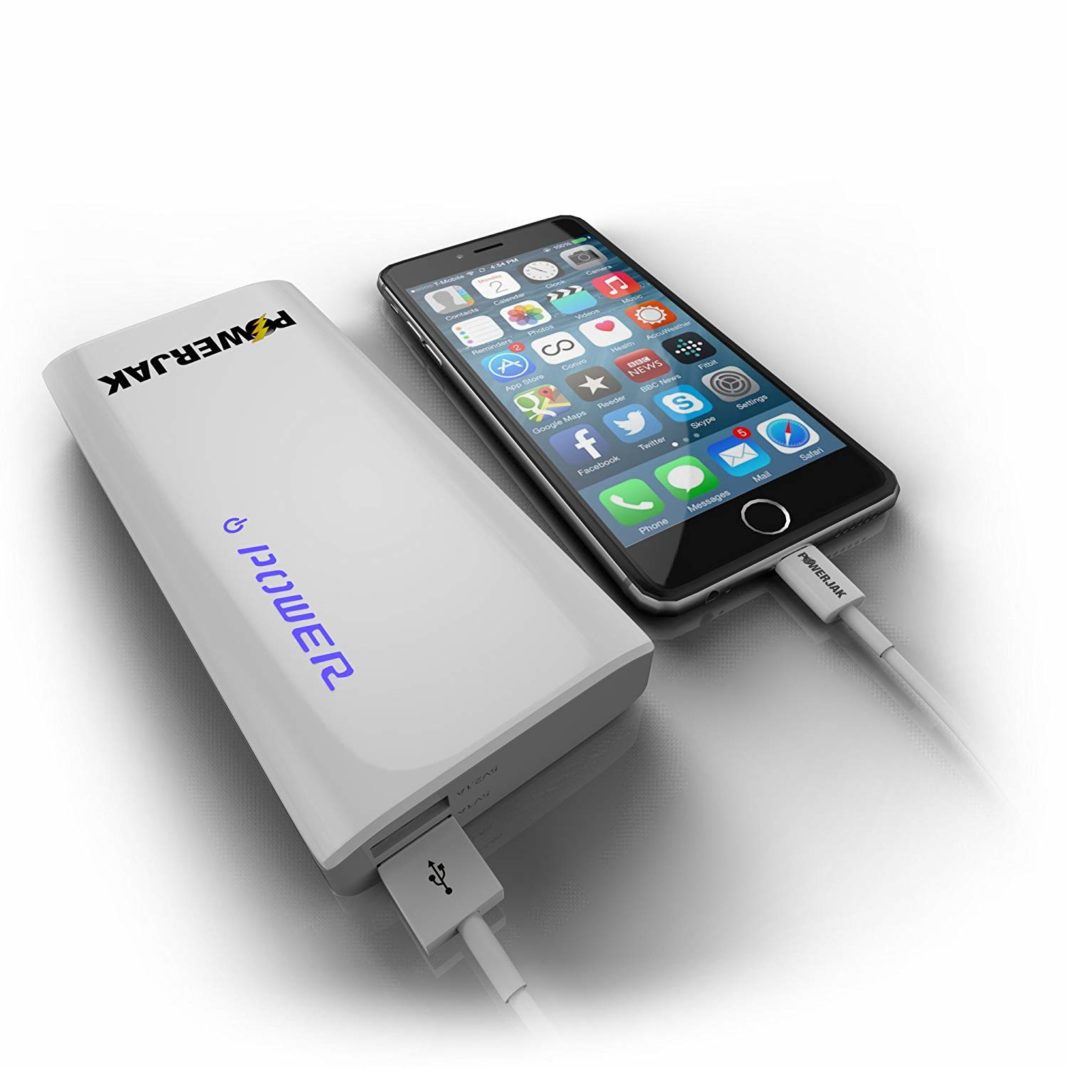 Credit: Amazon
It's clear to see that the PowerJak 13000 mAh Dual USB packs a punch. Sure it's not quite as portable as mini styles like the Jackery, but it carries a lot of charge for its size. With it, you can charge your mobile devices from three to five times. In a tech study, this charger from PowerJak was proven to be 20% more efficient than the standard charger with not only faster charging rates but a stronger overall battery. Let's be honest. We all want our phones to charge as fast as possible.
With dual USB ports, you and a friend can charge up the same time. With a 13,000 mAh capacity and with the quality PoweJak has to offer, you can expect a long lifespan for this portable charger. The testing shows that the PowerJak 13000 mAh Dual USB mAh does its job well. So, when you're ready to leave the hotel and explore – or go out in the great outdoors, you can rest easy knowing your communication needs are secure.
Reliability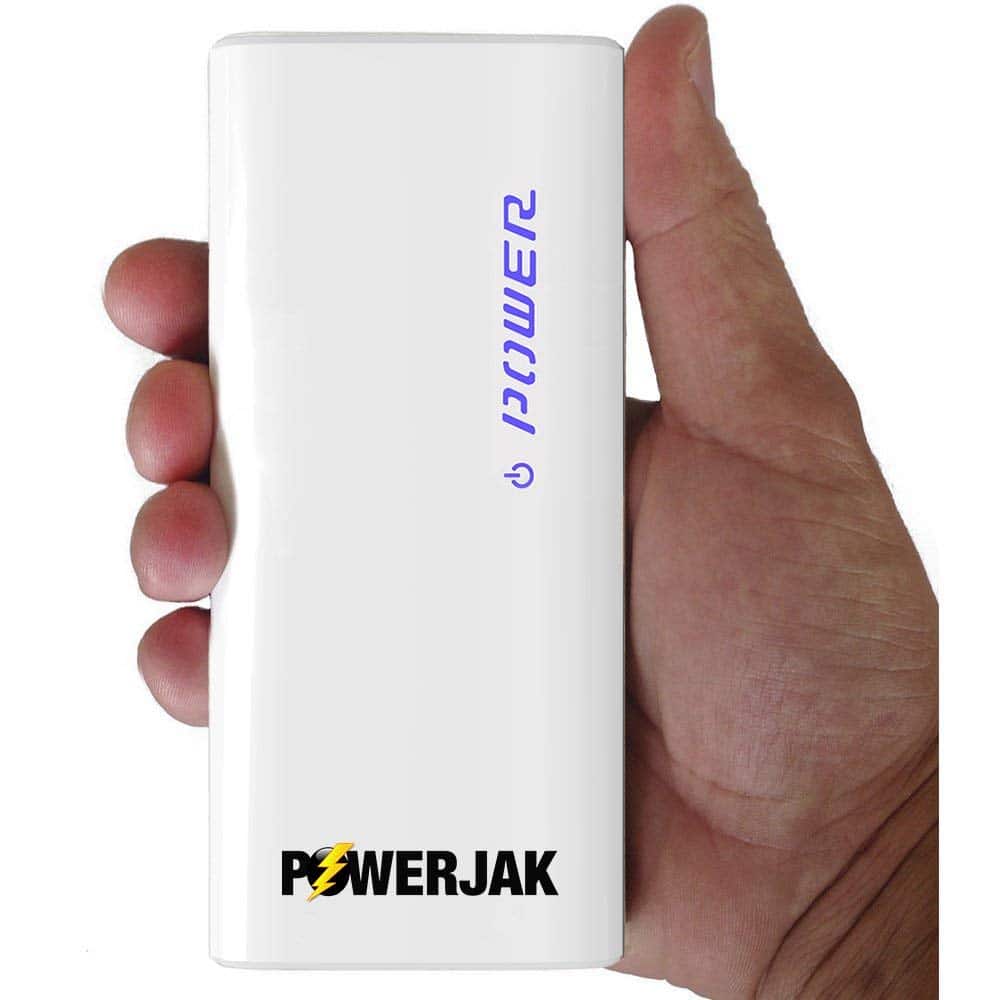 Credit: Amazon
After hours and hours of use, tech devices can run out of charge. Some portable chargers aren't functional after just a few months of use. Further yet, some chargers break when you subject them to the elements and frequent travel. Thankfully, the PowerJak 13000 mAh Dual USB is made to last.
Not only has it been constructed to last for continuous hours of use but it is not prone to breaking. Despite its compact structure, the outer shell is durable. It can handle a few bumps and scrapes. Just make sure to keep it away from water. Last but certainly not least, it also comes with a lifetime warranty and customer satisfaction guarantee.
Tech Specs:
20% more energy efficient than the average battery

Under 9.5 oz

Lifetime replacement warranty

check

Rapid charge

check

Patented IC safety technology; no short circuits
What Travelers Are Saying About the PowerJak 13000 mAh Dual USB
Travelers are very pleased with this amazing little charger. If you're seeking a lightweight durable charger with a good capacity, it will suit your needs well. Simply slip my charger in your bag pocket and forget about it until you need it.
This compact device can charge a standard mobile phone up to three times. We love the size of this device. Put it in your purse, a pocket, or a fanny pack. You can charge your phone as quickly as if it were plugged into a wall outlet and the charger itself recharges quickly. Some travelers mentioned that on one occasion two of their devices were low and they had them in the car charger. The PowerJack was charged way before the phone attached to the car charger was.
In the reviews, users noted that if they could change one thing, it would be the power switch. It only turns the unit on and sometimes they want to see how much power they have left. In other instances, they noted that the PowerJak 13000 mAh Dual USB accidentally turned on in their purse and they couldn't figure out turn it back off. They waited for it to turn off on its own.
Even in spite of this little glitch, we definitely recommend this charger for anyone on the go. It adds next to no weight to any hiking packs or everyday purse. All in all, it's designed well, reliable, and gets the job done.
Alternative Portable Phone Chargers You May Like
RavPower Portable Charger 22000mAh External Battery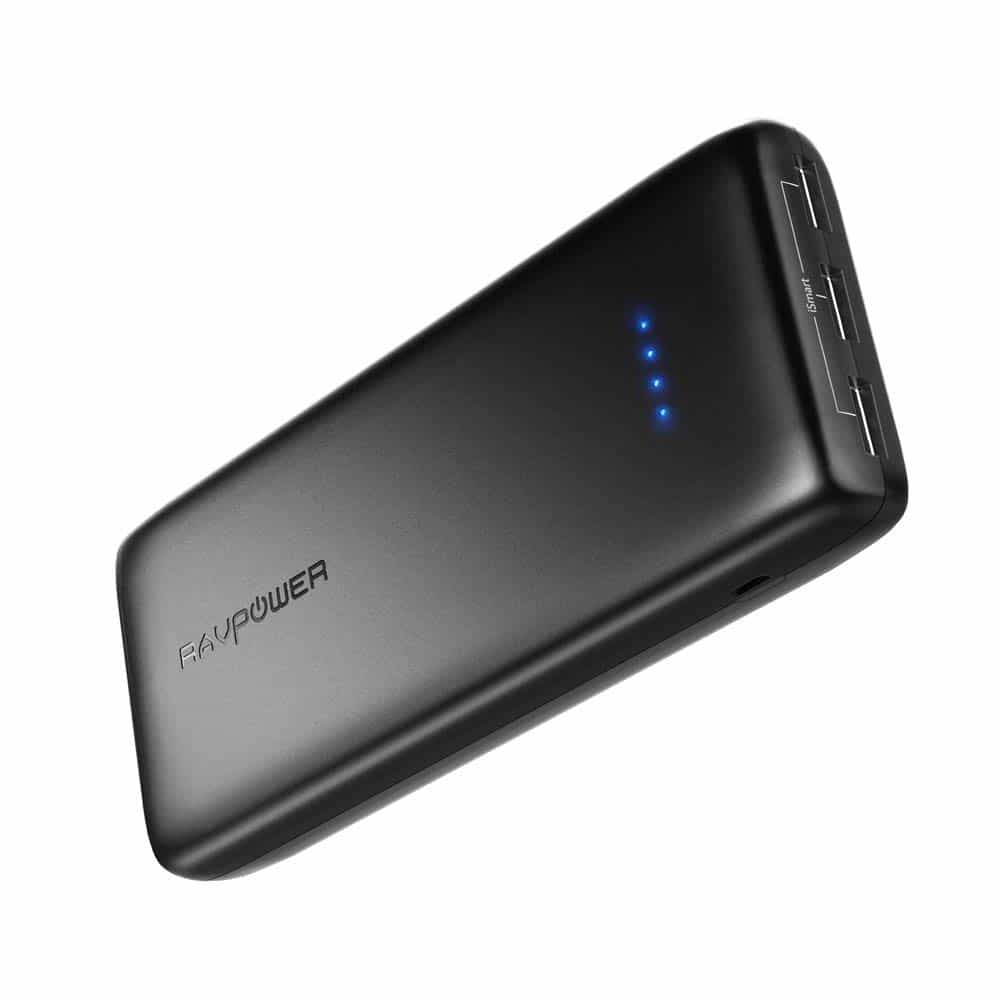 You've just hit the motherlode of portable chargers. Where else will you find a 22000 Mah capacity charger that's this lightweight and durable? All we've got to say is that RavPower has done it again. There's a reason why their products are sold in over 60 different countries.
With the RavPower Portable Charger 22000mAh External Battery, you can enjoy triple device charging. Charge your iPhone 8 seven times over without having to stop and fill up your power bank's battery. You can even charge battery sucking devices like the Samsung Galaxy S8 over four times (P.S. If you're in the market for a new phone, choose one with the best battery life). Here's the best part. You don't have to worry about any of your devices overheating.
The RavPower both monitors and self-regulates its battery temperature. Due to its internal MCU safeguard, the device will never reach too high of a temperature or shirt circuit. Furthermore, your device is guaranteed to last for over 1,000 charges. Travel with ease of mind knowing that RavPower has got you covered.
This isn't your ordinary battery after all. It's quite to the contrary. Thanks to the li-polymer battery, the device retains 70-80% of its full capacity even after going through more than 500 charging cycles. A fire-resistant shell is composed of the same alloy used luxury vehicles.
Tech Specs:
Used in over 60 countries

Triple device charging

220000 mAh capacity

check

Li-Polymer battery retains 70-80% of charging capacity after 500 + uses

check

Lifetime warranty
Mogix External Battery Phone Charger 10400 mAh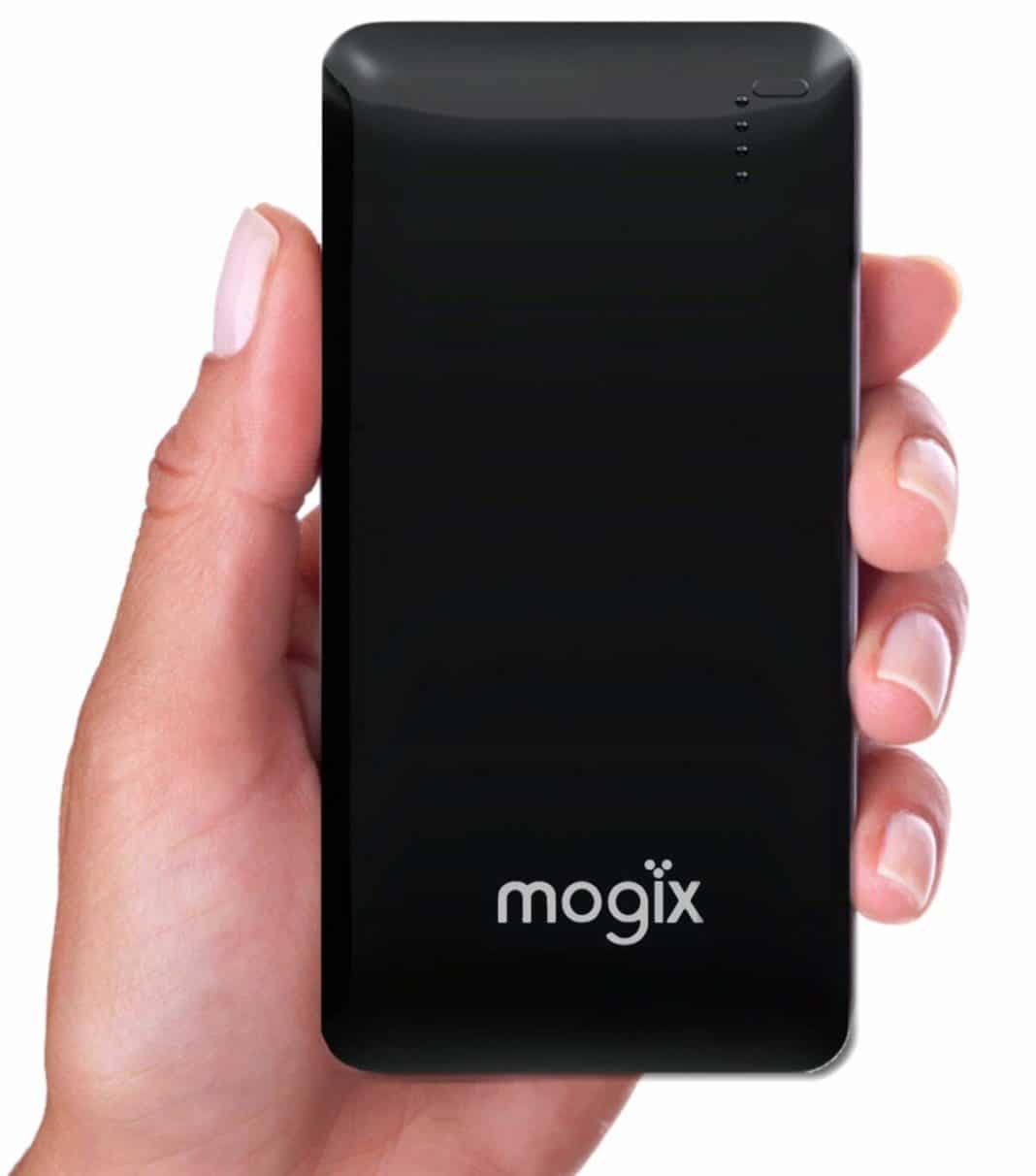 This little device from Mogix is another great mid-capacity charger to consider. If you've never heard of them before, they are a family-run business based in Los Angeles. We can't say enough good things about their quality line, attention to detail in their craft, and stellar customer service. Needless to say, the Mogix External Battery Phone Charger 10400 mAh lives up to expectations.
Weighing only 6.5 ounces, it's so light, you can easily pack it in any bag when you're on the go. You could even slip it in your coat pocket if you'd like. This little charger offers the peace of mind you need without the extra bulk in your bag. It won't weigh you down.
One of the things we love most about it is the Smart Battery technology. This feature ensures that your devices are safe with temperature control and cutting edge circuitry. You have the option to charge two devices at once if you'd like.
Here's something just as important. You no longer have to worry if this is the right charger for your phone; it offers universal compatibility. But wait. That's not all. It can also charge other devices like a Kindle, ereader, and tablet if you want to. The thin design comes in two different battery sizes.
Tech Specs:
10400 mAh charges phones three to five times depending on the battery size

4 LEDS so that you can monitor the power supply

Thin and lightweight design (6.5 ounces)

check

Dual high-speed charging ports

check

Smart Battery technology with surge protection, temperature control, and more

check

Drop safety protection due to double coated case
Invest in the PowerJak 13000 mAh Dual USB for Your Next Trip
We hope you enjoyed reading our review of the PowerJak 13000 mAh Dual USB . As you can see, this portable phone charger offers quality, durability, and great charge capacity. You can always count on PowerJak to get the job done. Our alternative choices run the spectrum of mid weight capacity charges when you need a boost to larger scale ones for when you need to really need to fill up that battery.
Related Article: Best Portable Phone Charger: A Travel Accessory For Your On The Go Lifestyle