The City of Chefchaouen is Morocco's Best Kept Secret
Shh… We have a secret to share. Today we are spilling all of the details when it comes to Morocco's dreamy blue city of Chefchaouen. The city of Chefchaouen is just as we have been describing. It is a city painted blue in electrifying beauty. Wrapped in the mountains of Morocco is where this jewel of a city is found. And when we say that the entire city is cloaked in blue, we mean it. Blue alleyways, blue-hued buildings, blue rooftops, blue flower pots. Everything is saturated in this color. And today is your lucky day because we are sharing everything you need to know about this top-secret destination of Chefchaouen. We have things to do for the history buffs, the photographers, the wanderers, the hikers, the foodies, and the shoppers too. So, let's get exploring.
For the History Lovers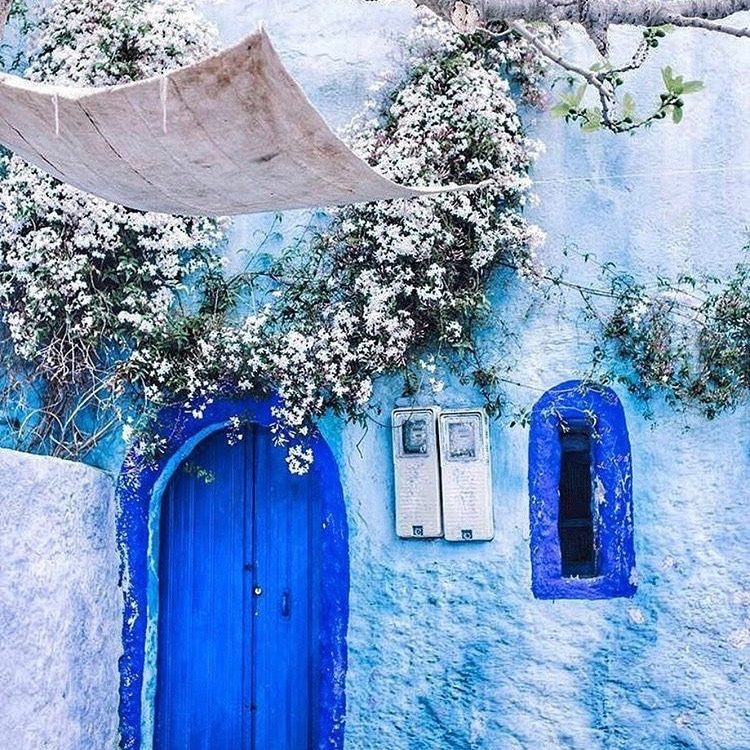 The history buffs will be fascinated to learn how this colorful city came to be. Chefchaouen was founded in 1471. Over the years, Jewish refugees fleeing the Spanish Inquisition made their way to the area and planted roots. In planting roots and settling into the city, they eventually incorporated their own tradition into the design of Chefchaouen. Painting buildings blue was a popular tradition of Jews because it mirrored the blue of the sky – God's own stylistic design. The color was intended to remind them of God.
There is much to learn about the history and culture of Chefchaouen. Visitors are invited to tour the city and receive in-depth information about the rich history of the area. There are many hidden stories to uncover in Chefchaouen. We recommend for the history lovers to schedule a tour and watch as tour guides highlight the places, history, and things typically missed by the average tourist. Starting your trip with a tour is also a good idea to get the lay of the land (and ask the guide for all of their local recommendations!).
For the Photographers
Bring your camera, bring your extra batteries, bring all of your lenses. Those with eyes wired to capture beauty can easily spend their entire day photographing the wonders of Chefchaouen. There are many nooks and crannies to discover in the city, allowing endless photographic opportunities. Colorful, hand woven carpets contrast stunningly against the blue backdrop. The city is alive and we know that all of you shutterbugs will end up calling Chefchaouen your photographic paradise. You will want to stroll slowly through Chefchaouen to soak in all of the beauty. Because you are a photographer, we assume this is already your natural way of going about life – slow and steady as to soak in every ounce of splendor.
Another thing you will not want to miss while in Chefchaouen is the sunrise (and sunset!). Climb onto the rooftop and take in the magical view of the sunrise or sunset. Photographers, we know you are already falling in love with Chefchaouen through the many photos you have seen of the city. We are glad to inform you that the city is even more beautiful in person.
For the Wanderers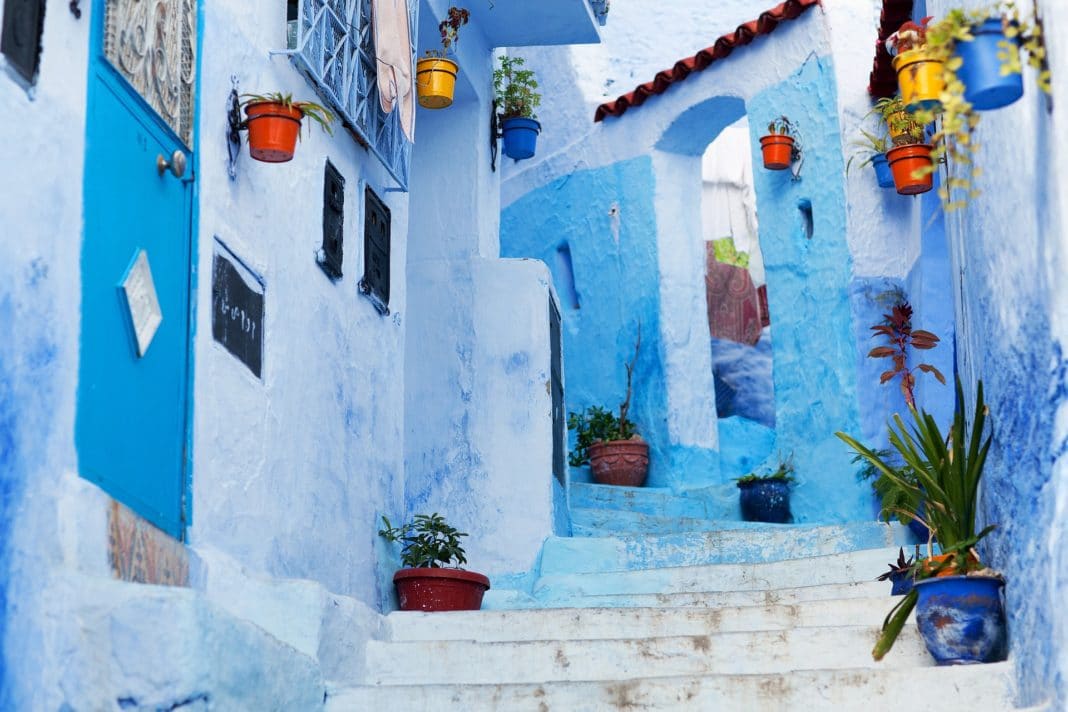 We know you Wanderers are content exploring every crevice of a new place. Fortunate enough for you, there are loads of outdoor and indoor wonders to explore in Chefchaouen. The Medina, which is the old town of the city, is the first place you cannot miss on your wandering expedition of Chefchaouen. Admire the Moorish-influenced architecture while poking your head into shops. There are cafes and restaurants lining the Medina as well, which are necessary to explore.
At the heart of Medina is Plaza Uta El-Hammam. Another place to wander to within Plaza Uta El-Hammam is the Grand Mosque. Only Muslims are allowed inside this beautiful structure, but for the non-Muslims it is still worthwhile to observe from the outside. There are also beautiful gardens in the area and an Ethnographic Museum to stop into. As much as there is to do, see, and taste in the city (including a lavish amount of top-notch Moroccan cuisine), wanderers must also visit the Rif Mountains which surround Chefchaouen. And that takes us onto the hiking adventures that Chefchaouen has to offer… hikers you are up next.
For the Hikers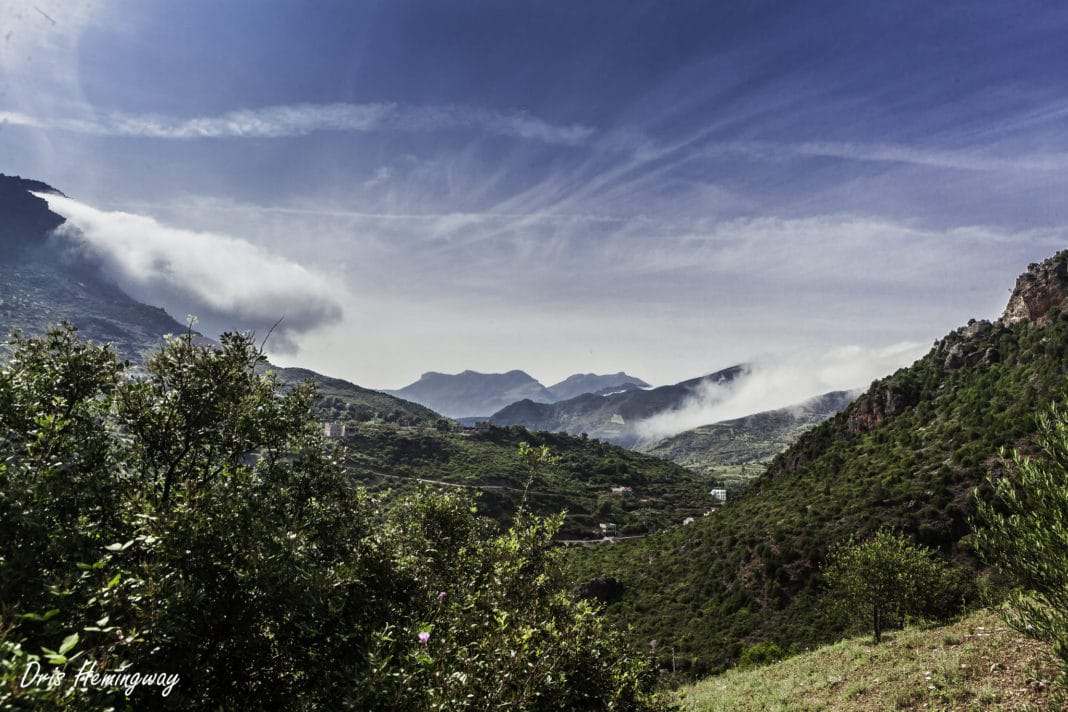 Not only is the blue city an attraction for its color and design, but the blue city is also an attraction for the Rif Mountains that surround it. Unbeatable views will be seen from these mountains. Fellow hikers will enjoy the Rif and the great hiking routes to be found here. We recommend trekking through Talassemtane National Park during your trip to Chefchaouen. It is one of the best places to trek in North Africa. Talassemtane National Park is about 45 minutes outside Chefchaouen. Because of the close proximity to the blue city, the National Park makes for a perfect day trip. Within the mountains you will find waterfalls – big and small – and natural bridges.
Those wanting to further explore the terrain of Morocco can schedule a Safari trip. Trips range from day treks to multi-day treks, making it convenient to fit into your schedule. There is so much to see and hike in Morocco. Mountain peaks, valleys, natural springs, waterfalls, cloudless skies for stargazing, and more are found just outside Chefchaouen. These natural wonders are waiting for your eyes to discover them. Though there is much to see within the blue city, make sure you take advantage of all there is to do outside the city as well.
For the Foodies
Foodies, foodies, foodies, do we have good news for you! Moroccan cuisine is obviously found in abundance within Chefchaouen. The spices, herbs, textures, and stomach-rumbling smells (in a good way) of Chefchaouen will cause taste buds to do a happy dance. In the morning, visit one of the many bakeries in town and try their traditional bread. As for lunches and dinners, you must try Tagine while in Morocco. Tagine is a dish of meat and vegetables doused with an array of spices. Couscous is another staple and must-try when visiting Chefchaouen. It can come in many styles and each one is equally delicious.
You won't be able to leave Chefchaouen without a cup (or many) of fresh mint tea. Each cup of tea comes with a generous amount of sugar and is served in nearly every café and restaurant. Though mint tea is woven into Moroccan tradition, it has been found to have wondrous health benefits too.
For the Shoppers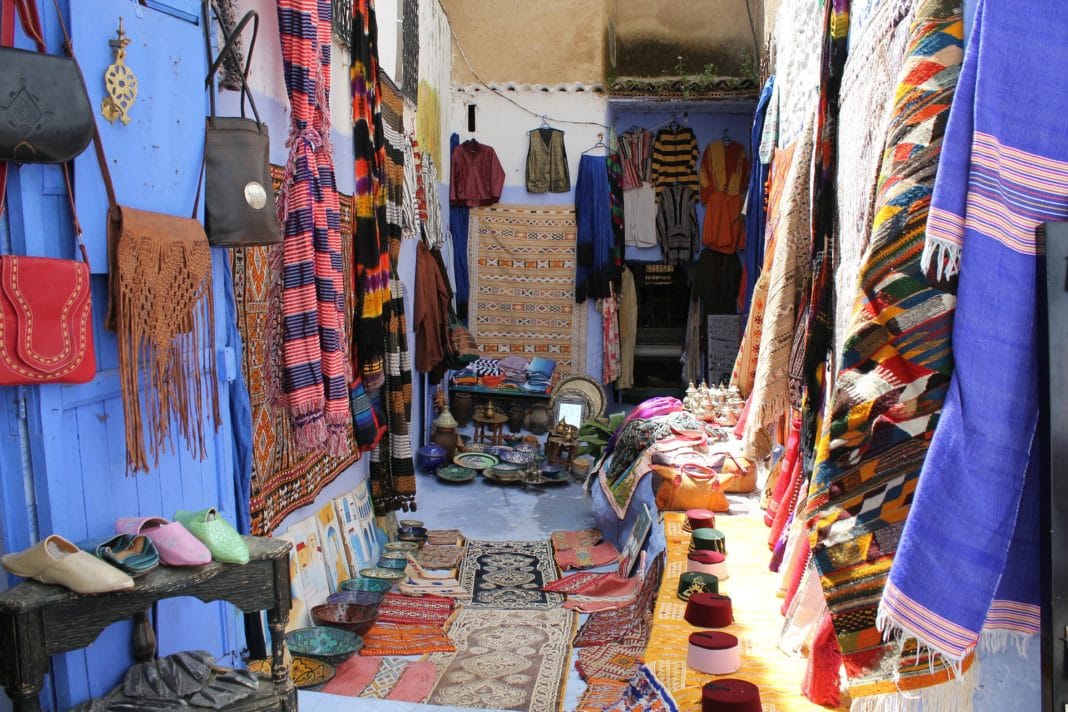 Handwoven blankets, brass teapots, bright patterned bags, wool garments, painted clay pots, jewelry and more are all plentiful in Chefchaouen. Because of this, the shopaholics will need extra space in the suitcase to carry all of their souvenirs back home. Whether you are buying for yourself or for loved ones, there are unique trinkets to find in Chefchaouen that you won't find anywhere else in the world. Around every street, you are likely to find more magnificent goods to purchase. Spices, carpets, shawls, and more. There will be many items to buy to remember your incredible trip to Chefchaouen and to share the memories with loved ones. Also, it is important to note that in Morocco bartering is the way of life.
We Have Spilled the Secrets. Are You Inspired to Visit Chefchaouen?
This blue town in Morocco is filled with awe-striking beauty. Now that you are in the know about all things Chefchaouen, are you ready to book your ticket? Chefchaouen is the perfect destination for solo travelers, couples, and families to visit while on vacation. Everyone will be able to find fun things to do in this blue city. Not only are the blue buildings, streets, steps, and flower pots a sight to see, but the landscape surrounding the city is a sight to see as well. History lovers, photographers, wanderers, hikers, foodies, and shoppers will all find a home away from home in Chefchaouen.
The Rif mountains are waiting to be hiked upon. Cafes serving freshly made mint tea are waiting for you to enjoy a cup. Handmade blankets and carpets coming in a variety of patterns and colors are waiting to be purchased as a souvenir. Therefore, you must book your ticket right away. There is much to do and explore in Chefchaouen. We cannot wait for you to see this majestic blue Moroccan city in real life.
Have you already been to Chefchaouen? Spill some of the secrets you know about the city in the comments below! What were your favorite things to do?