Sample North Carolina with our list of the best restaurants in Raleigh.
The south is known for so many things. From comfort and hospitality to good old southern cooking. The south has got it all. In fact, when it comes to the south, there is no better place to sample that rich melody of flavors than in North Carolina. Today, we are going to dive head first into some of the best restaurants in Raleigh North Carolina. From good vibes to even better food, Raleigh, North Carolina's food scene is oozing with charm. Let's get started with some of the best eats to check out the next time you make your way to this wonderful state.
1. Smashed Waffles

Credit: Smashed Waffles :​ Facebook
One of the best restaurants to visit in Raleigh is Smashed Waffles. Smashed Waffles is delectable for so many reasons. For starters, this restaurant has taken your ordinary waffle and made it into something simply delicious. Here at Smashed Waffles, waffles are not only for breakfast. In fact, it turns out that they serve as the perfect wrap for burgers too!
What makes smashed waffles so unique is the magic recipe that goes into the dough. The dough is the perfect blend of flour, sugar, and butter. Plus, did we mention that all the ingredients that go into the dough are locally sourced? You will immediately be able to taste the difference. As the waffles here at Smashed Waffle are unlike any that you have ever tasted before.
The next step in the process is the cooking. Once the dough is formed, it is smashed into the waffle cast iron pan that makes Smashed Waffles what it is. After the product is put together, diners can top it off with a range of waffle toppings. The choices available offer a sweet combination of flavors that might otherwise seem strange together. However, the way Smashed Waffles has been able to parse these flavors together is what has makes this restaurant a modern hit.
Some of the popular dishes the sample here include the O.G. Waffles. The O.G. Waffles come with drizzled honey, caramel, and cinnamon sprinkles. Other fun and hearty waffles to try include the Goin' Ham Meal. With the Goin' Ham, your waffle is protected with delicious deli ham, an egg, and cheddar cheese. If you are more of a chicken fan, then the Happy Go Cluck is the meal for you. This dish features yummy chicken breast, crispy bacon, and tasty cheddar cheese.
Lastly, if you are coming in for a yummy waffle, then you should certainly pair it up with a coffee. Especially if you are coming during breakfast hours. The lattes and coffee selection here are simply some of the best. From the Troublemaker that comes alive with the bourbon caramel sauce to the Honey Bun Latte that features vanilla cream sauce. You can't go wrong with the beverage selections here either.
2. Salt and Lime Cabo Grill
Credit: Salt and Lime Cabo Grill : ​Facebook
Built off of the slogan "Bold, Modern, Fresh," this next destination lives up to everything it stands for. The Salt and Lime Cabo Grill is easily one of the best restaurants in Raleigh, North Carolina. Here, visitors can expect to get some eclectic flavors that offer a wonderful lens on old Mexican cuisine. The culture behind this cuisine is Blended in with modern flavors that are bold and fresh to create some of the best dishes Raleigh has to offer.
If you are thinking about a summertime destination where you are lounging around on some of the best beaches of North Carolina, then Salt and Lime Cabo Grill should come to mine. All the tasty dishes that are served here are reminiscent of something you would have when you are out enjoying the oceanside. Ken Smith and Katie Smith have managed to bring together a welcoming vibe and a comfortable atmosphere that is inviting yet upscale.
When it comes to the dishes served here, there are a range of options waiting for you. For starters, you can take your pick from a range of fan favorites. Some popular appetizers that are on the menu include the Queso Dip and the new Fire Grilled Wings. If you are looking for more of a crunch, then the Nachos are a great choice to go with as well.
After your starter, it is time to dive into some delicious dishes. One of the popular dishes is the Skirt Steak Fajitas. The marinated skirt steak is served alongside grilled onions, black beans, pico de gallo, and red peppers just to name a few or the bold flavors. These ingredients come together to create the taste of an impecabbly yummy fajitas that comes alive in your mouth. In fact, you might even find yourself ordering a second plate because of its deliciousness.
Another real winner on the menu are the tasty California Street Tacos. From the BBQ Mahi, to the Classic Fish, to the Korean pork belly. There are so many California Street Taco dishes here that you are going to have to sample them all at some point.
With all the different flavors that are served here, Salt and Lime Cabo Grill is essential all the flavors of Mexican comfort food with a modern twist. You certainly will not regret dining here. As this restaurant is easily one of the best restaurants in Raleigh, North Carolina.
3. Death and Taxes
Credit: Death and Taxes : Facebook
Do not let the name of this next restaurant fool you. When it comes to up and coming restaurants in North Carolina, Death and Taxes is arguably one of the best restaurants in Raleigh, North Carolina. Death and Taxes was established in 2015 and has taken the food scene by storm ever since. One of the main highlights of Death and Taxes is the fact that they offer fine dining in an exciting and inviting atmosphere.
Chef Ashley Christensen has pulled together her passion to create what is arguably one of the best restaurants in Raleigh. Her dedication to the delicate techniques of cooking that are associated with wood fire are things she has perfected. Not only that, but she has been able to translate this passion onto the menu. Because of this, the menu has evolved to become something quite special.
When it comes to the menu, there are plenty of treats waiting for you. Some tasty dishes to look forward to including the Roasted Clams that come served with preserved lemon and chilli butter. Another great appetizer is the Octopus that is served with rice beans, parsley, pine nuts, olives, and red peppers. The eclectic assortment of food continues with their tasty Bear Creek Meatballs. This dish is served with charred cabbage, apricot jelly vinegar, and fried scallions.
When it is time to move to your main dishes, there is a range of options for you to choose from as well. From grilled fish, to fettuccine, to shrimp and steak. Diners are sure to find a tasty meal that satisfies their palet. However, if you ask many about the best dish on the menu, they are sure to say the steak. The Heritage New York Strip Steak is a sure winner with plenty of visitors. It is just the right combination of juicy and tender.
Lastly, you cannot leave Death and Taxes without sampling some of their delectable desserts. One of their unique flavors served up here is the Tahini Cheesecake. This cheesecake comes serves with matcha sesame cookie and lemon. If you are looking to keep it a little more classic, then you can always opt for the traditional Apple Pie. The Apple Pie is, of course, served with rosemary ice cream and wet walnuts.
If you are exploring on a romantic getaway, and are looking for the right place to dine in while in Raleigh, then Death and Taxes is easily one of the best restaurants in Raleigh, North Carolina that you must visit. Without a doubt, we are sure you will love it too.
4. Bida Manda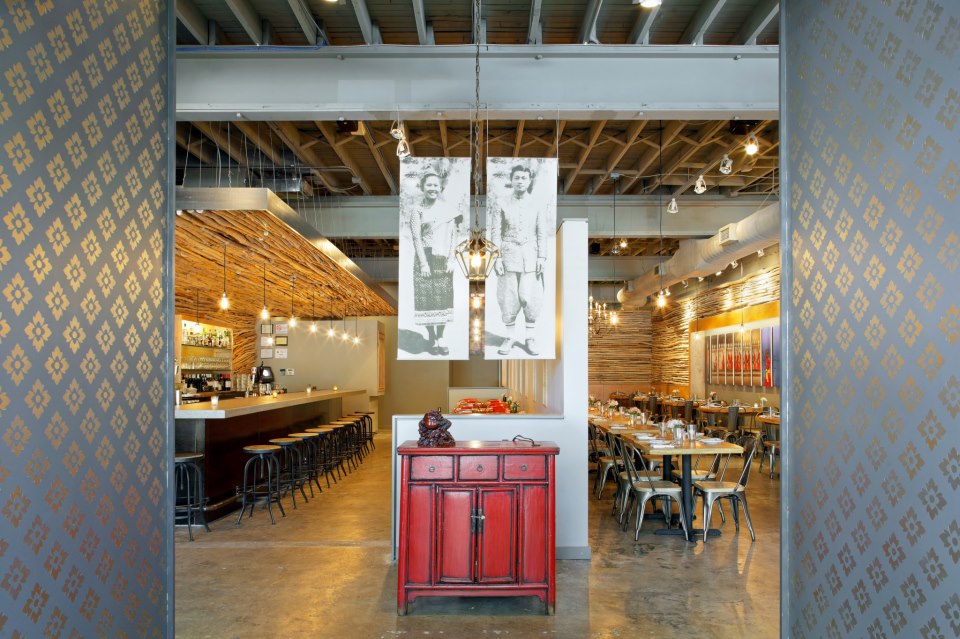 Credit: Bida Manda : ​Facebook
Give your taste buds a splash of flavor at this next location. When it comes to Laotion dining, Bida Manda is easily one of the best restaurants in Raleigh, North Carolina.
This beautiful dining location is located right in the heart of Raleigh on Moore Square. The unique name of this restaurant is the Sanskrit ceremonial term of "mother" and "father." The title of this restaurant was set forth by the owners to honor their parents who have a passionate love for cooking.
When you dine here, you can expect to be met with an atmosphere that is simply stunning. The setting surrounding you is one that mimics traditional Laos culture. When it comes to the food, you can expect some delectable flavors as well.
Some popular dishes that you can look forward to trying include the soul-warming Pho Lao. This dish is a traditional Chinese five spice beef and rice noodle soup. It is served with bean sprouts and fresh herbs. If you are traveling here during the colder months, then this is a great dish to try as it will warm you right up.
Other popular dishes include the delectable Manda's Herb Salad. With a base of Fresh Blue Sky Farms herbs, lettuce, vermicelli noodles, and crispy veggie spring rolls, you are sure to love it.
Take a bite out of Laotion cuisine at what is arguably one of the best restaurants in Raleigh, North Carolina. Like so many other diners, we are sure you will love it.
5. Beasley's Chicken and Honey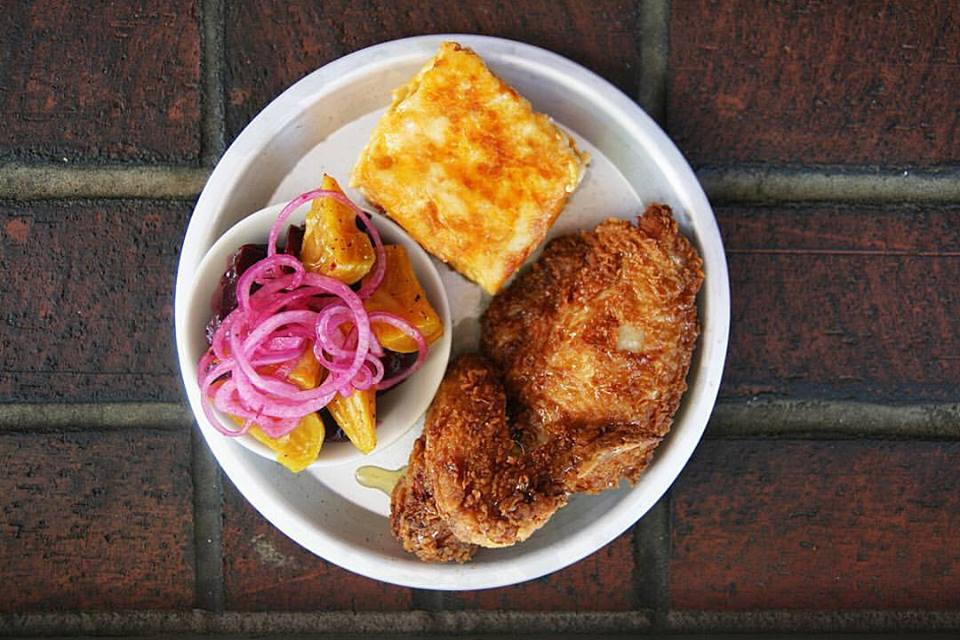 Credit: Beasley's Chicken and Honey : ​Facebook
When it comes to southern cooking and comfort food, it does not get any more southern than chicken and waffles. If you are looking for one of the best restaurants in Raleigh that serves this dish up just right, then this next destination is for you. Travelers and tourists alike have voted Beasley's Chicken and Honey to be one of the best restaurants in Raleigh, North Carolina time and time again.
The mission behind Beasley's chicken and Honey is quite simple. Their aim is to serve up delicious meals that check off all the boxes of fine southern cooking. When it comes to the menu, diners are sure to be impressed.
The menu features all the top favorites of classic comfort food. Some of the highlights you can expect to find here include their Quarter Fried Chicken. This chicken incorporates the right amount of crispy to juicy ratio. This perfect melody is sure to have your taste buds begging for more. Along with that, you can not go wrong with the classic Fried Chicken and Waffles. Beasley's Chicken and Honey's interpretation of this classic dish is something that you are sure to fall in love with too. When you drizzle some sweet syrup or honey on top, you have a dish that is simply mouthwatering. Other favorite dishes that you should not ignore include the Chicken Pot Pie and the Chicken Biscuits.
If you are looking for a hearty sandwich, then the Carolina Reaper Hot Chicken Sandwich is a tasty meal. This sandwich comes served with buttermilk bread, housemade pickles, iceberg lettuce, and buttermilk herb dressing. For anyone who is looking for a hearty meal, this is a dish that you certainly can not ignore.
Of course with each meal, you need to be sure not to skimp out on the sides. Some of the classic sides to look forward to include the yummy Creamed Collard Greens, and the Green Cabbage Slaw. Of course, you are also sure to find fan favorites like delicious Sweet Potatoes Wedges, Roasted Beets, Buttermilk Biscuits, and the ever popular Green Bean Casserole. Whatever side you go with you are sure to love it.
There is no better place to get some good old comfort food than Beasley's Chicken and Honey. Tourists and locals will all come together to agree that this is plainly one of the best restaurants in Raliegh, North Carolina.
Final Thoughts
If you are staying in Raleigh, North Carolina, then you are in for a treat. Alongside the free things to do in North Carolina, you do not have to venture out too far to get your hands on some good food either. There is a range of prominent places to dine at scattered throughout the city. When you are planning out your itinerary as far as how to explore the south, be sure to keep some of these hotspots on your list of things to do in North Carolina. Here's to happy travels with a splash of great food!
​Related Article: Top 10 Weekend Getaways in NC