Looking for romantic getaways in NY? We've found just what you need to light that spark.​
NYC is one of the greatest cities in the world, filled with endless opportunities for romance and excitement. Walk the Brooklyn Bridge at night, seek out charming cafes, and take in a Broadway Show. Whether you are looking to get in on some champagne sipping and watch the skyline light up at night or escape the concrete jungle for some cozy bed and breakfast, these spots are perfect for lucky in love couples. So ditch your plans and head to one of these idyllic hotels. They are all in or within a several hour drive of the city.
While we love the Big Apple as much as the next guy, sometimes you just need to escape paved sidewalks and skyscrapers for a bit. Luckily for you, the best romantic getaways in NY are just a quick drive (or train ride) away from city life. A change of scenery is a great way to clear your head. Our list of quick getaways are not only excellent places to relax but they are also great for adventures. Whether you're looking for things to do outside, upstate art museums, wineries or more, there are plenty of romantic getaways in NY that you can travel to in just a few hours.
Most people don't know how affordable traveling can be. There are plenty of ways to plan your dream getaway without breaking the bank. How? First, plan ahead. Second, you don't have to cross the globe to have fun. For locals, many of the most romantic getaways in NY lie right outside your doorstep.
The idea of a romantic escape is a highly personal one. There is no single travel destination to fit everyone's tastes. Some prefer a luxurious hotel suite with a view of the tropics. Others prefer sleeping in a tent under the stars in an off-the-grid campground. However, there is one common thread: solitude. Romantic experiences rarely occur in a crowded tourist trap. With this in mind, we've hand-picked some of our favorite romantic getaways NY guaranteed to offer a serene escape for two.
Believe it or not, honeymoons and rendezvous in NY are really are great. You can go anywhere from the forest to the beaches and the city. Don't forget about all of the amazing national parks, too. For a little more privacy during your romantic getaways in NY, take a look at some of these under the radar picks.
Attractions in and NeaCity Island, the Bronx r the City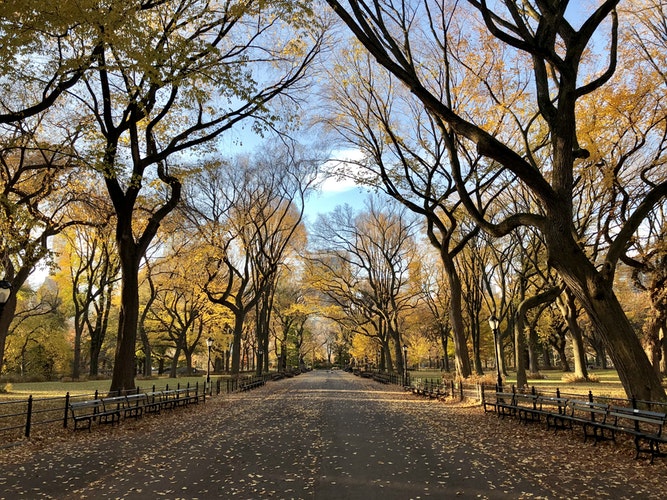 Before we show you the most romantic getaways in NY, we also wanted to share two fun attractions you can do both in and outside the city. Sometimes the best locations for romance are ones you wouldn't expect. We like to start out with a little adventure before we wind down and settle into something cozy.
City Island
Come and see a little known side of the Big Apple. Surprisingly enough, City Island in the Bronx is one of the best day trips from NYC. The quaint and sleepy City Island offers up completely different vibes than the hustle and bustle of downtown despite being just a 35-minute drive from downtown Manhattan. What do we recommend? Well, it's time to dabble in a little bit of everything. First things first though. Get your seafood fix at Johnny's Reef or the Lobster Box, two cute little food shacks over by the marina.
Stroll around town, food in hand. You'll be surprised at all the little quirks you'll find. In true patriotic fashion, all the houses are decorated with American flags. You'll feel like you've stepped straight into the scene from a 1960s era movie. If you're lucky enough, you might even come across some cool vintage finds over at Early Ruth Art & Antiques.
Fire Island
Yes, this sounds like a mysterious locale in a new Disney movie. But it's really a gorgeous and albeit less pretentious alternative to the Hamptons. Fire Island is made up of a cluster of villages and hamlets off the southern coast of Long Island. It's best known for protected beaches interspersed with seasonal resort communities.
On the western tip, Robert Moses State Park offers picnic spots, pitch-and-putt golf and access to the 19th-century Fire Island Lighthouse. While there are no cars allowed, you'll soon find you don't need one. Everything you want to see is easily accessible by bike or on foot. We highly recommend renting a bike to cruise around; it's the best way to make the most of your time.
There are plenty of restaurants, bars, and outdoor preserves. The best part about it all is that no matter which village you decide to visit, the beach is just a short stroll away. To get there, catch a ferry departing from Long Island and drive or take the LIRR to one of the points. You can find more information on transportation here.
Here Are Our Top Picks for Romantic Getaways in NY:
1. Bridgehampton: Topping Rose House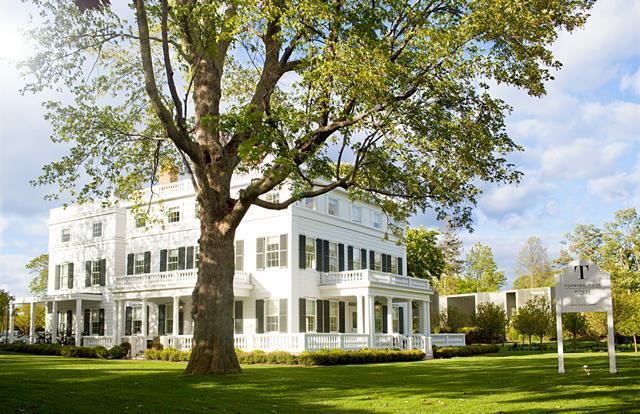 Credit: Topping Rose House
While the Hamptons might be the talk of the town for summer fun, we have a few other ideas in mind. One of the best of them is booking a stay at Topping Rose House. Just a two-hour drive outside the city, you will find the most charming and serene stay. It is amazing just how far removed you will feel from the hustle and bustle of city life.
Even in colder weather when you can't lounge on the beach, this is one of our favorite places to stay. In fact, this 1842 Greek revival mansion is arguably more beautiful in winter. With Valentine's Day just around the corner, it's the perfect time to plan ahead and find a romantic locale to get away. From the main house to the cottages and wellness facilities, every element of this Bridgehampton stay oozes good old fashioned romance.
2. Cooperstown: The Otesaga Resort Hotel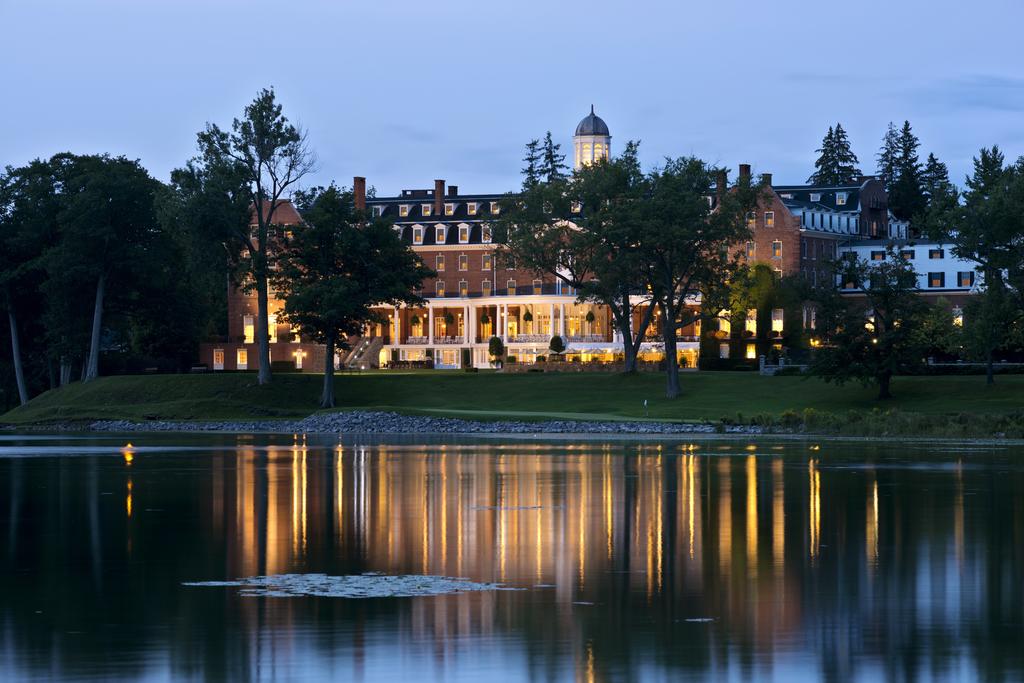 Credit: The Otesaga Resort Hotel
Cooperstown is nothing if not the quintessential American suburb. The peaceful, quiet nature makes for the perfect place to catch up on that much-needed R&R. While there are plenty of opportunities to enjoy a little romance, the Otesaga Resort Hotel isn't over the top. Sports enthusiasts will appreciate its proximity to the Baseball Hall of Fame. After a day of exploring, you can settle down and enjoy a candlelit dinner at the on-site Hawkeye's Bar & Grill where locally-sourced, organic food is served. From your room, you will enjoy sweeping views of Glimmerglass Lake.
3. Hotel Firelight Camps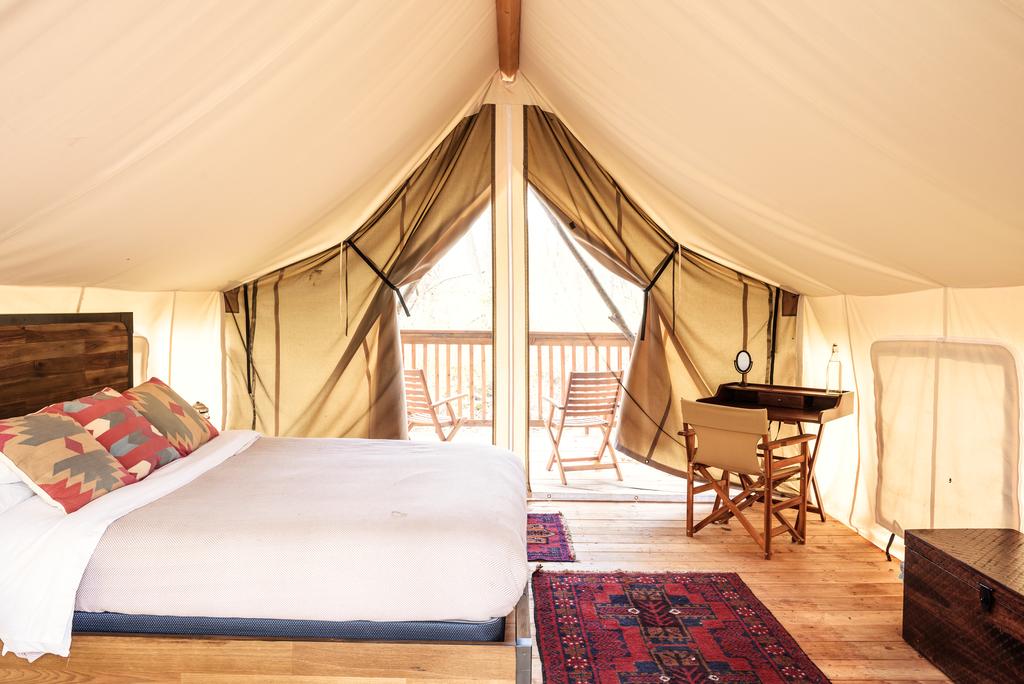 Credit: Hotel Firelight Camps
For the couple that likes to spend quality time in the great outdoors, this is one of the most romantic getaways in NY. While it's not quite the same as roughing it in a standard tent, you still get the same vibe – but with a whole lot of added comfort. While you're technically under a giant canopy, your stay at Firelight Camps will look and feel just like a high-quality hotel room.
These warm, cozy tents are equipped with battery-powered lanterns, comfortable furniture, a real bed, and mesh screens to keep the bugs out. And while this all sounds great, Hotel Firelight Camps does us one better. Your stay also includes a complimentary breakfast, happy hour tasting from the local Finger Lakes, cozy campfires, and more. Just think of how many great memories and photos that you will get out of this glamping stay.
4. Rochester: Edward Harris House
Credit: Rochester: Edward Harris House
A five-hour drive away from NYC, the Edward Harris House in Rochester is just the escape you need. At this restored historic bed and breakfast, culture and rejuvenation come together in the most seamless way. While you are located right in the heart of the lively Rochester Arts and Cultural District, you will be in your own little world on these quiet grounds. After you have had some time to unwind, some of the most fun attractions are right outside your door. Go explore and enjoy urban village shops, fine dining, and cafes. It's all just one block away.
Book Your Trip and Enjoy the Most Romantic Getaways in NY
We hope you enjoyed reading our article on the most romantic getaways in NY. As you can see, there are so many amazing day trips you can take all within close proximity to the city. That's just one of the reasons why NY is such a desirable place to live – besides having the best rooftop bars, restaurants, and an all-around amazing vibe in NYC, there are so many adventures to take in the surrounding area too.
From coastal beach cities to artsy urban escapes and ski resorts, there is no shortage of places to choose from. We would love to know – which of the most romantic getaways in NY on our list stood out to you the most? Let us know in the comment section below.
Related Article: Top 5 New York Neighborhoods and Hotels to Stay in For a Weekend Break