Book a room at one of the best all inclusive resorts in the Caribbean.
If you're hoping to avoid the winter weather, vacationing in the Caribbean remains an appealing idea. This area of the world offers travelers the chance to sunbathe and swim in crystal clear ocean water for hours. When you come to the Caribbean, you'll be able to leave your worries behind and relax. Since the region contains various unique locations to visit, you might not know where to stay when traveling. Those who want luxurious rooms and countless amenities during their visit should consider an all inclusive resort. These accommodations provide travelers with every service and feature they could ever dream of when vacationing. Check out our list below to read about the best all inclusive resorts in the Caribbean.
Things to Consider Before You Go
Location
The Caribbean contains countless exciting and beautiful sites to explore. Among the tropical islands found in the Caribbean, some destinations may appeal to certain travelers over others. For the most part, travelers can rest assured that they'll have access to stunning beaches when there. As such, those who want to bathe in the sun and catch some waves will find any Caribbean destination ideal. Any interested in accomplishing water sports will certainly have the opportunity to do so as well.
On the other hand, if you want to visit other kinds of attractions, you may have to accomplish more research. You could choose from accommodations in Jamaica, the Dominican Republic, St. Lucia, and other islands. Areas like the Bahamas or Turks and Caicos also represent popular beach vacation destinations. Just know if you'd like to spend more time nearby cities and urban regions rather than natural landscapes. The best all inclusive resorts in the Caribbean will remain in your ideal location. Thus, if you'd love to wake up and walk on the sand, book rooms near the beach. Others might prefer to stay nearby shops and restaurants in order to make it easy to explore the local culture. Overall, the chosen location remains important to consider before booking an accommodation.
Amenities
The best all inclusive resorts in the Caribbean offer guests an array of different amenities. Services like in-room meals, access to on-site restaurants, and 24-hour concierges remain just a few items often included. You'll have the opportunity to put your feet up when you stay at an all inclusive resort. However, not every accommodation has been created in the same manner. You won't find the same exact amenities in each resort you research. Accordingly, travelers may want to make a list of their priorities when it comes to amenities. For instance, some might really like to have access to an infinity pool during their trip.
Those traveling as a family may appreciate kids' clubs or babysitting services when they stay somewhere. Any interested in exploring the region might additionally like complementary tour guides. This means that before you book your room, you should consider all your ideal amenities. If you plan ahead, you'll never be disappointed when you arrive. Instead of feeling sad that your resort doesn't have an on-site spa, you'll receive the treatments you want. Any travelers who want to have things like ocean views or gym membership may want to plan ahead too.
Activities
As mentioned above, the kinds of amenities offered by resorts can differ. This also may be the case when considering the activities available for guests to accomplish. You may not get to do everything you truly want on your vacation depending on your chosen accommodation. Since you'll be paying to have an all inclusive stay, you may want additional services. Travelers who like to remain active during their vacations might appreciate access to sports activities. As an example, some of the best all inclusive resorts in the Caribbean contain golf courses. These sites will allow travelers to practice their swings while enjoying the sun. Similarly, access to water sports equipment, like boats or jet skis, will make your vacation even more memorable.
Some all inclusive resorts will even provide travelers with activity packages, like romantic adventures for honeymooners. You could go horseback riding, and then enjoy a romantic candlelit dinner on the beach with a loved one. All of these examples may be optional items when booking rooms at these kinds of resorts. If you have an idea of what you want to do while vacationing, you'll know exactly what's available. This will then ensure that you have the best vacation of your life while in the Caribbean.
Cost
Travelers with strict budgets know that accommodations can be very costly. If you're not careful, you could spend a ton of money for just a few nights' stay. You don't want to waste hard-earned money simply because you didn't research properly before booking rooms. At the same time, some travelers may be willing to spend more to have luxurious rooms. These kinds of travelers won't have the same worries that other travelers might have. As such, knowing your budget when planning a vacation will assist you in creating your ideal trip.
Those who want to save money may not usually consider choosing an all inclusive plan when traveling. However, these plans might just help you save money overall during your vacation. Since all inclusive plans include things like food and transportation services, you won't have to pay extra for those things. While you might have forked over tons of restaurants bills and taxi fees, your resort will cover those expenses. Travelers should note that these plans may still be on the pricier side. Yet, the best all inclusive resorts in the Caribbean provide numerous amenities and services at a reasonable cost. In the end, you'll easily find the perfect accommodation if you research according to your budget.
Here is our list of the 10 best all inclusive resorts in the Caribbean.
1. Spice Island Beach Resort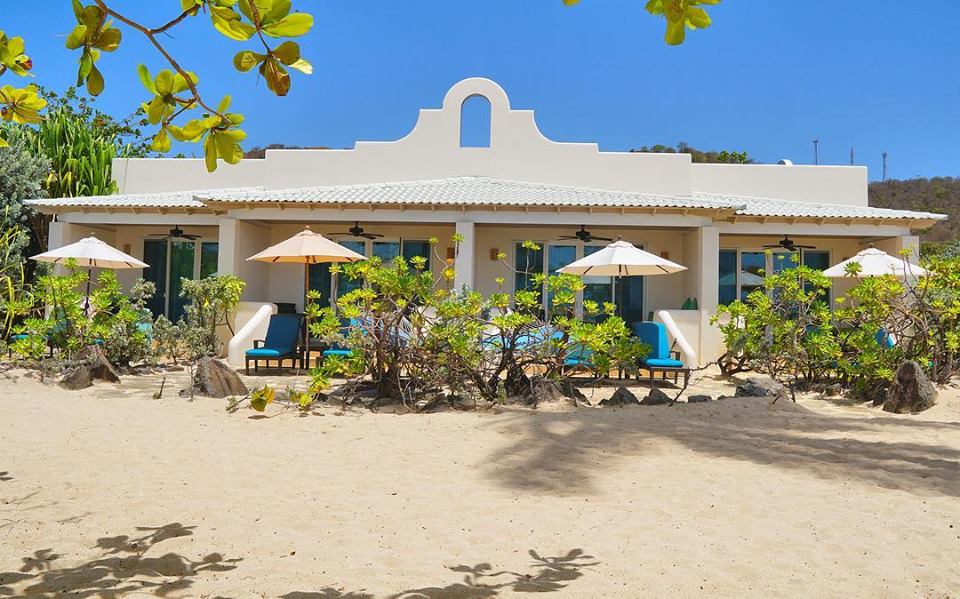 Credit: Spice Island / Facebook
Price Range: $$$ | Phone: [+1 473-444-4258] | Email: [reservations@spicebeachresort.com]
At the Spice Island Beach Resort in Grenada, travelers will get the chance to vacation amid sophisticated surroundings. This choice on our list of best all inclusive resorts in the Caribbean remains ideal for those who like elegance. The gorgeous grounds contain 64 stylish suites, each with access to the beach. You can easily wake up and walk along the sands at sunrise when you stay here. With the all inclusive plan, travelers will get to enjoy meals at two different restaurants and utilize stocked minibars. Guests can also play sports like golf and tennis or go on a kayaking adventure. Those who like their privacy may deal with locals or nearby travelers as they spread out on the beach. However, overall, this resort maintains a fairly peaceful atmosphere.
2. Round Hill Hotel and Villas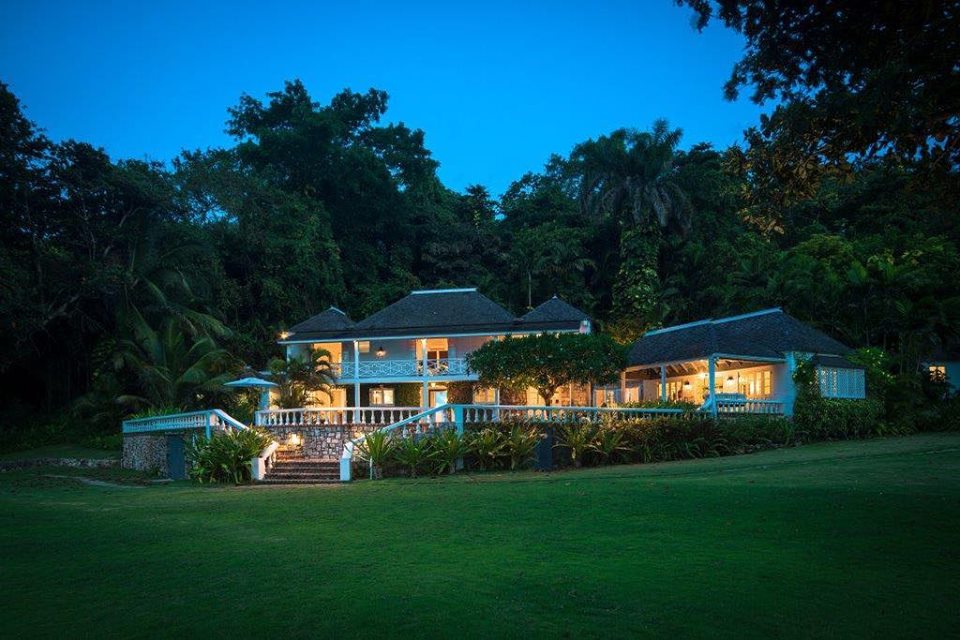 Credit: Round Hill / Facebook
Price Range: $$| Phone: [+1 876-956-7050] | Email: [reservations@roundhill.com]
The Round Hill Hotel and Villas represents a top choice among the best all inclusive resorts in the Caribbean. Found in Montego Bay, Jamaica, this resort contains stunning spaces decorated by Ralph Lauren creations. When you're inside your room, you'll feel in awe of the beautiful appearance and luxurious finishes. Balconies and patios attached to rooms ensure you can have views of the beach or grounds. Even the bathrooms remain top-notch, as they contain deep tubs and rainfall showers. With the all inclusive package, travelers will get to enjoy meals at the resort's on-site restaurants. Included as part of the plan, an exciting river rafting trip may entice adventurous travelers. You can have fun exploring the outdoors while saving money on activities with this plan.
3. COMO Parrot Cay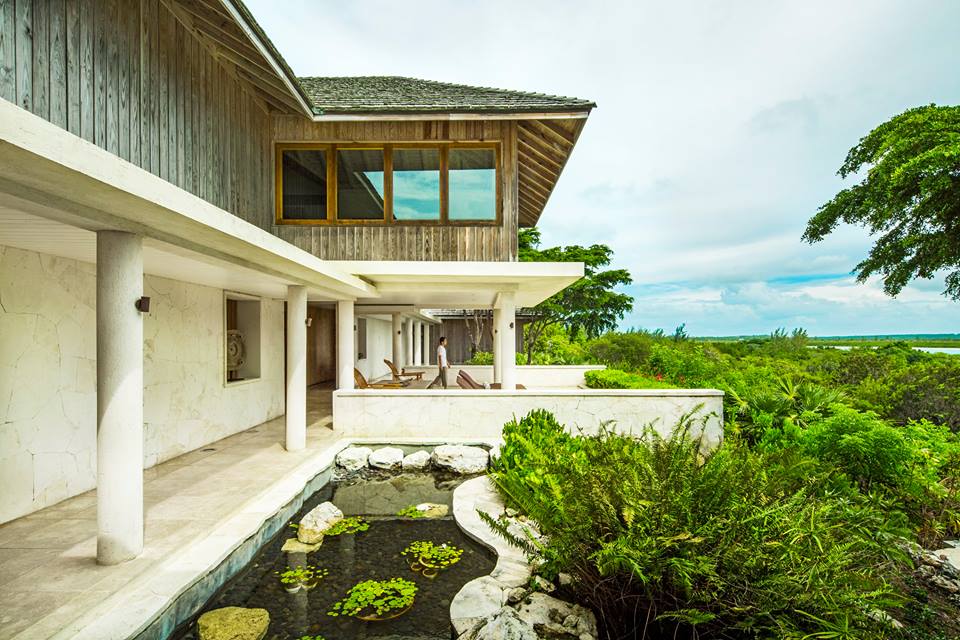 Credit: COMO / Facebook
Price Range: $$$ | Phone: [+1 649-946-7788] | Email: [parrotcay@comohotels.com]
With the COMO Parrot Cay, travelers may get the Caribbean dream vacation they desire. Here, you'll have the opportunity to embark on a number of exciting adventures. If you choose to purchase the all inclusive package, you can decide between numerous fun activities. Those who've always wanted to learn yoga can go on a yoga retreat during their stay. Or, any interested in exploring the sea can hope on paddleboards to swim away. Located on its own island in Turks and Caicos, COMO Parrot Cay lets travelers feel at peace. The secluded destination seems like a paradise in comparison to busier locations. An on-site spa will even rejuvenate you after receiving multiple treatments.
4. Zoetry Agua Punta Cana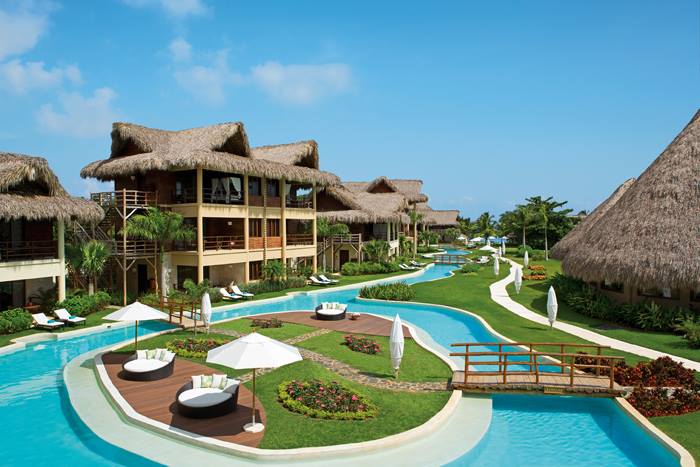 Credit: Zoetry / Facebook
Price Range: $$ | Phone: [+1 809-468-0000] | Email: [http://www.zoetryresorts.com/agua]
On our list of the best all inclusive resorts in the Caribbean, Zoetry Agua Punta Cana remains a top option. This resort represents one of the most popular accommodations in the Dominican Republic. Situated on a gorgeous white sandy beach, Zoetry Agua Punta Cana provides stunning views and a calming environment. Vibrant grounds, filled with vegetation, make the resort appear beautiful as guests explore the area. If you want to spend hours at the spa, book your stay at this resort. The Zoetry contains a spa that has a sparkling reputation throughout the whole country. Additionally, the all inclusive plan allows travelers to go on fun adventures, like horse back riding lessons. You won't find this resort growing very boisterous at night. Accordingly, those who like to relax will enjoy its calming atmosphere.
5. Sandals Royal Plantation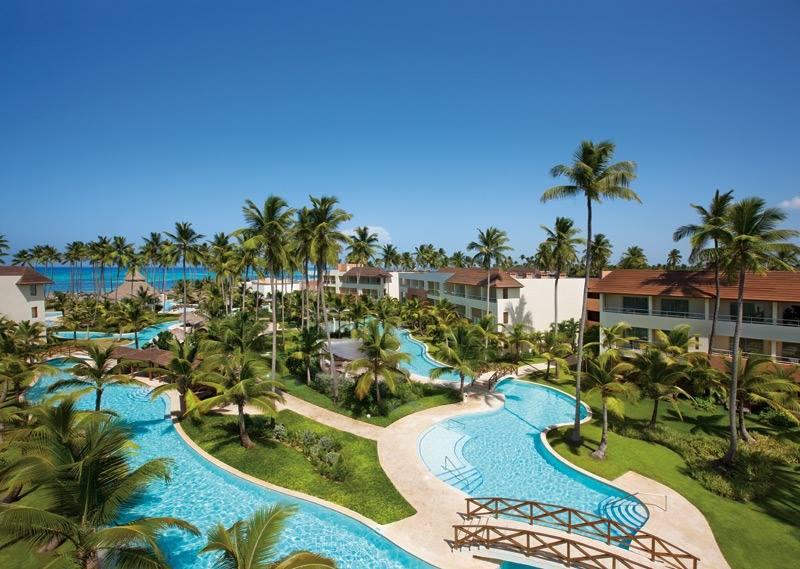 Credit: Sandals / Facebook
Price Range: $$$ | Phone: [+1 876-974-5601] | Email: [info@sandals.com]
The Sandals Royal Plantation offers travelers the chance to enjoy a sunny and carefree Caribbean vacation. Here, you can enjoy the Ochos Rios district in Jamaica, a popular vacation destination for many travelers. Everything that you do will be supplemented by excellent services and amenities. For instance, guests will get to receive private butler services throughout their trip. This means you won't have to worry about anything during you vacation. On a similar note, the Sandals Royal Plantation serves a la carte meals. As such, you won't have to eat the same buffet food every day while there. A secluded beach additionally ensures you can maintain your privacy while sunbathing and swimming. You can avoid crowded sandy spots by booking a room and utilizing this resort's beach.
6. Sanctuary Cap Cana by Playa Hotels & Resorts
Credit: Sanctuary / Facebook
Price Range: $$ | Phone: [(833) 297-5292] | Email: [http://www.sanctuarycapcana.com]
Sanctuary Cap Cana represents one of the best all inclusive resorts in the Caribbean. Located in Punta Cana within the Dominican Republic, the resort maintains Spanish influences throughout its grounds. The resort complex maintains architectural elements reminiscent of Spanish architecture. In this manner, you'll wonder if you've traveled to Europe instead of the Caribbean. With such stunning buildings, this resort stands out from other typical accommodations. When you choose the all inclusive plan at this resort, you'll get to choose from over 176 stunning rooms. Six pools can be found here as well, ensuring you can swim to your heart's content. Travelers who consider themselves foodies may especially appreciate the dining venues here. Seafood and grilled dishes include just some of the delicious bites you could enjoy.
7. Jamaica Inn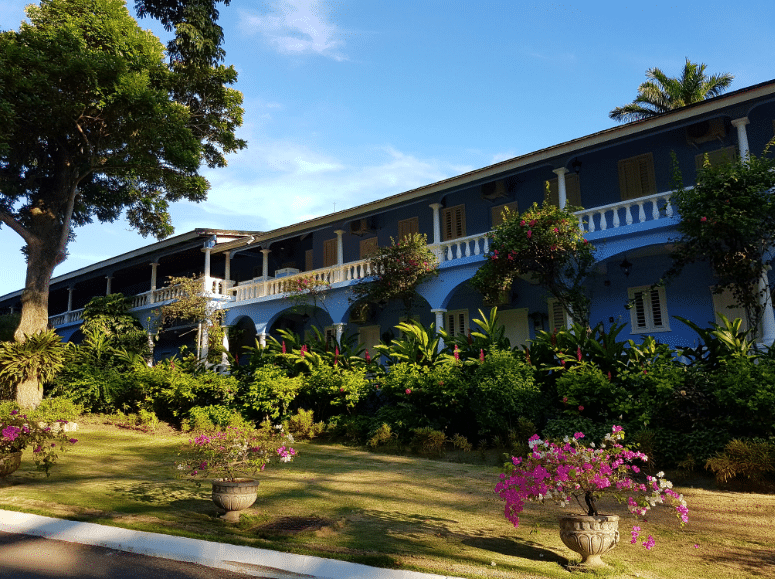 Credit: Jamaica Inn / Facebook
Price Range: $$ | Phone: [(844) 209-6751] | Email: [reservations@jamaicainn.com]
At the Jamaica Inn, travelers can appreciate an intimate, calming environment. Since this resort contains only 48 suites and cottages, you won't feel overwhelmed by countless other guests. As such, those who appreciate privacy may want to book a stay here. While you might not find many rooms here, the grounds contain many other exciting features, like a gym and spa. If you like to have a lot of options when booking rooms, you'll love the different plans this resort offers. Travelers may pick among various meal and room plans to ensure they get exactly what they want. Jamaica Inn has even been considered one of Jamaica's top accommodations.
8. Iberostar Grand Hotel Rose Hall
Credit: Iberostar / Facebook
Price Range: $$$ | Phone: [+1 876-680-0000] | Email: [reservations@iberostar.com.jm]
As this resort's name suggests, travelers will feel grand when they stay here. Iberostar Grand Hotel Rose Hall contains almost 300 rooms, making it appear impressive and spacious. With your all inclusive plan, you'll get to enjoy tons of meals and drinks. Room service may be ordered at almost any time, according to your specific wishes. Lots of water sports remain available for customers to partake in as well. This means those who like to remain active during their vacations will appreciate the amenities here. You can also take part in a free round of golf at the nearby golf course.
9. Jade Mountain Resort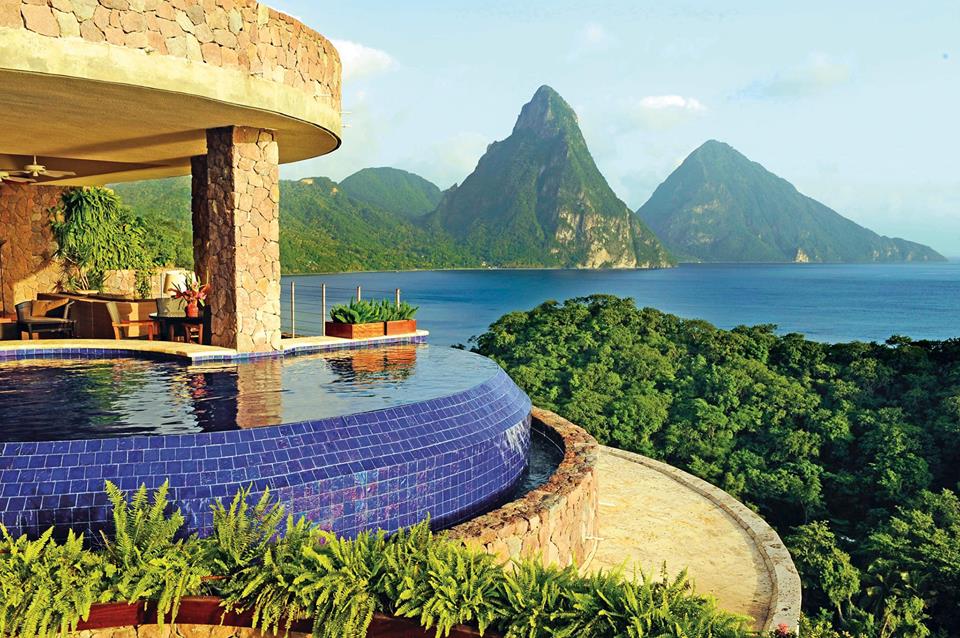 Credit: Jade / Facebook
Price Range: $$$ | Phone: [(800) 223-1108] | Email: [jademountain@ansechastanet.com]
At Jade Mountain Resort, guests can have a truly romantic experience. Those searching for the perfect honeymoon destination should come to St. Lucia and stay at this resort. Views of the mountains from beachy spots remain spectacular. You could sit on the sand and relax with a drink in hand while next to your loved one. The immense suites here contain views of the sea from almost anywhere inside the spaces. Canopied beds provide comfort and appear grand amid other luxurious furnishings. Since the atmosphere remains adults-only, those with young kids may want to look elsewhere for accommodations.
10. Paradisus Palma Real Golf & Spa Resort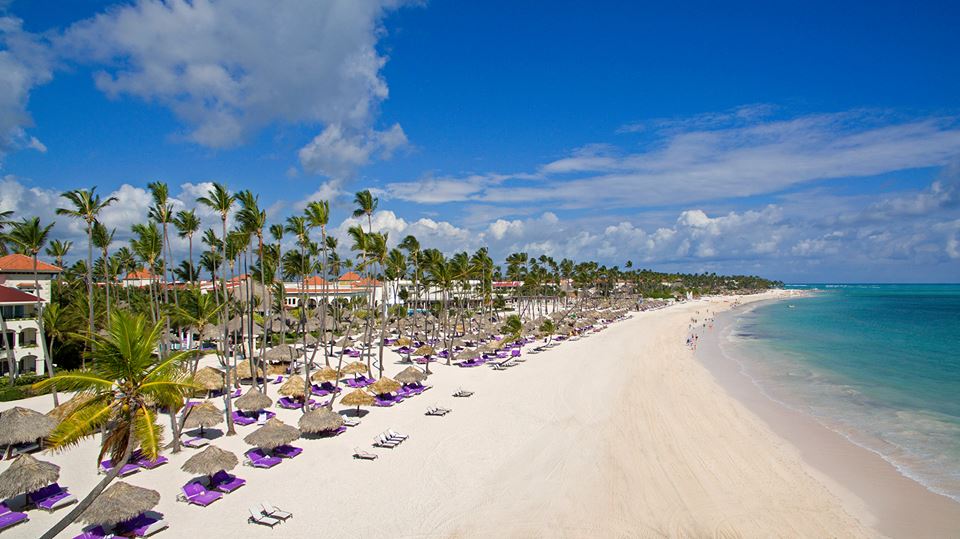 Credit: Paradisus / Facebook
Price Range: $$ | Phone: [+1 809-688-5000] | Email: [paradisus.palma.real@melia.com]
If you're searching for the best all inclusive resorts in the Caribbean, look no further. The Paradisus Palma Real Golf & Spa Resort remains situated in the lovely Punta Cana region of the Dominican Republic. When you come here, you may feel in awe of the stunning setting. Beautiful pools, courtyards, and rooms can be found throughout the grounds. Those who love to eat tasty foods while on vacation will definitely appreciate this site. The resort serves international buffet spreads, complete with a variety of cuisines. As the foods have been crafted by a talented chef, you'll never have a bad meal when here.
Embark on a vacation with any of the best all inclusive resorts in the Caribbean.
Before you decide to travel somewhere, you'll need to plan where to stay. Accommodations like all inclusive resorts remain ideal for those who appreciate luxury and countless services. If you're hoping to vacation in the Caribbean, you'll have many of these resorts to choose from when booking reservations. From casual accommodations to more top-notch, glamorous sites, every travelers will find the resort they truly love. Be sure to refer to our article prior to making any of your travel plans. You'll get to discover one of the best all inclusive resorts in the Caribbean to stay inside while vacationing.
Related Article: 10 Best Tropical Vacations