Are you looking for a good travel bag? We've got just the thing. Enter the STM Trilogy 15″ Laptop Backpack.
The STM Trilogy 15″ Laptop Backpack offers plenty of space for your gear and a laptop up to 15 inches. Multiple compartments offer ample space for organization. Separate your items for easy access. You won't have to be that person in the airport digging around for their passport and phone again.
So why do we love the STM Trilogy 15″ Laptop Backpack so much? Measuring 14.8" x 10" x 1.2" , the interior is quite spacious. Overall, the STM Trilogy 15″ Laptop Backpack is the essential you need for those long-haul trips. The folks over at STM strongly believe good things come in threes. With this said, it's no wonder that there is a trio of storage compartments, three additional pockets, and so much more. This bag is designed to fit your lifestyle.
About the Brand
STM was founded in 1988 just outside of Sydney in the vibrant suburbs of Bondi Beach. Their mission has been and remains to be simple and pure. They want to provide the things that matter for the generation that does them. This mission started when one of the co-founders, Ethan Nyholm, was looking for a bag that would protect his new laptop and complement his style.
Since he didn't find a pack he liked, Ethan got creative. He slipped his laptop into a padded postal envelope and put it in his hiking backpack. While this was a good temporary solution, he knew he wanted to develop a lasting one. So, he teamed up with his coworker Adina Jacobs and got to work. The result was a backpack design that focused on protecting digital devices and doesn't look boring.
Nearly twenty years later, the name STM Goods has become synonymous with good laptop backpacks, fitted cases, and accessories. You'll find their offices scattered around the globe – from Sydney to San Diego, London, and Kuala Lumpur. No matter where you live, you can invest in a company that makes products for the greater good. Enter the STM Trilogy 15″ Laptop Backpack.
STM Trilogy 15″ Laptop Backpack Features & Benefits
When it comes to your technology, you don't want to mess around. Investing in a great quality piece like the STM Trilogy 15″ Laptop Backpack is a great way to protect your gear. And you will look stylish doing it. That sounds like a win-win situation to us. We're going to touch on its aesthetic, design, comfort, durability, and overall quality of the pack.
The Aesthetic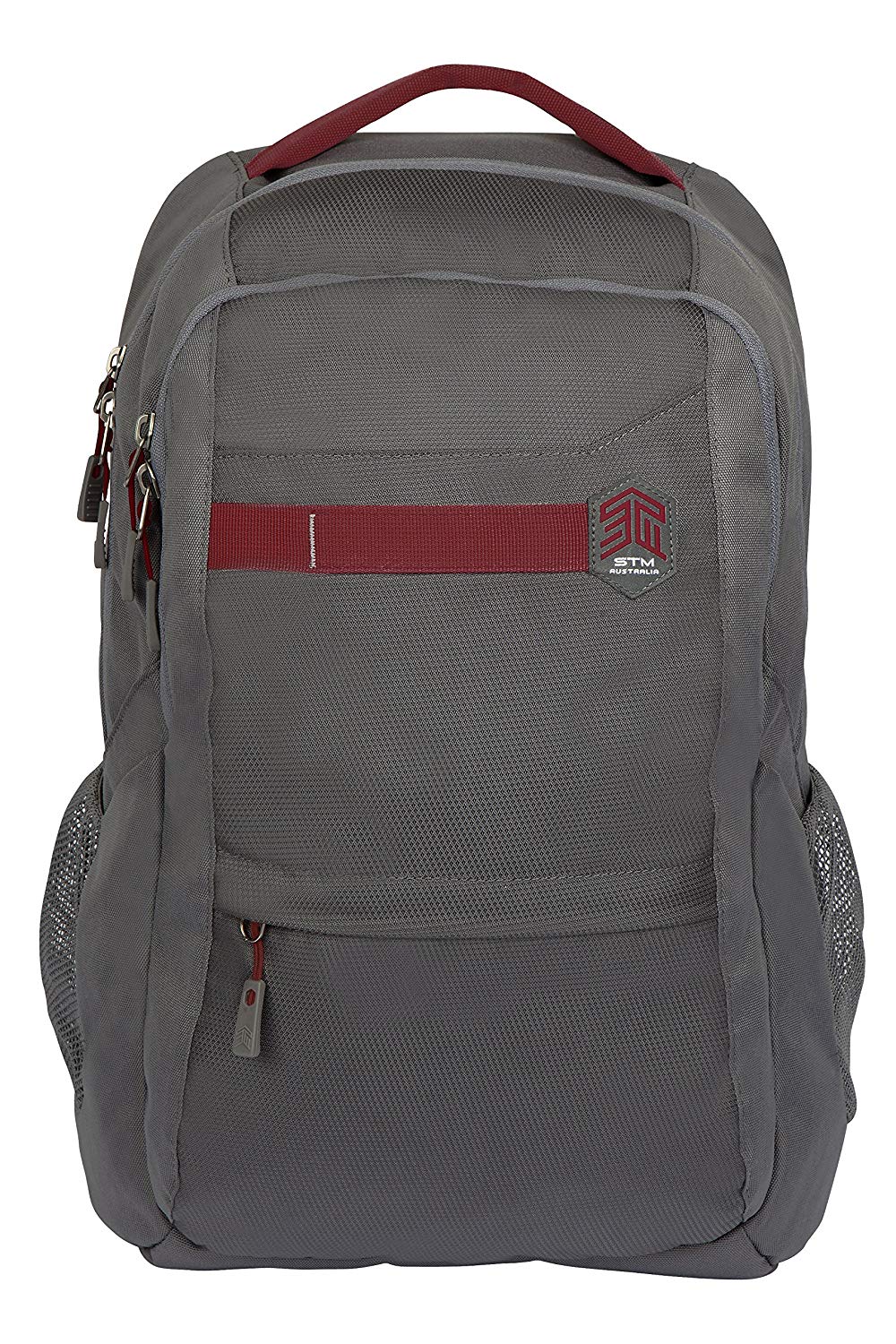 We love the simple style of the STM Trilogy 15″ Laptop Backpack. The bag comes in three color options: black, dark navy, and granite grey. From the outside, you would never be able to tell that it is a laptop backpack. The appearance is minimalist and casual. You could take this anywhere. It goes with just about every look, color, and theme you have in your wardrobe. That is one of the most important things we realized when we are traveling. Versatile pieces will get you so far. It's dynamic and you won't stick out in the crowd as that tourist. Loud, bold pieces are more likely to scream "tourist."
Design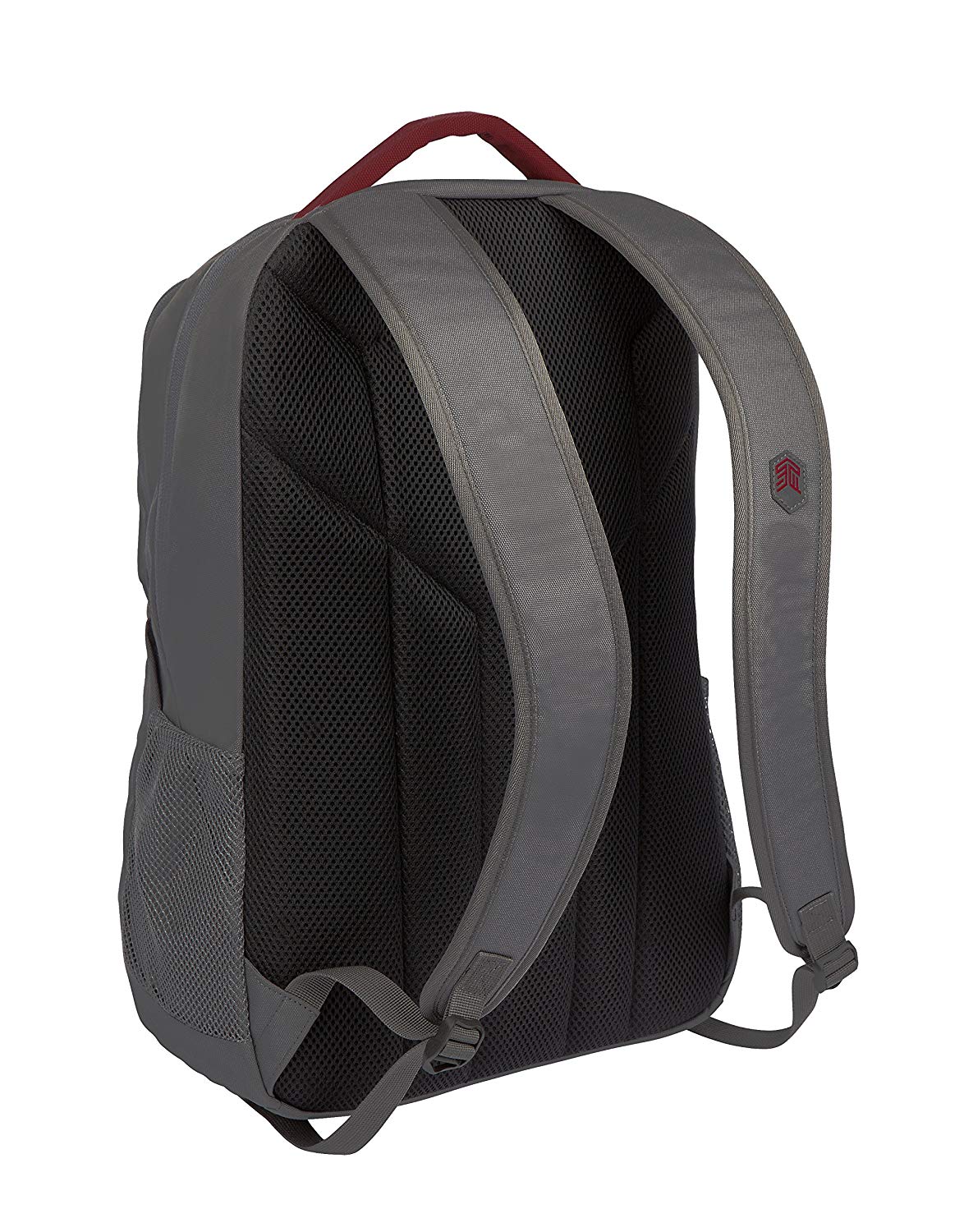 The STM Trilogy 15″ Laptop Backpack from the Stories Collection packs a punch. Designed to keep up with an active lifestyle, it incorporates protective suspended tech cells, reverse coil zippers, and is water resistant. Moving on to the large main compartment, you will find that it offers ample space for your laptop, charger, and any other electronics you may want to store away. The two outside pockets offer a convenient place to store your phone and keys if you want easy access to them.
Go ahead and try to zip the main pocket closed. Once you do, you'll realize you could have probably added 30% more stuff in there. The main compartment spans pretty much the entire height and width of the bag. You will also find a small compartment off to the right hand side with a covered horizontal zipper. There is also a small pouch that opens near the top as well as a few water bottle pouches on the side.
Comfort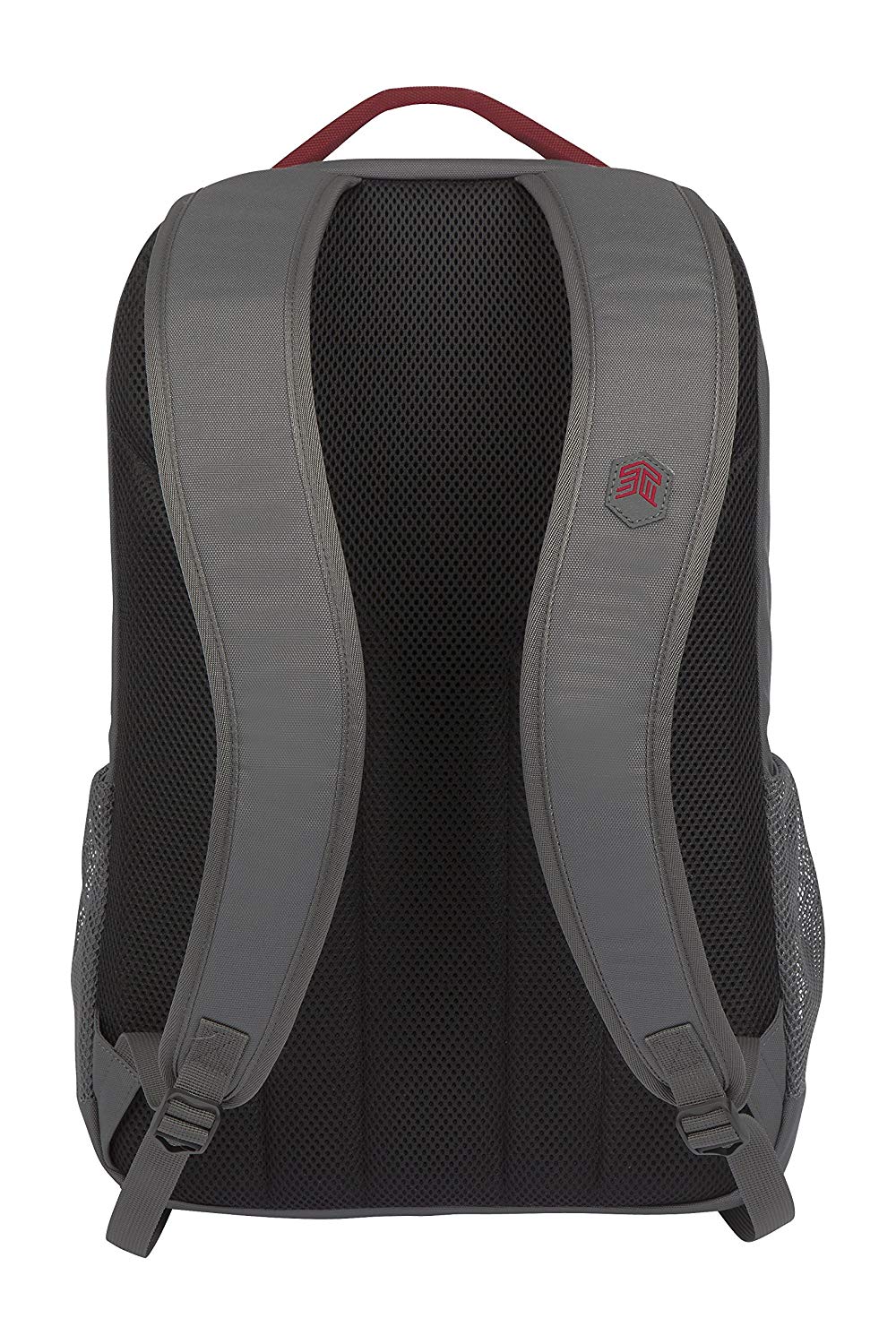 Crafted from water-repellent fabric with an extra layer of polyurethane, this bag is ideal to carry around on a rainy or snowy day. If you take a closer look, you'll see that even the zippers are designed to keep moisture out. One of the main reasons we love the STM Trilogy 15″ Laptop Backpack is because of the straps.
These straps quickly settle into position and they don't cut into your shoulders. This is due in part that the bag is not loaded to its full capacity. For the most comfortable wear, keep the straps loose. That way, you can just sling the bag on and adjust the straps accordingly after.
Overall Quality of the STM Trilogy 15″ Laptop Backpack
All in all, we've got to say it. We love the STM Trilogy 15″ Laptop Backpack. This bag is a solid option for travelers looking to keep their gear safe or simply commuters who need a little bit of extra space. Either way, this bag was designed to withstand all of the elements. It's comfortable to wear too, which scores it even more points on our list. While there has been some criticism of the aesthetic in reviews, we're rather fond of its simplicity.
Tech Specs:
Protective suspended cell technology

Two primary storage compartments keep you organized

Padded shoulder straps and grip handle

check

Dimensions of laptop section:

H 14.8 x w 10 x D 1.2

check

Water resistant fabric
What Travelers Are Saying About the STM Trilogy 15″ Laptop Backpack
Overall, travelers love the STM Trilogy 15″ Laptop Backpack. Among the top listed features was storage. Two primary storage compartments are there to keep you organized. There are also two slim front pockets where you can store documents and other important items. If you are looking for a backpack with lots of storage space and zippered pockets, this is one to consider.
Other Laptop Backpacks You May Like
Do you want to shop around a little longer? No worries, we've got you covered. Check out these fan-favorite laptop backpacks.
Timbuk2 Command Laptop Messenger Bag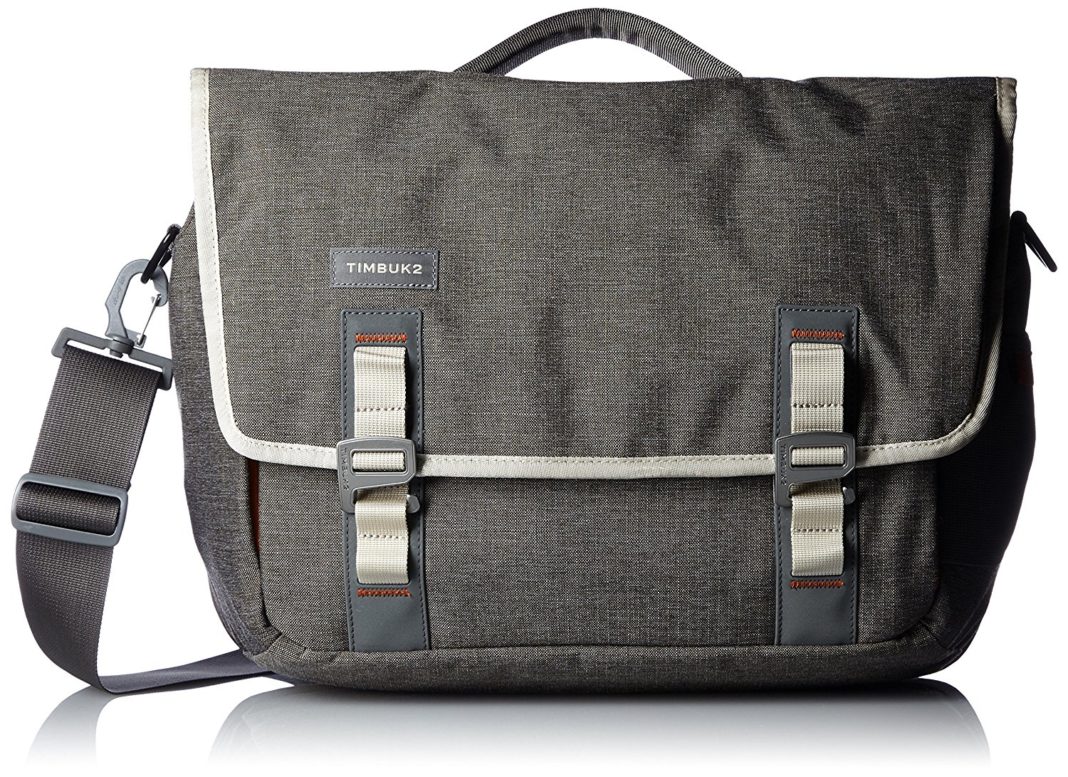 Minimalists, this one's for you. We absolutely love this bag. It's sleek, minimalist, and goes with just about everything. Did we mention that it is also TSA compliant? If you frequently travel with your laptop or tablet, this bag is worth investing in. With the addition of a cross strap, it's comfortable to wear when you're on the go too. Timbuk2 is one of the best backpack brands.
It's simple yet classy style makes it versatile for wear. You could fit in at most offices and meetings. But it's also casual enough to take it to your local coffee shop down the street. With this messenger bag, the company shows a great awareness of the needs of its users. The bag has padding to protect your gear and features a zippered compartment that unzips three sides of the bag. Lay out your laptop flat and expedite that trip through airport security. This is one of the best laptop backpacks in our book.
Tech Specs:
100% Polyester

Imported

TSA- compliant laptop

check

External access zipper pocket

check

Weatherproof flap and bag construction

check

TPU lined
Solo Everyday Max Hybrid Backpack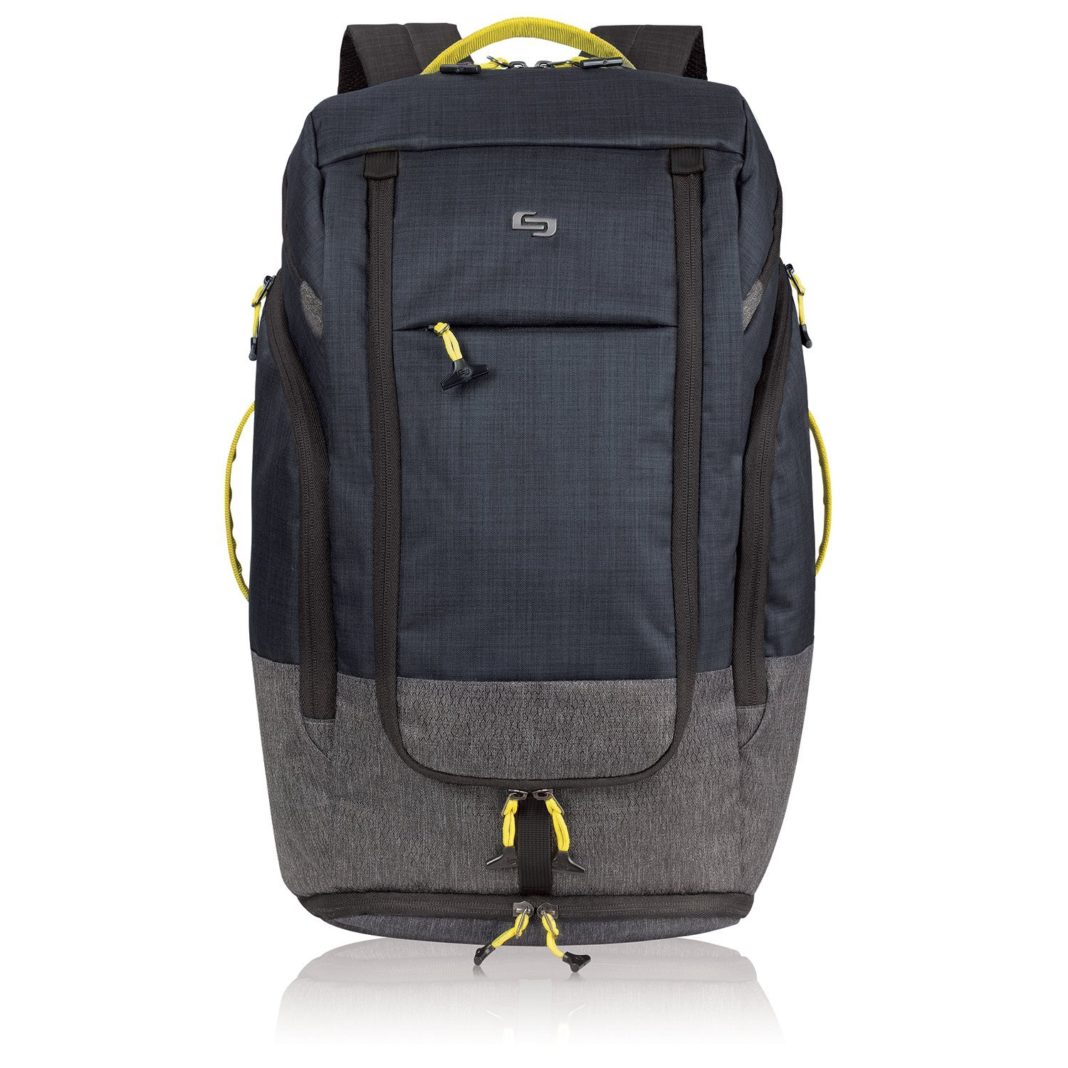 The manufacturers at Solo clearly know that great design isn't just for your apparel. To reflect a truly great sense of style, your accessories should be well-tailored too.
These bags offer great functionality with a cutting edge look. The versatility of this 17.3" duffel bag creates portability while giving you the storage capacity you need on the go. This bag is great for millennial travelers seeking practicality and modern style. It comes equipped with a padded compartment for your laptop or tablet, front zippered pockets, and an organizer section.
In addition, the side zippered pockets are great for sliding in a water bottle and padded shoulder straps add extra comfort. Last but certainly not least, the bottom zipper uncovers a separate compartment for shoes or clothes. This is one of the best laptop backpacks out there for your adventures.
Tech Specs:
Smart details and hybrid silhouettes

Padded 17.3" laptop compartment

Internal iPad/tablet pocket

check

Shoe compartment

check

Padded carry handle

check

Solo's Unstoppable 5-Year Guarantee
Invest in a Great Travel Accessory – aka the STM Trilogy 15″ Laptop Backpack
We hope you enjoyed reading our feature on the STM Trilogy 15″ Laptop Backpack. As you can see, it is a great option to help you stay organized and stylish while you're on the go. Features like durable material, spacious compartments, and padded shoulder straps take the stress out of travel and help give you ease of mind while you're on the go. Use these bags for whatever season; they won't go out of style.
Related Article: 12 Best Laptop Backpacks And Messenger Bags For The Efficient Traveler