Traveling to this tropical dream? Check out the best beachfront Bali resorts.
There's something special about leaving city life behind us every now and then. We need to take the time to disconnect from technology, connect to the earth, and give ourselves the time and space to think. It's far too easy to get so caught up in the hustle and bustle of this life that we forget to enjoy it. This year, go easier on yourself. Give yourself grace. And if you can, find the time to unwind and plan a sweet escape. Whether you're craving some alone time, R&R, or adventure seeking with your partner, the best beachfront Bali resorts offer the perfect getaways.
Here Are Our Picks for the Best Beachfront Bali Resorts
Lining the southern coastlines, these escapes offer just what you need to unplug and rejuvenate. All of our picks are merely steps away from the soft sand and surf. Some of them even often private beaches for their guests as well as waterfront activities right near their grounds. Set within lush tropical gardens, these resorts are set up with world-class dining and spa scenes to meet your travel needs.
Are you ready for the vacation of a lifetime? These Bali resorts have it all. We dare you to find a more beautiful place to spend your PTO under the sun. Lounge around, eat your weight in fresh fruit at the hotel's on-site restaurants, and adventure around the coast. You've earned it.
So where do you look? When you're planning a trip like this, it can be hard to even know where to start? What part of the island should you stay on, how much does it all cost? You will find great Bali resorts in Nusa Dua, Jimbaran, and Seminyak. In these areas, you will also find plenty of opportunities for adventure, shopping, and dining. To take the guesswork out of it for you, we traveled around and found the best Bali resorts for your convenience. Tough work, we know.
1. The Mulia Resort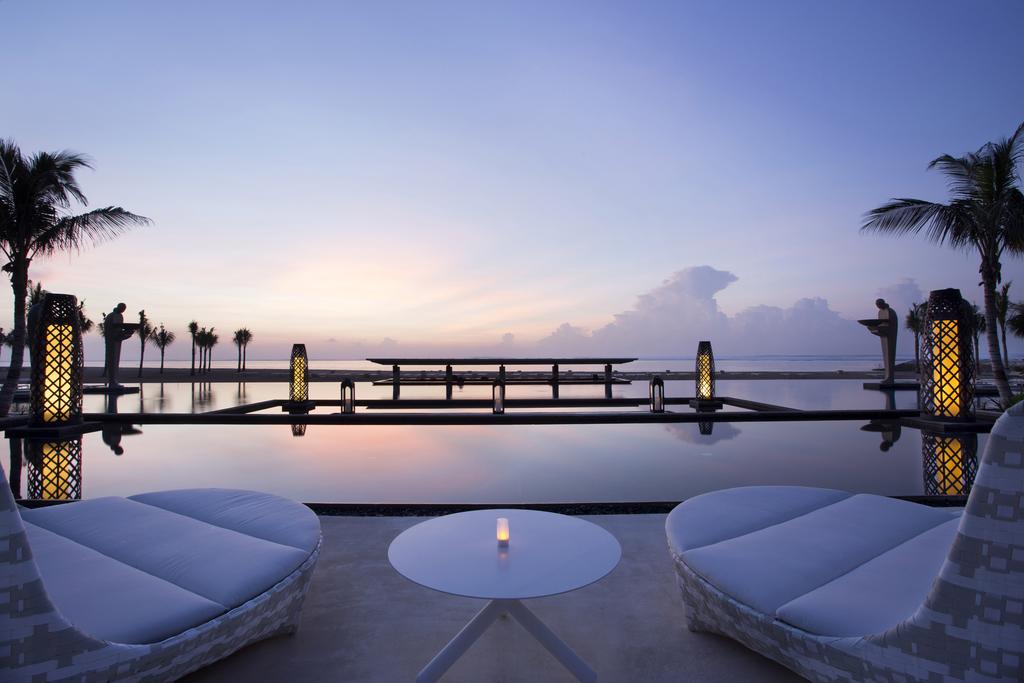 Credit: The Mulia Resort
Have you seen anything more beautiful in your life? The Mulia Resort is nothing if not serene. This five-star accommodation located south of the islands offers a luxurious stay. The exotic beachfront known as Geger Beach along with its namesake temple make up an iconic cliffside scene. We love that the resort is only fifteen minutes away from the primary Nusa Dua tourism complex. So, if you have any questions about exploring the region, the information source is only a short drive away. Convenience is key when you're traveling abroad.
Whether you're traveling as a couple or with the whole family, this is the perfect getaway. Here, exclusivity and luxury come into play. Conde Nast and Trip Advisor have listed it as one of the best luxury resorts in the Nusa Dali area. Here, amenities and services abound to meet your every need and ensure you stay in comfort. From the moment you arrive at the resort grounds, you'll fall in love with the scene. Five hundred and twenty-six rooms overlook pristine white sand and the gentle rolling tide. Come revel in the spectacular beauty of Balinese warmth.
What do we love about it most? It's impossible to pick just one aspect. The rooms offer a peaceful, quiet place to sleep with lovely views. There is nothing quite like starting your morning off with the views of the jungle and beaches while sipping a cup of hot coffee. As if the rooms weren't enough to make your stay a dream come true, the resort also offers four delightful pools complete with a swim-up bar, four on-site restaurants, and five bars to choose from, and plenty of beach activities to take part in. There is no doubt about it. The Mulia is one of the best beachfront Bali resorts.
2. The St. Regis Bali Resort
Credit: The St Regis Bali Resort
Escape to this five-star dream in Nusa Dua, Bali. This St. Regis location has a gorgeous beachfront extending all the way from Geger Beach just south of the Peninsula. Here, you will find plenty of suites and rooms to choose from, each offering a quiet place to lay your head at night, lovely signature amenities, and morning views you could only dream of.
Everything you could ever want is all at your fingertips. Conscientious butlers are ready to assist your needs throughout the day, providing just the right touch of opulence you want on a long-awaited vacation. An expansive blue lagoon wraps around the hotel property, framed by villas offering a wealth of local art and island designs. If you're traveling with your special someone, these villas are the perfect place to enjoy a romantic stay. Honeymooners will find a flower bath upon arrival, a basket of sweet fruit dipped in chocolate fondue. It really doesn't get any better than this.
3. The Royal Purnama – Art Suites and Villas
Credit: The Royal Purnama – Art Suites and Villas
Have you heard of the crystal black sand beaches of Bali? Well, The Royal Purnama is nestled right at the foot of them. An exclusive boutique stay, this luxurious locale presents thirty-five modern pool and villa suites decorated according to the spirit of the local industry. Lovely accommodations are complemented by warm, friendly service, and the beauty of a rural, serene oceanfront setting in the Sukawati, Gianyar District.
Meaning "full moon" in Balinese, Purnama is considered to be a holy day by many of the locals. It is celebrated in hundreds of temples spread across the island. The Balinese people believe that this sacred day marks when gods descended to earth to give their blessing. The Royal Purnama Art Suites and Villas gives back to weary travelers by inviting them to experience all of the location's beauty and rest.
4. W Bali – Seminyak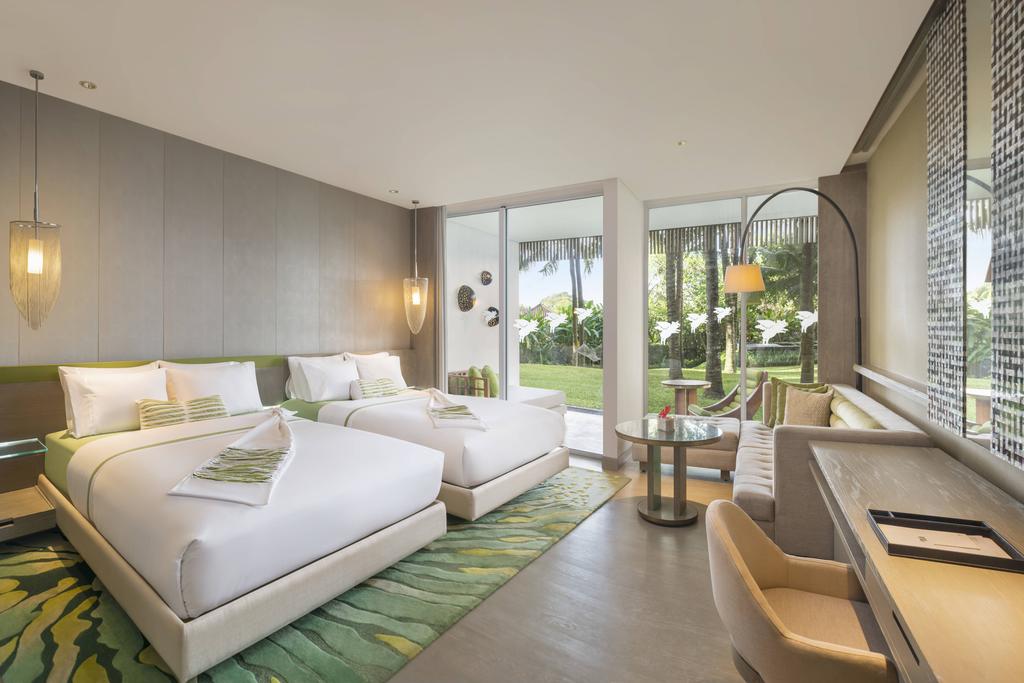 Credit: W Bali – Seminyak
An ideal choice for those who crave the trendy Seminyak scene, the W Bali Seminyak offers the utmost in luxury, style, and class. Here, you are not only right next to the beautiful beachfront but you also have the island's best shopping, dining, and nightlife right at your fingertips. You won't have to travel far outside of your room to find entertainment here. While not everyone craves the liveliness of Seminyak, you can have the best of both worlds. The rooms are quiet and peaceful; when you have relaxed enough and are ready to explore, adventure is just outside of your door.
Whatever you need, staff work around the clock to make sure you are happy and comfortable. The service here is nothing short of impeccable. Are you looking to relax? Mingle and have a drink? Whether you are traveling for business, leisure, or just because, you will find everything you need at the W Bali. Remote workers will be happy to know that their rooms offer complimentary wifi to get things done.
​

5. The Oberoi, Bali
Cfredit: The Oberoi, Bali
Lose yourself in an idyllic Balinese village scene. Well-maintained throughout the years, these villas offer traditional style surrounded by lush and beautiful landscapes. Some of them are rich in the region's culture and history. Others yet have large private pools, marble bathrooms, and spacious interiors tastefully-decorated with local artwork. The settings here are quiet, romantic, and just what you need for a perfect tropical vacation.
Guests seeking a world-class dining and spa scene need to look no further. Choose from traditional thatched-roof, open-air dining spaces, an amphitheater, beachside cafe, or a charming bar. When it's time to wind down and relax, the Oberoi Spa offers a wonderful place to enjoy signature treatments. On request, you can also take part in pilates and beachfront yoga in the hotel gardens. The Oberoi is one of the best beachfront Bali resorts in our book.
6. The Seminyak Beach Resort & Spa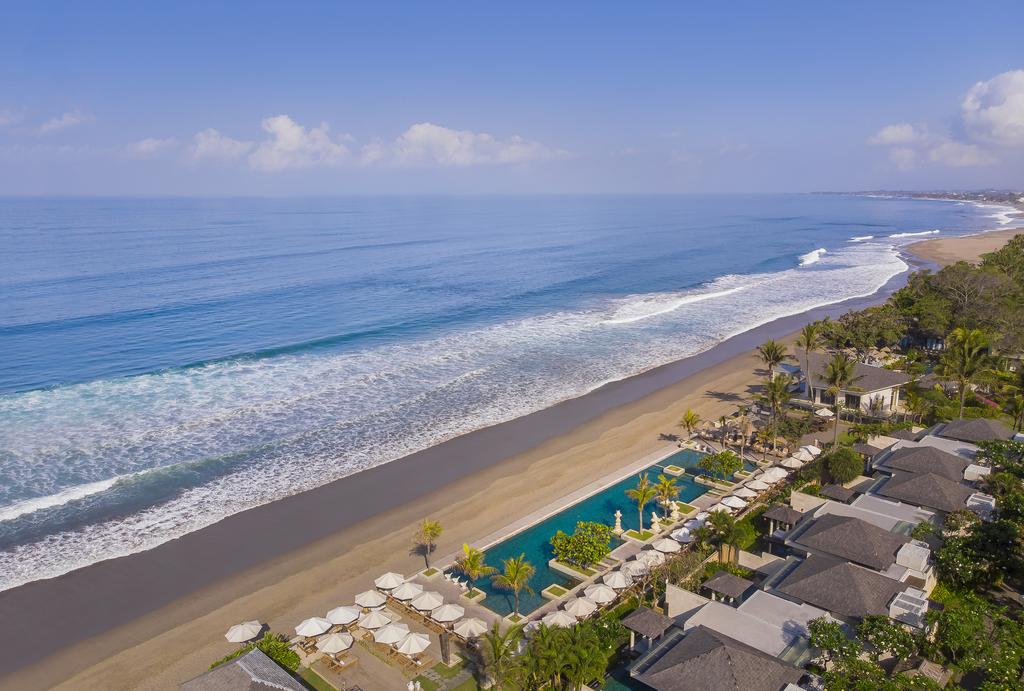 Credit: The Seminyak Beach Resort & Spa
Located right in the heart of Seminyak, this exclusive beachfront resort is a traveler's dream. It offers a collection of rooms, suites, and villas to suit your needs specifically. The Seminyak Beach Resort & Spa sets the standard for what resort living on the island should look and feel like. Hospitality comes together with unrivaled luxury for a memorable experience on these Balinese shores.
You'll find a welcome escape from the outside world. Scenic seaside beauty converges with an enticing location, history, and culture in a refreshing way. The neighborhood is home to some of the most desirable restaurants and beach clubs, providing plenty of entertainment for those who like to get out and explore. Think barefoot beach bars, ritzy cocktail lounges, and plenty of designer boutiques. If you didn't already know Seminyak has long been the destination for the rich, famous, and fashionistas. Since you're a jet setter too, we know you will have the adventure of a lifetime roaming rhese glimmering coasts, staying for the sensational sunsets, and living large with the island life.
7. InterContinental Bali
Credit: InterContinental Bali
Travelers describe the InterContinental Bali as somewhere suspended between heaven and earth. And we've got to say, they're not at all wrong. You'll find the InterContinental Bali hidden away in tropical gardens, set right in front of pure white sand and vibrant blue waters. The resort staff invites you to come and experience the ambiance of this tranquil village. As one of the most renowned Jimbaran Bay Hotels, this luxury five-star getaway was the first of its kind to be built on the bay.
Needless to say, it has been the recipient of multiple awards. Besides offering a prime place to enjoy the island life, the InterContinental Bali seamlessly integrates Balinese architecture and art with modern conveniences. Of all the Bali resorts in the area, this luxury stay stands unrivaled. You can't beat its world-class services and facilities. Sunset and seafood cafes line the water, offering a spectacular place for a meal, you are only fifteen minutes away from the Garuda Wisnu Cultural Park, and twenty minutes from the famous sea temple of Uluwatu.
8. Fairmont Sanur Beach, Bali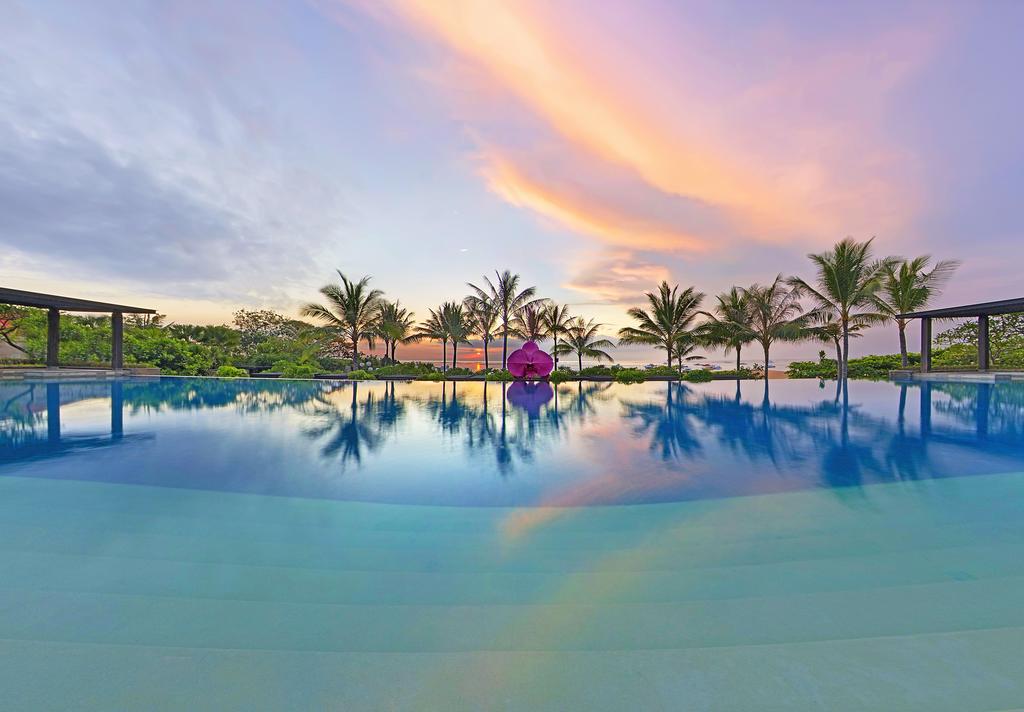 Credit: Fairmont Sanur Beach, Bali
A stunning resort and villa, the Fairmont Sanur Beach Bali is set amongst a beautiful and private tropical garden oasis. And while you will feel like you're in a world away, you still get all the conveniences of location. You will be just twenty-five minutes from the Ngurah Rai International Airport. While it was once a quaint fishing village, today, this resort offers the utmost in resort style living and charm. It's also a hub for Balinese art, so culture aficionados will flock to Fairmont as their stay of choice. Come to escape the hustle and bustle of the island and get back to life as it should be – simple and relaxing.
When you're ready to choose your place to stay, there are plenty of options. Each of the one hundred and twenty units offers plenty of space, peace, and round the clock service. When it comes to dining, you'll be hard-pressed to find a more authentic cuisine. Layang Layang serves delicious Southeastern Asian meals, while Nyala Beach Club and Grille offers light fare by day. At night, its scene transforms into a sophisticated poolside dining space where you will want to dress up a little. Mediterranean cuisine offers understated elegance and just the flavors you have been craving.
Treat Yourself and Book Your Stay at One of These Beautiful Beachfront Bali Resorts
Come and escape the hustle and bustle of life at one of the romantic and beautiful beachfront Bali resorts. This island is teeming with beauty and adventure. As you can see, this island offers so many opportunities for those seeking a trip of both relaxation and adventure. These hotels are right in the middle of it all, offering not only a unique place to experience the local wonders but also a home away from home.
While many people think that a vacation to Bali is too expensive and they can't afford it, that doesn't have to be true. Planning ahead or booking a trip for the shoulder season and off seasons are good ways to save money. Treat yourself to breakfast on an oceanfront patio, a morning message, and afternoon water sports excursions.
We hope you enjoyed reading our article on the best Bali resorts. As you can see, this vibrant destination offers so many opportunities for those seeking a trip of both relaxation and adventure. Some of the best beaches in the world are right here. Our choices for the top accommodations offer the best of both worlds – rest and time for exploration. Whatever type of vacation you are seeking, you will find it here. From adults-only resorts all about romance to family fun options, we've helped you narrow down your choices to only the highest caliber places of accommodation.
These resorts are right in the middle of it all, offering not only a unique place to experience the local wonders but also a home away from home. Book yourself a vacation to remember and make memories to last a lifetime. Which one of the resorts on our list did you like the most? Let us know in the comment section below. We'd love to hear about your top picks and adventures!
Related Article: Best Time to Visit Bali