Absolutely Everything You Need to Know About Smorgasburg 2018
Smorgasburg. Sound it out, nice and slow. Have you heard of it before? Whether you're a newbie to the Smorgasburg scene or a dedicated Smorgasburg attendee, you are all welcome here. This guide will help newbies and oldies alike navigate the ever-expanding flea market. We are breaking down for you the what, when, where, and why you have to plan a weekend trip to Brooklyn as soon as possible. Smorgasburg is an annual food market located in Brooklyn, NYC that you won't want to miss.
Brooklyn's favorite outdoor food flea market is back for the seventh year in a row with classic eats and new eats alike. On Saturdays, Smorgasburg is set up in Williamsburg and on Sundays, you can find the market located in Prospect Park. Some vendors attend both days, while others only attend one day. Housing nearly 100 vendors, Smorgasburg is a lot to take in. So, let us help you. We will walk the market together. Here is your ultimate eating guide to Smorgasburg 2018.
Calling All Meat Eaters, Cheese Lovers, and Gluten Enthusiasts
Ramen Burger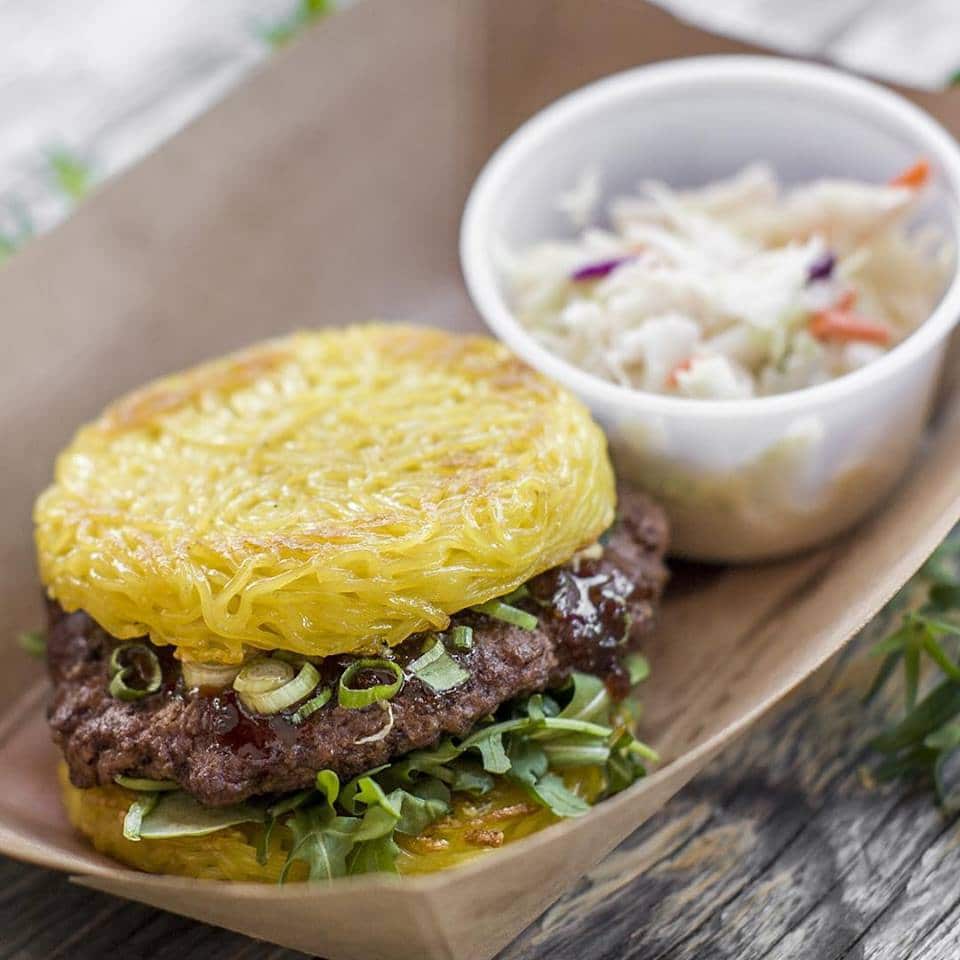 Ramen Burger gained popularity a few years back. Today, this burger joint is going as strong as ever. The talk surrounding this interesting combination hasn't died down quite yet. It is just as it sounds – a burger smashed between two ramen noodle patties. Yes, you need to try it, even just to say that you have.
Belmere Catering
Haitian cuisine can be found here, such as pumpkin soup with veggies and black mushroom rice. In the Haitian Creole language, Belmere means mother-in-law. And in a culture where women aspire to cook as well as their mother, mother-in-law, and grandmothers, the name Belmere Catering was birthed. This food stand is debuting their flavor at Smorgasburg for the first time this year.
Pop Pasta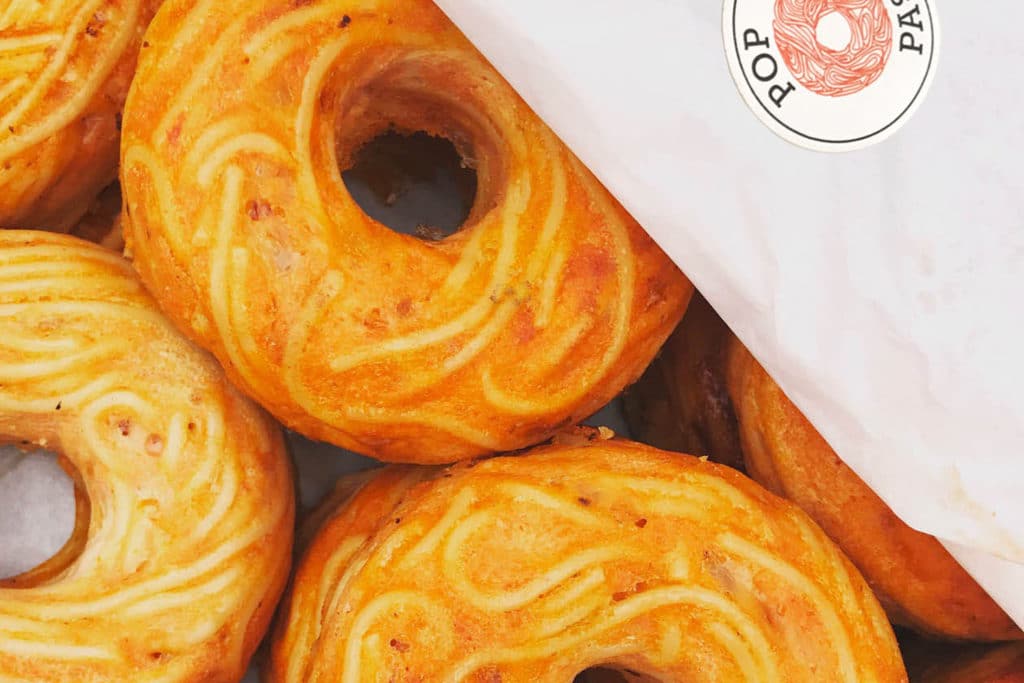 When pasta combines with donuts and you are wondering why you didn't think of such a brilliant concept first? Sauce up these pasta rounds with tomato puree, olive oil and garlic, cheddar cheese and more. Then, wait for the party to break out in your mouth. Donuts for dinner? It donut get better than this. Yes, two please. Donut mind if I do.
Roll Play Viet Noms
Nachos + a Vietnamese spin = Viet Namchos. Roll Play also serves authentic spring rolls that are a fan favorite. We highly recommend trying them. The sauces are also the talk of the town. The Boss Sauce is a super-secret family recipe. Hoisin Poison is a sauce that may contain a real poison if you are allergic to peanuts. And finally, the sexy sauce is, well, super sexy (and vegetarian).
Burrito Juarez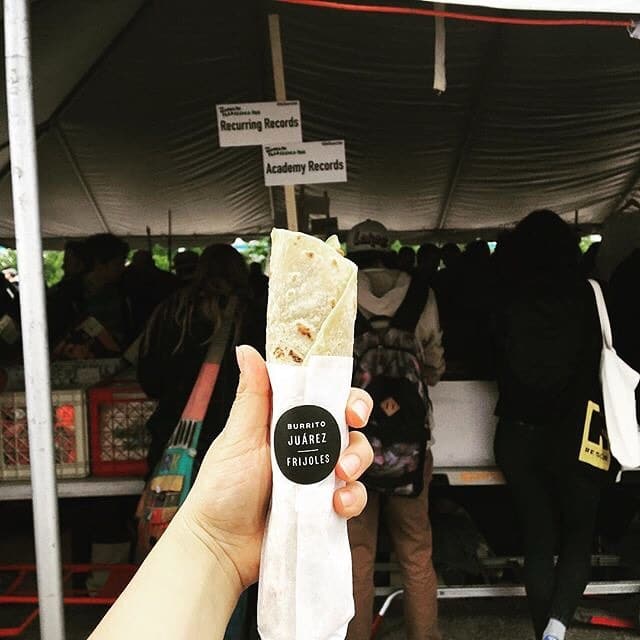 Unlike Chipotle burritos that you can't eat on-the-go because they are too large and overflowing, the burritos at Burrito Juarez are easy to eat as you wander from food stand to food stand at Smorgasburg. Plus, everything is made from scratch, so say hello to authentic flavor. Wrap together organic chicken, refried beans, and a green tomatillo sauce in a handmade tortilla to get a punch of flavor. And, because you're there, try the hibiscus tea.
Home Frite
Bring one of the best parts of beach-life to the bustling city of NYC. Eating the Boardwalk Fries at Home Frite is like eating boardwalk fries, not on a boardwalk. Grab a cone of fries, share them with a friend, and gather all the dipping sauces to test out. These warm, salted, Boardwalk Fries are a classic at Smorgasburg.
Destination Dumplings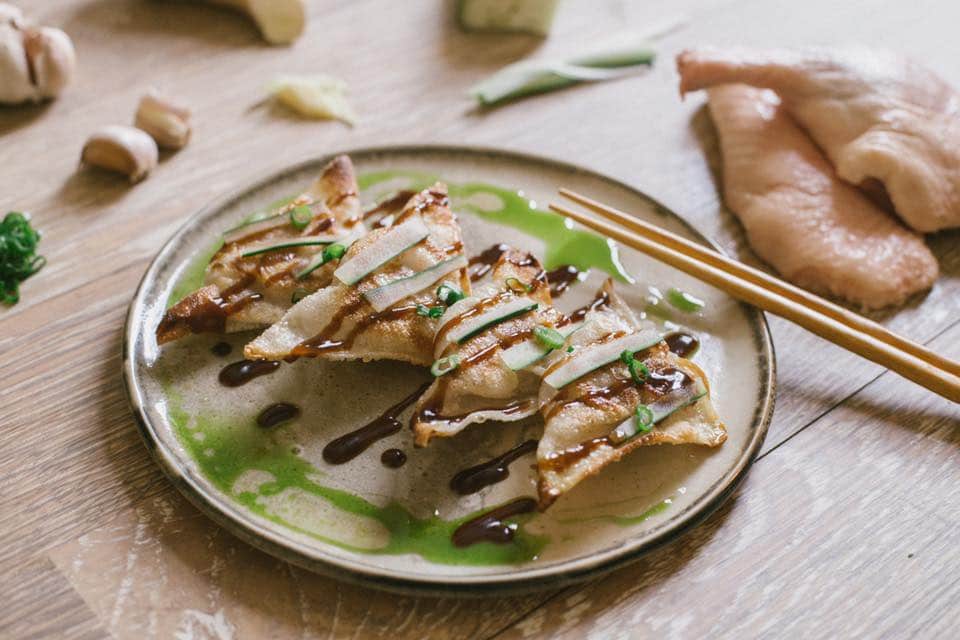 Traditional dumpling cooking techniques with a modern twist. That's what Tristan and Andrew, the self-described "Two Kids From Queens" are cooking up at Smorgasburg each week. Destination Dumplings offers creative fillings such as jerk chicken with a pineapple sauce, and a lamb gyro filled with yuzu tzatziki sauce. Fight the crowds and get your hands on some of these dumplings the next time you're at the Brooklyn flea market.
Honey, Don't Forget Your Sweets and Treats
Dulcinea Churros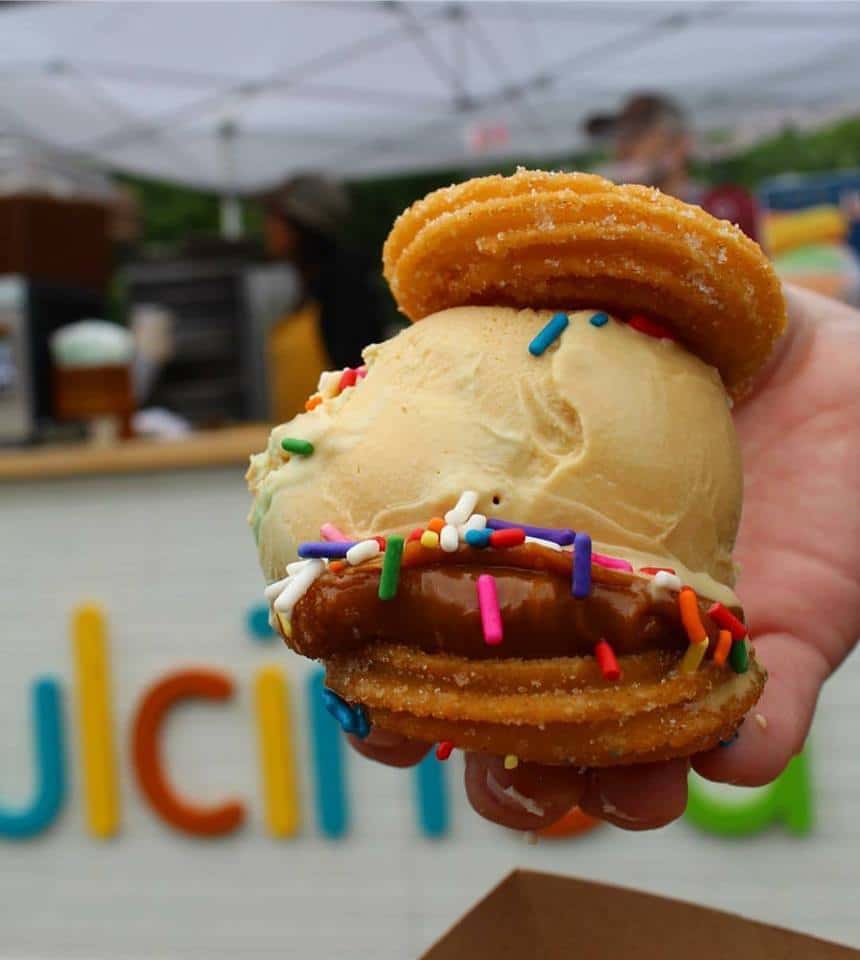 Churro ice cream sandwiches. And with that, we ask no more questions. Only, how long until the weekend?
Ube Kitchen
What happens when salted Ube ice cream meets toppings like fresh fruit, toasted coconut, dragon fruit cubes and is served in a hollow dragon fruit bowl? The Halo-halo happens. What is Ube ice cream, you ask? To find out more about this deep purple Filipino ice cream you'll have to swing by Smorgasburg.
Rutte's Dutch Waffles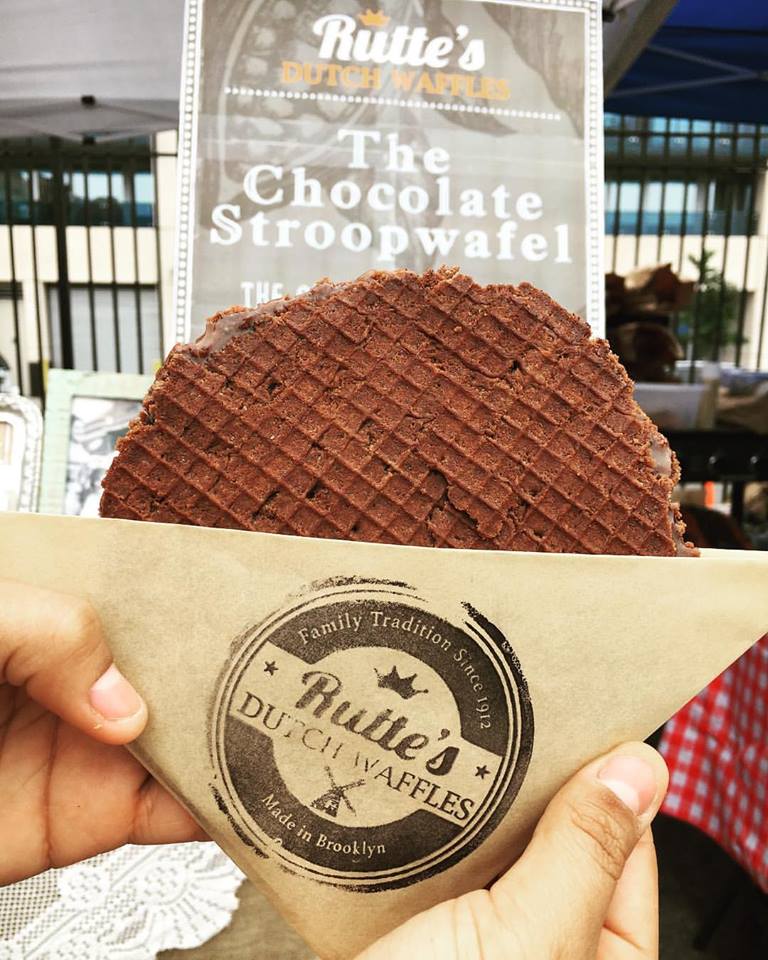 Stroopwafels are meant to be eaten fresh and warm, and Rutte's does it right by making these mouthwatering Dutch Stroopwafels right on the spot. Can you smell them from here? Order a Classic Stroopwafel or get adventurous and try the Coconut or the Choco-Loco!
People's Pops
A refreshing taste on a sunny Saturday in NYC. Made with real fruit, you can order shaved ice or their well-known pops. The combinations of fresh ingredients are fun and adventurous. Some include blackberry pear ginger, watermelon mint, strawberry basil, and peach sweet tea. Pick up a pop, cheers a friend, and eat up before they melt.
Gluten, You Can't Touch This
Palenque Homemade Colombian Food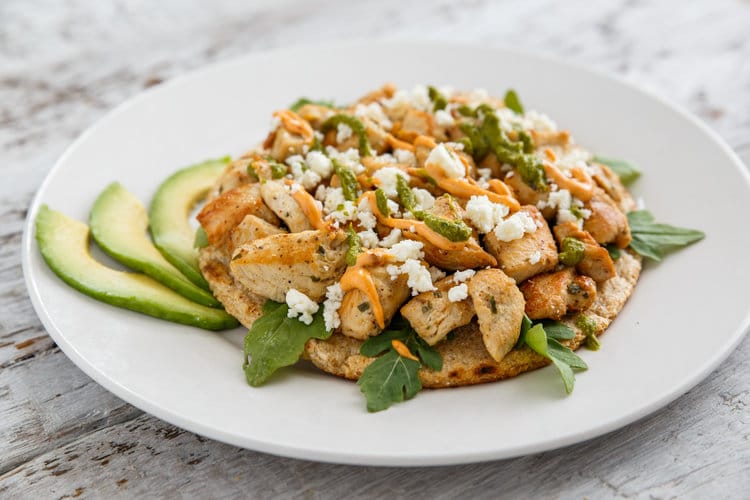 The quinoa and multigrain arepas at Palenque's are gluten free and organic (bye gluten, bye pesticides). Choose your base, choose either a meat topping and veggie topping and watch them deliver a pizza-like creation into your hands. This Colombian food spot at Smorgasburg is a must for gluten-freers and gluten-eaters alike.
Kreung Cambodia
A Cambodian pop-up shop at Smorgasburg that has everything from grilled pork belly to papaya salad and handmade Cambodian lemongrass sausage. The mango sticky rice is another favorite that is completely plant-based as well. This sweet blend of coconut milk, mango, sticky rice, and toasted coconut will blow you away.
Alchemy Creamery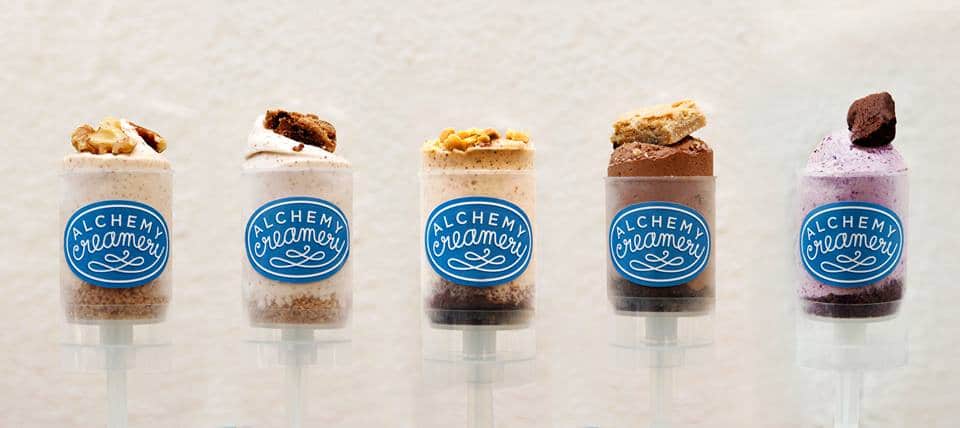 Gluten free, vegan ice cream push pops. Alchemy Creamery has flavorful pops from strawberry & brownie to peanut butter & jelly. You can also order a classic scoop of almond vanilla or salted caramel in a gluten-free cone to enjoy while you cruise around Smorgasburg.
Vegans, Lettuce Hear You Turnip
John's Juices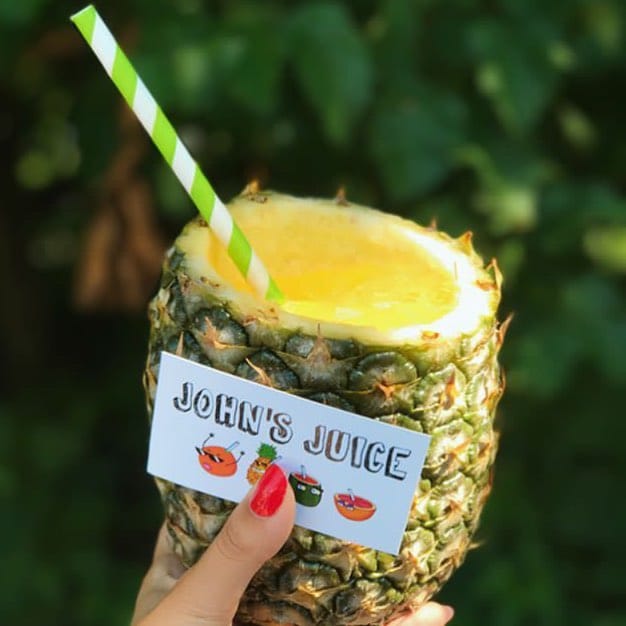 Orange juice drunk from an actual orange. Pineapple juice drunk from an actual pineapple. Grapefruit juice from a grapefruit and the list goes on and on. Nothing other than real fruit is served in these convenient on-the-go refreshing wonders of tropical joy. Say hello to all-natural juices and goodbye to icky preservatives.
Lucy's Vietnamese Kitchen
At Lucy's Vietnamese Kitchen you can order Pho with tofu that is 100% vegan. Yes, you heard that right. We know it can be nearly impossible to find Pho that is made with a vegan broth, so we are extra grateful to Lucy's Vietnamese Kitchen and we know you will be too. Many other Vietnamese dishes can be easily made vegan (their menu will tell you how easy it is). In addition to the Pho, we recommend trying the Lemongrass Tofu Vermicelli Bowl and/or the Tofu Summer Rolls.
Chickpea & Olive
The food served at Chickpea & Olive is all local, organic and 100% plant-based. Vegans won't have to investigate the menu to decipher which noms they are able to order. Have anything. Have it all. Everything is worth trying. From avocado sandwiches to beet burgers, including Spicy Calexico, all vegans and non-vegans will enjoy Chickpea & Olive. Also, gluten-free buns are available if you desire to go the gluten-free route. Also, also, with a cute name like Chickpea & Olive, who can resist stopping by?
Bamboo Bites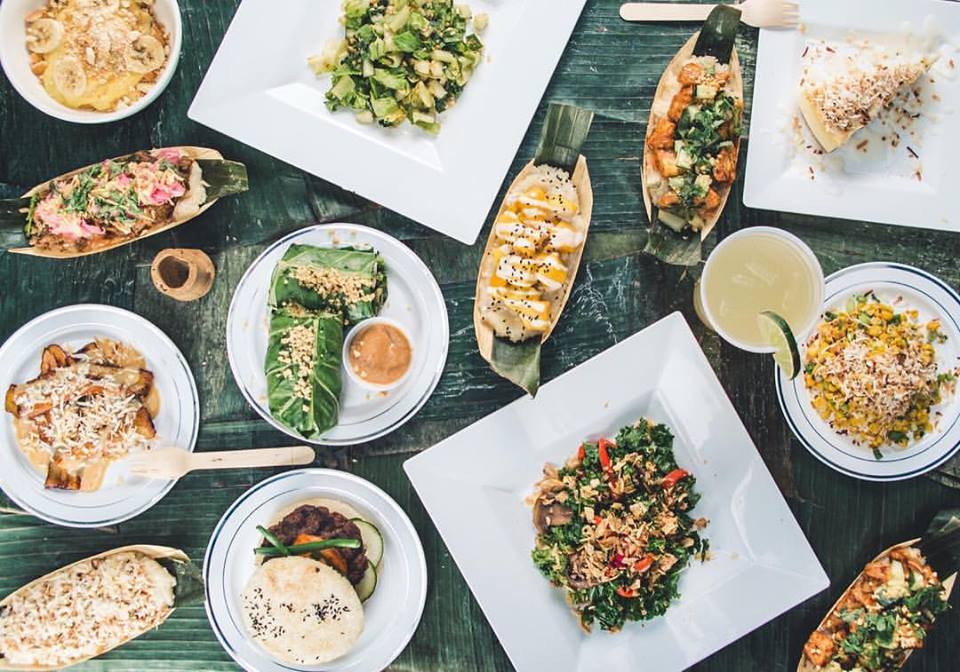 Bamboo Bites is super-de-duper vegan-friendly. Their Tofu Satay Sticky Rice Boat is our recommended pick. It is a pile of sweet, sticky rice with tofu, a peanut sauce, and pickled cucumber topped with crushed peanut and fresh cilantro. Just when things could not get any better, they do. The ingredients are served in a bowl made of bamboo. And with that, we give Bamboo Bites the gold star for sustainability.
There it is, your handy-dandy guide to navigating Smorgasburg NYC 2018. When in New York City this summer or fall, visit this Brooklyn food festival and enjoy all that the 100+ vendors have to offer. But before you go, we have a few tips to share with you. As a heads up, not all vendors take credit cards. So, remember to pick up cash on your way to the Smorgasburg market. The food market also gets crowded, so coming early will be the best move unless you are patient enough to stand in lines. And finally, come hungry.
Who has been to this Brooklyn food festival before? Tell us some of your favorite eats in the comments below!