In 2018, a new progressive theme park is scheduled to open at the Vidanta resort in Mexico. Vidanta is joining forces with Cirque de Soleil (yes, you read that right) to create an exceptional and memorable amusement park like no other.
Cirque de Soleil's History
For those who have never heard of Cirque de Soleil (literally Circus of the Sun), they are a non-profit circus turned international corporation. Their avant-garde group takes circus acts to the next level year after year. In 1998, they staged their first water-centric show O in Las Vegas. And their first musical/circus hybrid show, Paramour, debuted on Broadway in 2016. The well of creativity behind Cirque de Soleil seems to never runs dry.
Guy Laliberté, Cirque de Soleil's founder, has taken their signature blue-and-yellow tent around the globe. Interestingly, Laliberté began as a street performer with High Heels Club in Canada. His career took off when the Canadian government asked him to lead a road show for the country's 450th anniversary of discovery. From there, Cirque de Soleil quickly found a presence around the world. Moving from the U.S. to Europe and then Japan, the entertainment group has traveled to six continents. In the 32 years they have been running shows, they have presented over 40 productions.
What's to Come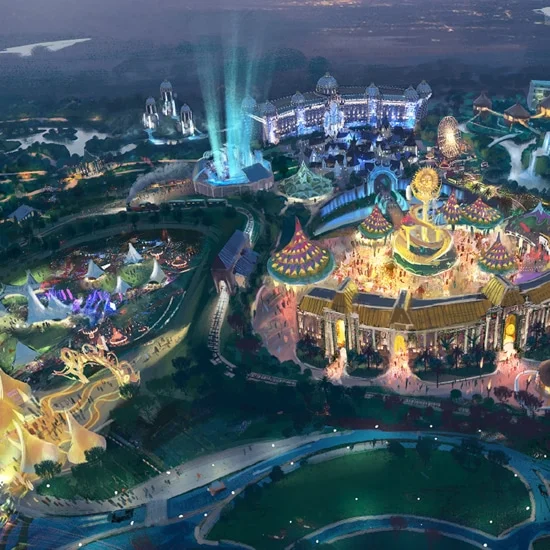 And now, in accordance with their progressive DNA, they are opening a theme park where fans can enjoy the thrill of Cirque performances all day long. The park will feature embedded Cirque actors for day-long Cirque entertainment. Children are sure to enjoy the interactive theater while adults can relax in the VIP hydrotherapy circuit. The masterminds behind the park have ensured that guests feel transported to a fantasyland. Indeed, everything will be lush and green with no plastic tubing and slides. Based on the company's mockups of the park, I would expect to spot fairies or trolls along the way. We're definitely adding Cirque de Soleil's version of Neverland to our bucket list. It won't be long before we can all book our flights and see for ourselves!
Related Article: 15 Best Amusement Parks to Visit This Summer