In case you haven't heard, today is the summer solstice. Yep—it's officially summertime and we are pumped. What better way to spend one of your summer days at an amazing amusement park? If you're an adrenaline junkie like some of us are, then this is a definite must do for the summer. Or if you're not an adrenaline junkie but have a big family, this is still a must-do for you! There are a ton to choose from, so we thought we'd help you out. Whether you're going it solo or are bringing your family along, these are the best amusement parks to visit this summer.
1. Kings Island
Located in Mason, Ohio, Kings Island is the kind that's perfect for rollercoaster lovers and families alike, making it easily one of the best amusement parks out there. It's a hybrid of an amusement park and waterpark, featuring more than 100 rides and shows that you and the kids will love. Plus, Kings Island just added a new ride in April called Mystic Timbers, a wooden rollercoaster that's 109-feet tall. One daily admission ticket is $44.99. Get more pricing information here.
2. Knoebels
How many quality amusement parks have you been too that are totally free? Let us guess…not many. Knoebels Amusement Park Resort in Elysburg, PA, is the largest amusement park in the US that offers 100% free admission. And as if it couldn't get any better, the parking is free, too. Not only does this save your wallet, but it's actually one of the best amusement parks around. Now to be clear, each ride at Knoebels does cost money, but one is never more than $3.00. With 63 rides that are suitable for children all the way up to thrill-seeking adults, we'd say this is a solid deal. What more? They also have cottages and campgrounds if you want to make it a full-fledged experience. If high value for a small budget is what you're looking for, Knoebels has got to be on your go-to list.
3. Knott's Berry Farm
Here's a fun fact: Knott's Berry Farm is actually America's first theme park ever. It was founded by the Knotts who were jam producers—hence the name Knott's Berry Farm. Why don't people know about this place as much? One reason could be that people assume it's actually a berry farm (not saying we've ever been guilty of this). Another reason may be because it's not far from Disneyland, and let's be honest—most people have their minds set on getting to Disneyland. Unfortunately, these people are seriously missing out on some exhilarating rides like the Xcelerator and family-friendly attractions. So next time you're planning a trip to Disneyland, why not knock out two birds with one stone and hit up Knott's Berry Farm, too?
4. Carowinds
When in Charlotte, spend a day (or multiple) at Carowinds! In fact, want to visit both North and South Carolina? Not a problem. Carowinds is technically located in both states at the same time because it's right on the state line. Not many amusement parks can boast that cool fact. Plus, the roller coasters are crazy. Two of their roller coasters made the top 50 list in the Golden Ticket Awards, with Fury 325 coming in first place. You can ride these award-winning roller coasters in more for as little as $47. But let's be real, you'll probably want to stay longer. Here's more information on some of their package deals.
5. Six Flags Magic Mountain
This is the ultimate destination for roller coaster fiends. Located in Valencia, CA, Six Flags Magic Mountain has more roller coasters than all others. If you're looking for an adrenaline rush, you will definitely find it here. They've also got something new coming that we cannot WAIT to try: JUSTICE LEAGUE: Battle for Metropolis. It's basically a video game that you play and ride at the same time (no big deal). If you or your kids have a thing for DC Comics, you better keep your eyes peeled for the open date! If the best amusement parks are those with an overload of roller coasters, then this Six Flags location is your pick.
6. Silver Dollar City
Want to travel back in time to the 1880s? Put a trip to Silver Dollar City on your calendar for the summer! It doesn't seem to get as much rave as many the other top amusement parks, and that's just a shame. This authentic American amusement park has got it all, from live shows, to good food, to record-breaking rides. Outlaw Run was ranked the 8th best wooden roller coaster in the world in 2016 in the Golden Ticket Awards. Need another reason to make the trip? How about a Lantern Light Tour through the beautiful Marvel Cave? Trust us, Silver Dollar City is well-worth a visit.
7. Universal Studios Hollywood
If you're movie obsessed, Universal Studios Hollywood is an absolute must for the summer. This amusement park has got the whole shebang. Bringing kids along? Take a stroll through Super Silly Fun Land or to watch Shrek in 4-D™. Want to have your mind blown? Grab a seat at the Special Effects Show, or take The World-Famous Studio Tour. The only requirement that we have is that you at least go see the brand new Nighttime Lights at Hogwarts™ Castle. Opening on June 23rd, people will be able to see that caste light up from across the way at Hogsmeade™ village. If you're a Harry Potter™ fan in any capacity, you know this will be amazing.
8. Discovery Cove
This place is a dream come true for all animal lovers. Technically, Discovery Cove is an all-inclusive day resort. Nevertheless, it's just as thrill-inducing—just a different kind of thrill. Want to swim with dolphins or go on an underwater-walking tour? You can do all of this and more at Discovery Cove, and when you're all worn out—hit the tropical pool area. What better place to go this summer than a place where you can adventure in the water all day?
9. Epcot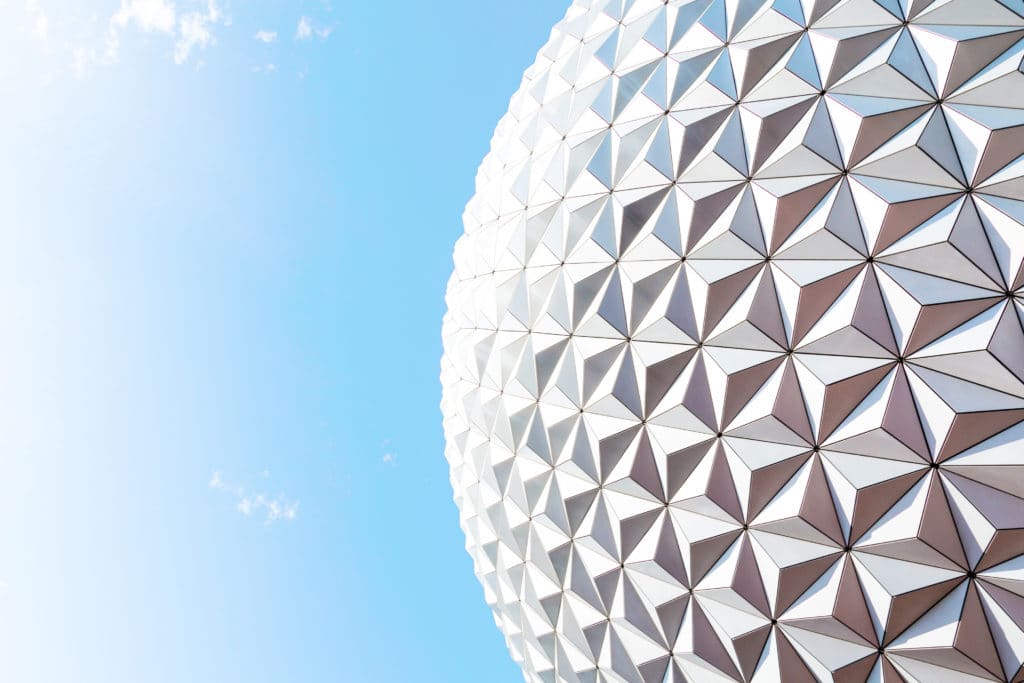 Calling all tech geeks: get your tech on at this unique Disney amusement park. Epcot has the coolest attractions of all time, like a hang gliding tour over the world and spaceship simulations. Not only do they have awesome technological features, but they also offer a wide variety of cultural experiences. Dine in one of Epcot's 52 international restaurants, featuring cuisine from America, to France, to Morocco. Epcot is certainly not your typical amusement park, but it's definitely worth a trip!
We promise: you do not have to love—or even like—country music to have a blast at Dollywood. If you ask us, one of the best parts of this amusement park is that it's located in the Smokey Mountains in Tennessee. Booking a luxurious and cozy cabin is enough to lure us to Dollywood. It's set apart from other amusement parks in that its main attractions are the award-winning dinner shows featuring talented artists of every kind. Plus—the southern style food is to die for. Need we say more?
11. Busch Gardens Tampa
This is one makes the list of the best amusement parks for similar reasons to Dollywood. Its main attractions here are not the roller coasters. Nevertheless, three of their seven roller coasters made the list of the top 50 steel roller coasters in the Golden Ticket Awards. As if that isn't promising enough, Busch Gardens Tampa is one of the biggest zoos in the country. Go see cheetahs, flamingos, giraffes, and more. The best part? Busch Gardens offers an annual pass that's as cheap as $14 per month with free parking. That's what we call a money saver.
12. Busch Gardens Williamsburg
Heading to Virginia? Take a day to enjoy the Busch Gardens in Williamsburg! When it comes to roller coasters, Busch Gardens knows how to do it. Quality over quantity seems to be their motto. Busch Gardens Williamsburg flaunts eight roller coasters, two of which also made the top 50 list in the Golden Ticket Awards last year. Unlike Busch Gardens Tampa, this location has a European theme, so you'll be getting German cuisine and Irish shows.
13. Cedar Point
Cedar Point calls itself "The Roller Coaster Capital of the World," and they've certainly earned it. This fantastic amusement park features 16 roller coasters, five of which made the list of top 50 roller coasters in the Golden Ticket Awards last year. Millennium Force, which ranked second, is an absolute must ride, and be on the lookout for Steel Vengeance coming out in 2018! The park also has 17 thrill rides, nine family rides, and two water rides. There's no wonder what puts this one on our list of the best amusement parks in the US. You can certainly expect to ride your heart out when you visit Cedar Point.
14. Disneyland Park
You probably saw it coming, but we had to do it. Disneyland is not overrated—it is absolutely amazing. There is so much to see and do that any activity you choose to do at Disneyland will be a memory made. If we had to choose, our favorites would be watching the Enchanted Tiki Room, going on the Jungle Cruise, and splashing through the Grizzly River Run.
15. Hersheypark
Does a day filled with crazy roller coasters and Hershey's Chocolate sound good to you? A trip to Hersheypark this summer is exactly what you need. First, quench your thirst for thrill on one of the park's 13 roller coasters. Then, take a dreamy tour through Hershey's Chocolate World and treat yourself to some worth-it calories. If this doesn't sound glorious to you, you're either crazy or you're crazy.
Don't let the summer end without indulging in a wild adventure at one of the best amusement parks!
Are there others that you think deserve to be on this list of best amusement parks that we didn't include on this list? Share them in the comments below!
Related Article: 6 Best Indoor Water Parks Around the World