Start your day in Las Vegas the right way with a delicious breakfast.
Las Vegas certainly earns much of its publicity and slight notoriety for the energetic night scene. While you might wake up the next day feeling less than 100%, you can ensure that your day gets better by eating at a top notch breakfast joint. Fortunately, if you think the nightlife in Las Vegas is sizzling, so is their bacon. The wide array of excellent options for that most important meal of the day is simply astounding. There really is no shortage here of excellent choices. We are here to assist you in the daunting task of narrowing down where to find the best breakfast in Las Vegas. Travelers who dream of flavored pancakes, buttermilk waffles, and unique meal options are all going to enjoy their meal.
In short, Las Vegas is a foodie's dream. The endless culinary variety is quite unsurpassed. Check out some of these best restaurants throughout the city. Be sure to start planning your trip to Las Vegas by also mapping out its iconic breakfast restaurants and top bars. First though, you absolutely need to find your own best breakfast in Las Vegas while you are here. Of course, it is no surprise that there are quite a few places that caught our eye (and our stomach).
Here are eight top spots in Las Vegas that you won't want to miss.
1. Hash House A Go-Go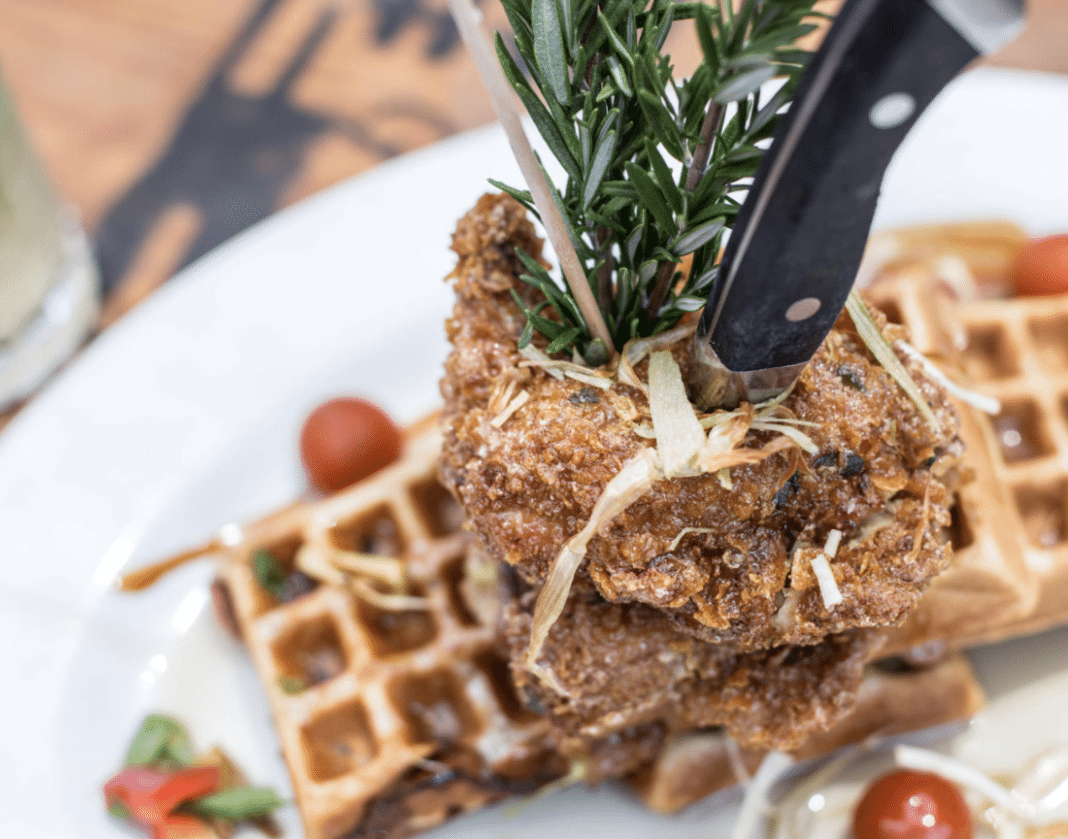 Credit: Hash House A Go-Go
For a hearty Midwest start to your day, be sure to check out Las Vegas' highly revered Hash House A Go-Go. Known for their unique cocktail concoctions and twisted farm food, Hash House A Go-Go is the place to be. This breakfast joint does not skimp on the portion sizes. Try Andy's World Famous Chicken and Waffle Tower for a purely authentic experience. Warning: This food at this place might taste a little too much like momma's home cooking. You may not want to leave.
2. Mon Ami Gabi
Credit: Mon Ami Gabi
With Las Vegas' miniature Eiffel Tower and this authentically French restaurant, you might wonder if you somehow got transported to Paris. Mon Ami Gabi serves their delicious breakfast menu daily until 11a.m. The taste of Europe is prominent as you peruse their rich menu options. Everything here just tastes more elegant. It might be the professional cooking skills or the captivating restaurant ambiance. Either way, we are in. Order a Caramelized Apple or a Bananas Foster Waffle for the perfect first meal.
3. The Egg & I
Credit: The Egg & I / Facebook
A single visit to The Egg & I is all you need to prove that they embody their mission of a "family tradition of fine American food." If you dream of plates heaping with a vast breakfast food assortment, then The Egg & I is just what you need. Think endless tater tots, enormous quiche, and French toast soaked in blackberry jam. Their omelets are also an eggs-sellent choice. Try the Bacon and Avocado or the Sundance Special. The Egg & I offers several locations throughout Las Vegas, so you can easily get your breakfast fix no matter where you are in the city.
4. BabyStacks Café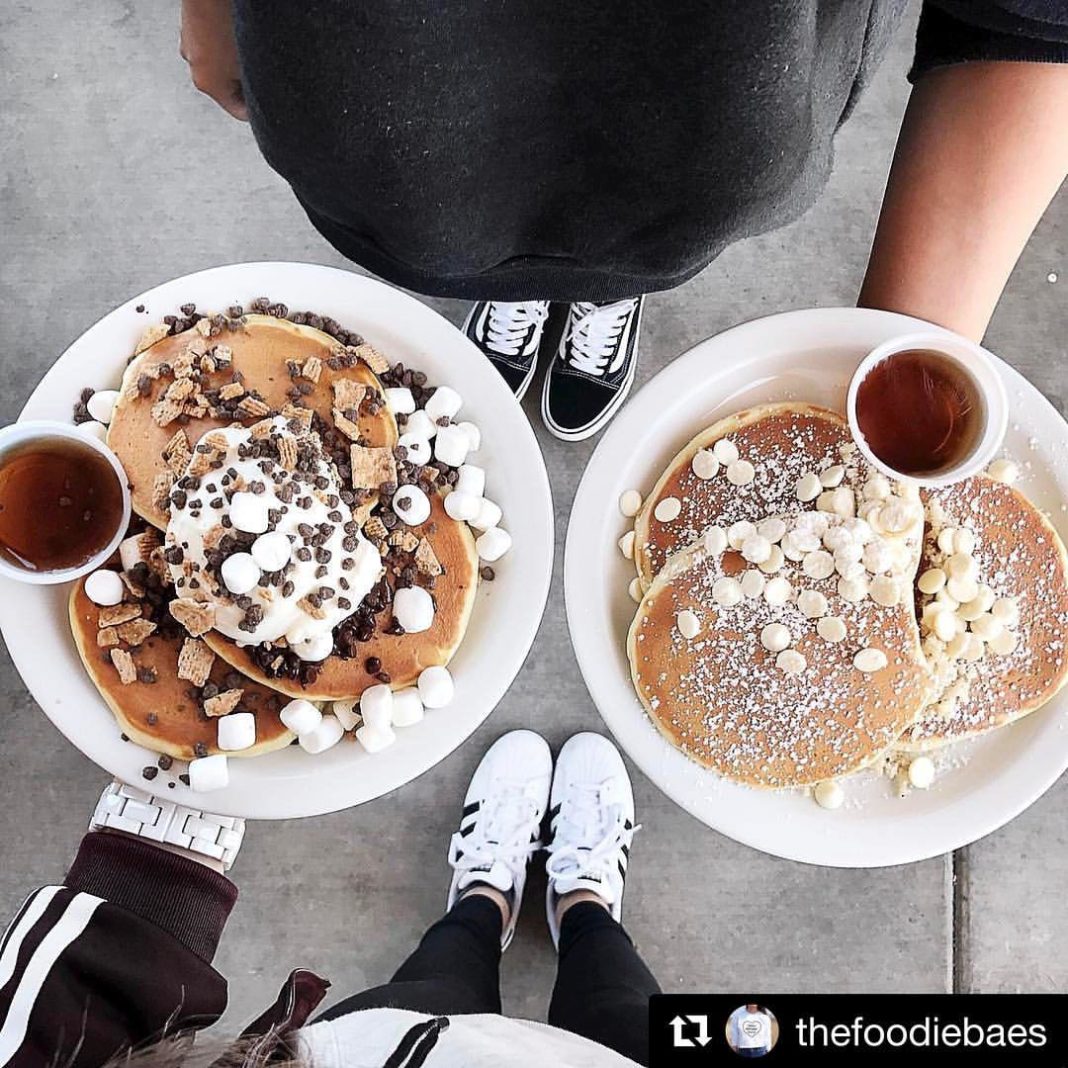 Credit: BabyStacks Cafe / Facebook
Originally donned Babycakes Bakery Café, this proud Las Vegas hole-in-the-wall has come a long way in 14 years. While the business may have expanded, the exceptional service and deliciously homemade goods certainly have not. Their mouth-watering breakfast items almost look too good to be true. Enjoy the extra thick bread slices adorned with banana slices and powdered sugar. The stuffed and Brioche French toast are simply divine. Word on the street is that the red velvet pancakes topped with whipped cream, chocolate crumbles, and a cream cheese syrup are the thing to order.
5. Siegel's 1941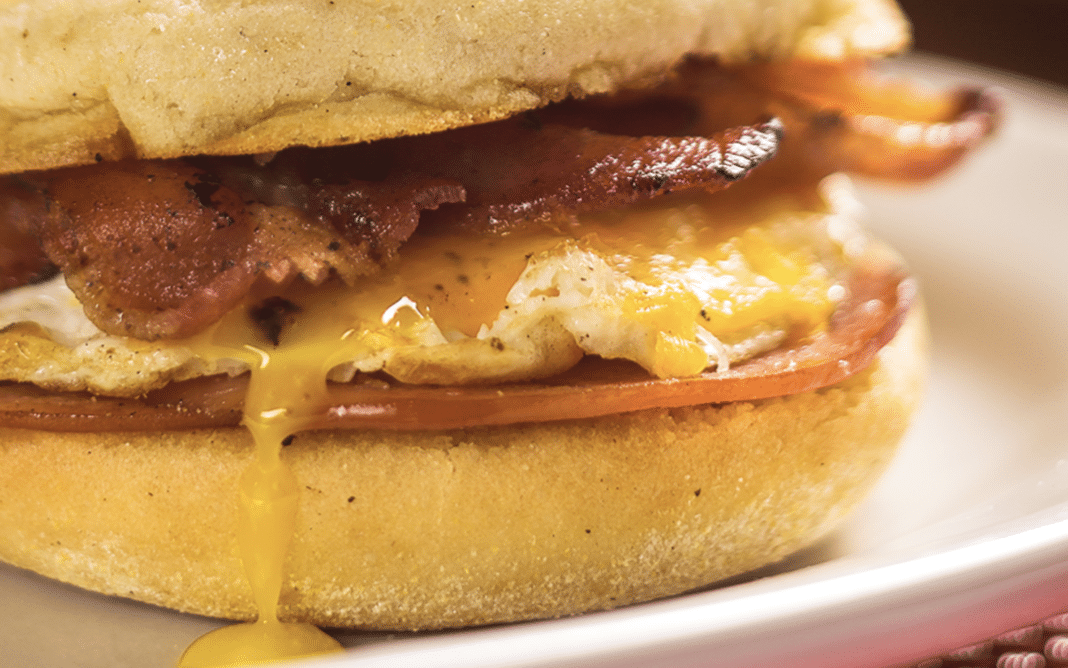 Credit: Siegel's 1941
Siegel's 1941 is a top-notch restaurant located right within Las Vegas' El Cortez Hotel & Casino. The classy fine dining breakfast joint is dedicated to channeling the early days of Las Vegas. It turns out that breakfast was just as good then too. Siegel's 1941 elegant class and flawless food presentation makes it a worthy candidate for the best breakfast in Las Vegas. Just when you thought it couldn't get any better, Siegel's 1941 has a great breakfast promotion. From 11p.m. to 11a.m. every day, you can get a $5 Breakfast Sandwich Supreme and a coffee. Try the Norwegian Style Eggs Benedict, with smoked salmon.
6. Omelet House
Credit: Omelet House
Attention breakfast lovers, Omelet House has what you have been looking for. As the name alludes, the omelets here will surely not let you down. Their dedication to quality ingredients makes your breakfast experience that much better. Not too partial to omelets? Well if they can't convince you to give one a try, Omelet House has so much more to offer the breakfast-goer.There is also plenty of food to share. You can expect Farm-Fresh Eggs, Spuds, and your choice of Toast, English Muffin, Homemade Pumpkin Nut Bread, Banana Nut Bread, or Tortillas with each meal. Order the Chicken Fried Steak & Eggs or the Country Style Scrambler.
7. eggslut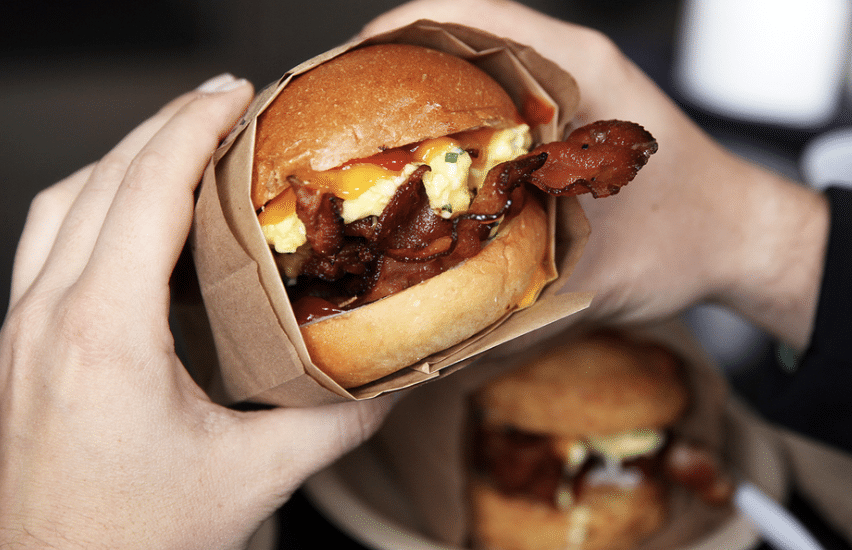 Credit: eggslut
Don't let the quirky name deter you, eggslut is a breakfast stop you absolutely need to make. You can find this joint on the second floor of the Cosmopolitan's Boulevard Tower. Founded in 2011, egglut is created with the gourmet food palette in mind. The mouth-watering and completely one of its kind egg sandwiches are designed to accommodate both the novice and the foodie. Not to mention they are perfectly photogentic. Order the Gaucho breakfast sandwich for a seared wagyu tri-tip steak, cage-free over medium egg, chimichurri, red onions and dressed arugula in a warm brioche bun. Let the telltale neon green egg-shaped sign guide you to the best breakfast in Las Vegas.
8. Black Bear Diner
Credit: Black Bear Diner / Facebook
The purpose of Black Bear Diner is simple: incredible food in a friendly environment. We would have to say that Black Bear Diner is certainly a place to find the best breakfast in Las Vegas. Picture massive, oval shaped plates, filled to the brim with eggs, bacon, ham, and hashbrowns. This sounds like a perfect Las Vegas breakfast. Black Bear Diner even serves their breakfast all day, so you can get your fill of the best kind of food any time. The breakfast meat selection here is quite impressive, with New York steak, chicken apple sausage, and hickory smoked ham. We also recommend trying the Cinnamon Roll French Toast for an extra special treat at the Black Bear Diner.
We are salivating over here from all of these delicious destinations.
Hungry yet? If these best breakfast in Las Vegas restaurants don't do it for you, we are quite sure nothing will. You can ensure that your daily itinerary is perfect, right from the very start. While you are here, don't be afraid to be adventurous with your culinary choices. After all, what happens in Vegas stays in Vegas, right? Try any one of these top foodie hotspots during your stay. Let us know what you think of these places, or any other ones you find simply scrumptious. Your trip here should be one of new experiences, and surely a stack of pancakes or two. So get your coffee cup ready and pull out the syrup, because your best breakfast in Las Vegas journey begins now.
Related Article: Best Restaurants In Philadelphia For Breakfast, Lunch, and Dinner