There's still time to sneak in a getaway to the tropics. Take the beach getaway of your dreams with these all inclusive resorts in Costa Rica.
Trade your worries for some corona and lime. Whether you're planning a romantic getaway or just need some adventure in your life, we can't think of a better place to stay than these all inclusive resorts in Costa Rica. This beautiful country in the Caribbean offers a warm climate all year-round. Framed on both sides by the Caribbean Sea and the Pacific Ocean, it's the ultimate dream destination spot.
Did you know that Costa Rica has 7 different provinces as well as beaches, forests, and mountains to explore? Finding just the right spot for your vacation can require a little bit of research and a lot of option weighing. Luckily for you, we've taken the guesswork out of it. Whatever type of vacation you're looking for, we're here to make sure you've found it.
Here Are Our Picks for the Best All Inclusive Resorts in Costa Rica
From jungle hideaways to eco-luxury boutique hotels, our picks run the gamut for unique all inclusive resorts in Costa Rica. Check these beauties out. Not only will you get to enjoy a beautiful jungle stay but you'll also get some serious bang for your buck.
1. Drake Bay Getaway
Credit: Booking.com
This lovely hotel in Drake Bay is set amongst the lush beauty of Costa Rica's Osa Peninsula. Famed for its incredible diversity of flora and fauna, it's the perfect place for nature lovers, the adventurous traveler, and romance-seekers alike. As one of the last few areas of Costa Rica untouched by development, vacationing here is truly a unique experience. With only a few hundred locals living in the main area of Agujitas, Drake Bay Getaway truly is a one of a kind gem.
Here, the locals are some of the warmest people you'll meet and many have been living here since the 1970s. Ask around and you'll get inside tips on the best spots to explore. The main attractions near the resort include Corcovado National Park (a local favorite) and the Cano Island Biological Reserve. Both offer pristine wildlife spotting areas home to a number of endangered species.
The attractions are so great, you'd almost forget about the accommodations. Not to be overlooked, these lovely rooms offer breathtaking views of the ocean, beach, and jungle. All of the cabins offer a large deck with sliding glass doors overlooking panoramic views of the sea. Can you think of a better way to wake up and enjoy your morning cup of coffee?
2. Dreams Las Mareas All Inclusive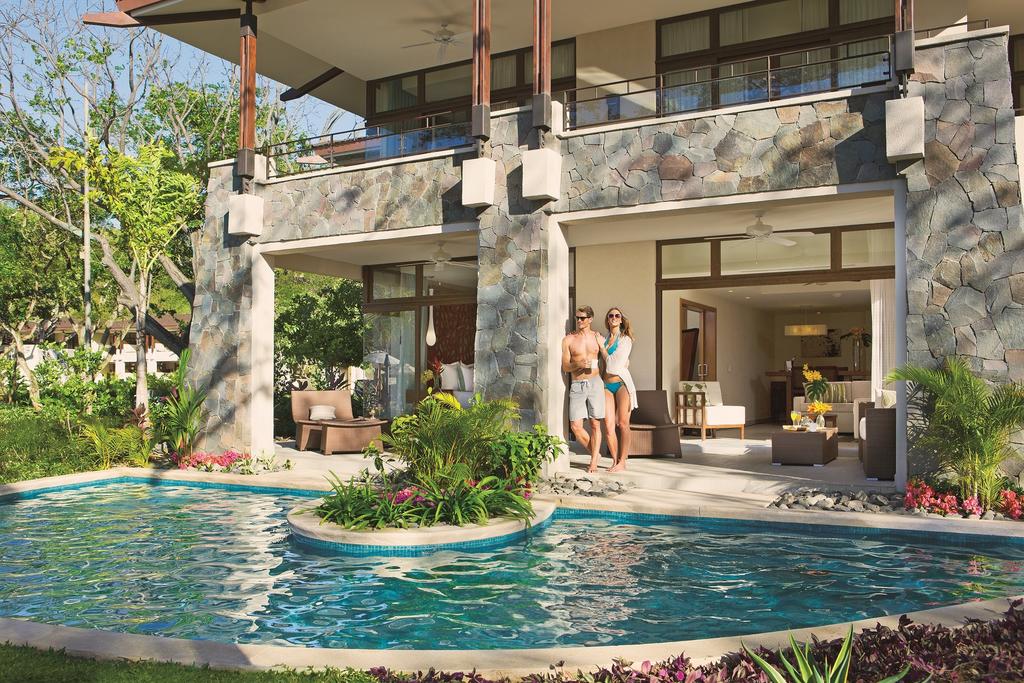 Credit: Booking.com
Welcome to Dreams Las Mareas, a vibrant beach getaway for couples, singles, and families alike. Located on an expansive stretch of palm lined sand and surrounded by lush, green mountains, this all inclusive resort offers a prime place to play. Guests of all ages enjoy a sun-soaked vacation featuring epic water sports, fun land activities, and swimming pools. Relax under a thatched palapa and then continue your fun into the evening with live entertainment, outdoor bars, lounges, and so much more.
Here, luxury truly is unlimited. Retreat to your spacious suite with a private balcony or terrace, and sweeping views of the ocean and mountain ranges. Dreams Las Mareas offers 447 lovely suites teeming with amenities for your comfort and convenience. Enjoy limited access to a la carte dining options, 24-hour room and concierge services, beautiful pools, theme parties, oceanfront bars, and entertainment venues. Did we mention there's also a world-class spa? It's all at your fingertips.
3. DoubleTree Resort by Hilton Central Pacific
Credit: Booking.com
Treat your eyes to this view. Overlooking the Pacific Ocean and volcanic sands, the DoubleTree Central Pacific is an ideal choice for a relaxed vacation. Located at the foot of a gorgeous green hillside and only 50 minutes from the capital of San Jose, this beach stay is one of the best all inclusive resorts in Costa Rica.
Comfortable accommodations, great leisure activities, and welcoming staff give you all the comforts of home from a world away. Unwind by the large swimming pool, sip on a cold drink, and soak up the sun. If your troubles don't disappear amid the DoubleTree Central Pacific's tropical gardens, they certainly will in the Heliconia Spa. Here, you can enjoy the utmost of relaxing and healing spa treatments all while you enjoy stunning ocean views.
Take a kayak out on the clear waters of the Pacific or ride out the smooth waves on a surfboard. When you're ready for some land activities, you'll also have plenty of options. Choose from beach soccer, volleyball, and tennis. The kids will love the DoubleTree Central Pacific's exclusive Kids' Club and Teen Paradise. It's truly a success for all ages.
From local seafood dished up under azure blue skies to fresh buffets and delicious smoothies, the on-site bars and restaurants offer something for all tastes. Nightly entertainment in the DoubleTree Central Pacific  amphitheater is the perfect way to end your day.
4. The Westin Golf Resort and Spa, Playa Conchal
Credit: Booking.com
It's time to explore the magnificent North Pacific Riviera. Set on 2,400 acres and offering stunning views of the coast, it's easy to see why the Westin Playa Conchal is one of the best all inclusive resorts in Costa Rica. You'll find everything you need to recharge and thrive.
You'll find the Westin Playa Conchal nestled between lush forests and the sparkling waters of the Pacific Ocean. The rooms offer an airy, spacious stay with chic design elements and a clean aesthetic. The Westin Playa Conchal offers a lagoon-style pool, gardens, tennis courts, a championship style golf course, Royal Beach Club, workout facilities, spa, and so much more. Spend your time unwinding on a comfortable bed by the pool, treat yourself to a world-class cuisine, or give in to your adventurous side and roam about one of the nearby national parks.
5. Secrets Papagayo Costa Rica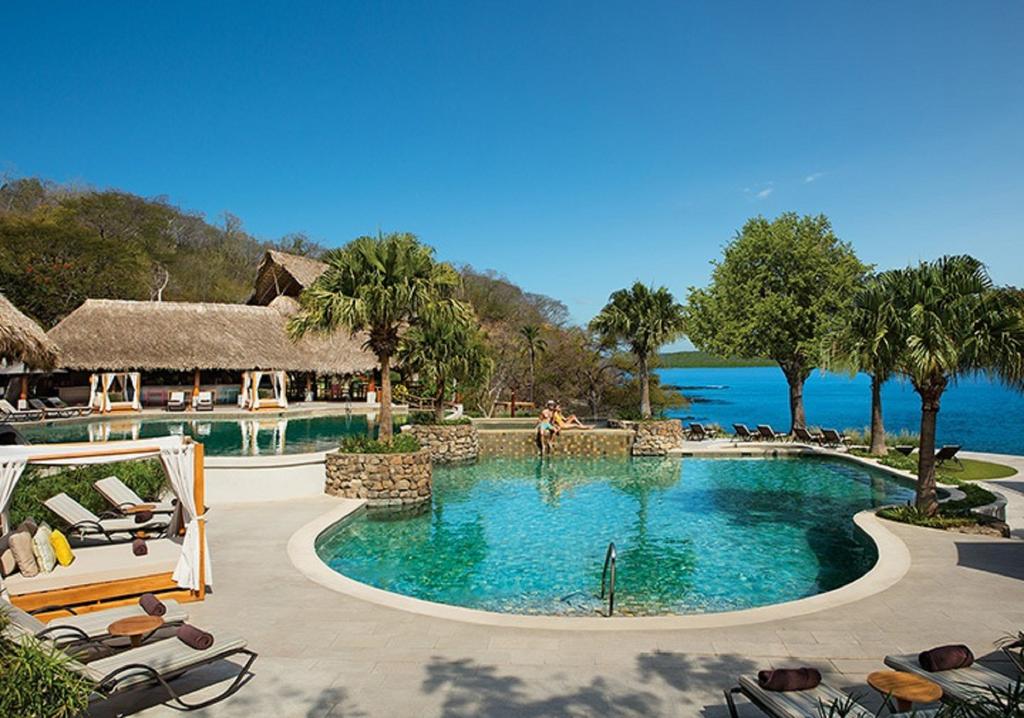 Credit: Booking.com
Peaceful, private, and unforgettable. You'll find this stunning getaway located on the Papagayo Peninsula in Guanacaste. Just a 20-minute drive from the Liberia International Airport, this adults-only resort feels like a paradise a million miles away. The Secrets Papagayo resort is perfectly situated on a peaceful beachfront and framed by nothing but lush gardens.
Two hundred and twenty guest rooms offer suites with views of the gardens below, a private furnished terrace or balcony, plush king or queen-sized beds, and all the amenities you could wish for. When it comes to entertainment, the options never run dry. Day and night, there are tons of activities to dive right into (literally). From beach walks to water aerobics, theme nights, and cooking lessons, the Secrets Papagayo has it all and more. Choose the activity that best suits you and enjoy!
6. Villa Buena Onda
Credit: Booking.com
Here's a little sneak peak of the secluded luxury at Villa Buena Onda. Perched on the hilltop overlooking Playas del Coco, you're invited to stay at this exclusive eight-room adults-only hotel. Relax, unwind, and allow yourself to be pampered at one of the best all inclusive resorts in Costa Rica. Located just 20 minutes from the Liberia International Airport, this location is ideal for both a quick Costa Rican getaway or an extended stay.
When it comes to accommodations, the rooms are the perfect blend of comfort, function, and luxury. Consider them your personal oasis. Each of the Villa Buena Onda's eight spacious rooms offers a spacious ensuite bathroom designed exclusively by local artisans. Rooms come either with one king or two queen beds with full linens and closets. For your entertainment, each room is equipped with surround sound and a flat-screen TV.
7. Barcelo Tambor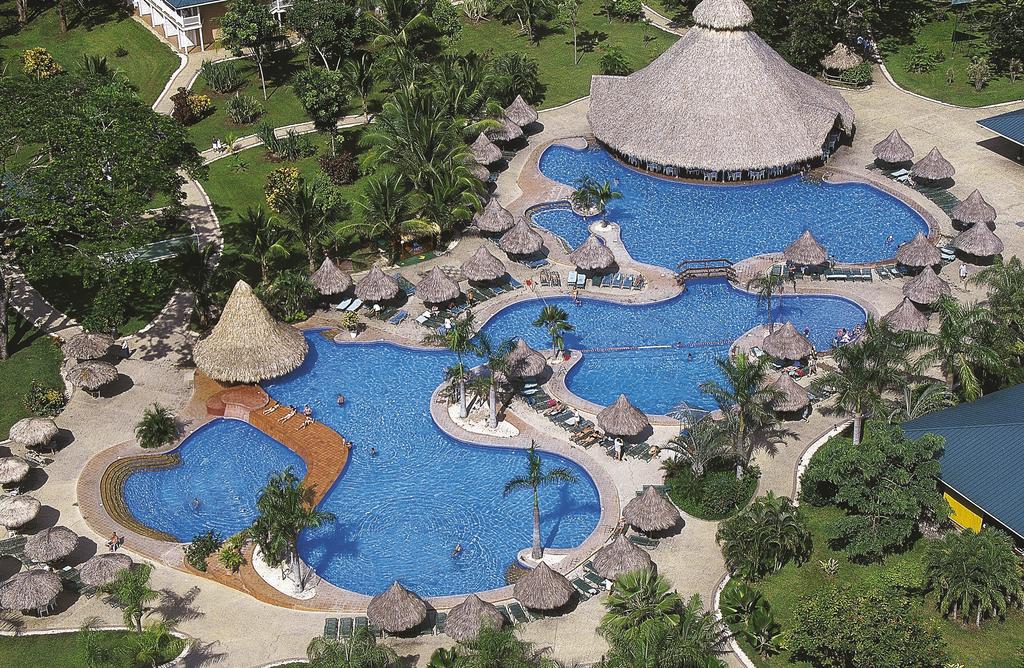 Credit: Booking.com
Come and enjoy the perfect vacation for the whole family in an idyllic setting. The Barcelo Tambor is one of the best all inclusive resorts in Costa Rica. You'll find it on Tambor Beach in a stunning natural location that faces the Pacific Ocean coast. Here, the rooms feature an airy, colonial design. Some offer views of the ocean, while others face the lush tropical garden grounds.
The Barcelo Tambor All Inclusive program grants guests entrance to all of the lovely facilities, including special services. To truly make the most of your stay, taste both the local and international cuisine through its on-site restaurant. In addition, the resort also provides an extensive menu of cocktails and snacks served throughout the complex.
Last but certainly not least during your stay, you can participate in all types of water sports and outdoor activities thanks to Barcelo's fully equipped facilities. The hotel offers a diverse entertainment program that is sure to satisfy guests of all ages. All in all, the Barcelo Tambor is a fantastic option for those looking to relax and have a little fun at the same time.
8. Occidental Tamarindo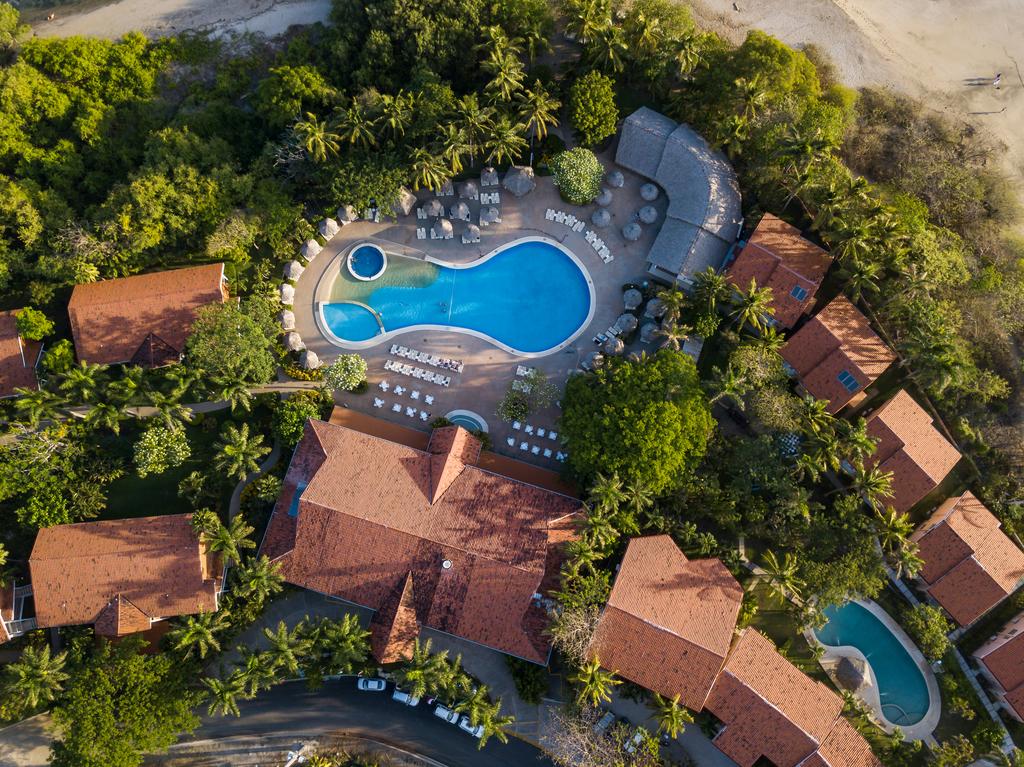 Credit: Booking.com
Located in the northwest of Costa Rica and just a mile from the Tamarindo city center, you'll find the Occidental Tamarindo resort located on a stunning beach surrounded by exceptional natural beauty. Experience the biodiversity of this magnificent country at your fingertips. One hundred and ninety-eight rooms are fully equipped to offer you everything you might need to enjoy your stay. In addition, you will enjoy stunning views of the beach and the gorgeous sunsets.
Recently renovated, Occidental Tamarindo offers a wide range of services, delicious food, and a myriad of entertainment options. Who is this stay ideal for? Well, just about everyone. Surfers, nature lovers, families, and couples alike will all feel at home here. Whether you're seeking adventure or some rest and relaxation, this hotel offers a little bit of everything to go around.
Last but not least, there's a fabulous spa that offers endless options for therapeutic and beauty treatments. This is the perfect plan if you want to unwind and enjoy an absolutely unforgettable vacation. Enjoy just the right blend of rest and adventure, luxury and comfort, sand, and sea. This magical place is truly worth discovering.
9. Los Altos de Eros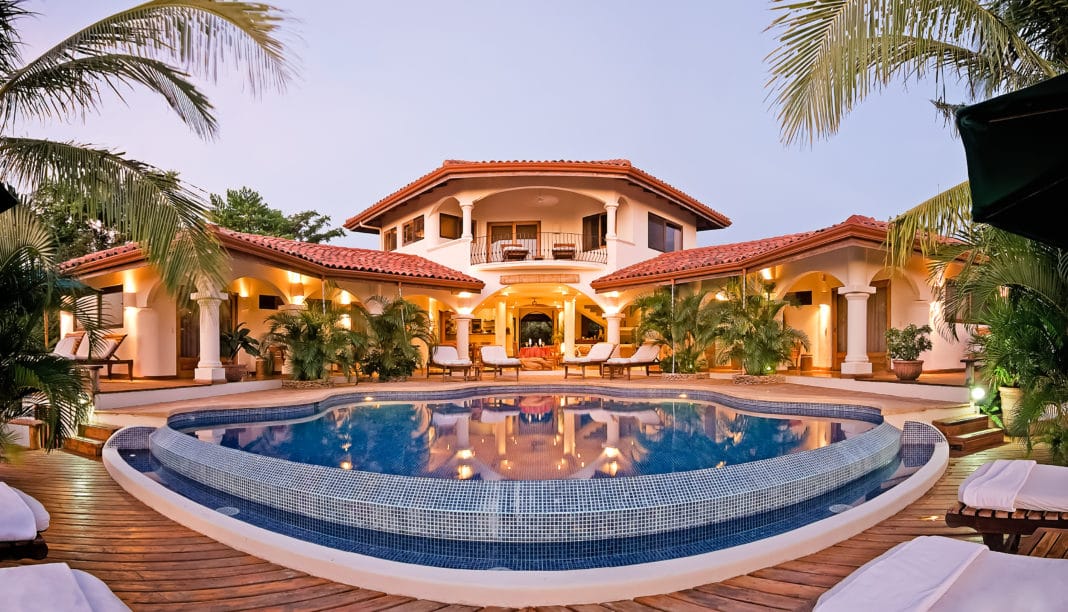 Credit: Los Altos de Eros
Come and enjoy the celebrity treatment with nothing short of world-class service at Los Altos de Eros. Located in Guanacaste, you'll find this luxury boutique hotel perched on a mountaintop. While it's less than 15 minutes from Tamarindo, you'll feel like you've been whisked a world away. A relaxing jungle privacy is just the beginning in creating a world of elegance, relaxation, and harmony with nature.
Indulge yourself at the high end spa, relax poolside, and enjoy all the natural beauty surrounding you in the paradise of Costa Rica. It's no wonder that Los Altos de Eros is in the top 1% for all the hotels in the world known for their staff, service, spa, and cuisine. When it comes to rooms, you'll find six lovely boutique accommodations for your stay. Relax in luxury on the terraces and sip a drink or soak up the sun by the lovely pool area. The options are endless.
Book Your Stay At the Best All Inclusive Resorts in Costa Rica
We hope you enjoyed reading our article about the best all inclusive resorts in Costa Rica. As you can see, this island country is teeming with beauty, adventure, and plenty of places waiting to be explored. Our choices for the top accommodations offer the best of both worlds – both rest and time for exploration. Whatever type of vacation you are seeking, you will find it here. Costa Rica is the perfect budget-friendly destination.
From adults-only resorts with romantic amenities to family fun options, we've helped you narrow down your choices to only the highest caliber places of accommodation. Do you have a favorite choice hotel from our list? Let us know which one it is in the comment section below.
Questions and Comments
Do you have any questions or comments for us? If so, we would love to hear them. Feel free to leave us a message below. We will be sure to get back with you soon.
P.S. While you're there, why not get out and explore the country a little more? Check out our picks for the best beaches in Costa Rica and the all around best places to visit.
Related Article: 10 Best Belize Resorts & Luxury Hotels