Looking for some new spots to hang your hammock? This list of spectacular places to hang a hammock will inspire you to find a new favorite spot.
Sometimes we get stuck in a daily routine and forget to think outside the box. Well, hopefully, our list of amazing places to hang a hammock can reignite the fun and freedom that a hammock provides. It might be time to branch out and find a new spot to post up in your hammock. Bring a new friend along or maybe hang it a little higher to gain some new perspective on your next adventure. Either way, we're excited to share these best spots to hang a hammock with you.
1. By a Glacial Lake in Banff National Park, Canada
If you haven't heard of Banff National Park, well, there's a first time for everything. But, live in the shadows no longer. Banff is Canada's oldest national park and boasts everything from gorgeous Rocky Mountain peaks to brilliantly blue glacial lakes. With wildlife all around and quaint towns and villages to explore, there are endless spots you would want to hang a hammock. With close to one thousand miles of trails throughout the park, you can easily find a secluded spot to call your own. It's the perfect way to relax after a long day of hiking, biking, skiing, or camping around. So, if you want a spectacular lake view surrounded by mountains on your next hammocking adventure, check out Banff National Park.
2. Among the Rolling Hills of San Luis Obispo, California
San Luis Obispo, or SLO for short, is a hidden gem in central California. Nestled in between Los Angeles and San Francisco, this medium-sized town is the perfect spot to stop if you're hammocking along the coast. The climate is Mediterranean, so the best time to hang a hammock around here is in the spring after the rains. The hills will be a vibrant green and beckon you to relax. Hiking to the top of Bishop Peak or Polly Canyon will give you a view of everything these glorious rolling hills have to offer. So, if you want to see as much green as possible when you hang your hammock, head over to central California. And by the way, you can probably be sipping on some of the world's finest wine while you do so.
3. In the City
Don't think you have to escape into nature to find your new favorite spot to hang a hammock. Cities are getting better and better these days about creating little havens of quiet and peace within them. For example, here's a great spot to hang your hammock in San Francisco. What sounds better than grabbing a spectacular cup of coffee and enjoying it with a view of the Golden Gate Bridge? Exactly. So, find a new park in your city. In New York? Well, Central Park is teeming with spots to hang a hammock. Wherever you are, even among the high rises, there are spots to hang a hammock if you just keep your eyes open.
4. Next to the Lake of Carezza in Northern Italy
If relaxing by Rainbow Lake in the at the base of the Dolomites sounds good to you, then check this out. Lake of Carezza, also known as Rainbow Lake in Northern Italy is a spectacular spot to hang a hammock. Just off the N241, this lake is the perfect pit stop while making your way across this stunning country. The lake got its name from an old folks tale involving a nymph and a sorcerer.
According to tradition, the nymph was singing to herself as she braided her hair. Meanwhile, a sorcerer named Masaré heard her and had to make her his. So, he was going to dress up as a jewelry salesman and wooing her. He put a rainbow over the lake to help set the mood, but he forgot to wear his disguise. So, the nymph disappeared, never to be seen again, not wanting to be caught by Masaré. Masaré, in turn, got so angry for messing up his plan that he smashed the rainbow into a million pieces, and they fell into the lake. Today, the lake shimmers with so many colors, reflecting the stunning forested and mountainous backdrop. So, come here to hang a hammock and marvel at the natural beauty in store.
5. At the Beach, Perhaps in Jamaica
We all love laying out a big beach towel in the sand, but sometimes the water comes encroaching on your space. Or, even worse, you end up with that sneaky sand in all the nooks and crannies of your bathing suit while you try and take a nap. Well, hang a hammock up to fix both of these problems. Finding trees close to shore can be tricky in some places, but Jamaican beaches have plenty to offer. With the abundance of palms and other trees near the ocean in the tropics, there are more than enough places to hang a hammock with all your friends. So, if you've been craving a beach vacation, look no further than a quick getaway to Jamaica to let your cares drift away.
6. By the Turquoise Waters of Havasu Falls in Arizona
Hanging a hammock across the Grand Canyon might sound exhilarating or terrifying, but we have a better spot for you. On the Supai Tribal land in the Grand Canyon, there is a crystal clear waterfall beckoning you to hike in and relax. Take note, this is sacred land to this tribe, and you must make a reservation with them to enter their land. It will be more than worth it, as you'll spend even more time soaking in the spectacular hiking, waterfalls, and culture that abounds in here. If the hike to the campground seems a little daunting to you, then consider renting a pack mule or horse to help lighten your load. Whichever way you choose to make it to the stunning Havasu Falls, you will absolutely love hanging your hammock there.
7. High Up in a Tree in the Blood Mountain Wilderness of Cleveland, Georgia
From the beaches to the hills, there are so many places to hang a hammock. But, this form of recreation has a unique feature, in that you can truly get a new perspective on places. So, consider the trees as your next spot to hang a hammock. As high as you can safely get off the forest floor will let you look down on the world in a whole new way.
In particular, we love the Blood Mountain Wilderness in Cleveland, Georgia. Nearly eight thousand acres of this wilderness is home to mountain peaks, rocky outcroppings, waterfalls, and numerous streams. An abundance of animals call this place home, from deer and squirrels to black bears. So, kick back and relax here and you might even see some wildlife. If you're hoping for something else, post up along the Appalachian Trail that goes through here. You can hand out snacks, also known as Trail Magic, to the hikers going by.
8. Right Outside (Or Inside) Your Door
It's incredibly fun to dream up magical places to hang a hammock. But, remember, sometimes the best spots are right outside your door. On a rainy day, sometimes sitting out on a front porch and watching a thunderstorm roll in with a cup of tea is the most wonderful thing. Or, hang a hammock in your backyard and watch all the neighborhood kids pile on to escape the dogs' kisses. Do some of your friends also have hammocks? Invite them over for a backyard barbecue and make a hammock stack. See how many you can put on top of one another. Or, lastly, find that local park that you haven't explored yet and hang a hammock there. While it's fun to dream of grand adventures far away, sometimes the best ones happen right outside your door.
9. On a Boat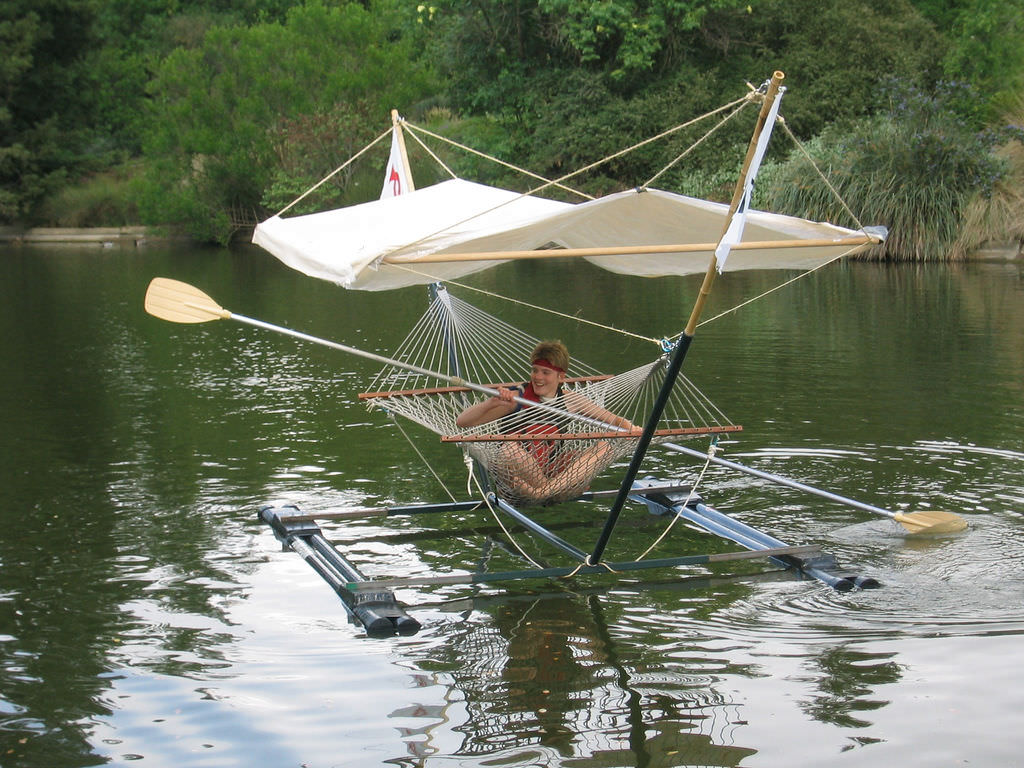 Credit: Tobin
Yes, you read this last one correctly. If you've got an engineer or a creative side in your life, perhaps you could pull off this next great spot to hang a hammock. This hammock boat made an appearance at a UC Davis picnic years ago, and the trend is catching on. With some PVC pipe, a shade canopy, and some elbow grease, you can hammock anywhere on the water. While it doesn't seem super portable, we'd love to see this on any of the lakes or lazy rivers mentioned on our list. Maybe build in a drink holder and you're all set to party the day away. So, why not hang a hammock on a boat? You'll be lulled to sleep in no time.
10. Surrounded by the Colorado Wilderness
Our next spot to hang a hammock is the Mount Zirkel Wilderness in Colorado. The 59,935 protected acres in Northwest Colorado is home to stunning mountain, river, and lake views. It is where the Elk, Encampment, and North Platte Rivers begin and boasts over seventy lakes. The Continental Divide even goes through this place. There is plenty of camping and trails to explore here. If you truly want to be away from people and hang a hammock by yourself, this is the spot for you. It is undeniably beautiful, and we seriously hope that you get to hang a hammock here at some point in your life.
Of all the places to hang a hammock, you will quickly learn what type of terrain and scenery is your favorite.
If you've enjoyed camping in a hammock, perhaps now it's time to see how many states you can sleep in a hammock in. Or, you might not be totally sold on the hammock trend yet and you need to see some cool hammocks and read tips on how to make them more comfortable. Whatever it is, we hope you see this trend as another way to get outside and enjoy a new perspective on the great outdoors. So, throw all those hammock accessories in your bag and consider choosing a hammock over a tent for your next camping adventure. Wherever you end up, you'll enjoy the relaxing ambiance that sitting in the little cocoon provides.
Related Article: The Best Car Camping Tent You Need for Your Next Adventure