Discover the Wonder of Waiheke Island, New Zealand by Checking off as Many of These Bucket List Items as Possible
Only a 40-minute ferry ride from downtown Auckland, Waiheke Island is home to pristine beaches, many restaurants and vineyards, and a host of adventurous activities to participate in. From ziplining through the mountains to tasting your way through the island, Waiheke is a splendid place to visit. If you are a foodie, wine lover, and appreciator of natural beauty, then consider setting off to this New Zealand island for your next vacation.
If you are wondering what to do during your trip, then you have come to the right place. We are sharing the ultimate list of things to do on Waiheke Island. Don't let the small size of the island deceive you. There is plenty to do, see, eat, and explore on this marvelous island. Families, couples, and solo travelers will all enjoy time spent relaxing and rejuvenating on Waiheke Island.
What to Do on Waiheke Island
1. Wine & Dine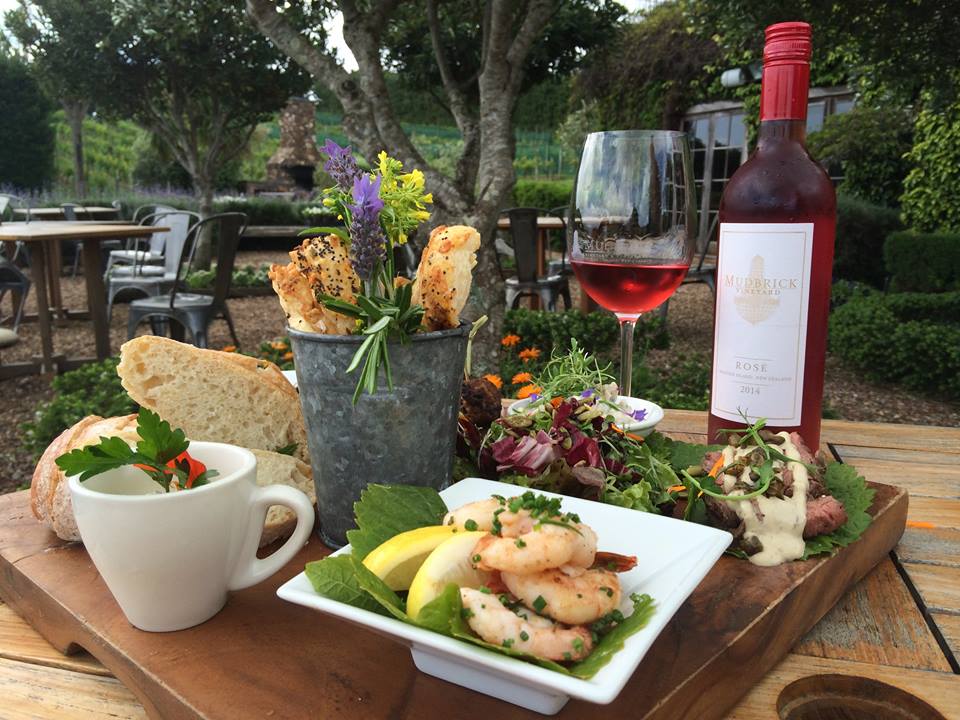 Credit: Mudbrick Vineyard & Restaurant
If there is one thing that Waiheke Island is known for it is the abundance of local wineries that are peppering the island. There seems to be a vineyard around every corner. Thus, taking a tour of one (or multiple) is a top attraction on Waiheke Island. Even if you do not drink wine, the pure natural beauty of these wineries is worth experiencing. Travelers can wine taste their way around the island, stopping at several vineyards and finding their favorite spots to wine and dine.
Speaking of dining, following your afternoon of wine tasting, you will have to stick around for dinner. When dining in any Waiheke vineyard, travelers should expect to be served tasty cuisine, a wide selection of wines, and impressive views. If you are looking for specific recommendations, we love Te Motu Vineyard and Mudbrick Vineyard & Restaurant.
The island is famous for more than its wining and dining culture. Some other items you must try (and maybe try to take home with you), include the local olive oil and artisan cheese. Travelers can even go on a tour to learn the process of making olive oil on Waiheke. Rangihoua Estate is one place that offers these tours. Guests can walk through the olive groves, observe the machinery used to press the olives, and venture into the Tasting Room to try free samples of olives, olive oils, and herbs!
2. Visit the Waiheke Island Historical Village
The Waiheke Island Historical Village is the place for every history buff. Displaying numerous artifacts and photographs that capture the authentic history of Waiheke Island, the Historical Village provides insightful information about the island's past. Modeled on an original Waiheke village, travelers can step back in time to see what life was like for the first settlers on the island. On the property, there is a reconstructed woolshed that is home to the museum's main exhibits, a couple small houses with photo exhibits, an original jail, and other neat structures that house artifacts.
The museum is open from noon – 4 pm on Wednesdays, Saturdays, and Sundays. It is sometimes open on Mondays if that Monday is a public holiday. As for the entrance cost, there is not a set price. Entry is by donation. To see Old Waiheke, come to Waiheke Museum and Historic Village.
3. Go to Oneroa Beach
Credit: Flickr
Oneroa Beach is a serene place on the island where travelers can swim, explore, and watch as seabirds hover overhead. Bring your swimsuit, your towel, a beach chair, and plenty of sunscreen. Toss a football on the white sand or crack open a book and get reading. There are many ways to spend your time on Oneroa Beach. Given how quiet this shore in, travelers will find the beach to be a nice refuge.
There are a few shops and cafes nearby as well. They are mainly located on Ocean View Road. After lounging on the beach or swimming in the water for several hours, wander over to the shops and cafes. These family-friendly restaurants and bars are inviting and serve delicious meals and snacks. In terms of Waiheke's best beaches, Oneroa is on the list. Another best beach to check out on the island is Onetangi Beach.
4. Explore the Arts
On the island, there is a thriving art scene. Waiheke is crawling with local art galleries, studios, theaters, libraries, and art/music events. There are local artists on Waiheke Island that specialize in painting, pottery, glass making, sculpture, stone carving, and more. All that to say, there is a range of artwork to be discovered on the island. Walk into any art gallery and you are sure to be dazzled by the creativity. Given the island's small size, you wouldn't expect to find so many national and international art pieces, but these galleries have it all.
The art scene is something impressive to explore when on Waiheke. If you are an artist yourself, or you are simply an appreciator of art, then you will be in your own kind of heaven when you check out the local art galleries, studios, theaters, libraries, and art/music events on your trip to Waiheke.
Some of our top recommendations include [ s p a c e ] Contemporary Art Gallery, Community Art Gallery (located on Korora Road), and Gabriella Lewenz's art studio. There are really too many galleries and studios to mention. We advise getting to know the locals and asking for their top recommendations as well!
5. Stop by Ostend Market on Saturday
Ostend Market is open every Saturday from 7:30 am – 1 pm. Selling handmade crafts, jewelry, and pottery as well as clothing, fruits, vegetables, and baked goods, the market is one of the best places to visit during your vacation. You are likely to find handcrafted souvenirs at this market that your friends and family members back home will appreciate. Young and old are welcome to this colorful and family-friendly market.
Whether you want to enjoy a tasty treat or find a souvenir for a bargain price, you can do so if you spend a Saturday morning at Ostend Market. It is a place where locals go to catch up with friends, smell the deliciously scented soaps and skincare products, and check out the local art.
6. Attend Waiheke Island's Annual Jazz Festival 
If you are traveling to Waiheke over Easter, then the Island's International Jazz Festival is an event all music lovers need to check out. Thousands of visitors will come to the island just for this event. As far as the performances, there is always a great lineup of local and international musicians. From classic jazz to modern hits, the International Jazz Festival will have everyone on their feet swaying and dancing to the beat of the music. Whether you are traveling alone, with your significant other, or with young kids, everyone will enjoy their time at this festival. Again, it only takes place once a year over Easter. If going to the Waiheke Island Annual Jazz Festival is a priority for you, then you will have to plan for your trip to fall over Easter weekend.
7. Be Adventurous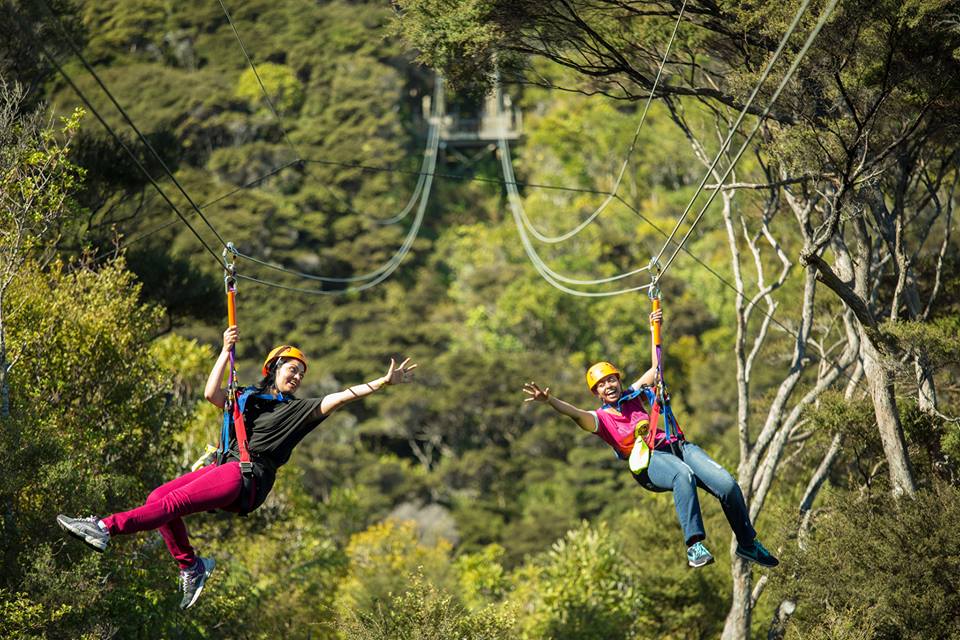 Credit: EcoZip
Waiheke Island is certainly for the adventurers. There are many thrilling activities you can patriciate in, including ziplining through the forests. If you want something a tad less intense, going on a horseback riding tour or even a walking tour of the island are two other options. Should you decide to zipline your way through the island's forests, EcoZip is the main zipline tour company on Waiheke. You can zipline over a vineyard and through the woods (to grandmother's house we go!).
EcoZip has three ziplines to choose from. Each one is over 200m long. There are dual cables that allow fliers to zoom down the line side-by-side with a friend. Race your friend to the bottom or simply enjoy having the company of a friend as you scream your way to the end of the line. To see the island from this up-high perspective is an incredible and memorable experience. If you take a camera or phone with you to capture the moment, make sure you have a wrist strap. The last thing you want is for your camera or phone to get lost in the middle of the woods during ziplining adventure on Waiheke Island.
8. Take a Ferry to Downtown Auckland
The ferry ride from Waiheke Island to the Downtown Auckland port is only 40 minutes. And every moment of that 40 minutes is beautiful, as you will cruise past Auckland's stunning coastline. The price of these ferry rides can be very cheap, so do your research and find the best price available! Many boats have free wireless internet connection onboard and a bar/café for you to get snacks and drinks, should you be hungry or thirsty during your 40-minute ride. If going to Auckland is a desire of yours, then check out the top things to do in Auckland before your set off. See how many activities you can cross off this bucket list.
9. Hike Whakanewha Regional Park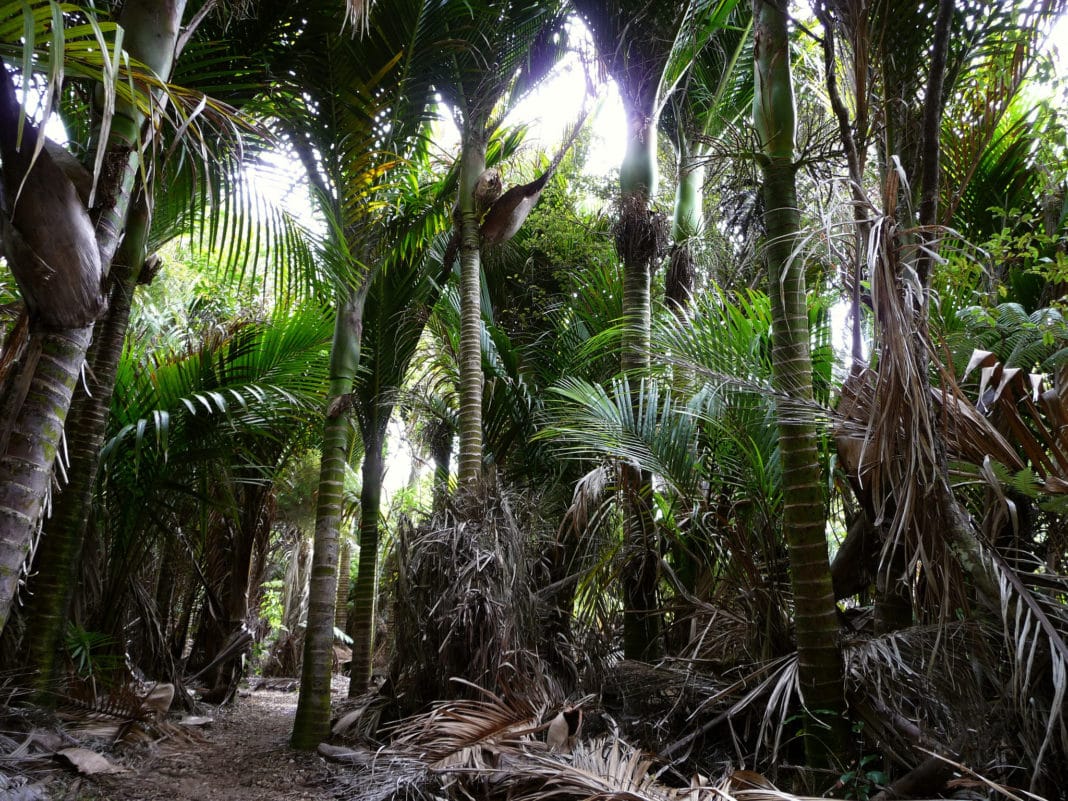 Credit: Flickr
Located on the southern portion of the island, Whakanewha Regional Park is a spot for hikers. While there are many hiking trails sprinkled throughout the island, Whakanewha Regional Park is immersed with such thriving nature that it makes the best hiking destination. You will spot various species of birds, hear their calls, and, following the hike, you will find a beach to rest on. This park features wildlife, wetlands, beaches, and coastal treasures. When the hustle and bustle of other parts of New Zealand get too overwhelming, Whakanewha will serve as a slice of paradise amidst the noise. Double knot your sneakers and fill up your water bottles because you are going to need comfortable shoes and plenty of water to keep you hydrated on this hike.
If hiking isn't your cup of tea, then consider going to the park to bird watch, boat, camp, walk your dog (if you have brought your dog on vacation with you), horseback ride, kayak, mountain bike, or picnic at the various picnic sites. Whakanewha accommodates all of these activities and more.
10. Tour Another Vineyard
As we mentioned at the start of this article, the number 1 things to do on Waiheke Island is tour a vineyard. And after you visit one, visit another. The island's sunny, warm, and welcoming climate mixes with a vibrant and tranquil landscape to create the perfect atmosphere. In total, there are over 32 boutique vineyards on the island. Catching the sunset at these wineries is also a must. To sip on a local wine as the sun sinks low on the horizon will be a picturesque experience. Bring your cameras to capture the moment or simply capture the moment with your eyes and store it in your long-term memory so you can remember the blissful sight, smell, and taste of your Waiheke Island vineyard experience.
If you want another vineyard recommendation, we suggest going on a walking tour of Stonyridge Vineyard. Thriving roses weave together with grape vines to create a magical display of beauty. Stonyridfe Vineyard boasts in quality red wines, so if you are a red wine enthusiast, then this is definitely a place for you to visit. Also, while you are there, make sure you try some fresh bread and olive oil. It pairs well with any wine.
Ready, Set, Go.
Waiheke Island is a must-visit for every wine lover, art lover, nature lover, and adventure lover. Are you ready to plan your trip to this New Zealand island? If so, what things on this list are you looking forward to doing? For those of you who have traveled to Waiheke Island before, share with us your trip highlights in the comments section below!
Related Article: ​10 Things To Do in Auckland for Every Nature Lover​​​