There are so many reasons to love this city. Don't miss out on the best things to do in Atlanta with kids.
Planning family activities can be one of the most fun and challenging things about a trip. How can you find places that the kids will enjoy but you won't be bored out of your mind? Whether you are visiting for the first time or you're a native, there are so many things to do here. From thrill-seeking attractions to educational visits, quirky pit stops and best restaurants, I have tons of ideas to keep you all happy. Without further ado, here are the best things to do in Atlanta with kids.
Here Are My Picks for the Best Things to Do in Atlanta with Kids
1. Get an Adrenaline Rush on the World's Longest Zip Line Tour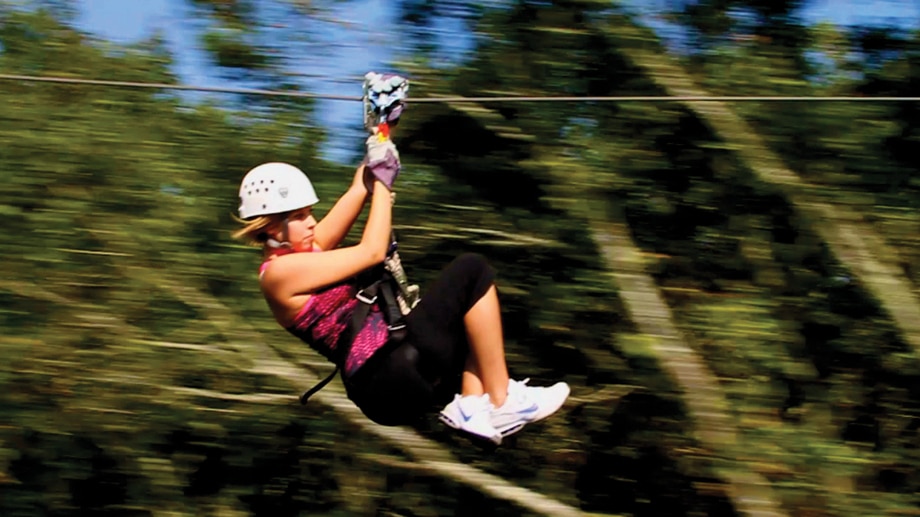 Credit: Historic Banning Mills
Historic Banning Mills is home to the highest timber pole tower (aka 30 stories). This zip line tour carries you off the top of the building and over a river gorge, treetops, and Snake Creek on a rushing 60 mph ride. One of the fastest rides, you soar over 300 stunning acres on more than 10 miles of cable. It's no wonder that this mecca for adventure holds the Guinness World Record for the longest collection of zip lines across the globe.
2. Step Up Your Basketball Game at the Atlanta Hawks' Refurbished Courts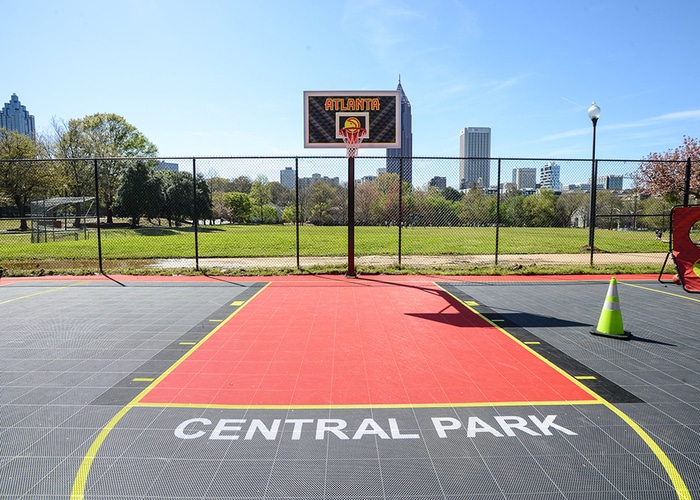 Credit: NBA
Are you looking for things to do in Atlanta with kids? Three years ago, the Atlanta Hawks Foundation began a program to retrofit outdoor public courts throughout the metro area. While you might be used to playing at your rusty neighborhood hoop, these courts offer an entirely new experience.
Sleek black tiles proudly display the Hawk's red and volt green. All new hoops grace the scene and an iconic Pacman logo sits at the center of each court. Grant Park, Kirkwood, and College Park are all recipients of the project and a total of 25 are scheduled to be built before the year 2020. Grab your sneakers, a ball, and head out.
3. Treat Yourself to the Best Cotton Candy
This doesn't have to be a Disneyland occasion. Why not treat yourself? While you're in Atlanta, head over to Cult Carts. This sweet pushcart offers the hand-spun cotton candy of your dreams. And here's the best part. It doesn't have those unhealthy dyes (aka red no. 40 and yellow no. 5). The owner, Mandy Bauer, sources all dye-free, using organic sugar, and natural extracts. Some of our favorite flavors include peach and blueberry. But if you're looking for something a little more sophisticated, there's room to expand your taste palette. Papaya chili and tamarind chili are two other options. When it comes to things to do in Atlanta with kids, you don't want to miss out on these sweet treats.
4. Spend the Afternoon at Bugs Bunny Boomtown and DC Super Friends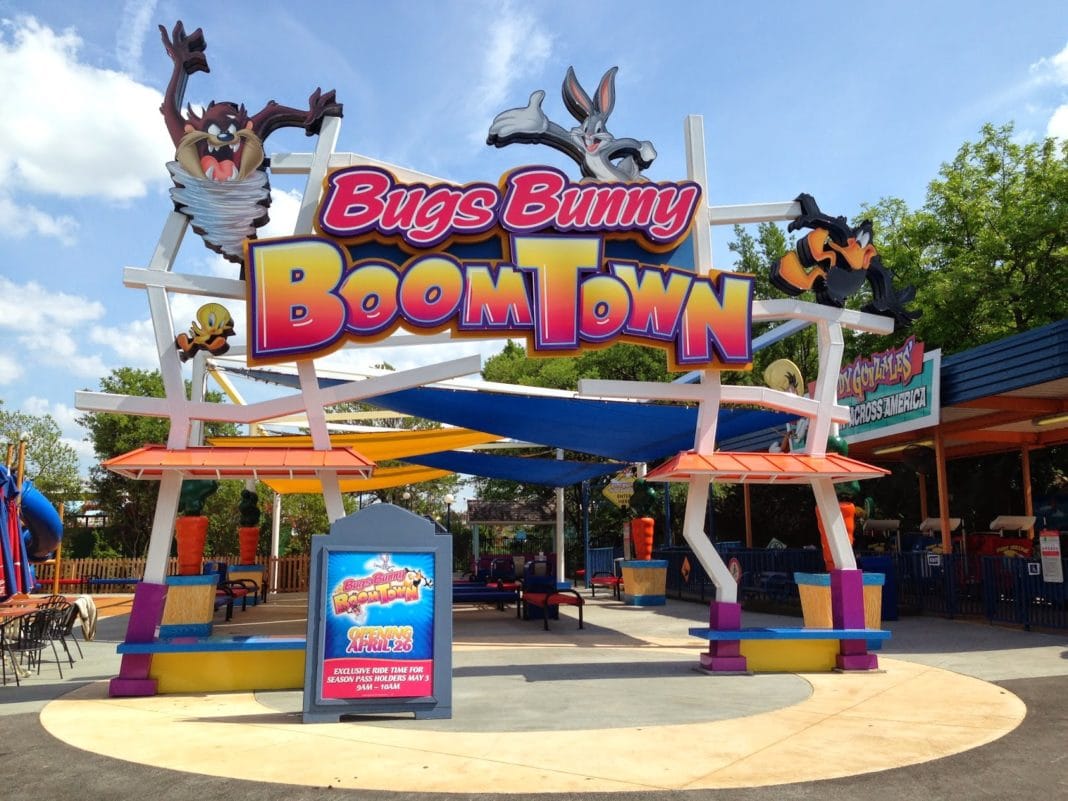 Credit: Six Flags
Have you heard of Bugs Bunny World before? If not, you've been missing out. Spending an afternoon here is one of the best things to do in Atlanta with Kids. As a part of Six Flags, the park is designed for little thrill seekers. While it originally opened in 1994, it's been renovated and rebranded when it opened up in March 2016. Among the new things offered are seven rides: Daffy Duck's Bucket Blasters, a themed Looney Tunes playground, and Yosemite Sam (a mini ferris wheel) are just a few pieces of the fun. A second kids area, DC Super Friends opened too.
5. Explore Children's Garden at the Atlanta Botanical Garden
When it first opened nineteen years ago, the Children's Garden was the first of its kind in the country. A few years ago when it was starting to show its age, the ABG dedicated a new and improved space for it. Expect a big splash pad, treehouse, and so many unique places to dig, paint, make music, and interact with educational exhibits. While many things have changed, one of the classic favorites has stayed the same. The growth chart and silly gnome statues remain fun constants.
6. Enjoy the Beauty of the Fernbank Forest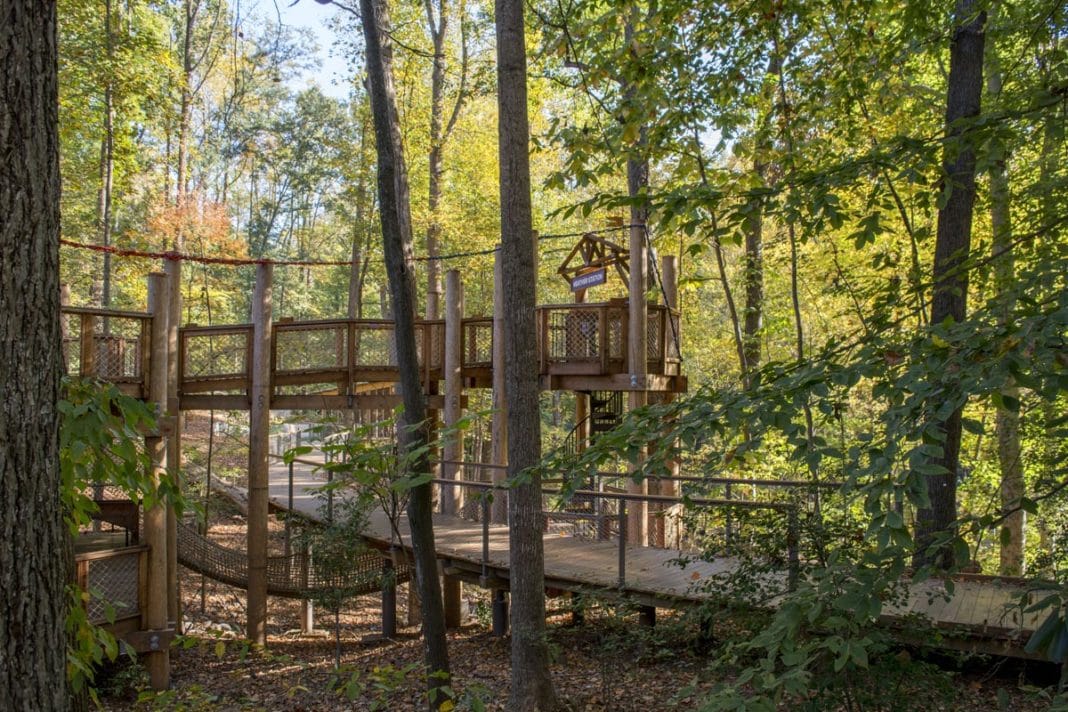 Credit: Fernbank Forest Museum of Natural History
Did you know that one of the few remaining old growth hardwood forests is in Atlanta? While your first impression of the city might be a bustling metropolis, there are plenty of beautiful nature spots well-preserved. It's no doubt that Fernbank Forest is one of the local's most beloved treasures. During the summer of 2016, the Fernbank Museum of Natural History reopened the 65-acre forest to visitors.
When they did, they also unveiled a beautiful 10-acre outdoor educational space. Want to know one of my favorite highlights? While you're there, make sure to check out the treehouse-style pods. You'll not only get an excellent view of the terrain but also of the outdoor exhibition gallery.
7. Live Out Your Inner Detective Dreams at Clue Town Books
Does spending a day searching for clues and reading books sound like a dream come true? Well, I've got good news for you. You can do all this and more at Clue Town Books. This company offers a fun way to explore the city via a detective-like scavenger hunt.
Travelers are given pamphlet books, a pencil, and a plastic compass and sent on walkable hunts around the city. This is no doubt one of the most fun things to do in Atlanta with kids. During your adventure, you'll explore places like Piedmont Park, Oakland Cemetery, and Virginia Highland. While some of the clues might seem a little sophisticated for younger children, when you all join in on it together, it makes for some good family fun.
8. Visit the National Center for Civil and Human Rights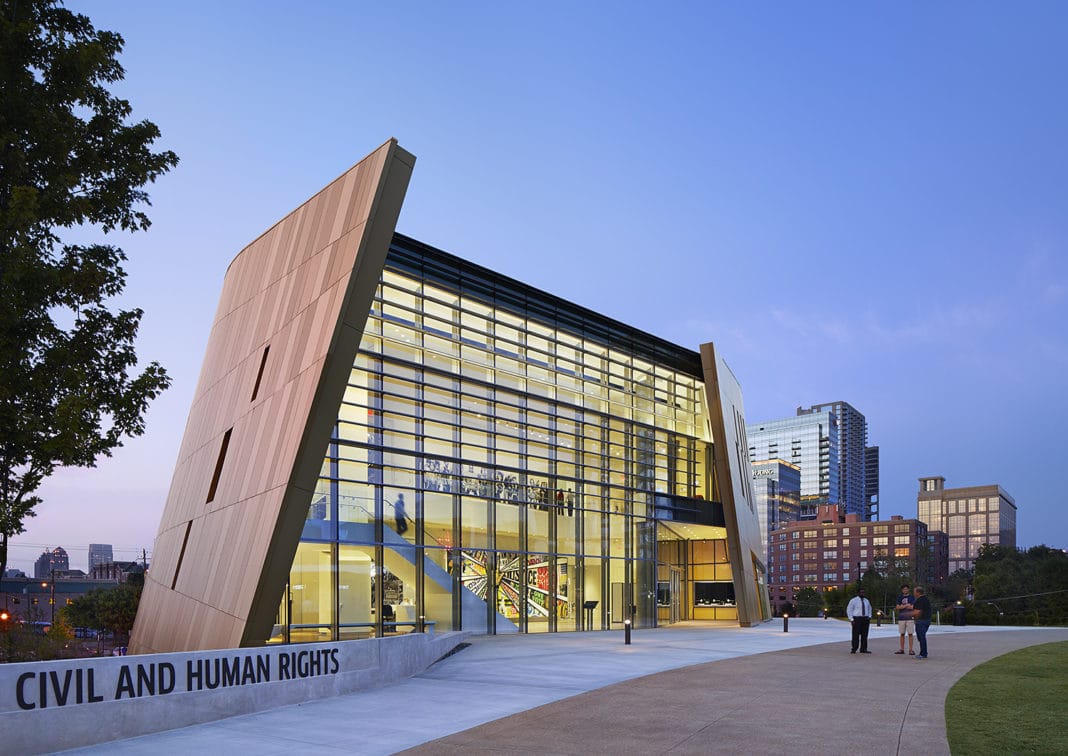 Credit: National Center for Civil and Human Rights
My inner history and political science nerd comes alive in places like this. For me, of the most important things to do when I travel is to visit educational and historic centers. The National Center for Civil and Human Rights tells the most poignant stories of the human experience. Here, you will not only learn about the American Civil Rights movement but also its significant progress for advancing human rights around the world.
Visitors are immersed in an interactive presentation of sights, sounds, and displays on the courageous struggles of individuals working to gain equality. Together, they transformed the U.S. from a place of Jim Crow laws and segregationist practices to one working towards equal rights for all. There is still so much work to be done.
This stunning museum is a can't miss family attraction. I guarantee it will be among the most powerful hours of your life. Come with a mind to learn and leave empowered to listen, act in love, and join the conversation in your own community.
9. Have a Blast at One of 7 Atlanta Splash Pads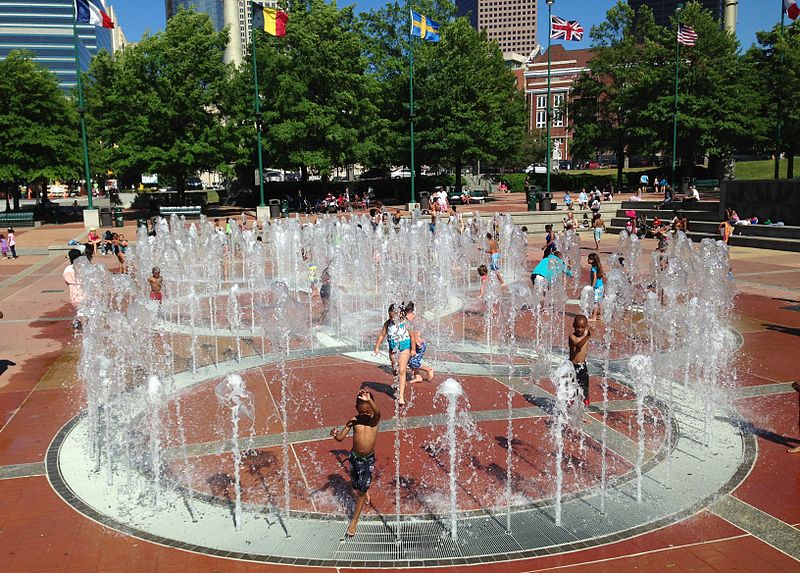 Credit: Wikimedia Commons
Do you plan on visiting during the heat of summer? Check out one of seven Atlanta splash pads. These outdoor fun zones are the urban equivalent of a slip and slide in your backyard. Dancing streams of water jet up from the pavement, offering a fun place where kids can splash around in fountains and parents can join in to escape the humidity.
Next time I find myself there on a sun-soaked afternoon, I swear I'm joining right in. After all, with jams like "Dancing in the Street" playing overhead, who could resist? Even if you visit during the dead of winter, there's no denying there's something magical about the way the city lights twinkle and choreographed water leaping. When you're ready to visit, check out the following park locations: Centennial Olympic Park, Center Hill, D.H. Stanton, Historic Fourth Ward, Lillian Webb, Piedmont, and Suwanee Town Center.
10. Pay a Visit to the Georgia Aquarium
Go sea it for yourself (see what I did there?). When you're looking for things to do in Atlanta with kids, don't miss out on seeing one of the world's largest aquariums. Here, everything from belugas to whale sharks and penguins shows you there's no better way to witness marine life than this. As a nonprofit, the Georgia Aquarium is committed to inspiring awareness and preservation of the ocean and marine life around the planet.
11. Walk the Atlanta BeltLine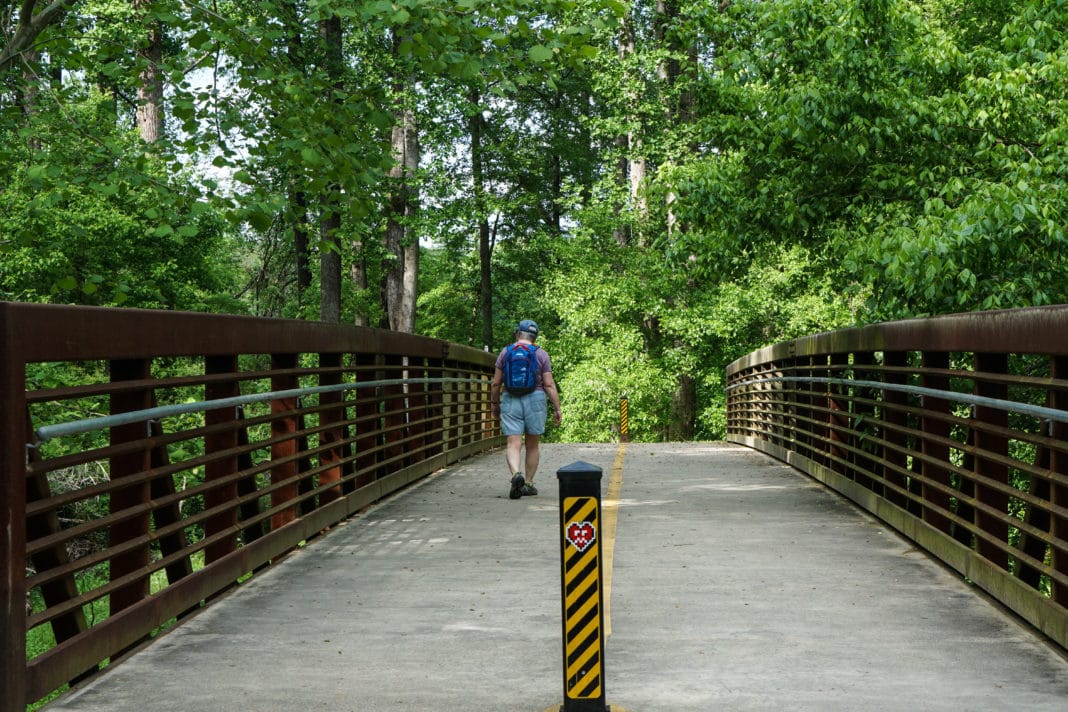 Credit: Flickr
I can't think of a better way to experience the city than walking the Atlanta BeltLine. It offers residents and travelers alike a unique opportunity to explore trails and walkways, weaving throughout local neighborhoods. While a few years back there were only a few sections open, the BeltLine has since expanded to include neighborhoods with nearly 22 miles of trails. About half of them are open to the public in three different sections until the project completion in 2030. These trails are great places to go biking, rollerblading, and jogging. There is also a slew of trendy shops, restaurants, and attractions to explore. P.S. Check out the Westside Trail.
Book Your Vacation and Enjoy the Best Things to Do in Atlanta with Kids
While many travelers think of a vacation in terms of adult activities vs. kid's ones, it doesn't have to be that way. Activities like bike riding in the park, checking out the best restaurants and bars (aka date night alone), planning an epic hike, and hitting up local museums are just a few examples of fun that the whole family can enjoy. Luckily for you, there are plenty of things to do in Atlanta with kids. Have you been to the city and have some recommendations for us? While this city has so much to see, we realize we can't include it all. Let us know your thoughts in the comment section below.
Related Article: 17 Best Things to Do in Savannah, Georgia