The best hotels in Savannah GA are clustered in the heart of downtown.
If you're seeking adventure, you will find it here. Full of rich history, and beautiful weeping willow trees, this city has so much to offer culture junkies. If you are looking for rest, relaxation, and a little bit of adventure, we have found places you're guaranteed to love. Many of them are housed in historic buildings. From old warehouses to former homes, we have narrowed down our picks and made a list of the best hotels in Savannah GA just for you.
A Little Bit About Savannah, GA
If you have ever wanted to visit Savannah, GA, now is a great time. With fall in full swing, the summer's heat is long gone and the trees are a kaleidoscope of colors. Add in antebellum mansions, spacious avenues, and magnolia trees, and we are swooning.
History buffs will enjoy learning about the city's historic layout? Back in 1733, the Oglethorpe plan laid out the beautiful plan for public squares and residential blocks. Four blocks were specifically laid out for churches, schools, and other institutions. Among them, you'll find some of the best things to do in Savannah. Georgia's oldest city offers so much to be explored.
If you want to find a little park for a picnic, you don't have to walk far. Greenery surrounds you from all ends. There's something undeniably charming about this little town. One of our favorite places to wander is Forsyth Park, a 30-acre space with an enormous fountain at the center. Walk beyond the iconic squares to find industrial chic neighborhoods. Old warehouses have been converted into small boutique hotels overlooking the Savannah River. Now, let's go explore the best hotels in Savannah GA.
Here Are Our Picks for the Best Hotels in Savannah GA
1. Andaz Savannah
Credit: Andaz Savannah
A charming boutique stay, Andaz Savannah is located right in the heart of the city. For those of you seeking to be among the action and livelihood of local life, this is the place for you. From the artistic decor to a relaxed urban vibe, it has everything that the sophisticated traveler would seek in a place to stay.
Relax, wine, and dine just a few minutes away from popular attractions such as Ellis Square, City, Market, and River Street. The top dining and entertainment is literally right outside of your door. And trust us. When it comes to travel, proximity is key. Having your hotel next to the main sights makes all of the difference when it comes to ease. What's better than going out for dinner and drinks and being able to walk back to your place for the night in just a minute or two?
When it comes to the rooms and suites, Andaz Savannah offers a diverse selection of renovated spaces. Combined with the beauty of local flare, the result is a chic look that makes you feel more like you're in your friends trendy home than a hotel room. Besides your room's signature touches, amenities like the on-site restaurant, room service, the pool, free wifi, and a fitness center are all at your fingertips. This is one of the best hotels in Savannah GA.
2. Bohemian Hotel Savannah Riverfront
Credit: Bohemian Hotel Savannah Riverfront
Follow the beautiful riverfront walk until your get to the Bohemian Hotel Savannah. Here, vintage maritime charm meets old world luxury in a refreshing way. When it comes to rooms, you have your pick of four different styles: the standard historic, river view, corner historic view, and corner river view.
Even the standard room takes your breath away. Rustic touches pervade throughout the room, soft linens grace the bed, and the view outside showcases the beautiful city. Let yourself drift away for a bit and experience a little luxury. After all, isn't that what vacations are for?
The Bohemian Hotel Savannah Riverfront offers nothing but the best for their guests. One of our favorite features about the hotel is their stunning rooftop bar. After dinner, head to the top and enjoy a cocktail while the city lights shimmer on the water. Treat yourself to some dessert surrounded by original paintings. And when the day is done and the next one comes, you can do it all over again.
3. Cotton Sail Hotel
Credit: Cotton Sail Hotel
This is one of our favorite picks for the best hotels in Savannah GA. You'll find this unique stay in the Historic District inside of an 1800s cotton warehouse. The Cotton Sail Hotel nods to the nostalgia of times past through both preserving and revitalizing the space. In fact, it still has the 200-year-old pinewood floors that it did back in the day. It's no wonder that it has earned the Historic Preservation Award. If you want to come and experience life as it was in the Antebellum south, this is the closest thing you will get.
Did we mention that their seafood dining is fantastic? Sit on one of the balconies overlooking the river and take it all in. This is one of our favorite cities in the states. And when you're ready to have some fun at night, make your way up to the Top Deck (one of the city's only rooftop bars) for delicious drinks and lively conversations.
The sky's the limit. This relaxed atmosphere offers a great selection of local and craft brews as well as an international wine list. Enjoy a plate or two on the menu with the sunset of Savannah as your backdrop. Each level of the Cotton Sail Hotel offers something fun and unique for guests to explore.
4. Eliza Thompson House
Credit: Eliza Thompson House
Grand, historic houses is what Savannah is known for. And the Eliza Thompson House offers nothing less. Did you know that you can book a room in the converted section of this historic property for an epic night's stay? We have to admit, there is something charming and familial about the grounds here.
Twelve guest rooms are available in the Main House and thirteen rooms are open in the Carriage House overlooking the courtyard. Since this is a popular location for couples on their honeymoon or celebrating a special anniversary, it is an adults-only hotel. Anyone under the age of 21 is encouraged to book with one of their sister properties. Thoughtful touches like complimentary wine and cheese and dessert gatherings are a perfect touch. If you want our recommendation, try to book ahead and snag the R. Bruce Room. This lovely space offers a draped ceiling, homey touches like a fireplace and chandelier, and period piece furnishings and artwork.
5. Kimpton Brice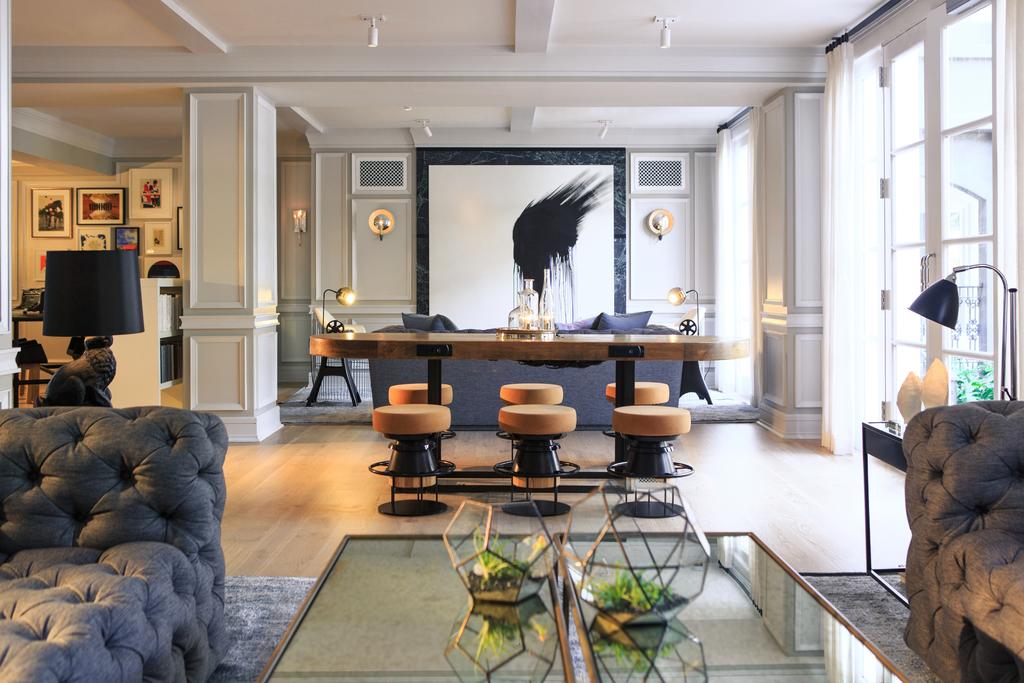 Credit: Kimpton Brice
Did you know that this was a former Coca Cola bottling plant? Consider the Kimpton Brice, the southern belle of the ball. While its appearance is beautiful and poised, there's so much more to it than that. Inside, you'll find a cheeky, fun spirit of urban resort vibes. Located smack dab in the middle of Savannah's National Historic Landmark District, you will have your pick of cultural centers and exhibits to explore literally right outside of your door.
Museums, churches, gardens, and more are waiting around the bend. It's also just a stone's throw away from both River Street and City Market. There is no need to choose between a luxury stay and checking fun activities off of your list. When you are looking for something fun to do, there is a nightly social hour with free wine. We can't think of a more lovely way to begin or end the night.
6. Mansion on Forsyth Park
Credit: Mansion on Forsyth Park
Charm, character, and glamor come together in a truly one of a kind stay. The Mansion on Forsyth Park is no doubt one of the best hotels in Savannah GA. You won't be able to help but marvel at all of the twists and turns that it has to offer. Inspiration awaits you. One of our favorite features about the hotel is the 700 Drayton Restaurant. Here, ingredients are brought from across the country to create mouth-watering dishes and unforgettable meals. Here, dinner is more than just about a meal – you're making memories of your stay.
When it comes to activities, there is no shortage of things to do here. Casimir's Lounge is a fun place to check out if you want to be in on the action. Hear live music? Follow it. Arrive in a swanky space where handcrafted cocktails flow and the beat will carry you away. There's nothing quite like the sound of good old fashioned jazz music in Savannah. Craving something quieter where you can find cocktails and small plates? Check out the Bosendorfer Lounge.
Finally, if you're wondering about amenities, we've got you covered. We have scoped out the situation and are happy to say that they are every bit as good as they look. Walk past the lobby to the marble-framed pool, a perfect place for a cool dip. In the morning, you can start your day off right at the fitness center, where just the right cardio equipment and free weights are waiting. For business people, take advantage of the service center and a beautiful space for a one of a kind meeting. Employee retreats have never looked this good.
Book Your Stay At One of the Best Hotels In Savannah GA
We hope you enjoyed reading our article on the best hotels in Savannah GA. As you can see, this city is such a unique place to visit, offering some of the most spectacular historical sites in the country; the scenery will leave you in awe. Whether you're seeking adventure, urban exploration coffee shop hopping, or simply some R&R, this city offers it all and more.
Who doesn't love waking up to amazing views of weeping willow trees and historic buildings? Savannah is one of our favorite places to explore both the metropolis feel and get back to good old nature. The best time to visit Savannah all depends on what you want to see.
The best hotels in Savannah GA are right in the middle of it all, offering close proximity to either downtown or all the cultural attractions. Each one is truly unique and equipped with luxury amenities, sure to satisfy the needs of any traveler. Do you have any favorite hotels in Savannah that were not featured on our list? Perhaps, you have some questions or comments for us. Whatever's on your mind, we'd like to hear it. Let us know your thoughts in the comment section below.
Related Article: 17 Best Things to Do in Savannah, Georgia