Monterey is all about life by the sea. Charming fisherman villages juxtapose new mansions and tourists line the streets to visit the world class National Marine Sanctuary. Despite its small size, there are plenty of fun and unique things to do in Monterey Bay.
Dense sea kelp protects a variety of sea life, including seals, dolphins, and whales. The city teems with a unique energy. From the marine life to well-preserved historic sites to restored adobe buildings. If you're looking for things to do in Monterey, spend an afternoon wandering through quarter and while it's admittedly touristy, you can't miss Cannery Row.
1. Spend the Day At Monterey Bay Aquarium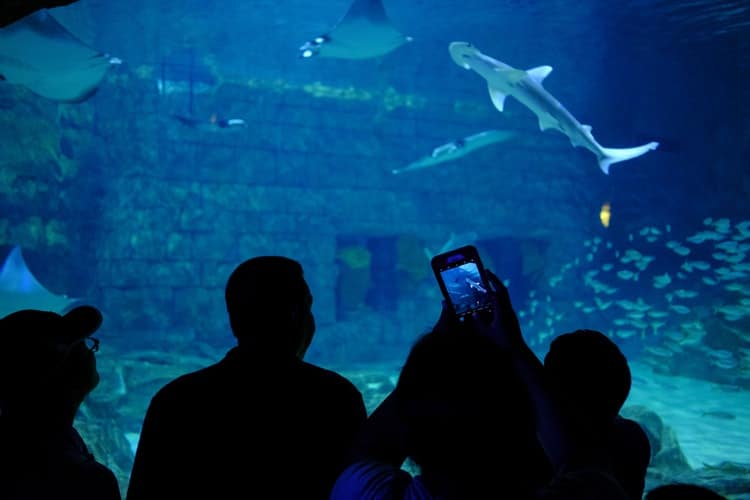 Monterey is most famous for its enormous aquarium. Built on the site of the city's former sardine cannery, this sweeping space holds all kinds of aquatic creatures. From the smallest starfish to friendly sea otters and 800 hundred pound tuna fish, there is an impressive collection of marine life within these glass tanks. Visiting is one of the most fun things to do in Monterey Bay.
What to Expect
To give you an idea of just how large this exhibit is, over 2,000 gallons of seawater flows through this three-story kelp forest every minute. Divers hand feed fish of prey at 11 AM every morning. We prefer the charismatic sea otter experience, which you can find under the rays of sunshine in the Great Tide Pool.
Pro Tip:
If you're taking the kids, make sure you bring them to the Open Sea Tank. Upstairs and downstairs, you'll find touch pools where you can get close to sea cucumbers, rays, and other tide-pool creatures. Younger kids love the Splash Zone with penguin feedings at 10:30 AM and 3 PM.
How to Avoid the Lines
To avoid the long summer lines, make sure you reserve tickets in advance. Weekends and holidays are particularly busy. A visit can easily become a day-long activity, especially if you spend two hours just waiting in line to get inside. Make the most of your day and plan ahead.
2. Walk Cannery Row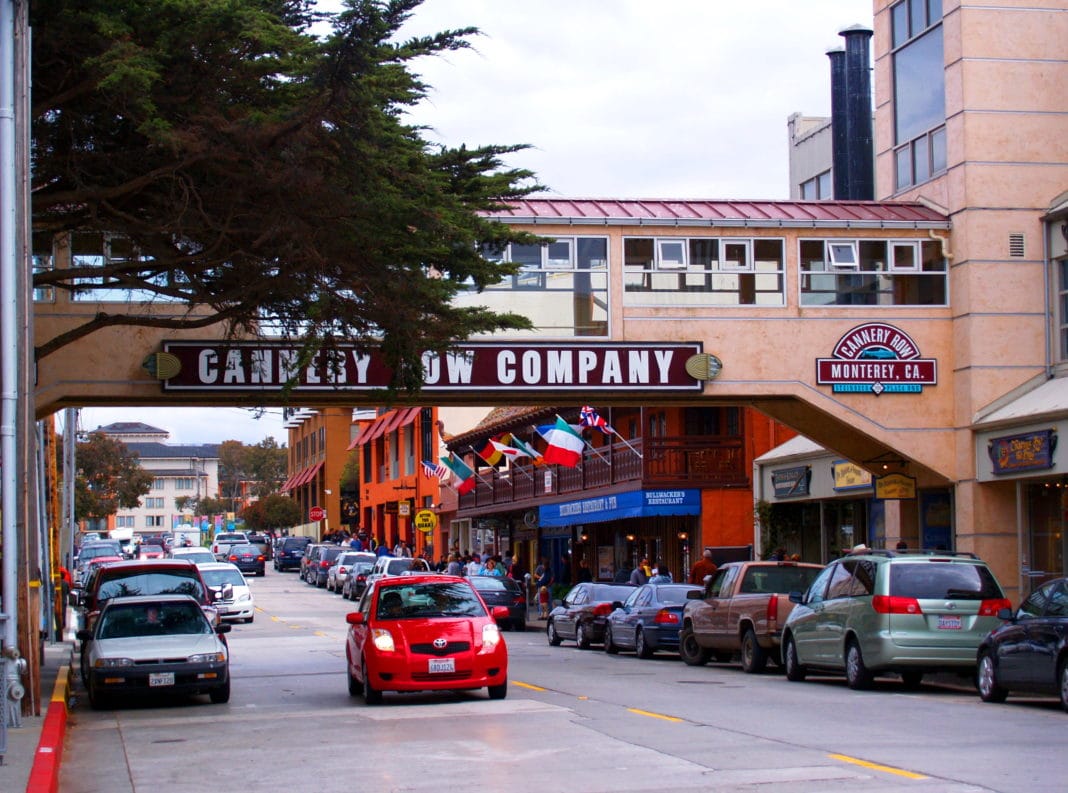 Okay, we know it's touristy but it's still a must. While you're looking for things to do in Monterey Bay, why not spend a few hours on Cannery Row? Despite its fun facade, there are some great historical lessons on this ground.
A Little History
Immortalized by John Steinbeck's iconic namesake novel, this street was the heart and soul of Monterey through the first half of the 20th century. The historic Cannery Workers Shacks are a sobering reminder of the difficult lives led by immigrant labor groups. Back in Steinbeck's day, this region was a working-class melting pot, best described as "a poem, a stink, a grating noise, a quality of light, a tone, a habit, a nostalgia, a dream."
What to Expect
While there's little evidence of that now, it's important to remember. The hard work and contribution of immigrant communities is what helped Monterey become so successful. Today, you won't see many historical relics. Cannery Row offers candy shops, t-shirt stands, and quirky attractions like mirror mazes and carnival rides.
3. Look Around At the Monterey Museum of Art
This is downtown. Of all the things to do in Monterey Bay, add the local museum of art to your list. MMA Pacific Street is strongly influenced by California contemporary art, modern landscape painters, and photographers, including big names like Ansel Adams and Edward Weston. Check out the museum's website for a current list of exhibits, tours, hours, and rates.
4. Take A Walk In Monterey State Historic Park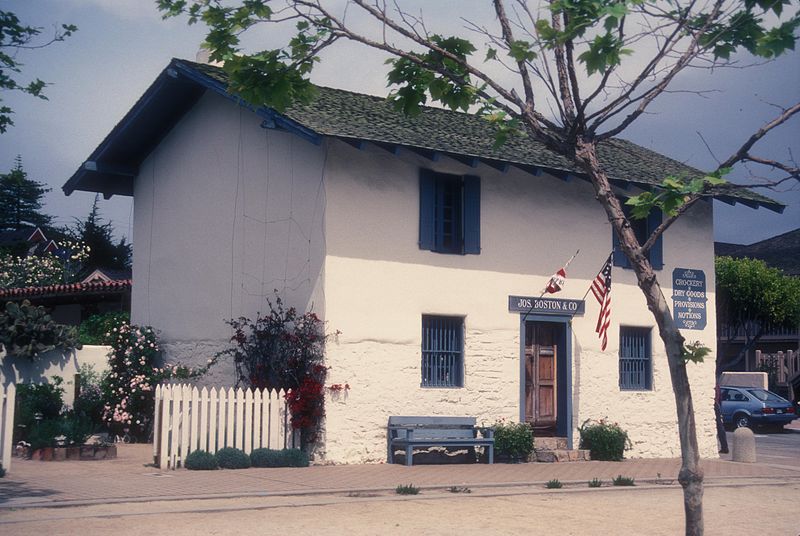 Seeking out more historical sites? Old Monterey is home to an extraordinary assemblage of old relics and adobe buildings. Revel in the beauty of times past as you walk a 2-mile tour, aptly titled the 'Path of History.' Here, you'll see dozens of charming old brick buildings and lovely on-site gardens. This is one of the coolest things to do in Monterey Bay.
5. Sip Cocktails In A Haunted House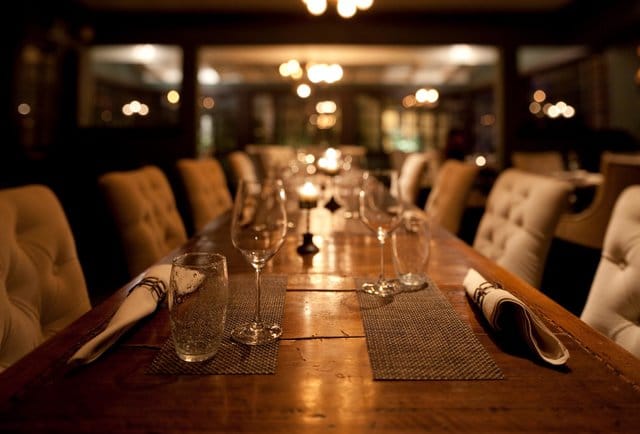 Credit: Restaurant 1833
Okay, now that we have your attention, you should really check this place out. Ever since it first opened its doors in 2011, Restaurant 1833 has broken the mold for the NorCal dining experience. Come and enjoy a gorgeous 18th-century adobe setting where you can eat in multiple rooms. Just a heads up though – this place is very nontraditional. 1833 does whole animal cooking with an emphasis on local ingredients.
What to Expect
The space has a quirky vibe too, an odd blend of California and old south. The house is reportedly haunted too. It's a bold place for a restaurant, having been home to deaths, ghost sightings, and a creepy "doctor" who owned the place and was believed to be a murdered. Bottoms up.
6. Treat Yourself to A Rooftop Spa Overlooking the Ocean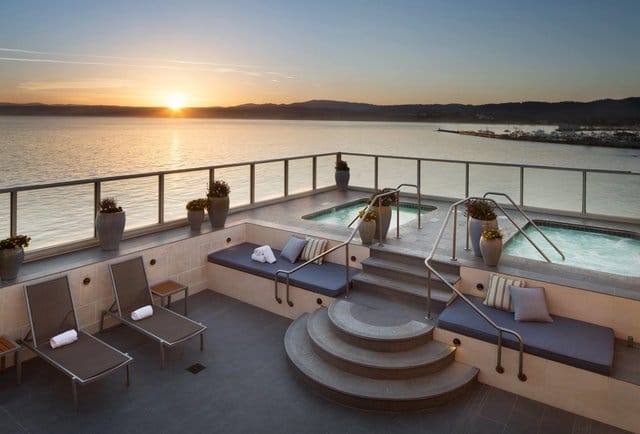 Credit: Monterey Plaza Hotel & Spa
You'd never guess it but this gorgeous rooftop spa is close to Cannery Row. Nevertheless, the Monterey Plaza Hotel & Spa retains an atmosphere of tranquility with gorgeous rooms overlooking the sea. Luckily, you don't have to book a hotel reservation to visit Vista Blue Spa. Just make a spa reservation and you can enjoy lovely massages, facials, and hot wraps with a view.
What to Expect
This striking rooftop offers hot tubs over the Pacific for a view that feels like a Mediterranean escape. Want to know the best part? It's open all day.
7. Grab Some Brews at a Local Distillery
You can find quite a number of great local breweries up north. If you're looking for things to do in Monterey, exploring local distilleries is really fun. You never know what kind of cool people you'll meet and the drinks aren't half bad either. Just kidding. They're amazing. Some centrally located favorites include Cannery Row Brewing Company, Peter B's Brewpub, and Alvarado Street Brewery.
8. Roam A Secret Beach Along Cannery Row
If you've ever been up in NorCal, you know taking a scenic drive is never a waste. Have you ever seen the 17-Mile Drive in Pebble Beach? It's hands down one of the most stunning landscapes we've seen. The entire coast from Monterey to Carmel offers empty, inviting beaches, fields teeming with lavender flowers, and rows of towering cypress trees. 
What to Expect
We're here to let you in on a secret. Some (many) of the best sights lie beyond Cannery Row. Enter this beautiful private beach. There is a secluded cove directly behind Spindrift Inn, called McAbee Beach. Feel the salty breeze caress your skin, wander through tide pools, and sink your toes into the sand.
9. Go Directly to Jail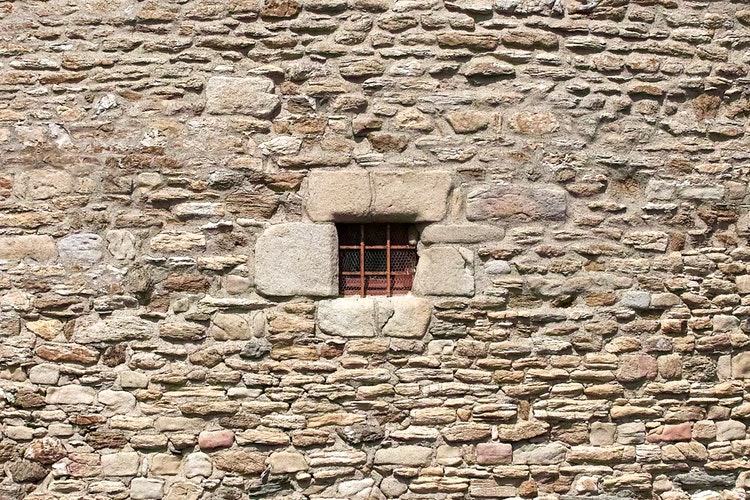 Do not pass go. Do not collect $200. If you've read this far, you know Monterey Bay has its fair share of historic landmarks. Located next to Colton Hall Museum, the Old Monterey Jail is easy to overlook. It's actually one of the coolest places to visit in Monterey though. Consider it the landlocked Alcatraz of a small city. In its one hundred years of operation, there has never been a jailbreak.
How?
Well, it's built out of solid granite with almost no wood. In addition, the windows are covered in perforated iron plates, making escape virtually impossible. You can now tour the jail with the spooky bonus of original conditions recreated in every cell.
10. Dennis the Menace Playground
Are we getting old? You've read this comic, haven't you? Dennis the Menace Playground has existed as a part of the El Estero Park since 1956. Hank Ketcham, creator of the Dennis the Menace comic strip dreamed this place up.
What to Expect
The playground offers several structures, a climbing wall, large slides, hedge maze, suspension bridge, giant adventure ship, and more. History fans will geek out over the authentic 1924 Southern Pacific steam engine. For decades, children were allowed to climb on it but now the engine is fenced off. You can still take some awesome pics though. This is the perfect place for energetic kids and kids at heart.
11. Point Sur Lightstation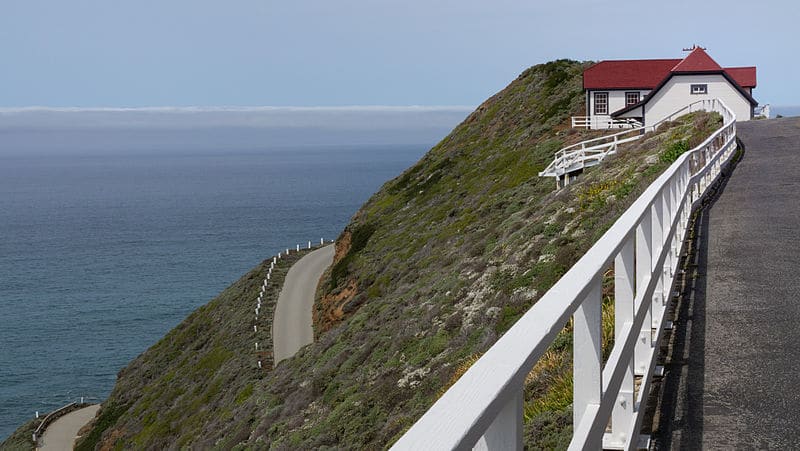 Perched atop a large volcanic rock on the Pacific Coast, Point Sur Lightstation is something out of a sailor's dream. While visiting this vision isn't technically one of the best things to do in Monterey Bay, it's not too far from the action. You'll find the lightstation 361 feet above the salty spray in Big Sur, California.
History
Point Sur has always been a navigational hazard. In the 1880s, lighthouses and lightships provided invaluable warnings to the many ships that traveled close to shore, especially during rough weather when protruding headlands could provide them with much-needed shelter.  
A Reason for Funding
A big reason for funding the Point Sur Lightstation was the wreck of the Ventura ship back in 1875.  Reports said the captain was drunk and his ship crashed into a cluster of rocks just north of Point Sur.  Thankfully, everyone aboard reached the shore safely. But the ship was abandoned to break up on the rocks and slowly sink.
Shipwrecks
To be honest, shipwrecks were not a common occurrence. However, there have been enough to distinguish the Point Sur area as a navigational hazard.  Other ships lost in the vicinity include the Los Angeles in 1894, the Majestic in 1909, the Thomas L. Wand in 1922, the Babinda in 1923, the Panama and the S. Catania in 1930, and the Howard Olson in 1956. 
Riches for the Locals
 While a shipwreck meant disaster for the shipping companies and those aboard, it also meant a new influx supplies for the Big Sur coast residents.  As ships crashed, the cargo floated with the currents, which were eventually deposited along the shoreline. As news of the wreck passed along the coast, the local population flocked to the shores to gather these 'free' goods.
12. Visit San Carlos Cathedral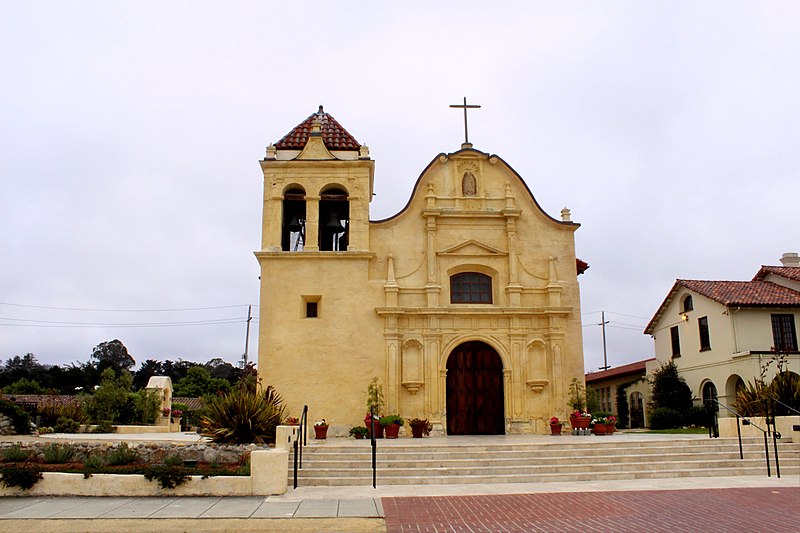 Come and see the oldest continuously operating church in California, San Carlos Cathedral. The seaside town of Monterey was founded on June 3, 1770, on the shores of the bay. A year later, one of the founding fathers (all pun intended), Fr. Serra, moved his Mission to Carmel. The church remained there, serving as a Royal Chapel for the soldiers guarding the Spanish Presidio of Monterey.
What to Expect
The sandstone church that stands today was built between 1791 to 1794, making it the oldest building in the state of California. It's also the state's oldest cathedral. In 1849, Bishop Joseph Alemany chose it as the seat for the diocese of Monterey.
Go On the Ultimate Road Trip and Check Off the Top Things to Do In Monterey
We hope you enjoyed reading through our list of the top things to do in Monterey Bay, CA. As you can see, this diverse city has a lot of unexpected surprises to offer adventurous travelers. If you visit before the high summer season, it's also a great spot to take a relaxing vacation. From classic sites like Cannery Row to haunted houses, fine dining, and world-class spas, this city has it all.
Questions and Comments
Have you ever been to Monterey Bay? If you have some favorite spots to visit, leave a comment below and tell us all about them! 
If you're interested in exploring more of California, we have some fun ideas for an ultimate road trip guide. Perhaps you have some questions or comments for us. Let us know what's on your mind. We love hearing from you. 
Related Article: 15 Fun Things to Do In Orange County California