Snow-capped rocky mountain ranges stretch as far as the eyes can see. All around you Banff and Jasper are filled with dramatic, untamed wilderness. Steep mountaintops cut through the clouds all the way up to the azure sky. Enormous glaciers reflect the stunning crystal clear turquoise water. You've got to add Canada to your list of places to see. There are plenty of jaw-dropping sights and fun things to do in Banff.
Glassy lakes flash sapphire colors while tumbling waterfalls drown out all the sounds around you but the chirping of happy birds. The roar carries all the way through the region's bottomless canyons. Deep forests blanket valleys with the smell of fresh pines, providing shade to the flora underneath them. Alpine meadows explode with the colors of spring's blossoms. This is the kind of scenery you'd only find on postcards and needless to say, there are plenty of things to do in Banff.
Here's A Little Bit of History
Of all the thousands of national parks scattered around the world, Banff stands leagues apart. Created in 1885, it is the third oldest and Canada's very first national park, with Jasper only 22 years behind it. Located on the eastern side of the Canadian Rockies, the two parks bordering it have both been declared Unesco World Heritage Sites. In contrast to some of the more remote parks in North America, these small towns somehow manage to lure anywhere from two to five million visitors to their gates every year. Visiting these sites are one of the most popular things to do in Banff.
Despite the throngs of tourists who come to snap epic Instagram pictures of the sights like Lake Louise and Miette Hot Springs, it isn't difficult to find a more tranquil experience to carve out your own little piece of national park nirvana. However you choose to experience the beauty of these national parks, you'll have a great time. Choose from hiking, backcountry skiing, snowshoeing, climbing, or just sitting and enjoying yourself at the lake's edge beneath the shadows of towering mountains. The scale and scope of this park is enough to beat even the most seasoned of travelers. We've got to give you a little disclaimer. The more you see, the more you'll want to discover.
How to Get to Banff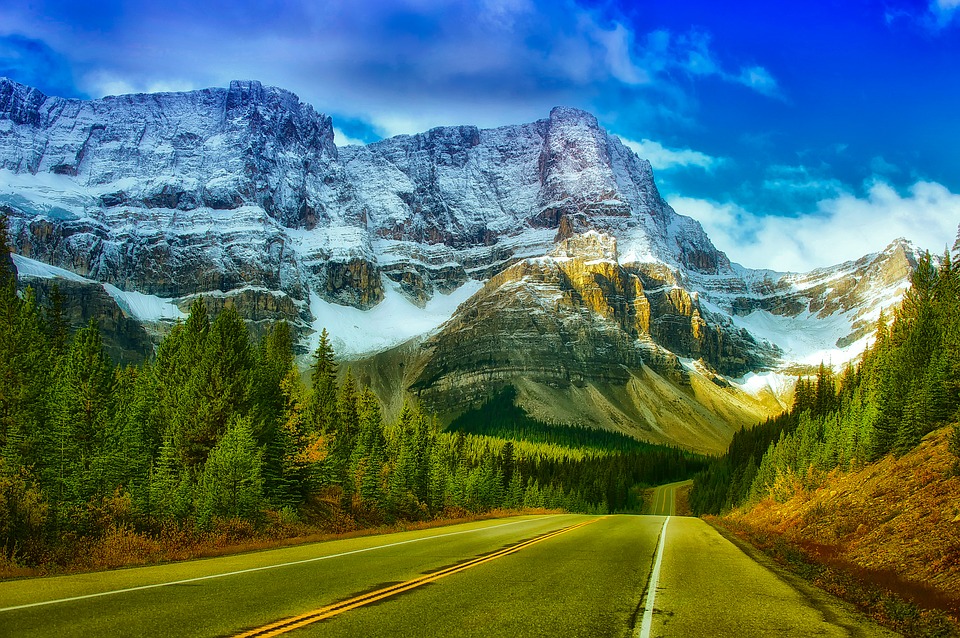 If you can't wait for all the things to do in Banff, just remember – half of the fun is getting there. This is especially true if you plan on visiting Banff National Park. The car ride through the Rocky Mountains is nothing short of epic. The town of Banff is only an hour away from the Calgary Airport. The aquamarine waves of Lake Louise are just another 40 minute drive. It's all found in Canada. Just keep adventuring and you'll be pleasantly surprised at what you will find.
1. Drive or Walk Anywhere Around Lake Louise
Okay, so Lake Louise isn't exactly an undiscovered secret. But it is a world-class, must-see destination for Canadian natives and tourists alike. Travelers who make the trek here usually do so to soak in the sights of the surrounding mountains and glaciers.
After taking a classic canoe trip across the sapphire surface, adventurers can gear up for a more challenging activity – rock climbing. Muster up all your courage and get ready to scale these sheer cliff faces. Some people only ever experience things on the lake but you can catch stunning bird's eye views from up above. You're touching parts of the world that no one else has and to experience something like that is pretty amazing. Of all the things to do in Banff, spending a day at Lake Louise has to be our favorite.
2. Go For the Peak Experience: High Into the Sky at Mount Whitehorn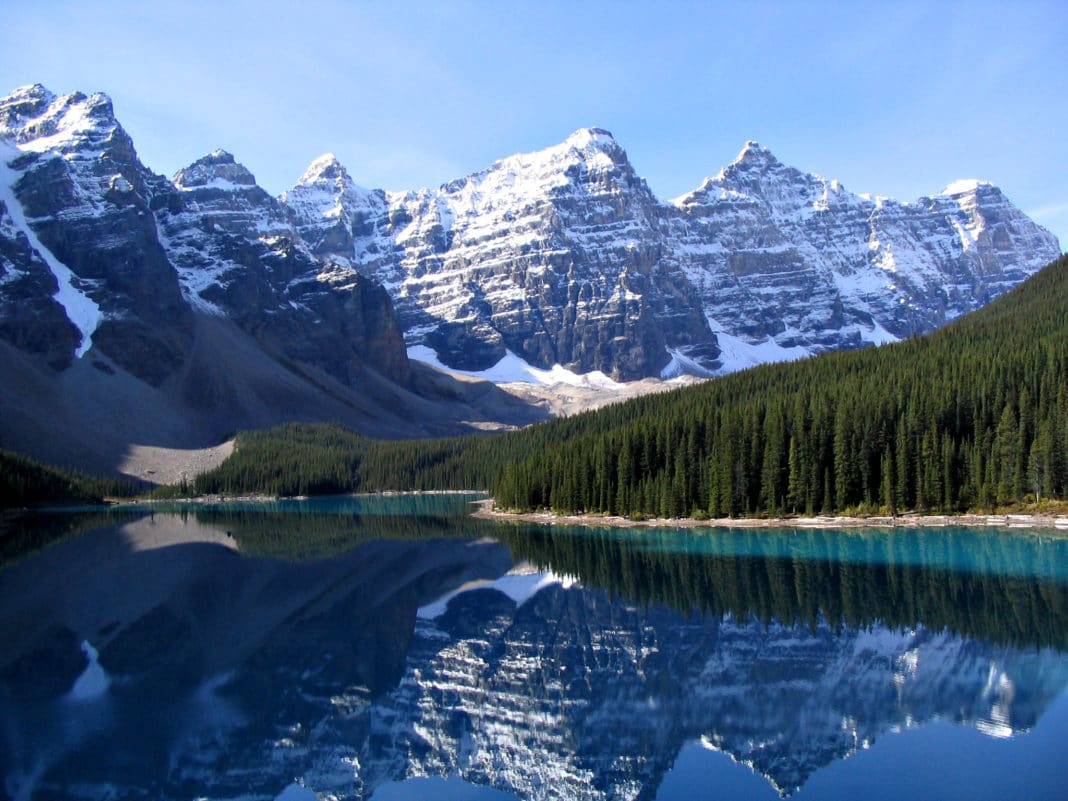 After spending a day of canoeing and scaling the mountains of Lake Louise, we're pretty sure you're gonna want to rest. But that doesn't mean the next day shouldn't call for just as much adventure, if not even more. Take the Lake Louise Ski Resort chairlift up to the top of Mount Whitehorn. From the ride itself, you can snap some pretty epic photographs and gain a panoramic view of the surrounding peaks and lush, green landscapes. This looks more like the Swiss Alps than anything else in North America.
3. Take A Helicopter Ride Up and Away Into the Clouds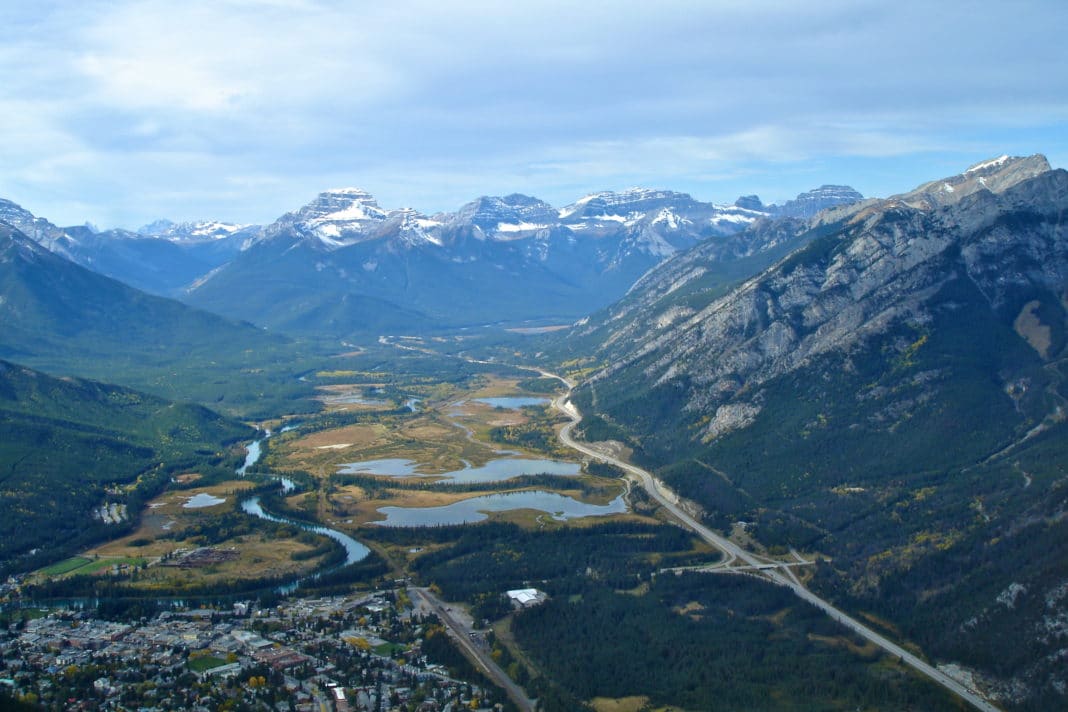 To get even higher, take a helicopter ride through the clouds and tour the mountains. One of the best companies in the area is Rockies Heli Canada. Adventure junkies will definitely find this one of the top things to do in Banff. They'll take you up to some of the spots way up in the mountains where famous companies have shot their campaigns and Leonardo DiCaprio spent his days shooting for the Revenant.
The views you'll experience are otherworldly. Alberta's rugged mountains and lush landscapes will leave you absolutely speechless. We just hope you brought a good camera to capture the moment. You'll see glaciers covered in snow and mountain peaks that look like the surface of the moon. The fact that you can experience all of these sights in one region is beyond us.
4. Visit the Weeping Wall In Icefields Parkway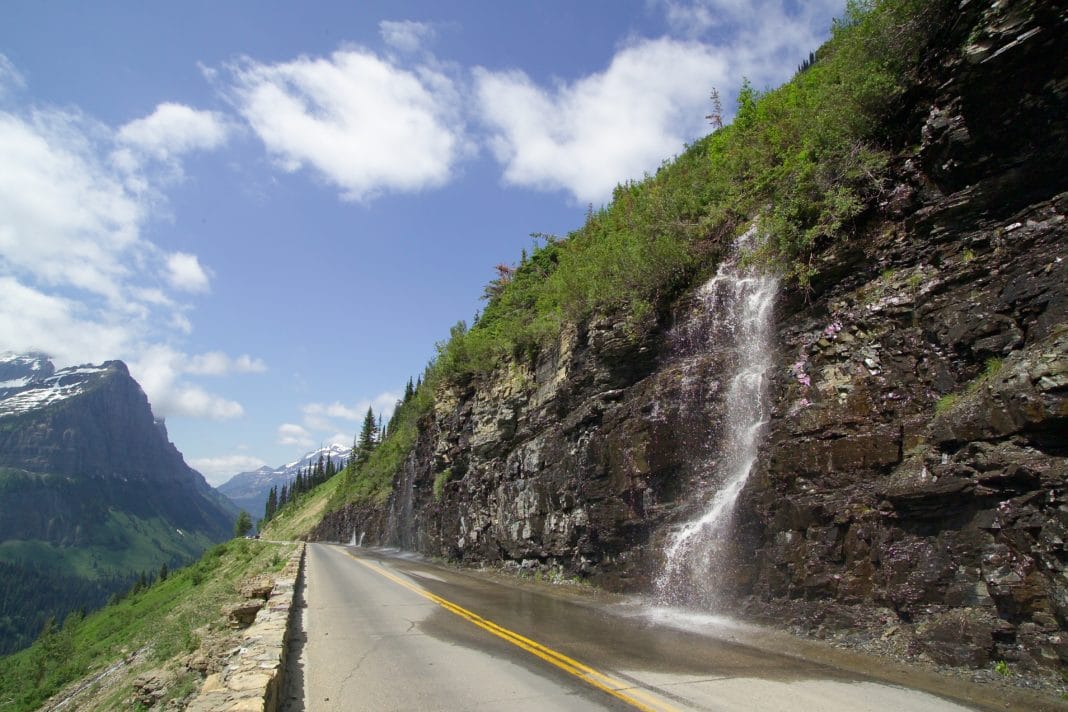 If you're looking for some unusual pit stops for things to do in Banff, check out this site. This towering rock wall is located just above the highway's eastern side. Pull over and make a pit stop. It's definitely worth your time. In the summer months, there is a sea of waterfalls. Tears of liquid pour down its rocky cheeks, creating a thin veil of moisture.
If you're brave enough to come in winter, it's a whole different story. The water (and roads) freeze up to form enormous sheets of ice. This vertical frozen wall poses a great challenge to ice climbers, who travel from all around the world to test out their skills on its slippery surfaces. Alpinists who are able to scale the wall should receive a metal of some sort. It's by no means an easy feat.
If you're not climbing, make sure you observe the ice from the safety of a designated roadside lookout. You don't want to be standing below if an ice chunk the size of a refrigerator happens to fall. Yes, this has happened.
5. Go Out On A Ledge At the Glacier Skywalk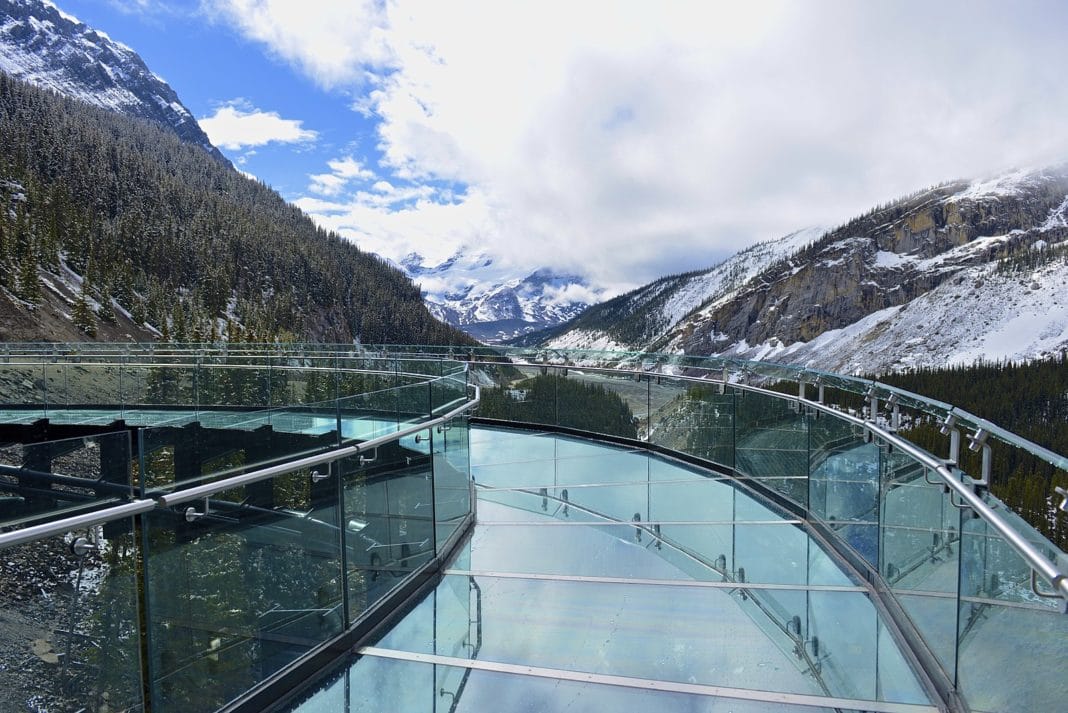 This is not for the faint of heart. It's one of the coolest things to do in Banff though, so try and muster up your courage. This clear bottom all-glass-bridge offers an open air lookout for those brave enough to step out on it. Suspended high above the Sunwapta River opposite Mt. Kitchener, it offers amazing views for travel photographers. In the years following its construction, it has already earned numerous awards.
While the scenery makes it more spectacular, so does the feeling of standing mid-air way up over the valley. An audio guide lets you in on all the local knowledge, including geology, wildlife, and architecture. You can visit the Skywalk via the bus from the Columbia Icefield Center. Regular drivers are not permitted to stop there along the parkway.
6. Take A Dip In Miette Hot Springs
Credit: Flickr / Bencito_Traveller
Okay, so this one is actually located closer to Jasper. But who cares, right? This is the top choice hot springs for miles and miles around. Even more remote than Banff's historic springs, the Miette Hot Springs are located 61 kilometers northeast of Jasper off of Highway 16 near the park's boundaries. These soothing 104 degree waters are surrounded by epic views. They are especially enjoyable in the fall when the snow is falling down and steam envelops those who soak in this geothermal paradise. Raining summer evenings also make for perfect misty conditions.
7. Visit Whyte Museum of the Canadian Rockies
This is the top choice in Banff town. Founded by local artists Catherine and Peter Whyte, this fifty-year-old museum is more than just an option to do on an off-weather day. An ever-changing gallery of art from 1800 to present is on display, showcasing work from both local and international artists.
Next months, the museum will host a special exhibition about its founders, Peter and Catherine along with a host of fun events for tourists and locals alike. So by all means, come visit!
Keep your eyes open for work by the Group of Seven (the Algonquin School). There is also a permanently-housed collection telling the town's story of how hardworking men and women forged a home among the rugged, albeit beautiful terrain.
Also attached to the museum is an archive containing thousands of photographs of the town and park. The museum also offers convenient leaflets for a self-guided Banff Culture Walk.
Get Out and Explore Some of Canada's Most Beautiful Scenery
Make time for the great outdoors in Canada. There are plenty of stunning things to see among the Canadian Rockies and Banff offers up nothing but the best of them. Tickets are particularly cheap this season too. Skyscanner.com offers some great flight deals. What are you waiting for? Book your epic trip today.
Related Article: Here's Why You Need to Visit Banff, Alberta in 2018