Stay cool during long hikes with the men's Outdoor Research Ferrosi Pants.
These aren't your average hiking clothes. If you're looking for a style that offers versatility in any condition, the men's Outdoor Research Ferrosi Pants just can't be topped. Did you know that these pants took home the Editor's Choice Award for the best overall model? It's easy to see why. They work well in alpine climbing and just about any other typical hiking adventure. With lightweight, breathable fabric and moisture wicking properties, they are any hiker's dream travel outerwear.
Taking a look at the tech specs, they've cleared the bar in several categories. Of all the hiking pants we have tested, these are the most breathable. They'll keep you cool on hot days and offer the ultimate UV protection. We've also gotta say that we love their competitive price. The men's Outdoor Research Ferrosi Pants succeed in a number of activities and conditions.
The Men's Outdoor Research Ferrosi Pants Features and Benefits
As we said, the men's Outdoor Research Ferrosi Pants check all of the right boxes. Composed of 86% 90D stretch ripstop nylon and 14% elastane, these are some of the lightest hiking pants on the market. The fabric proves to be both durable and stretchy – a dream come true for avid hikers. On warmer days, they are the perfect go-to option. In windy days, they won't offer as much protection as styles like the Prana Stretch Zion but they still manage to hold their own. Let's take a deeper look at the durability, style, and features of these pants from Outdoor Research.
Comfort and Range of Motion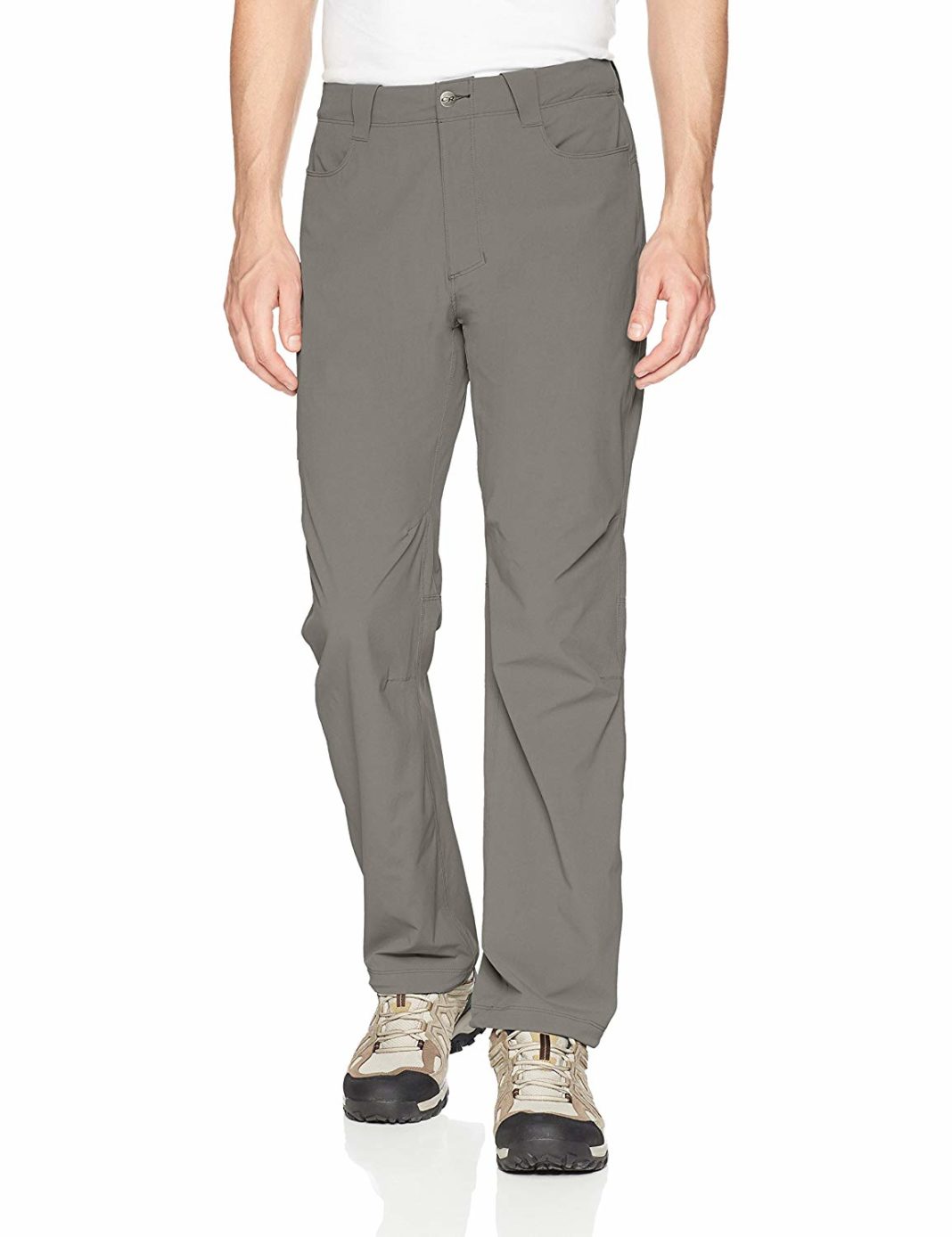 When it comes to comfort, the men's Outdoor Research Ferrosi Pants rank right up there with the best of them. However, in terms of mobility, there are no other styles that can even compete with the Ferrosi. The cut of these pants is fantastic too. They're not too loose or too tight and the fabric feels smooth on the skin. The only complaint we have when it comes to comfort is the waist is a little bit loose.
Breathability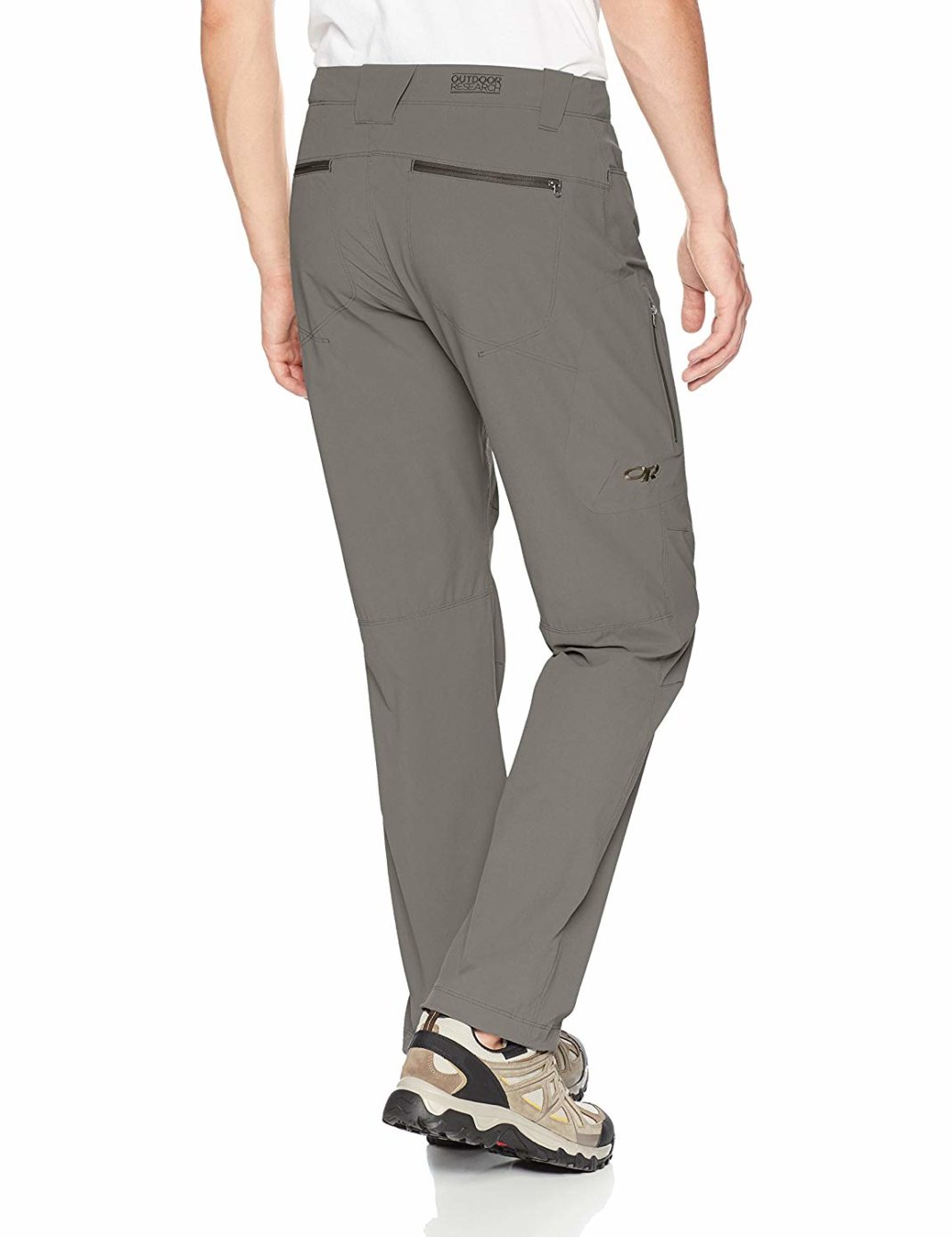 This super light, breathable fabric offers a lot in the way of ventilation. Even on a hot summer's day, you won't have to worry about moisture and heat being trapped into the pants. In addition to the lightweight fabric, these pants also have a few ventilation features. For example, two front hand pockets are lined with mesh. In addition, a cinch cord above each leg allows you to adjust the length of the pants (whether you want them above the calf or knee). While these are not quite comparable to a convertible pair of pants, they still offer a great solution when you want to cool down.
Versatility
Did we mention that the men's Outdoor Research Ferrosi Pants are good for just about any terrain? They are even great for climbing. It's important to remember that since they are light and thin, you will need to layer them with thermals if you want to use them in colder weather and at alpine heights. Make sure to check the weather often and dress smartly.
Water Resistant
Compare these hiking pants to competitor styles on the market and they do a great job of repelling water. When we tried to spritz these pants or used them in a gentle drizzle, the water beaded up on the material and rolled right off. Don't expect to use these pants in a full downpour though. And if you do, at least use some waterproofing spray to better even your odds. Taking a look at the plus side, we also noticed that the men's Outdoor Research Ferrosi Pants dried out very quickly. When you're on the go, that is always something you can appreciate.
Overall Features
All in all, the men's Outdoor Research Ferrosi Pants have useful features and function very well. We love the two front hand pockets lined with mesh, lightweight breathable fabric, and moisture wicking properties. There is also another zippered pocket located on the right thigh. Taking a look at the back of the pants, you will find two additional pockets with horizontal zipper openings. These are handy for storing your accessories while exploring the backcountry.
Furthermore, they come with 50+ UPF rating. So, you can rest easy knowing that you will have protection from the sun. One of the best features that these pants have to offer are the cinch cord and cut off style for each leg. These features can be employed when you are crossing streams, during rain, or simply if you just want to cool down some more.
Best Use for the Men's Outdoor Research Ferrosi Pants
As we previously mentioned, the men's Outdoor Research Ferrosi Pants can be used for various types of climbing, hiking, and backpacking. Since they are comfortable and light, they are a great choice for travelers. For $79, you really are getting a lot of bang for your buck.
What Travelers Are Saying About the Men's Outdoor Research Ferrosi Pants
With a 4.4 out of 5-star rating, it's clear to see that travelers love the men's Outdoor Research Ferrosi Pants. In fact, many users lauded them as some of the best hiking pants they have ever tried. The Ferrosi's nylon/lycra blend breathes really well, almost as well as tried and true cotton convertibles. Even in 90-degree Fahrenheit weather in direct sun, the pants kept users cool and provided a breathable fabric. You won't even regret going with the non-convertible style. Most users never felt the need to switch to shorts; the long pants worked just fine.
The Ferrosi's synthetic blend wicks away moisture and dries incredibly quickly and easily. Overall, users felt much more comfortable in them than any other pair of hiking pants they said they had owned. Also unlike some other synthetics I've used, the Ferrosi's blend has a fair bit of stretch to it, so you don't have the problem of the material binding against, say, your knee when you're climbing, squatting, etc. The legs are not too wide either. They are simply a good fit for the average body build.
Tech Specs:
Lightweight and durable

Moisture wicking

Water resistant

check

Breathable fabric

check

Nylon and lycra blend

check

50+ UPF Rating
Alternative Men's Hiking Pants You May Love
Are you looking for some additional hiking pants? Check out these styles from some of our favorite brands. We're sure you will love them just as much as we do.
5.11 Men's Taclite Pro Tactical Pants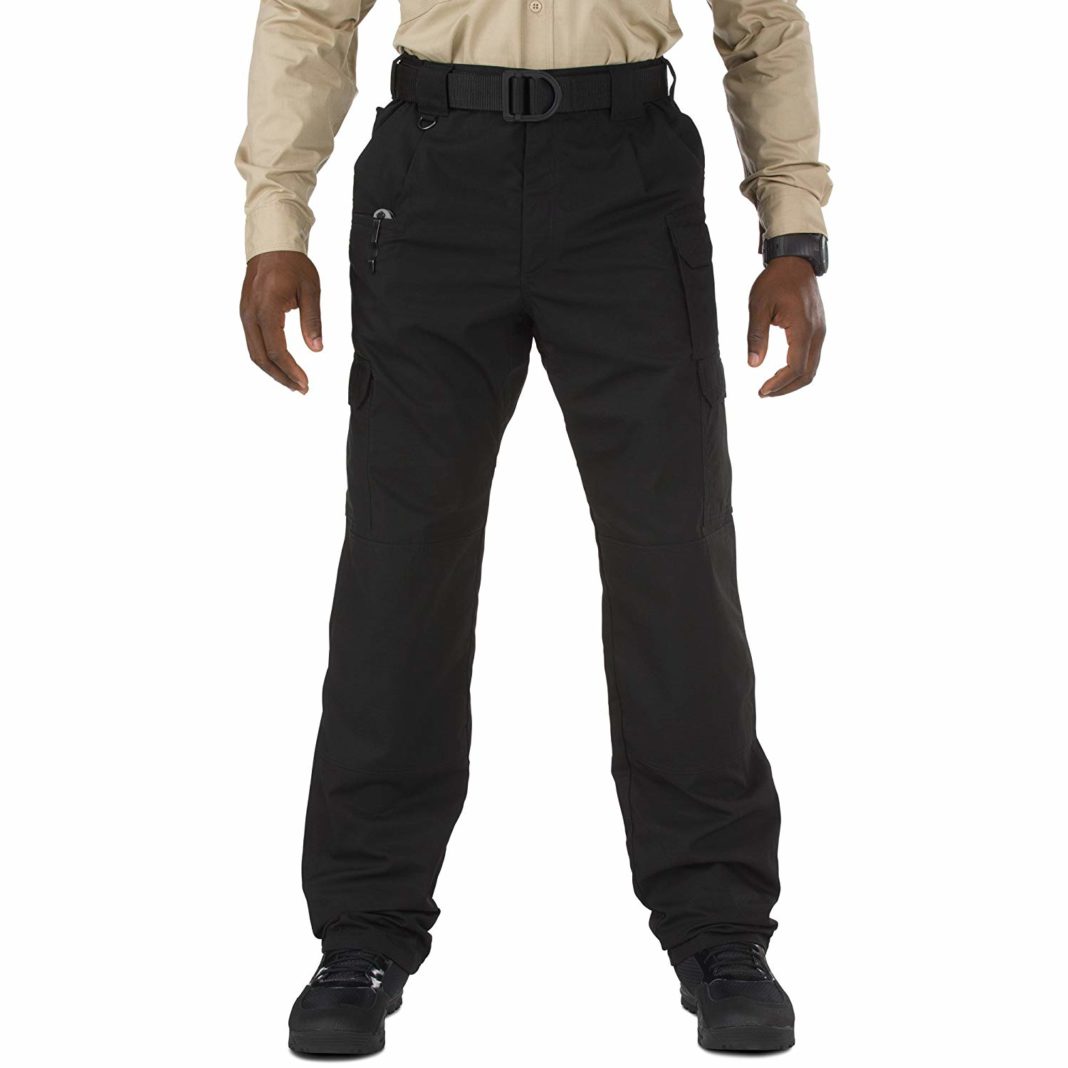 Are you looking for a style of hiking pants that is a little more heavy duty? Check out the 5.11 Men's Taclite Pro Tactical Pants. Made from a durable poly-cotton ripstop fabric, these pants allow for full range of movement and protection from the elements.
Furthermore, this design from 5.11 Tactical allows you to have quick and easy access to all of your gear. With plenty of pockets, the storage space will not be scarce. Cargo pockets are sewn onto both the thighs, there is a cell phone pocket above the left cargo, and signature slash pockets at the back. Did we mention that the pants are also equipped with an HT Teflon Wear Resistant Finish? This helps with stain and soil resistance. So, no matter what you end up doing, you will look good doing it.
Last but certainly not least, they have included their traditional clip loop at the front of the pants. This is great for the traditional 5.11 Tactical style. When it comes to colors, you have a great range of options. You can choose from black, tdu green, tdu khaki, coyote, and dark navy.
Tech Specs:
65% polyester, 35% ripstop fabric

Two cargo pockets

check

External knife pocket

YKK zippers

check

Rear strap and slash pocket
Prana Stretch Zion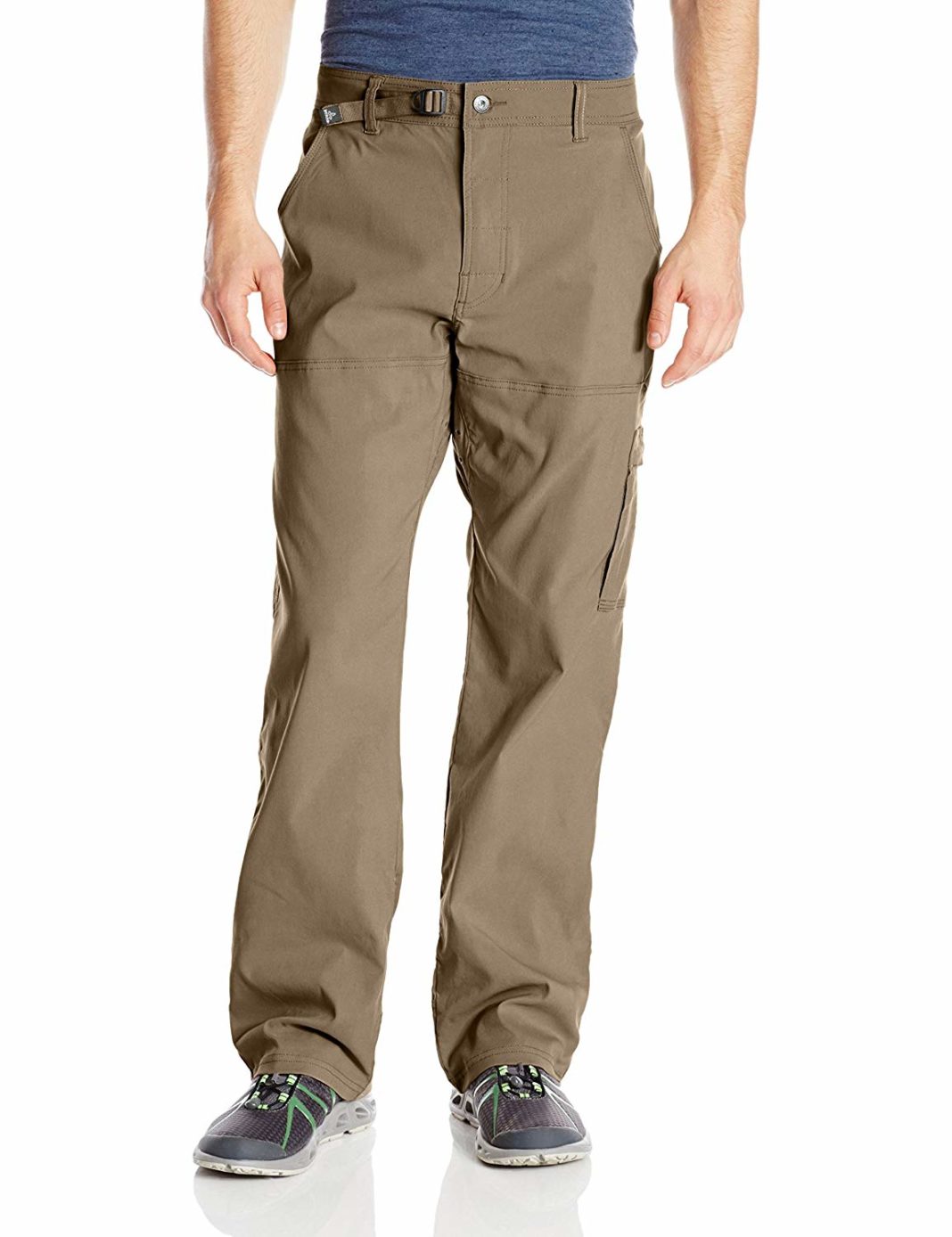 These are some of the most dynamic hiking pants we have found on the market. Thanks, Prana. And get this. They don't even look like hiking pants. Ask anyone on the street and they'd swear this slim-fitting narrow style would pass for dress pants. Designed with a comfortable nylon fabric and 3% spandex, these snug pants are made to move with you. While they are a little heftier than your average pair of hiking pants, that might be helpful for some. If you're looking for some of the best hiking pants for men for fall, these are perfect. When it comes to fit, they sit just below the waist, offer a little extra room in the seat and thigh, an adjustable waistband.
Tech Specs:
100% other fibers

Imported

Durable water repellent fabric
White Sierra Trail 32-Inch Inseam Convertible Pant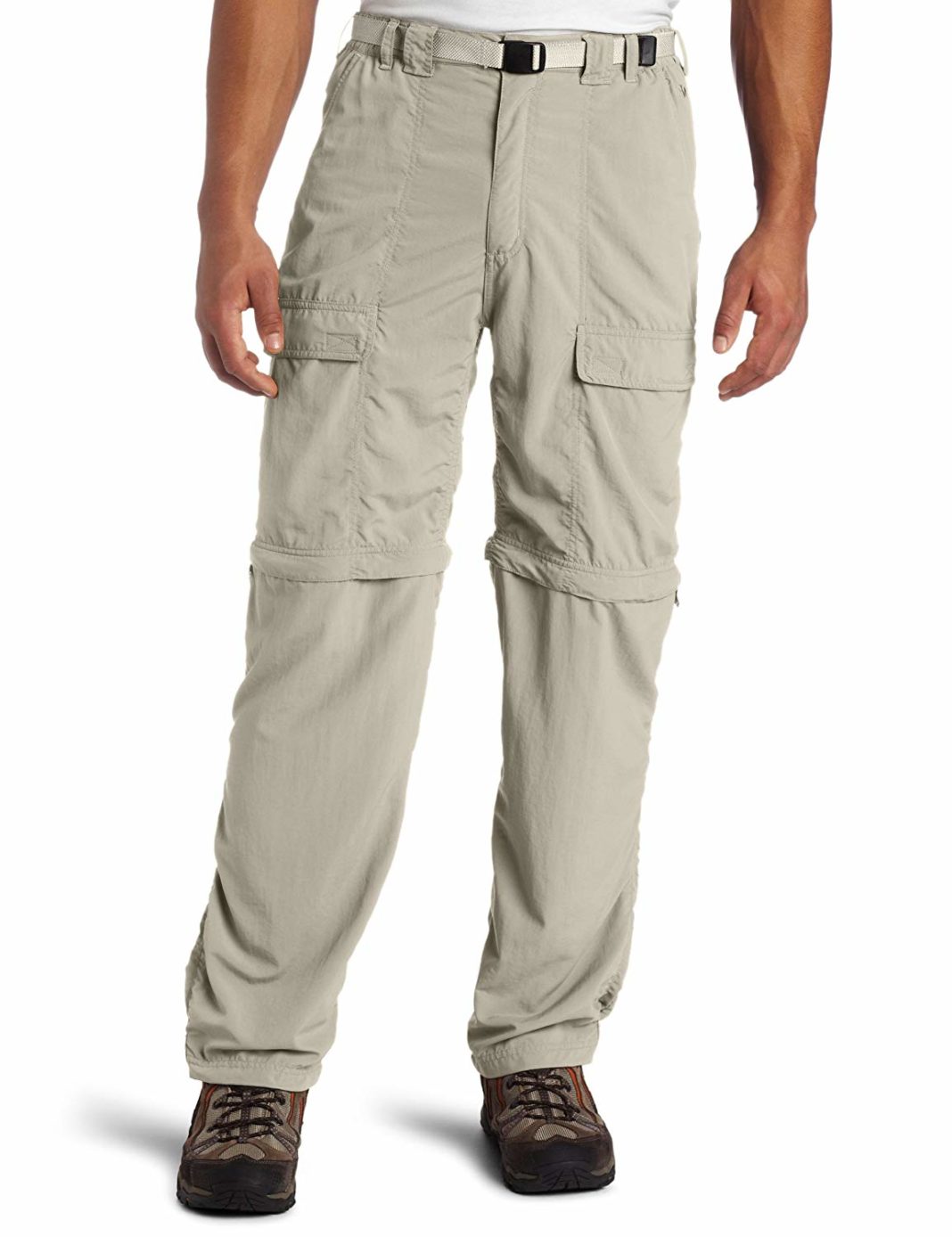 Here's another great pair of hiking pants. White Sierra is known for making dynamic, versatile outerwear. From cool mountain trails to blazing desert hikes, these convertible trail pants have got you covered. They convert from pants to ten-inch inseam shorts when the conditions change. Crafted from a durable UPF30 sun protection woven nylon, these pants are quick drying and equipped with a Teflon fabric protector. The flat front offers an elasticated side waist and a webbing belt. You will also find two slash pockets at the front and two side cargo pockets to hold all of your gear.
Tech Specs:
Converts from pants to shorts or vice versa

Vertical side zippers

Lightweight nylon

check

UPF 30

check

Water resistant finish

check

Elastic waistband and removable webbing belt

check

2 front slash pockets, 2 side ones, one back pocket

check

Secure ankle cuffs to keep legs safe from mud and debris
Invest In the Men's Outdoor Research Ferrosi Pants for Your Next Trek
These are some of the highest performing hiking pants we have tested out. Overall, they are very worthy of the Editor's Choice for the Best Overall Hiking Pant. Enjoy a full range of motion, stay comfortable, and dry in this highly breathable outerwear style. As you can see, these pants offer a lightweight, breathable fabric that is perfect for keeping you cool. At a fairly low price point, they present an excellent and affordable option for the avid hiker and outdoor enthusiast. You'll stay cool and comfortable on the move.
We hope you enjoyed reading our article on the men's Outdoor Research Ferrosi Pants. With a versatile design and dynamic fit, you have comfortable outerwear for all of your adventures. If you are facing colder temperatures, make sure to double up with a base layer. We highly recommend this style for spring and summer hikes. As a reminder, while you can wear them in the winter as well, just make sure to check ahead for weather conditions and dress smartly.
Unless you are embarking on an extremely difficult hike out in the elements, more often than not, you do not need heavy duty fabric pants. A simple pair of nylon pants with a water resistant fabric should do just fine. Do you have a favorite pair from our list of the best hiking pants for men? Let us know in the comment section below.
Related Article: Best Hiking Pants For Men: Summer To Cold Weather Styles