How to Pack a Carry on That Will Get You through Your Trip
Traveling with just a carry on bag is a breeze. You can save yourself precious time by not waiting around for your suitcase after a flight. Of course, with a carry on you also never have to worry about losing your luggage. But how to pack a carry on?
So it is obvious that there is less stress overall when you bring only a carry on. So the next step is to figure out how to fit everything you might need on your trip into this a 12 x 14 inch sized bag. So exactly how do you pack a carry on with everything you need?
You have probably seen those travel pros who manage to survive for weeks on everything they packing in this tiny tote. They certainly know how to pack a carry on. It is inspiring until you find yourself trying to decide how badly you actually need a pair of dress shoes for a work trip. You don't have to sweat over the small space if you pack smart. With a few helpful tips, you'll be strolling through the airport with confidence and just your carry on.
Here are some helpful tips about how to pack a carry on
Check the weather of your destination before you start packing
There is not much worse than packing clothes for the wrong climate when traveling. Nobody wants to be walking through a chilly city in shorts, or sweating in a sweater in a humid place. Of course, when planning how to pack a carry on, condensing your belongings is key.
It is always a good idea to check ahead for the weather of your destination. Pack clothes accordingly once you know what to expect. Leave enough room for an extra sweater or pair of shorts just in case the weather changes suddenly.
How long is your trip?
How to pack a carry on with the right outfits? The duration of the trip has a lot of influence on how many clothes you need to bring. Shorter trips allow for more freedom in clothing options, and you can even plan a new outfit for each day. If your travels have you away for weeks, you are going to have to mix and match a few things.
Pack a wide variety of neutral colored and patterned clothes so that you can easily mix and match. Plan your outfits in advance so you won't come up short later.
Keep your liquids in check.
That full size bottle of shampoo might be okay in a checked bag, but it's not going to fly in your carry-on. Save yourself the airport scramble and double check the bottle sizes before you go.
World airports limit carry on liquids to bottles no larger than 3.4 ounces (100 milliliters). Everything must also fit into a single quart-size (or liter-size) zip-top plastic bag. Important medications and food for infants or children are the only few exceptions to this rule.
Utilize the hotel amenities like shampoo, conditioner, and body wash if you want to save a bit of space. Otherwise you can purchase travel size versions of your favorite brands for just a few dollars.
It is also helpful, when planning how to pack a carry on, to remember to leave your bag of liquids near the top of your carry on. This makes going through security that much easier if your bag needs to be hand searched.
What about electronics?
You can bring your laptop and iPad with you onto the plane, but don't forget to leave them at the top of your carry on. All electronic devices larger than a cell phone are required to be outside your bag when going through security. Always save your electronics for last when packing.
Is there a weight limit?
How do you pack a carry on if it's going to be weighed? This is something that most people don't think about with carry ons. Some airlines actually do enforce weight restrictions for carry on bags. Qantas and Air New Zealand implement a 15-pound weight limit for carry on items. Air France is not quite as strict, at 26 pounds.
Of course, not all airlines are going to weigh and measure your carry on bag. Every airline's regulations are different. It is helpful to research the specific baggage policies with your individual airline before you fly.
You're on a roll now!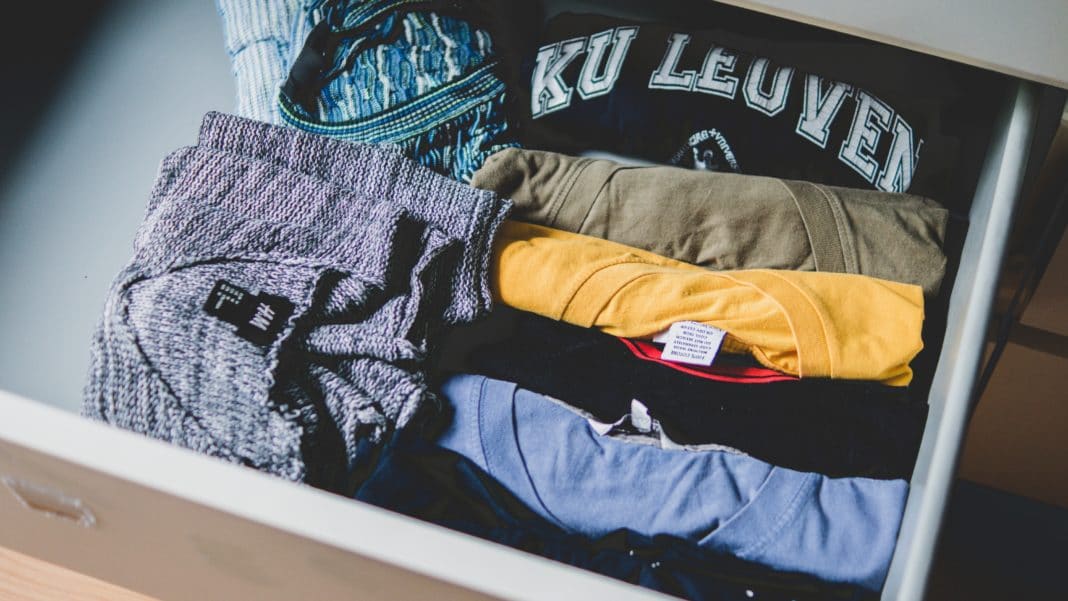 The age old expert packer's tip: rolling is better than folding. This equally applies to your carry on. Once you have your wardrobe picked out, roll your clothes extra tight and pack them in. This is an excellent space saver method, and also keeps your clothes wrinkle free.
If you want to get extra creative, you can use zip-top plastic bags as sort of a vacuum seal. Pack the bag with your clothes and then zip it almost entirely shut, leaving a small opening. Then apply pressure to the bag, pushing all of the excess air through the hole. Once the bag is compressed, simply seal the bag completely shut and you are good to go.
Don't forget to pack lightly.
With a few helpful travel hacks, you can easily reduce space in your carry on. Wear your heaviest clothes and shoes on the plane to avoid excess bulk. You can even hand carry your electronics with you, making it even easier to go through security.
Packing a carry on is a real life adult version of Tetris at times. Correspondingly, the same skills apply. Take advantage of every bit of space when packing. Stuff socks into shoes, and shove other small items into the corners of your bag. It's a bonus if your carry on has pockets.
Utilize your personal item.
Most airlines offer travelers one personal item for free. This can be anything from a purse to a small backpack. Don't underestimate the power of this extra space. You can store your excess items, as well as your wallet and keys, right in your personal item. It is also a good idea to keep all of your in-flight essentials within your personal item as well. This is a helpful precaution, just in case the airline decides to check your carry on bag anyway.
Always pre-pay for your carry on bag.
Many U.S. airlines charge a fee for carry on bags as well as checked luggage. Allegiant, Frontier, and Spirit are a few budget airlines that do this. These fees often cost significantly more if purchased at the airport. If you are sure you are just going to bring a carry on bag, you can pay for it at the time of the ticket purchase. This can save you anywhere from $20 to $40 dollars, depending on which airlines you are flying with.
Now you have all you need to know just how to pack a carry on.
Hopefully now you feel more prepared and less intimidated by the thought of traveling with just a carry on. Now you can lighten your load while on the go, and save precious time at the airport.
Practicing minimalism is a rising trend and can be an empowering one. When you lighten your travel load, you truly reduce any excess things that you really don't need. You might surprise yourself by how little you can get by with.
Related Article: ​​Best Carry-On Luggage: We Have a Bag to Meet Each Travelers' Needs​​​