Step up your traveling game when you pack with smart luggage.
Technology impacts every area of life, oftentimes for the better. Making good use of the many travel gadgets out there is one way to improve your adventures. From language translation devices to power adaptors, you can reduce travel stress by utilizing the many resources available. It turns out that even suitcases are revamping their designs in the name of technology. Gone are the days where suitcases were simply places to store your clothes and travel items. smart luggage is the newest ultimate travel accessory.
Here Is Everything You Need to Know Before Traveling With Smart Luggage
What Exactly Can Smart Luggage Do?
You are bound to feel like a regular super hero when you tap into your smart luggage's capabilities. From something as simple as charging your electronics to even preventing identify theft, smart luggage is the way to go. The hard shell design of these innovative suitcases is both durable and practical. Some brands offer built in RFID-blocking liners to prevent identity theft.
The roomy interior and distinguished compartments make for an easy packing experience. Whether you need a checked suitcase or just a carry-on, there is certainly a smart luggage bag just for you.
Credit: Flickr
The typical features to look for in smart luggage include electronic locks, Wi-Fi connectivity, electronic scales, device charging, and GPS tracking, remote, app-enabled controls, and Bluetooth connectivity. Some bag options even have awesome features includes solar power charging and a portable WiFi hotspot.
How to Use Your Smart Luggage Bag
Smart luggage is sure to come in handy in a variety of travel situations. You can charge your phone on the go, without waiting for an outlet. The GPS locaters ensure that you always know where to find your bag. When packing, the built-in scales let you know when your luggage reaches its weight limit.
What About the Airline Travel Policies?
More than one person has gotten caught in a tough situation where they were not allowed to bring their smart luggage on board. It is smart to do your research ahead of time so you don't find yourself there. Airline policies tend to vary regarding smart luggage. The best approach to air travel with these bags is to check with your specific airline ahead of time. This saves any headaches of having to switch suitcases last minute.
The most important thing to remember when flying with smart luggage is the removable battery pack. A new travel policy regarding these bags went into effect on January 15, 2018. The guidelines state that travelers may take their bag with them aboard an aircraft so long as they can physically remove the battery pack.
American Airlines, American Eagle, Alaska Airlines, and Delta Airlines are among the first airlines to implement this policy change. Check with your specific airline before flying for a heads up on their lithium-ion battery policy.
Keep in mind that the other airline battery policy is still in effect. This states that travelers are not permitted to check any lithium-ion batteries in their checked luggage. The International Air Transportation Association is attempting to tighten restrictions regarding lithium-ion batteries in the future.
This is important to know when searching for the right smart luggage bag for you. Any bags that do not have a removable battery will not be permitted aboard the aircraft. When you pack for the plane, be sure to remove the battery ahead of time to save any delays.
What to Look for When Picking out Your Smart Luggage Bag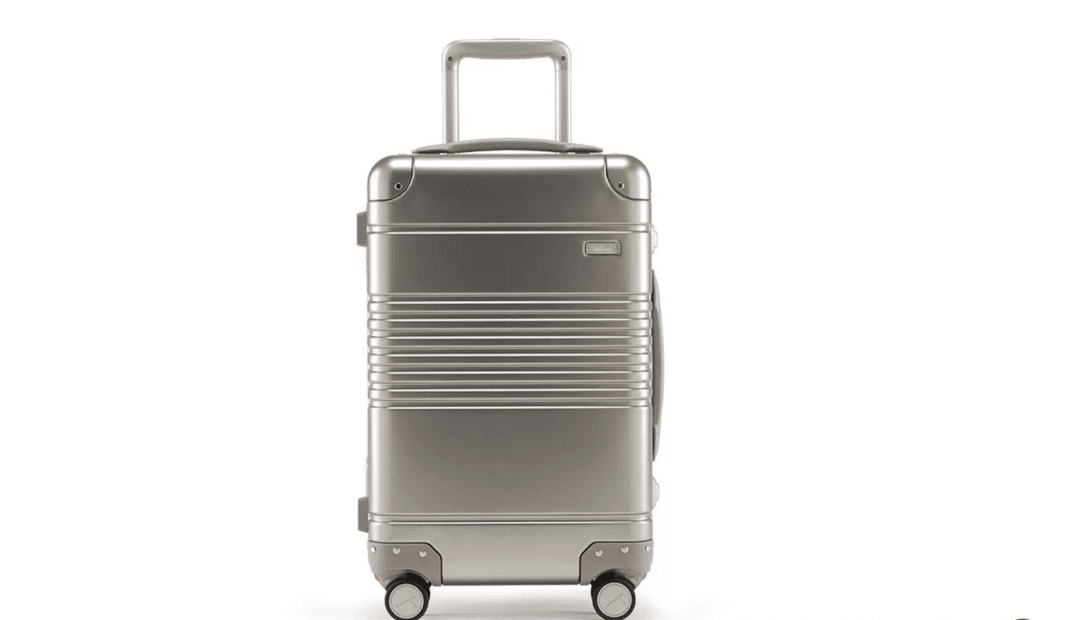 Credit: Arlo Skye
Of course you are going to want a suitcase that meets your specific travel needs. The GPS feature is ideal if you fly frequently and your suitcase gets moved around a lot. A smart luggage bag with an RFID-blocking liner is good for those worried about potential identify theft. Most of these suitcases have a built in charger for convenient electronic charging.
Of course, always ensure that if your smart luggage contains a lithium-ion battery, it is removable. Some brands are even using triple A batteries instead, which are safe to check.
Other than that, your own personal bag choice is entirely up to you. Do some research and find the brand that best suits your needs.
Top Smart Luggage Brands
The popular smart luggage brand Away claims to have the perfect carry-on for travelers. Its spacious interior provides excellent accommodation for all of your belongings. The electable battery is good for charging a smart phone up to five times. Each bag comes with a TSA approved combination lock for maximum security.
G-RO's cool design is sleek and practical. Take your next trip in style with your very own smart luggage suitcase. Its large rubber wheels glide smoothly across surfaces. Choose from a variety of colors for a fun travel design.
The Barracuda travel bag is a handy one to keep around. Its rotating handle doubles as a drop down tray to use for your laptop. The tray even contains two cup holders for your beverages. The Barracuda also has a built in scale to track your luggage weight and a location tracker. You won't lose your luggage when you travel with the Barracuda.
How Much Is This Going to Cost Me?
Smart luggage pricing varies from $150-$600, depending on size and accessories. Typically the suitcase brands offer their products in two different sizes: small carry on and large suitcase. This is not a bad price considering all the perks that come with these suitcases.
The rave customer reviews are another reason to consider trying a smart luggage bag. People find that these suitcases are just what they need when traveling. Nothing beats having a dozen electronic accessories at your disposal during your adventures.
Plan your next trip and bring along your smart luggage suitcase.
Prepare yourself for an ultramodern travel experience with smart luggage. You will be grateful for the practicality and innovation that comes from traveling with smart luggage technology. Purchase your first electronically savvy suitcase soon and try one out for yourself.
Related Article: ​​Top Smart Luggage Products (Plus How to Choose Yours)​​​